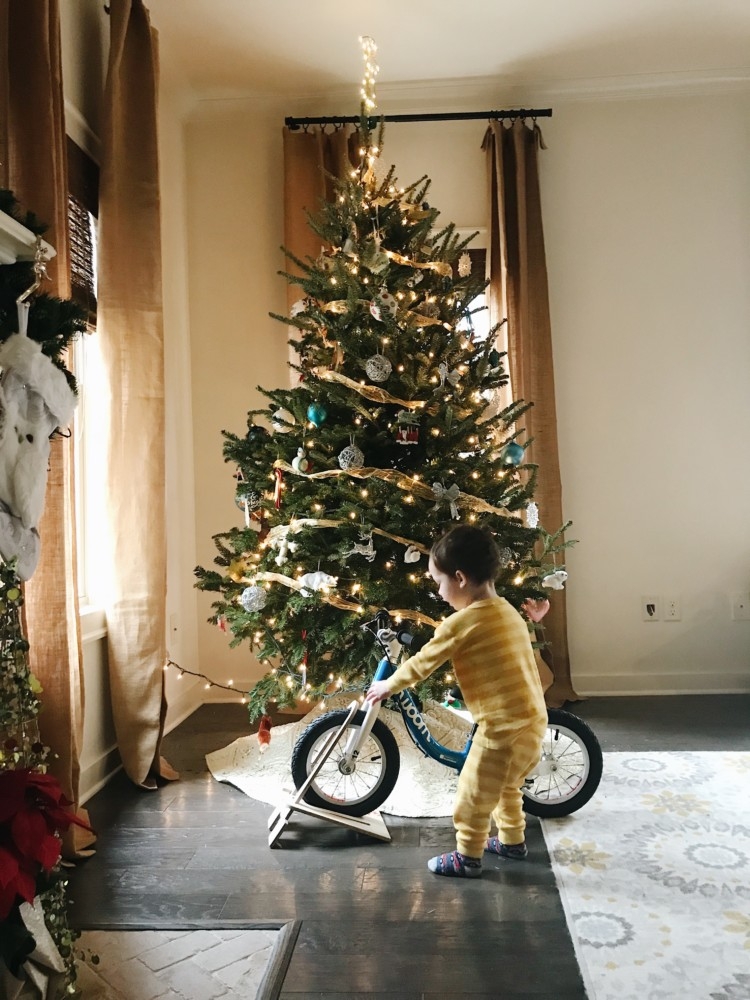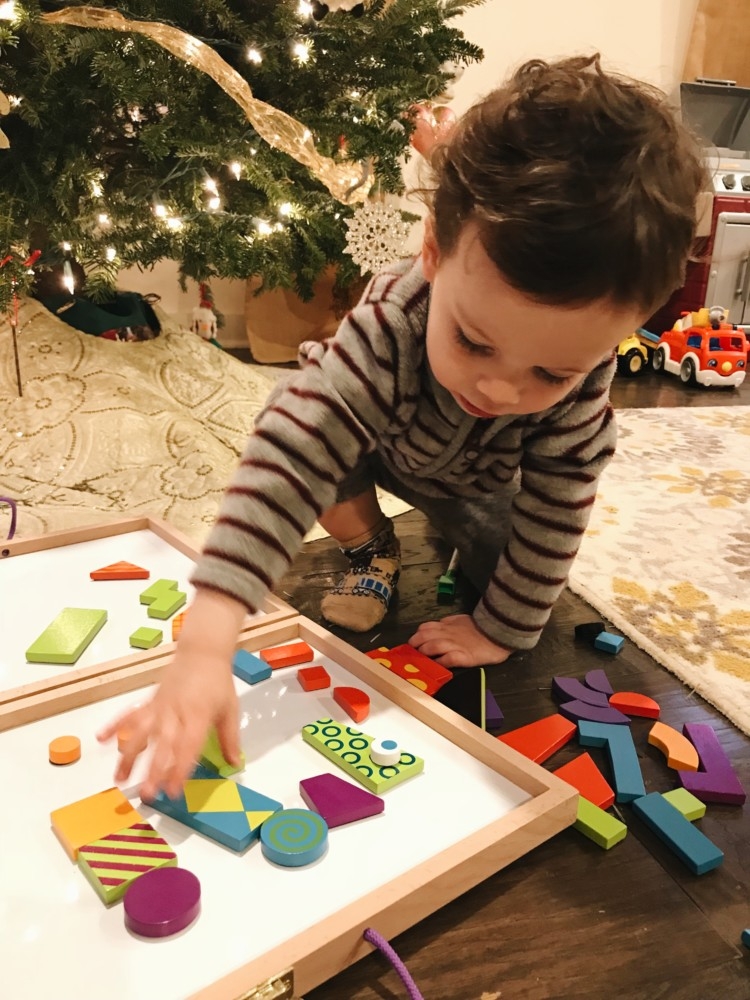 Woom Bike // Imagination Patterns
Dear Leyton,
This was your 3rd Christmas and at only 2 years old, it's the first time you've started to get a little bit of what's going on. You really enjoyed visiting "the fox" all Christmas season long. The "fox" is actually our neighbors' Rudolph the red nosed reindeer figurine that lights up. He would frequently fall down to which you'd tell us "fall down" and "pick up." Almost everyday during the Christmas season, we would walk down and let you kiss the "fox" and visit him. If we ever drove by you'd say "touch" because you wanted to get out and see him!
The other "fox" you fell in love with is the ornament your Aunt Cathy sent you last year which is a little cartoonish looking Rudolph ornament that actually looks very similar to the "fox" down the street. You had a big old time decorating the Christmas tree with us and really loved all my animal ornaments. I have always loved arctic animals like polar bears, seals, and animals in general so momma mackey and grandaddy have gotten me many over the years that you thought were so fun to see unboxed. Perhaps one of our favorite ornaments that we watched you open up was the "Sweer" which meant squirrel. You loved telling us about the fox and the squirrel all Christmas season long.
This Christmas season was extra magical because we actually got snow! And in Birmingham, AL that is highly unlikely in the first place, let alone before January! It wasn't just a few inches either…it was enough to cover everything and it was truly perfect because the roads didn't get too icy and slick and it was very soft, powdery snow.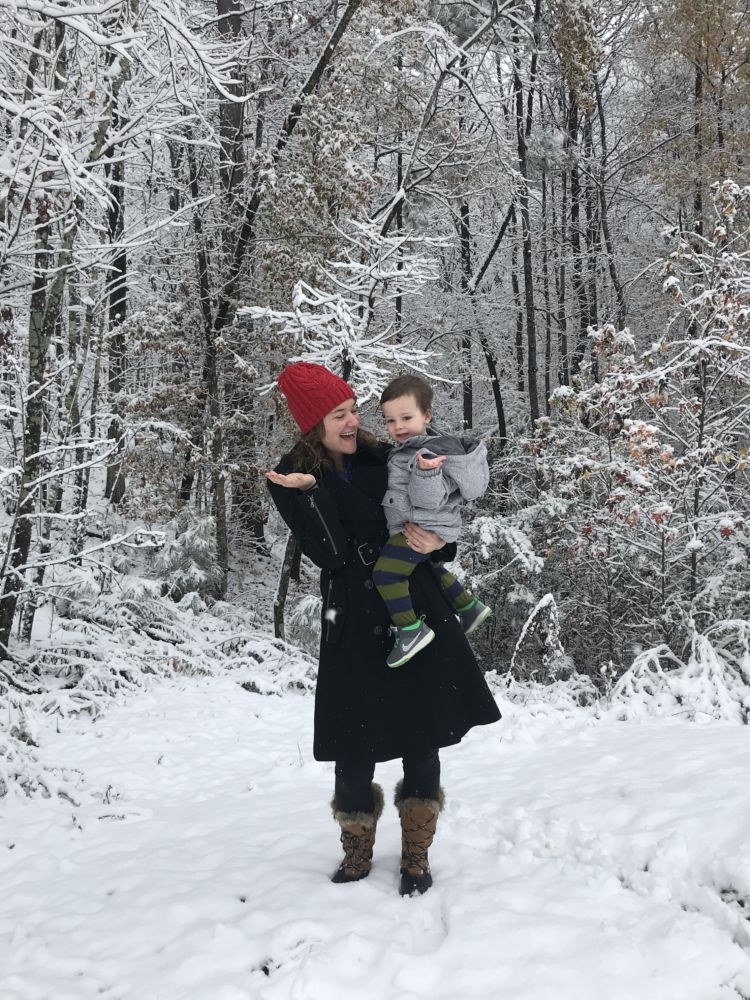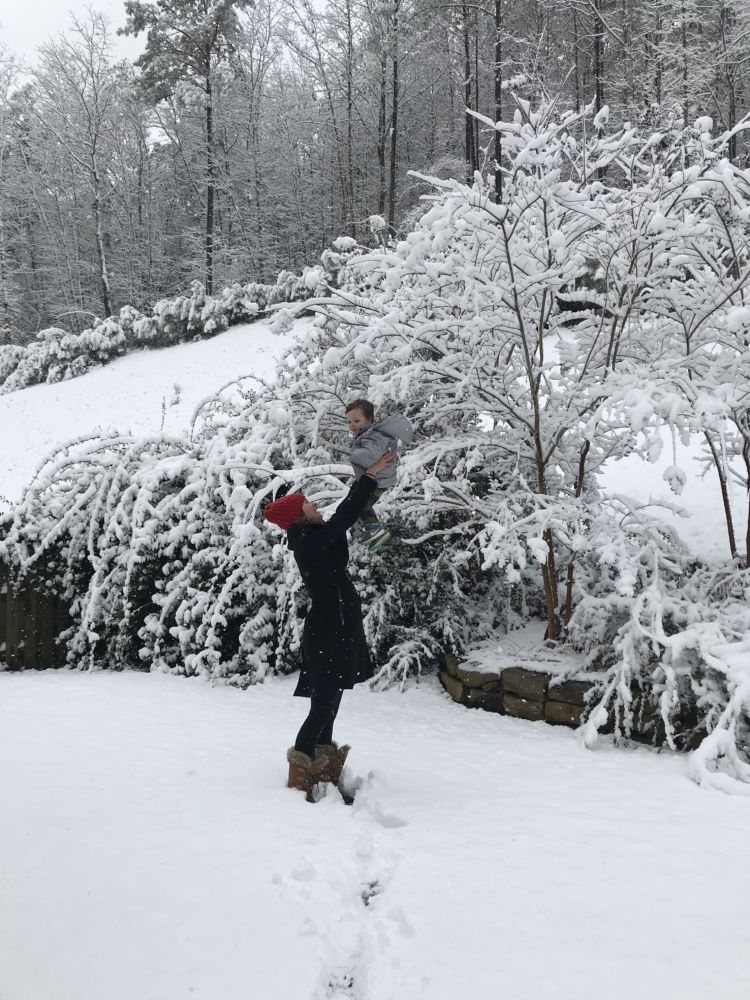 Although you loved looking at the snow the first day, you were NOT into being in it. As soon as I'd set you down in it, you would burst into tears. It truly was beautiful though and we enjoyed playing outside with our next door neighbors Kylie, Coco and Jude until about noon when your daddy got off work. We drove over to a nearby restaurant and had lunch which was SO nice because we got to see the snow covering the hills around our home…it truly was breathtaking! By far one of our favorite memories this season.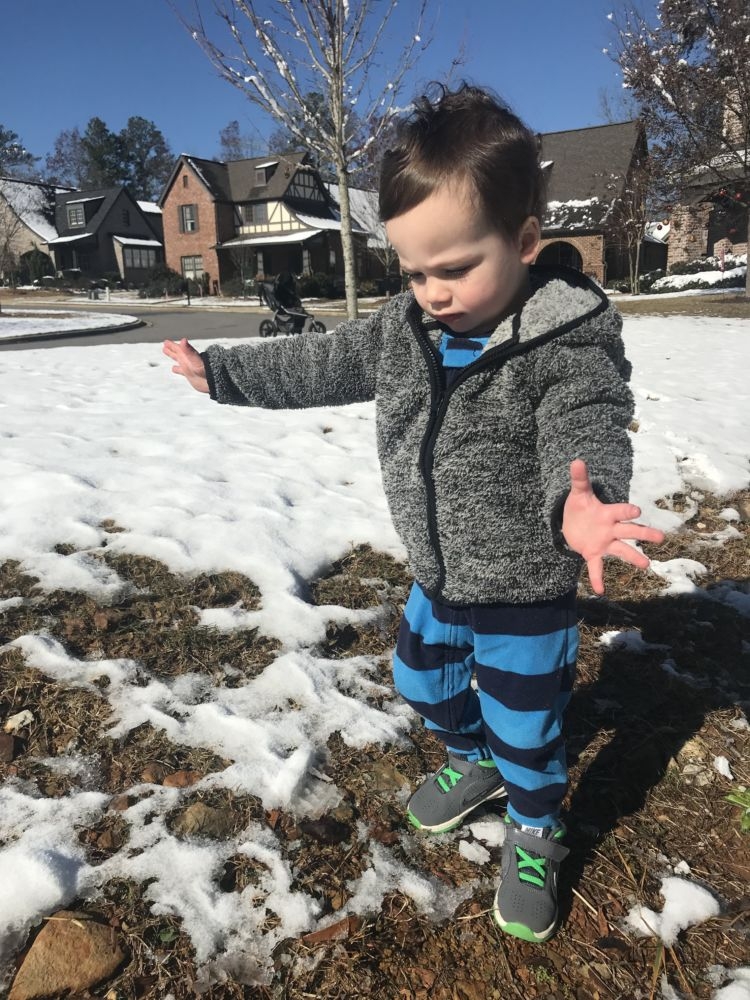 The next day most of the snow melted pretty quickly, but we found some in shady parts in our neighborhood on a walk. I got you out of the stroller and you actually learned to like the snow. You even picked it up and threw the snowballs I made you. I was so proud that you came around so fast!
Christmas Eve Eve we hosted the Mackey family Christmas where you were the hit of the party as always. We played dirty santa as is our annual tradition and you ran around playing with everyone.
On Christmas Eve, our church only had a morning service this year since Christmas Eve fell on Sunday. After church, we went outside and let you play around the big Christmas tree in the Homewood plaza which had large stars on it which you thought were "airdanes" aka airplanes. 😉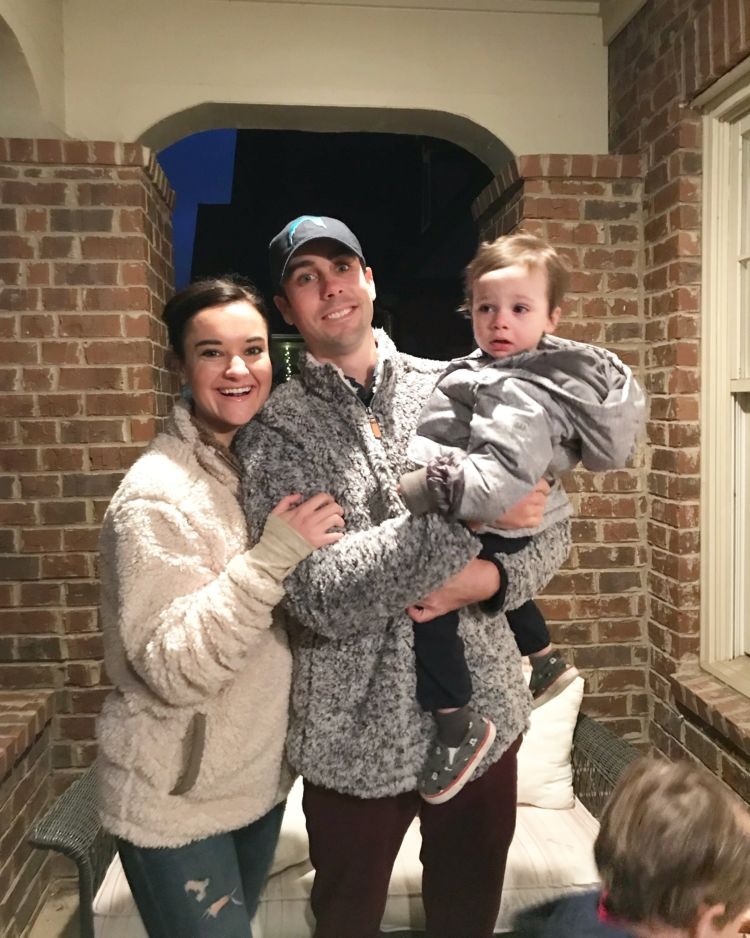 Christmas Eve was relatively quiet at home until that evening when the firetruck with Santa came through our neighborhood. We got together with our next door neighbors and enjoyed some appetizers and drinks while you and your friends exclaimed loudly and excitedly over Santa coming! You saw the firetruck coming down our street and yelled, "WHOAHHHHHH!!!!!" very loudly and chased after Santa half way down the sidewalk. It was the cutest thing!
On Christmas morning, we had pre-prepared our breakfast casserole so we could just pop it in the oven and had that with some cinnamon rolls. Of course, being the picky eater you are, you wouldn't have any of that yummy goodness but we're hopeful by next year, you'll join in with us on this tradition.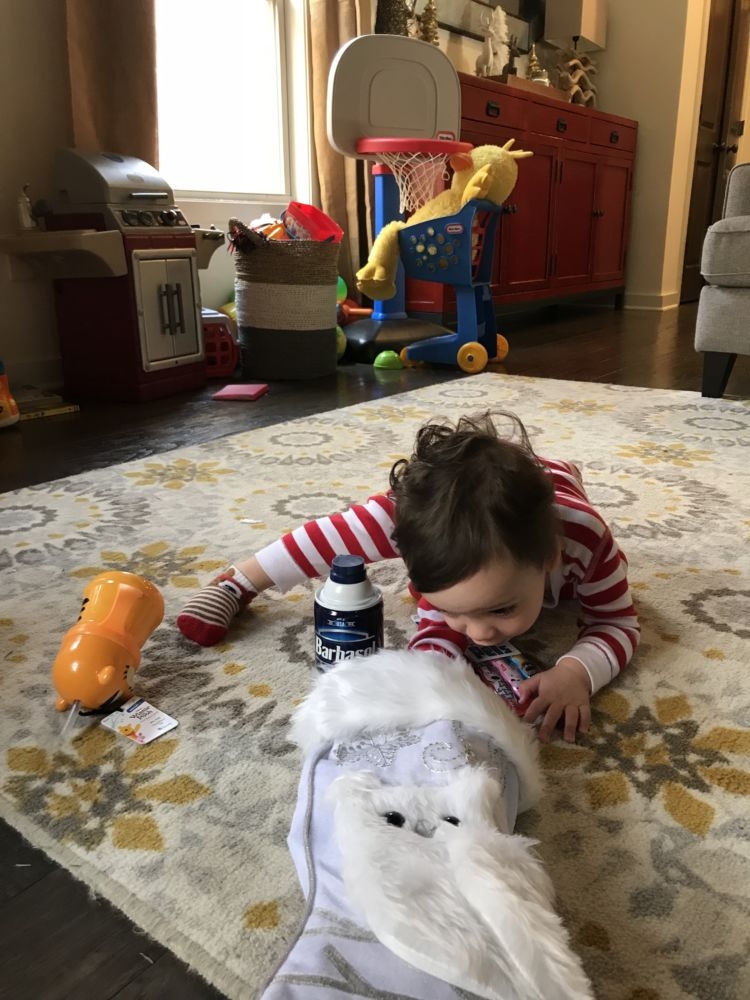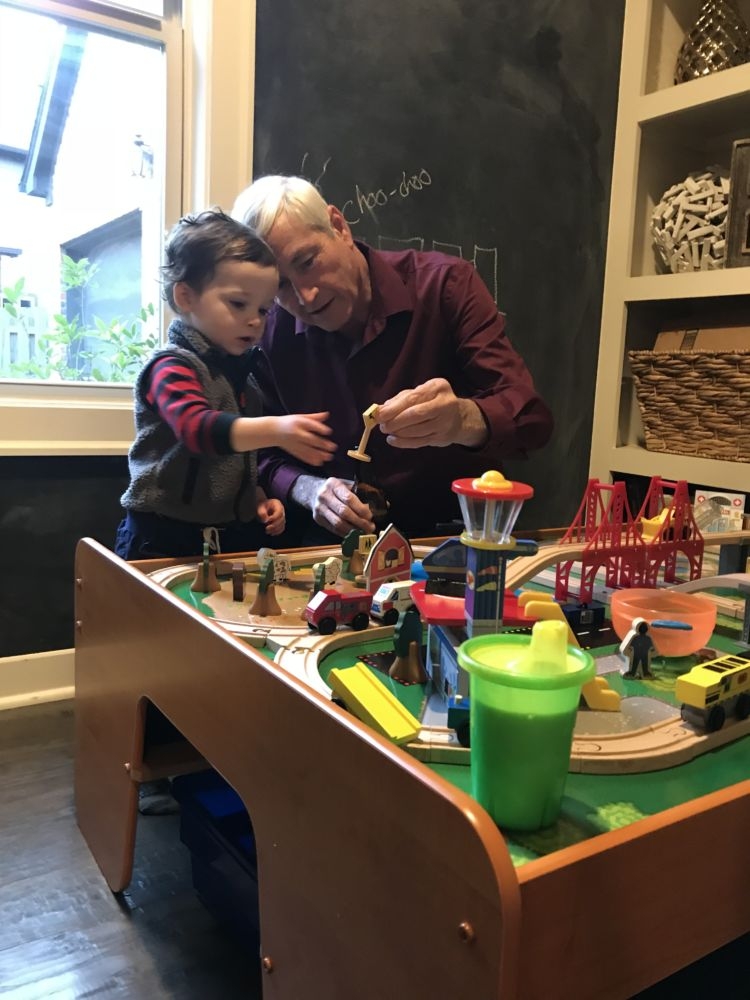 Santa brought you a train table which you have been playing with non-stop since you got it! He also brought you the woom balance bike (thanks Woom!). We got you the imagination patterns set and some other small things like the I Love You, Forever book.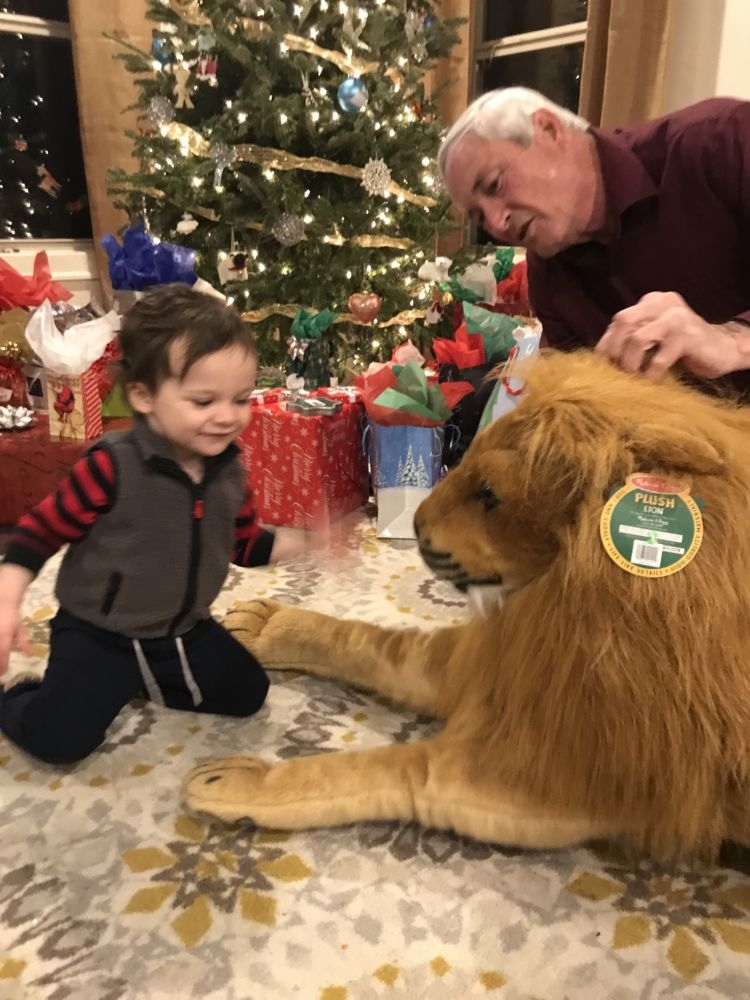 Other than the train table, your other favorite gift came from Mama Mackey & Grandaddy which was a HUGE stuffed animal lion. We hid it around the corner and made you go looking for it. You literally jumped for joy when you saw it.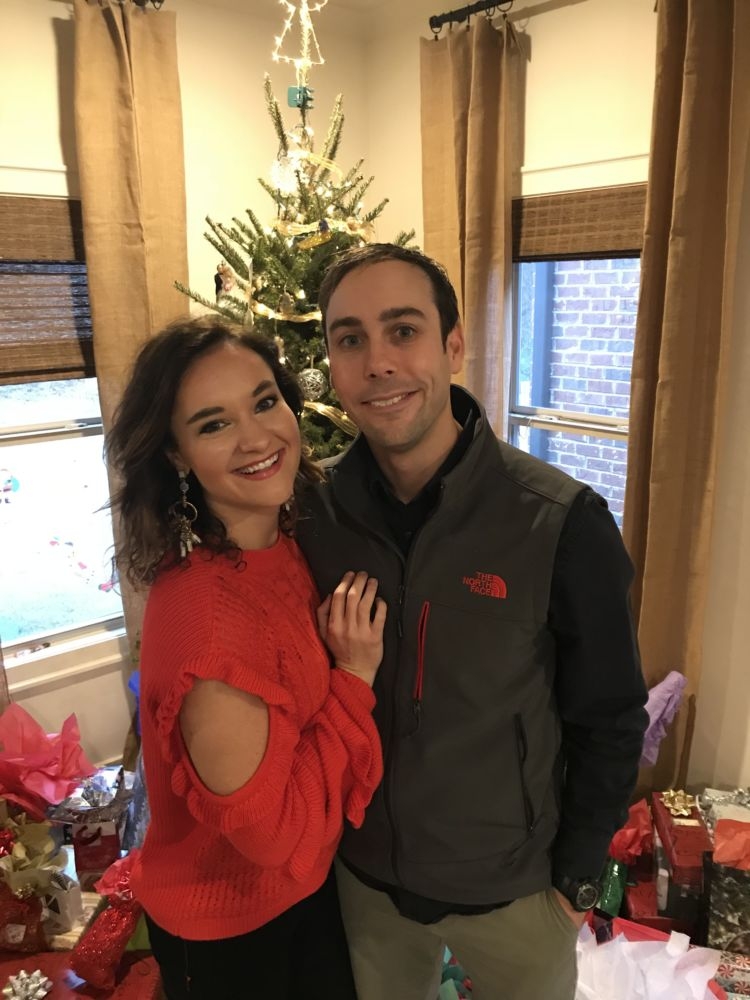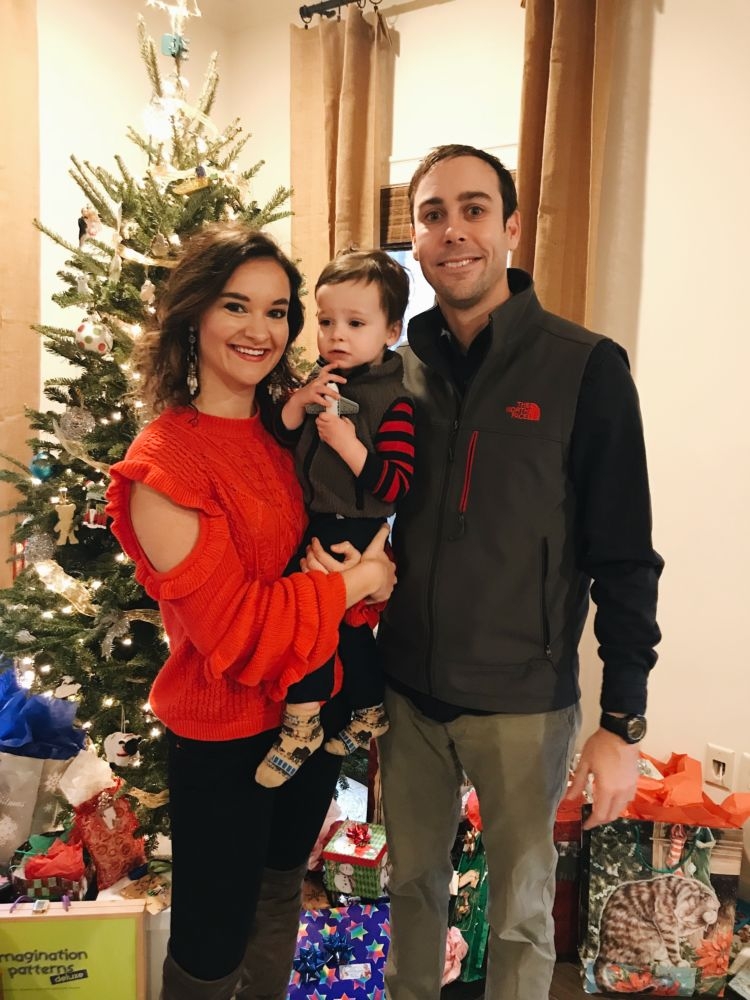 We had a great time hosting our family at our home and are so thankful for another wonderful Christmas with you. We did miss having your great-grand-nana with us this year which was hard, but you always bring so much joy no matter the situation.
We love you lots Leyton and are so glad we got to celebrate Jesus' birth with the little coconut birthday cake Mama Mackey made. We know next year you'll be even more understanding of what all Christmas means and can't wait to see that all unfold!
xoxo,
Mama & Dada