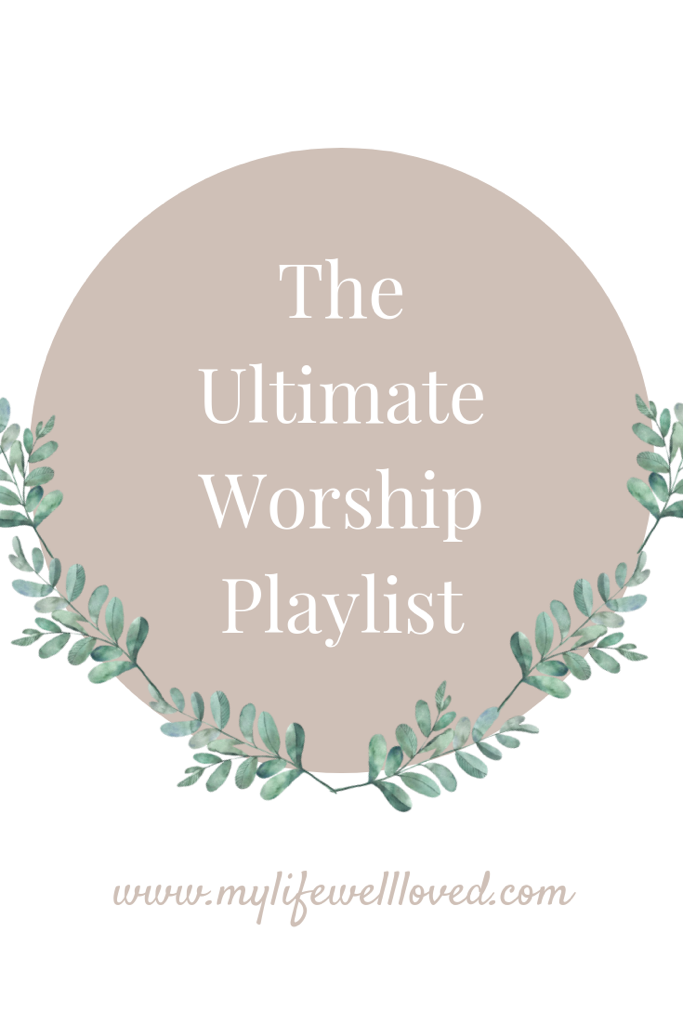 Click here to go directly to my worship playlist on Spotify!
When your morning starts out with a diaper blow out, your toddler having a meltdown, no time to put on makeup and your hair loaded with more pounds of dry shampoo than you'd care to admit, it can be hard to start off your day on a happy foot. Am I right?!
It can also be hard to get in your morning devotional sometimes in the midst of early-rising babies, job demands, and the general chaos of life, AND that's when my best worship songs playlist comes in clutch! I am a firm believer in the power of prayer, listening to worship music and a positive mindset making "bad days" into good days.
One of the little mantras I've said for years is, "If this is the worst thing that happens to me today, I'm doing alright!" I've also heard others say things like, turn your "I have to's" into "I get to's". So for instance, I have to change this dirty diaper, becomes I get to change this dirty diaper and talk with my baby. Instead of saying I have to go to the store, it's I get to go to the store because I have the resources to put food on our table that many others don't.
I like these thought processes because they put the focus on the positive and remind us of the many countless blessings we often forget to take note of. I can always feel the moment that I turn on my favorite worship songs that my attitude, my outlook and everything about my focus shifts. I actually listened to a podcast from Matt Chandler at The Village Church about worship I really enjoyed and thought it was worth a listen if you want some more perspective on worship and the role it plays in our relationship with God.
Serve the Lord with gladness! Come into his presence with singing! -Psalm 100:2
Below you'll see some of my favorite worship songs and I even picked Eric's brain to get some of our favorites we listen to in his car a lot too. Feel free to subscribe to my Spotify playlist and listen to them to start your day off on the right foot. I hope you'll find it as uplifting as I do! There are a little over 20 songs on it currently but I'm always adding to it.
Thank you so much to those of you who have already sent in suggestions. I'll definitely be checking a lot of these out and have even added some of them to my playlist if they weren't already there! You'll notice Lauren Daigle's songs were a very popular choice below. Click here to go directly to my worship playlist on Spotify!
Reckless Love- Corey Asbury- @Kristynfarmer , @hannasters , @sandpiper_lane, @vannahlawler , @dezraeann0830

You Say- Lauren Daigle- mzinkhann , hannasters , sjleth , lowilliams812 , vannahlawler , averyquinnbottom

Living Hope- Paul Wickham- Sav_offner , a_beritriley , jenderosse, drjamieweaver , carmen_hilbert

Who You Say I Am- Kristynfarmer , hannasters , _shelby_pope_ , tmhardy12 , tay.cardell

Hills and Valleys- Tauren Wells- kaitlynhodge_ , kristynfarmer , ellenhake , bosermom

Joy- Upper Room- _christina.jones , priscillacruess

Rescue- Lauren Daigle- mrs_gorrity , stantonpartyof5

Survivor- Zack Williams Band- alliebcamp

Known- Tauren Wells- kaitlynhodge_ , sjleth , joneswiebe

My Revival- Lauren Daigle- allisynsanchez

Oceans- Hillsong- Molly_stinchcomb , mamablessedbygrace , mrszwerner

Red Letters- miranda_piatt

Well Done- miranda_piatt

Love Came Down- miranda_pitt

Oh Lord- Lauren Daigle- ohhappyhotalings , mdukart610

Home- United Pursuit- augustrgriffith

Defender- Franny B- emullady

Stand in Your Love- Josh Baldwin – brittanylriddle

Nothing Else- Cody Carnes- beckon

Raise a Hallelujah- Hillsong- steph.mcelmurray1

Establish the Work of Our Hands- Porter's Gate – Hannasters

Farther Along- Josh Garrels- hannasters

Confidence- Sanctus Real- katk21 , ally_0731

Build My Life- hannasters

Heart Wont Stop- John Mark McMillan- hannasters

No Matter What- Ryan Stevenson- sjleth

Like Jericho- Natalie Cromwell- natcrom

Bigger Than I Thought- Passion- rachelbowman94

Do It Again- Elevation Worship- webba01, katarynkayleigh

Peace Be Still- Lauren Daigle- jdkimberling

Tremble- kelseyjohawkins , stilettodiapers

Still Rolling Stones- Lauren Daigle- kbult2

Counting Every Blessing- Rend Collective- I.pendas , ally_0731

New Wine- Hillsong- ashleyjomarsalis

At the Cross- Chris Tomlin- thelavendertassel

Burn the Ships- For King and Country- kimberly.burdick81

Holy Spirit- Francesca Battistelli- dlizziebeth

There is a Name- Sean Feucht- sierraoneal241

More Than Anything- Natalie Grant- racheleannjohnson

Raise a Hallelujah- Bethel- thewhitehouseinalabama

Multiplied- NEEDTOBREATHE- annie.bresko

So Will I- Hillsong- jessicapatton_

Til I Found You- Phil Wickham- cristinazier

Rebuilder- Carrollton- casssdrake

How Great Thou Art- Carrie Underwood or Pentatonix- mack_cundery

Come to the Table- Sidewalk Prophets- mamablessedbygrace

Good Good Father- tay.cardell

No Longer Slaves- tay.cardell

Chain Breaker- tay.cardell

What a Beautiful Name- Hillsong- tay.cardell , mrstoombs89

Resounding Yes!- Heather Wallace- rebekahmary

Look Up Child- Lauren Daigle- seabritt

There is a Cloud- Elevation Worship- annawalton_

How Can It Be- Lauren Daigle- sepaetow, Sarah.Jewell.Harper

Stand In Your Love- lbowl88

The Great I Am- sierraertle

Anthem Lights- Easter Melody- haley9595

Shepard of My Soul- Rivers and Robots- wiriidianaaa_

Love Lifted Me- Kelly Minter- katieellen218

Good Grace- Hillsong- jess.yates.16

Another Hallelujah- Elevation Worship- allieboo4eva

Resurrecting- Elevation Worship- rachnutt21

Jesus Loves Me because my son sings it nonstop. Its a Banger.- goglin_coupons
Click here to go directly to my worship playlist on Spotify!
What am I missing on my favorite worship songs playlist? I'd love to add some more for variety so please send over your favorites! Looking for more faith based posts? Click HERE!
Heather Brown helps busy mamas of young littles who are caught in the hustle to find encouragement in their journey to true health, from the inside out, starting with the heart. Read her journey of learning to live a life well-loved
HERE!