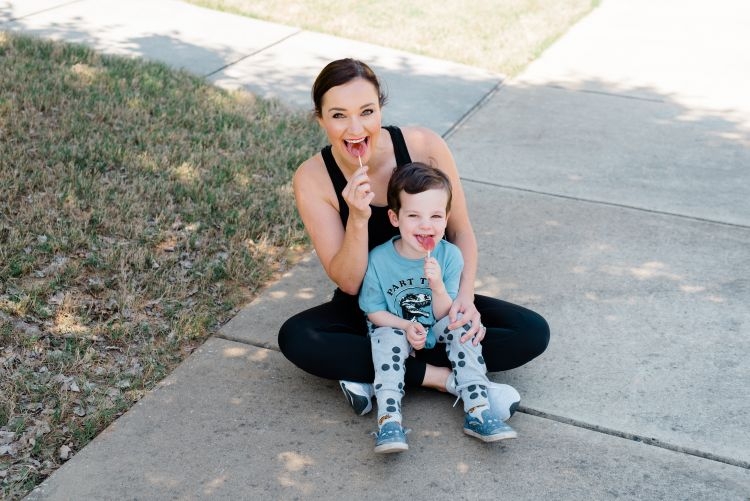 SHOP The Encouragement For Moms Photos HERE: Leggings // Tank // Sports bra // No show socks // My shoes // Leyton's pants // Leyton's tee // Leyton's shoes

Photos by Eric and Jamie Photo
Between back to school for a lot of y'all (mother's day out for us), travel, and both boys birthdays this month, I wanted to be able to write this post but just knew that it might send me over the edge. LOL. Both emotionally and mentally. So, in order to bring you a great encouragement during this sometimes hard, always stressful season I asked one of my most trusted friends and small group leader to share her heart with us and the encouragement you may need to hear as a first time mom sending your child to kindergarten or a mom of 4 like Ashley.
Ashley works out at Burn with me, guides me in so much Biblical teaching in motherhood and is a wealth of knowledge. It's my honor to introduce her to you here so that you can hear from her what Scripture you may need to hear today to encourage your heart this August.
Back To School Encouragement For Moms:
As I stared down a mound of school supplies, I couldn't help but imagine my little one swirling her paintbrush around in the fresh pallet of watercolors, my son pouring over countless paragraphs about all things Super Mario Bros in his composition journal, or my daughter neatly and delicately organizing every aspect of her giant 2" binder.
What is it about a new school year that gets us so excited? Yes, the childcare is nice, but there's so much more isn't there? A new teacher, a new classroom, new classmates, maybe a fresh backpack and lunchbox. It's a brand new start for our little ones, and goodness knows we could all use that from time to time.
As I emerged from the pile of new school supplies, all the "newness" reminded me of God's mercy and kindness. He is always so sweet to give us a fresh start. A second (and third, fourth, fifth,…) chance to not doubt what's in the past and to move forward.
From this, I felt an urgency to really make the most out of our school year this year and not look back, an urgency to simply live in the present.
Now was not the time to wonder if I had done enough this summer with my kids, made enough trips to the splash pad, took enough library hauls home for summer reading, or had a stellar enough s'mores bar. It was also not the time to freak out about the future and an imminent, chaotic fall schedule. No, this moment was simply a time to breathe, to be thankful, and to be present.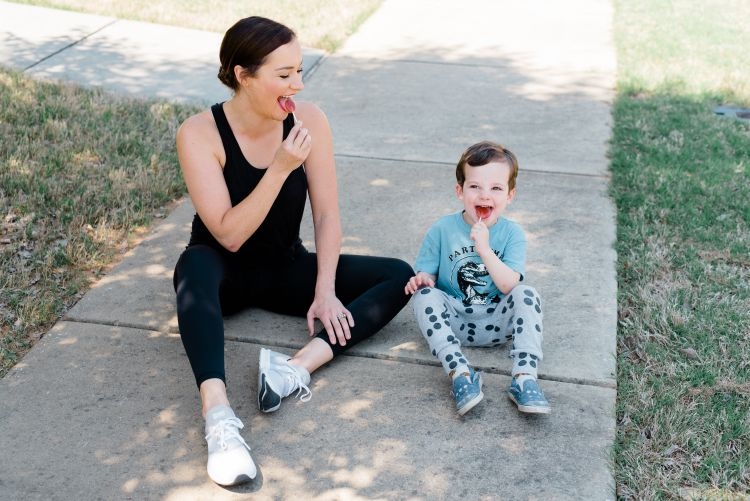 My Encouragement For Moms This School Year
I'm committing to do three things this year:
I'm going to listen way more than I talk. I have a knack for problem solving, but it's not always well received. My husband often reminds our family (a family with 4 females!) that God gave us two ears and one mouth. Ultimately, putting the kibosh on solving the world's problems takes a host of things off my to-do list and allows me to be more present with my kids and have more time to take care of me.

Next, I'm going to absorb rather than analyze. As it turns out, when most people bring us their problems, they just need a good venting session and don't want our on-the-fly, just-formulated solution. I once heard a counselor say that "expressed anxiety is relieved anxiety". If my people need me to be their emotional sponge and soak up all of their anxiety, I will gladly soak it up! Then I'll turn around and wring it all out for our next soaking session. I won't hold on to it or sort through every last detail trying to put their little puzzles together. Just wring it out! While my mind isn't spinning 90mph during our conversation, I will actually be present with them. Imagine that!

Lastly, I've got to ease up on my expectations. In reality, people care way less about my house, the holiday party I hosted, and my kid's school science project than I'd like to think they do. Why on earth do we put such lofty expectations on ourselves (and probably those closest to us, if we're being honest)? Wouldn't life run much more smoothly if we just lowered the bar a few notches and chose simple over spectacular. If simple means I'm more present, I'm going with simple this year.
All this from a gigantic pile of school supplies. I pray, you too, will find mercy in the mundane this school year, that the smell of a freshly sharpened pencil or the beauty of a newly opened box of crayons will remind you of God's mercy and kindness filing away all your yesterdays and freeing up your tomorrows, that you might rest and be present today.
Ashley's Bio
Ashley is a mother to four precious children, and has been committed to raising her tribe to know and fear the Lord for almost a decade now. She is a lover of hospitality, good coffee, all things healthy and clean, (although a night of chips, queso, and margs is never out of the question!), and can be found most days at the gym, serving somewhere around her kid's school or at church, or hosting folks in her home. She and Heather have been friends for over a year now, and she has been an avid supporter of MLWL since they met!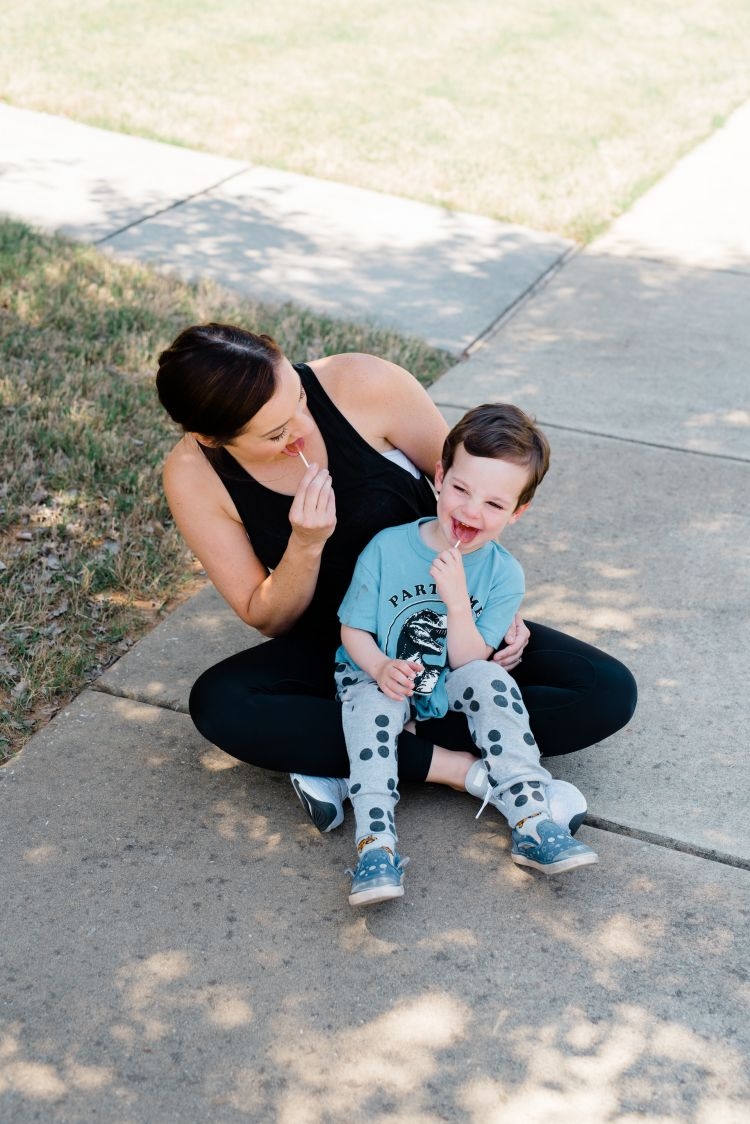 Encouraging Verses For Moms
Do not be anxious about anything, but in every situation, by prayer and petition, with thanksgiving, present your requests to God. And the peace of God, which transcends all understanding, will guard your hearts and your minds in Christ Jesus. – Philippians 4:6-7
For God has not given us a spirit of fear, but of power and of love and of a sound mind – 2 Timothy 1:7
This is my command. Be strong and courageous! Do not be afraid or discouraged. For the Lord your God is with you wherever you go. – Joshua 1:9
The Lord your God is in your midst, a mighty one who will save; he will rejoice over you with gladness; he will quiet you by his love; he will exult over you with loud singing. – Zephaniah 3:17
From the ends of the earth I call to you, I call as my heart grows faint; lead me to the rock that is higher than I. – Psalm 61:2
…Fear not, for I have redeemed you; I have called you by name, you are mine. – Isaiah 43:1
Trust in the Lord with all your heart and lean not on your own understanding; in all your ways acknowledge him, and he will make your paths straight. – Proverbs 3:5-6
Come to me, all you who are weary and burdened, and I will give you rest. Take my yoke upon you and learn from me, for I am gentle and humble in heart, and you will find rest for your souls. For my yoke is easy and my burden is light. – Matthew 11:28-30
Looking For More Faith Posts? Check Out These:
SHOP the Encouragement For Moms Post HERE:

PIN The Back To School Encouragement Post For Later!