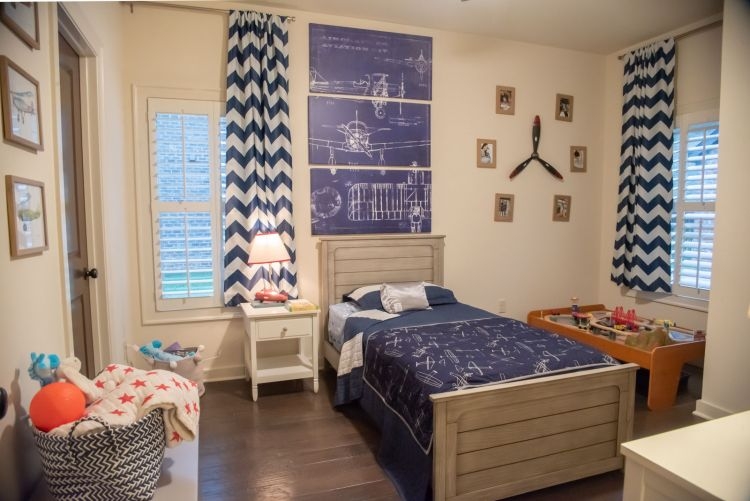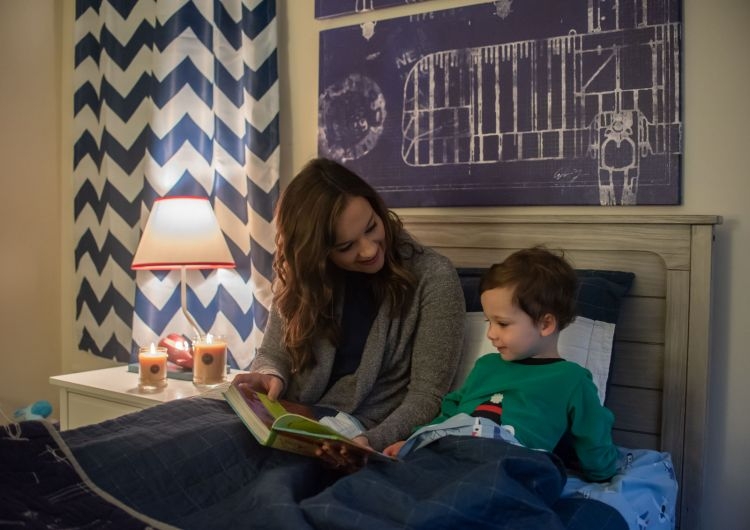 Shop Leyton's Big Boy Room Photos: Bed // Sheets // Quilt // Airplane Quilt // Canvases Above Bed // Curtains // Nightstand // Lamp // Wall Propeller // Frames // Train Table // Leyton's Pajamas // Sweater // Candles // Airplane Pillows
Thank you Dorel, Delta Children, and Lush Decor for partnering with me on this post!
I am so excited to share Leyton's airplane-themed big boy room! If you remember, I had a friend share her 5 tips on the blog about transitioning your toddler to a big boy room or big girl room a few months ago. One of her tricks was to allow your child to be involved in the process – from the design to the decorating, helping them feel included will help to spur excitement about this new room!! Leyton was definitely excited about having his room decorated with all things airplanes so this helped with the process for him!
As many of you know from following me on Instagram, we decided instead of turning the guest bedroom into a nursery for Finn and transforming Leyton's nursery to a big boy room, we just kept the nursery as-is for Finn and moved Leyton to the guest bedroom! One thing I certainly didn't want Leyton to feel was him getting kicked-out of his safe space, the nursery. We took different steps to ensure this wasn't the case and I feel as though the transition has been an overall good experience! Of course, it could all change any day but we are just so proud of Leyton and his adjustments with baby Finn!
Big Boy Room Details
We love the simplicity of the room with the easy navy blue and neutral color scheme! His bed, toy chest, and shelf are from Delta Children and are so cute and simple! We ordered the nightstand and dresser from Dorel Living and are equally pleased with those pieces! We wanted to choose basic pieces that could be versatile for whenever Leyton grows out of this room decor and we need to update. You can find more room inspiration on Dorel's Instagram and Facebook!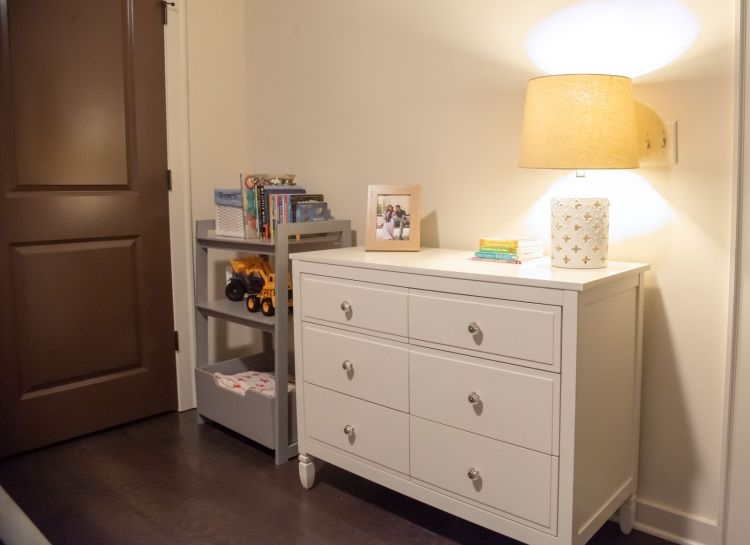 Once we had the furniture nailed down, we ordered the navy and white chevron curtains from Lush Decor and his reversible quilt from there too! Everything else we grabbed from Amazon, Target, or Etsy! All our picture frames are from Target and we actually snagged them all when they were running a 20% off deal! His sheets are from Amazon. And of course, he has to have his "kits" aka blankets from Aden and Anais!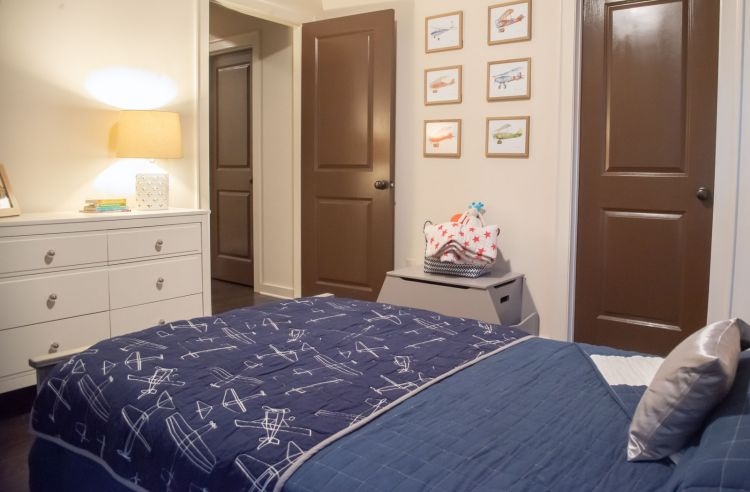 This white lamp we actually had in the nursery when Leyton was a baby so I can't link to it directly but found a similar option here! His bedside airplane lamp is from Target and is perfect for reading books before bed! He loves it! I found the cutest airplane prints on Amazon and ordered those for this little wall between the doors.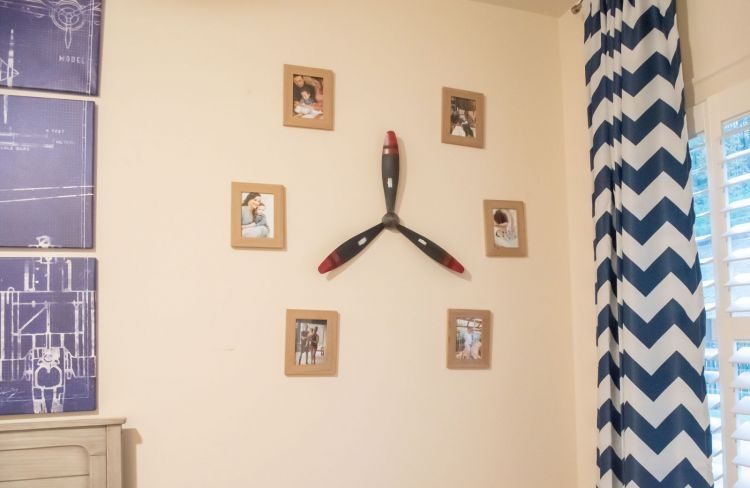 We found this airplane propeller blade on Amazon and thought it would be so cute hung on the wall with photos around it! We did decide to bring some of Leyton's toys into the room so that he would be able to play in there when he wasn't napping or during bedtime. And it is nice having these in a tucked away space rather than our main living area! The main toy we have in here is his big train table we got for him last Christmas! It was a HIT and if you have a little one that loves trains, I highly recommend it for this Christmas!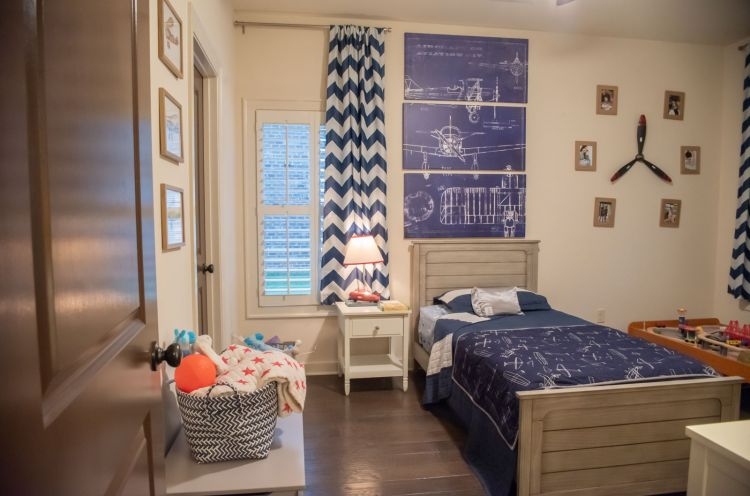 Big Boy Room Transition Q&A
Do you use anything that helps him know when it's ok to get out of bed in the morning?
We don't but a lot of people we know use the
wake up clock
. We are very fortunate that Leyton stays in his room, but if he didn't we would for sure get one of the wake up clocks that helps them know when they can get out.
The first time he napped in his room, we had a very serious conversation with him about how he's expected to stay in his room until mommy or daddy come to tell him he can come out and he has shockingly listened. Sometimes we worry though that he'll need us and will be afraid to come out. We still use our Levana monitor and so far, he's cried if he fell out of bed or pooped in his pull-ups or needed other help.
How do you keep him from waking up Finn?
We believe kids will adapt and they both have their
sound machines
which helps. I was more nervous about Finn waking up Leyton because the nursery is right next to Leyton's room but it hasn't been a problem so far! PLUS we also really like for Leyton to make noise while Finn naps so Finn stays accustomed to not having to have it SUPER QUIET to be able to nap per the
Moms On Call book
.
Has Leyton been staying in his room all night?
He has! We purchased
HICCAPOP bumpers
to help him learn to not fall out of the bed. We've still had a few incidents but luckily nothing too bad. When he has fallen out, we go in and just calm him down, offer some milk, and help him settle back down to go back to sleep. We try to keep lights off except for a lamp or closet light so that he won't get too awake if we do need to go in to help with anything.
I got pretty irritated in the beginning with these bumpers because since his sheets weren't super tight he would lean over to grab stuff off his bedside table and they'd fall out. BUT, we tried going without them a few times and he's fallen out so I guess for the most part they serve their purpose, ha! I'm hoping after we use them for about 3 or so months, we wont' need them anymore.
How did you get Leyton excited about moving into a new room?
We talked it up WEEKS before as we were getting ready and buying new things. We knew he liked airplanes so we went with that theme. We also had him pick out things for the room with us to ramp up his excitement. When Eric was building the
bed
, he had Leyton "help" so he felt involved in the process as well.
Every time we had friends or family members come over we would tell them ahead of time to be SUPER excited about his new airplane room. So then when they'd get here we'd say something like, "OH MY GOSH! Leyton has the COOLEST new airplane room. Leyton, do you want to show them your new room?!"
Before we knew it, he was telling EVERYONE that would listen about his new airplane room…teachers, church people, strangers in Target when we'd buy things for his room. LOL!
I hope you enjoyed reading about Leyton's big boy room transition! What is your best tip for transitioning your little on to a big boy room? I would love to hear in the comments! Also, don't forget to send this to a mama who is going through the room transition!
SHOP the Big Boy Room Reveal HERE
PIN the Big Boy Room Reveal Post for Later!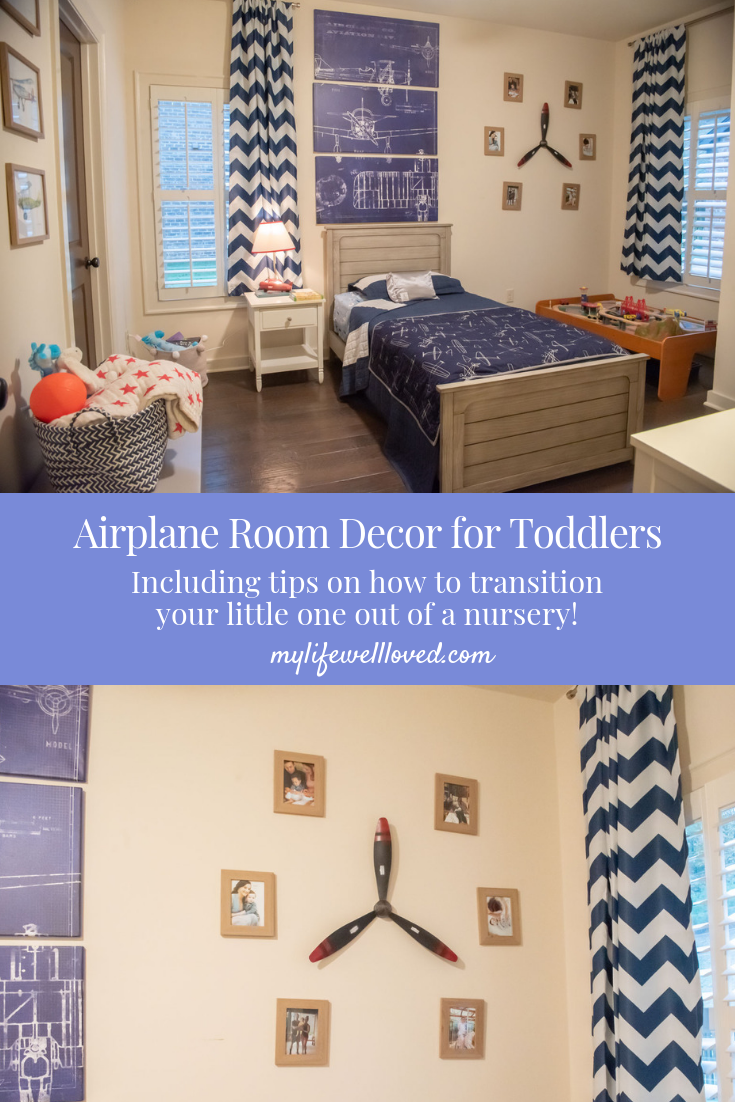 Heather Brown helps busy mamas of young littles who are caught in the hustle to find encouragement in their journey to true health, from the inside out, starting with the heart. Read her journey of learning to live a life well-loved
HERE!