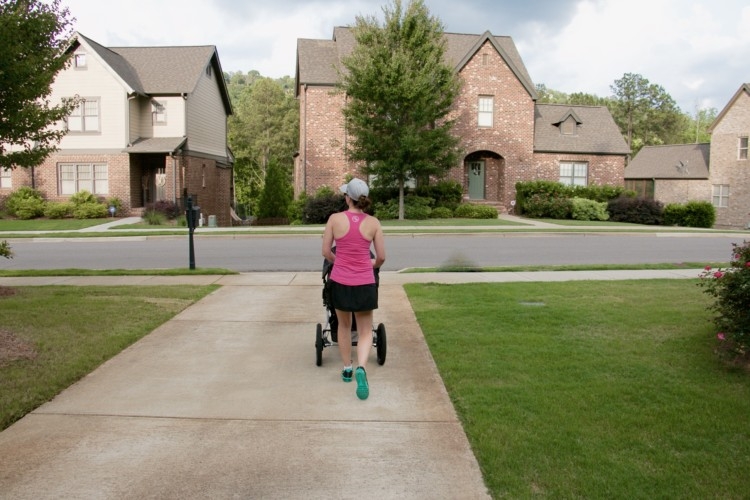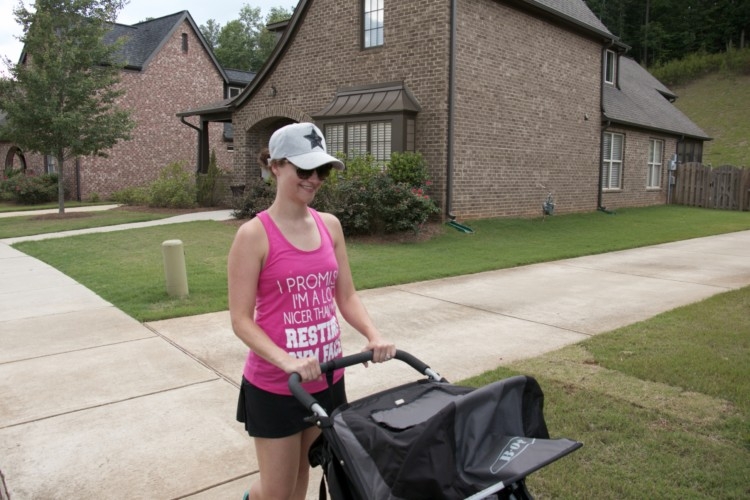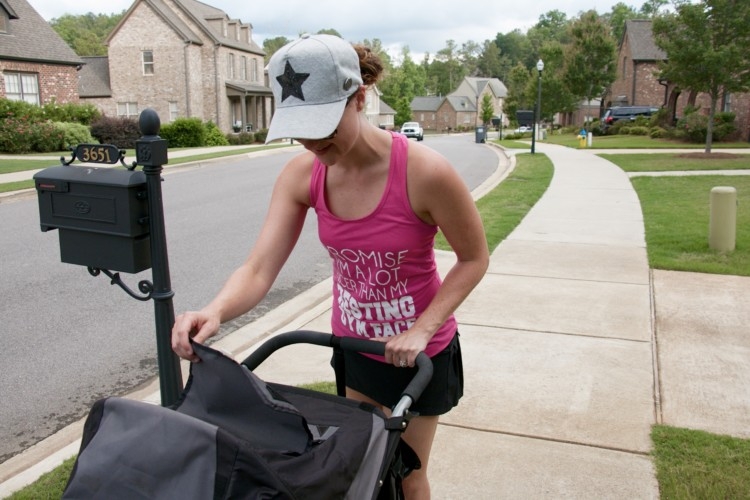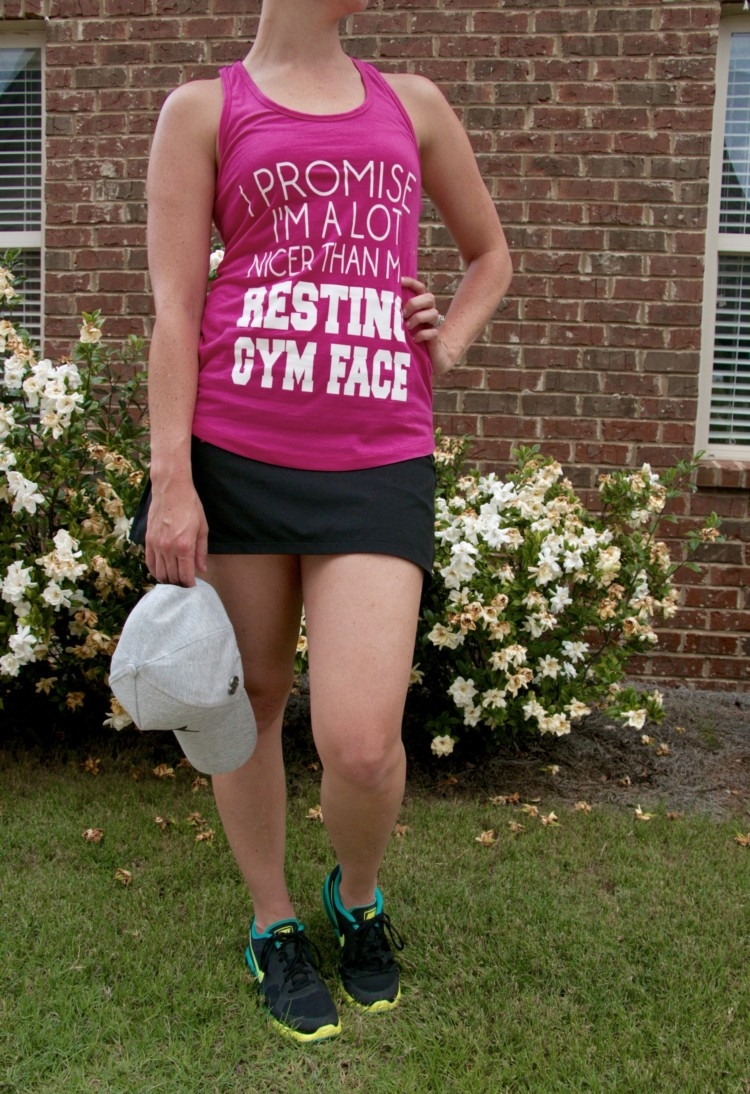 Shirt (c/o) (Mama Bear similar, similar) // Tennis Skirt // Tennis Shoes // Jogging Stroller // Hat (c/o) // Sunnies– major sale (affiliate links included)
Who is excited that tonight is the premiere of The Bachelorette? I love co-ercing Eric into watching it with me every year. He tells me every year that he's not going to watch it but then at the end of the first episode when they show all the places they travel, he wants to "just see it for those parts." I'm lucky he's such a good sport to watch it with me and I'm pretty sure he's happy that some nights I go watch it with girlfriends! In case you missed it, I have a NEW The Bachelorette Workout Game on the blog from Friday so make sure to pin it to do it with me!
Welcome back to the fourth week of Molly and I's Naptime Power Hour series! We have really enjoyed getting together with you ladies each week to talk about mom life whether it be here on our blogs or on our Facebook LIVES each Tuesday. Don't forget to join us TOMORROW at 12 pm CST. In case you missed our past posts you can see them below:
Today I'm sharing a fitness q&a session because these are the most common questions I hear centered around fitness or healthy eating with baby.
Fitness Q&A:
What is your best advice for a healthy pregnancy?
1. Work out all the way through if allowed by your doctor. I took a Pure Barre class the day that I was induced and I truly believe it helped me bounce back faster than anything else I did.
2. Listen to your body. I had to quit running early on because I was having too much pain and discomfort. By the end I was just doing walks and Pure Barre and I was good with that.
3. Get sleep while you can! If you have the ability to nap or go to bed early, do it. Your body needs rest to prepare for all that is coming and in those first few weeks with baby you certainly won't be getting much then!
How did you drop the baby weight?
You can read Leyton's birth story here, but I had a bit of a complicated delivery so I wasn't allowed to go further than our mailbox for about 6 weeks. I was finally cleared to walk then and went back to Pure Barre at about 7-8 weeks with some modifications. I started working out with Homefit twice a week to supplement my Pure Barre classes and it was extremely helpful.
What are your favorite athleisure brands?
I get this question so much, that I wrote a whole blog post on it HERE.
I'm scared to go to Pure Barre. What's it like?
I can totally see how someone would be intimidated the first time they came to any new workout. I get a little nervous when I go to a new place too! You can read my 10 Tips from a Pure Barre Teacher post to get more insight, but Pure Barre is basically pilates mixed with yoga and a very athletic approach to ballet. We train the upper body, thighs, seat, and abs until the muscles hit exhaustion and begin to shake and burn and then stretch them all back out in sections to elongate the body. It is hard but rewarding and I love how the mental aspect is so integral as well.
What do you do with Leyton while you workout or teach Pure Barre?
I am VERY lucky to have an amazing sorority sister from Samford who keeps him two days a week for me from 8 am-3 pm and my mom keeps him one day a week as well.
How do you "do it all" and still work out?
Honestly, I make working out a priority. I know that if I workout, I'll feel better and everyone around me will be happier if I've got those endorphins going. 😉 I'm very grateful that Leyton can workout with me with Homefit or I just get him in the stroller and go for a jog or walk if nothing else. He likes being outside and I usually stop in our neighborhood park so he loves that! If you'd like to read more about my daily schedule and how I get it all done you can see it here.
What do you eat?
I am a big proponent of living a balanced life. I eat paleo or clean eating for the most part and then splurge for 2-3 meals a week. I cut out sodas years ago, and basically drink water, juice, kombucha, tea, coffee or wine. 😉 Some weeks I'm better than others, but it depends on what we have going on that week with birthdays, vacations, lake trips, etc. One of the reasons I workout is so I don't have to sweat every little calorie.
It seems like you're always doing a challenge or something new. Can you tell me more about that?
Honestly, I just like a lot of variety so I don't get bored with working out or healthy eating. I have several blogging friends that are health conscious so we like to team up and do challenges like our Whole30 in January, the paleo challenge, the no sugar added challenge, and now we're doing a 30 day abs challenge. It's a lot of fun to do it with them and it helps me stay motivated! I love chatting with you guys about it in our Facebook group and on Instagram when you join me.
What would you like to say to the women who have babies and are hesitant to make the time for themselves to workout? 
Like the commercial says, "Just do it."  Seriously, if you don't make the time for you, who will? It's so important for us physically, emotionally and mentally to exercise to release stress and enjoy the health benefits. What are we teaching our little boys when their moms put themselves last?  Or what are we teaching our little girls? They learn what to do by watching us, so it's so valuable to show them moms don't come last in the family. Mom takes care of herself. Mom is strong enough to play with you…and the list goes on and on!
Shop the Mom Fitness Post: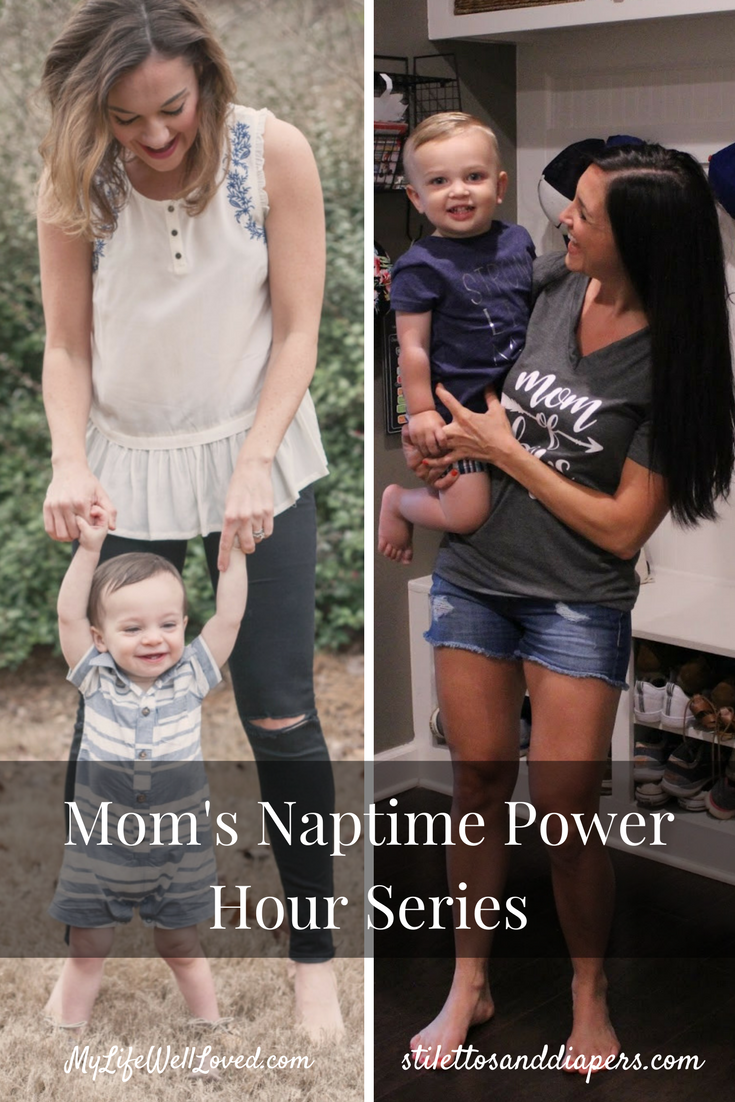 Molly and I are thrilled to have our guest host Kristy from Seven Graces here with us today so make sure you visit her blog to see her fitness after baby journey and don't forget to visit Molly's blog today too!
Did I answer all your questions in my fitness Q&A? If not, leave your questions below and I'll be happy to answer them!
Heather Brown helps busy mamas of young littles who are caught in the hustle to find encouragement in their journey to true health, from the inside out, starting with the heart. Read her journey of learning to live a life well-loved
HERE!