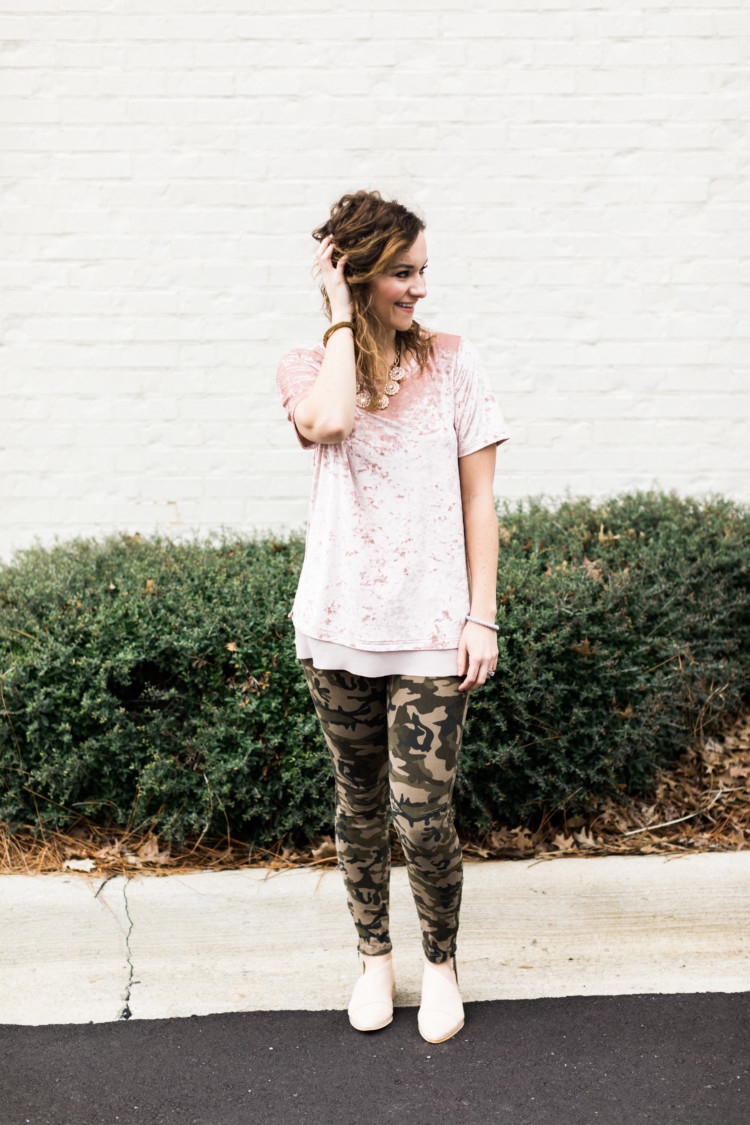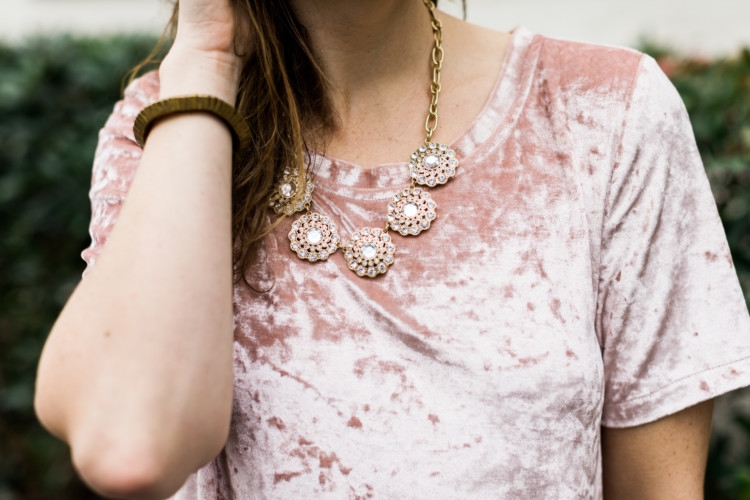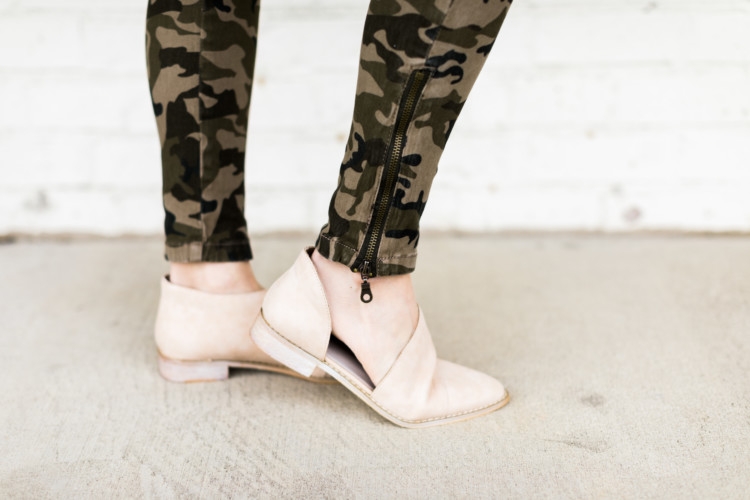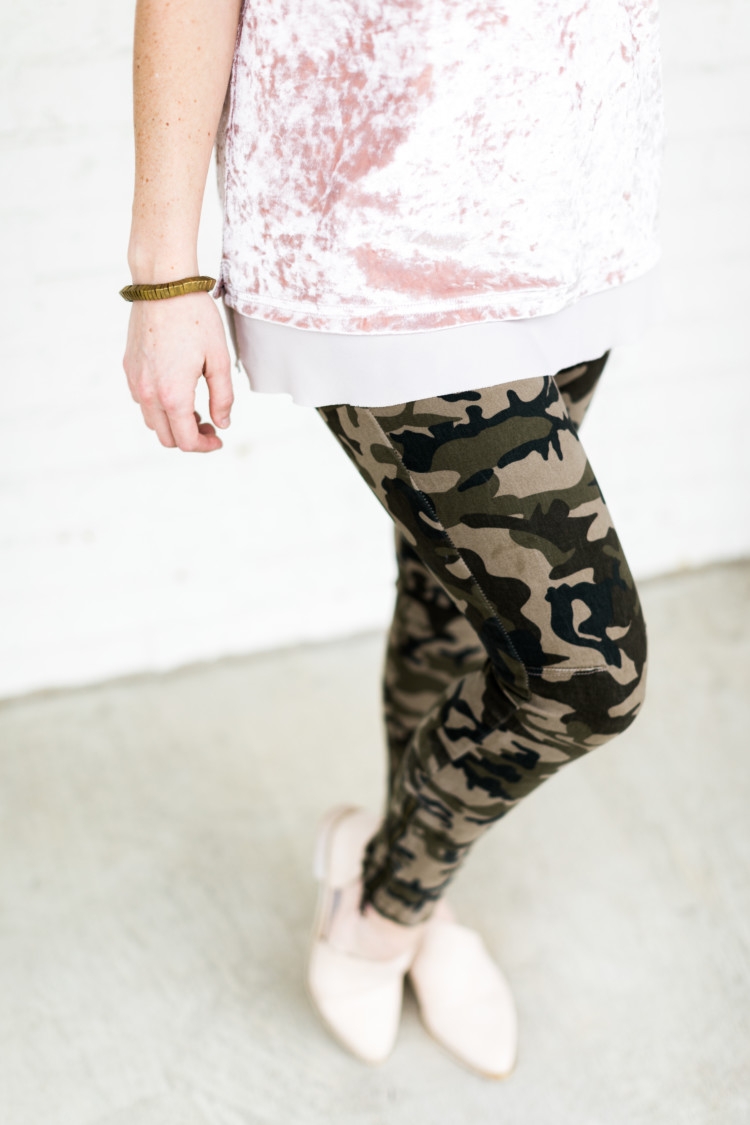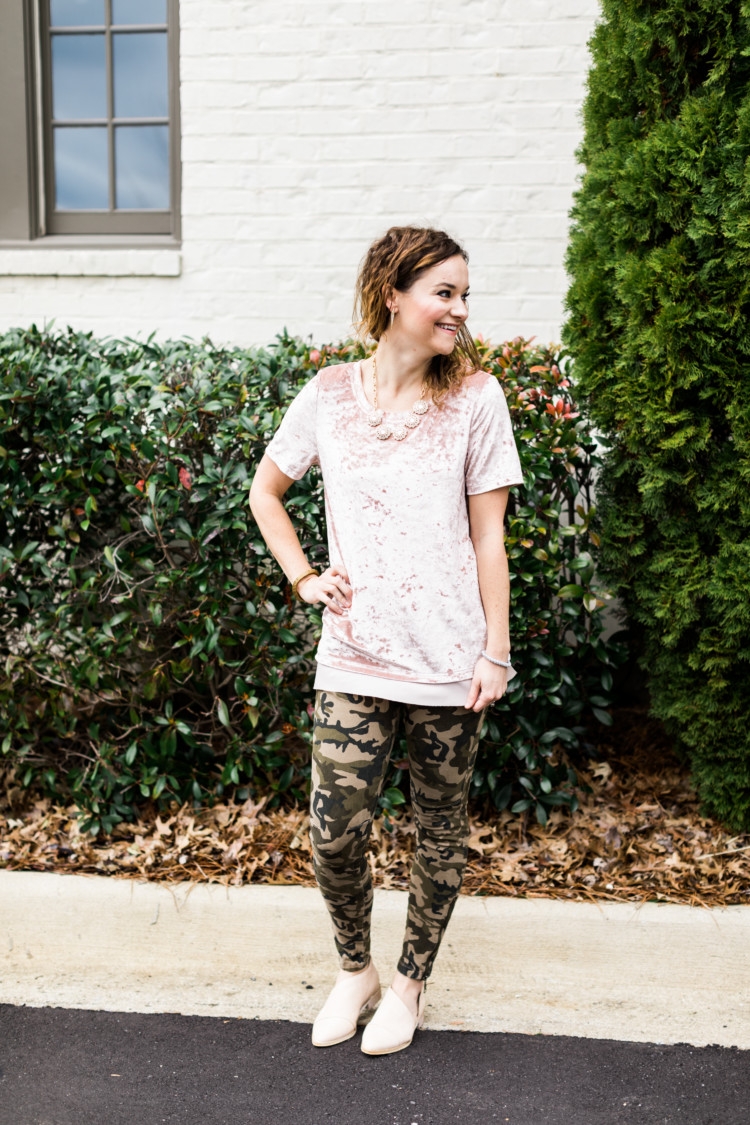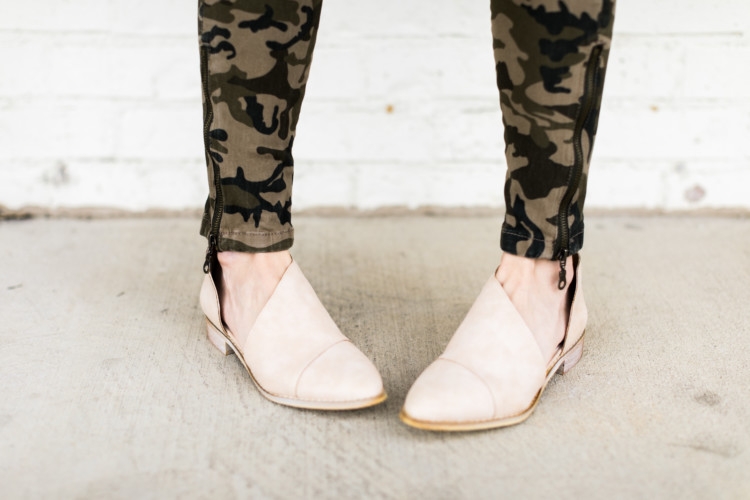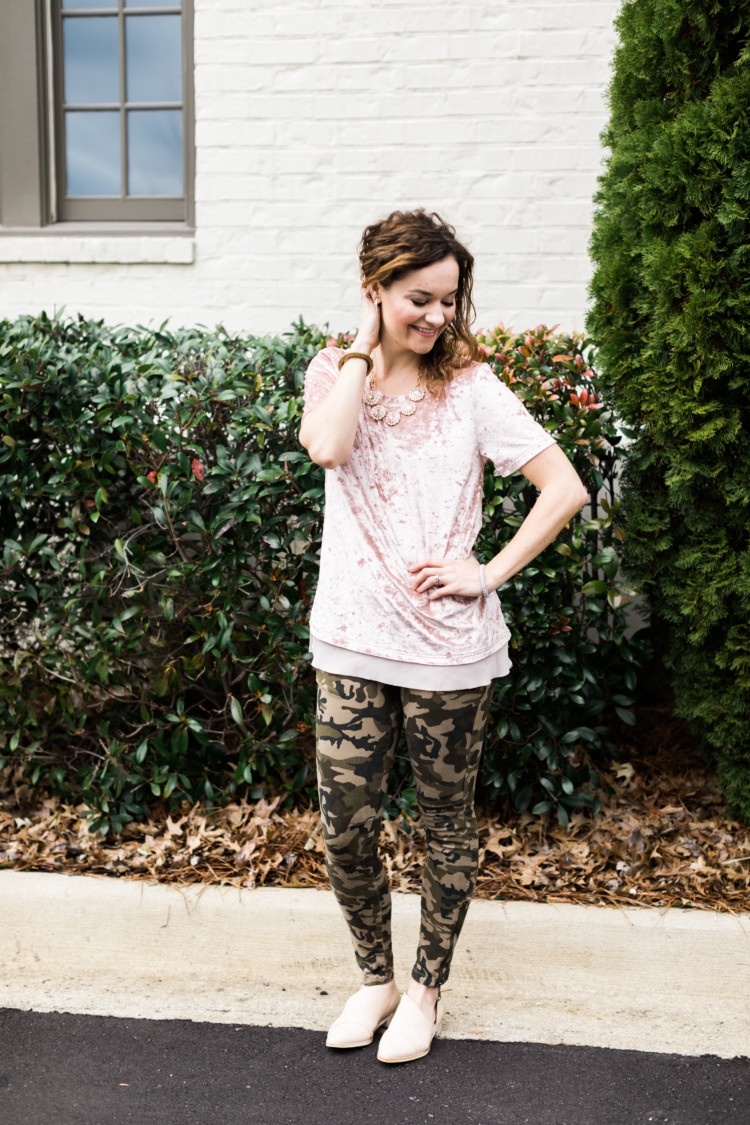 Shirt (similar, similar) (c/o) // Camo Pants-sold out (c/o) similar, similar // Shoes (c/o) // Necklace // Earrings (Affiliate Links Included)
I hope you all had an amazing Mother's Day! We celebrated my mom on Friday night and are living it up at the beach now. I really can't ask for much more than that!
How in the world are we already at the half way point of our Mom's Naptime Power Hour in May? I knew May would fly by because we are in Tampa for a week, and also going to Atlanta for a weekend, but holy smokes, it really is shocking how quickly this month is winding up.
Today we are tackling mom's fashion as our topic of discussion so I'm bringing you my mom style check list. I know, I know, it's hard to get out of your yoga pants when you're chasing a toddler, trust me, of all people, I get it! I spend most my days in yoga pants teaching Pure Barre.
Today, I'm sharing the qualifiers I look for before purchasing clothes when I know I'll be around my toddler. We all know the horrifying feeling of having a toddler pull down your shirt or trying to lift your dress, etc. So many things that can go wrong…without further ado, here's my mom style check list.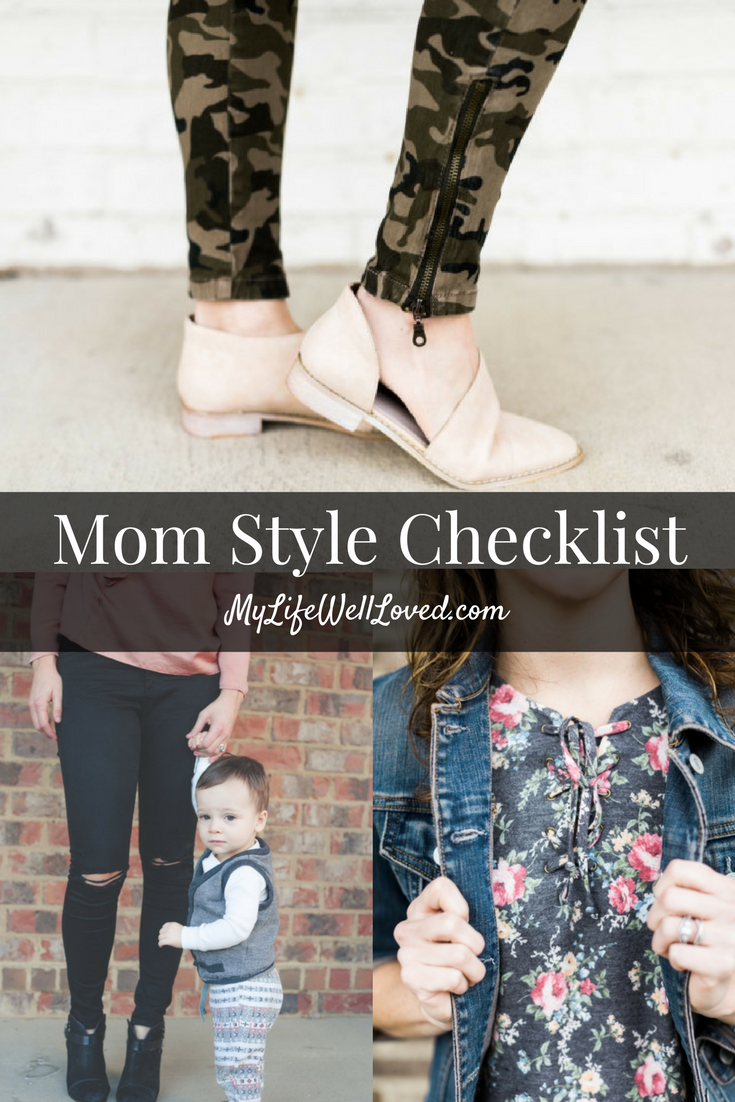 Mom Style Checklist:
Avoid feeling frumpy. Again, I know it's tempting especially when you're at home and we are all going to have those days that get away from us, but try to get dressed up even just a bit to feel more pulled together. Even if I'm in yoga pants for the day, I wear them in funky patterns or bright colors to give them a little style and pair them with cool sneakers, stud earrings or something else to make it feel a bit more trendy. You'll feel better about your whole day too I bet!
Put on a bit of makeup. Somedays this looks like eyebrow pencil, a swipe of mascara and concealer for me, but I feel like a whole new woman when my eyes are a little brighter. I don't put on makeup everyday but for the sake of a check list for mom style, I know I always feel a little more "on my game" when I do. This is a personal decision for you and as you all know on IG stories, I share even when I don't have on my makeup several times per week. 😉
Shorts are long enough in the back. As a toddler mom, I'm constantly bending over to check boo-boo's, roll a ball, pick Leyton up or any other number of things where I want to make sure no one is seeing anything they don't need to see. Make sure your shorts are long enough and have a high waist if possible to keep your mom area supported and covered in both directions.
Pants have enough give. Thank goodness I haven't learned this the hard way! Make sure your pants have plenty of give so if you quickly have to dash after your toddler headed towards the street or about to go for a dive in the pool, your pants won't rip at the seams and are loose enough to allow you to move quickly to keep up with your toddler on the go!
Shirts pass the pull test. If your todder grabs your shirt, are your ta-ta's going to be hanging out? I would have NEVER even thought about this before kids, but now I realize shirts must either be tight enough, high cut enough, halter style or otherwise fitting in a way where they're not so loose that literally the shirt can be pulled below my bra line. YIKES!
Jewelry comes and goes in phases. I used to not be able to wear earrings except for studs. Now, most days Leyton won't try to pull my earlobes in two by yanking down on my ears. I've already had 2 necklaces broken by Leyton and I always have to think through probability of how much I'll be holding him to how much jewelry and what jewelry I can wear on said outing.
Comfortable shoes are a MUST! I never owned a pair of Converse until having a little boy. Now I rock them on a weekly basis to look cute but also have them function to help me literally be able to keep up with my little man.
Don't chase the trends! Be aware of what's trending and incorporate it into your wardrobe if it makes sense for you. For instance, the cutesy rainbow pink unicorn hair…probably going to pass on that one. It's just not my style nor would it really show up in my dark brunette hair anyway. But, if that's your style, own it and do it! Be comfortable in your own skin and wear what makes you feel GREAT and confident.
Shop the Girly Pink + Camo Look + Mom Style Checklist Post: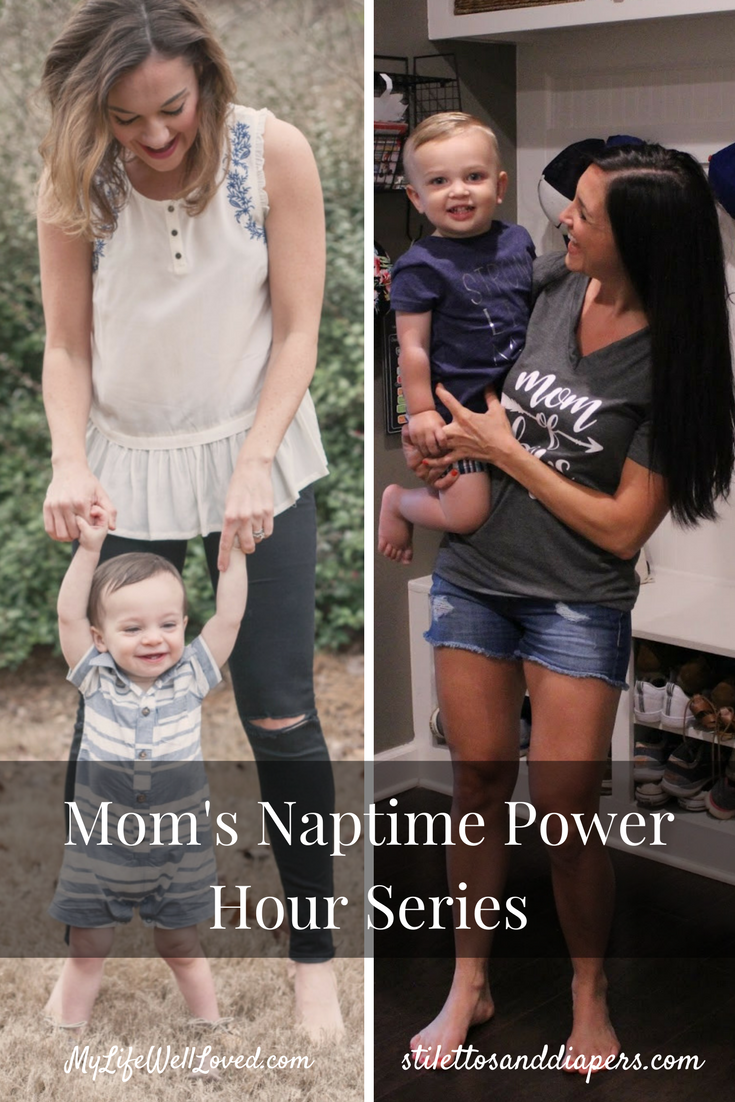 I am joining Molly of Stilettos & Diapers again this week, along with Bailey from Everyday with Bay, and Liz from Pure Joy Home to talk all things mom fashion related! We had so much fun the last 2 weeks, chatting on Facebook live and will be back at it tomorrow at 8:30 pm CST! So drop your questions in the comments and make sure you join us tomorrow here on Facebook with a glass of wine and get ready to talk about our mom style checklist and fashion chat!
Photos: Mary Margaret Smith
Heather Brown helps busy mamas of young littles who are caught in the hustle to find encouragement in their journey to true health, from the inside out, starting with the heart. Read her journey of learning to live a life well-loved
HERE!