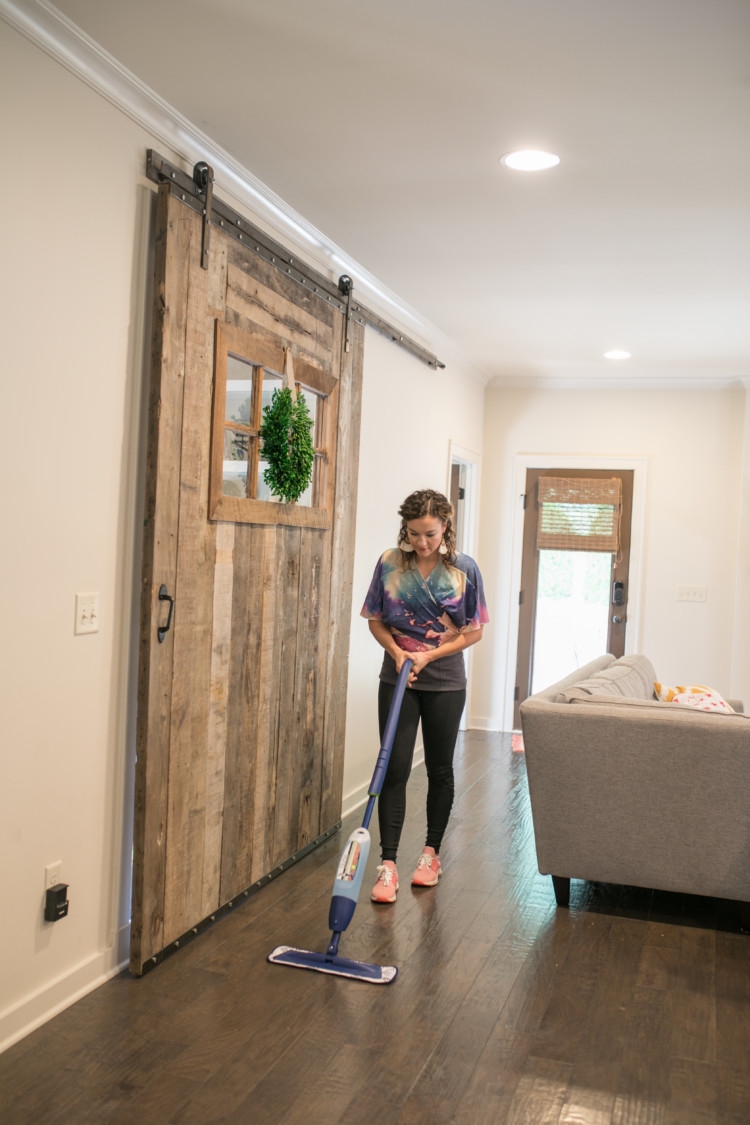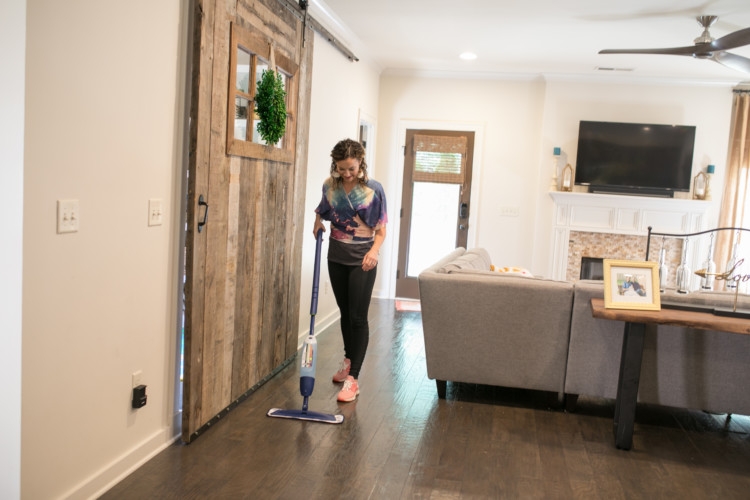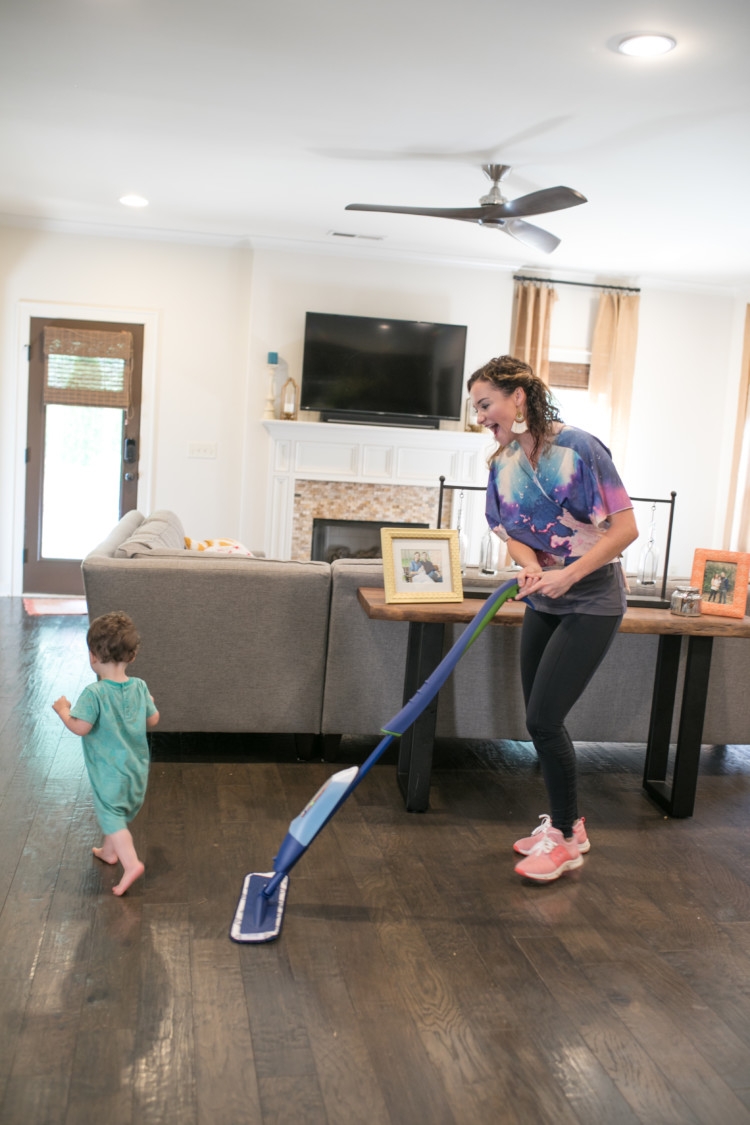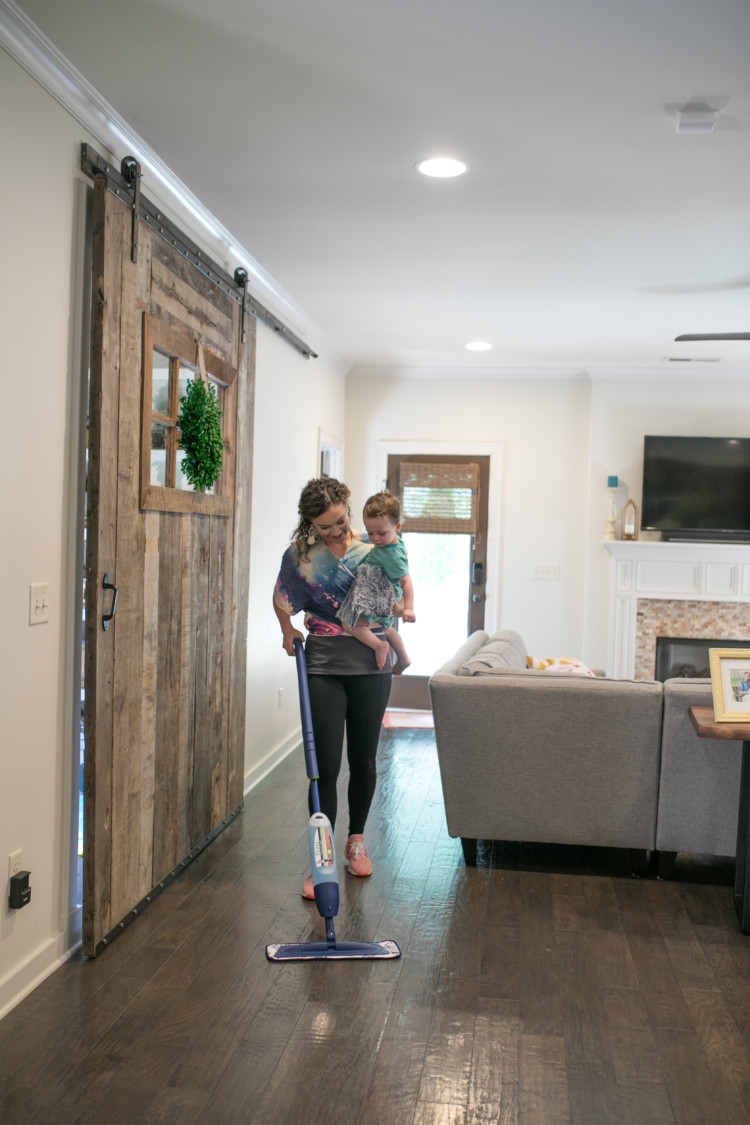 Kimono // Pants // Shoes // Earrings // Leyton's romper // Bona mop // Lanterns on Mantel
Today is a big day because it's the start of Molly (from Stilettos & Diapers) and I's collaboration this month for Mom's Naptime Power Hour! First up this month: cleaning tips for the busy mom! Every Monday this month, we'll be sharing something mom related to encourage you, help you or inspire you to be a better mom in some way shape or form, because the reality is we all need help. It takes a village, am I right?!
I constantly feel encouraged by you guys on Instagram, via email and Facebook so we want to do the same for you! Being a mom is hard so if we can create a community to encourage one another through the journey, we are ecstatic. We will also be doing our nap time power hour each Tuesday on Facebook at 12 pm CST on Molly's Facebook page so make sure you join us there and send in your questions about this week's topic: Household Management. What do you want to know? Let us know in the comments below or shoot us an email!
Cleaning is one of the banes of my existence. As a busy mom, it's one of the last things I want to spend my time doing. I will admit that since my husband is very neat and clean, he's rubbed off on me a good bit but it's still just hard to fit it all in. You guys have asked me to show more of our day to day life so next up is my cleaning tips for the busy mom.
If you were hoping I'd talk more about some of the other facets of household management, don't miss my previous posts on meal planning, meal prep, how we simplify cleaning and more! In the meanwhile, here's how I keep our house clean…and trust me, some weeks are better than others!
Cleaning Tips for the Busy Mom:
Create a schedule that works for you: I typically am home with Leyton on Tuesdays and Fridays but Fridays are always crazy trying to do photo shoots or get out of town so Tuesday is my catch up time. That day is carved out for changing sheets, cleaning up Leyton's room, putting away the laundry (I did on Sunday that's still sitting there…ha!), getting rid of the clutter on our kitchen island, organizing my closet from photoshoot chaos or scrubbing down the bathroom sinks. Sunday's are typically laundry day and then anything else gets done as needed. Molly has a killer schedule you'll want to check out on her blog.
Host company once a week: File this under a unique hack to keep your home clean. We host our church small group in our home every Wednesday and we've found it's a great way to keep our home in check. Even if it means setting the timer for 30 minutes and cleaning as fast as we can or listening/dancing to 5 songs with Leyton while we clean, we try to make it a quick run through to clean up the major eye sores. Although this is certainly no deep clean, it's a great accountability factor to keep our home picked up enough to host friends and family.
Maid: I had to talk with Eric for a long time before he was on board with us having a maid…literally years, people. HA! For my 30th birthday I asked for a maid and he agreed to once a quarter. This way our home never gets TOO out of control from the dust bunnies and all the gritty cleaning that needs to happen. I love that we get to choose time with Leyton or time for date nights instead of cleaning with the assistance of her crew.
Tools of the Trade: As I've mentioned before we love our bobi robot vacuum. We have it run right before small group and about 3 times a week total to keep all Leyton's messes at bay. I've also had several friends recommend Bona hardwood products since we've moved into our new home with hardwoods.It's nice that this mop has dusting cloths you can attach, as well as a microfiber cloth to mop, so it's really an all in one. Bona Free & Simple is a hypoallergenic, water-based formulation that provides an effective clean for hardwood floors with no added dyes or scents. I love that because we've got all kinds of allergies going on in our home and we're trying to stop using as many crazy additives in everything we bathe, eat and clean with. I also highly recommend getting products you love the scent of so that you can enjoy that nice element of cleaning.
Communication: Eric and I had some of our biggest misunderstandings when we first got married about who would do what, what our responsibilities would be and how to divide it all up. Now, we try to just check in with each other about what we can do to help the other one's week run smoother. On Sundays, we talk through our meal plan, what the week ahead looks like and anything outstanding around our home we need to tackle. This always revolves around our calendars/schedules so we make sure not to miss anything. We used to have a system that whoever cooked cleaned up but now many times Eric will cook the meat, I'll do the veggies or side and he'll clean up the kitchen while I bathe Leyton. Communication is so key to your household running smoothly and I'm super grateful to have a husband who is so willing to share the responsibilities around our home.
What are your cleaning tips for the busy mom? How do you get it all done? I'd love to hear in the comments below! AND, please make sure to leave us a message about what topics you want to cover tomorrow in our FB LIVE, we hope to see you there!
Shop the Cleaning Tips for the Busy Mom Post:

Oh, and while we're on the subject of shopping, don't miss the 20% off denim sale at Anthro. I'm pretty partial to these frayed crops…they're my favorite I've seen so far this season!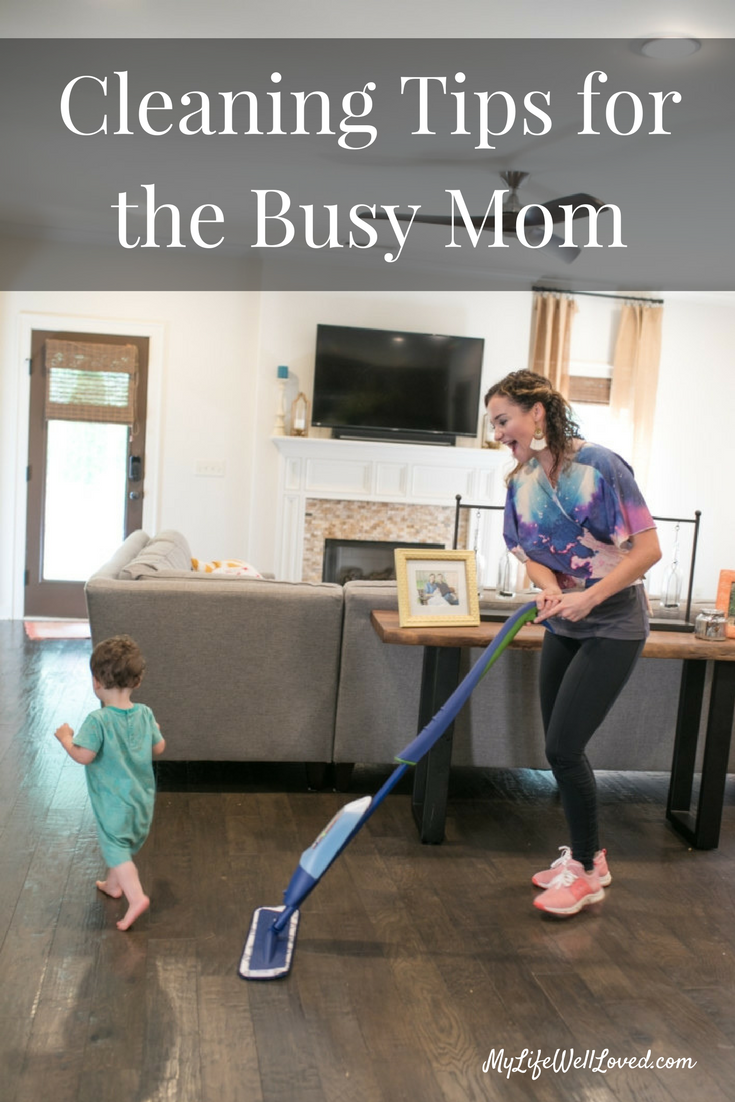 PS Bona is inviting folks to join the conversation about safe cleaning in the home by voting on their favorite Free Advice and Simple Tips at Bona.com or submitting their own to receive a Starbucks gift card or a chance to win $100 worth of Bona products or $500 for a day just for you. Good luck! Thanks to Bona for partnering with me on this post.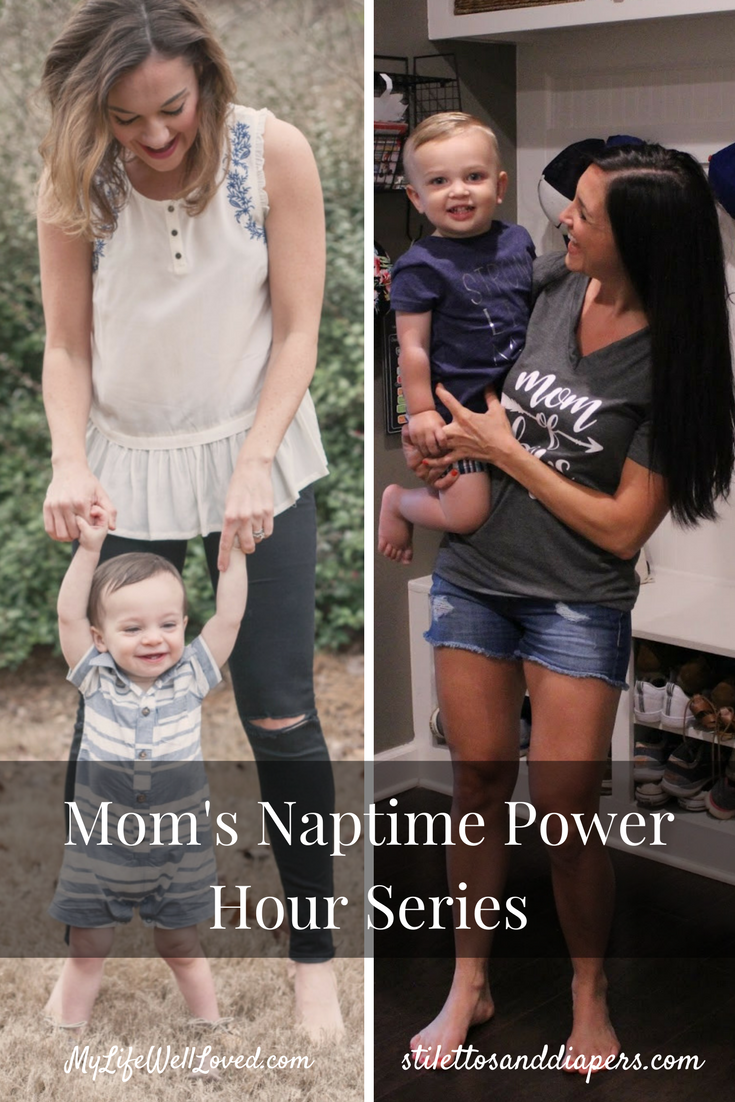 Heather Brown helps busy mamas of young littles who are caught in the hustle to find encouragement in their journey to true health, from the inside out, starting with the heart. Read her journey of learning to live a life well-loved
HERE!