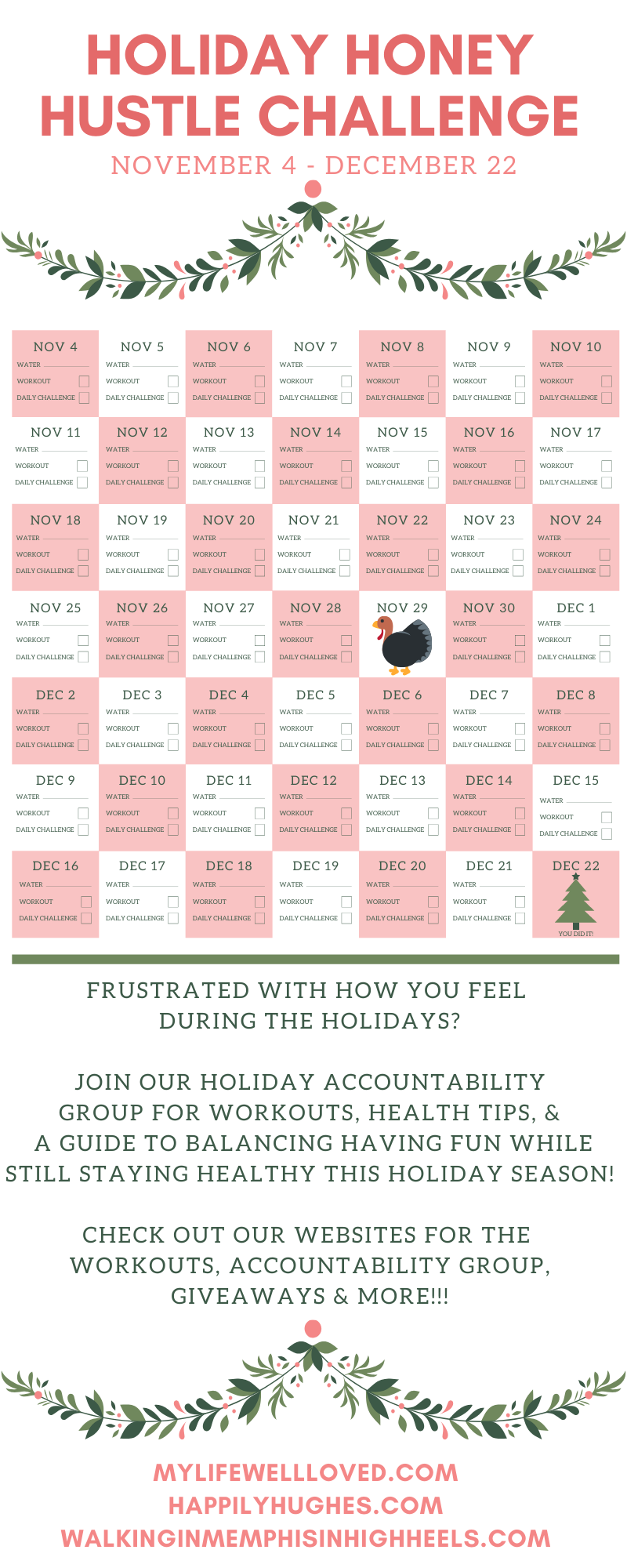 CLICK HERE TO DOWNLOAD THE HOLIDAY WORKOUT PRINTABLE!
Join the Facebook Accountability Group HERE!
Sign up for FWTFL next round 11/11 and for the FIRST TIME EVER Alex McCune is offering a FREE $10 gift card to Starbucks with sign up. They NEVER offer discounts or incentives.
It is finally here! It's officially week ONE of our Holiday Honey Hustle Challenge! If you're new around here, for the past few years, three of us (Jess from Happily Hughes, Laura from Walking in Memphis in High Heels and myself) have teamed up and created this 7 week challenge to stay on track during the holidays!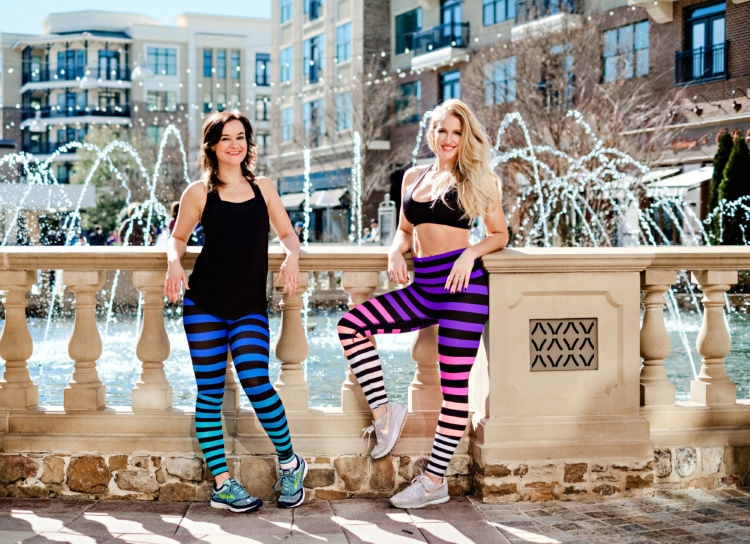 SHOP The Holiday Workout Post HERE: Leggings // Tank // Shoes // No Show Socks // Sports Bra
Holiday Honey Hustle was created to keep us all accountable and on track through the holidays. With Thanksgiving coming up in just a few weeks, and then Christmas, and then the New Year just after that, it can be really difficult to stay focused on your fitness goals. Between the sweet treats, and other indulgences it can be hard to say no.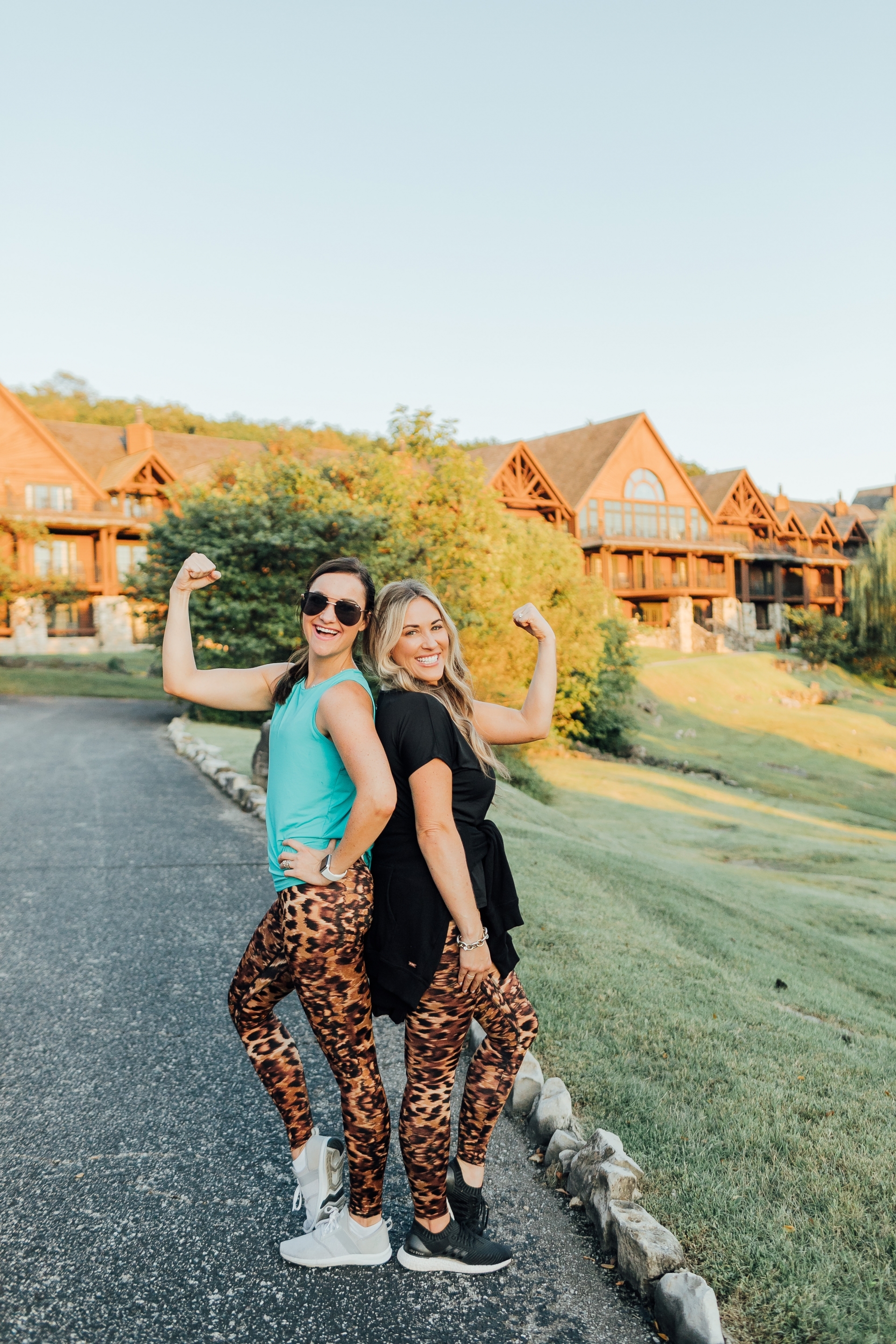 Shoes // Leggings (Similar) // Tank // Sunnies // Sports Bra // No Show Socks // Teleties
In a season of "treat yourself", the Holiday Honey Hustle Challenge will help you to hopefully curb those cravings. But, fear not! We're not here to try and take those sweets and treats away from you! With the HHHC, even if you do indulge, we'll help you stay guilt-free!
CLICK HERE TO JUMP TO WEEK 2!
CLICK HERE TO JUMP TO WEEK 3!
CLICK HERE TO JUMP TO WEEK 4!
CLICK HERE TO JUMP TO WEEK 5!
CLICK HERE TO JUMP TO WEEK 6!
CLICK HERE TO JUMP TO WEEK 7!

What To Expect From Our Holiday Honey Hustle Challenge
Holiday Honey Hustle Challenge PRINTABLE!
DOWNLOAD YOUR FREE PRINTABLE HERE!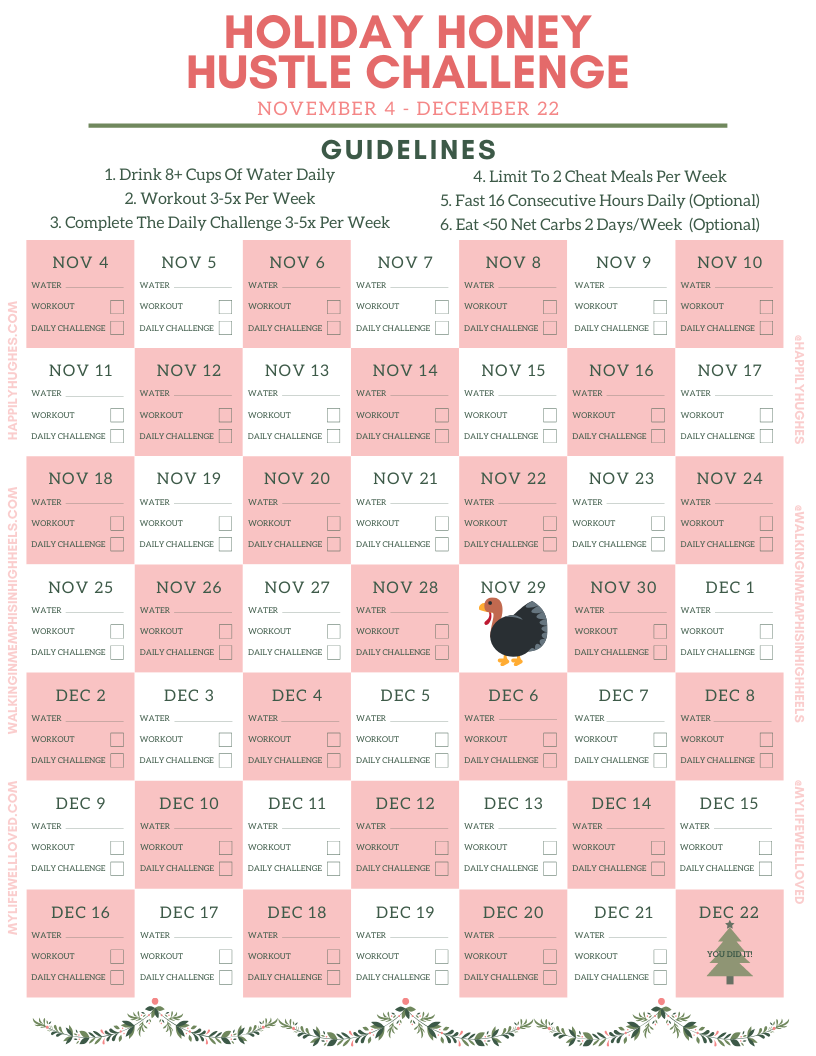 Holiday Honey Hustle Challenge Guidelines
These guidelines are meant to be doable and flexible with your schedule! For example – If you know you have an upcoming friendsgiving or other holiday party, save your cheat meal!
Drink 8+ Cups Of Water Daily:

I know that some of y'all live for a good daily to-do so you can find my water challenge here with a printable daily water tracker!


Workout 3-5x Per Week:

F

ind 3-5 workouts that you enjoy: walk, run, fitness class, etc.


Complete The Holiday Honey Hustle Daily Challenge 3-5x Per Week:

Scroll down to find these challenges!


Limit To 2 Cheat Meals Per Week:

With all the delicious indulgences the holiday season brings, feel free to treat yourself 1-2 times per week! Otherwise eat CLEAN (think shopping the perimeter of the grocery store eating whole foods like meats and veggies). High protein, low sugar for EVERY single meal (Think all natural foods, paleo-ish, tons of veggies, clean eating)


Fast 16 Consecutive Hours Daily (Optional):

You all know how much I have really thrived while doing intermittent fasting since I've been doing Faster Way to Fat Loss. If you're curious about what Intermittent Fasting is, check out this post where I explain everything!

Holiday Honey Hustle Challenge Week 3 + Daily Challenge

This year, we wanted to change things up just a little bit. We would like y'all to challenge yourselves by exercising 3-5 times each week. This can be anything from heading to the gym, finding a local exercise class to attend, going to a jog around your neighborhood or even just finding a video to follow along with on YouTube!
We want y'all to find something you really enjoy doing! Exercise is hard and it can be even more challenging to get motivated when you are being asked to do something you don't enjoy. So get yourself moving in any way that you like! Find a holiday workout routine that suits you!
In addition to those weekly exercises you choose, we are adding in daily challenges. Each day of the week, we are going to be posting these challenges on Instagram Stories for y'all to follow along with!
The Holiday Honey Hustle DAILY CHALLENGE is to be added to the end of your workout each day! Every day of the week, we will have a 30-90 second "finisher" focused on a specific muscle group – arms, booty, core, legs, or upper body.
The finishers will start out at 30 seconds for Week 1. Aim to see how many reps you can do of that particular day's exercise in 30 seconds. By the end of the program, we will be doing 90 second challenges and the goal is to continue gaining strength and stamina each week to do more reps for longer periods of time!
Daily Challenges
MONDAY: 30 seconds tricep dips (arm)
TUESDAY: 30 seconds squats (booty)
WEDNESDAY: 30 seconds crunches (core)
THURSDAY: 30 seconds lunges (legs)
FRIDAY: 30 seconds decline push-ups (upper body)
IF YOU'RE READY, CLICK HERE TO JUMP TO WEEK 2!
Group Accountability & Giveaway Information
Something I loved about this challenge in years past is the accountability. We created a Facebook group designed to be a source for accountability, discussion, and encouragement! If you haven't joined the group yet, click HERE to join!
As you're participating in the challenge, be sure to tag all of us on social media! You can find Jess at @happilyhughes and you can find Laura at @walkinginmemphisinhighheels. BE SURE you are tagging! We will randomly select a winner from those who are tagging us! Make sure to also use the hashtag #HolidayHoneyHustleChallenge when you share your workout, healthy meal, water intake, or anything else!
SHOP The Holiday Workout Post HERE!

PIN The Holiday Honey Hustle Week 1 Post For Later!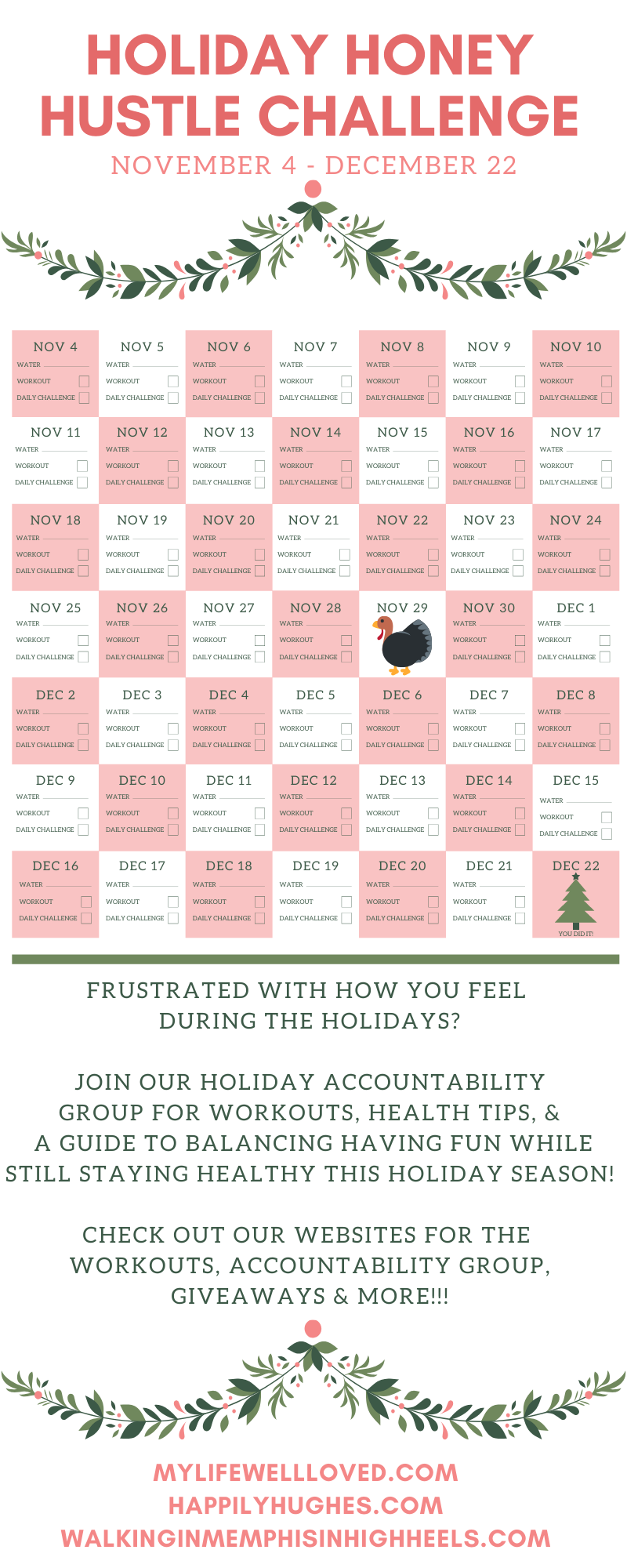 Heather Brown helps busy mamas of young littles who are caught in the hustle to find encouragement in their journey to true health, from the inside out, starting with the heart. Read her journey of learning to live a life well-loved
HERE!