SHOP The Intermittent Fasting FAQ Photos HERE: Leggings // Sweatshirt (they sold out of my star print one but still have camo but I did find this similar star sweatshirt for $16!) // Shoes (Similar) // No Show Socks // Sports Bra // Finn's Diapers
Photos by Eric and Jamie Photo
Y'all have seriously been blowing my mind throughout the first bit of this Intermittent Fasting Challenge! I have loved seeing when y'all tag me on Instagram and show me when you break your fast, all the water you're drinking and the workouts you're doing. Keep tagging me, @happilyhughes, and @nashvilletash as that is how we will choose our WINNER for the Intermittent Fasting Challenge Giveaway!

If you're just joining us, this is the perfect week to jump into it! I'll be answering all of your questions about Intermittent Fasting in one, convenient place!

But first, I want to direct you over to this post where I introduced the challenge and explained a little about what it is! It's not too late to get started! You can click HERE to download your free printable to track your daily progress right along with us! This Intermittent Fasting Challenge is perfect for beginners! If you're new to FWTFL or Intermittent Fasting, this challenge is for you!

Your Most Asked Questions About Intermittent Fasting
Everything about it! – @elishas29

When you join FWTFL, you will learn all you need to know! Intermittent Fasting can be started out slowly to gradually get to 16 hours of fasting and 8 hours of eating. To read more about the BENEFITS, click here!
Prior to breaking your fast, can you only have 50 calories total – like with all coffee combined? Or do you just have to make sure each time you drink coffee it's less than 50? – @gkomis

50 calories TOTAL during fasting window!
Can I do this while nursing? – @kwils725

Absolutely! I did for 10+ months! Just make sure if you are hungry, truly hungry that you break your fast early if needed and listen to your body. I did this on more than one occasion, especially early on in my breastfeeding journey!
How do you do it?? More for gut health vs weight loss for me – @cuoreprezioso

You fast 16 consecutive hours and eat for 8 consecutive hours. Many people's gut health has SIGNIFICANTLY improved and this will be discussed even more during FWTFL! Join the bootcamp, it will be well worth your investment!
Does the last food you eat for the day aid in maintaining fast longer the next day? – @emdoeshomes

Absolutely! Fueling your body properly is the name of the game.
This isn't really about IF, but I need help with counting macros… – @its_april_yall

I 100% recommend joining FWTFL. Alex, your coach, will help you set your macros and teach you how to count them, etc!
I workout in the AM and want to start this bcaa drink I bought to help with soreness. A no no? – @mama_kakes

Totally fine! Alex, my FWTFL coach, recommend the brand Momsanity because their ingredients are clean and it's made with natural sweetener. It is fine to be taken before during or after fasting window.

After your last meal & start your fast back at night is hot tea okay before bed? – @traciisom

For sure! I love hot tea at bedtime and as long as you don't add anything to it, it will not break your fast.
What do you break your fast with? – @priya1116

Whatever you like that is healthy and what will help you nail your macro goals!
What time do you normally eat? – @enapay112

1 pm – 8 or 9 pm daily depending on how the bed time routine goes.
How did you make sure you were eating enough when BF? – @saymo125

LISTEN to your body!! Also my coach Alex helped me a lot 🙂 You will need to also stay super hydrated!
Does it take a few days for your body to adjust to it? – @saratlawrence

Yes it does but then becomes second nature!
Did you see fitness results from IF even before doing FWTFL? If so, what were they? – @arolynbrobinson

Absolutely! I started losing a lot of my baby weight postpartum just by starting Intermittent Fasting. I actually have a whole post on my results coming NEXT MONDAY!
Do you still eat "breakfast" foods at some point in your day? – @erinconser

No doubt! Often times I will eat breakfast food for lunch and my family loves breakfast for dinner!

Best quick things to break fast with? – @bean_and_bugs_mum

Fruit, beef jerky, protein bars, protein shakes, salad, hard boiled eggs!
Did the challenge start already?? Can I still join? – @ohhappyhotalings

The Intermittent Fasting Challenge is still going and you are welcome to join at any time! The next round of FWTFL starts next week and we would love to have you join then too!
Do you ever feel like your blood sugar is low? I'm not diabetic, but if I fast I feel like my blood sugar is low – @rnashleyb

This is a common misconception but it is usually not a blood sugar issue. It is usually an electrolyte issue! Drink some electrolyte enhanced water and see if that helps!
Do you think it has the same effect if you don't do it every day – maybe like every other or 3x? – @kbs_owens

Intermittent Fasting is not an all-or-nothing technique. It will still give you health benefits even if you don't do it everyday. So yes! Fast when you can.
How does it work? – @alyssamencio

You stop eating by 8 pm and then sleep. You wake up and can drink coffee with less than 50 calories of creamers. You stay hydrated with lots of water, herbal tea, etc until lunch time and then enjoy all your food during your fasting window. And it's A LOT of food!!
Benefits, I may have missed the last time you talked about it 🙂 I've started the challenge!! – @tay.cardell

Autophagy — the renewing of our cells, increased focus and energy, saves time and money, gives your body digestive rest! You can read about all the benefits HERE!
How are you not the grumpiest without food in the morning? (I'm hangry!) – @nsaldy

COFFEE! 🙂 and once your body gets used to it I think you will truly love the way you feel and how lean it makes you feel. You can totally do this!
Do you have a break down of what you eat during FWTFL and when you eat it? I need help! – @mrstoombs89

You get all this info when you join FWTFL!
The Products You Need To Survive Fasting:

SHOP the Intermittent Fasting FAQ Post HERE:

PIN The Intermittent Fasting FAQ Post For Later!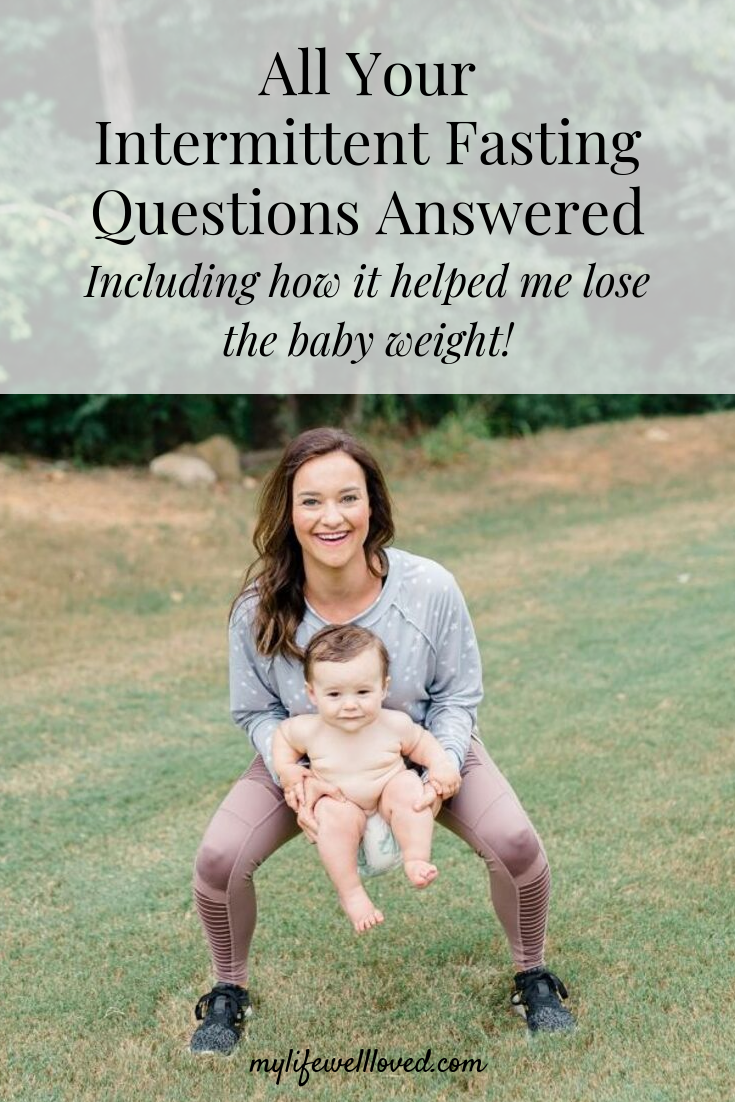 Heather Brown helps busy mamas of young littles who are caught in the hustle to find encouragement in their journey to true health, from the inside out, starting with the heart. Read her journey of learning to live a life well-loved
HERE!