SHOP The Holiday Workout Post HERE: Leopard Headband– Similar Leopard Headband // Shop The Mint Easy Like Sunday Tee // Adidas Shoes // Leggings // No Show Socks

Join the Facebook Accountability Group Here!
If you're just finding us, click HERE to go back to Week One and get ALL the details on this holiday workout series. Then, jump back to: Week 2, Week 3, Week 4, Week 5 & Week 6! // Sign up for the next round of FWTFL – 12/30!

Shop the Leopard Headband // Similar Leopard Headband
We made it!! YOU made it! I am so so proud of you, friend. If you've been with us since the beginning of this holiday workout series, you should be so proud of yourself for getting all the way through with us! Even if you've only joined us for half of the challenge, that's still a HUGE accomplishment and still something to be majorly proud of!

Shop the Leopard Headband // Similar Leopard Headband
I really hope that y'all have had as much fun as we have throughout this whole challenge. It's been amazing getting to hear your stories, see your progress, answer your questions and ALL the things. It's just been such a blessing to be here with you every step of the way, getting right there in the weeds with you. And trust me…there were some WEEDS there in the thick of it, am I right?

Shop the Leopard Headband // Similar Leopard Headband
With this week being the last week of the challenge, I hope that you are taking this week to recover, reflect back on the last 6 weeks and all you have done. Take note of how far you've come from where you started, the habits you've created, the changes you've made. Be proud of that! Take that in and don't forget how you're feeling right now! That is going to keep you going, I promise.

Shop the Leopard Headband // Similar Leopard Headband
Our hope with this challenge every year is that you will create some habits that are sustainable. Habits that have gotten you through the toughest part of the year. If you can get through Thanksgiving & Christmas feeling fitter and healthier than before, 2020 is going to be a breeze! Hang tight, girl gang. This is the beginning of something beautiful in all of your lives and I hope you have come to love it!

Shop the Leopard Headband // Similar Leopard Headband
Holiday Workout Giveaway Winner…
Our Holiday Honey Hustle Challenge Giveaway winner is… Kelly Delrosso! Email or DM us so we can get your prizes to you! And a HUGE THANK YOU to everyone who joined us this year for the Holiday Honey Hustle Challenge!
Holiday Honey Hustle Challenge Holiday Workout:
The Holiday Honey Hustle DAILY CHALLENGE is to be added to the end of your workout each day! Each day of the week, we will have a 90 second "finisher" focused on a specific muscle group – arms, booty, core, legs, or upper body
MONDAY: 90 SECOND PUSH-UPS (ARMS)
TUESDAY: 90 SECOND CURTSY LUNGES (BOOTY)
WEDNESDAY: 90 SECOND PLANK (CORE)
THURSDAY: 90 SECOND SQUAT PULSE (LEGS)
FRIDAY: 90 SECONDS OF CURLS (UPPER BODY)
SHOP The Holiday Workout Post HERE:

PIN The Holiday Workout Post For Later!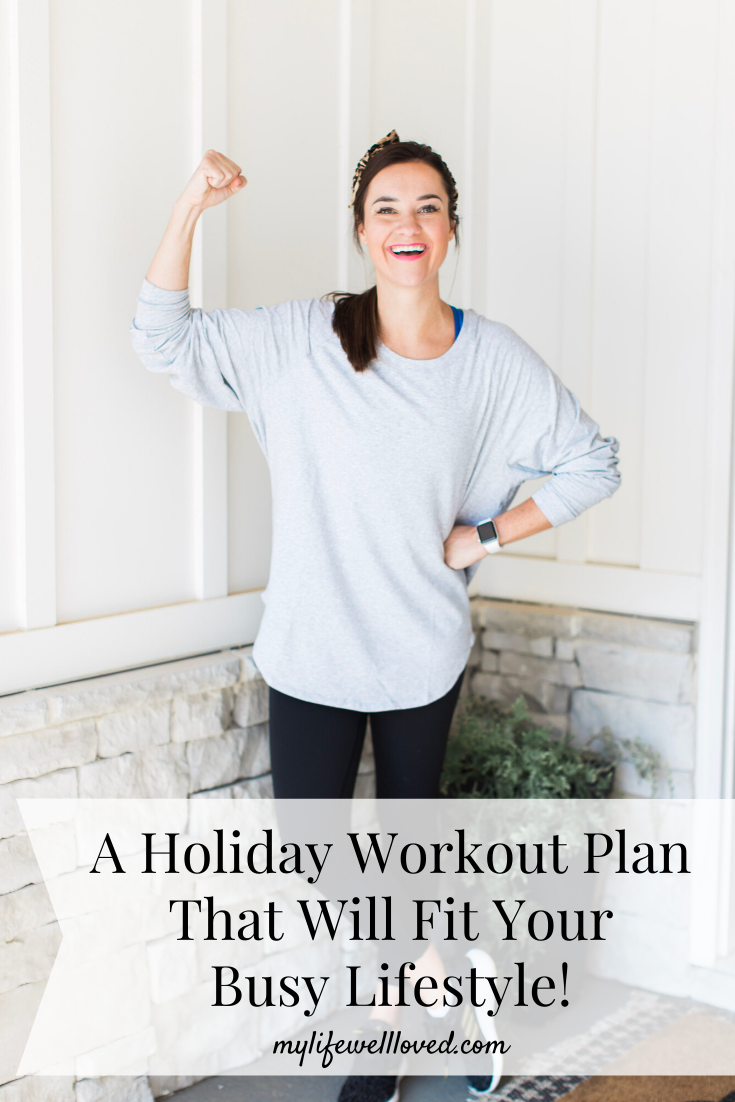 Heather Brown helps busy mamas of young littles who are caught in the hustle to find encouragement in their journey to true health, from the inside out, starting with the heart. Read her journey of learning to live a life well-loved
HERE!