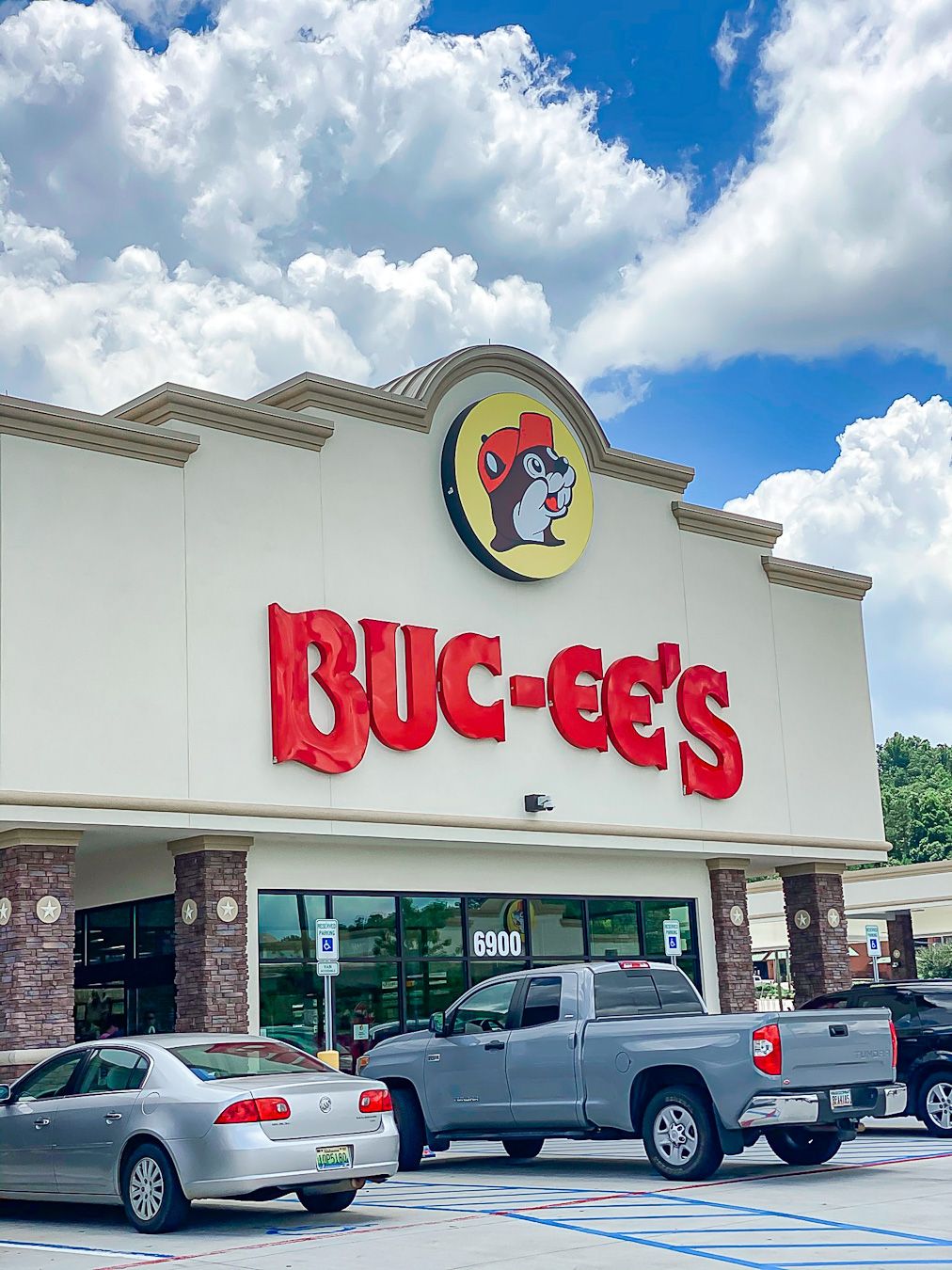 Have you ever been to Buc-ee's?! It's a giant gas station + store that is honestly a travel destination all in itself! I heard it described as a gas station meets Disney with super clean restrooms, gift wares, tons of snacks, and delicious food with fast service. Every location is open 24 hours a day, 365 days a year. Keep reading for my list of Buc-ee's favorites!
Arch "Beaver" Aplin is the founder of Buc-ee's. He opened the first store in Lake Jackson, TX, in 1982 and his main goal was to provide cheap ice and clean bathrooms. Now there are 40 locations and counting! Read this article for more of his success story! Buc-ee's holds the world record for largest convenience store. The New Braunfels store is the largest convenience store in the world at 66,335 square feet!
We stopped by the new Leeds, Alabama location the other day and many of you sent me recommendations on Instagram Stories of what to buy. I felt it was only appropriate to round up a list of ALL of both mine and YOUR Buc-ee's favorites!
Buc-ee's Favorites To Try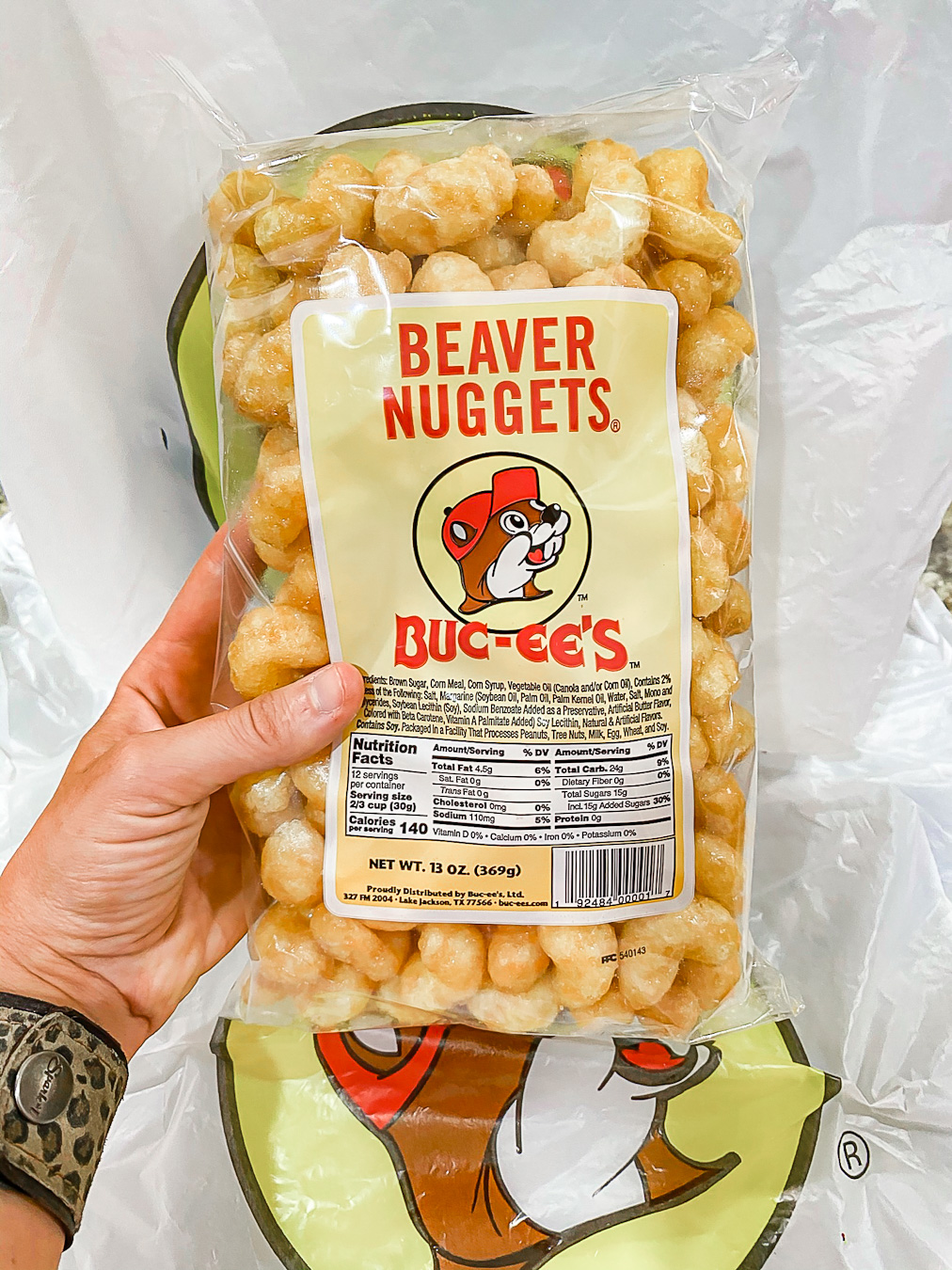 #1 // Beaver Nuggets – These are by far the MOST popular snack at Buc-ee's and what tons of people recommended to me on Instagram stories! Although they were NOT our favorite. They were too sweet in our opinion. It tasted like a maple sweetened cheetos puff. It was odd.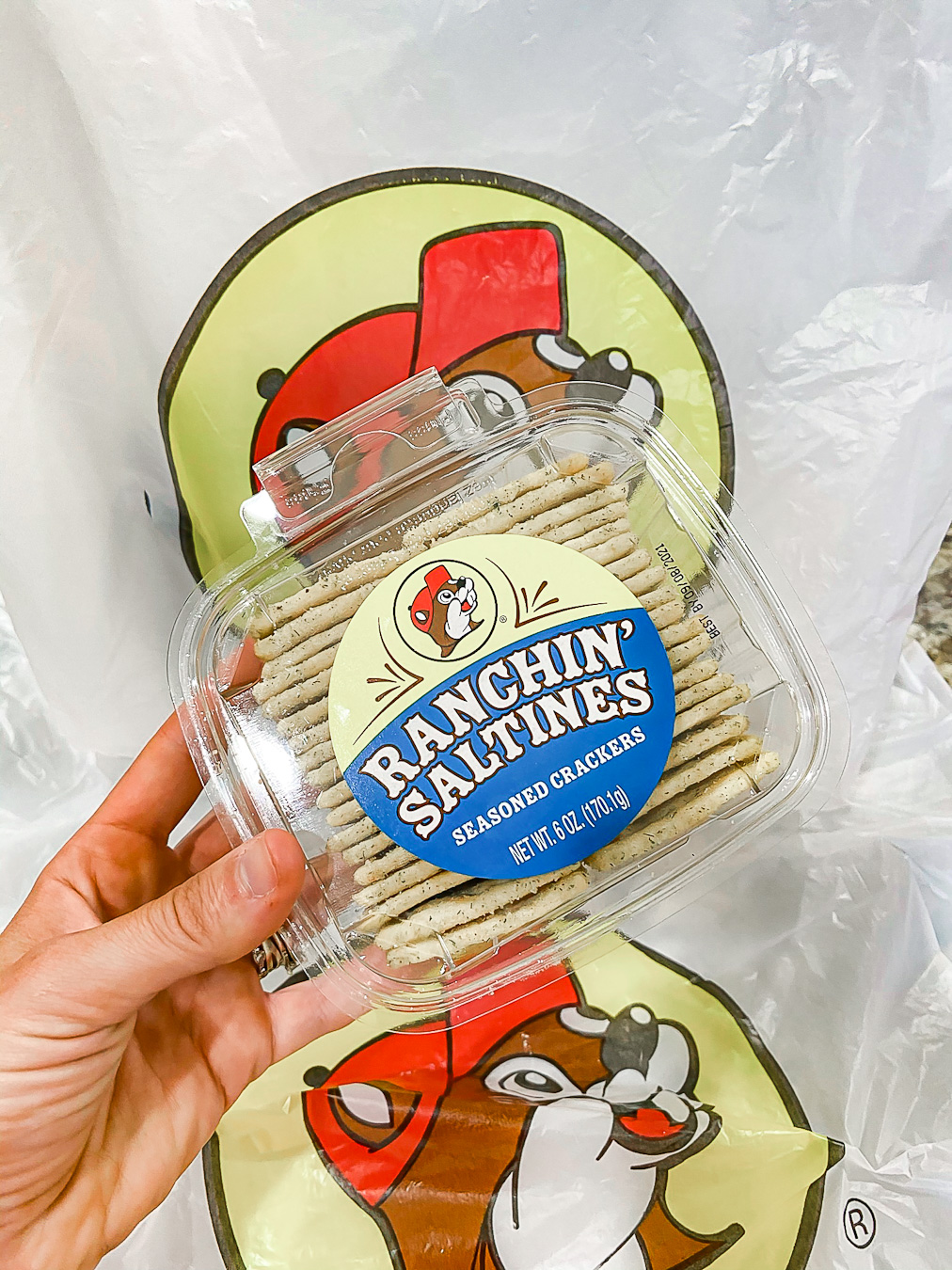 #2 // Ranchin' Saltines – One of my favorite things we bought! Salty and delicious, can't wait to try the sizzlin' saltines next!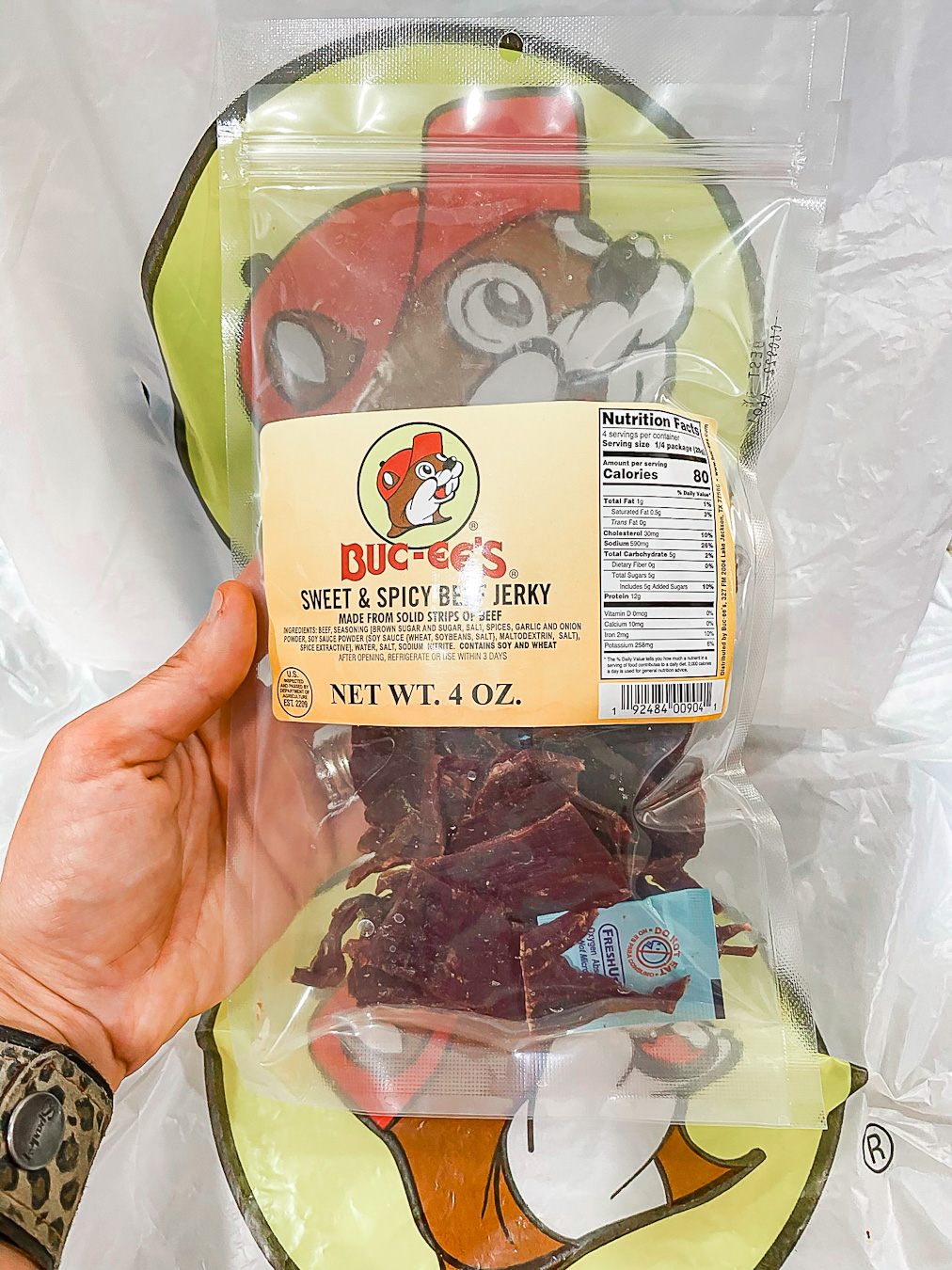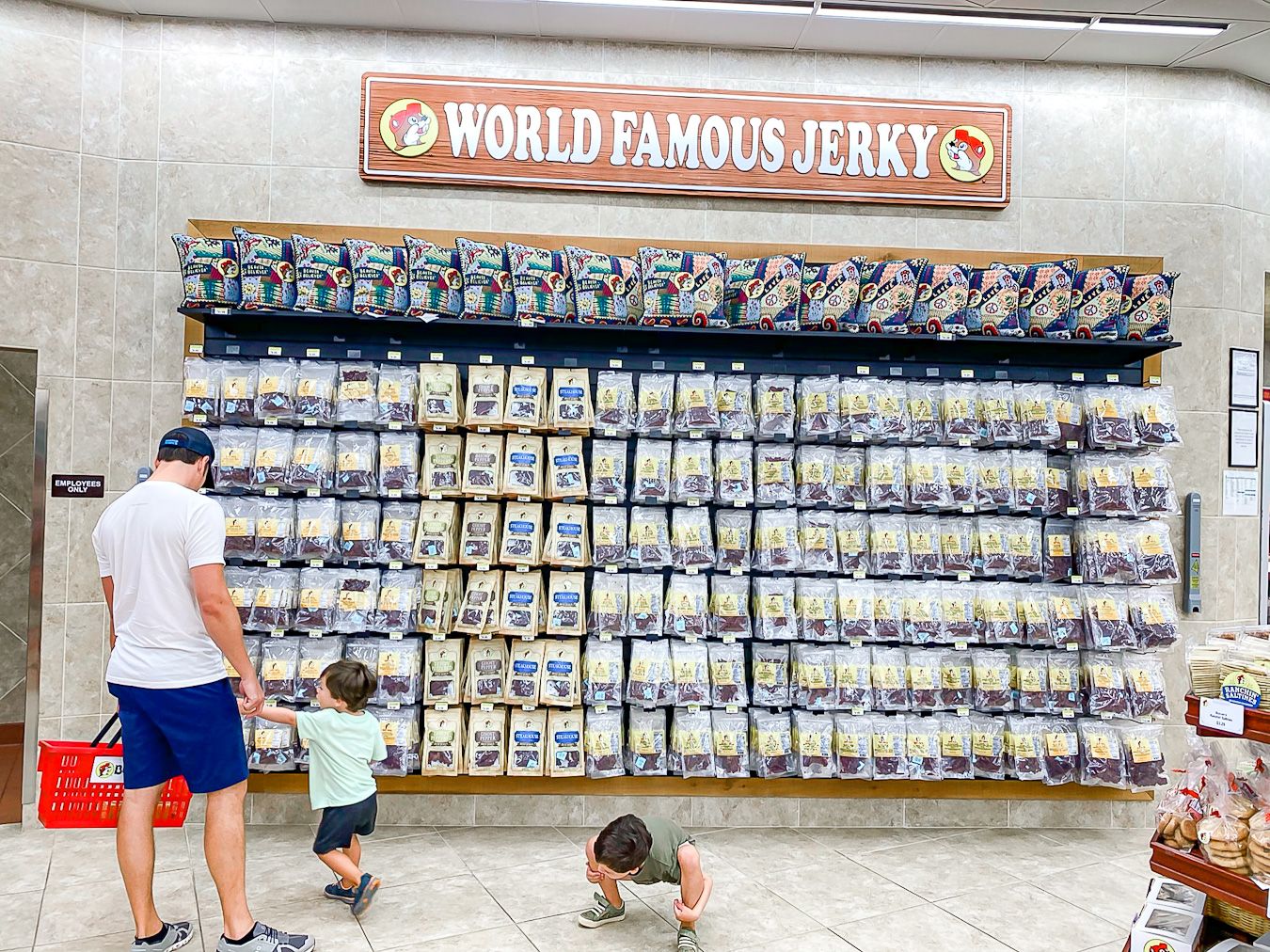 #3 // Beef Jerky – There are tons of flavors so I'd love to try some more of these soon! I've heard the lemon pepper ones are great for low carb day… HIGH protein and fat, low carbs and not much added sugar! They have a whole wall of jerky with every flavor you can think of!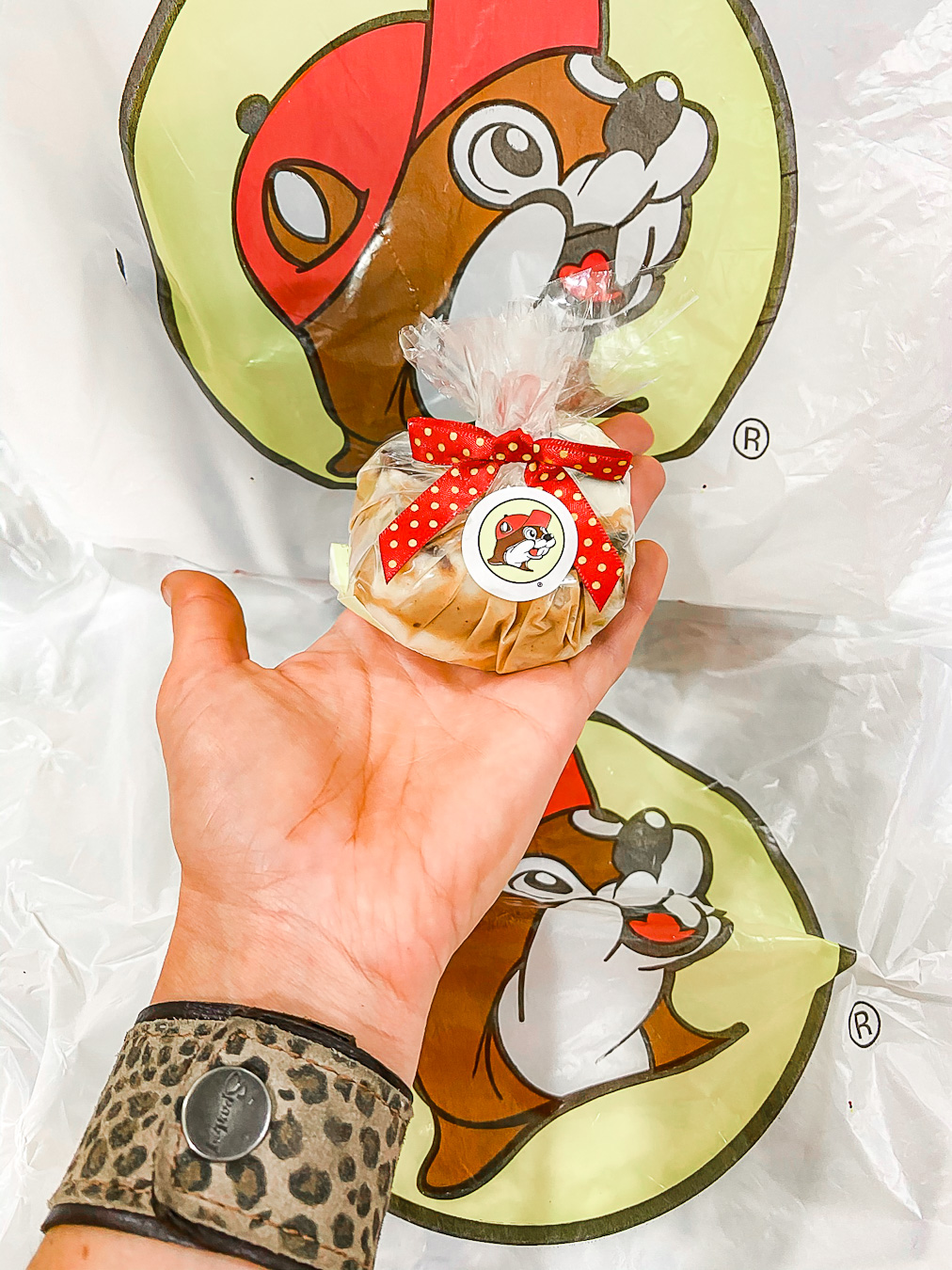 #4 // Tiger Stripe Fudge – Peanut butter fudge with white chocolate in the middle. Need I say more? The birthday cake flavor was delicious as well!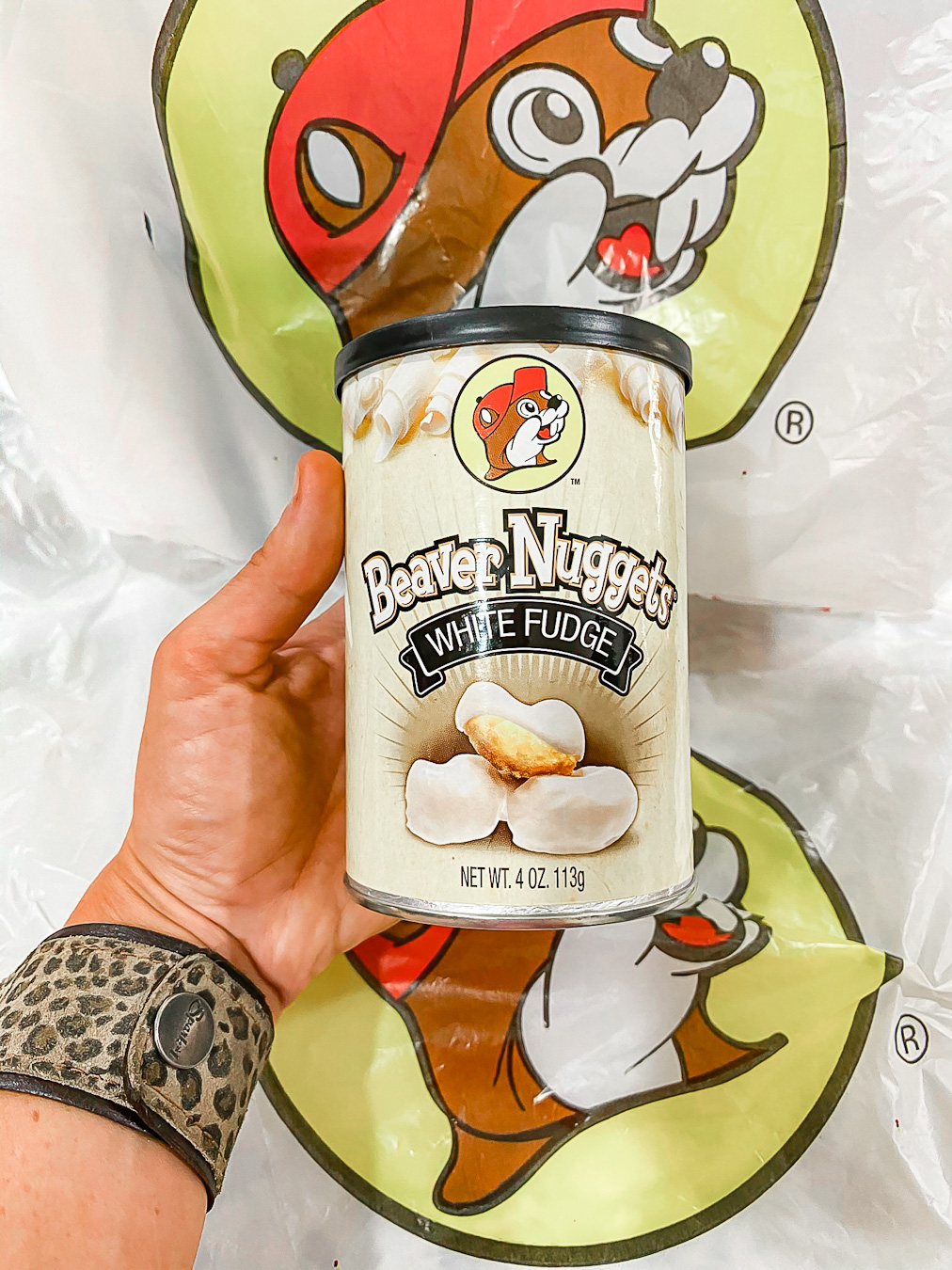 #5 // Beaver Nuggets With White Fudge – These were better than the regular ones in my opinion!
#6 // Pecans – Or really any kind of candied nut! They were HOT and DELICIOUS! Would definitely buy again!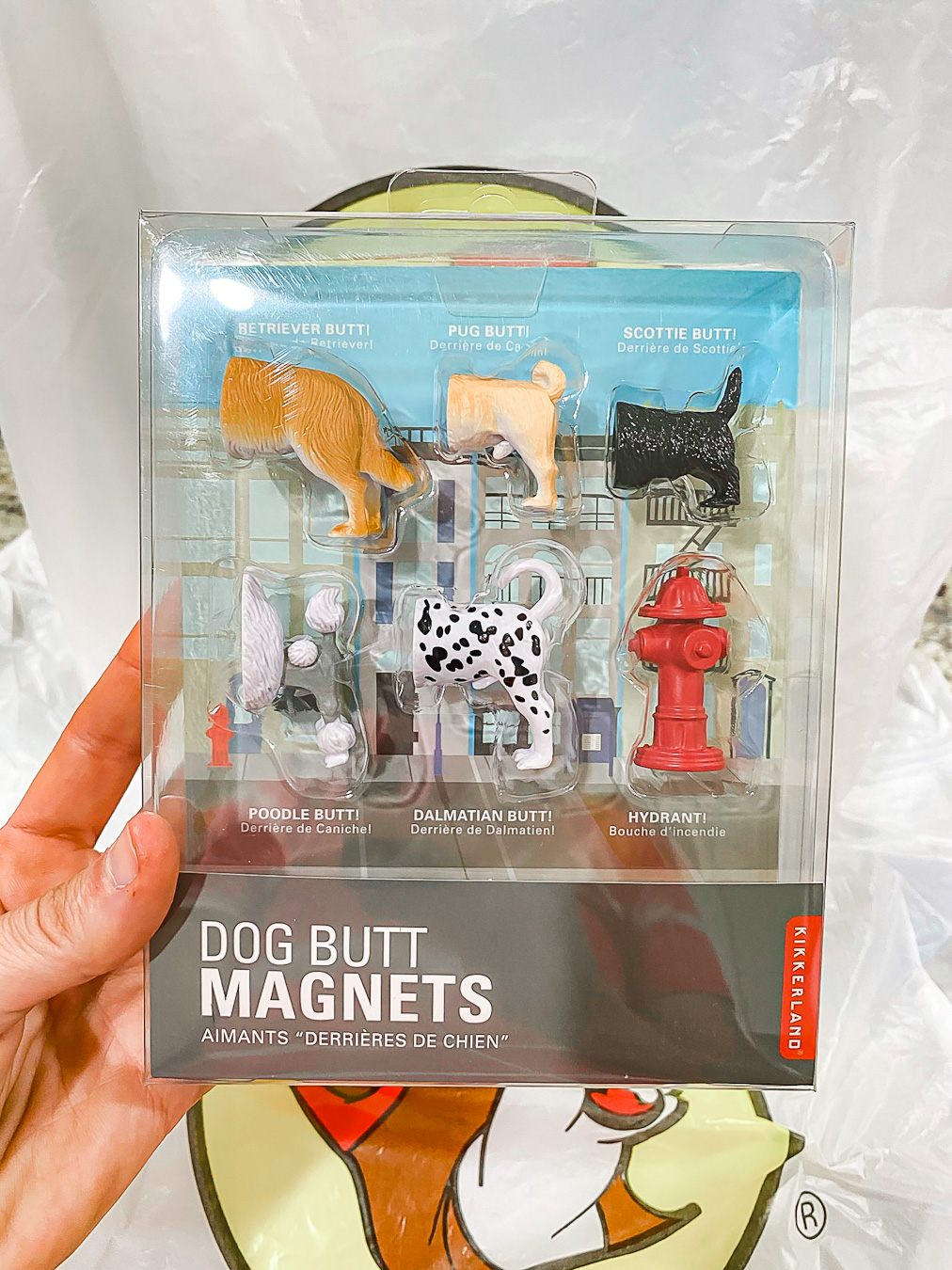 #7 // These Dog Butt – Too funny!
#8 // Coconut Cream Pie – This was INCREDIBLY good. I was highly impressed!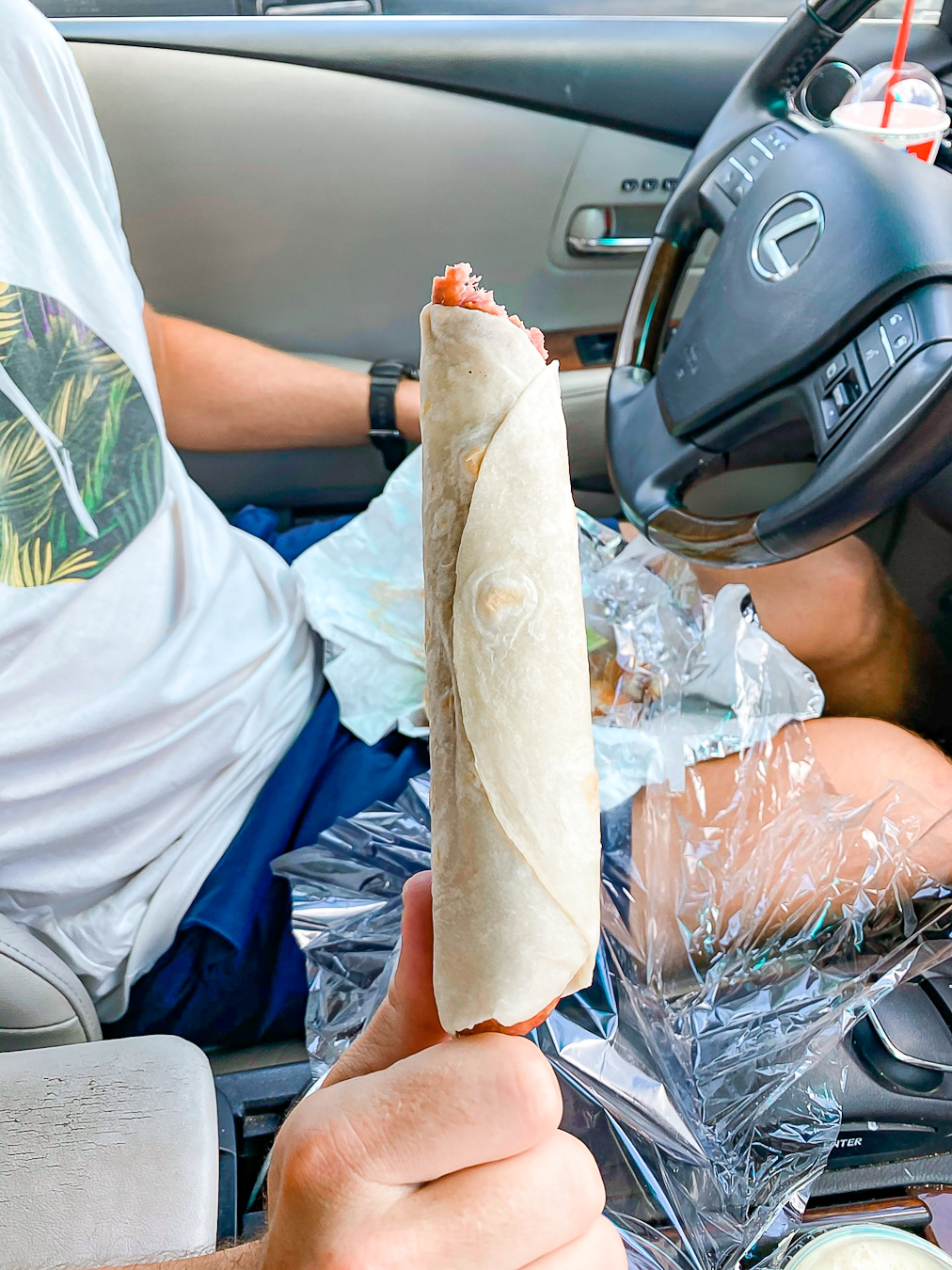 #9 // Tortilla Wrapped Sausage-On-A-Stick – One of your TOP recommendations! Eric loved it!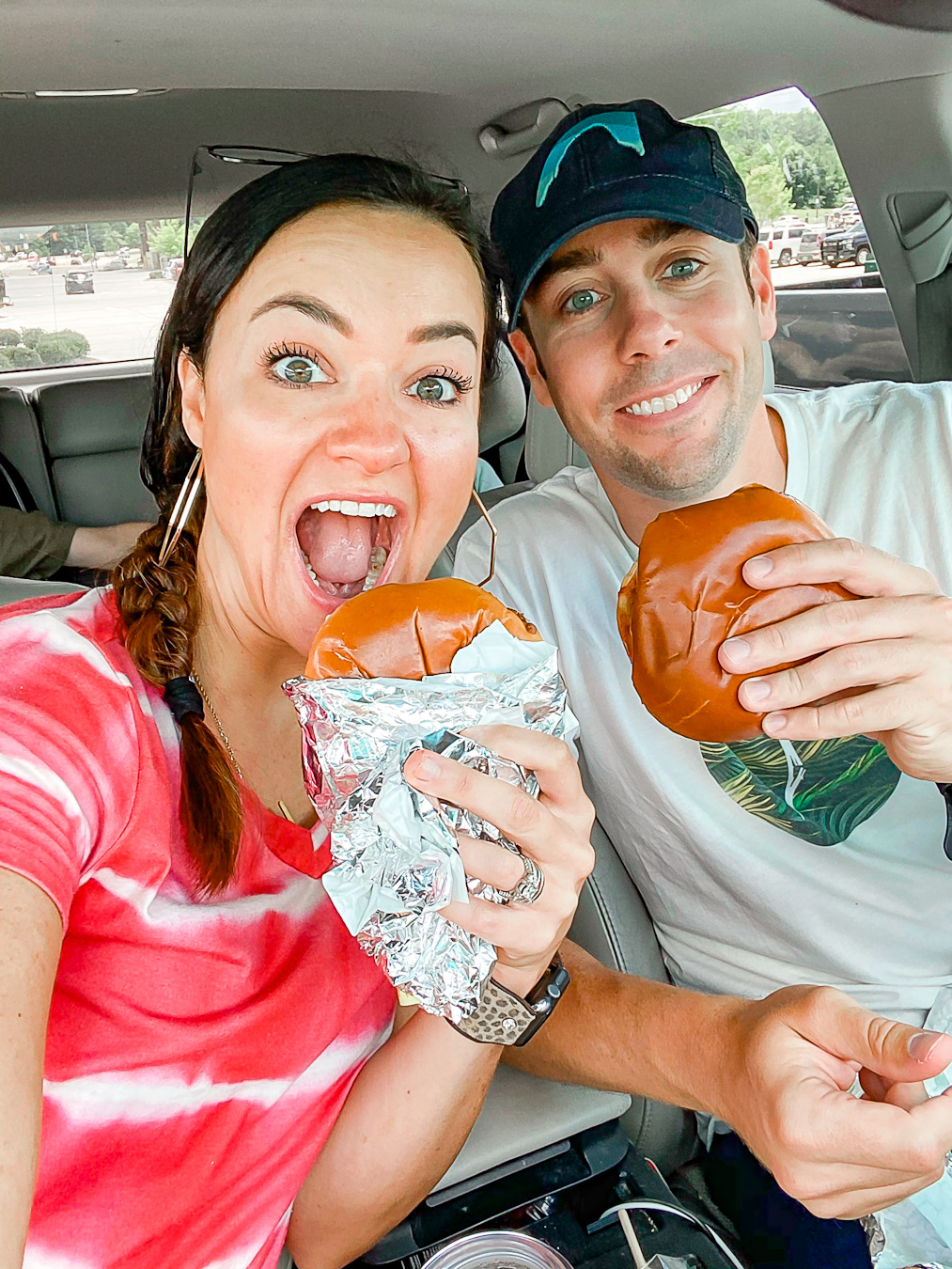 #10 // Beef Brisket Sandwich – People rave about these sandwiches! They are served on a hot bar and they CRANK them out! They are delicious!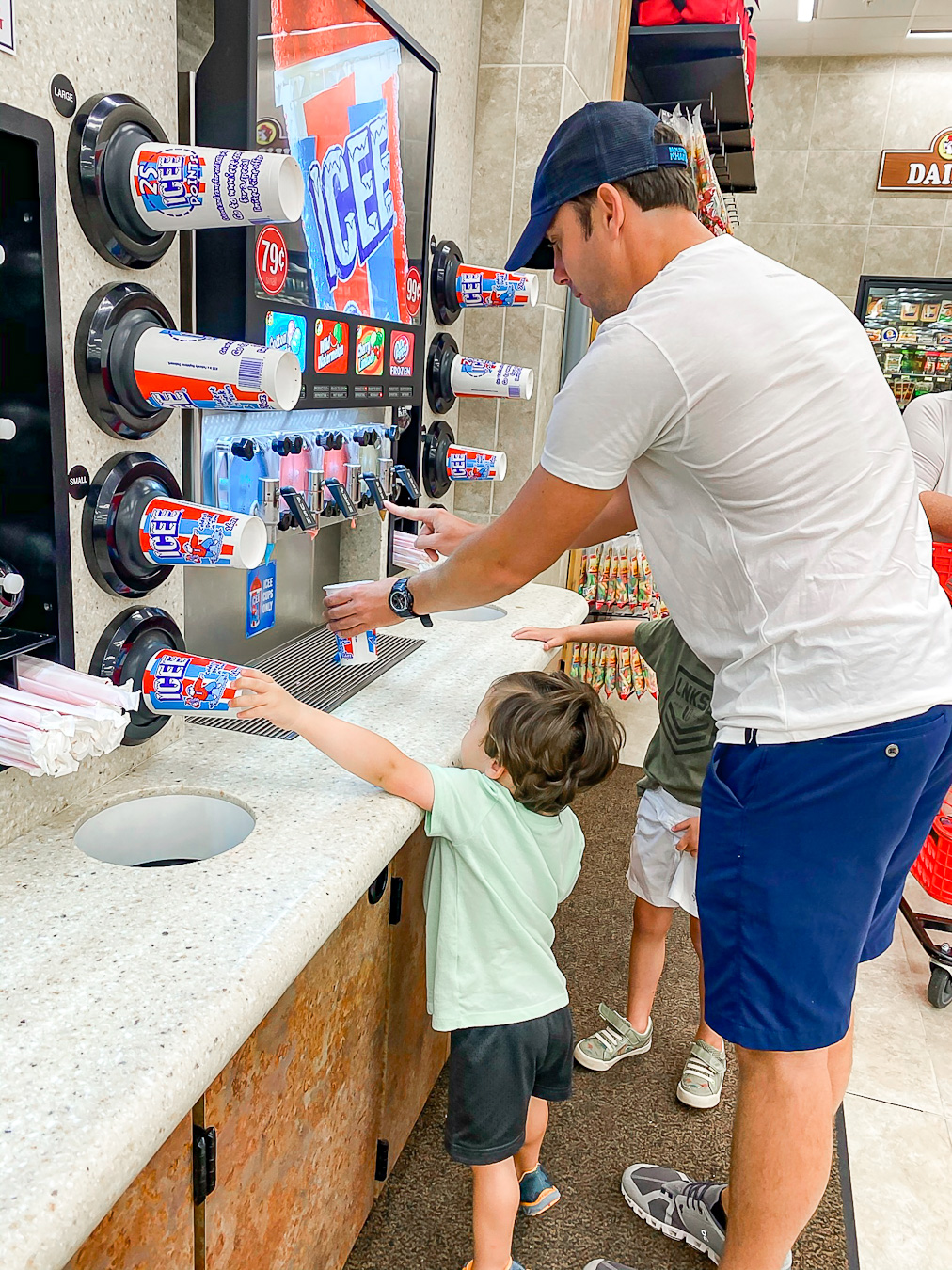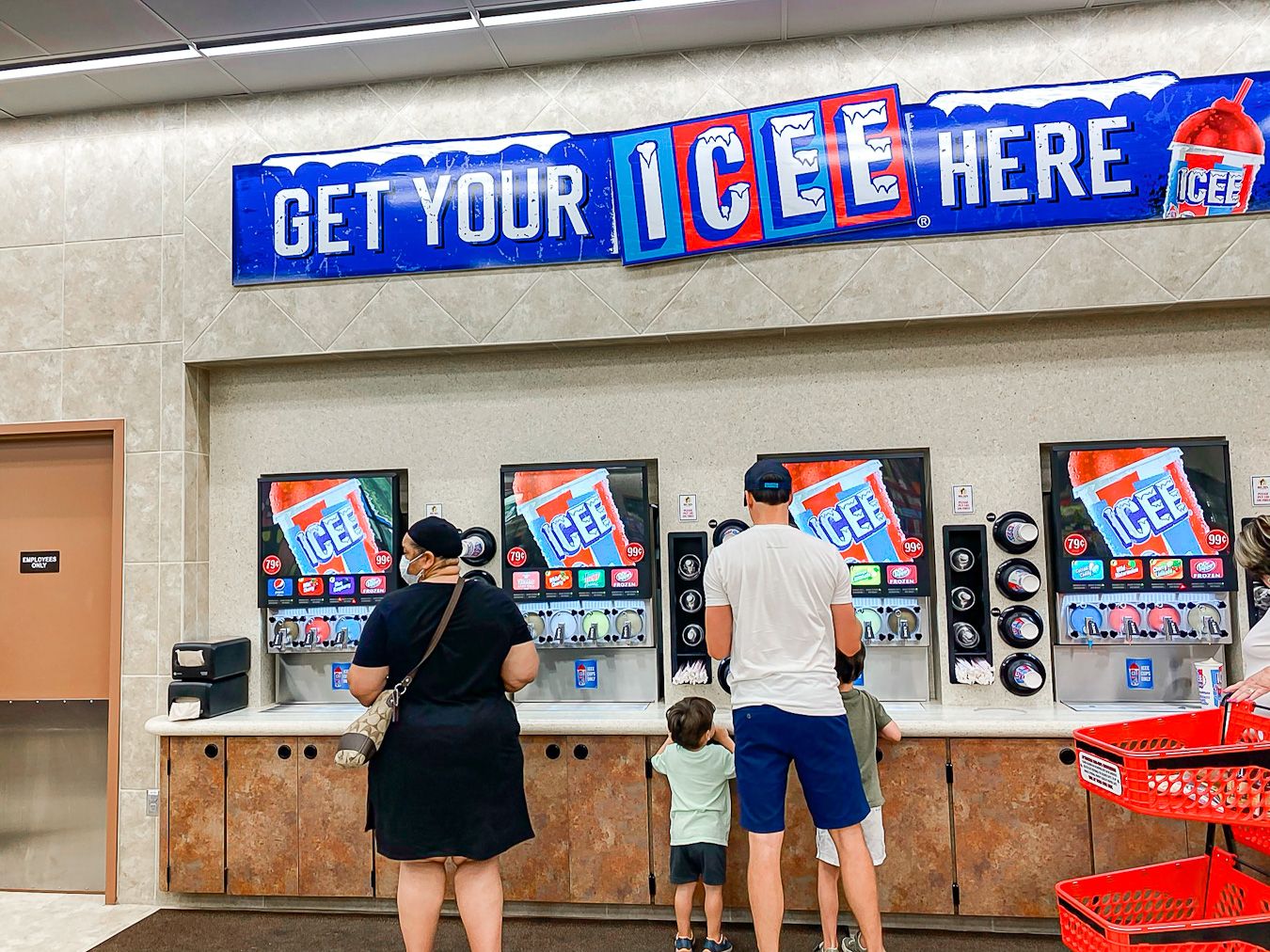 #11 // Slushies – The slushies were obviously a big hit with my boys! They have 16 different flavors to choose from!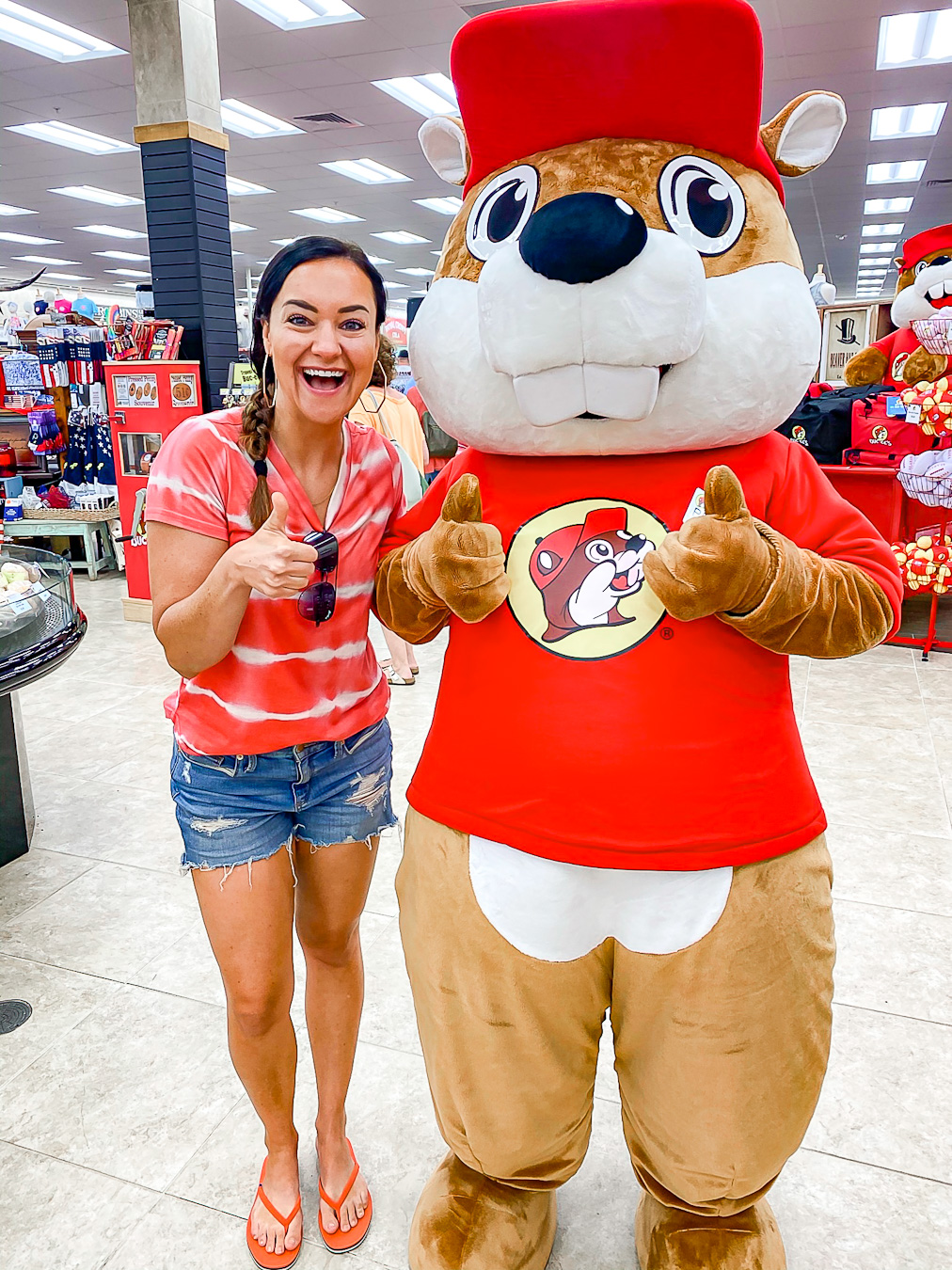 #12 // The BEAVER – You must get a photo with the beaver! Such a fun experience for the boys and I… especially in the summer to beat the heat!
YOUR Buc-ee's Favorites
We just went for the first time near Dayton Beach. The brisket was amazing and candied pecan @artteachap
slushees/icee @mylifewellloved1
I hear it's awesome! Enjoy @barrielw
Car wash @monicakarl
Any of the buccees brand chandy! We have tried a lot and it's all been good @lifewithmyki
Buccees animal cracker cookies (baked with sprinkles in them). @lifewithmyki
Buccee nuts are all the rage but honesty TOO sweet! Chipped Brisket sandwich – yum! @brandibridge
Def a brisket sammy, gummy worms, and beaver nuggets @court_court8
The apple pies!! Get them all!! @saratlawrence
Beef jeky! @monicakarl
Fudge @ashlyn.dodson
Beaver nuggets!! @ashlyn.dodson
BEAVER NUGGETS! All the food. Literally as much as you can afford @whittpage
Peppered beef jerky!! It's like 20g protein per serving and no fat or carbs! @alissa walker
Oh and a photo with the buccee statue @kballard2006
Beef jerky. Buccee nuts it's like caramel popcorn. And a crazy shirt or hat @kballard2006
Crunchy green beans @jwb2002
A tshirt @jwb2002
Beaver nuggets and candied nuts @stephaniechrista81
Spicy saltines and brisket @hatcherd
Everything!! But really the jerky and white cheddar popcorn @asmiller11
Omg! I always get jerky and also really love their southwest wrap @krysalvento
BBQ sandwich and the chips near there. SO so good! And any beef jerky @tiffyleighthompson
Beaver nuggets. Be prepared to shop also lol @hcolemomma
Beaver nuggets @thecelebratingmama
Beaver bties!!! @jgobrien6
Pulled pork sandwich @lisareynolds6
Kolaches (jalapeno sausage is fave), beaver nuggets, breakfast tacos, BBQ anything @dishingoutclean
A buc-ee's magnet for your fridge. #stayclassy (we have one!) @andreasteed
SHOP The Buc-ee's Post Here

:

Click Here For Similar Posts:
PIN The Buc-ee's Favorites For Later!