This post on Unique Mother's Day Gifts To Send was originally published in May 2020 and updated in April 2022.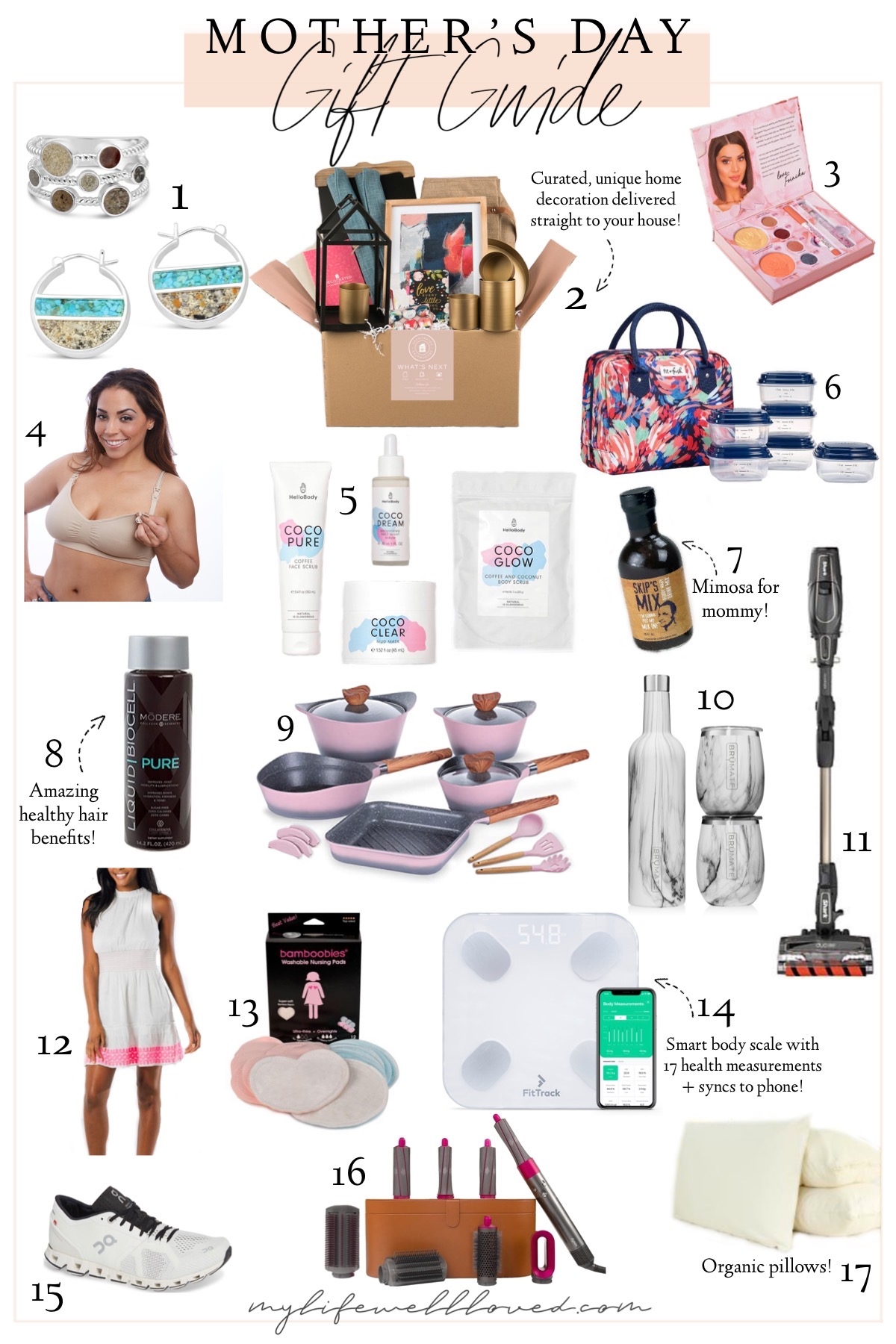 SHOP The Unique Mother's Day Gifts Post HERE: 1. Shoreline Double Sided Hoops + Rope Seven Sand Ring // 2. DecoCrated // 3. Rose All Day Palette // 4. Belibea // 5. HelloBody 15% off with code WELLLOVED // 6. Fit And Fresh // 7. Skip's Mix // 8. Modere PURE Liquid Collagen // 9. Amazon Nonstick Cookware // 10. BrüMates Winesulator + Wine Glasses // 11. Cordless Shark Vacuum // 12. Sail To Sable Dress // 13. Bamboobies Nursing Pads // 14. FitTrack // 15. On Cloud Shoes // 16. Dyson Air Wrap Styler | Dupe // 17. Savvy Rest Pillow 20% with code MLWL
Mother's Day is right around the corner, friends! I don't know about y'all but this last year has been a whirlwind. If your year has been like this as well, let's send some fellow mamas some extra love! And, if you are a mom and you are not sure what to ask for, I've got you covered!
These unique Mother's Day gifts range from practical to luxurious; including some things I have and love as well as new items I can't wait to try. From me to you, happy Mother's Day sweet friends.
Want your Mother's Day to go seemlessly? I highly suggest getting a meal plan together for the week! Make your life approximately one million times easier. I've got a few really amazing ebooks that I created specifically for the busy mama like YOU! Find them right HERE, (tell your hubby you need these as a gift for Mother's Day ha!) and have them sent right to your inbox as a digital download.
Check Out More Mother's Day Gift Posts:
Unique Mother's Day Gifts: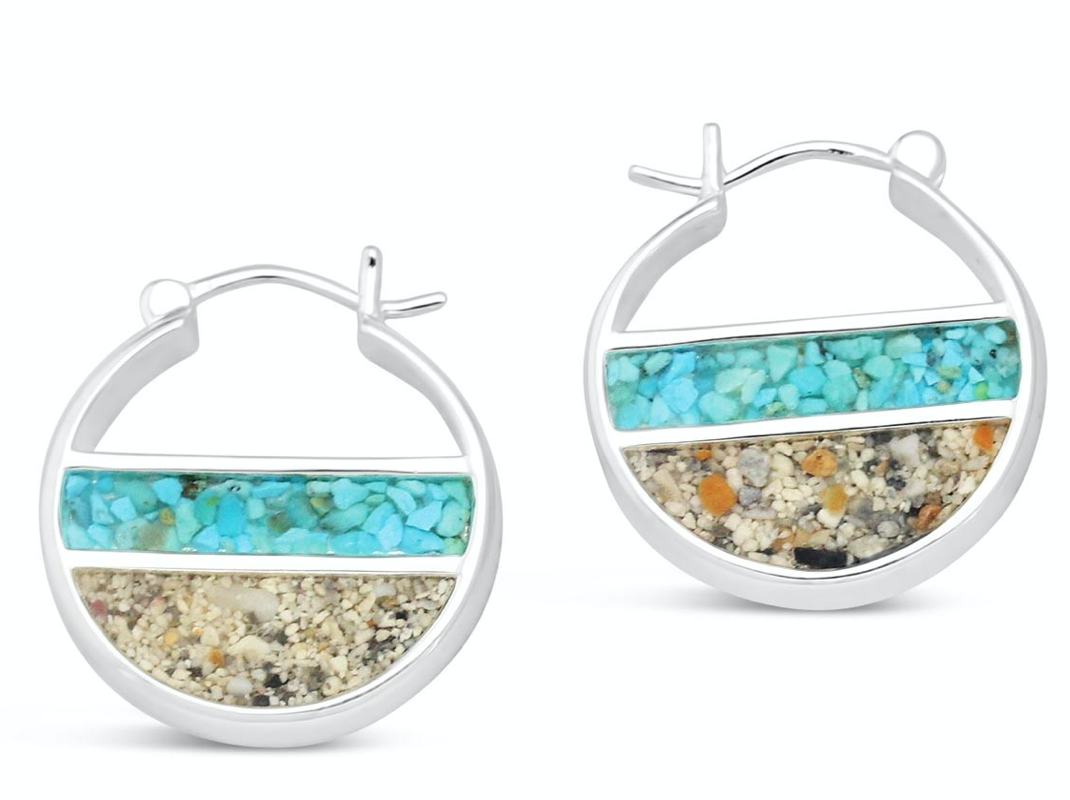 1 // Shoreline Double Sided Hoops + Rope Seven Sand Ring // Dune Jewelry crafts personalized, custom designs using sand and natural elements from thousands of memorable locations around the world. Dune Jewelry is a time capsule for all of your travel adventures! Since Eric and I love to travel and the beach holds a special place in our heart (many trips to 30A with friends, his family lives in Tampa, we are hopefully headed to Bora Bora this year to celebrate our anniversary), I could not pass up these special pieces of jewelry! I ordered both the earrings and this ring with sand from our favorite trips.
Dune Jewelry is owned by a fellow mompreneur, creating personalized gifts that will last a lifetime! You can visit Dune's Sandbank where they offer sand + natural elements from over 4,000 beaches, ballparks, golf courses, hiking trails, and more – or you can send in your own sand you've collected from somewhere special. All Dune Jewelry designs come with a lifetime warranty and a portion of every purchase is donated to Direct Relief or to various coastal preservation organizations. These are truly unique Mother's Day gifts!
2 // DecoCrated // Receive a box full of fun and unique home decor items to freshen up any space! From now until May 11th, DecoCrated will donate 10% of all revenue to First Responders Children Foundation! I just received my first box a few weeks ago and my goodness – so many great things! Being a subscription, this is a gift that keeps on giving month after month as a little happy mail for mom!
3 // Physician's Formula Rose All Day // Physician's Formula has been in my makeup bag for years! They make quality cosmetics and affordable prices. This Rose All Day Palette has all the best shades for summer and would make the perfect gift for mom. Or you could do a fun "beauty basket" for mom with several of the products below.
4 // Belibea // Loved this nursing bra while breastfeeding Finn. I can't stress enough how easy this made breastfeeding and pumping while traveling when Finn was a baby. I always wore mine on the flight and even while traveling around the city so I didn't have to worry about changing into a hands-free pumping bra mid-day to pump if I wasn't with Finn! Read more of my Breastfeeding and Flying 101 Tips HERE. You can also see my Breastfeeding Tips From A Second Time Mom HERE.
5 // HelloBody // The perfect Mother's Day self-care routine from head to toe! HelloBody is a beauty and skincare company that encourages moms to pamper themselves. Don't we all need a little bit of that? Their products are made with 98% natural ingredients and are not tested on animals. Their Coco line is designed for normal to dry skin to leave your skin purified, but still moisturized! Create your own bundle of four products and receive an additional 15% off! CODE: WELLLOVED – Click HERE to create your bundle!
6 // Fit And Fresh // Pack your lunch with style! This cute lunch bag comes with SIX snack containers for a complete, all in one set! Whether you are gifting this to a working mom, a breastfeeding mom, or a mom who loves picnics with the kids – this is such a cute, practical, and affordable gift idea! You can purchase at Target and be sure to take advantage of Target Drive Up and get it TODAY!
7 // Skip's Mix // Cheers mamas! Skip's Mix is a concentrate, bringing all the spices and seasonings of a homemade, custom bloody mary taste with the ease of a bottled mix. Say hello to a quick + easy happy hour! The mix is available in this 16oz size as well as a gallon! I love the idea of packaging this bottle up with a cocktail glasses set for a gift!
8 // Modere PURE Liquid Collagen // I have been taking my collagen in liquid form for about 2 years now and I LOVE it! Did you know that liquid collagen is 98% more effective than other forms? Liquid collagen supports healthy hair and skin. You can go to this post to see how it has helped my hair! Use my code HEATHER to save $10 on your first order!
9 // Amazon Nonstick Cookware // Nonstick cookware that is dishwasher safe! Also loving this pink color it comes in! Great reviews!
10 // BrüMates Winesulator + 2 Wine Tumblers With Lids // For all the wine lovers, this gift is too cute and functional to pass up on! This insulated wine set will keep your favorite wine at the right temperature for over 24 hours. Perfect for the beach, pool, campsite, backyard, or any other glass-free zone. With the heat here in Alabama, I am all about anything that can keep my drink cold! I also have my eyes set on these cutie can coolers! Here is the slim version for your favorite skinny cans! 😉
11 // Cordless Shark Vacuum // Having a cordless vacuum makes a world of difference, especially with kids. We have the cordless Dyson and it is so easy to grab and clean up after a mess the boys make after a meal.
12 // Sail To Sable // How darling is this white dress? It would be perfect for church, spring or summer outings, family photos, and more! Sail To Sable's women's clothing is perfect for women of all ages. From dresses, sweaters, tops, rompers, and more, I have heart eyes for so many of these pieces! It is a collection of chic meets preppy and is very size inclusive. Shop several of my favorites below!
13 // Bamboobies // Send all of the essentials to a new mama or mom-to-be! Nursing pads, nipple balm, and pumping lubricant are often overlooked and if you've been there, you know they are essentials! Bamboobies expanded to not only include breastfeeding products but also pregnancy and postpartum while still focusing on simple, natural products made with renewable resources.
14 // FitTrack // The FitTrack Dara Smart Body BMI Scale helps you stay motivated by tracking and analyzing your body's composition with ease, gram, and pound for pound. I have raved about this scale for several weeks now because it helps me track my BMI! I have been working with Burn Bootcamp and FWTFL to get my fat percentage down and I love having a way to track this from home. FitTrack also has a way for you easily weigh your baby!
15 // On Cloud Shoes // You guys love them just as much as I do! Great for boot camp style workouts and running. Eric, who is always on his feet, loves these.
16 // Dyson Air Wrap Styler | Dupe // Replace your curling rods, iron, straighteners, and brushes. This set has all of your hair goals covered! The perfect blow out at home! These go fast so if you're in the market for one, scoop it up FAST!
17 // Savvy Rest // Help mom get an even better night's rest on a completely organic line of mattresses, sofas, and platform beds. Savvy Rest is a great option for organic mattresses, bedding, and furniture! If you are looking to introduce natural products in your home then Savvy Rest has you covered! Shop their organic pillows HERE. Use CODE: MLWL for 20% OFF all Savvy Rest products!
18 // Bogg Bag // These bags are durable, waterproof, washable, tip-proof, and ideal to tote around all summer long. Take it to the pool, lake, or keep it in the car!
19 // Freedom Cuff // Freedom cuffs are made by survivors of trafficking.
20 // Stella & Ruby Lily Chiffon Earring // Each of Stella & Ruby's collections offer women something memorable and special. That makes these pieces the most special for Mother's Day.
21 // The Well House // Our Mission: "We exist to honor God by rescuing and providing opportunities for restoration to female victims of human trafficking who have been sexually exploited. We provide a safe residential environment to women, offering spiritual, mental, emotional, and physical support services. We welcome all women who have been sexually exploited through human trafficking. Regardless of race, color, creed, or religion, women in pain can be assured they will find love and acceptance at The Well House."
You can purchase this Shop Well Bracelet to support The Well House. Shop Well is a jewelry line that is created and designed by women who are current residents at The Well House. When you wear these one-of-a-kind bracelet or necklace, you are sharing hope, love and courage. They are each handcrafted by a survivor of human trafficking. The exclusive pieces encourage healing and restoration. Each piece will have the name of the survivor who made your piece. Tuesday, March 6th, you can get free 2-day shipping! Plus Mother's Day items are on sale!
22 // Book // This sentimental gift will mean so much to the mother who receives it. Fill in the blanks with how you feel about your mother and give her a keepsake she will cherish for years to come.
23 // ABLE Mini Tag Choker // Personalize this beautiful necklace with your kid's initials! Use code HEATHERBROWN20 for 20% off!
24 // The Laundress // Eco-friendly high-efficiency laundry detergent.
25 // LOFT Butter Jogger | Dupes // Super soft and cozy!
26 // Garden Cups // This delivery service is new to me but I've loved testing it out this year for clean eating made easy! You can order delicious, nutrient-packed salads delivered straight to your door! Don't forget to use code MLWL for $10 OFF.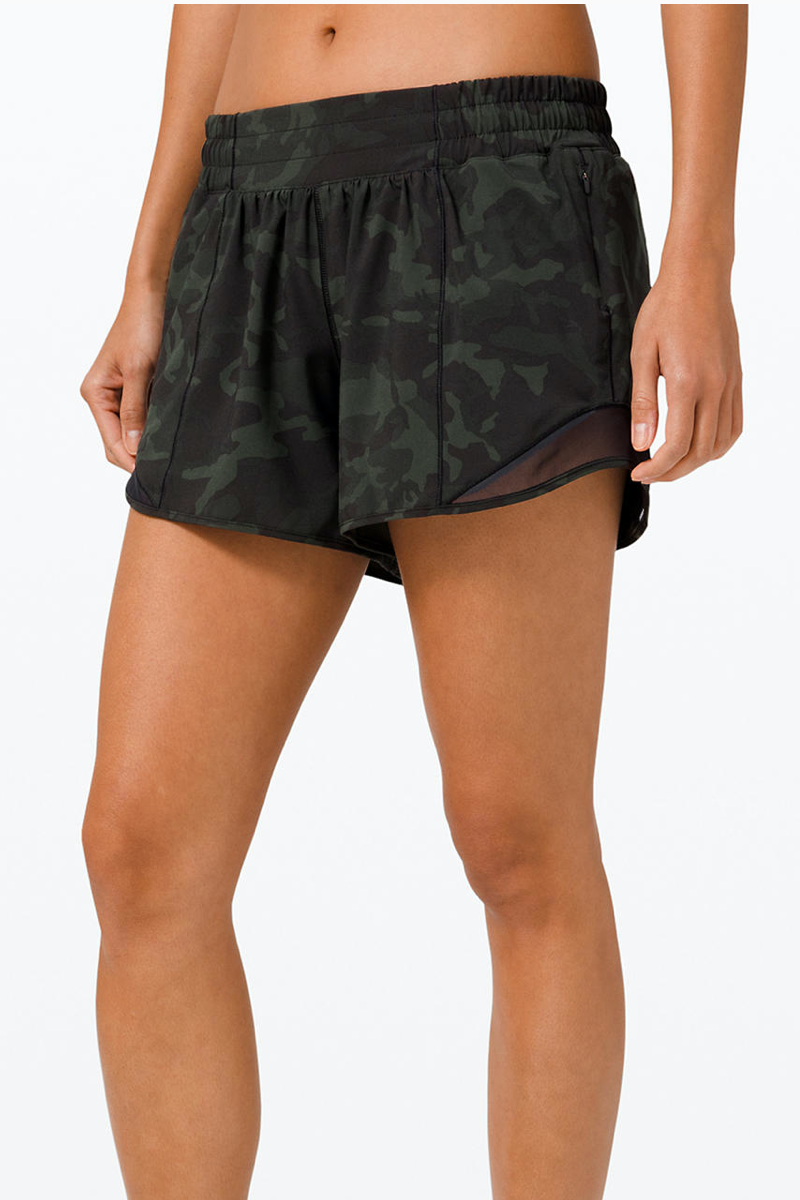 Hotty Hot Shorts //Align Leggings // Belt Bag
YOUR Mother's Day Wish List:
@emdoeshomes To sleep until 9 then have a yummy breakfast with a big cup of coffee

@lillie.mae Ziya activewear pieces!
@jenderosse Beautycounter

@_.ashleyhoglund Apple Watch

@lkpendell No cleaning, breakfast in bed, freshly picked diaper bag

@eacmill Sleeping in, not having to make any decisions for my kid, blue light glasses

@acesmom4au Along time

@lindsey.schmidt84 Nespresso machine!

@military_disciplined I feel like I should spend time with my kids on Mother's Day but I just want time by myself & mama necklace

@whitneyd_gay S&G mama necklace

@bamaworkingmom A trip to the beach

@kf_hairdesign I want a gift card for a spa day when this whole quarantine is over

@caitlincovey1 A painting!

@paulapyt I just want a 32-ounce hydro flask. It won't even fit in the dumb cup holder in my car! Ha.
@bethanylynette New Made by Mary necklace
@thatstheowlife Necklace from J&A custom
@drkamieweaver I want the LumiSpa Essential Kit

@theis02 SLEEP

@lizajane202 Ugg slippers or Birks! Or BOTH!
@georgia_n_n Garmin Venu watch or Victoria Emerson bracelet
@yourhotmessmama A necklace with my boys' initials
@car7711 Rothys!
@kristy_vw Dutch oven
@demagee Jay and Jewels Mama Necklace
@lauren_jsu rose bush, robe, tall tervis tumbler with lid
@kelseyezell Espresso machine!
@brookestorywhite Holland and Birch hand stamped bracelet with boys names
@christinahwallace Luca + Danni Mama bandle and one with each of my boys birthstones
@samrya.b A digital frame loaded with pictures
SHOP The Unique Mother's Day Gifts Post HERE!
PIN The Unique Mother's Day Gifts Post For Later!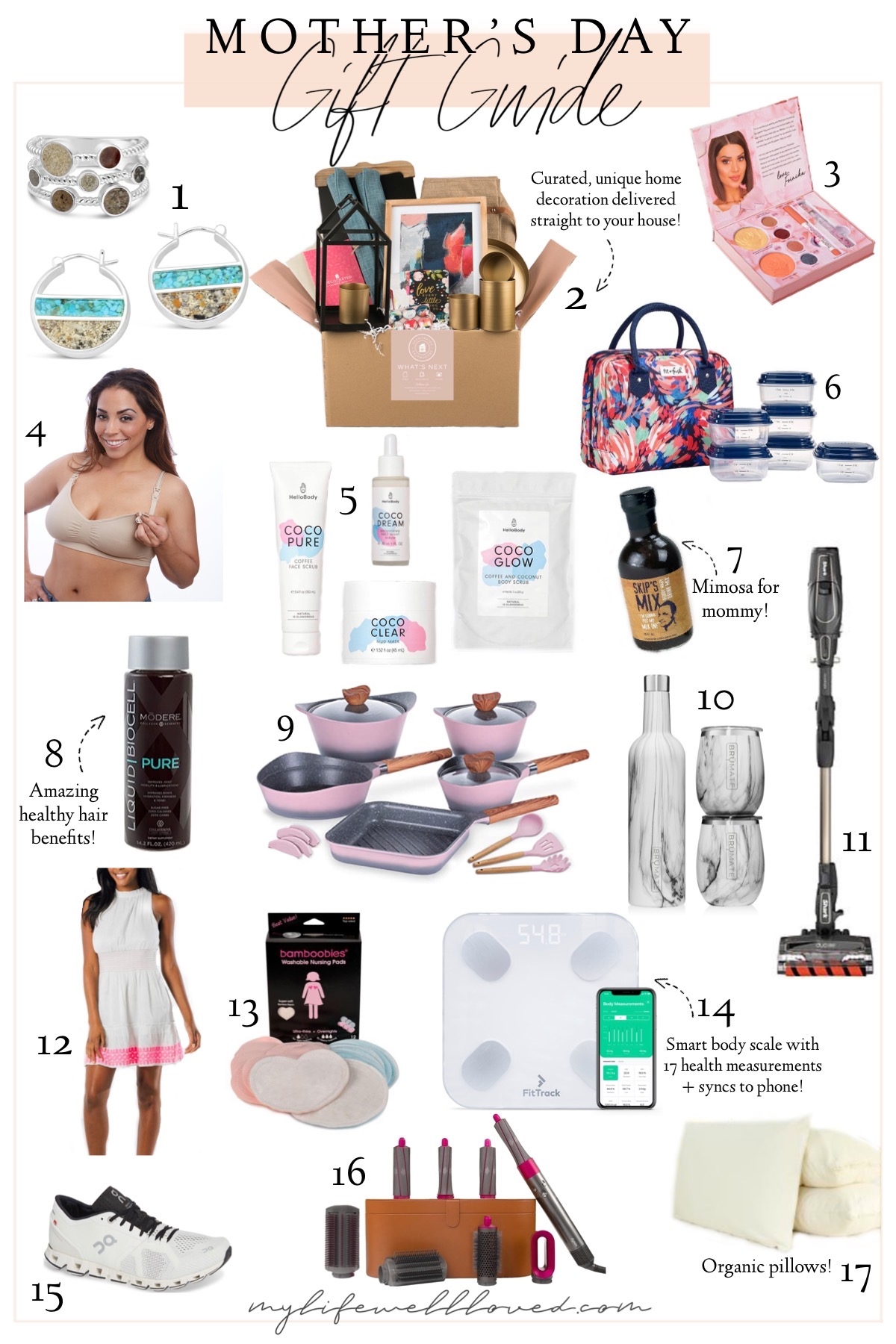 Thank you to Bamboobies, Belibea, BruMate, DecoCrated, Dune Jewelry, Fit and Fresh, Hello Body, Physician's Formula, SavvyRest, FitTrack, Sail to Sable and Skip's Mix for partnering with me on this post!