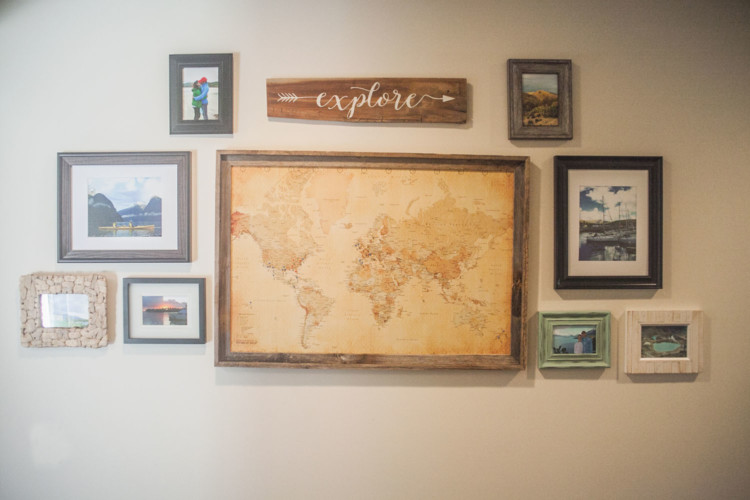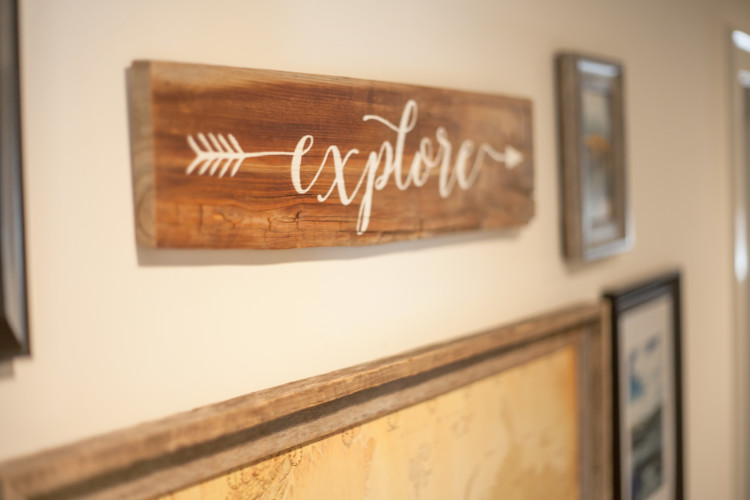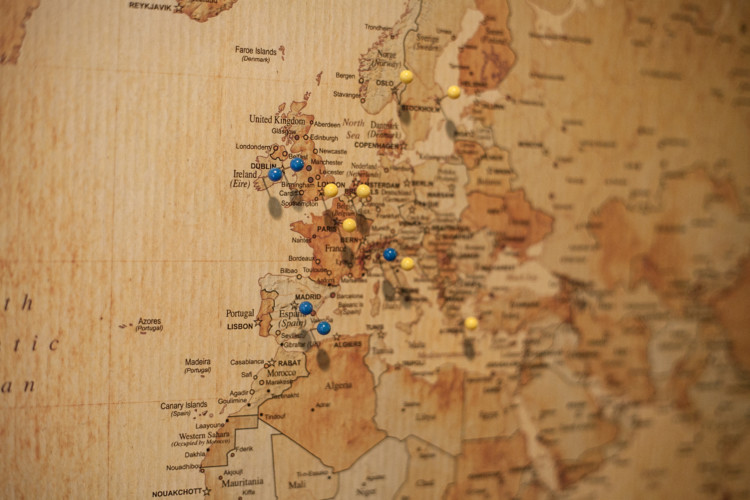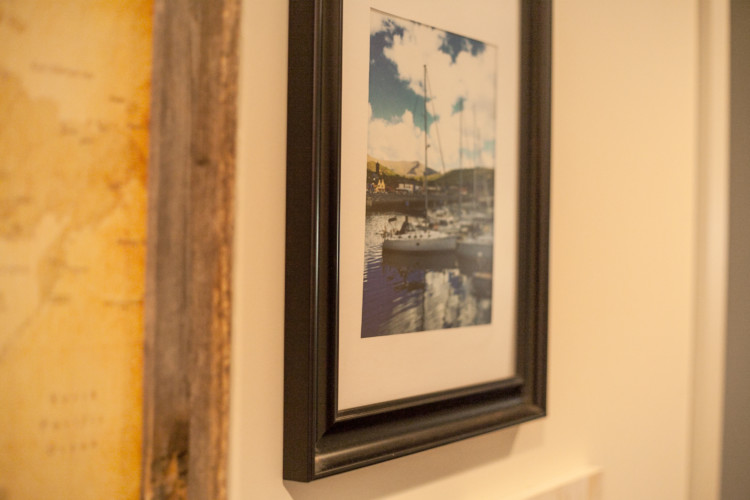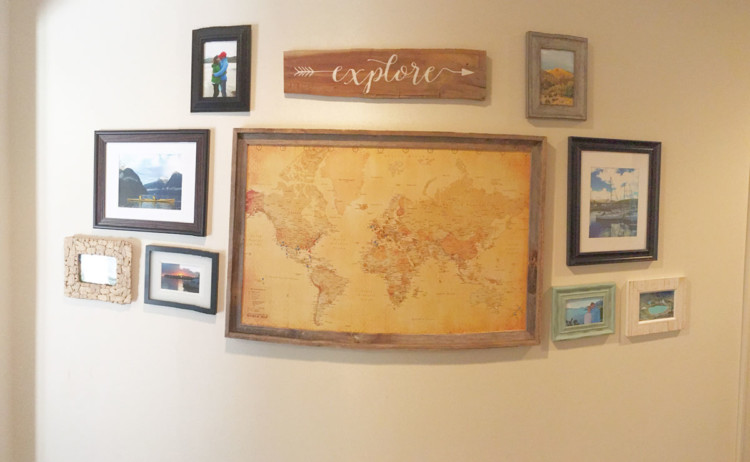 One of my favorite projects we've done in our new home is our Travel Wall. It evokes memories of kayaking in New Zealand, getting engaged in Madrid, swimming with sharks in Bora Bora, and taking in breathtaking sunsets around the world. Every time I pass by this part of our hallway, it makes me want to go on another adventure. It reminds me that despite my new mom life, the world is so much bigger than right here in Birmingham, AL and there's still a lot we want to explore and show Leyton!
We had seen plenty of gallery walls in our friend's homes, some maps with pins, and knew we wanted to do something fun and interesting on this long walk way from our front door to our main living area. Then, it hit us…we love to travel and we'd seen one of our favorite couple friends in Atlanta do a travel wall in their home decor. So, we knew we'd found just the spot for it!
Not only was it a feeling of accomplishment to get this done, but it was also a lot of fun picking out pictures and reliving our favorite stories again. I'd highly recommend doing this project with some of your favorite traveling buddies to really make this project enjoyable. We've found that this makes a great conversation starter when people first walk in our home as well. People always want to know what the pins mean and where we've been.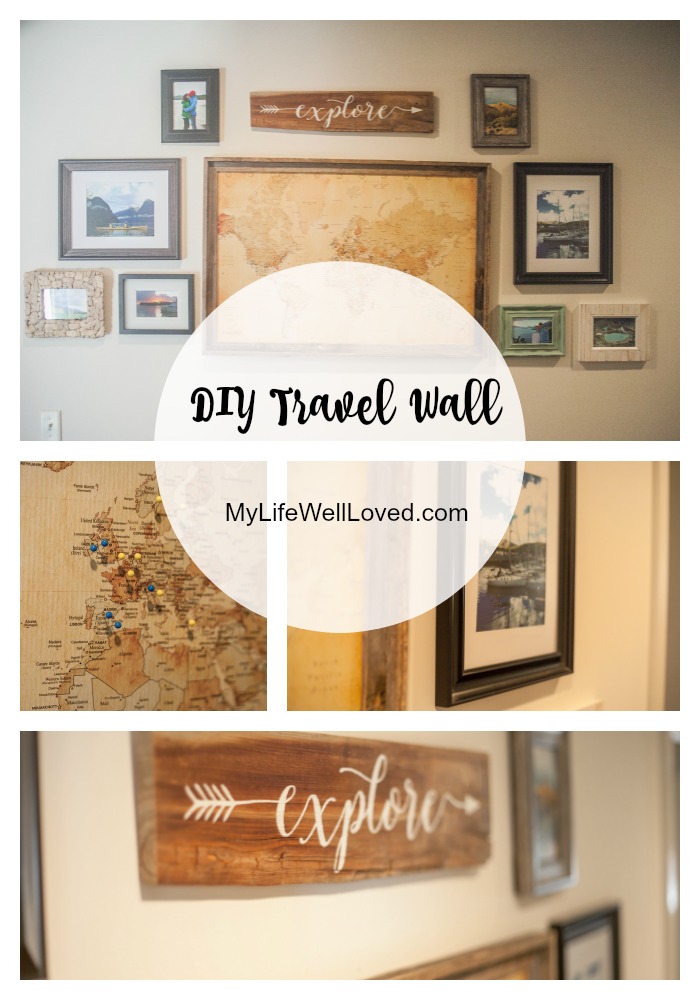 How to Create a Unique Travel Wall Collage:
We went through a ton of our old pictures and picked our favorite travel images. We sorted through vertical and horizontal shots till we curated some of our best memories into landscape and portrait shots that would work well in the frames we had.
We purchased a map on Amazon and had it framed at Hobby Lobby (always check to see that the week you go they have half off framing!).
Get color coded pins. We put blue pins where we have been, yellow pins where we'd like to go and red pins where family lives.
Find a unique piece of wall art to tie in with your travel wall collage to set it off. I used the explore sign I found on Etsy!
Start framing and hanging!
Since we are talking about traveling, I'd love to hear below in the comments…where is your favorite place you've traveled? And why?
Thanks so much to Casey Marie Photography for these photos!
Heather Brown helps busy mamas of young littles who are caught in the hustle to find encouragement in their journey to true health, from the inside out, starting with the heart. Read her journey of learning to live a life well-loved
HERE!