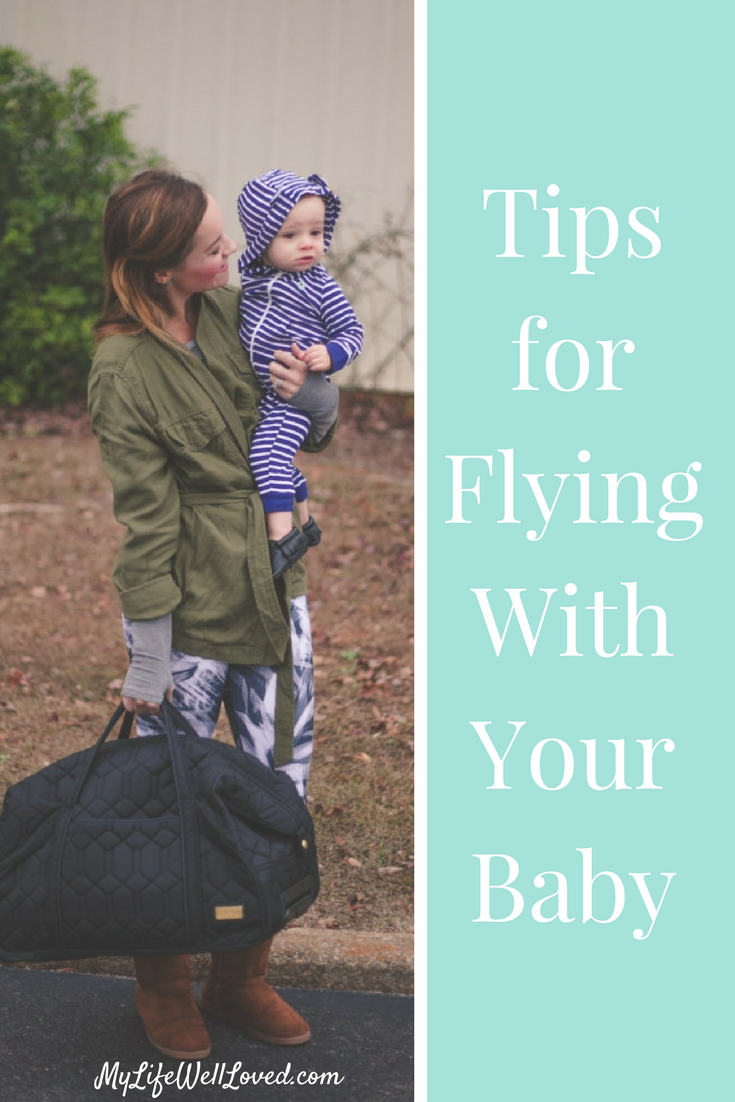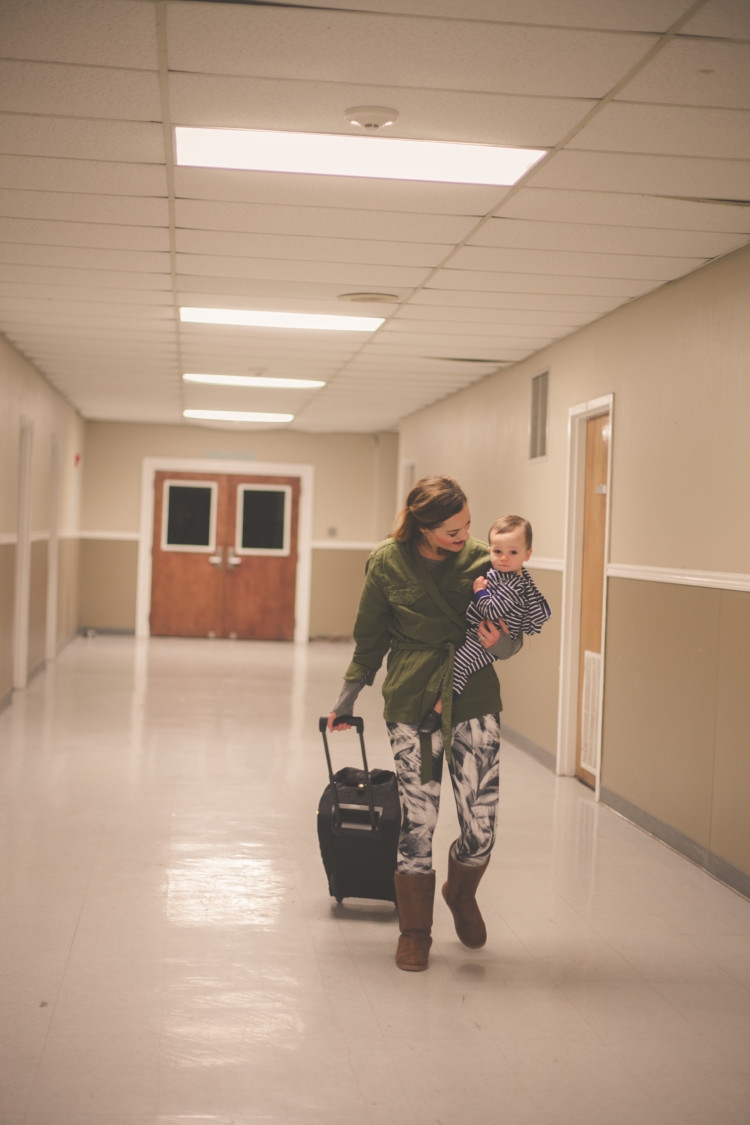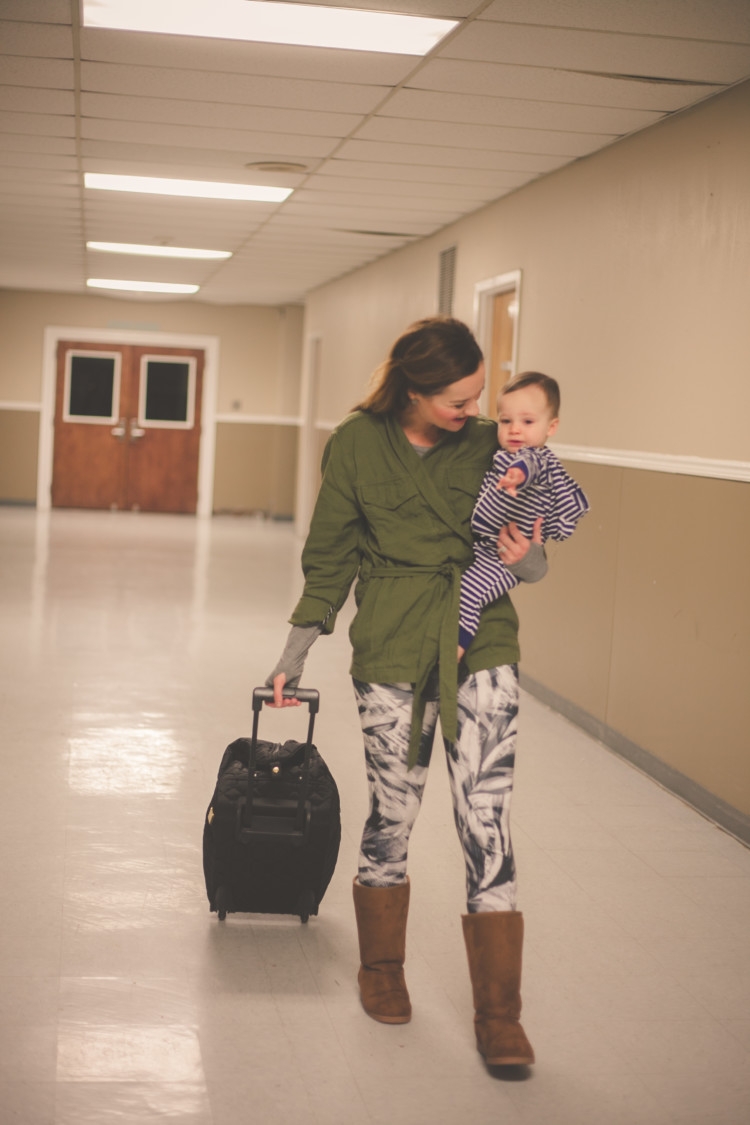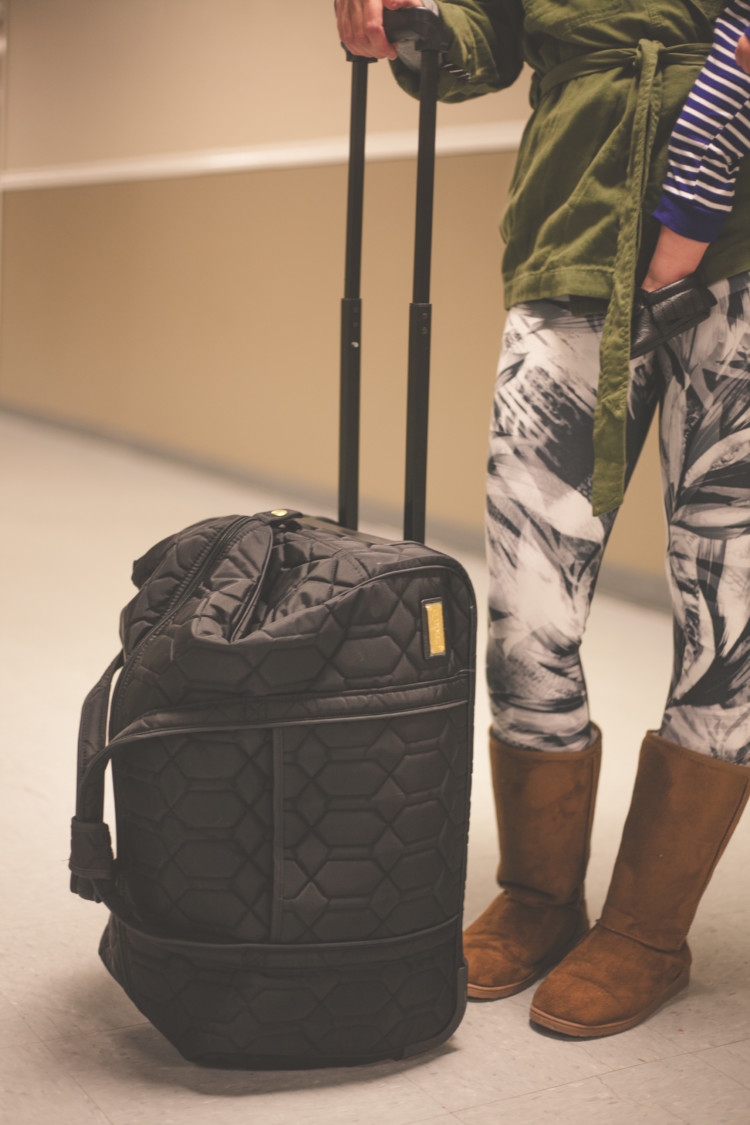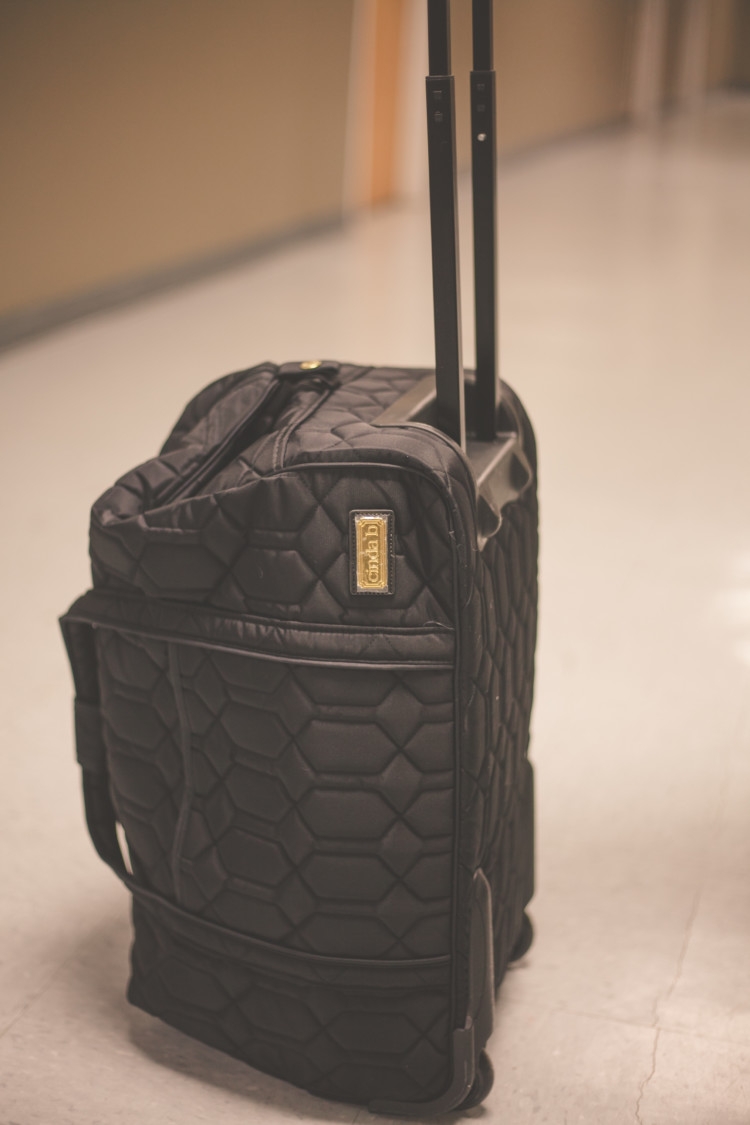 SHOP THE CINDA B Carry On Rolly BAG – LOVE THIS!
Eric and I LOVE to travel! We try to do at least one "big" trip a year. Traveling with baby isn't quite as exotic as before but it's still nice to get away. We've now taken Leyton on countless car trips to Indianapolis and Tampa and flown twice with him. He's been a champ each time and we are so grateful to those who have gone before us who shed lots of light on what to pack and baby travel tips we needed to know.
Leyton's first flight was down to Tampa to visit his grandparents. Luckily, that's a pretty easy direct flight from Birmingham to Tampa and only about an hour and a half. Of course as new parents and experiencing our first flight traveling with baby, we were petrified! We really did it up right complete with a blow out poopy diaper situation that we had to handle mid-air. It was quite comedic, I can assure you. Long story short, make sure you are prepared with a travel changing pad to change your baby on the airplane seat (bathrooms are too cramped on the plane) and have an extra set of clothes! I hope some of these tips help you whisk through the airport like a breeze with your baby or toddler.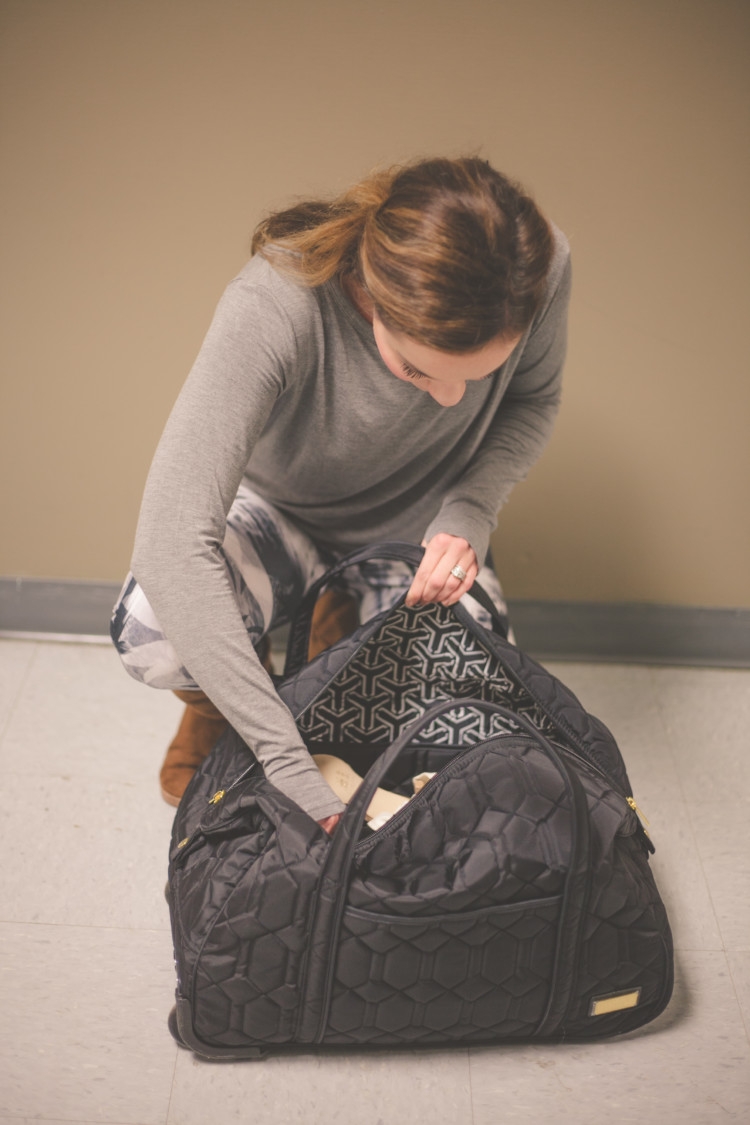 SHOP THE CINDA B Carry On Rolly BAG
Tips For Traveling With Baby:
Bring a Sippy Cup or Bottle: When the plane takes off and descends, give your baby a bottle, the boob or a sippy cup to help them avoid their ears popping. Not to mention, it's just as important for baby to stay hydrated while traveling as it is for you.
Bring Several Snacks: This is a huge DUH! but honestly, I don't know if it can be stressed enough how important snacks and a snack cup are necessary. Bring several options because a fed toddler is a happy toddler.
Bring a copy of your child's birth certificate: Until Eric did the research the first time we flew, I had no idea Leyton may need a copy of his birth certificate. We were asked for it as proof that he was under 2 twice, so make sure you have it with you! Eric just took a picture of ours.
Be aware of the TSA and your airline's requirements: Each airline is different so make sure you are aware of your airlines regulations on baby travel. The TSA has always been super understanding and helpful to us when flying with a baby. We went through the full body scanner holding Leyton but we did have to have our hands swabbed for a little additional testing.
If your baby is under 2, their seat is free or you can opt to purchase one: Some parents opt to not have their child sit in their lap and get them their own seat…totally up to you. One time we were lucky enough that the flight wasn't full so we got to have Leyton sit in his car seat in the seat next to us. SO nice to have our hands free and that he could be comfortable and happy in it at that age. Now, that would be a different story. He hates being confined to his car seat at the age of 17 months.
Make a Packing List: I do this whether or not I travel with Leyton, but ESPECIALLY when traveling with a baby, make a list and check it twice! We pack his sound machine, blanket, sleep sack, sippy cups, a few pouches, snacks, and countless other things. When I was breastfeeding, I packed the cooler, breastmilk storage bags, bottles, bottle cleaner, and the list goes on and on…
Leave Baby's Shoes On: When going through security, baby's shoes can actually stay on. Yay for one little time saver!
Tell TSA Employee About Formula or Breast Milk ahead of Time: To speed up going through security, you can tell the TSA agents that you have breast milk or formula and where. We have never had any problems with this and in fact, they have been overly kind and helpful about this, if anything was said at all.
Car Seats & Strollers are FREE to check: We made the mistake of thinking we could ONLY fly Southwest in order to get our car seats and strollers checked but apparently most airlines offer this service. We keep Leyton snapped in his Uppababy car seat attached to the stroller till we get to the gate and it makes it very easy to navigate around.
Let toddler burn off energy at airport: If you have a layover or have extra time before your flight takes off, let your toddler run off some of their energy in an empty part of the airport. You'd rather them go wild here than up in the air!
Pack Toys & Pre-load games or apps: We packed about 4 or 5 toys for lots of variety: a soft book, a mini plush stuffed dog, a rattle, and other relatively quiet favorite toys of Leyton's at the time. We don't allow Leyton to have much screen time yet. He doesn't watch tv shows or play games on our phones. The only time we allowed screen time so far in his 17 months were our two flights when we felt we had exhausted all other resources. I downloaded the Sandra Boynton moving stories on my phone before we left so we had it as a resource. To read more about why we made this choice, you can go here to read more about the negative affects of screen time on babies.
Only bring the essentials: There's a grocery store almost everywhere! Pack enough food and diapers (plus a few extra for the first day and flight) and get all the rest once you land. We had two outfit changes for our flight, extra diapers, and a travel changing pad that ALL came in handy on our flight. You'd rather be over-prepared than under-prepared when it comes to poop on a plane! But there's no need to pack a week's worth of diapers and food. Pack minimally and your arms and stress level will thank you.
Dress comfortably: You are going to be chasing a toddler all over the airport and potentially up and down the aisles of the plane plus you may get spit up on or need a change of clothes. I always dress in layers when I travel so if the plane is too color or hot, I can adjust as needed. Leyton and I are wearing sun protective soft clothing made by Shedo Lane that may be one of the softest things I've ever put on my body. We have a change of clothes for him in the diaper bag, plus a different top for me in my carry-on just in case I need it.
Stay calm: Remember baby will feed off of your demeanor. If you are panicked or stressed, your baby is more likely to be fussy and unsettled. Be prepared as much as you can be, and remember that your baby is going through a new experience that you want them to find enjoyable. Set the tone for a great trip and baby will more than likely follow along!
What about you? What are some tips for traveling with baby that you want to share? Did I miss anything? Let me know in the comments below!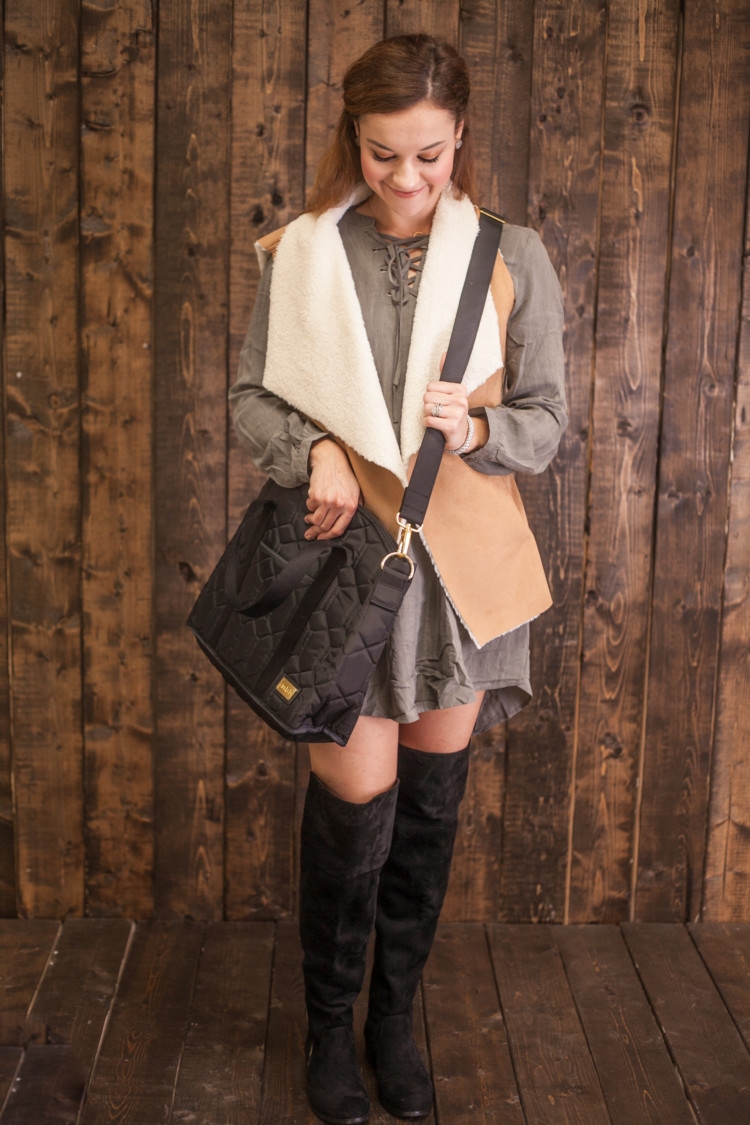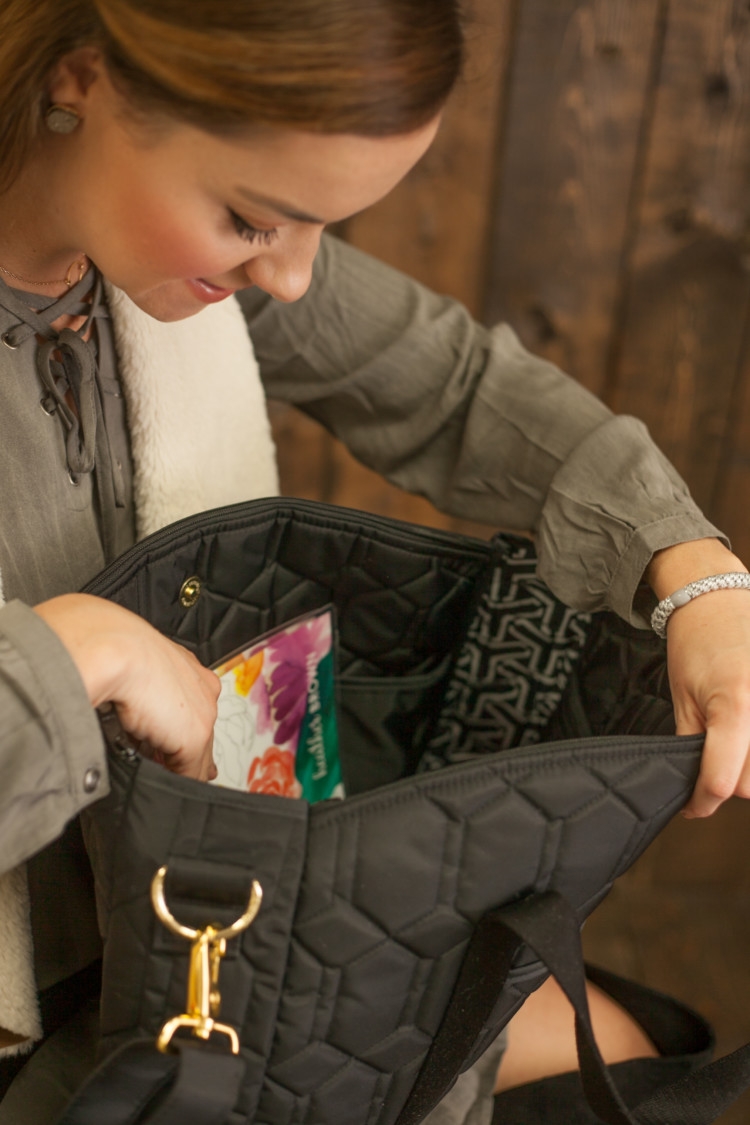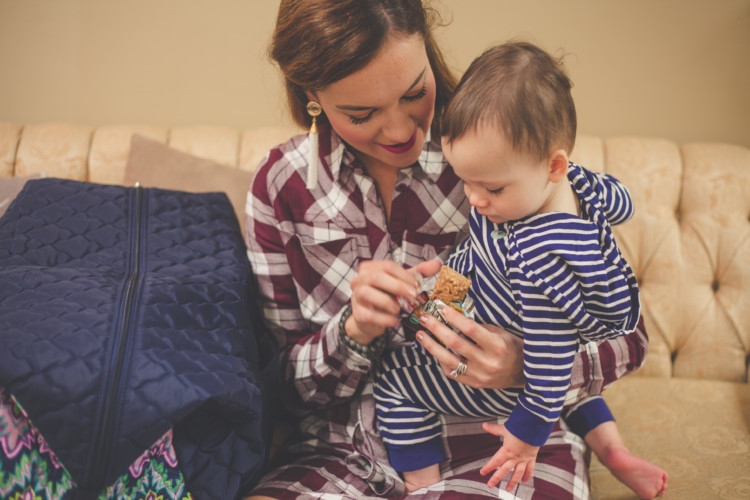 You may remember my Cinda B bags from these previous posts (What to Pack When You Travel and my Reader Survey Results) and I am just LOVING them. This company is near and dear to my heart because it's a start-up in Fort Wayne, Indiana which is where my husband, Eric is from. His parents are actually friends with the owner, and they have nothing but the kindest things to say about them.
I have the Cinda B. vacationer duffel, the carry-on rolly and the professional tote which is currently 15% off. My professional tote is what I take with me every day to Pure Barre and the coffee shop to work on my blog.
Photos: Casey Marie Photography
Shop the Baby Travel Tips Post & What to Pack Diaper Bag List: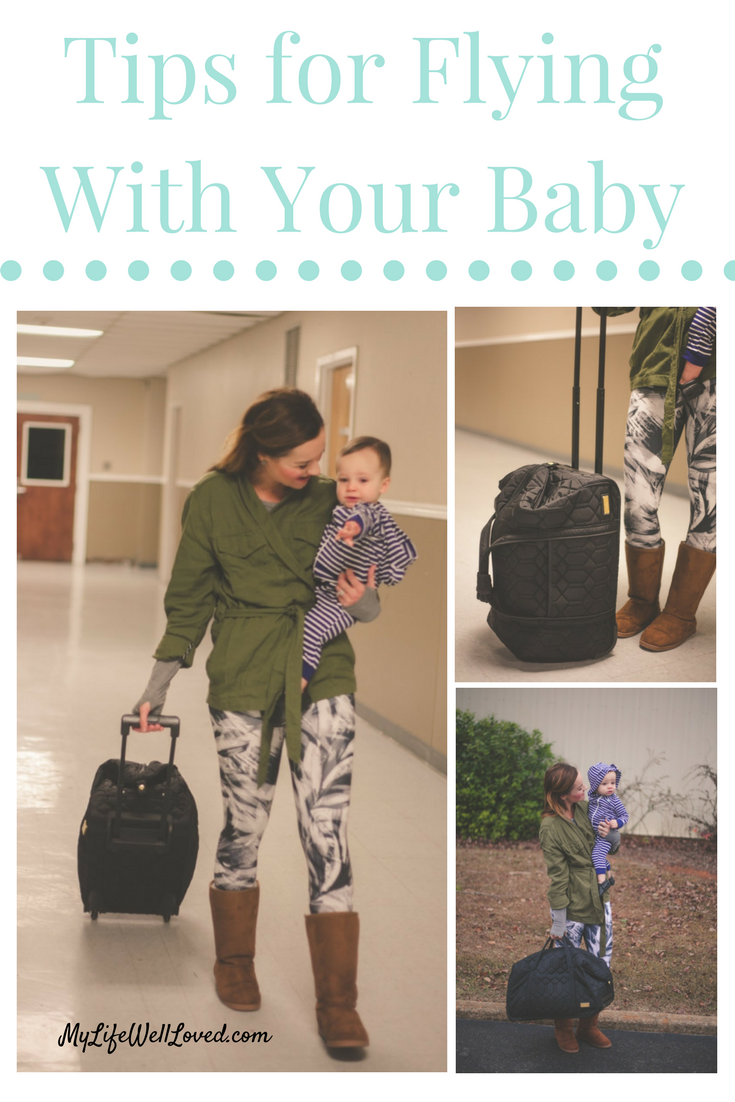 Heather Brown helps busy mamas of young littles who are caught in the hustle to find encouragement in their journey to true health, from the inside out, starting with the heart. Read her journey of learning to live a life well-loved
HERE!