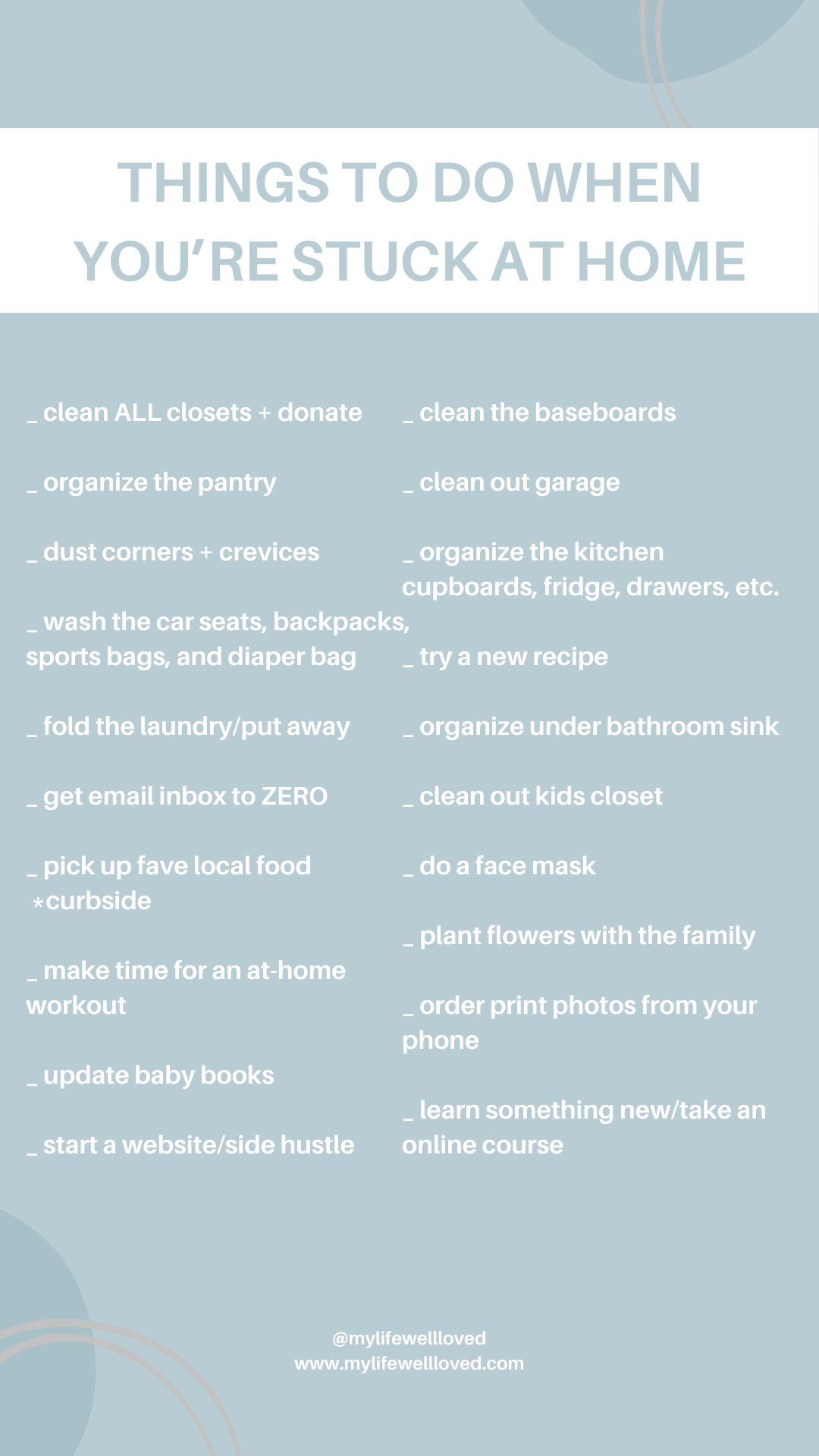 Download And Print The Things To Do When You're Stuck At Home Printable HERE.
I think it's safe to say that we're all looking for things to do while we're stuck at home. Not only are we looking for ideas for our kids, but for ourselves as well! As more and more things change each day, let's make it a goal to check some things off of our to-do list and find new things to do while we're staying home!
I've put together so many coronavirus resources for y'all, from recipes and workouts, to organization tips and more! We've even been working through our #conqueringquarantine challenge together, complete with a FREE printable!

Even though these days might seem filled with mundane tasks, let's remember that we can do even the mundane tasks of life to the glory of God. Use each task as an act of worship and praise because we have so much to be grateful for!
Best Things To Do When You're Stuck At Home:
Household:
@legllyheidi Cleaning out the closets and playroom, painting my son's room and assembling a swing set

@hancattstiver Cleaning out our closet and donating to Goodwill!

@hayleybgarth Kitchen organization!

@jenn_pelletier Washing the car seats, backpacks, sports bags, and diaper bag!!

@natalitasheremet_solodka Minimizing the house and getting rid of things that we don't need

@cryzteeen Dusting all the corners and crevices

@qquite93 Fixing the car, cleaning my room, and studying

@macey_stweart Opening the pool

@bmartin0725 Cleaning the baseboards…ugh

@amylkhang Painting the living room

@sumvirginia Cleaning out closets and organizing the playroom

@paularnp Clean out bookshelf, my closet, and laundry room

@cortneylw Clean out the car, organize the bedroom and closet

@ktchap21 Garage & closet cleanout!

@mallomal Organizing the pantry

@bamaworkingmom Clean out my car and paint the baseboards

@sydney.michelle.smith Cleaning out under my bed! Purging all sorts of planner supplies that have built up

@kittyketluv Folding my two baskets of socks for the 6 of us.

@asanchez_6113 Cleaning and reorganizing my laundry room and storage room

@barnettc89 Pressure washing the house sidewalk/driveway and plant flowers

@kate_arnold3 Cleaning out my car

@jwb2002 Moving into our new home

@hobsonsbabe87 Organizing all closets

@kf_hairdesign Finish the new nursery

@dfiaseu Get kitchen organized…pantry, cupboards, fridge and drawers

@ambereliz84 Organizing under my bathroom sink

@joneswiebe Clean some of my room

@kimgreenbank Cleaning out underneath the bed!

@emily4nascar Scrubbing and polishing the floors!

Service your car
Purge your closet/sell clothes online
Cook/bake something challenging
Decorate/organize your home
Shop online for cars/in-home test drive
Get email/text inbox down to 0
Unsubscribe to all of the emails you're no longer interested in
Check out all my organization tips and tricks HERE!

With Your Kiddos:
@kelseyashleyn8 Planting flowers!

@gracefullittlelife Potty training my daughter by the end of April

@laurenjgudeman Survive. Keep my kids alive LOL.

@necoletoombs89 Cleaning out kids rooms and organizing all of the cloth that is too small for them

Play/train your dog
Drive to pick up your fave local food – curbside
Check out all my FREE kid-friendly educational resources HERE!

Self Care:
@livingwithkatelynbrockmiller Sleep!

@whitneyd_gay Surviving LOL

@melbel7237 Trying to not gain a million pounds!

At-home workouts
Check out what I have purchased from Amazon + what y'all have purchased from Amazon during coronavirus HERE!

Fun:
@jleaa Putting up curtains

@bcaldwell24 Update baby books

@travelcaffeinated Make photo books

@erath01 Making kombucha, cleaning out our spices!

Start a website/side hustle
Learn something new – take an online course
Plan that next vacation, birthday party, housewarming, work picnic, or wedding event that you've been thinking about
Order print photos from your phone so you can frame or send to family
Check out great games and activities for the kiddos HERE!

PIN The Things To Do When You're Stuck At Home Post For Later!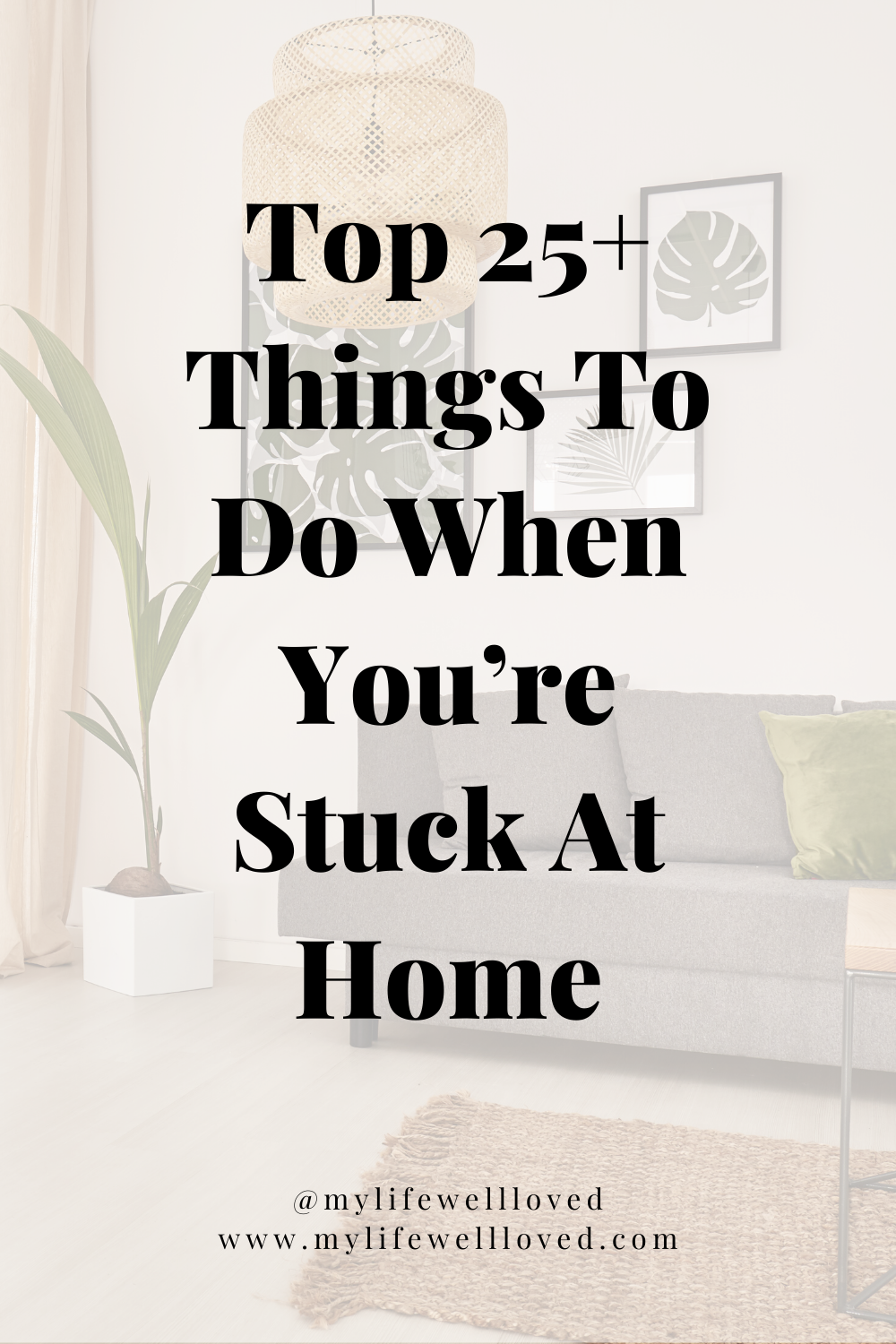 Heather Brown helps busy mamas of young littles who are caught in the hustle to find encouragement in their journey to true health, from the inside out, starting with the heart. Read her journey of learning to live a life well-loved
HERE!