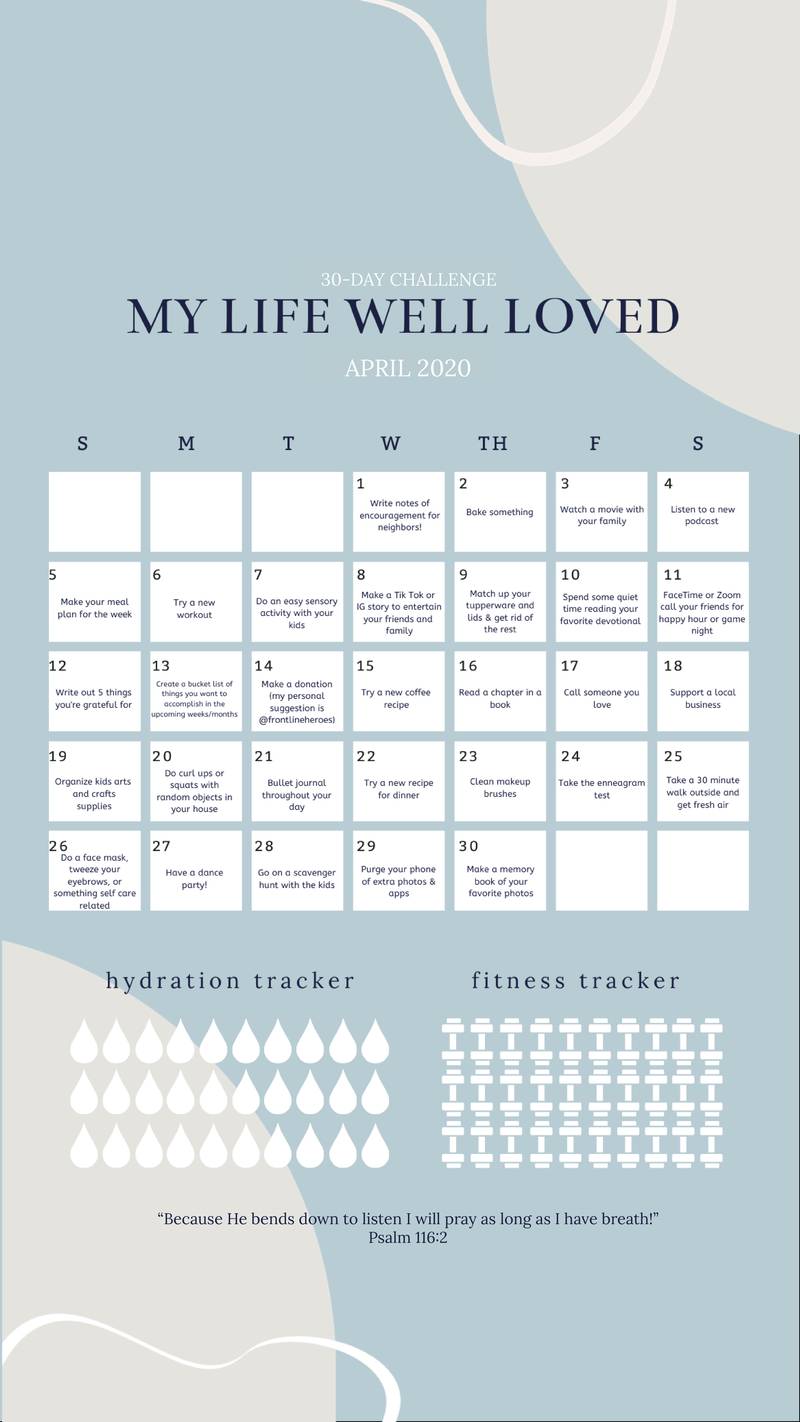 Guess what girl gang? We are launching something so fun for the month of April! After talking to many of you about how you're surviving quarantine and also how you're feeling a bit worn out, I decided to make a
fun
30 day printable
for y'all! YAY!
This includes easy challenges for us to cross off each day together – and as always, I'm going to challenge you to get in your workout for the day as well as your 8 glasses of water! I created a special place for you to mark that down at the bottom of the
printable
.
Each day I've come up with challenges for us to do together and I also want us to tag one another in
Instagram Stories
as we do them and as we complete our workouts/drink our water! I'll be incorporating several
SURPRISE GIVEAWAYS
for anyone who shares how they are completing the daily challenge from the calendar! It's going to be a ton of fun! I think if there's anything we all need in our lives right now, it's
fun
!
I'm really looking forward to jumping into this next month of
#quarantinelife
with you. Or at least making the best of the situation! I want to see you doing these challenges with your kids or during your .5 seconds of alone time for the day so be sure to TAG ME in
stories!
😉 And each time you share, be sure to use
#conqueringquarantine
!
Thanks again for all your support watching my
Instagram
LIVES
and working out with me. You are truly a joy and a bright spot in this crazy time and I hope MLWL can be the same for you.
And don't forget that you can support our frontline heroes by donating to the Venmo account named "FRONTLINEHEROES". The money raised will be used to provide lunches for healthcare workers who are working on COVID floors. Let's join in and help take care of the people who are working tirelessly to take care of everyone else. I will be donating personally myself AND I will be donating a percentage of the sales I receive from y'all when you shop through my links! Together we can take care of the healthcare community!
P.S. AGAIN – I'm praying for you and cheering you on from afar! Let's take this verse to heart this week and rest in its truth. "I have said these things to you, that in Me you may have peace. In the world you will have tribulation. But take heart; I have overcome the world."
CONQUERING QUARANTINE CALENDAR:
Heather Brown helps busy mamas of young littles who are caught in the hustle to find encouragement in their journey to true health, from the inside out, starting with the heart. Read her journey of learning to live a life well-loved
HERE!