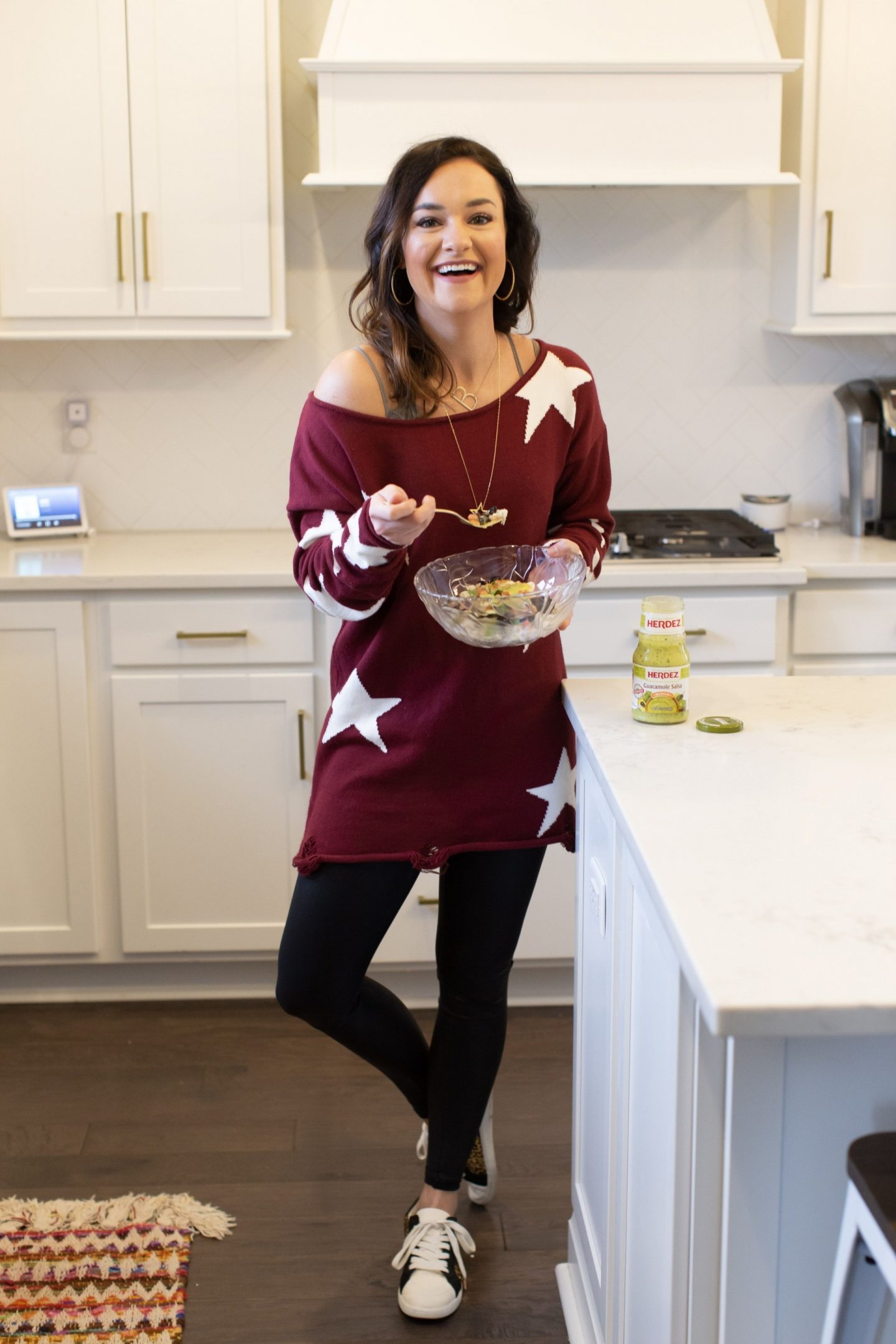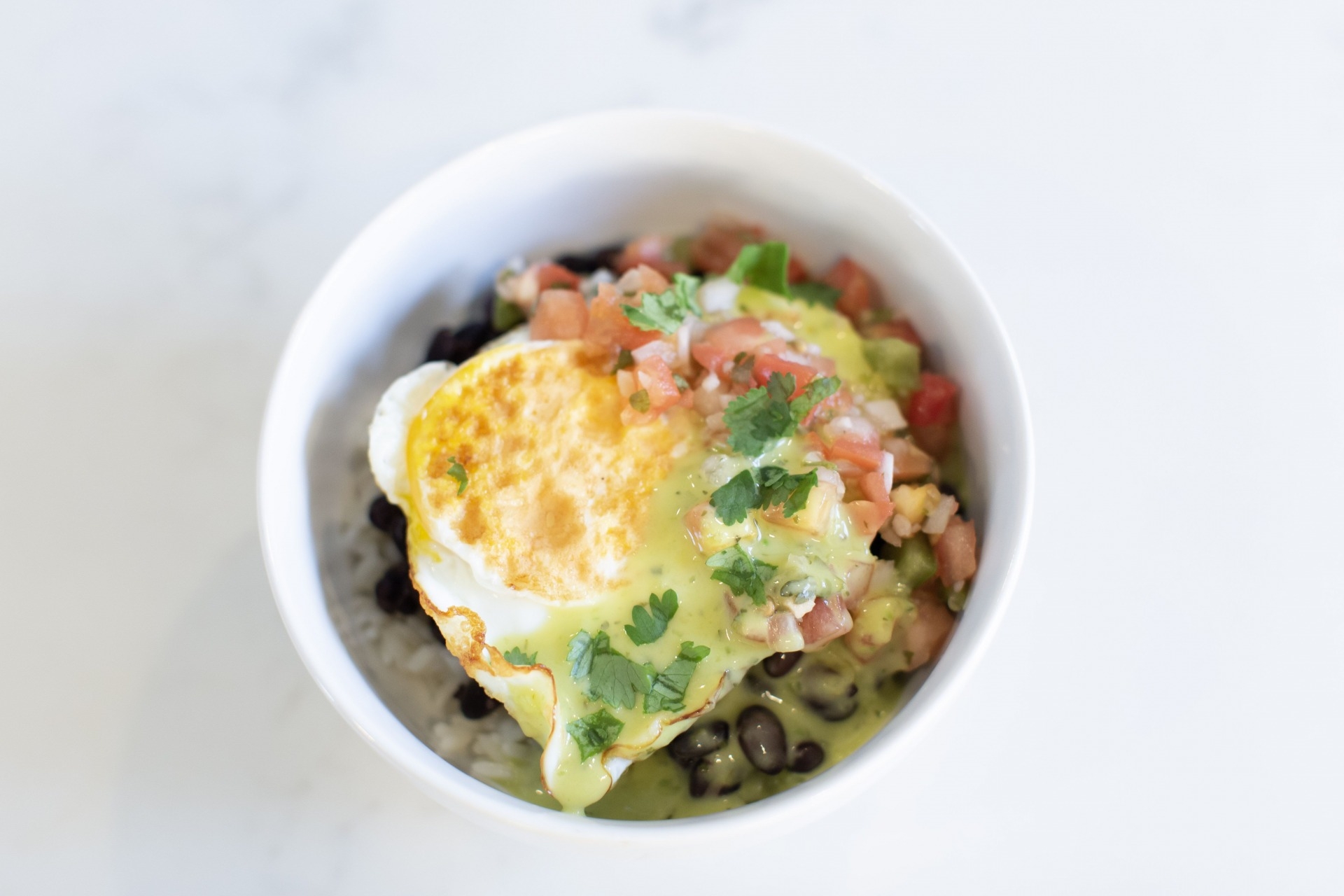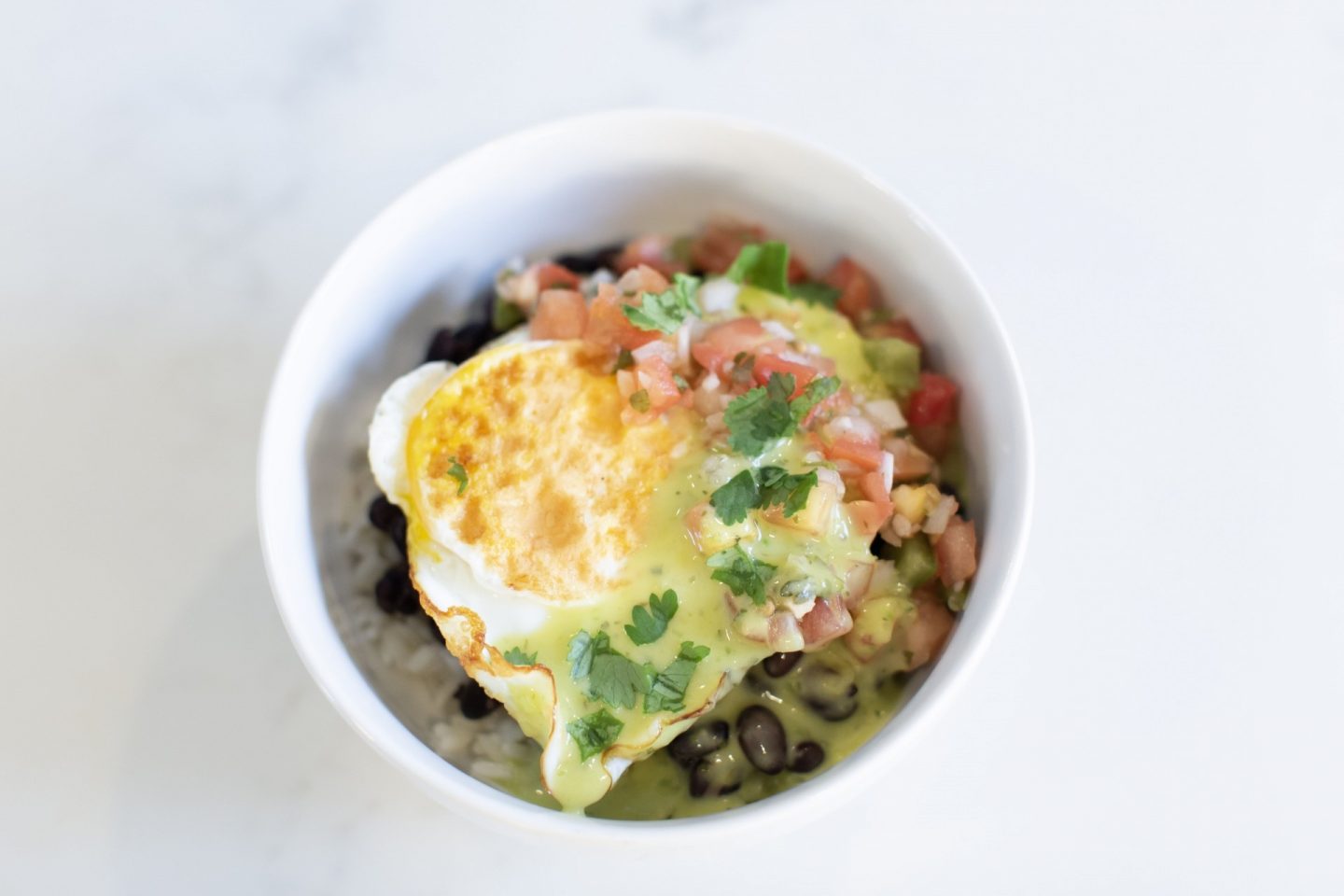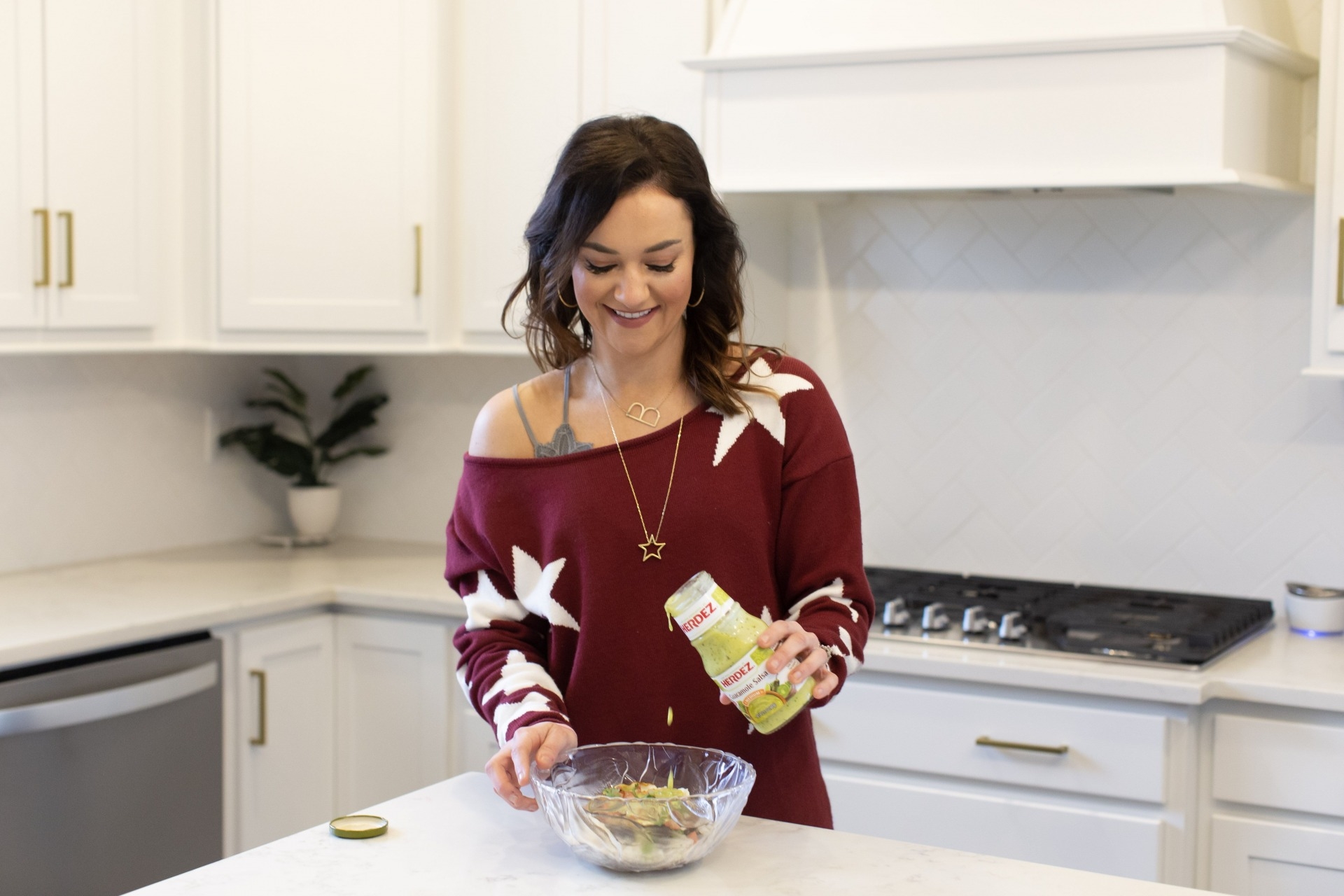 SHOP The Easy Breakfast For Dinner Idea Photos HERE: Distressed Oversized Star Sweater // Free People Dupe Bralette // Similar Star Necklace // Sequin Hoop Earrings – use code HEATHER20 for 20% off // Initial Necklace // Dinnerware // Leopard Golden Goose Dupe Sneakers // Spanx Faux Leather Leggings
Photos by Magen Davis Photography
Thank you to HERDEZ® Salsa for partnering with me on this post! 
Do you like to go out or stay in for Valentine's Day? We like to mix it up and love to keep it simple when we stay in. For Eric and me, sometimes going out can be tricky with finding a babysitter so we enjoy just hanging out at home together and being intentional about quality time! We even wrote about our favorite kind of date nights at home HERE and fun questions we like to ask each other on date night HERE!
When we stay home, we, of course, try to find a delicious recipe to cook together! Sometimes there's nothing better than an easy breakfast for dinner idea, am I right?! Comfort food to the MAX.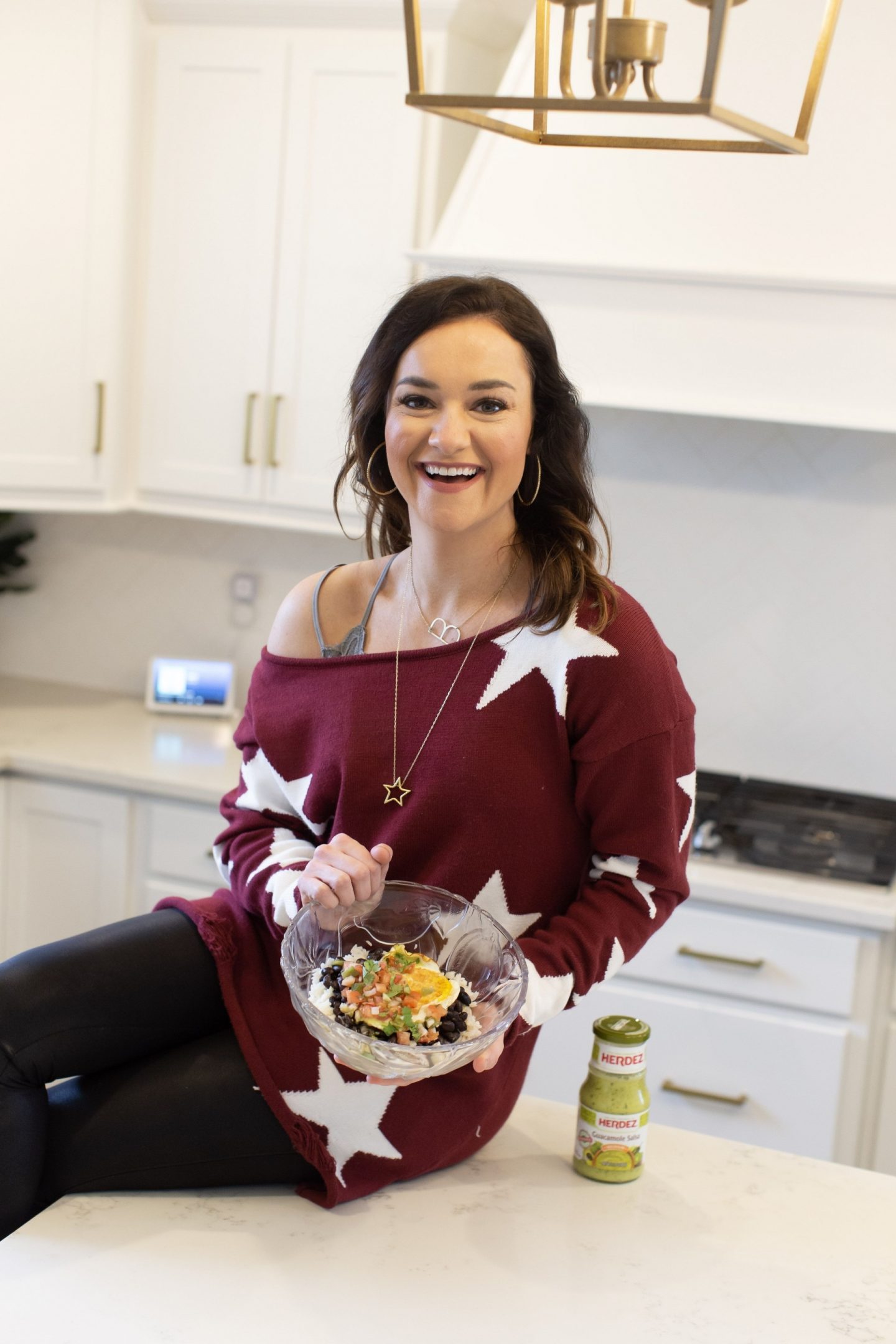 Why I Love This Recipe:
This recipe is a snap to whip up at home for yourself, you and your spouse, or even for the whole family! We first learned about this recipe many years ago when we went on a trip to Costa Rica! We stayed at an eco-lodge and they frequently served it to us. We both fell in love with the simplicity and freshness of the recipe. We now have it for easy and frugal meals several times per month normally.
Everyone can customize their own bowl and you can easily adjust the ingredients for each member of your family as needed. Can I get an amen for a crowd-pleasing recipe?! This easy breakfast for dinner idea is also budget-friendly with minimal ingredients and things you likely already have on hand!
This breakfast bowl is a great option for a healthy meal and can fit your macros on a regular macro day with the extra carbs in the rice + beans. If you are looking to enjoy a low carb day, I would recommend omitting the beans and substituting cauliflower rice. If you're not familiar with these terms, they are part of my Faster Way to Fat Loss Program… I'd love to have you join me and my coach, Miranda Wesley in our next round!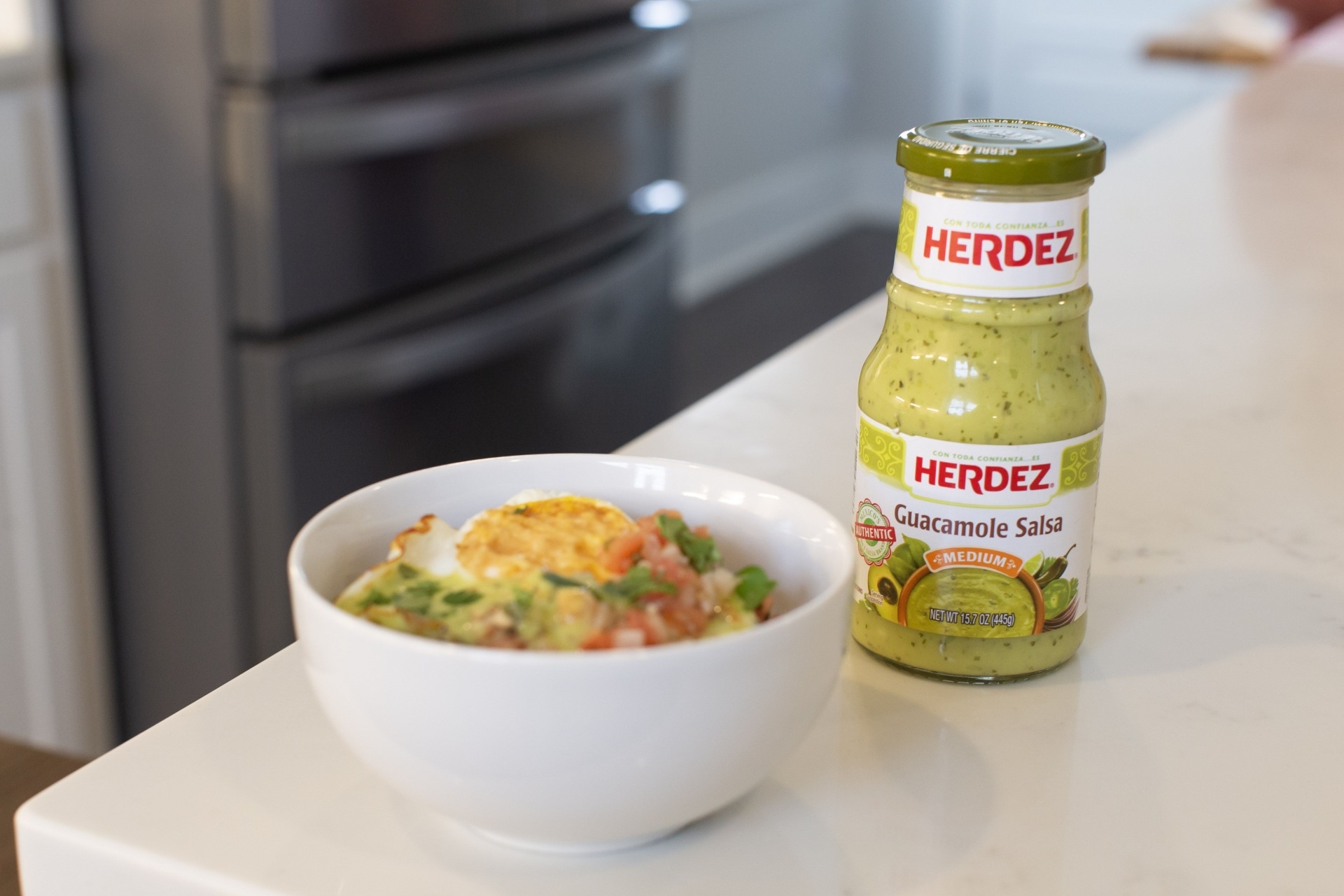 Other Recipes I Make:
I like to spice it up with Herdez® Guacamole Salsa since it packs in a whole lot of flavor! It's rich and creamy from real avocados with a smooth and tangy flavor of tomatillos and jalapeños that provides just the right amount of kick. Eric fell in love with this salsa and has started putting it on EVERYTHING! Ha!
We use this same salsa in another favorite recipe of mine since Herdez only uses simple, quality ingredients: Carb Conscious Crockpot Chicken. Try saying that 5 times fast! Both of these recipes are a perfect way to add some extra spice to your Valentine's Day! 😉 

If you need extra help with your meal planning and what meals to make that are healthy, kid-friendly and or budget friendly, I spill all the beans in my MEAL PLANNING EBOOKS! Make sure to check them out to start back strong with your health and wellness +. budgeting goals… it really does make such a difference!
P.S. Did you know I included Herdez Salsa in my Aldi Low Carb Shopping List?!
Easy Breakfast For Dinner Idea:
A Healthy & Easy Breakfast For Dinner Idea
Ingredients
Rice (Substitute Cauliflower Rice For Low Carb / Lighter Version)
Black Beans
Over Easy Egg
Herdez® Guacamole Salsa
Sliced Avocado
Pico De Gallo
Cilantro, For Garnishing
Instructions
Cook rice
Cook or heat black beans
Cook egg to your liking
Assemble the bowl! Add rice to the bottom, then black beans, sliced avocado, pico de gallo, an over easy egg on top, and drizzle Herdez Guacamole Salsa
Enjoy!
Check Out More Recipes HERE:
SHOP The Easy Breakfast For Dinner Idea Post HERE:

PIN
The Easy Breakfast For Dinner Post For Later!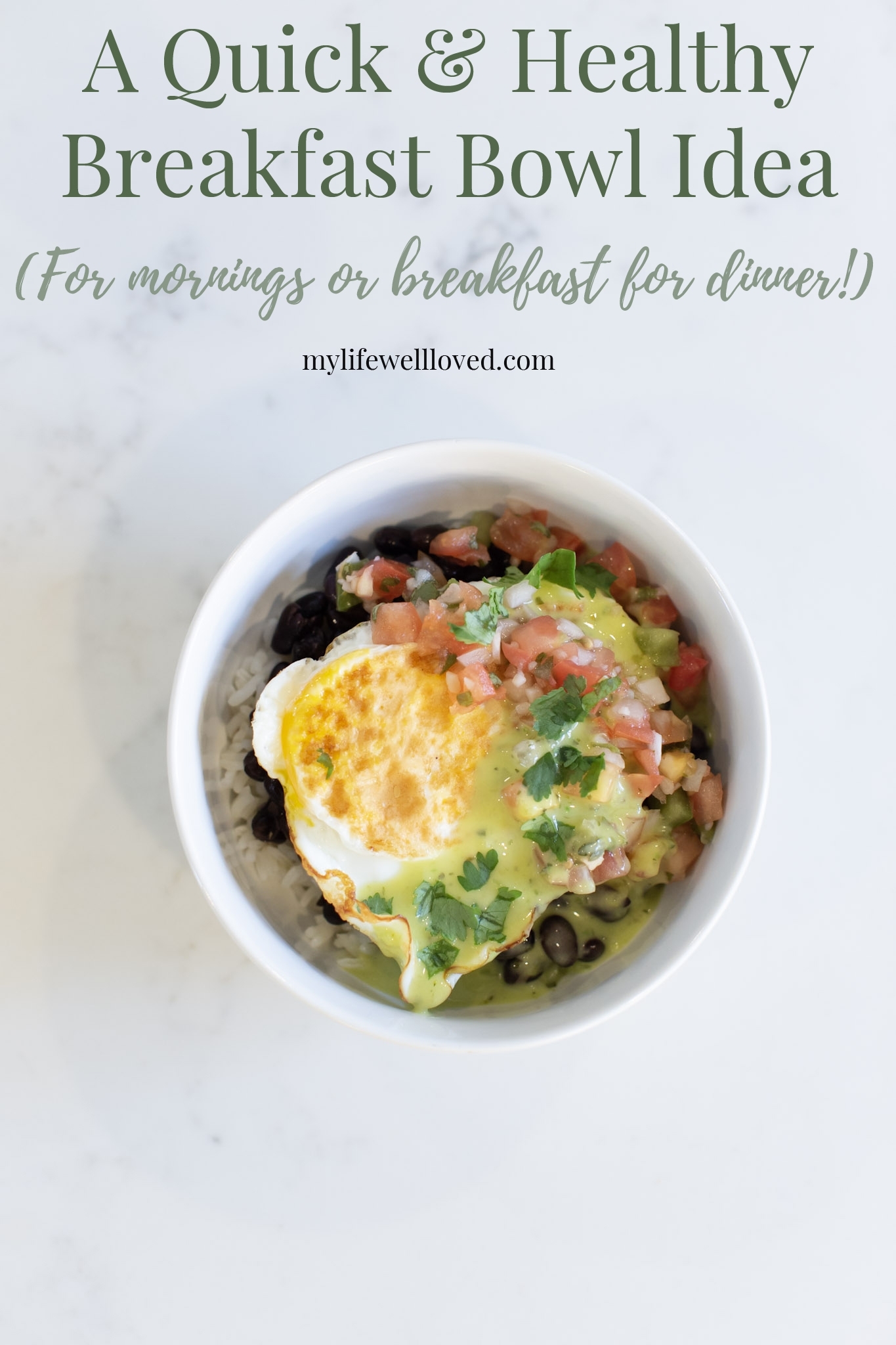 Heather Brown helps busy mamas of young littles who are caught in the hustle to find encouragement in their journey to true health, from the inside out, starting with the heart. Read her journey of learning to live a life well-loved
HERE!