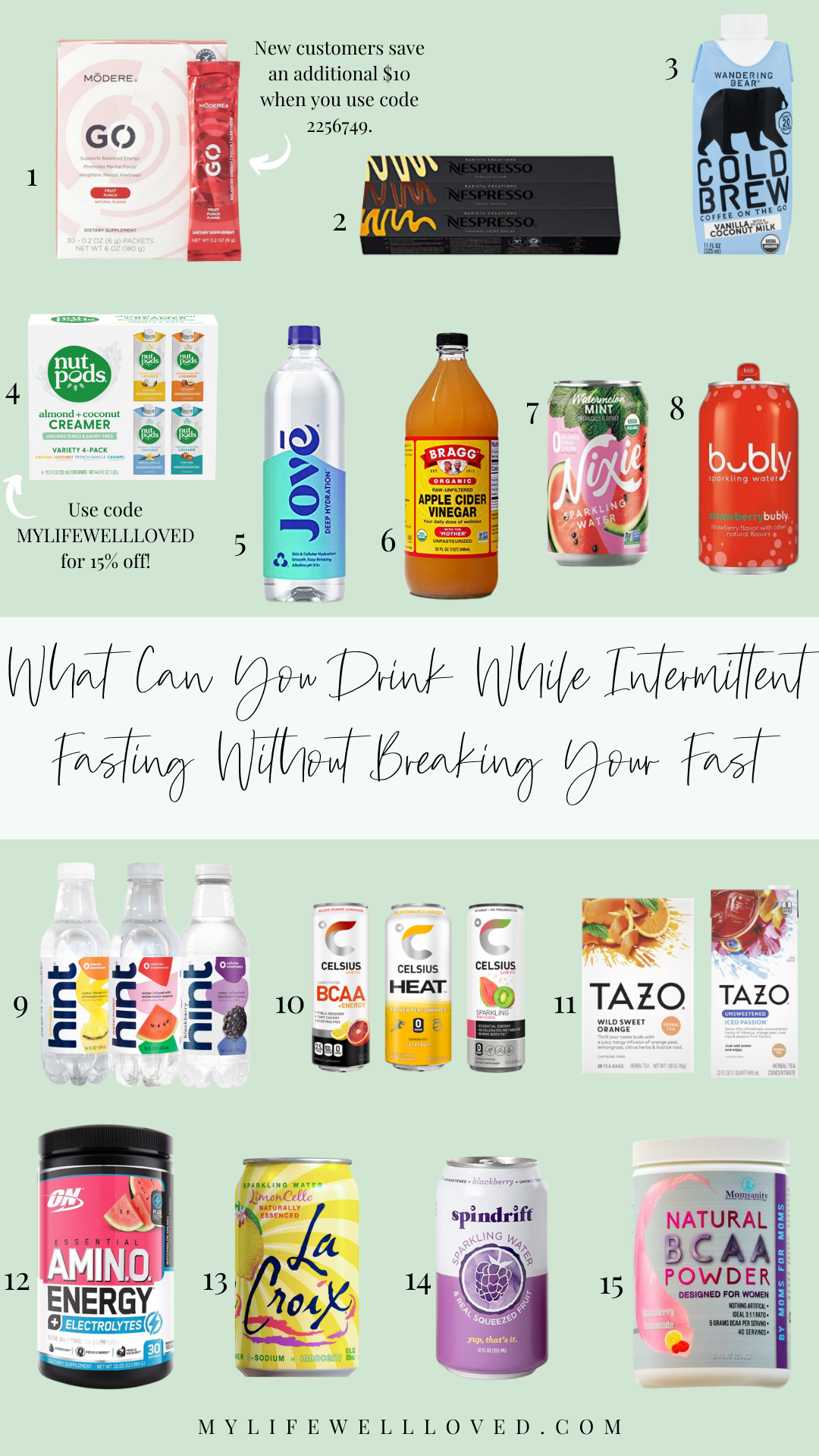 Shop The Best Drinks For Intermittent Fasting Post Here & The Full Guide Is Down Below!
#1 Go Energy – New customers save an additional $10 when you use code 2256749.

Y'all know I talk about intermittent fasting A LOT. It's one of my favorite ways to implement a healthy lifestyle. If you've never heard of it, check out this post about intermittent fasting. I asked my FASTer Way To Fat Loss coach, Miranda Wesley, what her advice was for drinks you can have while fasting since she is the expert! I do what works best for my lifestyle but just know when you research it, there will be very differing opinions! Here is what she said:
I teach that anything under 50 calories, sweetened with Stevia if it is sweetened, and not containing any artificial sweeteners is key to being "approved". Artificial sweeteners, even though they may be 0 calories, tell your brain that it's sugar and could spike an insulin response which could therefore break your fast. So that's what I teach. In terms of things you can have in your fasting window I stick with black coffee, unsweetened plant-based milks (nut pods is what I love), Stevia drops if you like it sweetened, herbal teas and sparkling waters. Some flavored waters are OK as long as they are naturally flavored without artificial sweeteners or cane sugar etc.
What Is Intermittent Fasting?
To put it simply: intermittent fasting is eating all of your meals within a certain time frame. During the remaining hours of the day, you remain in a fasted state, which means you don't consume anything over 50 calories. The structure I follow is 16 hours fasting with an 8 hour food window.
I first learned about intermittent fasting through the FASTer Way To Fat Loss Program in November of 2018! I've been doing intermittent fasting ever since. FWTFL has truly changed my health journey altogether. If you want more help with intermittent fasting and overall wellness, join the next round of FWTFL that starts August 16th! Make sure you sign up and choose Miranda Wesley as your coach so we can be together!
Wondering how in the world you're supposed to fit working out into all of this? I got you, girl! Click here to read all of my tips on working out while intermittent fasting!
How I Drink My Coffee While Fasting:
If you're an avid coffee drinker like me, click here to read the full post on how I drink coffee while intermittent fasting!
One of the questions I get the most frequently is, "what actually breaks a fast?" and I'm here to help! It's hard to know what drinks you can have, like coffee, while still fasting. Upon further research, I found that this is actually quite a controversial topic as many have differing opinions on what breaks a fast. Today, I'm sharing what works for me and the best drinks for intermittent fasting.
The Best Drinks For Intermittent Fasting
Photo by Margaret Taylor Photography
Similar Denim Blouse // White Denim // Tote // Water Bottle // Watch Band
#1 Go Energy // When I need a boost of energy as I'm running out the door to the gym, I like to grab my Go energy packs! These are sugar-free, non-GMO, gluten-free, dairy-free. New customers save an additional $10 when you use code 2256749.
Denim Jacket (Use code HEATHERBROWN20 for 20% off) // Similar Maxi Dress // Sandals
#2 Coffee // If you're like me, you can't start your mornings without coffee! Black coffee is totally fine. I have the Inissia Nespresso Maker and I use Nespresso Pods to make my coffee.
#3 Cold Brew // I love on-the-go cold brews from Misfits Market. It's so easy to grab from the fridge and take with me in the car! Use my code LIFEWELLLOVED9 to take $9 off your first Misfits Market box!
#4 NutPods // If you like cream in your coffee, you can use unsweetened plant-based milk while fasting. I use NutPods and I absolutely love them! These dairy-free creamers are an alternative for those who follow keto, paleo, plant-based, vegetarian, lactose-free, and/or diabetic diets, too. NutPods have zero sugar. Use code MYLIFEWELLLOVED for 15% off!
#5 Jovē Alkaline Water // This might be a no-brainer, but upping your water intake and staying hydrated will actually help you fast longer! It's VERY important while intermittent fasting to keep your body hydrated. Click here to get a free printable to track your water intake! I love the Jovē large water bottles to help me hit my water goals. Plus, it is clinically proven to provide DEEP hydration for cellular health through its Advanced Cellular Hydration Technology! Learn more about the benefits of alkaline water here.
#6 Apple Cider Vinegar // Apple cider vinegar has many benefits! It can improve digestion, lower blood sugar levels, improve insulin sensitivity, help with weight loss, reduce belly fat, lower cholesterol, lower blood pressure, and improve heart health.
#7 Nixie Sparkling water // I've been seeing ads for Nixie on Instagram and really wanting to try it!
#8 Bubly Sparkling Water // Bubly is sparkling water with zero calories and zero sweeteners. I love the strawberry flavor!
#9 Hint Water // This caffeinated water has zero sugar, zero calories, and zero sweeteners. Hint Water with Caffeine is a great substitute for soda, juice, and energy drinks. It also supports metabolism and immune system health by encouraging increased hydration. I drink it while fasting and my favorite flavors are pineapple and blackberry!
#10 Celsius // Celsius is a low-calorie pre-workout energy drink. It has 200 mg of caffeine, zero sugars, zero preservatives, and no artificial flavors or colors. Plus, it comes in easy grab-and-go packets! I also drink Celsius Heat which provides a powerful energy boost. Celsius is okay to drink while fasting! I usually order these from Amazon but have also seen them at Target!
#11 Tea // You can drink iced unsweetened tea or hot tea while intermittent fasting. As long as it doesn't have any sugar or artificial sweeteners, it's fine to drink while fasting! I really like Tazo Tea because they have a lot of different flavors, and they come in a k-cup version! I like the wild sweet orange herbal tea and the passion iced tea concentrate.
#12 Optimum Nutrition Amino Energy // I really like this energy powder. I get the watermelon flavor! I ordered this one because it's keto-friendly and it's easy to scoop into my water in a hurry when I didn't have time to prep the night before!
#13 La Croix // La Croix is a natural seltzer with zero calories, zero sweeteners, zero sodium, and nothing artificial. I love the Lemoncello flavor!
#14 Spindrift Sparkling Water // The Spindrift sparkling water is made with real fruit and it's delicious. I like the grapefruit flavor!
#15 Momsanity // My FASTer Way To Fat Loss coach, Miranda, introduced me to this Momsanity powder! It is designed by women, for women. It has nothing artificial in it, and it is naturally sweetened with Stevia.
Check Out More Intermittent Fasting Posts
Shop The Best Drinks For Intermittent Fasting Post Here:
Pin This Post For Later!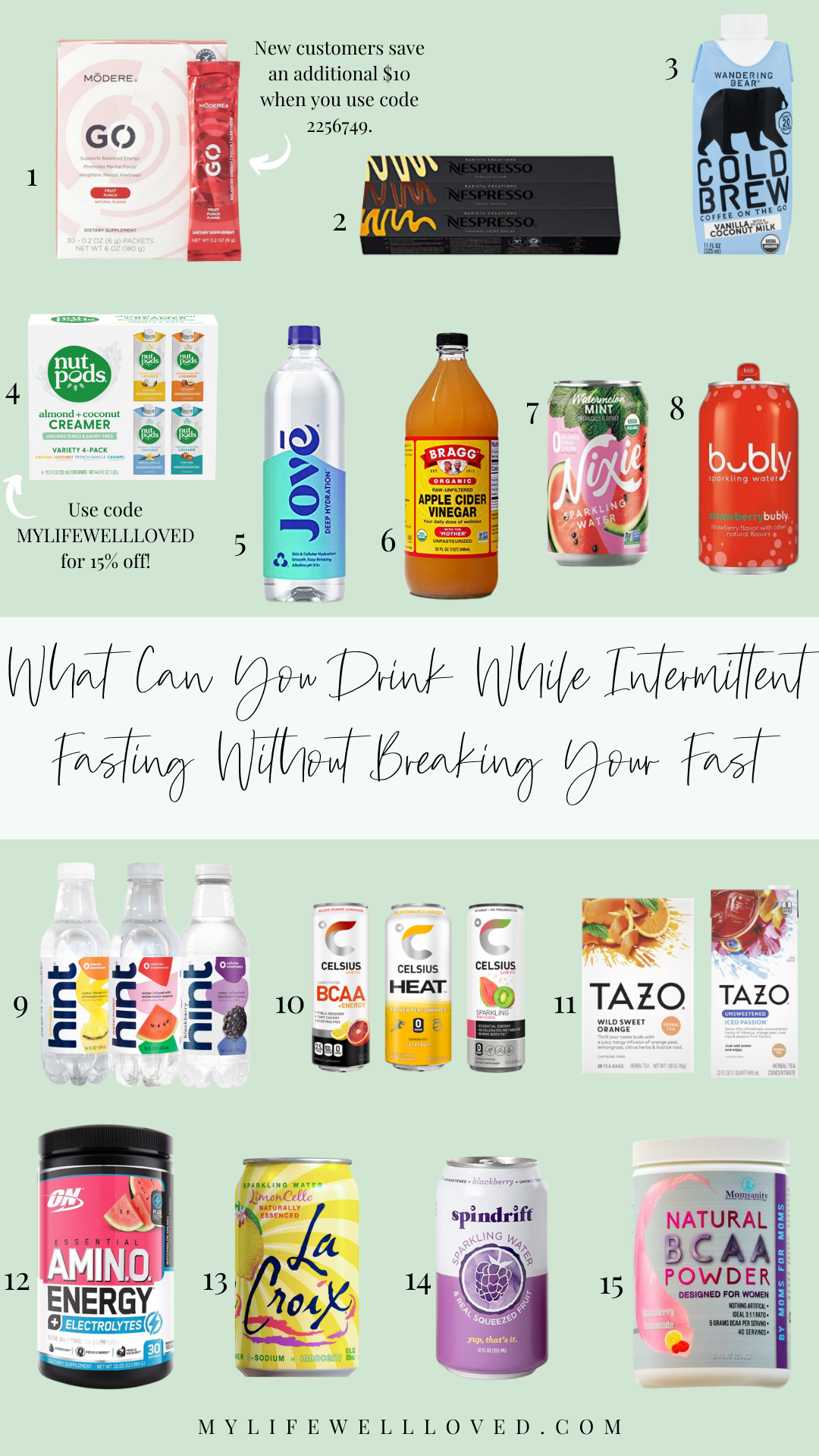 Heather Brown helps busy mamas of young littles who are caught in the hustle to find encouragement in their journey to true health, from the inside out, starting with the heart. Read her journey of learning to live a life well-loved
HERE!