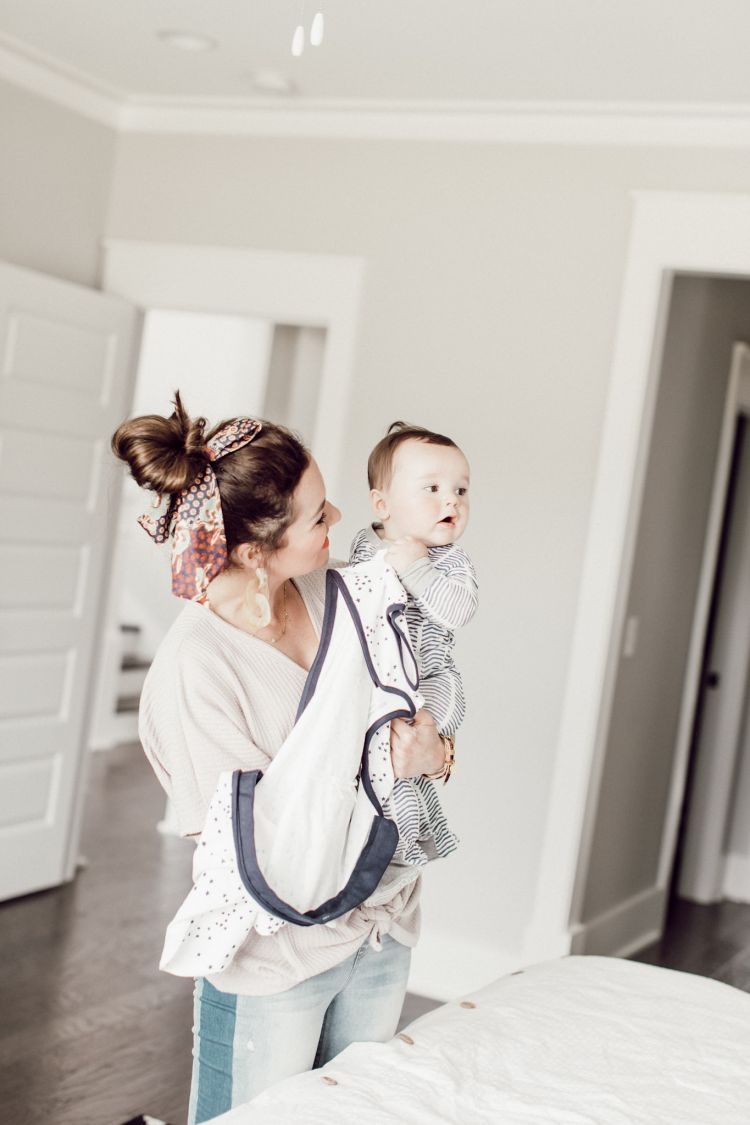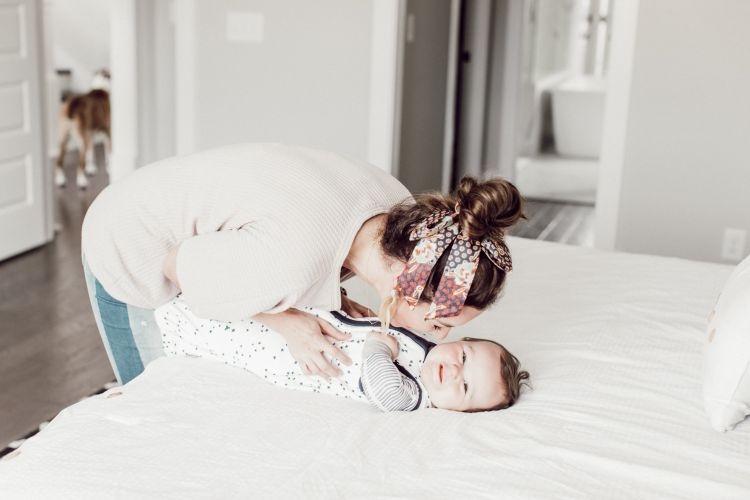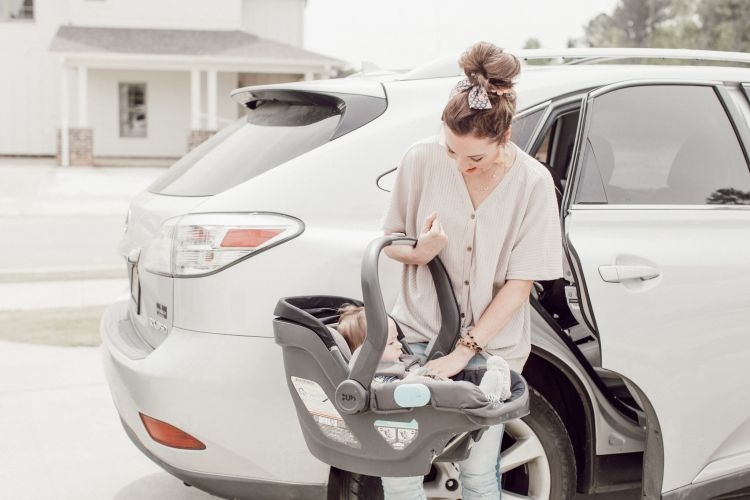 This post has been sponsored by Burt's Bees. All thoughts and opinions are my own.
A Day In The Life Photos By: Magen Davis Photography
Anytime I share snippets of our days online, I always hear, "How do you fit it all in? What does Finn's schedule look like while you are running place to place all day? When and how long does he nap? Does he sleep through the night?"
Let me promise you first that I certainly do not fit everything into the 24 hours we are given each day. I am always rolling Monday's leftover to do list to Tuesday, Tuesday to Wednesday, and so on so forth. Secondly, Finn's schedule is not consistent. Most of the time, he is adjusting to mine and Leyton's schedule rather than the other way around.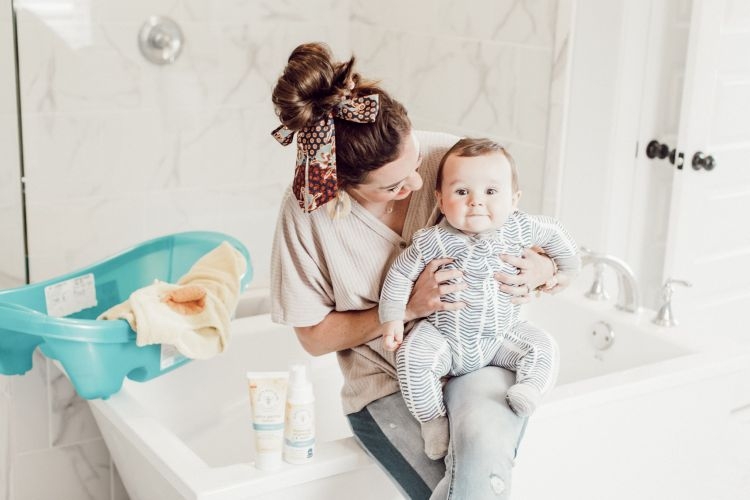 Regardless of our ever-changing and busy schedules, one thing we do aim to keep somewhat consistent is Finn's bath time. This time is so very special to our family. Ever since we had Leyton, we have loved bath time because baby is so engaged and interactive. Even when they are teeny tiny, it's the sweetest mommy + daddy + baby time—in our opinion!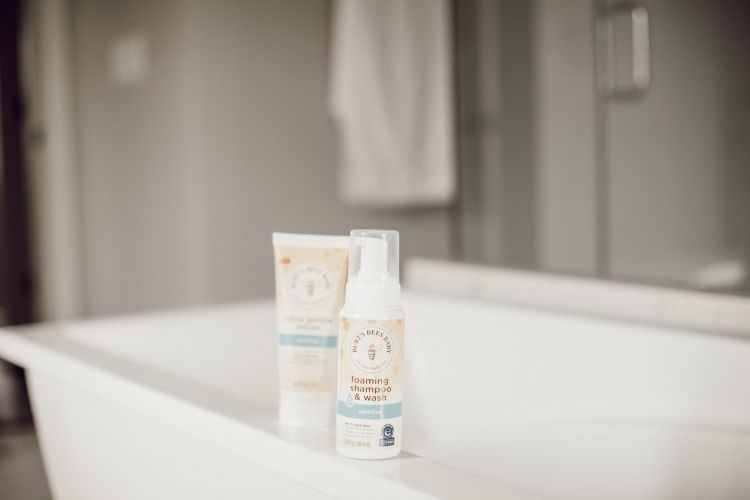 Both Leyton and Finn have eczema issues and because of this, we have made bath time a priority every night to hopefully help their skin. Finding the best products to treat eczema during bath time has also come with challenges, but we recently discovered the new Burt's Bees Baby® Foaming Shampoo & Wash and Burt's Bees Baby® Ultra Gentle Lotion—now available at Walmart.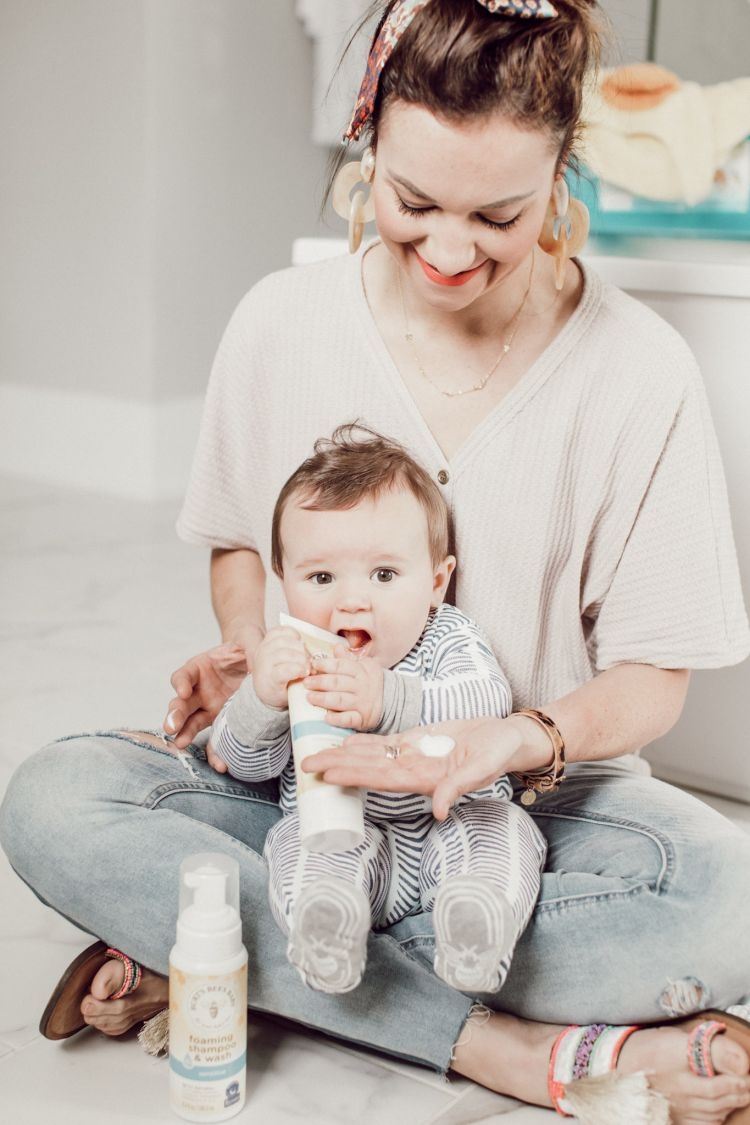 These products are fragrance-free, gentle, and have the National Eczema Association Seal of Acceptance™. They are new and available in-store at Walmart—hello easy, affordable, and convenient! You can actually earn up to $1.50 cash back on Burt's Bees Baby® Sensitive products with the Free Ibotta® app! I'll be sharing more about how we use these products in our daily routine below!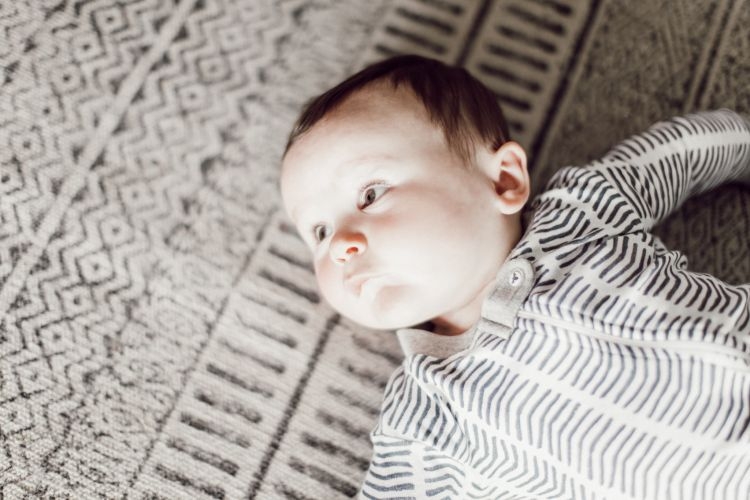 A Day In The Life Of Finn At 8 Months Old:
Today, I would love to be able to share with you a cookie cutter schedule that guarantees perfect naps and nighttime routines. In essence, a recipe for "no bad days." However, that's just not the case. What I can share is our flexible approach to Finn's daily routine that is filled with hectic errands, possible toddler meltdowns, naps or lack thereof, and lots of love!
I am sharing what a typical day looks like on Tuesday, when I am home with both boys by myself for the full day. I have a babysitter who comes on Monday, Wednesday, and Friday. On Thursday, Eric is usually home with me and both boys. Every day doesn't look identical to this schedule, but whether it is me, the babysitter, or Eric caring for Finn, this is roughly what his schedule looks like day-to-day.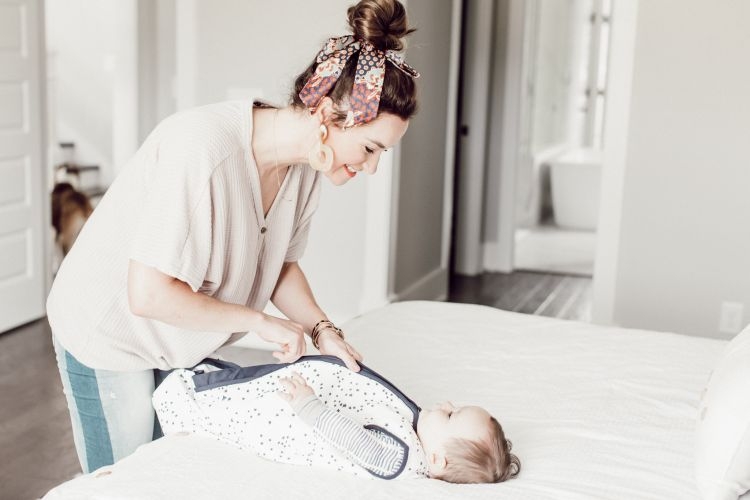 A Day In The Life: MORNING
6:30 AM – Finn typically wakes up sometime between 6:00 and 7:00, hungry and ready to feed.
7:00 AM – I go in Finn's room quietly, keep the lights off, and nurse him in the dark nursery for 15-20 minutes. I try to make it very apparent to him that it's not time to wake up yet 😉 I do this by not talking to him, not flipping on lights, and trying to keep things as peaceful as possible!
7:20 AM – After the 15-20 minute feeding, I lay Finn back down so he can go back to sleep (and mama can go back to sleep, too!)
9:30 AM – If Finn hasn't woken up by 9:30 or 10:00, I will go in and wake him and Leyton up for the day! Leyton has always been an amazing sleeper! He pretty much stays in his bed asleep or reading books until I get him up each morning.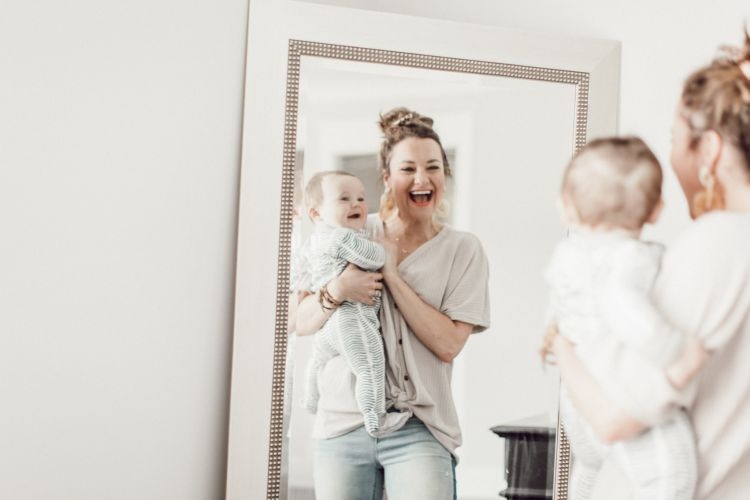 10:00 AM – From 10:00 to 11:00 can look different depending on what is on the agenda for the day! A couple activities that typically fill this time slot include:
Eating: We have started introducing solids and around this time is when Finn will eat a little baby food breakfast if we are at home!
Playing: Finn is loving the Skip Hop Jumper or just rolling around all over the floor!
HomeFit: As you know, I have a HomeFit trainer who comes to my house to train me a couple times each week. Finn and Leyton are always involved with helping or watching mommy do exercises! Sometimes if I'm lucky I can even schedule Finn to where he naps during this since he's pretty needy about being held while teething right now if he's up.
Running Errands: If we are needing to run to the grocery store or run to grab items for a photoshoot or even go to the chiropractor, this is when we do it!
11:00 AM – Regardless of where we are or what we are doing, 11:00 is about the time I nurse Finn again.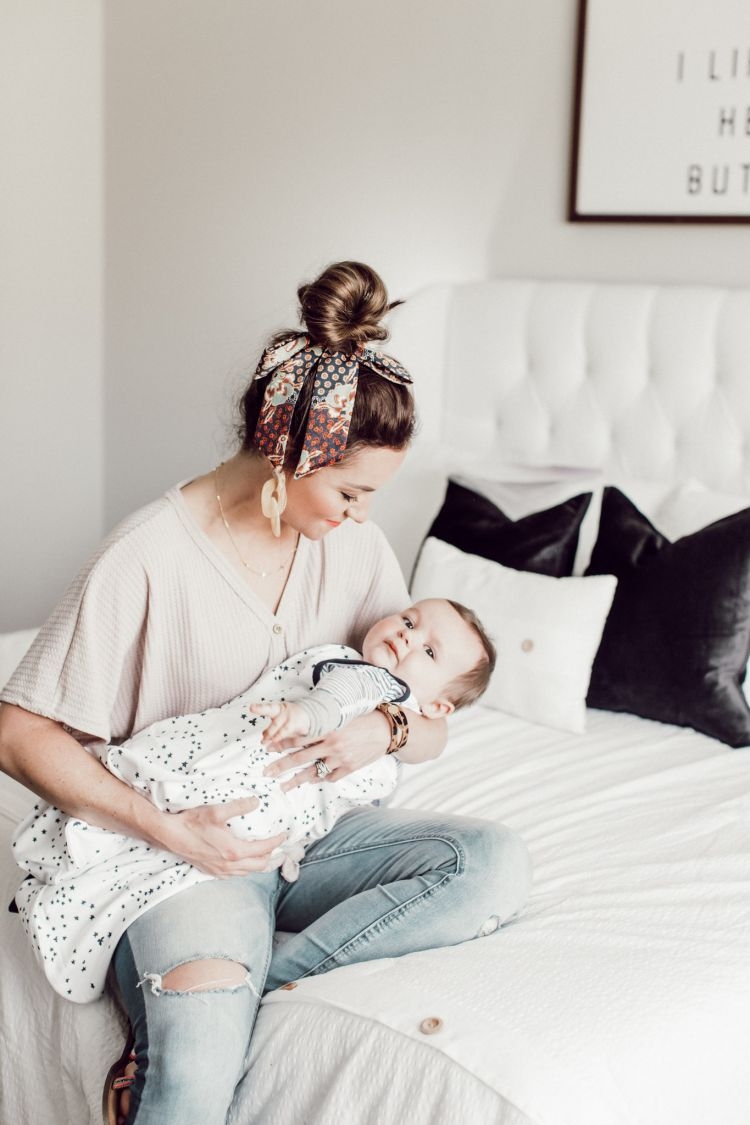 11:30 AM – Around 11:30 is when Finn will go down for a nap. He does sleep in his crib in the nursery for all naps and bedtime now. How long he naps is typically up in the air. It can be anywhere from 1-2 hours but we typically wake him after 2 hours so he knows it is "naptime" and not "bedtime".
*Finn is typically awake for 2-3 hours at a time, depending on what all is going on! If we are hanging out at home all day, he will more than likely get tired around the 2 hour mark. If we are out and about, keeping him active and engaged, he will likely stay awake longer and stretch to 3 hours in between naps.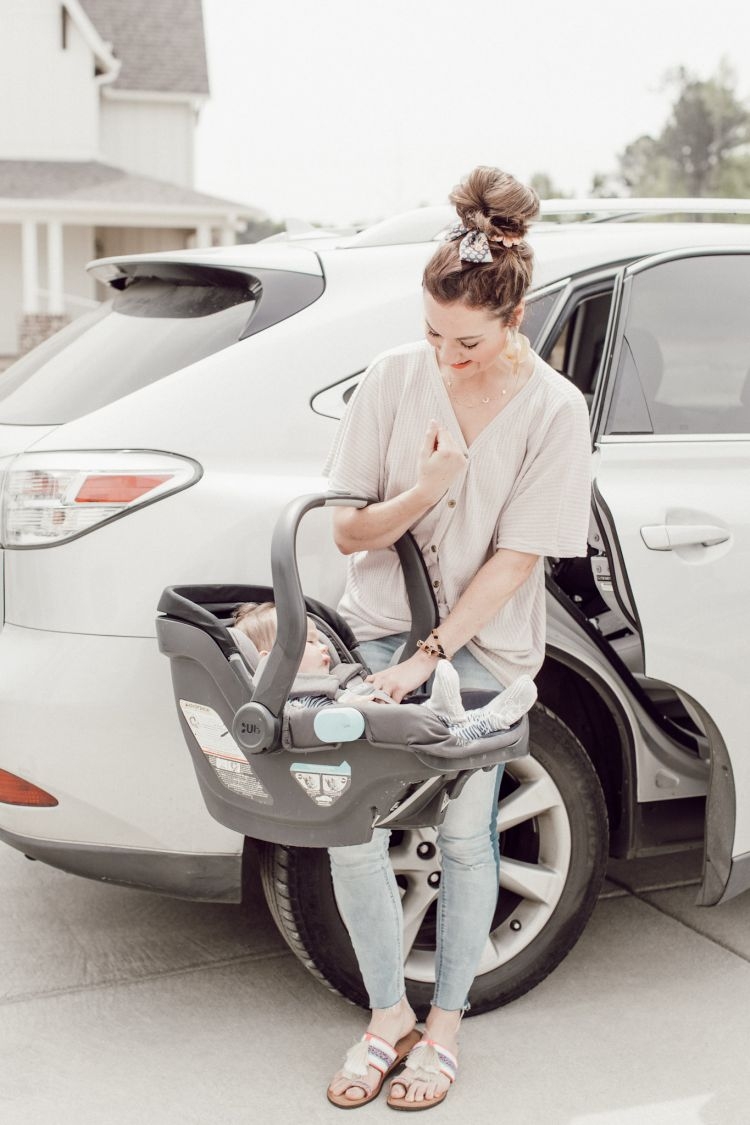 A Day In The Life: AFTERNOON
12:30 PM – If we are at home and Finn is still napping , this is when I take advantage of that special one-on-one time with Leyton! We will often do toddler sensory activities during this time or play with some of his favorite toys. If Finn ends up being awake, he will join in on the fun too!
1:30 PM – From 12:30 to 3:00, depending on if Finn is awake or not, you might find us heading to "Chickaway" for lunch or maybe going on a walk or heading out on an adventure to the park!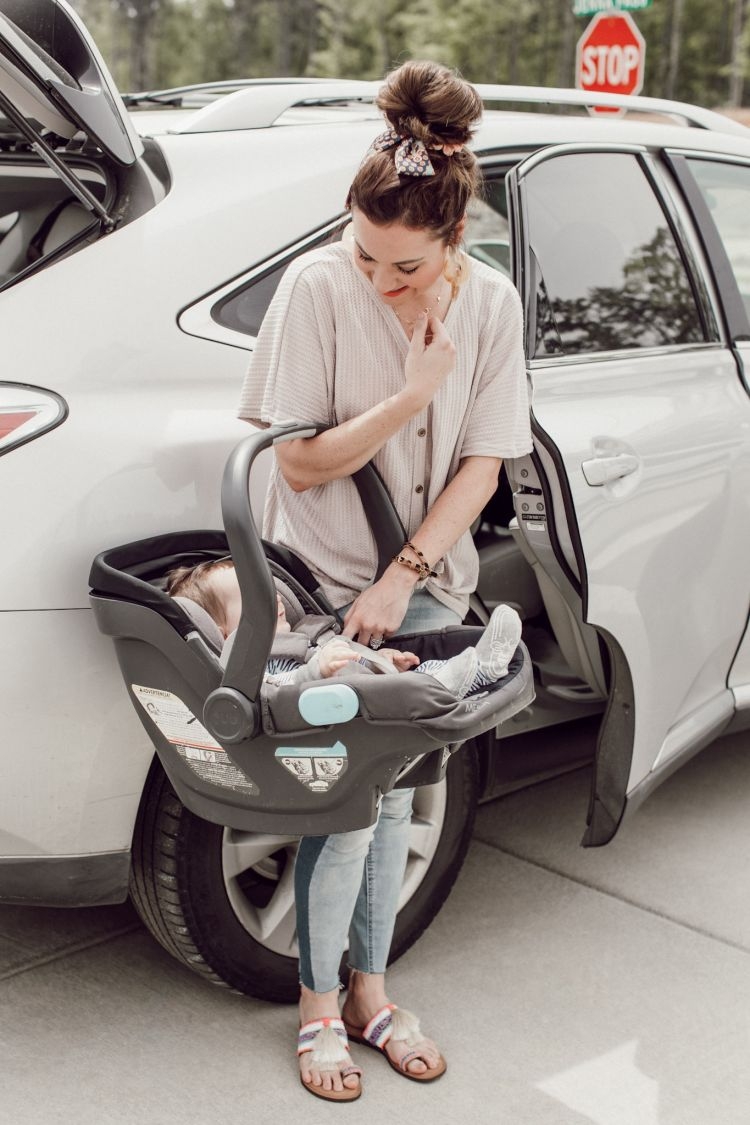 If we are at home during this time, Finn is more than likely playing in his jumper, rolling around on the floor, helping mommy workout with HomeFit, or eating baby food while brother eats lunch or snacks!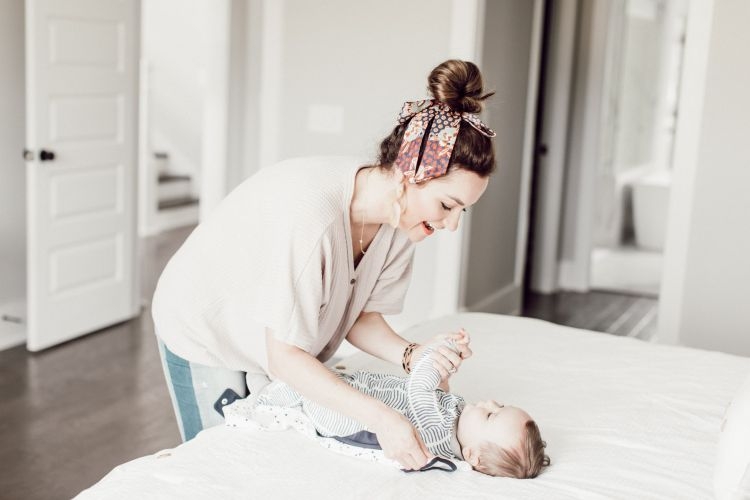 3:00 PM – At about 3:00, we begin winding down for afternoon nap time for both Leyton and Finn. I will nurse Finn again before laying him down for a nap.
3:30 PM – Finn usually naps around 3:30 and I use this time when both boys are asleep to work! Whether talking to y'all on Instagram, calling my team, or writing blog posts, I try to get as much done during this time as possible. It truly is a race against time!
4:30 PM – Finn will wake up from his nap or I will wake him up around 4:30 or 5:00 to ensure he gets to bed at a good time.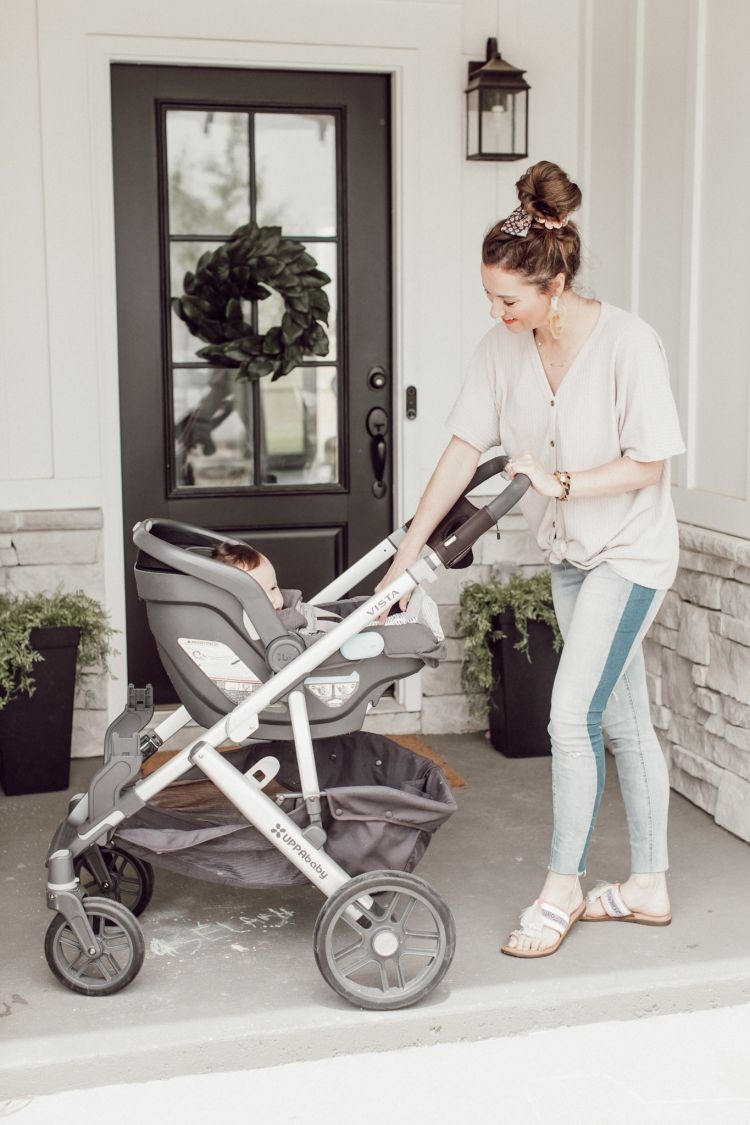 A Day In The Life: EVENING
5:00 PM – From the time Finn wakes up from his afternoon nap until bedtime, I try to push him as long as possible. He will either join me on conference calls, play in his jumper, or go with Leyton and I on a walk. However, sometimes he gets extra fussy and needs a cat nap before bed.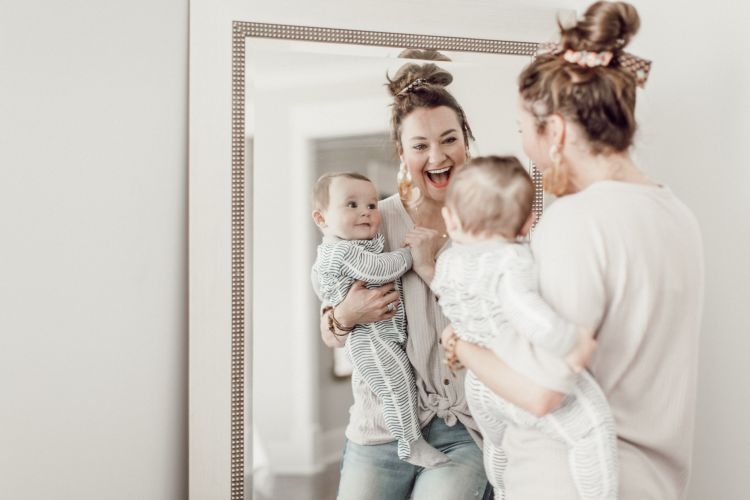 6:30 PM – We all eat dinner together at 6:30. For Finn, this means a little baby food dinner in his Boon High Chair!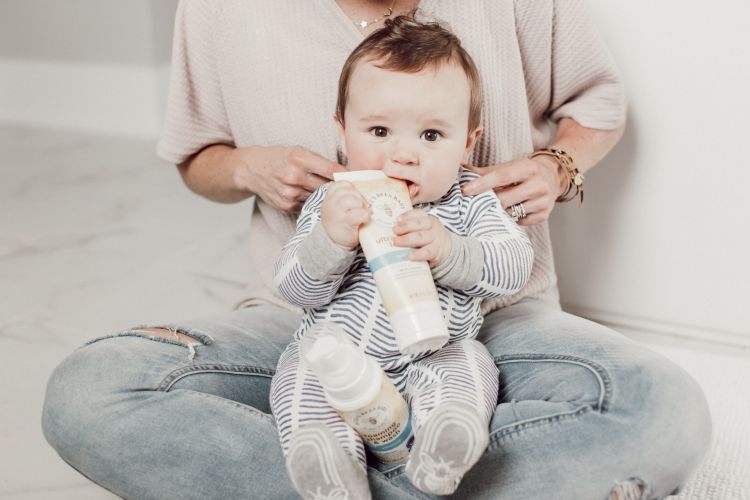 7:00 PM – Finn's bath time AKA the highlight of his day! He loves to kick and splash all during bath time! One of my favorite things is watching how mesmerized he is by me pouring water over his big belly! He is almost big enough to move out of the sink and into the big tub with Leyton. As for now, Leyton loves to sit up on the counter and is the biggest helper with Finn's bath!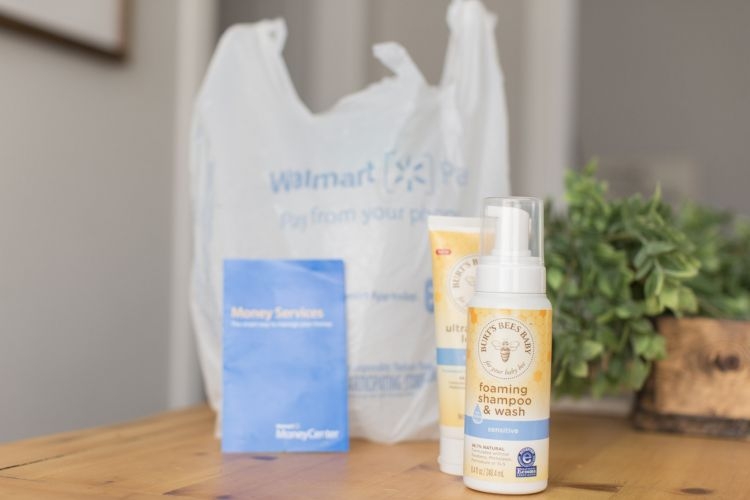 During bath time, we use the Burt's Bees Foaming Shampoo & Wash. This is a part of Burt's Bees Baby® Sensitive line, which helps baby rest peacefully and reduces dry skin! We finish off bath time with the Burt's Bees Ultra Gentle Lotion before zipping him up in his jammies!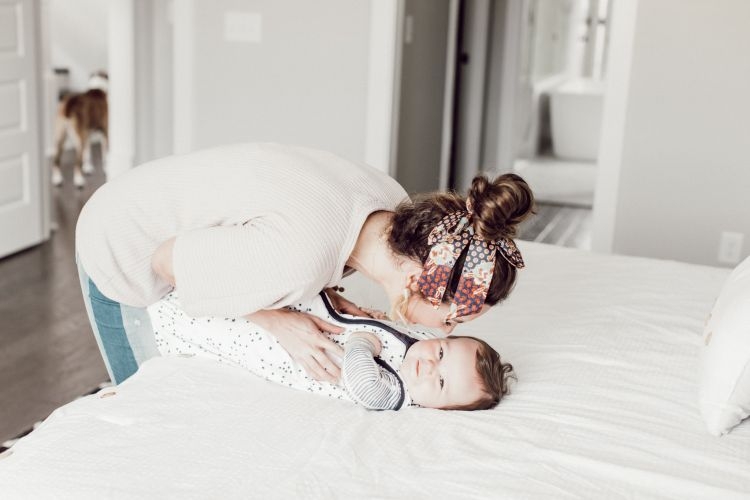 7:30 PM – After bath time is cuddle time on the couch! There is nothing better than sweet cuddles with clean babies! Eric will usually start putting Leyton to bed while I get Finn ready for bed.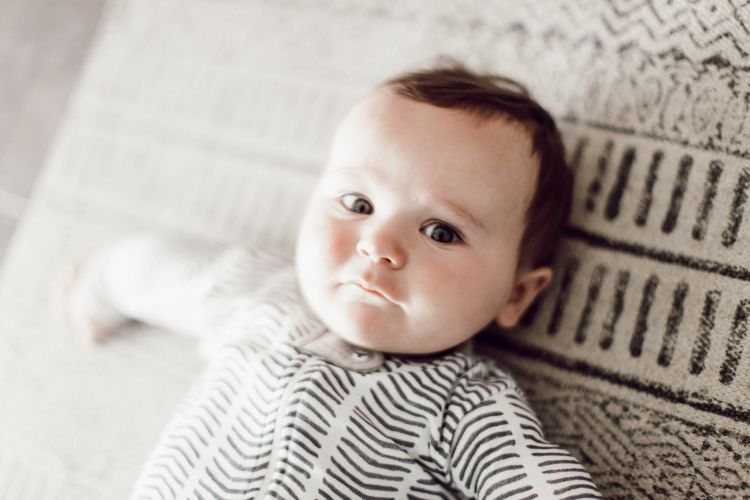 8:00 PM – Between 7:30 and 8:00, I nurse Finn one final time before laying him in bed by 8:00. Depending on whether he is teething or sick, he typically doesn't wake up in the middle of the night. But as any mom will tell you, those things happen frequently so it's pretty hit or miss with changes right around the corner.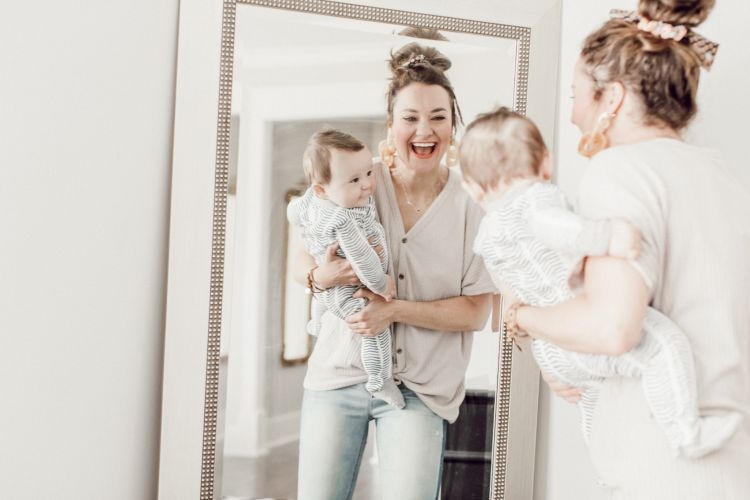 As you can probably gather, Finn is a very "go-with-the-flow" baby since he is living in his 3.5 year old brother's world and abiding to his schedule! We try to be consistent but reality is, life happens, we fail at the schedule, and we try again the next day! If you are looking for more updates on Finn, be sure to read is 8 Month Old Update I wrote a couple weeks ago!
What does a day in the life look like for you and your littles? What is your favorite part of your baby's schedule? Tell me in the comments below!