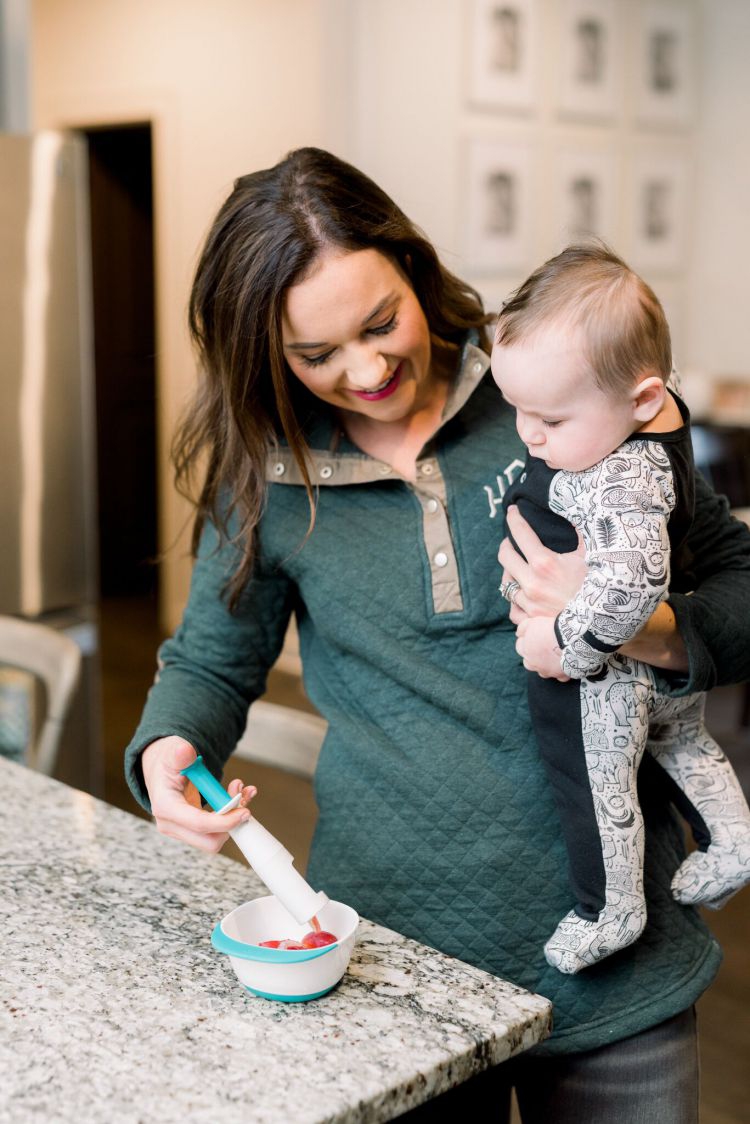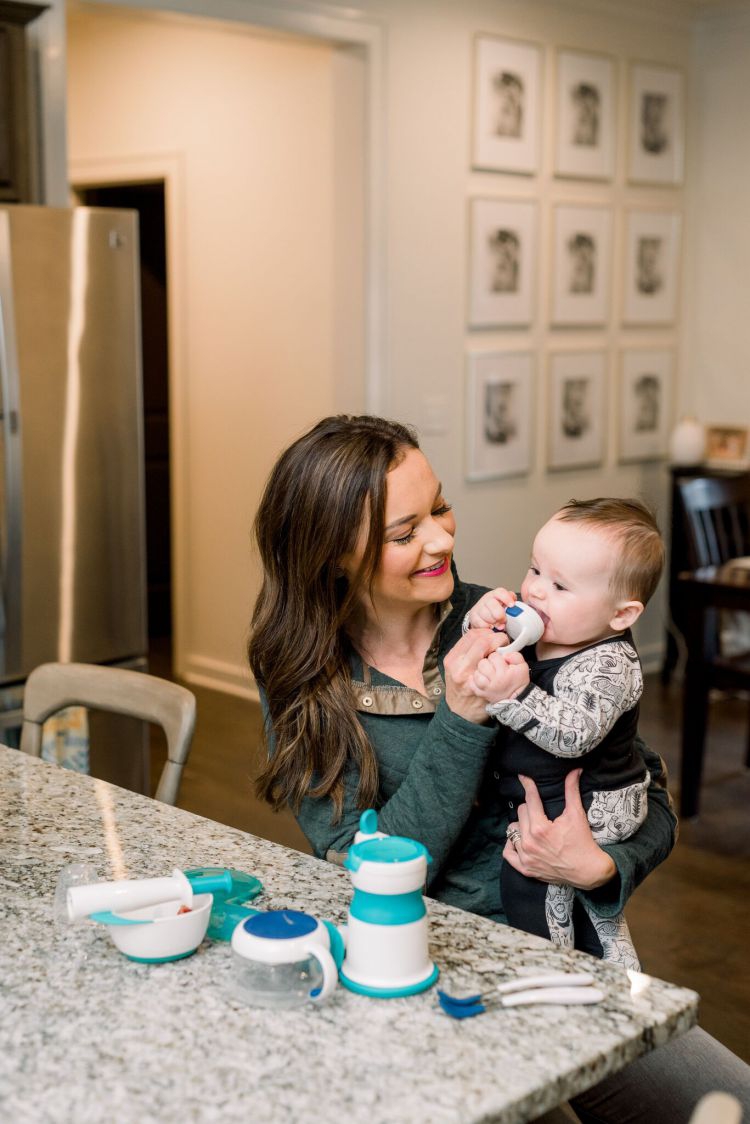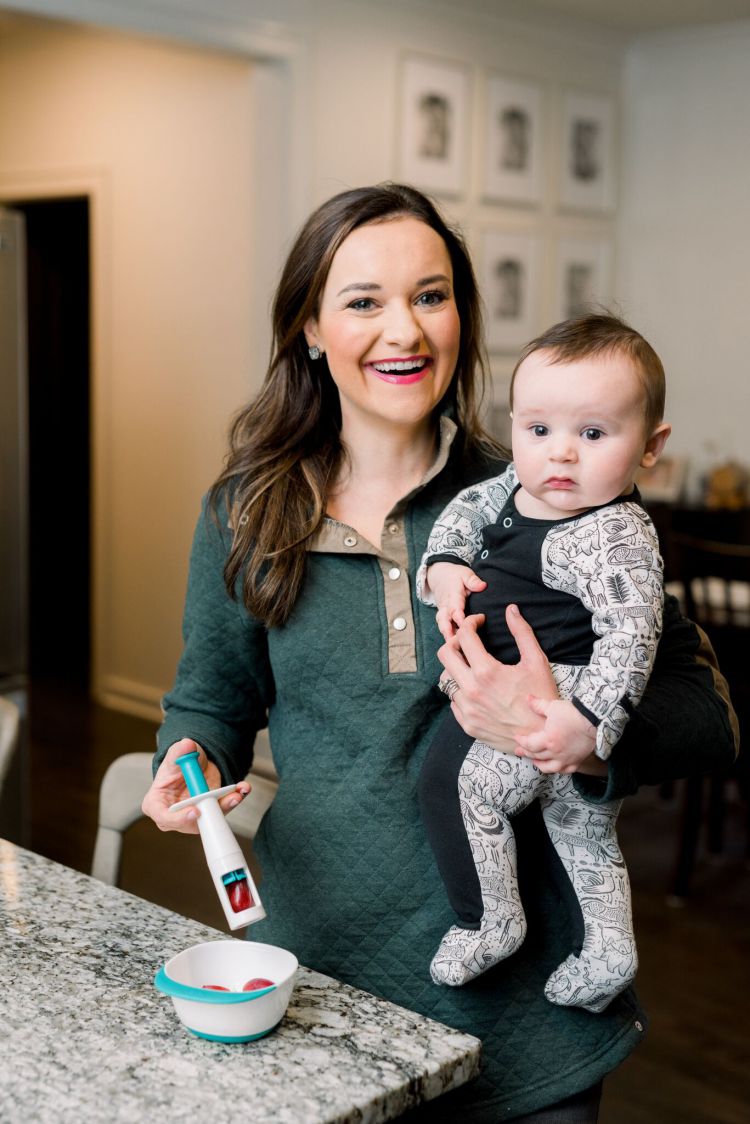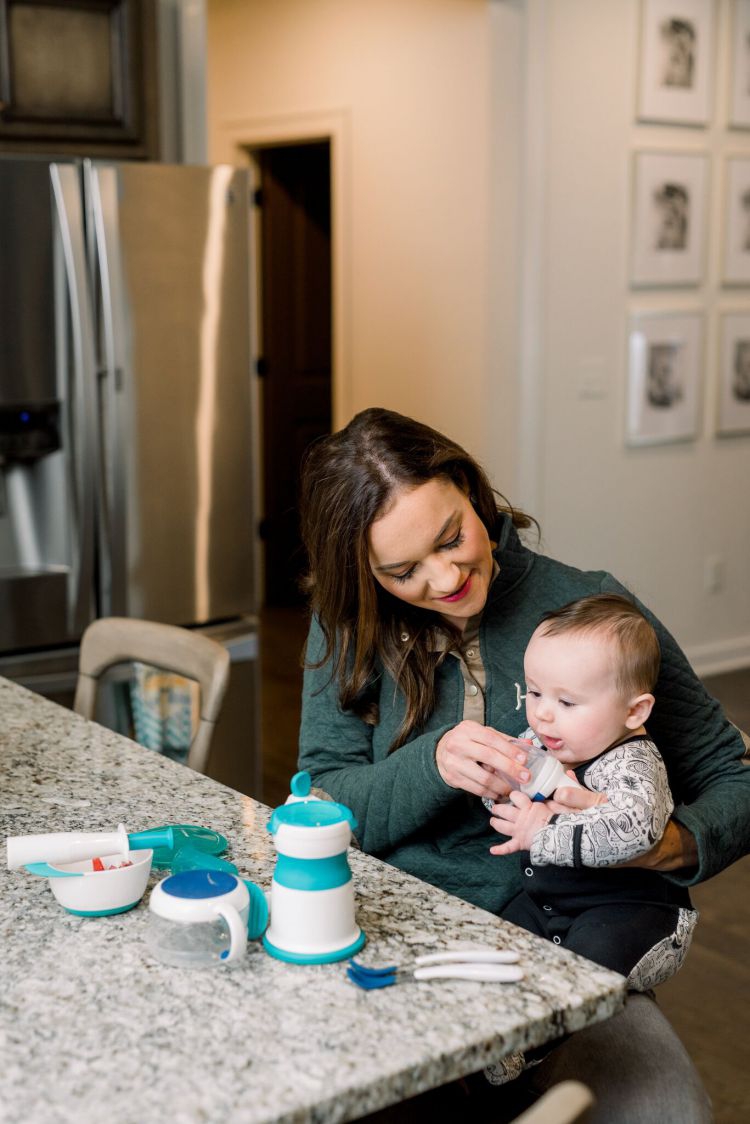 SHOP the Starting Baby on Solids Photos: Monogrammed Pullover // Jeans // Finn's Onesie // Bar stools // OXO Tot Grape Cutter // Target Picture Frames on Gallery Wall
Photos: Eric and Jamie Photo
Thank you to OXO Tot for partnering with me on this post!
It is Week 4 and the final week of our Breastfeeding 101 Series and honestly, I am sad to be wrapping it up! I feel like this series has sparked so many good conversations with you mamas and I am thankful for all of your feedback, encouragement, and excitement about these posts. A huge thank you to all of you who have read these posts and provided feedback. Just in case you missed the first 3 posts in the series, you can check them out here:
To wrap up this Breastfeeding 101 Series, I am sharing how we are starting baby on solids.As you can tell from the photos, Finn is very curious and excited about more food 😉 For all the official information you'll need to know, make sure you ask your pediatrician and you may find this article from the Mayo Clinic very helpful!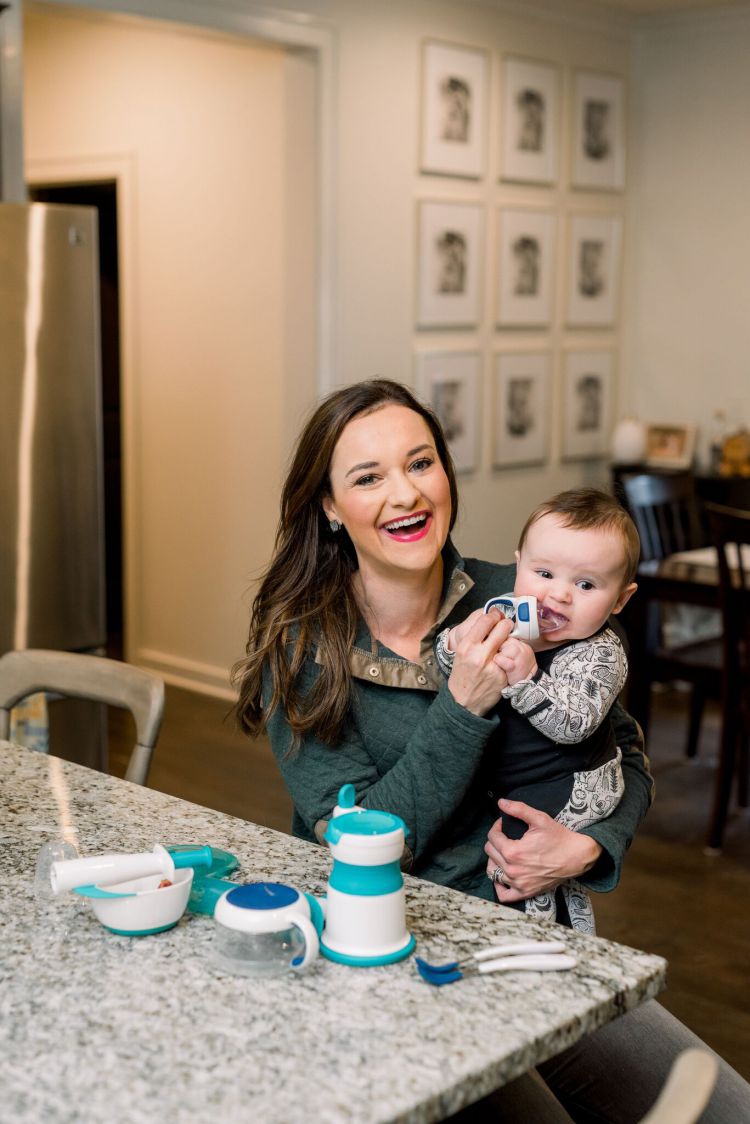 The first thing he's had other than breast milk was actually the grapes I cut up with the OXO Tot Grape Cutter in this photo because I immediately popped one into the Silicone Self-Feeder and he went wild over it! It was like I'd given him a tasty pacifier, ha!
If you've been around here for long, you may remember that when we transitioned Leyton to solids, we tried baby led weaning. I know not every child is the same, and OBVIOUSLY with Leyton's small frame and baby Finn's big boy frame in the 90th% percentile that is proven true! But since we tried baby led weaning with Leyton and have had to go through feeding therapies and struggled with weight gain, we want to try something new this time.
Since Moms on Call has worked so well for us with their principles for sleep training Leyton and Finn, I wanted to give the Moms on Call FREE eating guide PDF a try as well! I'm breaking down 5 essentials for starting baby on solids below to help you have a leg up on what this next chapter will look like.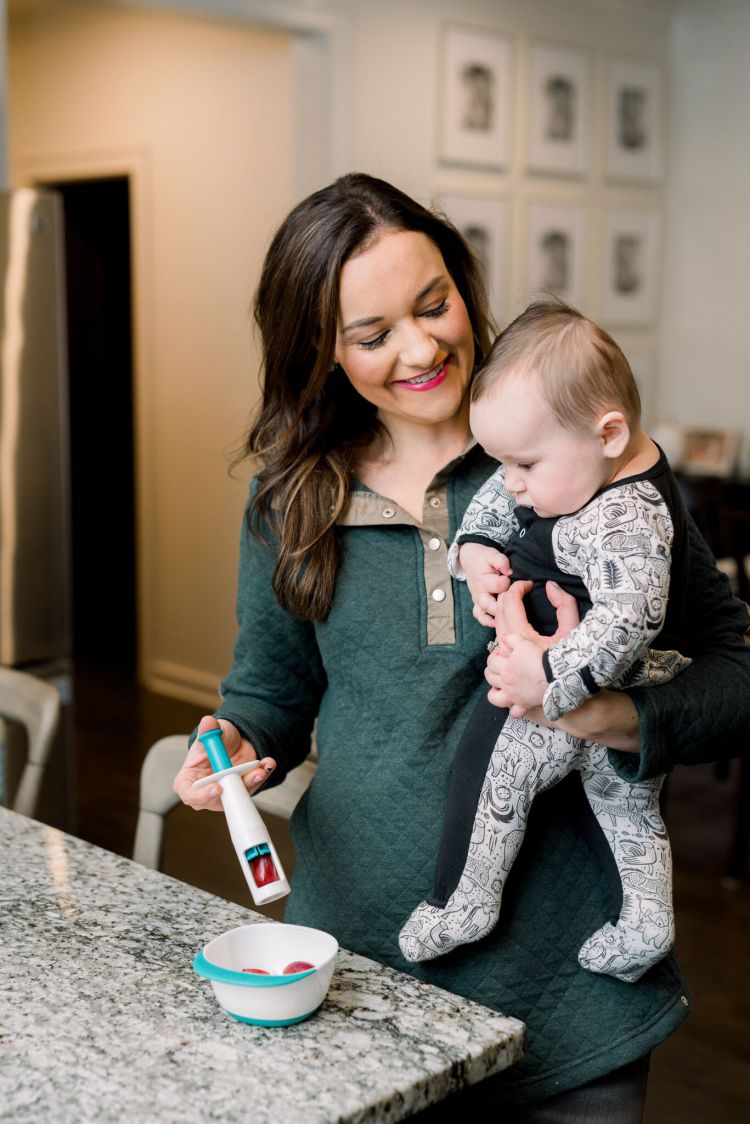 5 Essentials for Starting Baby on Solids:
Know Your Baby is Ready: Most doctors recommend that you start food other than formula or breastmilk between the ages of 4 months-6 months. We decided to wait until 6 months for baby Finn with my doctor's blessing and can tell he's ready because he stares down our food when we eat it, can hold his head up without support and can sit up with minimal support.
Playful Laidback Attitude: This is perhaps one of the BIGGEST essentials for starting baby on solids. For now, it's all fun and games so just enjoy it! I miss the times when we didn't have to stress about what Leyton was consuming for weight gain. Make it fun and light-hearted. If baby isn't into what you're serving that day, put it away and try again another day. Check with your doctor if this becomes a continual issue.

Have the Right Tools:

I didn't have this Grape Cutter back in Leyton's day and think it will be fun to include Leyton on when I'm prepping baby Finn's grapes in the future. The Grape Cutter easily quarters grapes, eliminating the choking hazard of feeding whole grapes to your little ones.

We also stocked up on the food masher and mashmaker food mill, spoons made for his little mouth :), snack cup with travel cover, silicone self feeder, another soap dispensing bottle brush with stand and a new space saving drying rack I can't wait to show y'all on Instagram stories this week!





Although I don't plan to make all of baby Finn's food, I'm excited to have the food masher and the mashmaker food mill on hand so that if we do want him to eat some sweet potato or leftover avocado etc that we are all eating, I can easily whip it up for him. We still use our snack cup with travel covers with Leyton 3 years later so I figured it was time to get some more. We end up throwing cereal in it on the way out the door for the day, snacks for when we are out and about and then love it for small group dinners to prevent mess when we eat on the go as well.





We didn't get the silicone self-feeder for Leyton until way later because we didn't know about it but love the ability it gives them to hold onto it and try different foods without a choking hazzard. This time I wanted to have several right away for feeding baby Finn in this easier way.

We also stocked up on the food masher and mashmaker food mill, spoons made for his little mouth :), snack cup with travel cover, silicone self feeder, another soap dispensing bottle brush with stand and a new space saving drying rack I can't wait to show y'all on Instagram stories this week!




Don't include honey or cow's milk before age 1: Don't forget that breast milk or formula is baby's #1 source of nutrients up until the age of 1. They cannot have cow's milk before then and you want to make sure they don't get any honey as it can be fatal to babies.
Simplify When Possible: Y'all know I'm a big believer in saving time and simplifying when possible! That applies to feeding baby as well. I like having to go snack cups at the ready to grab and head out the door as baby gets older. I like having the Moms on Call schedule lay everything out for me at a glance and I don't stress out about too much of a rigid guideline. Make it fun, simplify and enjoy! You've got this mama!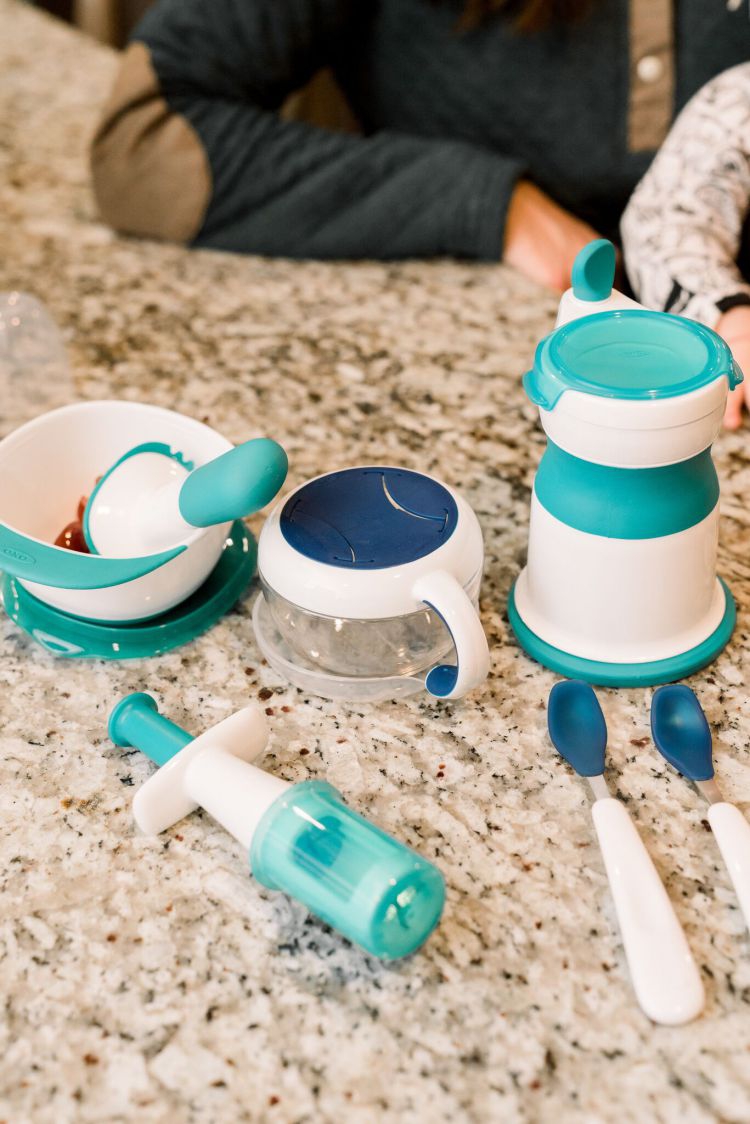 I hope that you and your baby and family find meal time to be a new and exciting journey to enjoy together and "break bread." Family mealtime is hard especially with a 3-year old who doesn't want to eat much other than carbs and fruit already so I'm slightly intimidated to add in this new element, but we'll all get there together! Hearing you guys' food journey with your kids is so encouraging to me to know I'm not alone in it and I hope this feels the same way for you!
What are you doing when you start baby on solids? Baby led weaning? Making your own food? I would love to hear in the comments below!
P.S. The winner of the $1k Ultimate Breastfeeding Series is…Miranda Piatt!!! CONGRATS! Email us to claim your prize: MyLifeWellLoved@gmail.com
SHOP THE OXO Feeding Products Below:
Feeding Spoon Set with Soft Silicone
Pin Tips for Starting Baby on Solids for Later!