In a rush and wondering… "what is liquid collagen?" Want the key points about liquid collagen? A collagen 411? Here's the quick version – my liquid collagen FAQ!
Modere (THE best of the best) liquid collagen I have sworn by for 3 years now, is $10 off when you use my code HEATHER on your first purchase!
When my hair was on the STRUGGLE BUS after having Finn and I was desperate to see results, I saw my friend Ashlee raving about this new liquid collagen and knew I had to try it. I had tried the powdered version before that for about a year and whenever people asked me if I thought it was working I would say, "I mean, maybe? I figure it can't hurt!" But I didn't see or feel real tangible results.
I switched to her liquid collagen and girl, let me tell you. It wasn't just my hair that started growing – my skin, nails, eyelashes, and joints look and feel different too!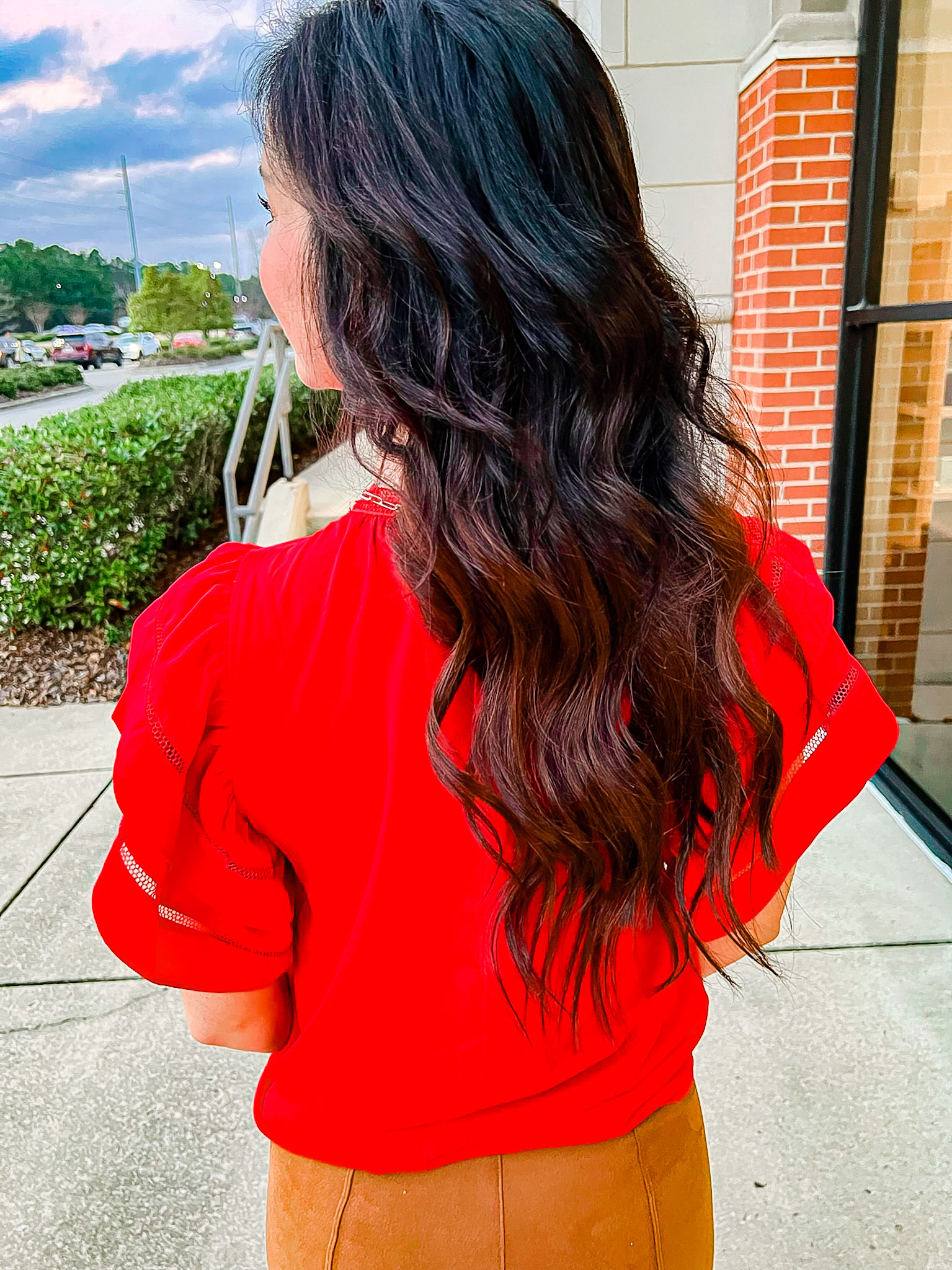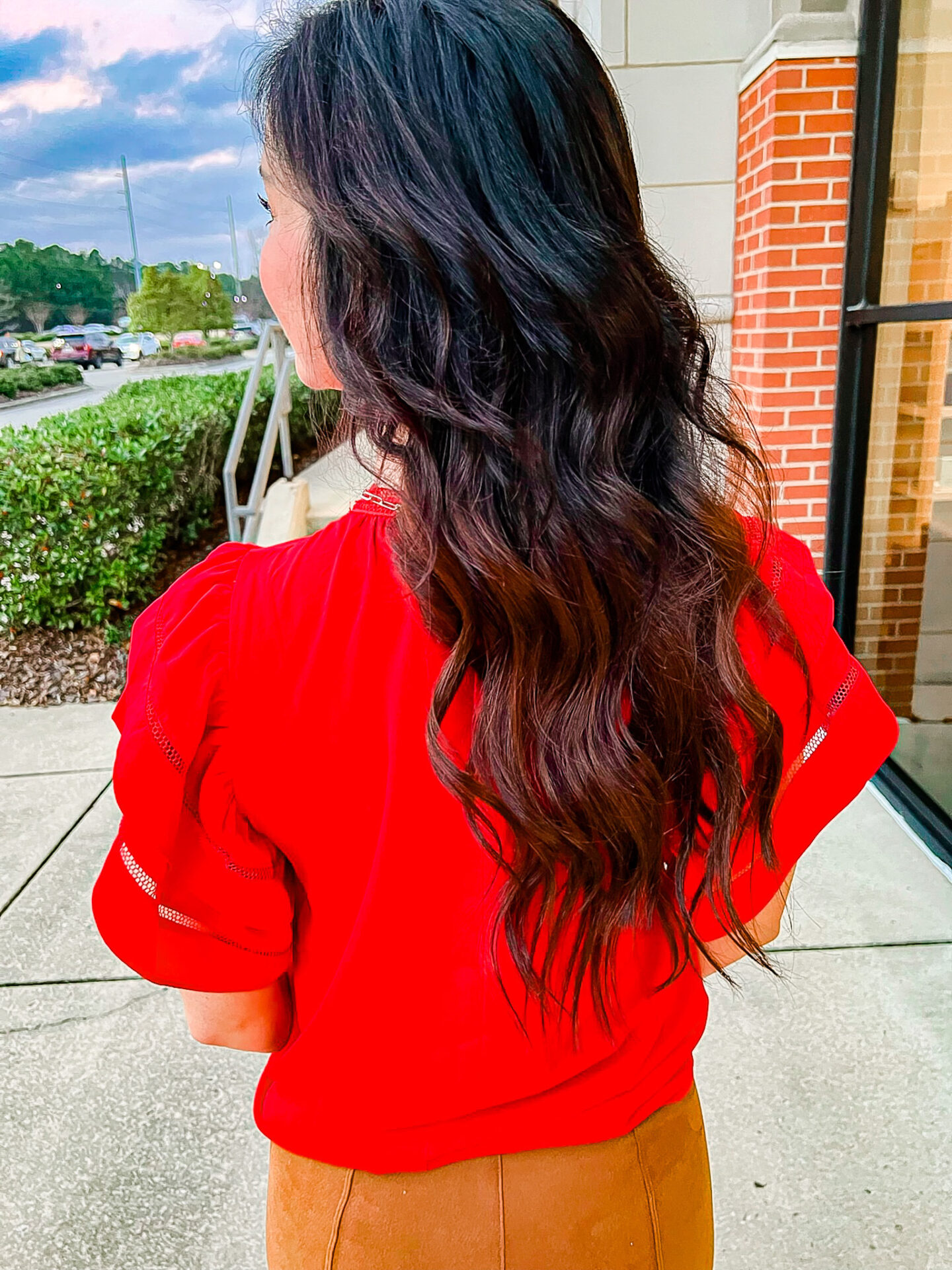 PS: Thanks to my girl @hairandmakeupbyAK at Haven Salon in Birmingham (who offers y'all a discount when you mention MLWL) & my liquid collagen, my hair has never been healthier!
If you aren't sure what Modere is or WHY I love this liquid collagen, keep reading.
DISCLAIMER that I am NOT a medical professional so always check with your doctor before starting a new supplement!
Liquid Collagen FAQ: Why Collagen Is Important
Last year I chatted with Claire O'Bryan, a Nurse Practitioner who co-founded The Skin Clique. She is a firm believer that collagen slows aging and is one of the best things you can do for your skin!
It's also incredibly important for your hair, nails, joints, and gut health! As we age, our body stops producing collagen and so it is vital that we start giving our bodies what they need!
How Does Liquid Collagen Taste?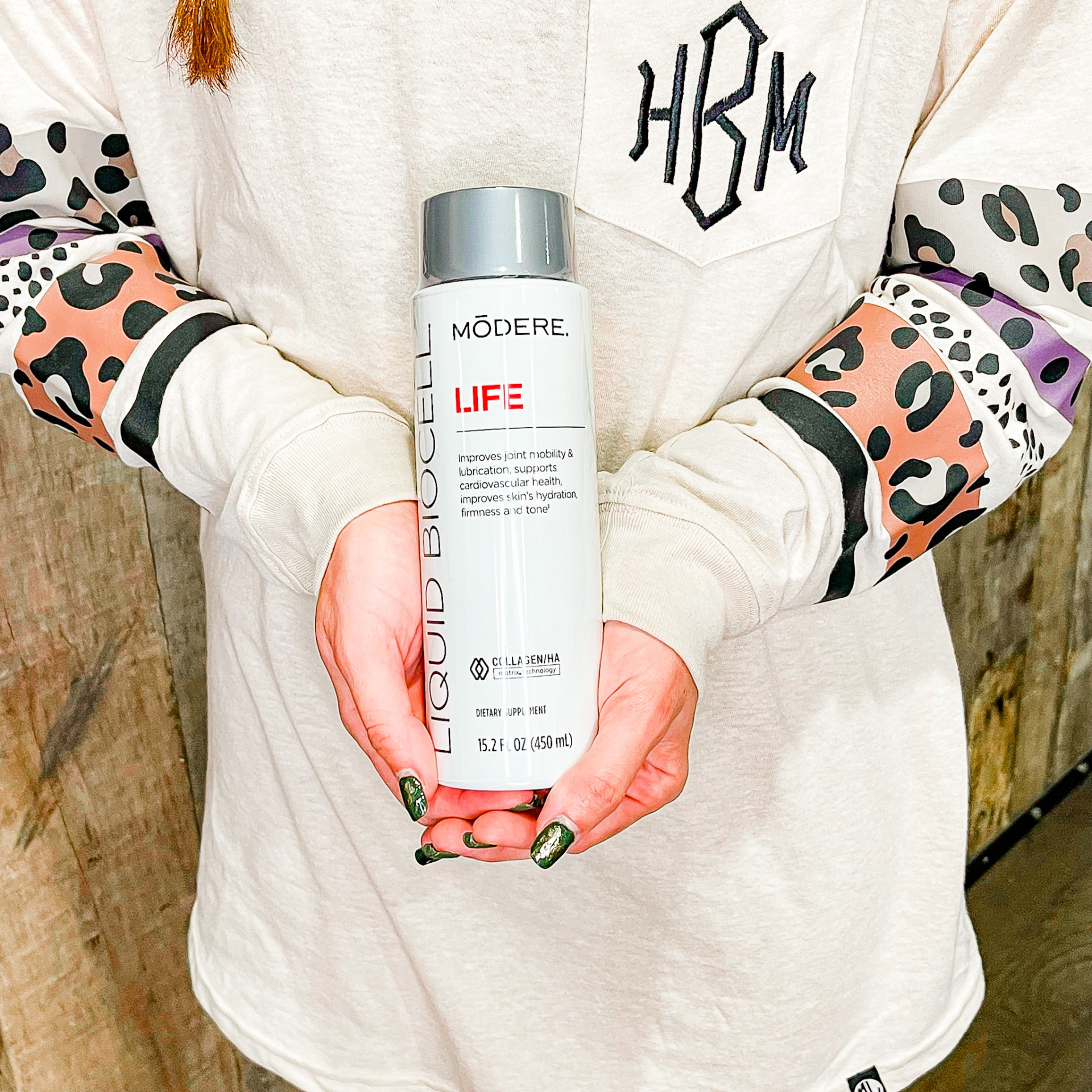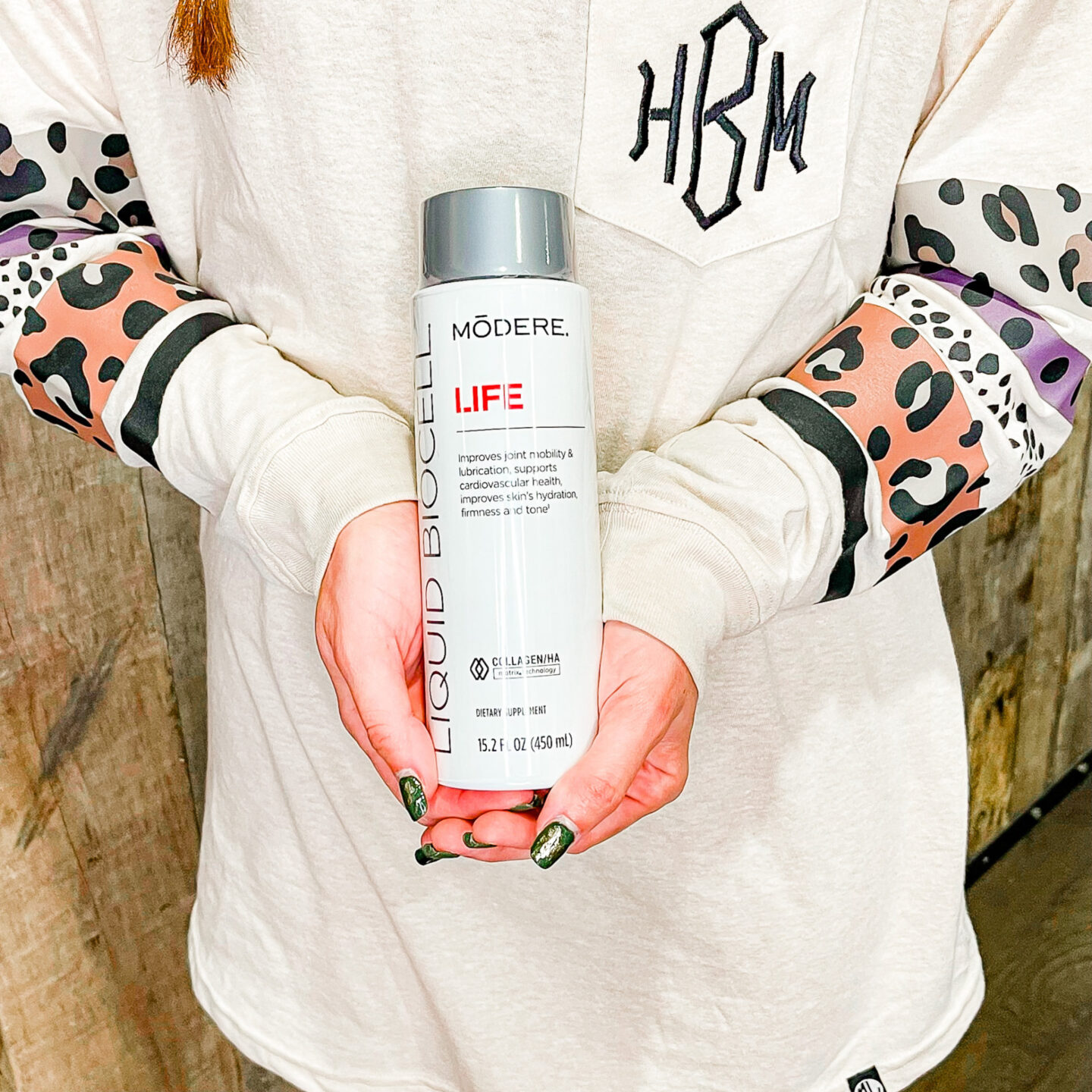 First, let me say that the PURE version of collagen (pictured as the single/travel packet above) I take has ZERO SUGAR. ZERO CARBS. ZERO CALORIES. It's also non-GMO and gluten-free! It has a fresh, slightly tart fruit flavor! Eric takes LIFE version of collagen and it tastes like a stronger juice & the IMMUNE collagen tastes like grape juice. (Those are our 3 favorites!)
Why Liquid Collagen > Powdered
I am fascinated by the studies that show liquid collagen is better absorbed by our bodies as opposed to powdered options! And like I said before, I didn't see results with powdered but once I started the liquid collagen – keep scrolling for my before and afters with strengthening my lashes, nails, and hair!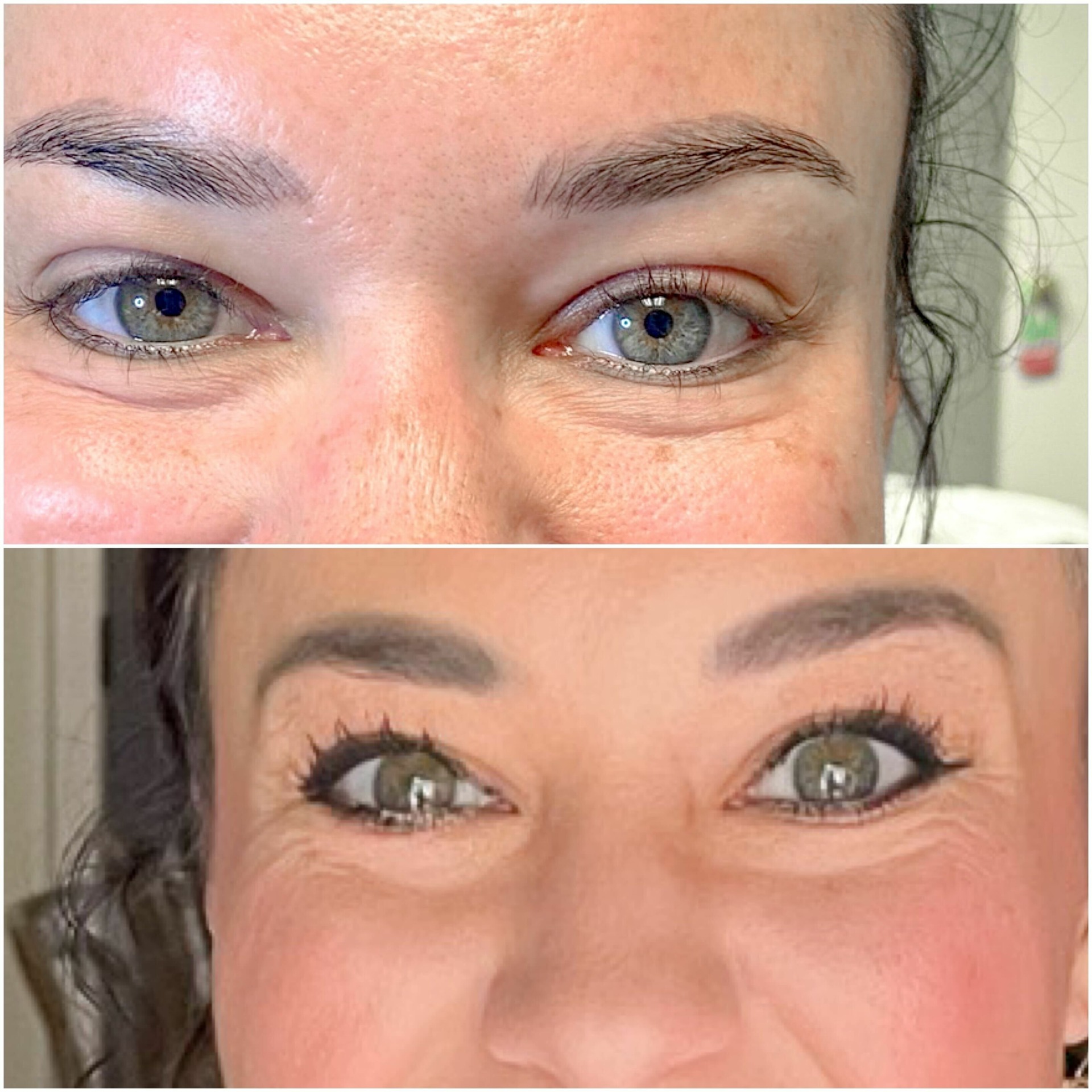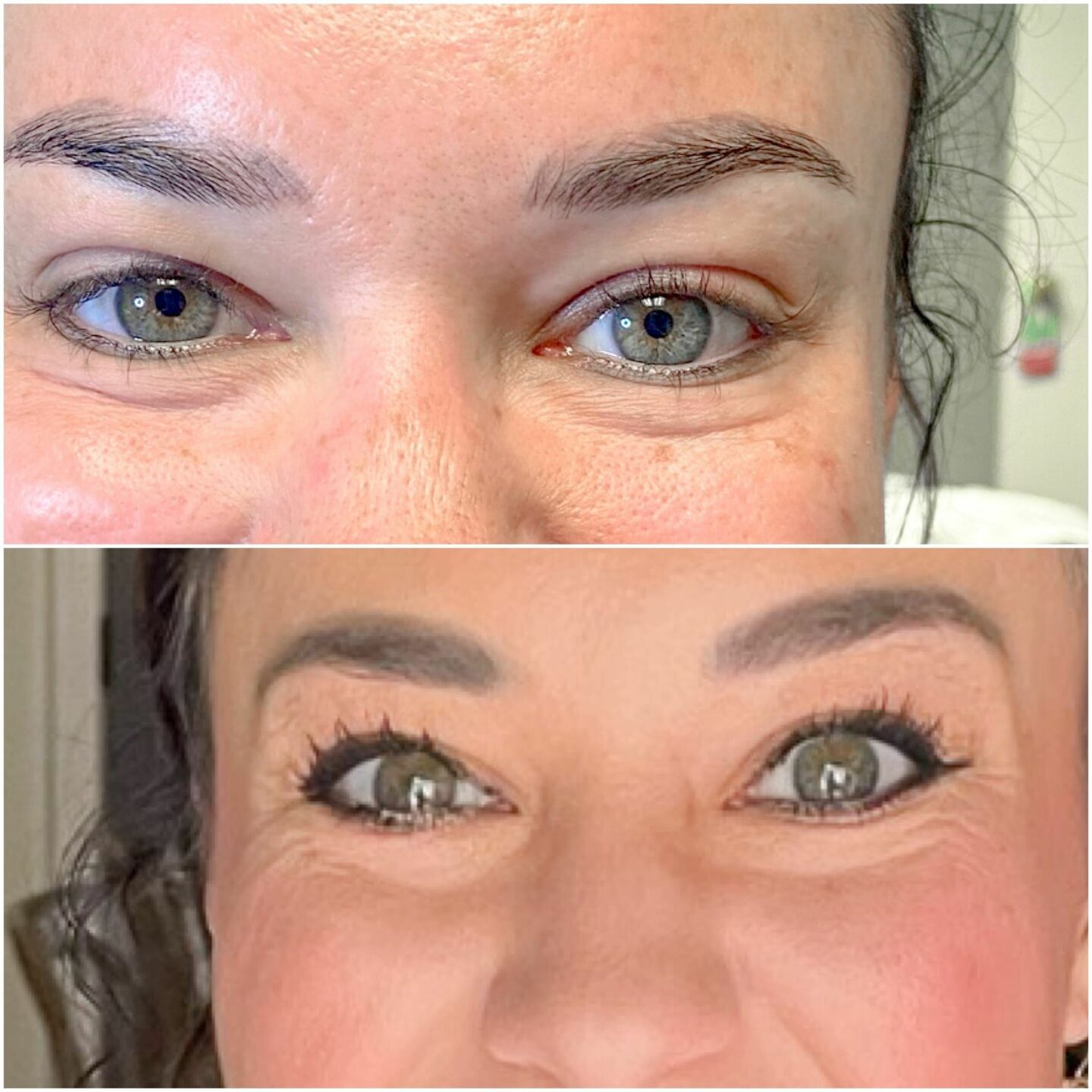 How Do You Store Collagen?
Store it in the fridge! It's so easy to slip out when I'm in the kitchen before bed and take a swig HAHA!
How Do You Take Collagen?
Take 2 tablespoons of collagen daily. I take Trim (which is also made by Modere and has the collagen in it) so I take Trim (1 tablespoon of liquid collagen in it) when I break my fast and 1 tablespoon of my PURE liquid collagen at night before bed. If you don't practice Intermittent Fasting, that means you would take 1 tablespoon of liquid collagen in the morning and 1 tablespoon of liquid collagen at bedtime.
Does Liquid Collagen Make a Difference?
Collagen is a major component of healthy joints, supple skin, and connective tissue. By the time we turn 30, our bodies slow down on producing collagen, so taking it in liquid form helps your body absorb it and get the benefits you used to have!
What Other Modere Products Do I Take Every Day?
#1: Trim – I started taking Trim 6 months after I added collagen to my life and never looked back! It helps with cellulite(!!!!) and I layer it and my collagen on top of exercising 4-5x a week, drinking plenty of water, and taking care of my body by feeding it for FUEL. TRIM comes in vanilla (similar to vanilla pudding), mango (my fave!), chocolate (their best seller by far!) coconut lime (my second favorite), salted caramel and lemon.
Shop my favorite water bottle here!
#2: PhytoGreens – 27 top ingredients including marine and leafy greens to help optimize alkalinity, energy and digestive health.
#3: PhytoGolds – 7 highly amazing ingredients including fermented turmeric and fermented ginger with black pepper to help optimize digestive health, antioxidant capacity and joint health.
#4: PhytoReds – 10 heart-healthy ingredients including berries, red fruits and vegetables to help optimize heart health, antioxidant capacity and vitality.
#5: Revitalize – Provides a powerful blend of Sea trace minerals, shilajit from the Himalayan mountains and 7 crucial micro and macro minerals. Supports metabolism, enhances energy and encourages hydration. Promotes healthy energy levels and supplies essential minerals to fill common nutritional gaps in modern diets.
WANNA CHECK ANY OF THESE PRODUCTS OUT?
USE CODE HEATHER TO SAVE $10 OFF YOUR FIRST ORDER!
P.S. My biggest piece of advice when trying a new supplement or vitamin is – don't expect to start taking something and see results within two weeks. Give your body a chance to let this product work! You typically want to give any new program or product you start 6-9 weeks to start to take affect.
Keep Reading About Modere Products I Love Below:
Pin This Post For Later!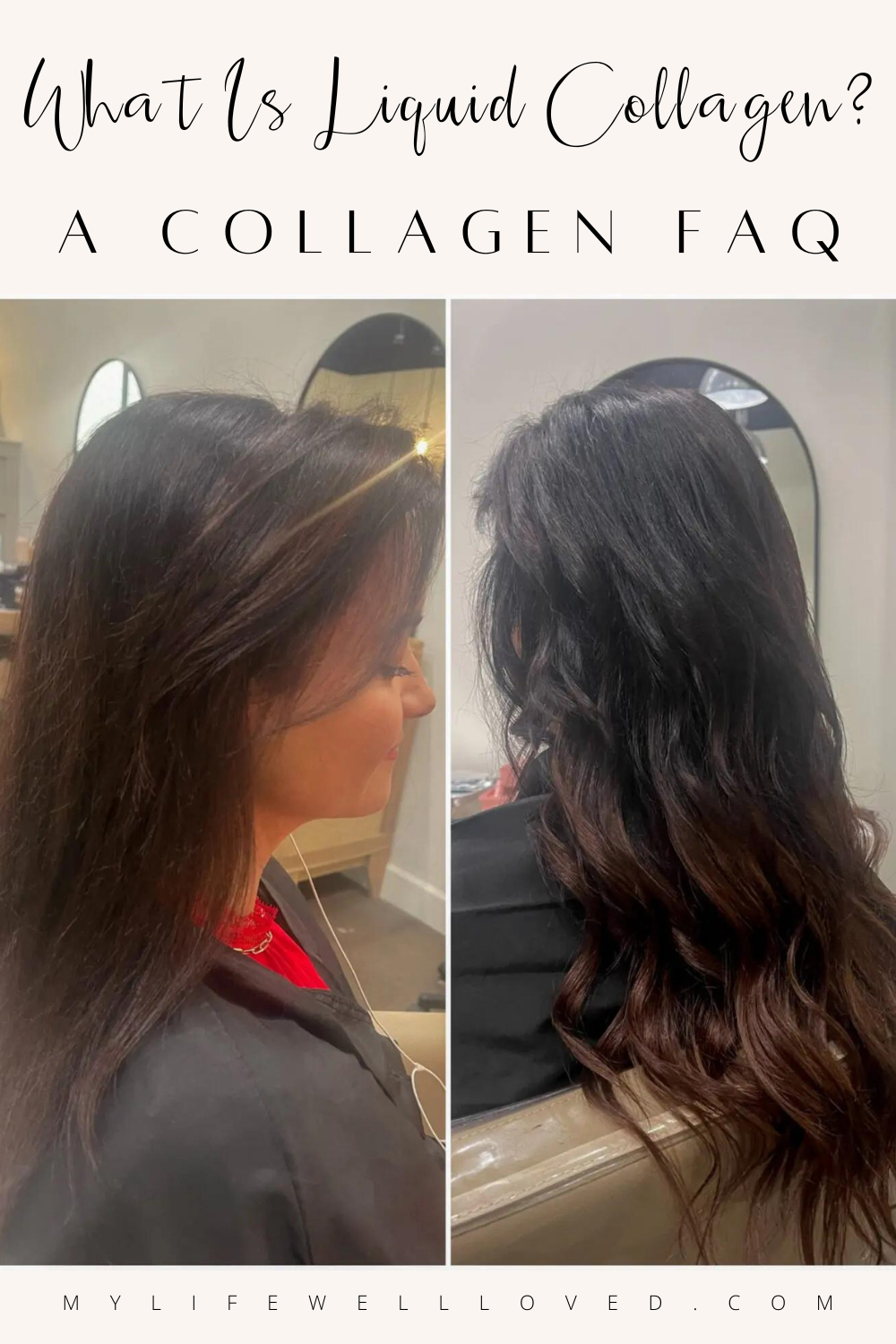 Heather Brown helps busy mamas of young littles who are caught in the hustle to find encouragement in their journey to true health, from the inside out, starting with the heart. Read her journey of learning to live a life well-loved
HERE!