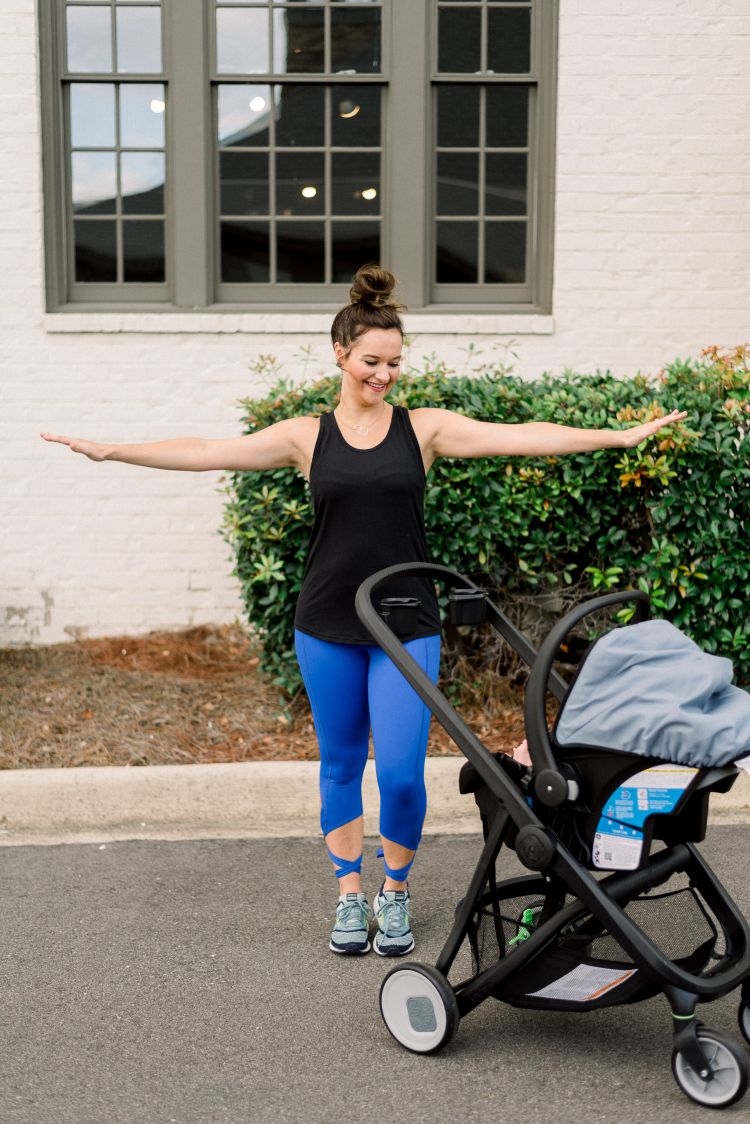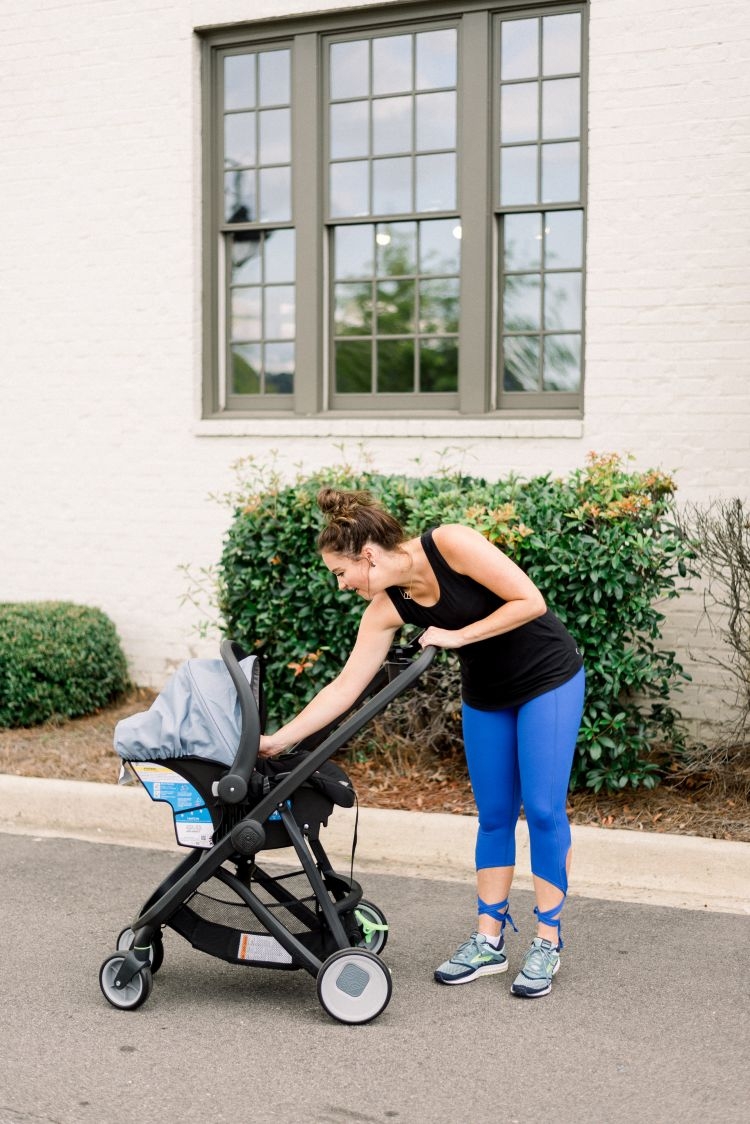 Shop the Stroller Workout Post: Leggings // Tank // Tennis Shoes // RIVA Flex Travel System
Thank you Dorel Juvenile Group for sponsoring this post!
Photos: Eric and Jamie Photo
Woohoo! This was my FIRST workout postpartum other than walking and I literally did it the day after I got cleared by my doctor at my 6 week postpartum check-up. I was sore for days after so I can forewarn you if you repeat it a few times through, you will probably be getting a booty burn as well!
This time around with Baby Finn has been MUCH different from my postpartum experience with Leyton when I was told I couldn't walk past the mailbox for 6 weeks after delivery – you can read more about that here. After having Finn, I was up and going on walks with the family only after a few days home from the hospital. It just goes to show that you can't compare your experience to another mom's or even to your other pregnancies! At a little over 2 months postpartum, I am now taking Pure Barre classes again while still modifying and maximizing my walks with the boys with THIS stroller workout!
Last month, we focused on how to maintain a healthy lifestyle as a busy mom in whatever season of life you are in. If you missed those posts, be sure to check out my Do's and Don'ts for Exercising While Pregnant and Do's and Don'ts for Exercising After Baby. Always be sure to consult your doctor before jumping back into workouts after baby! However, this stroller workout is pretty low impact but still a great way to get your heart rate up, which makes it perfect for moms on their postpartum journey!
If you are in the market for a stroller for your stroller workout, consider trying out the Safety 1st RIVA Flex 6-in-1 Travel System, which launched this past month at Target stores and online. If you missed my full review of the stroller, be sure to check it out HERE! This stroller is great for the stroller workout because of how lightweight it is, perfect for walking on smooth terrain! Being able to snap the car seat in and out as we are running errands or dropping Leyton off at Mother's Day Out, truly makes this a great option for the mom-on-the-go. Plus, it makes for an easy transition from the car to the stroller if baby is napping 😉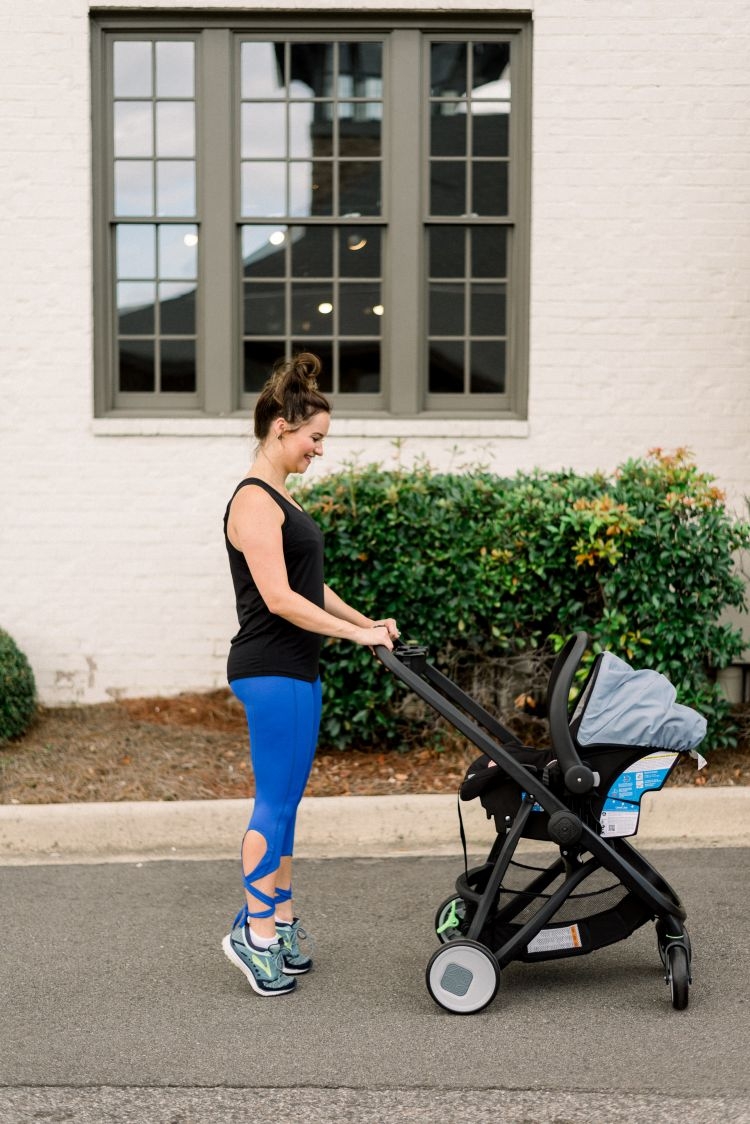 Be sure to scroll to the bottom to watch the entire workout video! Also, I have a special surprise for one of my lucky followers… I am giving away a Safety 1st RIVA Flex 6-in-1 Travel System to one of YOU! Be sure to head enter to win below using the Rafflecopter!
Mom-On-The-Go Stroller Workout
*This workout is meant to be repeated 3-5 times depending on fitness ability!
Begin with a 5-10 minute walk or run to warm-up
20 lunges
20 calf raises
20 squats
20 inverted calf raises
20 arm circles
20 reversed arm circles
20 turned out calf raises
20 side leg raises
Cool down with 5-10 minute walk or run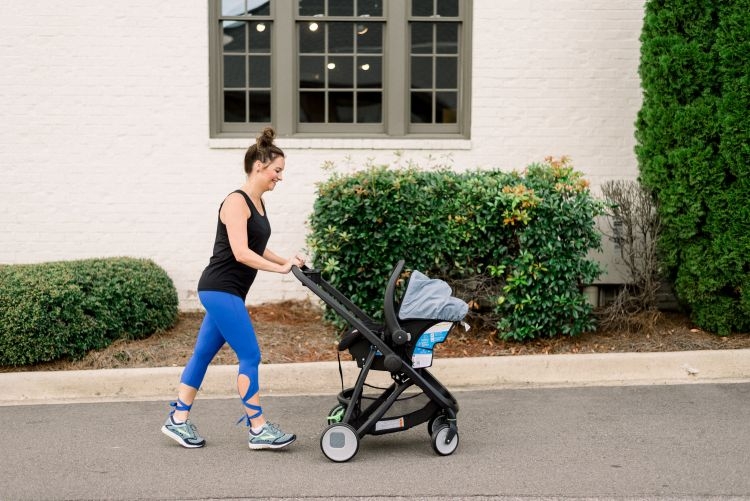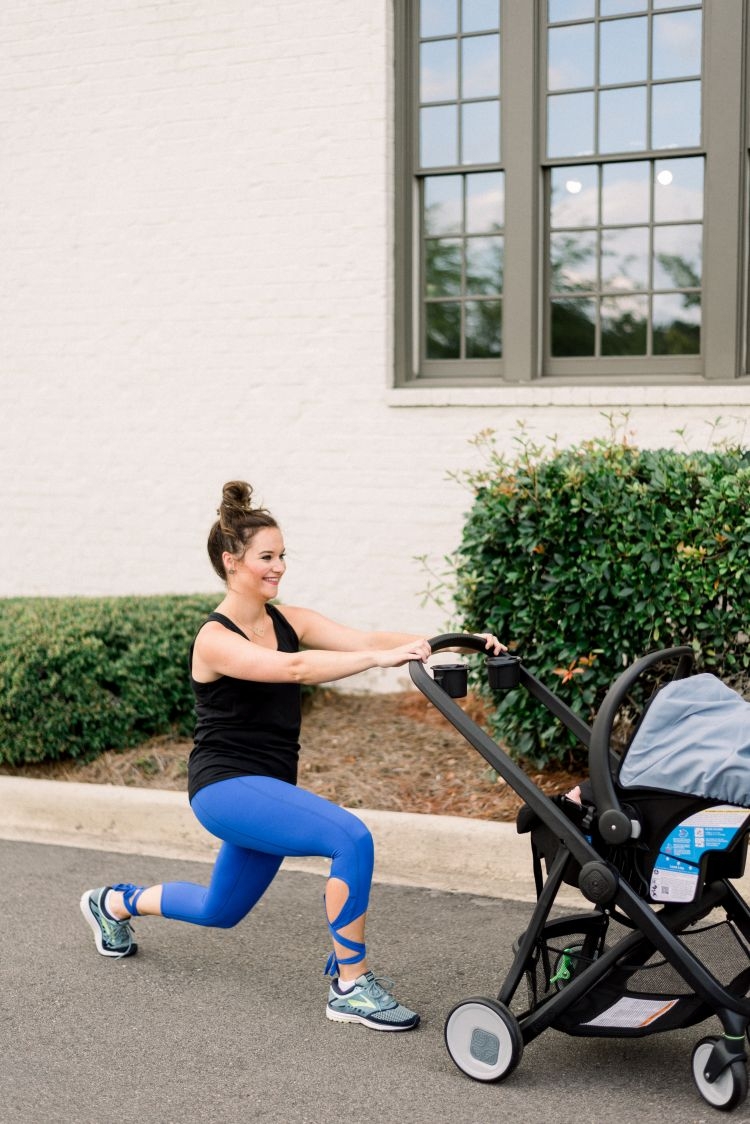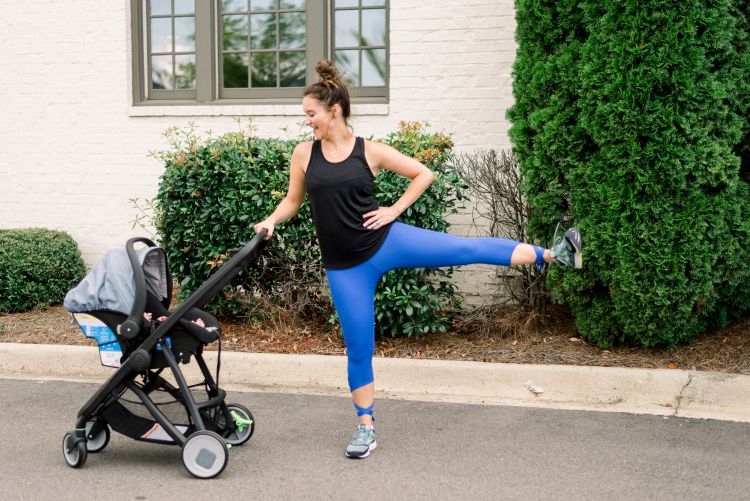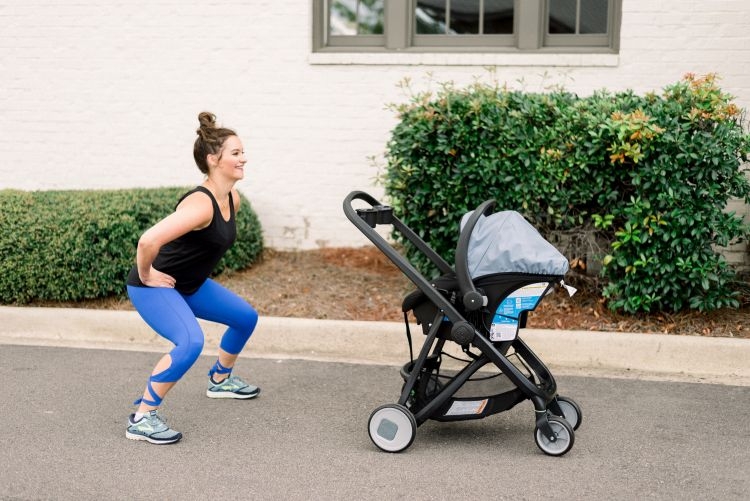 Full Stroller Workout Video
SHOP The Stroller Workout Video Post HERE:
Pin the Stroller Workout Video for Later!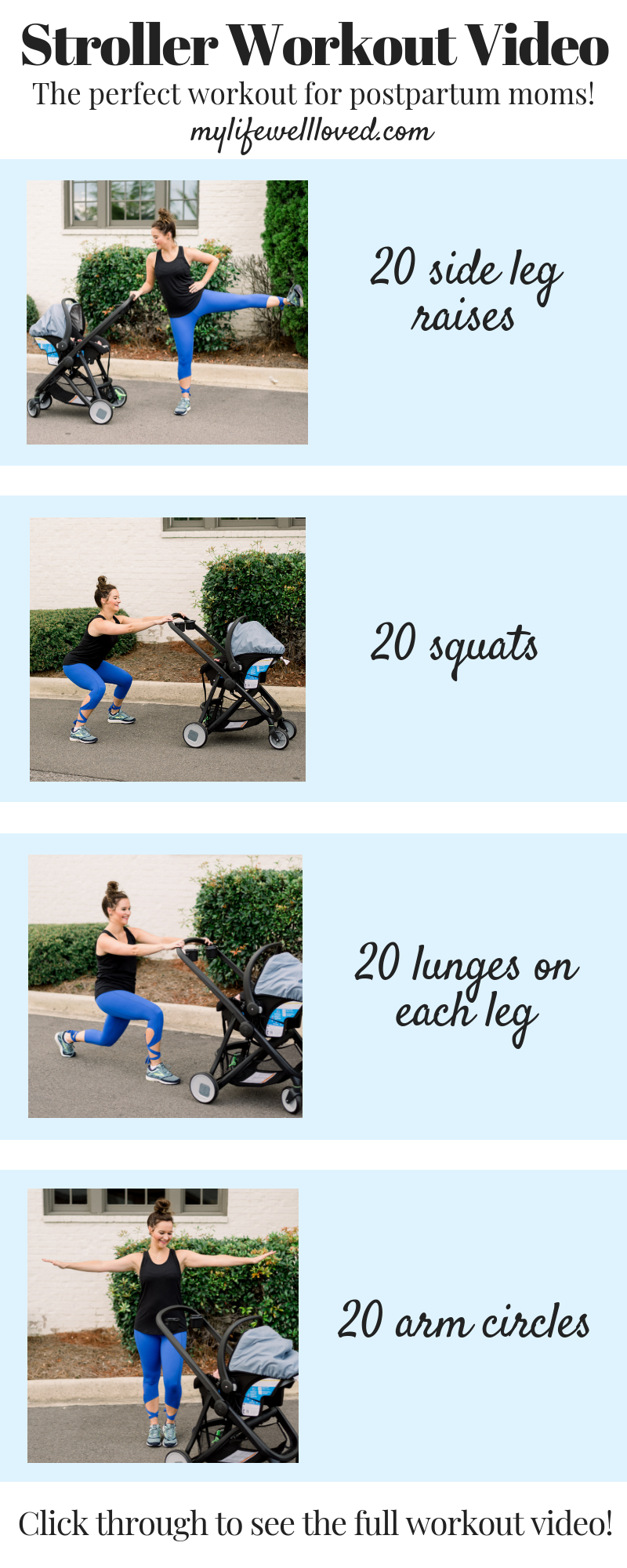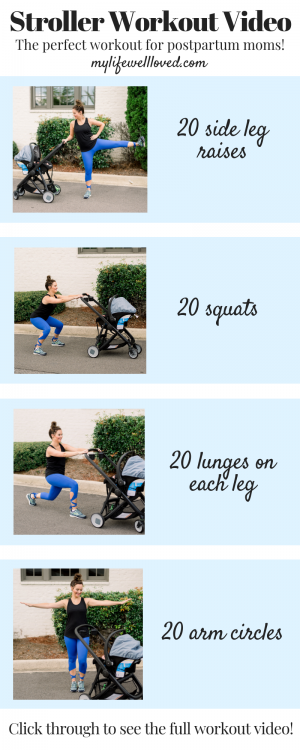 Heather Brown helps busy mamas of young littles who are caught in the hustle to find encouragement in their journey to true health, from the inside out, starting with the heart. Read her journey of learning to live a life well-loved
HERE!