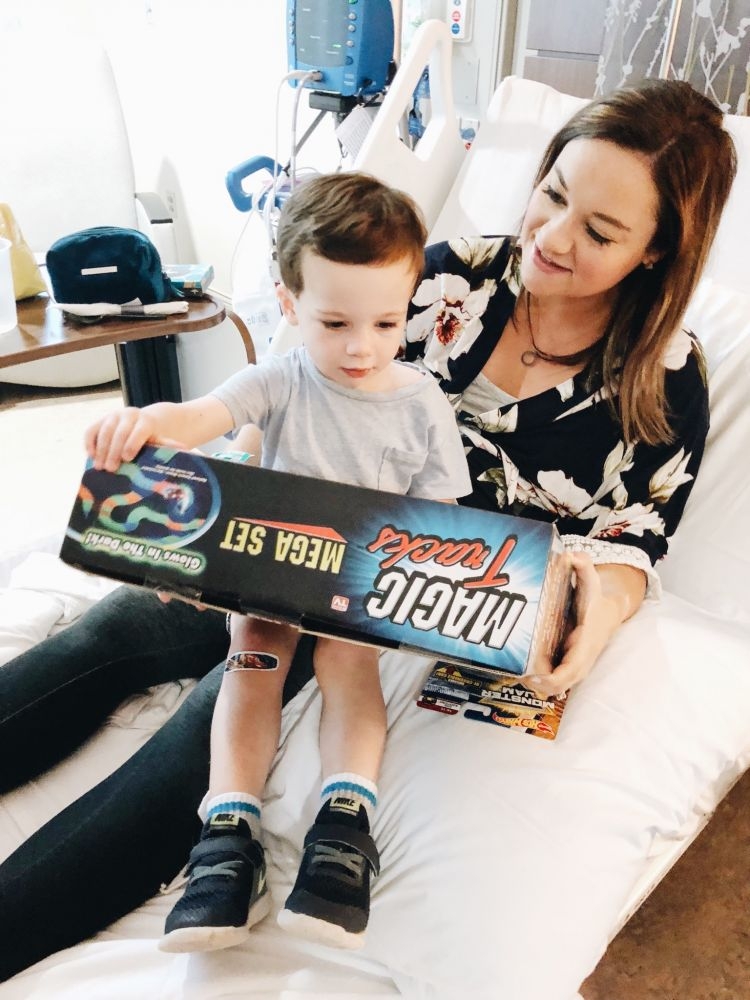 Shop the Welcome Gift from Baby to Big Brother Post Here: Heather's Kimono//Heather's Leggings//Nursing Tank
Leyton's Shoes//Magic Track Toy//Monster Jam Trucks
This post is sponsored by Mirum, but opinions expressed are my own.
As a parent of multiples, you dream of the day your children will be best buds! We pray Finn will grow up to love his big brother, Leyton, and visa versa! However, it can be a little tricky those first few days, weeks, months… and yes, years! I have heard how hard the transition to the role of "big brother" or "big sister" can be on the older siblings! When I asked y'all for advice, you recommended getting a gift FROM baby TO big brother! GENIUS! What is there not to like about a baby bringing you a gift?! As I was frantically searching Amazon for ideas for a welcome gift from baby to big brother, I turned to you guys and y'all gave so many good gift ideas I HAD to share them all!
If you have missed other mom advice posts – be sure to checkout tips for preparing for the arrival of baby #2 as well as your hospital bag must-have recommendations!
Welcome Gift From Baby To Big Brother or Big Sister
We decided the gift from baby to big brother was the way to go and I ordered Leyton this glow in the dark magic tracks set as pictured above! It was a huge hit and he LOVED it!
@mrsrichie: My husband's family has a tradition where you give a gift from baby to big brother or sister. When I had my son he "gave" his big sister (2 at the time) a set of toy pots and pans she'd been wanting. It really helped her get excited about him.
@ladystenner: We had the "baby" get the older kids a gift. My son was 2 1/2, he got a lego set, my daughter was 2 1/2 she got some playmobil horse and princess kit that came with a carrying case. The cutest part was them thanking the baby.
@jcrhross: We got a couple of books from Amazon – "My New Baby" by Rachel Fuller and "I Am A Big Brother" by Caroline Church – about becoming a big brother and having a baby around. We've been reading them for months now and our three year old loves them. Also, we are going to let big brother and baby brother "exchange" gifts at the hospital.
@aseivert23: We did a gift from baby to baby brother for our son and I think it helped a lot. Our older one loves the baby.
@ rmarshall123: Have a gift ready for when he sees his new baby brother in the hospital and tell him it's from the new baby.
@lace_rich: I got my daughter a little doctor kit. It was so perfect! She opened it up and went right to checking her baby brother's heartbeat with her little stethoscope. Got her close to him and kind of wiped away some of the tiny screaming baby fear a lot of littles have. We also took our daughter to the hospital beforehand so she could see where we'd be having the baby and feel a little more comfortable when my parents brought her to meet brother.
@whitneyarnp: We are getting a few gifts for Reid that are going to be from baby sissy and we will give them to him at the hospital. Kinda like she brings it to him when she's born.
@kitten_katin: Someone told me to get a baby doll and some clothes/blankets for it so when you are changing baby he can change his baby and not feel left out on little things.
@amandaelrich: We got our older daughter a toddler camera from baby sister. We figured with everyone taking pictures of the new baby she would want to also.
@danalynnwc: What I did when my second one came is to have a small closed basket of new books and a few puzzles that had never been seen before. When I nursed my daughter, my son could get something out of the basket and I would read it but only during times of nursing because that seems to be the time that oldest is most needy.
@hippiechick_jlaw: I gave my nephew a doll when his baby sister was born that he could bathe when the baby bathed & you know do all the baby things with. Not a fancy doll, just one that that was kind of cute & could go in water. He really liked it.
@anagrasberger: A good way for him to warm up to the new baby is to get a gift from baby to big brother. Leave it where he will be staying when you are in the hospital and it arrives when he baby does.
@janajp14: The book "God Gave Us Two"
@stevie_corn_greene: Have a gift from baby to big brother!
@janwei3: We took my daughter to build a bear and had her make the new baby a stuffed animal. She brought the gift to the hospital to give the new baby.
@krugerjillian: Get him a doll so he can do things you are doing with the baby. Also, talk to the baby like you talk to him.
@brookeshaffnerkenenitz: A baby doll, big brother books, big brother shirt, glow in the dark magic tracks.
@briannec08: Have him a little present from baby when he comes to the hospital to see him for the first time! Think lollipop, fave snack, coloring book or little activity he likes.
@britthildebrand57: We had a "big sister" party cake, gift. etc after baby was born.
@rikkiwilliams: We did a gift from baby to big sissy and she loved it. We gave it to her when she came to the hospital to meet her.
@traciearmstead: I have a friend who has a 3 year old girl and just had a baby boy. They gave her a polaroid camera and a photo book to take pics of her new brother and put in the book. She loved it.
@runfortheloveofrunning: If you have a rocker that you plan on putting the baby in, have him practice gentle swinging with a stuffed animal in there.
@ashleye514: We had my oldest bring a small gift to the hospital for baby & also had a small gift from baby to big brother. He thought it was so nice his brother thought to get him something.
Tips for Introducing Baby to Big Brother or Big Sister
@Krysgodfrey: We skipped gift, but when we had baby brother two weeks ago, and brought big brother to the hospital to meet him, we had the baby in the bassinet at first while we gave big brother lots of love! Bc he hadn't seen us in two days of labor he RAN to us. It didn't take him long to realize the baby was there and then we brought the baby over to the best and let him hold him and give him kisses.
@asht131: One tip I read before I had my second – was that when big brother coms to see you – greet them first without the baby in your arms or necessarily right next to you. Give the big brother some love first and THEN introduce the new baby. That way they don't walk in and feel immediately replaced.
@cbsingletary: Praise good behavior but also let him meet baby when it is just you, baby & your husband. We did that, and I am so thankful we did.
@kagrec31: Someone told me to not be holding the baby when he comes in to meet him. Have the baby in the cradle so you can give your big boy snuggles and show him the baby.
@katarynakayleigh: The family I used to nanny for let their little girl hold the bottle while I held the baby to make sure she still felt involved. It was great for her to see that she wasn't being put aside even though there was a baby around.
@andjela.v: What I found really helped us was keeping certain parts of his day just for him. So for his bedtime routine, it would just be me and him or him and his dad. Whenever we had guests over, we also told them ahead of time to ask him where his baby sister was and we let him show her off to guests. We also allowed him to hold her whenever he wanted to.
@nsaldy: Always help the older child with their needs first, during a meltdown or something, even if the baby is crying, because they are older and will remember whereas a baby won't.
@riebeac: I had baby get big sister a gift and vice versa. I've also heard not to be holding baby when older sis comes in to meet them.
Snacks for Big Brother or Big Sister
@skyecrane: Totally random but mine was a picky eater so I made him a special big brother trail mix. I let him pick out some of the items, a little more fun snacks than normal and made a big container of it. Everytime I needed to pump or the babe needed extra attention Hudson got his big brother trail mix.
@larosso524: I don't know what others have said, but having food ready for your bigger guy is helpful! They always get hungry at the same time! I made a bunch of prepackaged snacks he could grab and would prep his lunch when I woke up in the morning so I could quickly put it out for him when he got hungry.
Tips for Talking About Baby with Big Brother or Big Sister
@a_beritriley: I have a barely 3 year old, an almost 2 year old and a 4 month old. My older two absolutely love when I commentate for the baby. For example, when the baby gives them 'kisses' I say 'oh she thinks you taste like a cookie! Yum yum I want more cookies!' Or when the baby wakes up I'll say in my baby voice 'good morning everyone, I missed you.' It makes them feel like they are getting to know her and like the baby loves them.
@jackson6mom: Something we've always done to help the youngest one transition into older sibling is continually say this is YOUR baby. We would ask things like what do you want to teach YOUR baby? Things like that help them see ownership in their new role. We also did a little gift from baby to older sibling for them to receive at the hospital. Lastly, the best advice I can give you is to not stress over it too much and don't feel like you have to force the relationship. Let him grow into his big brother role at his pace and he will feel more comfortable.
@rachelkiester: I always told my daughter that is was HER baby. I think I've only called her my son in front of her a couple of times and he's 20 months.
@kaitlynkrieger: The best advice I was given was to make sure to tell the baby "Wait one second" or "I'll be right with you baby, big brother needs mama right now" You'll feel crazy for saying it because the baby doesn't understand but big brother needs to hear it so he knows his needs are important to you too.
@msmasencup: I read to refer to the baby as "brother" or by name and not "baby" because toddlers still view themselves as a baby. No clue if that's true but I've been making a conscious effort to say "sister" in our case.
TV Shows to Help Explain the Transition to Big Brother or Big Sister
@teaunderatree: Daniel Tiger has great episodes on being a big brother. It helped my boys get excited and realize its going to be different.
@nicolefoss: I love the Daniel Tiger episodes where he gets a baby sister they are so cute and really clicked with my son.
____________________________________________________________________________________________________________
What are your best tips for transitioning your older babes to life with a newborn? Did you get a welcome gift from baby to big brother or big sister? I would love to hear all your tips, tricks, and advice in the comments below!
I always look to you ladies for amazing mom advice and I am so thankful for this community full of moms who have walked through these stages of life already and can give encouragement, advice, and support. As a new mom, I was constantly seeking the advice from other moms to make the smartest choices for Leyton, especially when it came to our breastfeeding struggles. Now, I hope I can be a source of advice and tips when you are seeking help. That is one thing I love about the brand love & care Infant Formula as they seek to make moms feel confident in their choice for how to feed baby.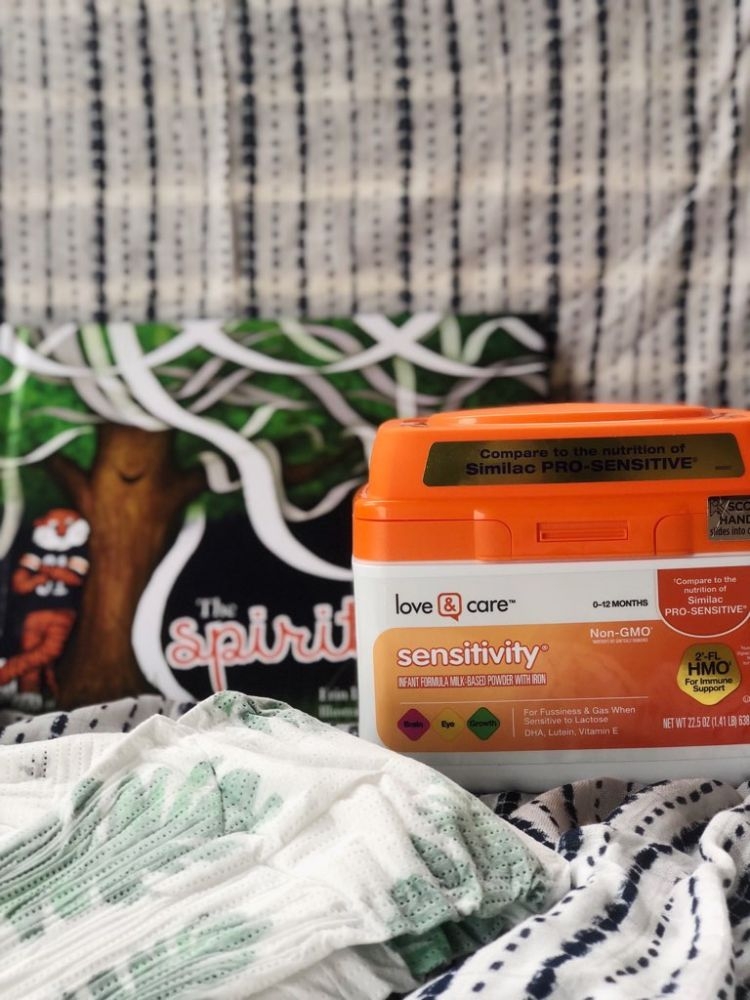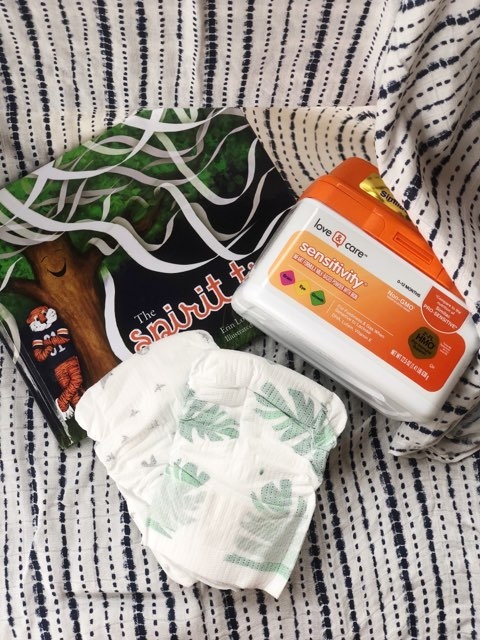 love & care Infant Formula is on Amazon and yes, it does come to your door in 2 days! All the moms said AMEN. You also have the option of choosing a subscription service so you never run out or forget to re-order! If you have followed me for very long, you know my love for Amazon and the convenience it offers for busy mamas! I've talked about my favorite Amazon baby products here, including our diaper subscription service we LOVE!
love & care Infant Formula is so healthy for your little babe as it is a milk-based powder with iron offering complete nutrition tailored for infants. love & care Infant is inspired by mother's milk with many of the same components found in breast milk. With love & care Infant Formula, you are getting the same complete nutritional value that Enfamil Premium Infant Formula provides, but at a better price. If you are looking for an amazing formula option at an affordable price with convenient delivery options, be sure to shop love & care here!
Shop the Welcome Gift from Baby to Big Brother Post HERE:
Pin the Welcome Gift from Baby to Big Brother Post for Later!