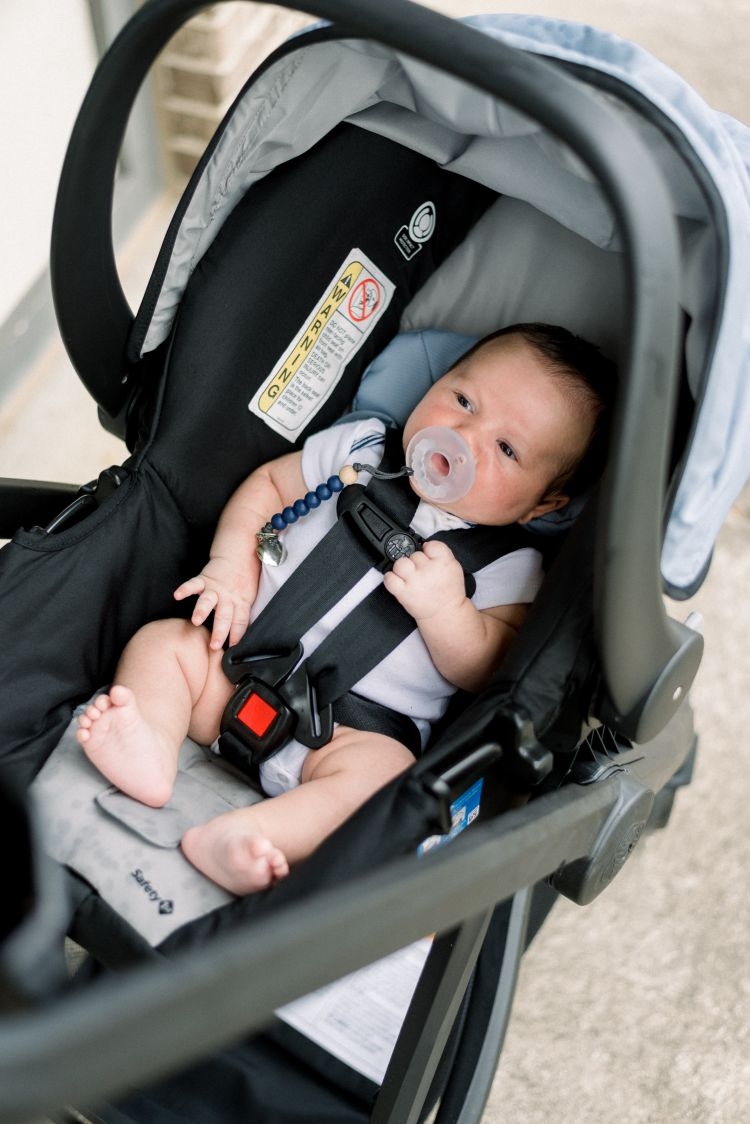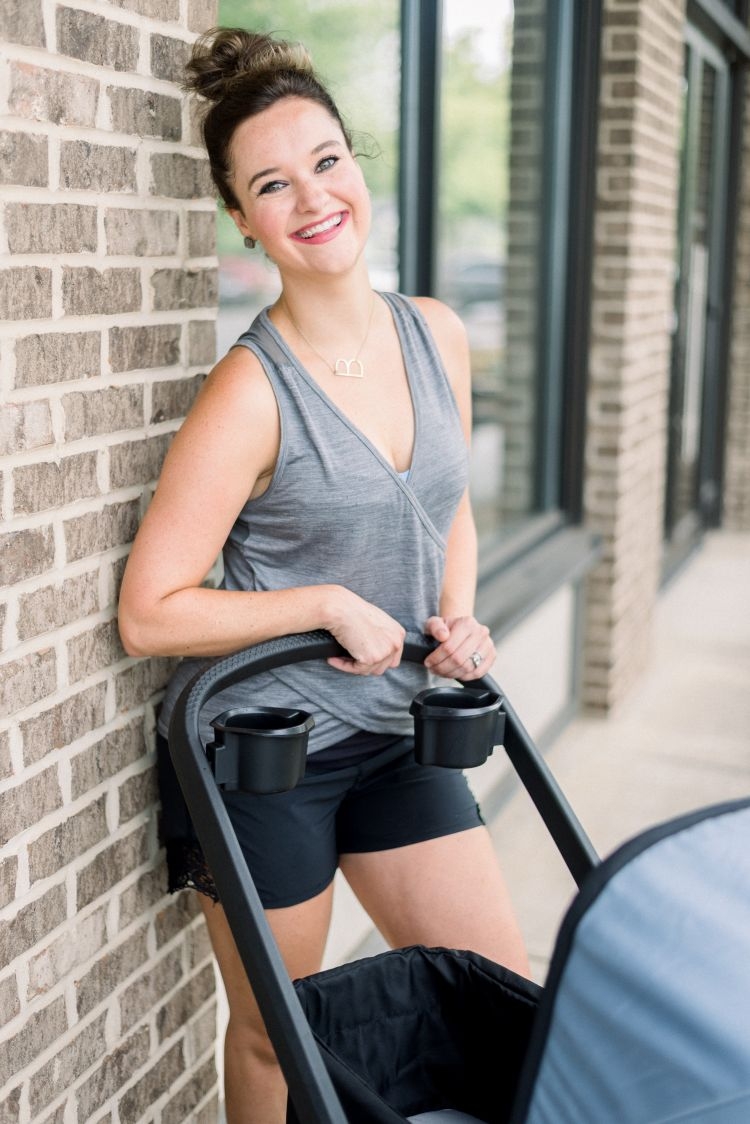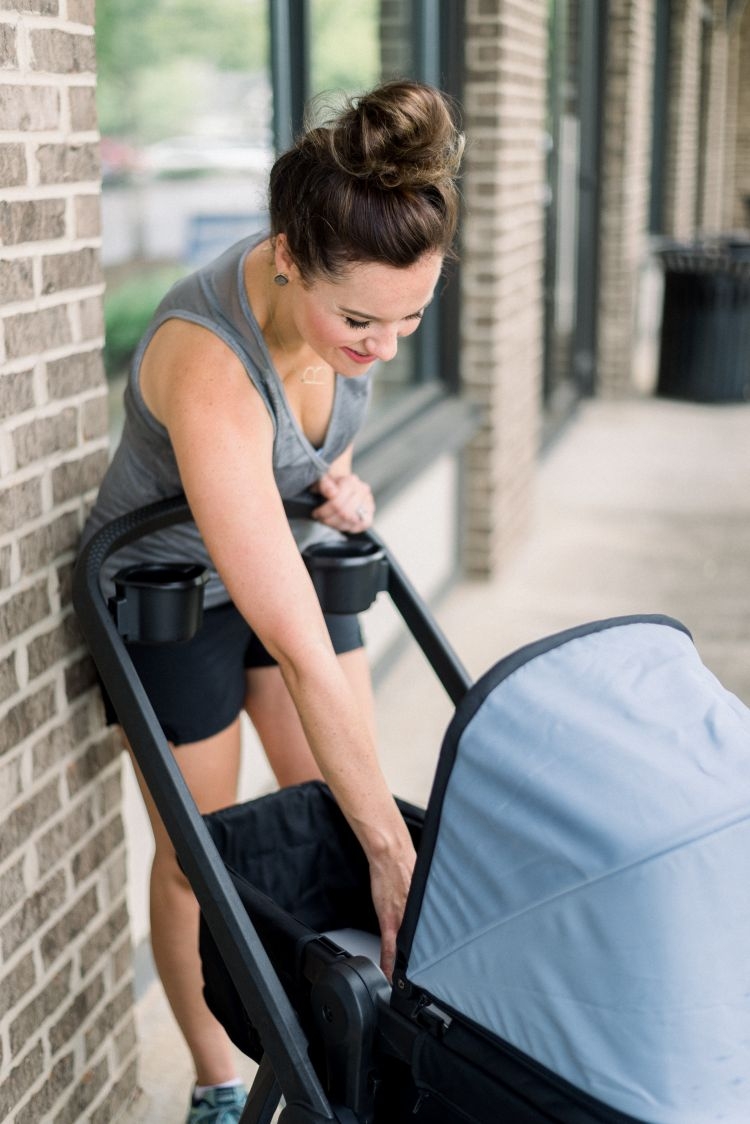 Shop My Outfit in the Finn's First Baby Milestones by Month Post Here: Shorts // Tank // Necklace // Earrings // RIVA Flex Travel System // Finn's Onesie // Finn's Pacifier
Thank you Dorel Juvenile Group for sponsoring this post!
Photos: Eric and Jamie Photo
In case you missed it, be sure to check out Finn's Birth Announcement, Newborn Photos, and Birth Story!
Dear Finnster,
I am totally in love with your sweet little self. With you being my second baby, I'm painfully aware of how quickly this newborn phase flies by. I find myself not wanting to set you down because I know I'll miss your baby cuddles terribly! Even immediately after you were born, I started doing this thing with my finger where I'd run it up and down your nose up to your forehead and you seem to instantly calm and close your eyes when I do it. Your jet black hair, smell, and pudgy cheeks have totally drawn me in.
You have the cutest "ooooh" noise that you make and I want to catch it on video so badly! One of my favorite little things to see you do is be swaddled up in your Ollie wrap and hold you up against my chest because you pop your little head up and stare at me and the fans and the lights and look like a little seal.
Your favorite things are eating (a lot) and being held. I think you like to be held more than Leyton did. If you aren't held or asleep in your rock 'n play you are fussing unless there's a paci in your mouth or we keep you moving. You cry in the car at stop lights and make me stay on the move in the grocery store.
One of my favorite things to do with you other than cuddle, obviously, is go on walks with you in your new RIVA Flex. I started calling you my little lizard because you LOVE to stretch your neck out and sun yourself. When I walk with you and Leyton I'll wear you in my Lalabu shirt sometimes and you throw your head back, refusing to be upright so you can get your little baby sunning in.
I love you dearly,
Mom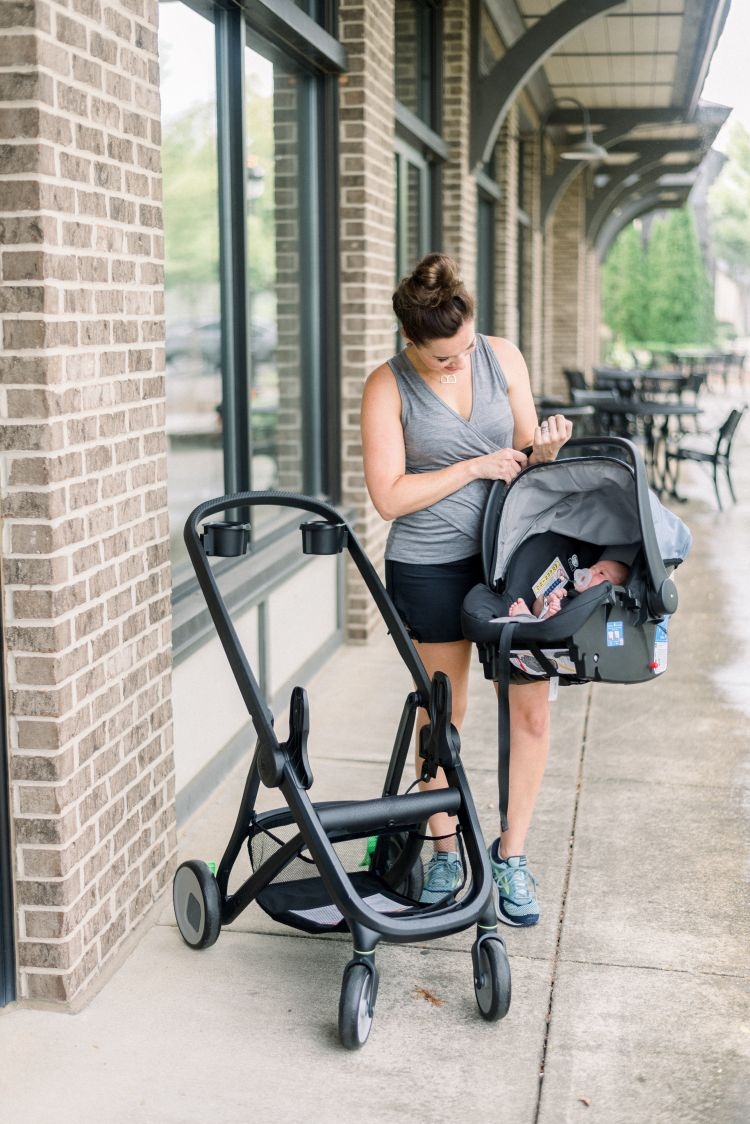 One of the things I love about getting to blog is sharing with y'all some of the products on the market and what we think of them. One of the strollers I was sent was this Safety 1st RIVA Flex 6-in-1 Travel System, which launched this past month at Target stores and online. One of the most unique things about this stroller is that it's made from a blend of recycled materials including recycled Safety 1st car seats and it's manufactured with American and imported parts in Columbus, Indiana. Shout out to Eric's home state! 😉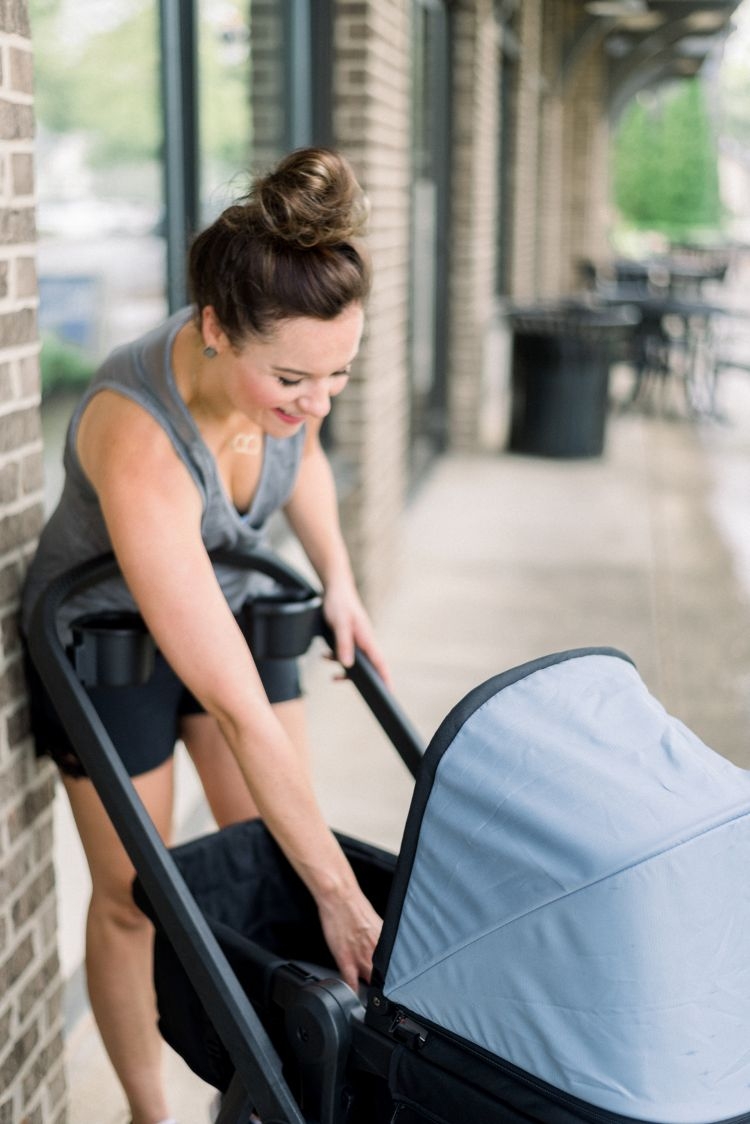 One of the neatest features this eco-friendly and lightweight stroller has is it can be in 6 (!!!) different modes with the 35 FLX infant car seat, including forward- and parent-facing in the car seat, stroller and lie-flat carriage. The "No-wake" carriage mode allows you to easily transition the seat from its regular upright position into a lie-flat bassinet without waking up baby. This is the first stroller I've seen like this.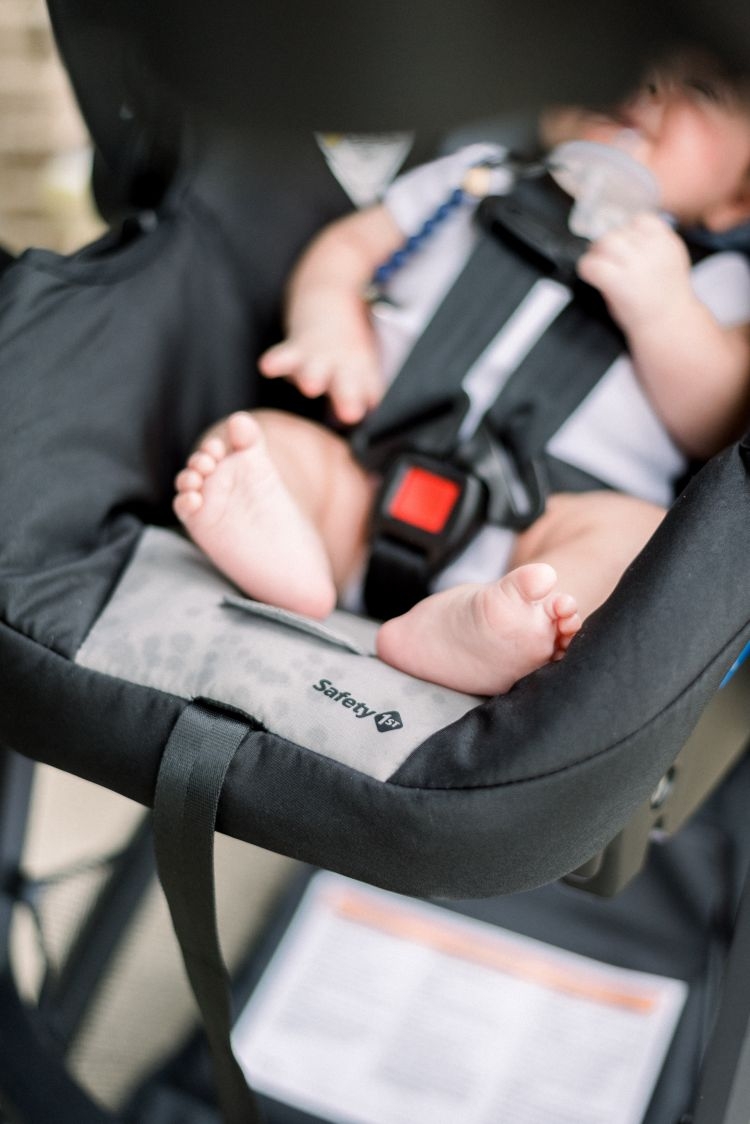 You can easily take off the machine-washable fabrics for the inevitable dirtying they'll get. The only negative we experienced with this stroller so far was Eric didn't think it was the easiest to put together. There are no words on the instruction manual…just pictures. But if you are handier than we are, this may not be an issue for you.
The only other thing I thought could be improved on was that to make the car seat adapt to the stroller, you have to bring two parts to click into the stroller that are different from the carriage configuration. Knowing me, I'm afraid I'll lose them, ha!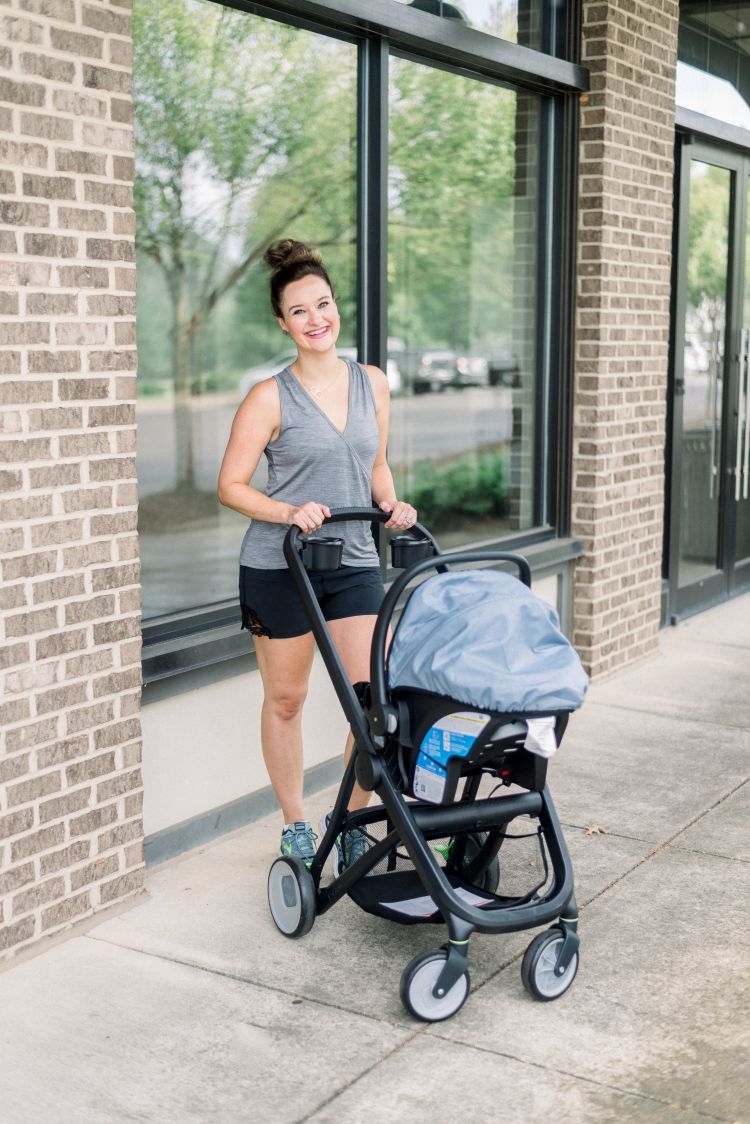 I love that it has two cup holders that are also built to hold your iphone with the divots cut out in the cup holder…super convenient! The price point makes it pretty affordable for all you get and I can't wait to show y'all the stroller workout I did later on this month!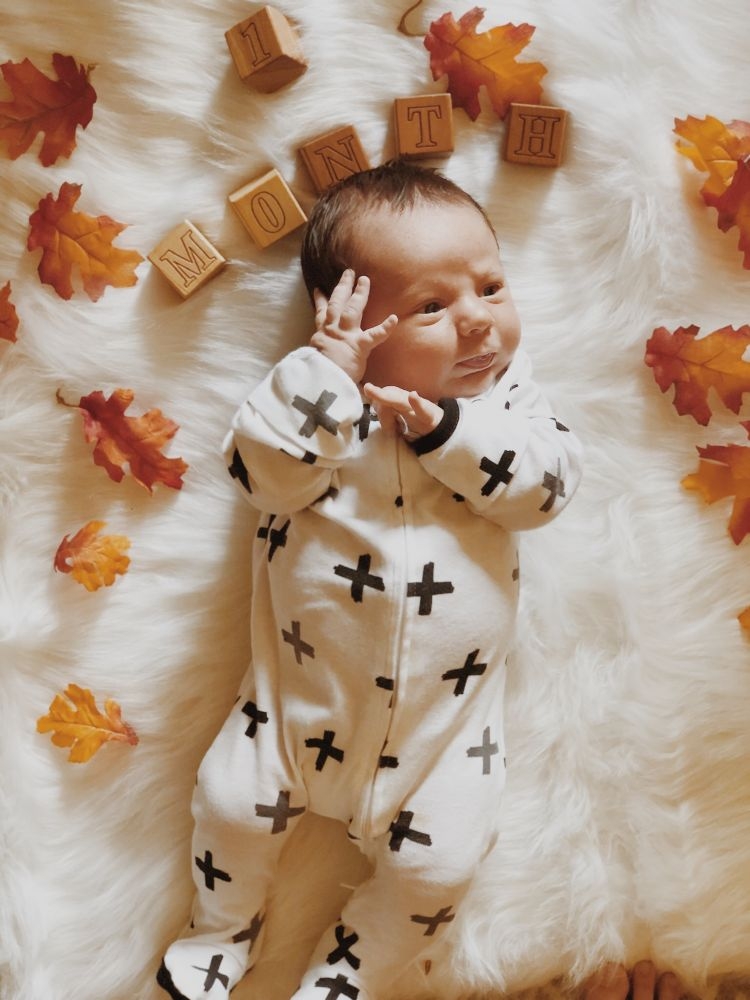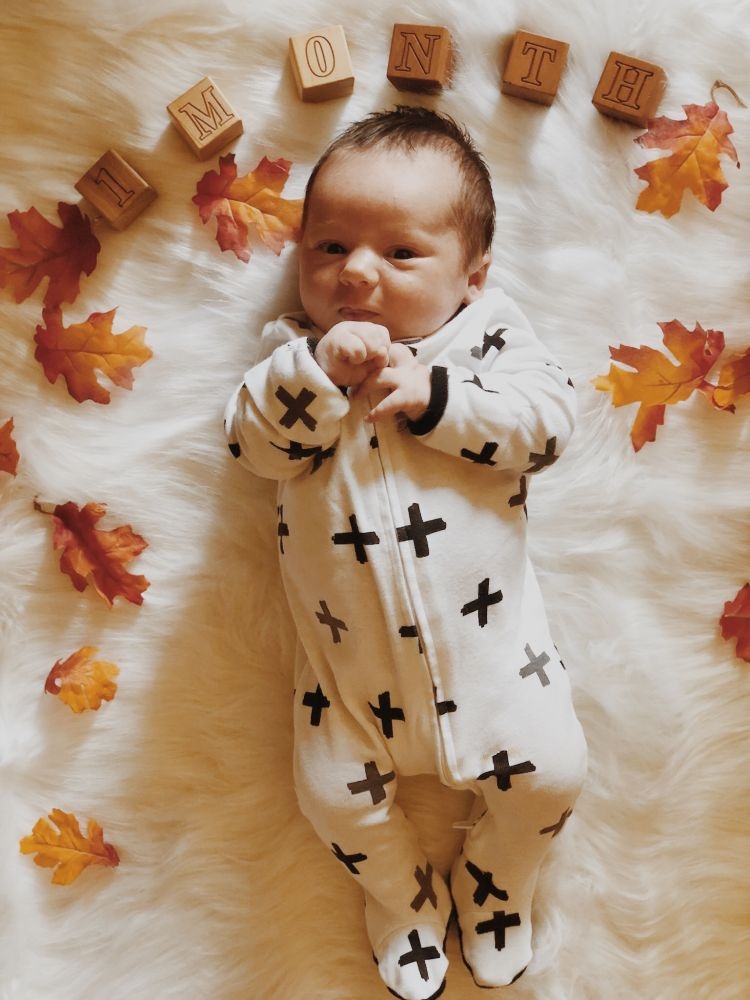 Shop Finn's Outfit in the Baby Milestones by Month Post Here!
Baby Milestones by Month: 1 Month Update:
Sleep

: It's funny to me to go back and read Leyton's 1 month update because his longest sleep stretch was about 6 hours at this point and you are right in that ballpark. Fingers crossed you follow in his footsteps when it comes to sleeping so well!

Eating

: HOLY COW! You eat SO much more than Leyton did. You are a big boy and even in the past 2 weeks it seems like your baby rolls have doubled. You LOVE to eat and are eating every 3 hours if not a little before that.

Bath Time: You take right to the water. The first few times you were not too sure about it and cried a good bit but now it's one of our favorite times with you because you are so awake and just looking all around taking it all in.
Strength: You blew my mind with your head and neck strength as SOON as you came out and they laid you on my chest. You were already trying and succeeding in lifting your head!
Loves: Being held…if you aren't eating or being held, you tend to fuss! Being wrapped up in your Ollie swaddle (you look like a little seal), movement in the stroller or car, Daddy "bowling" with your car seat

, your

penguin wubanub or Ryan & Rose paci or as Leyton calls it your "FIRE",

the

Boppy lounger or Snuggle Me Organic to hang out on the couch with mom and dad, EATING.
Clothes: You are REALLY stretching it to fit in your NB clothes and the 0-3 months fit a little better now. Wearing size 1 diapers.
Weight: You weighed a little over 10 lbs last time we went to the doctor so I've got to believe you are close to 12 now.
Nicknames: Finnster, We can barely say your name without Baby in front of it…we think it's because your big brother always says Baby Finn. Daddy and I also like to sing your name in a little sing song voice, "Baaaaby Finn"
I will be sharing Finn's baby milestones by month on the blog each month! How do you keep track of your baby's milestones? I love having these posts to reflect back on and share with Finn one day!
Shop Finn's One Month Update Here:
Heather Brown helps busy mamas of young littles who are caught in the hustle to find encouragement in their journey to true health, from the inside out, starting with the heart. Read her journey of learning to live a life well-loved
HERE!