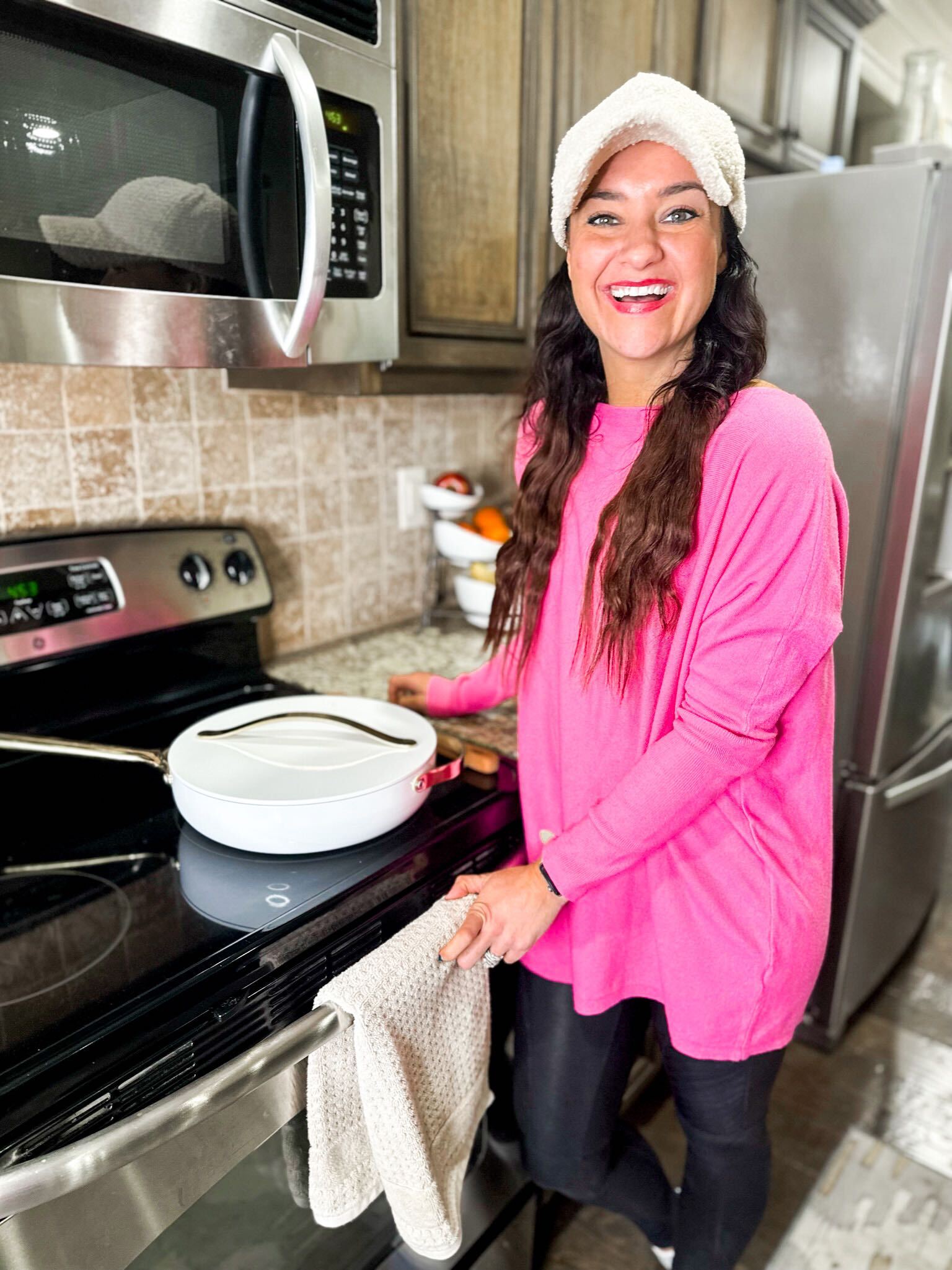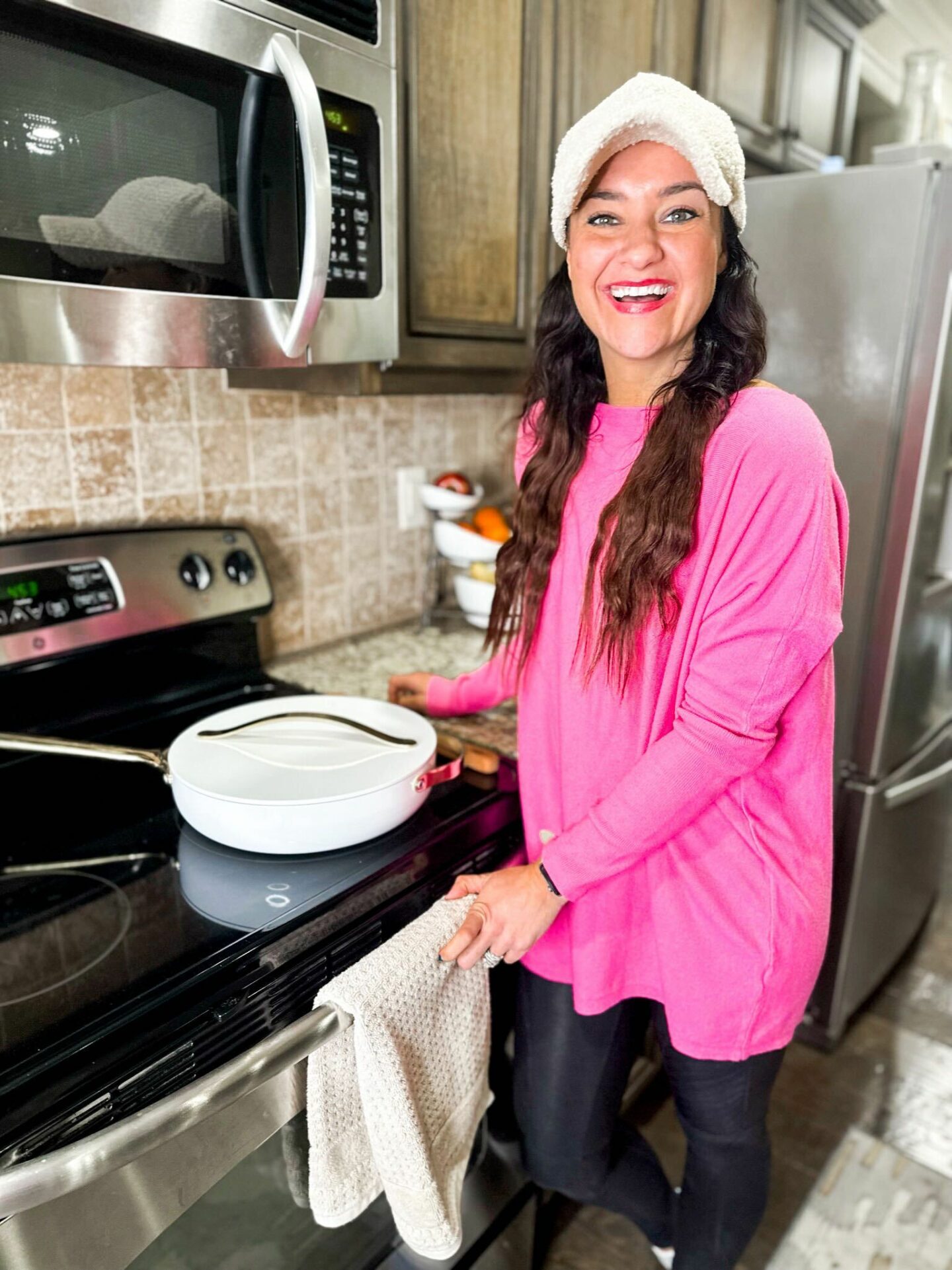 Shop my favorite cookware set here! And keep scrolling to get my favorite paleo chicken soup recipe!
You've maybe heard me say this before… if you fail to plan, you plan to FAIL. In the name of aiming for progress > perfection this week, let's get a plan in place for success in the meal planning department!
[[Did you know I have a whole LIBRARY of recipes you can access for FREE?]]
Everything from healthy lunch ideas to kid friendly dinner recipes… and I promise they will be SIMPLE. CLICK HERE to check them out!
If I'm being honest, the thing that deters me the most in the kitchen (outside of dirty dishes piled high in the sink🤮) is BROKEN UTENSILS… yep, I'm talking about that one pan… the one you've had since your wedding 10+ years ago… and no matter what you do, everything. sticks. UGH! ‼️
Eric and I recently made the switch to Caraway Cookware and let me tell ya, it's worth the hype! Caraway pans are non-stick, non-toxic, beautifully aesthetic, and optimal for storing! 
We have the Caraway pans along with other "trendy" pans and we always grab our Caraway pans FIRST and foremost. The Caraway Cookware holds up better than any other pots or pans we have. Eric and I, as parents, love that Caraway Cookware is safer for our bodies and our boys. They wash SO easily and when I say nothing sticks, I truly mean… NOTHING STICKS! It's a busy mama's dream come true!
Shop my link HERE [hurry!] to get 10% off Caraway sitewide before it expires! #CarawayReview, #Carawayblog
Paleo Chicken Soup Recipe: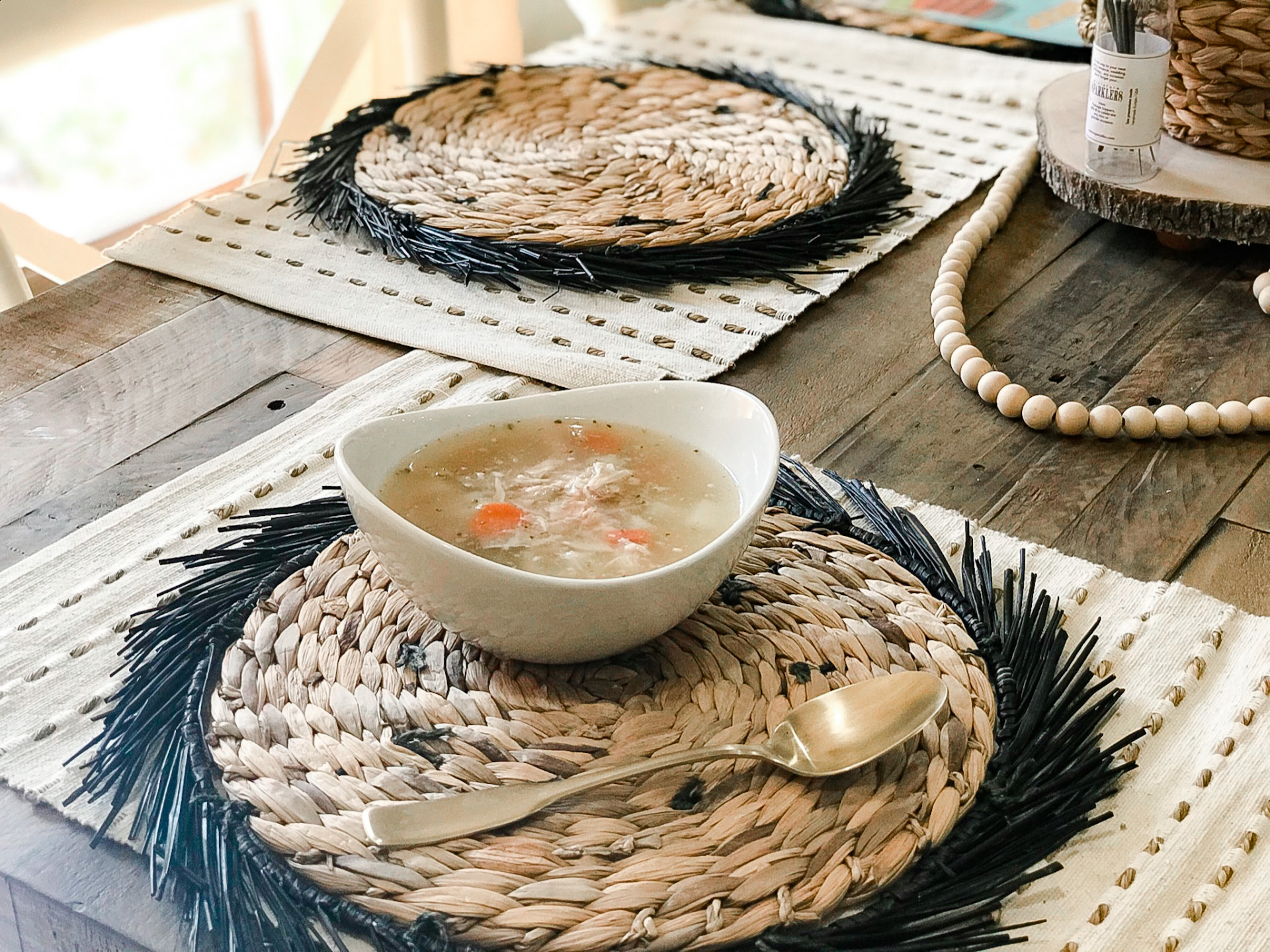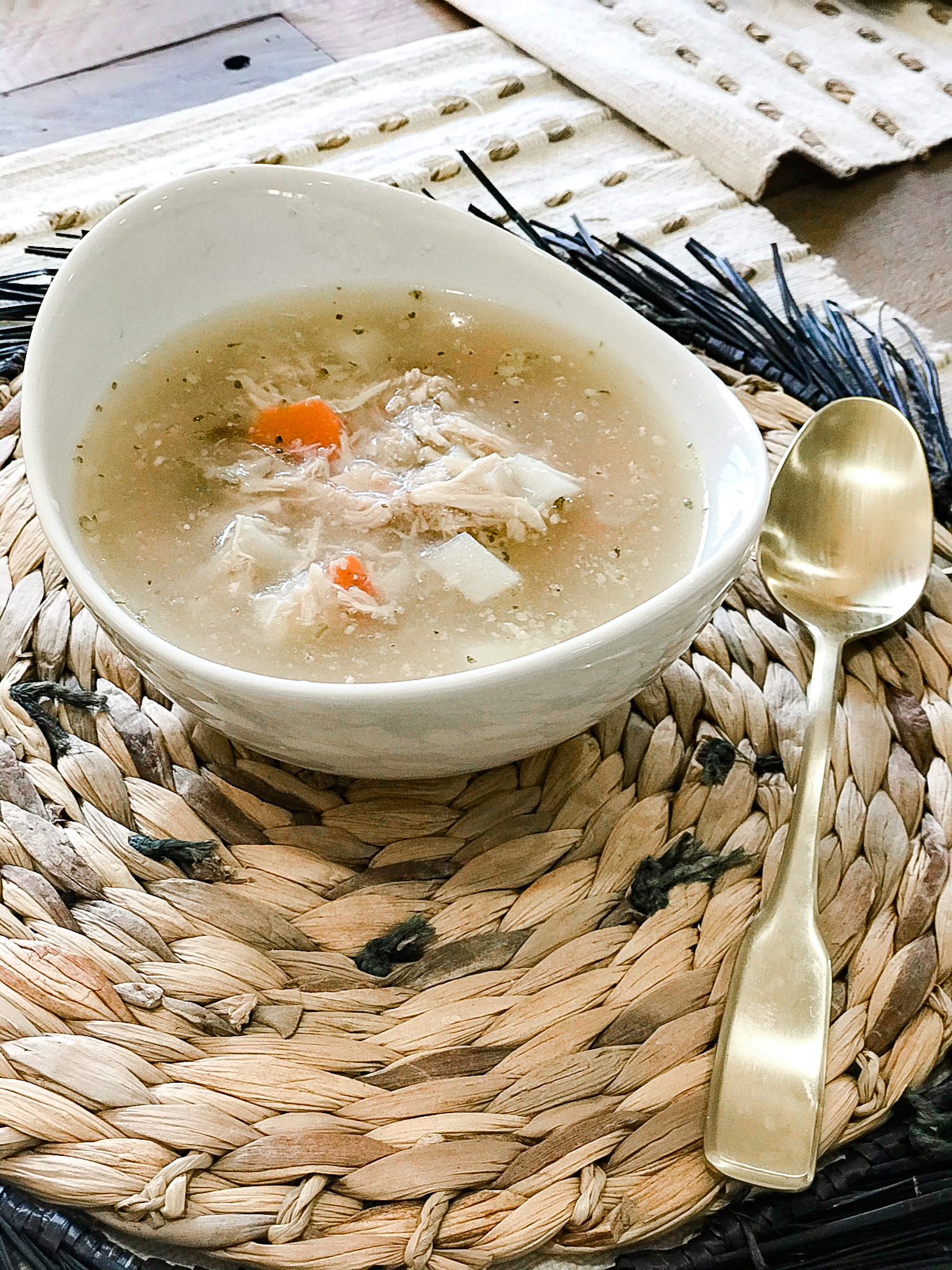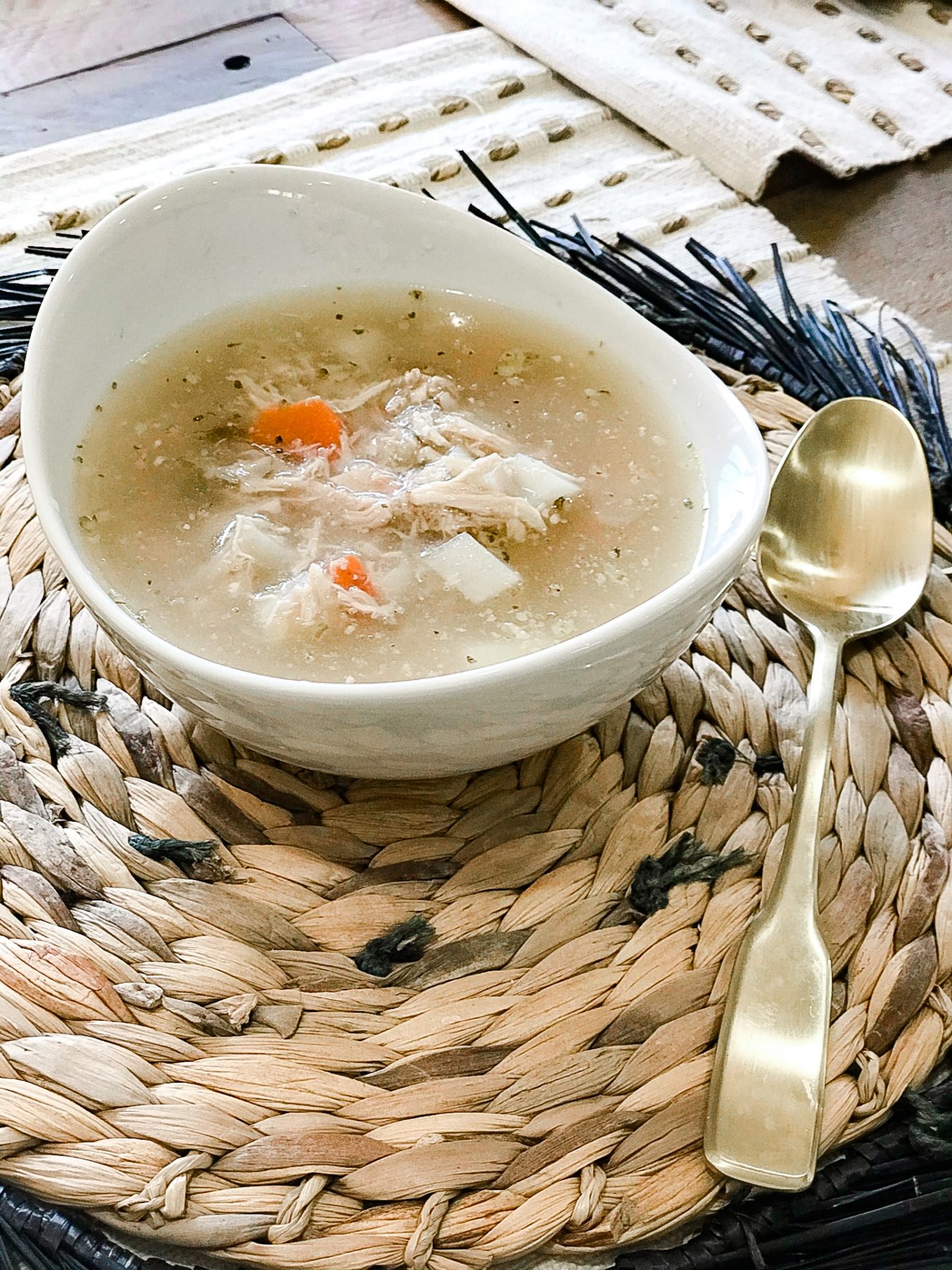 Charger // Wooden Beads // Gold Silverware // Placements // Dining Chair // Dining Table // For more of my dining room makeover details click HERE.
After so many of you fell in love with my Whole30 White Chicken Chili recipe, I knew I had to share this simple Whole30 and paleo chicken soup with you as well.
I love including this recipe in my weekly meal plan when I'm looking for something comforting and also clean. In case you missed it, I created a complete guide to meal planning for busy moms like you! Click HERE to check it out and snag it at a discounted price!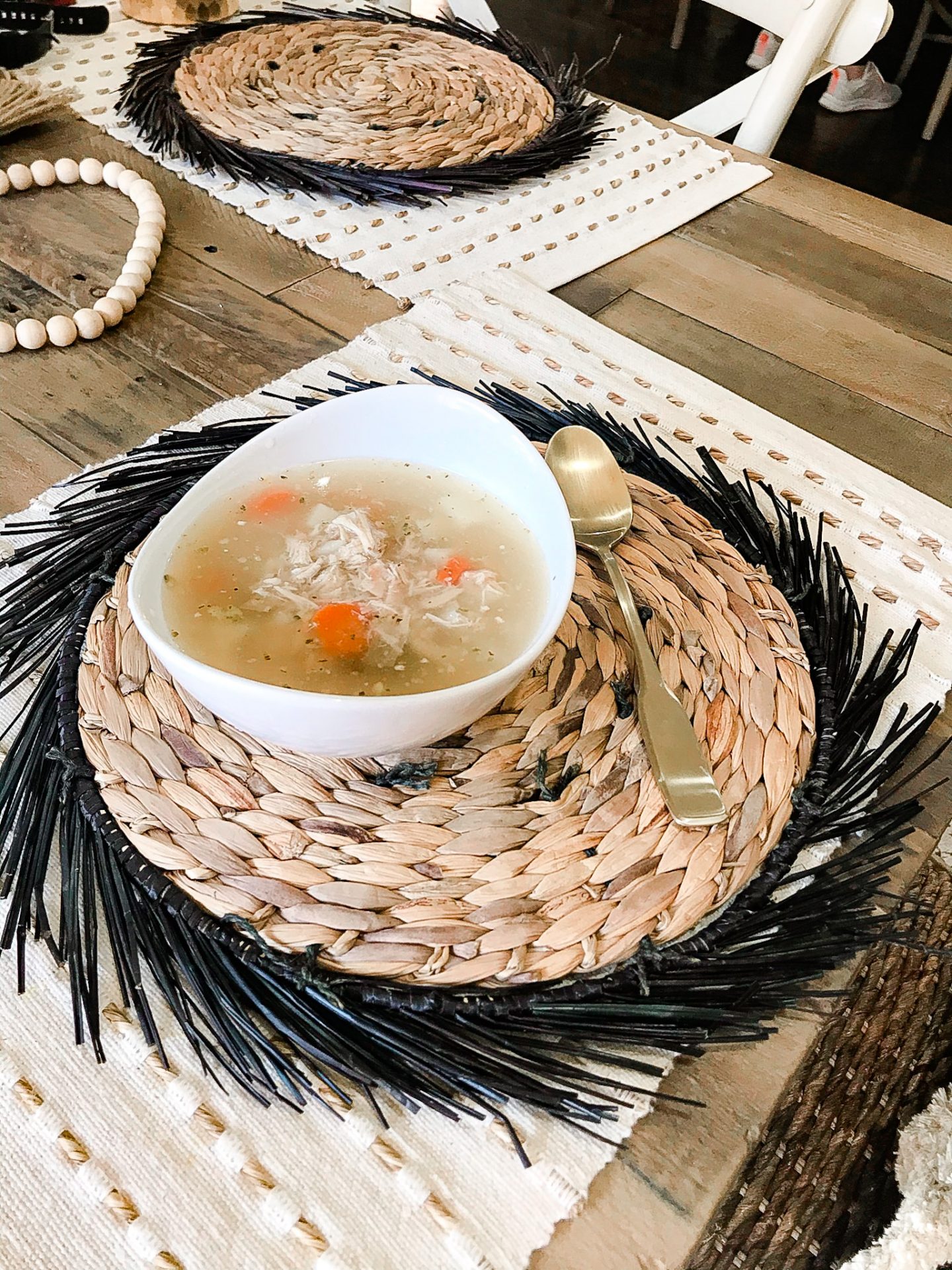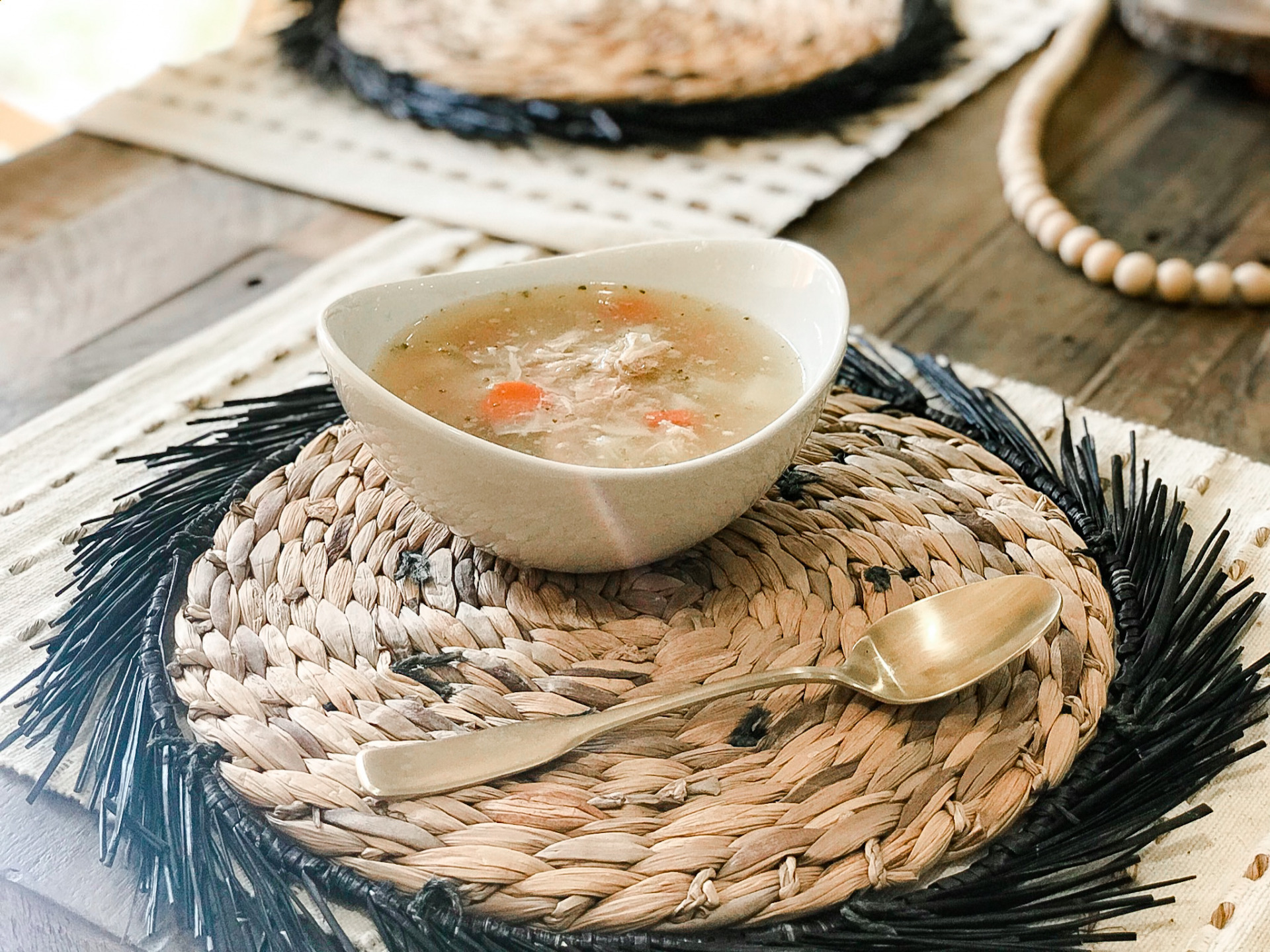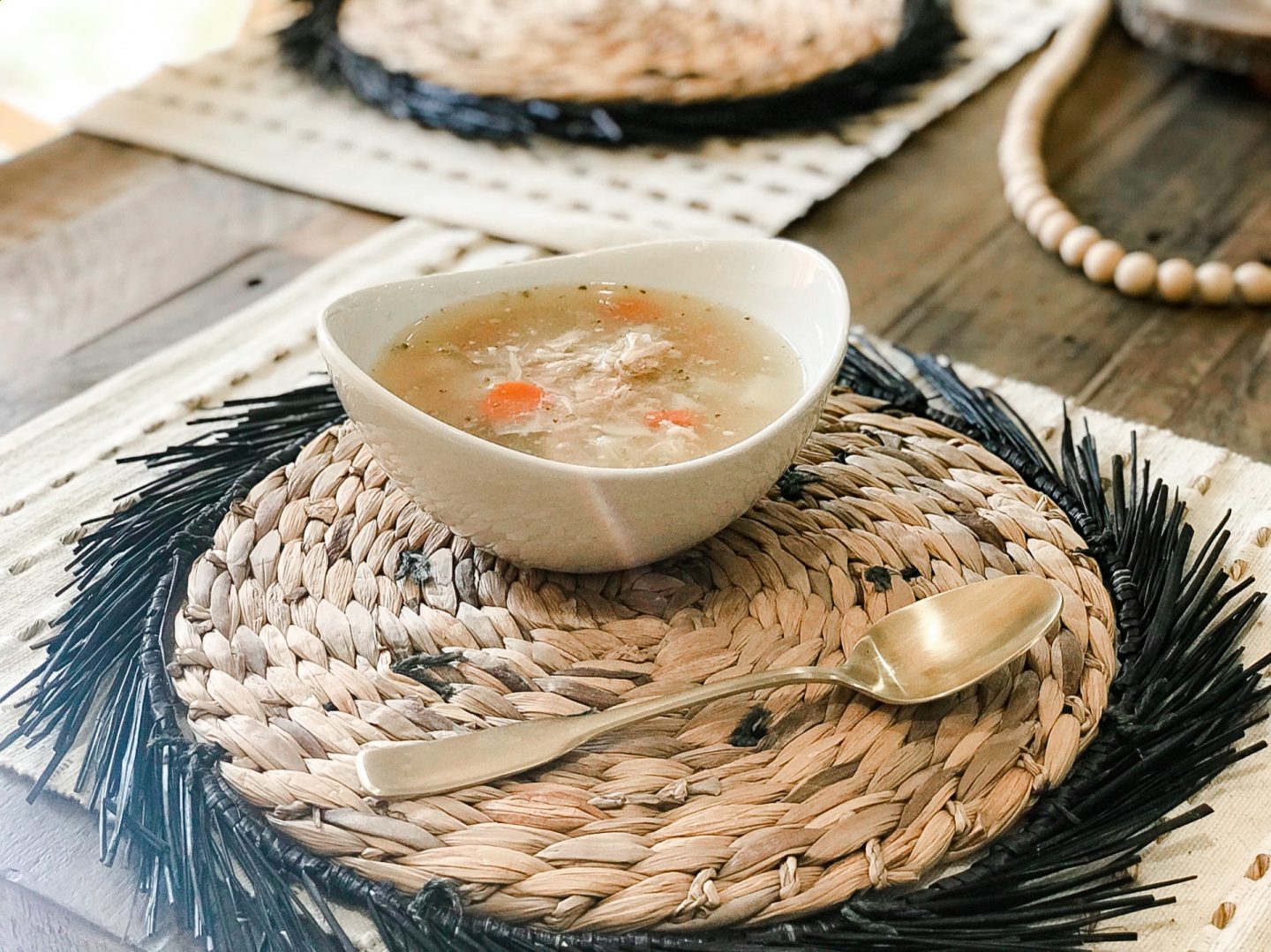 This soup is not only comforting, but also fairly simple, and makes lots of leftovers. I'd highly recommend serving it to a crowd, surprising your neighbors with the extra, or freezing half for later. You can't go wrong no matter what you choose!
Whole30 Chicken Soup
Prep time:
Cook time:
Total time:
Ingredients
Rotisserie Chicken
6 carrots
6 celery stalks
1 onion
2 potatoes
1 large carton chicken broth
2 cups of water
Italian Seasoning, to taste
Sea Salt & Pepper, to taste
¼ teaspoon Garlic Powder
Instructions
Cover rotisserie chicken just barely with water and let cook for 20 mins with 3 stalks of celery, 2-3 carrots carrots, sea salt and pepper. This will make extra chicken stock/broth for your soup.
Dice carrots, celery, onion, and 2 potatoes while the stock is cooking.
Use a colander or strainer and dump chicken and broth fixings into pot covered by colander.
Place chicken broth back on stove and add diced vegetables and additional carton of broth as well as 2 cups of water to simmer.
Deconstruct chicken into bite size chunks and add to soup.
Add in Italian Seasoning, salt & pepper and garlic powder and let simmer for 20-30 minutes.
Enjoy!
Macros (per one serving):
Calories: 196
Fat: 6 g
Protein: 12.8 g
Carbs: 19.4 g
Check Out More Whole30 Resources HERE:
SHOP The Paleo Chicken Soup Post HERE:

PIN The Post For Later!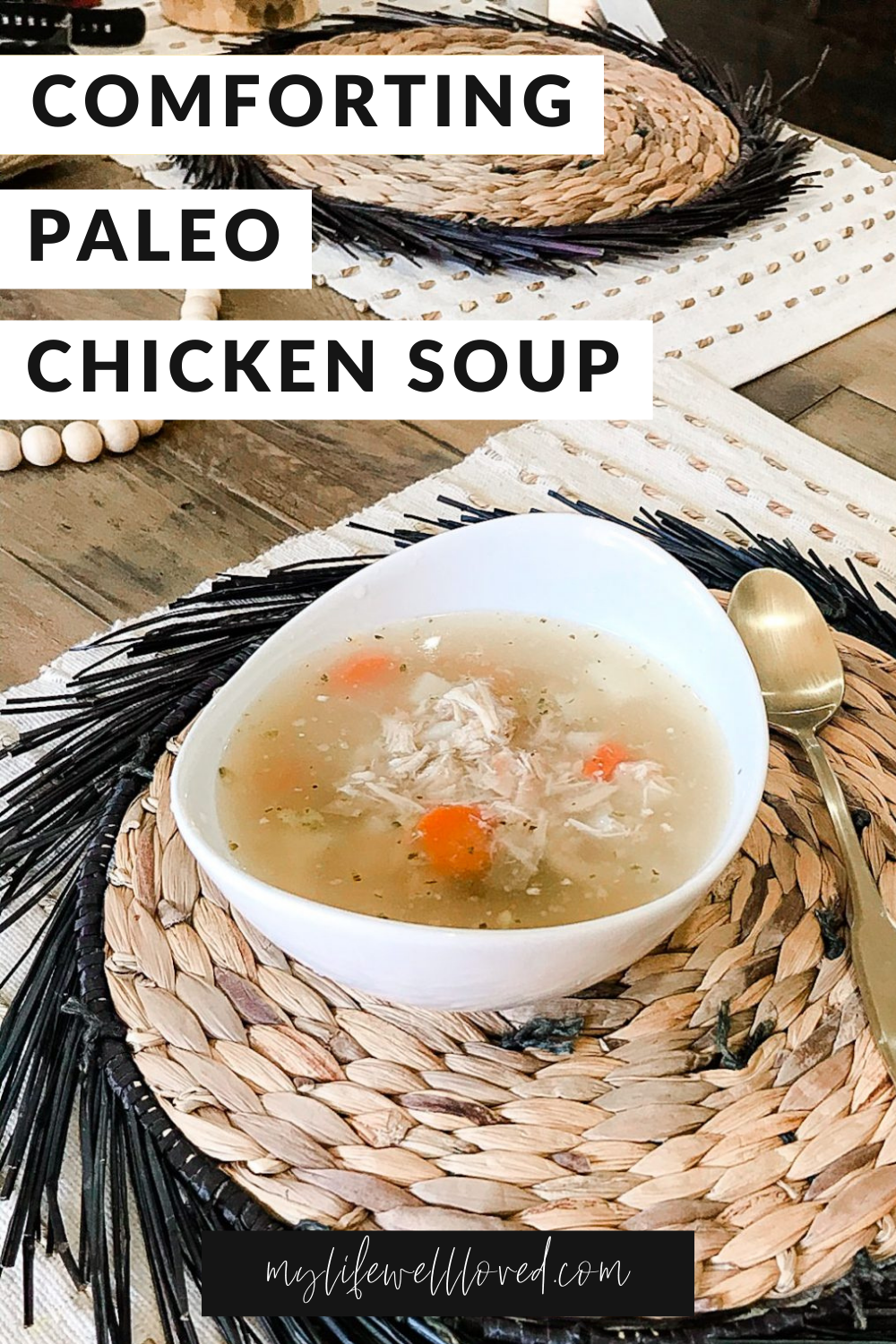 Heather Brown helps busy mamas of young littles who are caught in the hustle to find encouragement in their journey to true health, from the inside out, starting with the heart. Read her journey of learning to live a life well-loved
HERE!