The Comforting Paleo Chicken Soup Post Was Originally Published In February 2018 And Updated In January 2021.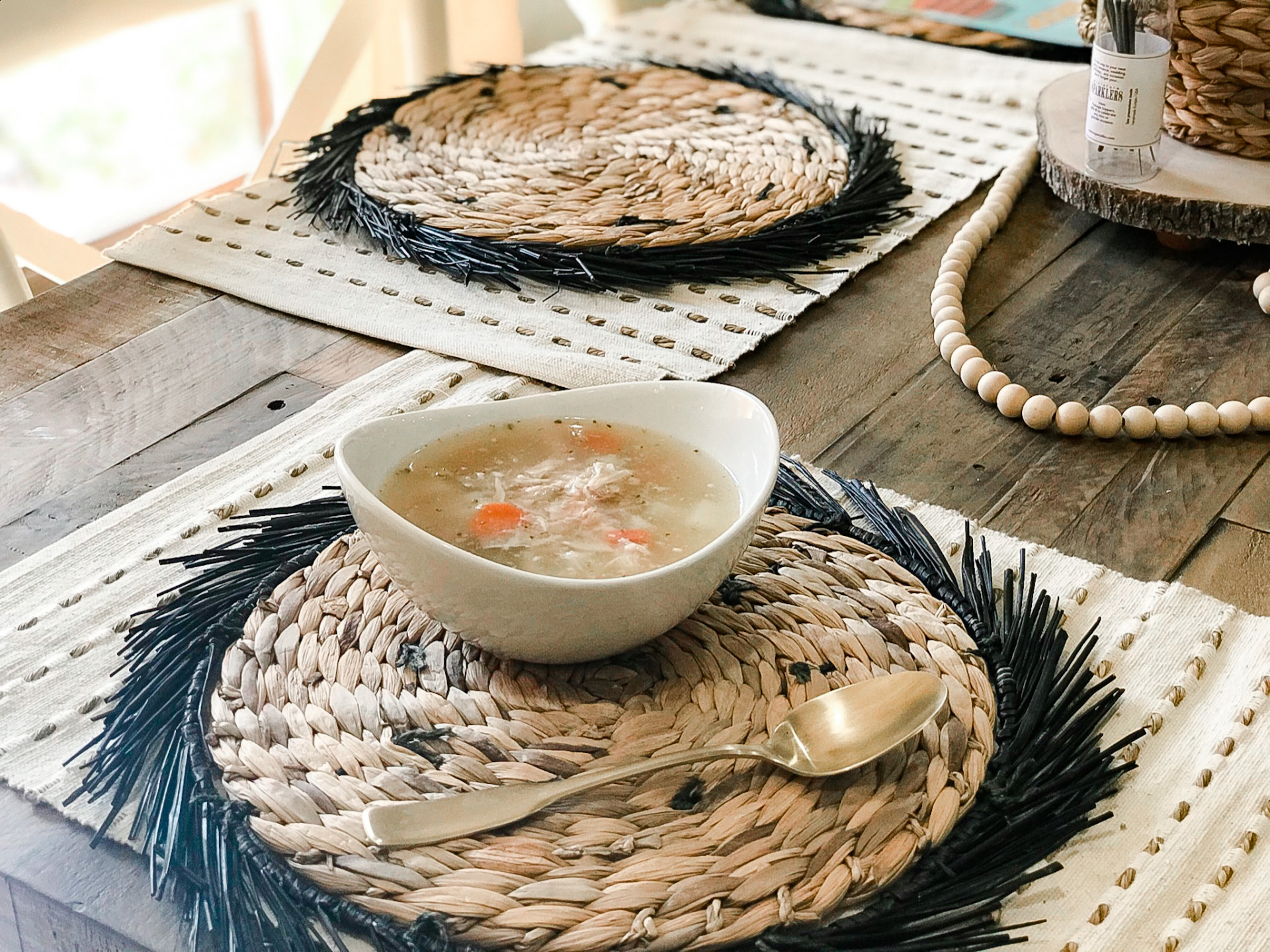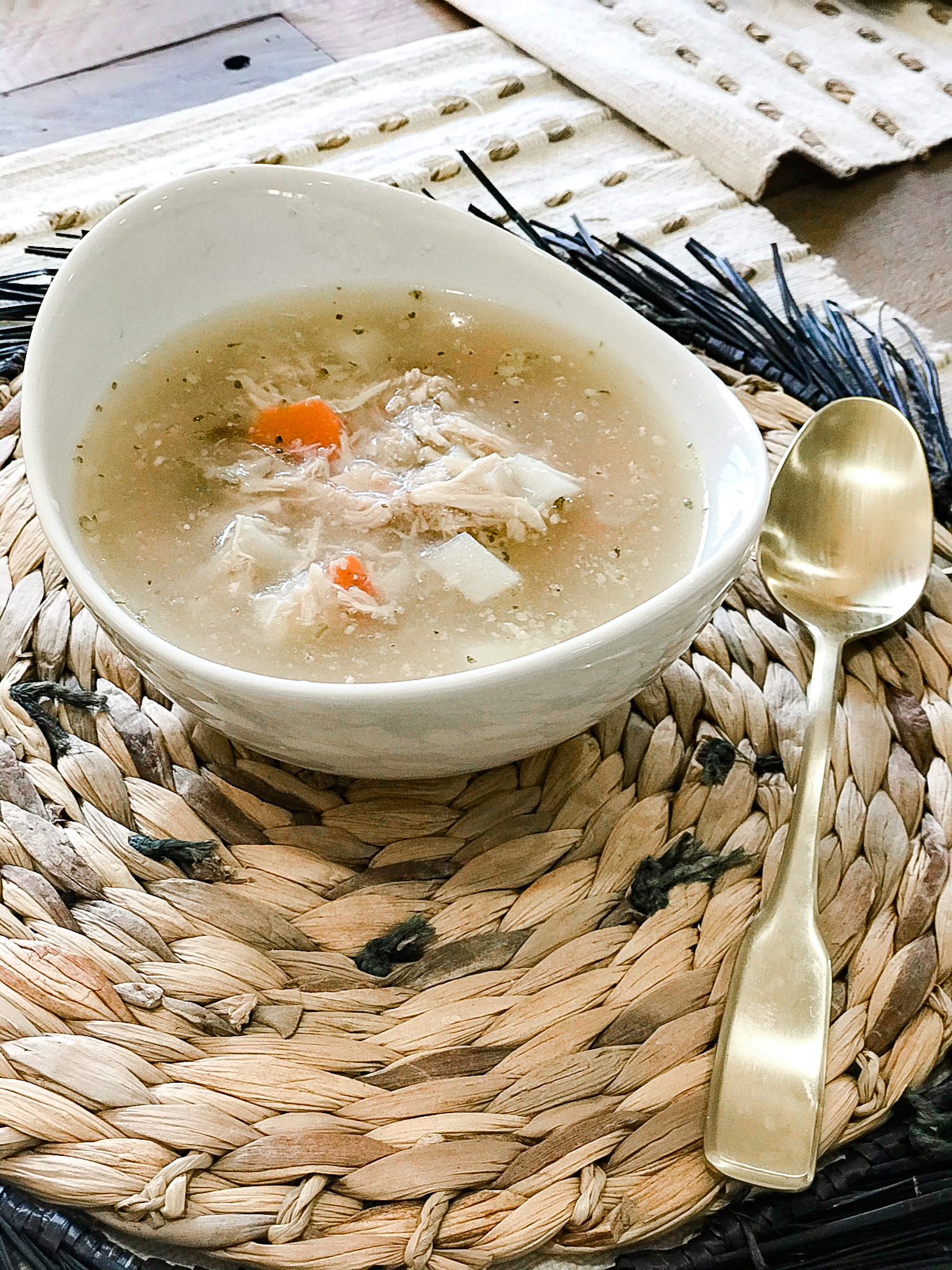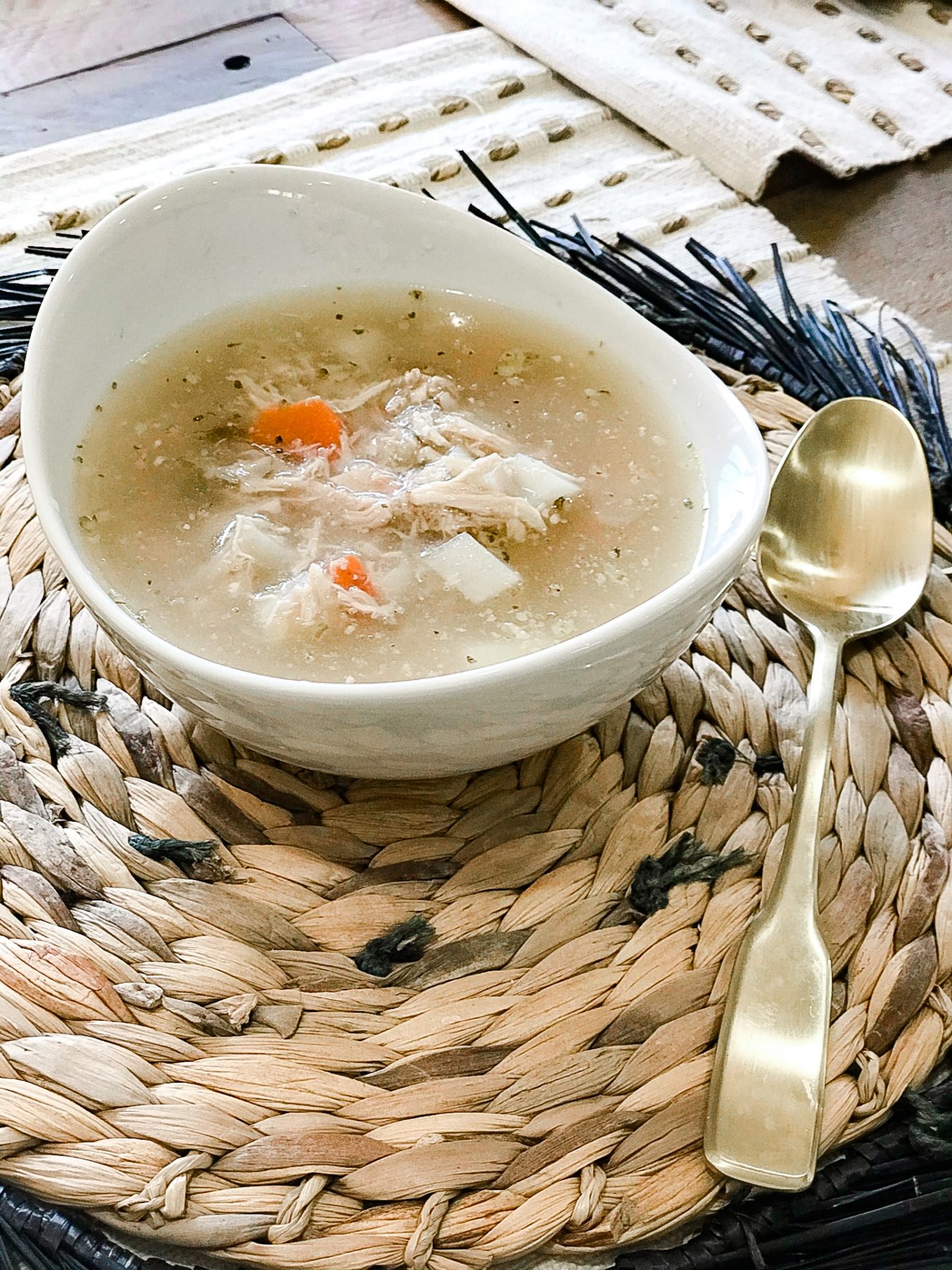 SHOP The Comforting Paleo Chicken Soup Post HERE: Charger // Wooden Beads // Gold Silverware // Placements // Dining Chair // Dining Table // For more of my dining room makeover details click HERE
After so many of you fell in love with my Whole30 White Chicken Chili recipe, I knew I had to share this simple Whole30 and paleo chicken soup with you as well.
I love including this recipe in my weekly meal plan when I'm looking for something comforting and also clean. In case you missed it, I created a complete guide to meal planning for busy moms like you! Click HERE to check it out and snag it at a discounted price!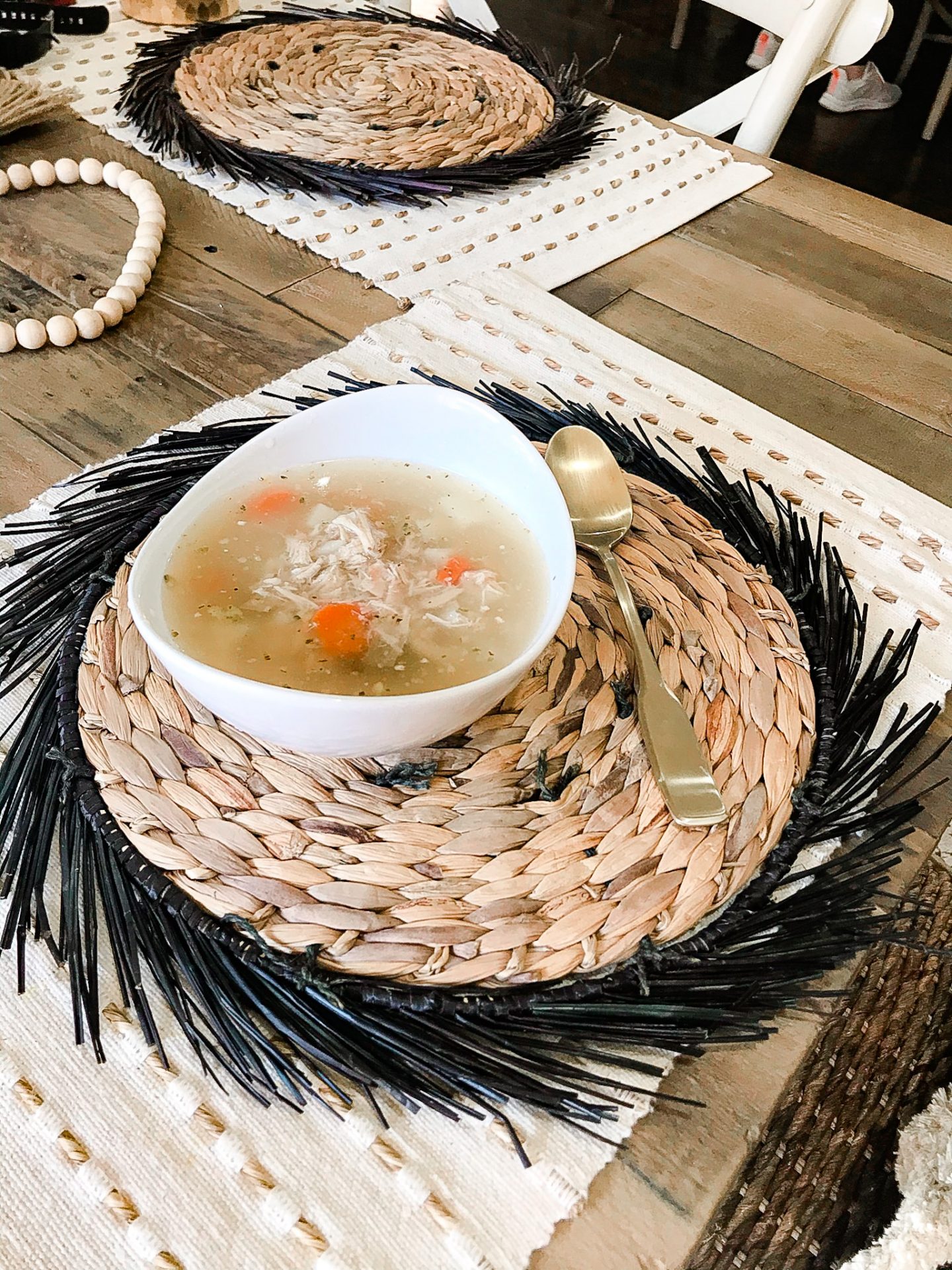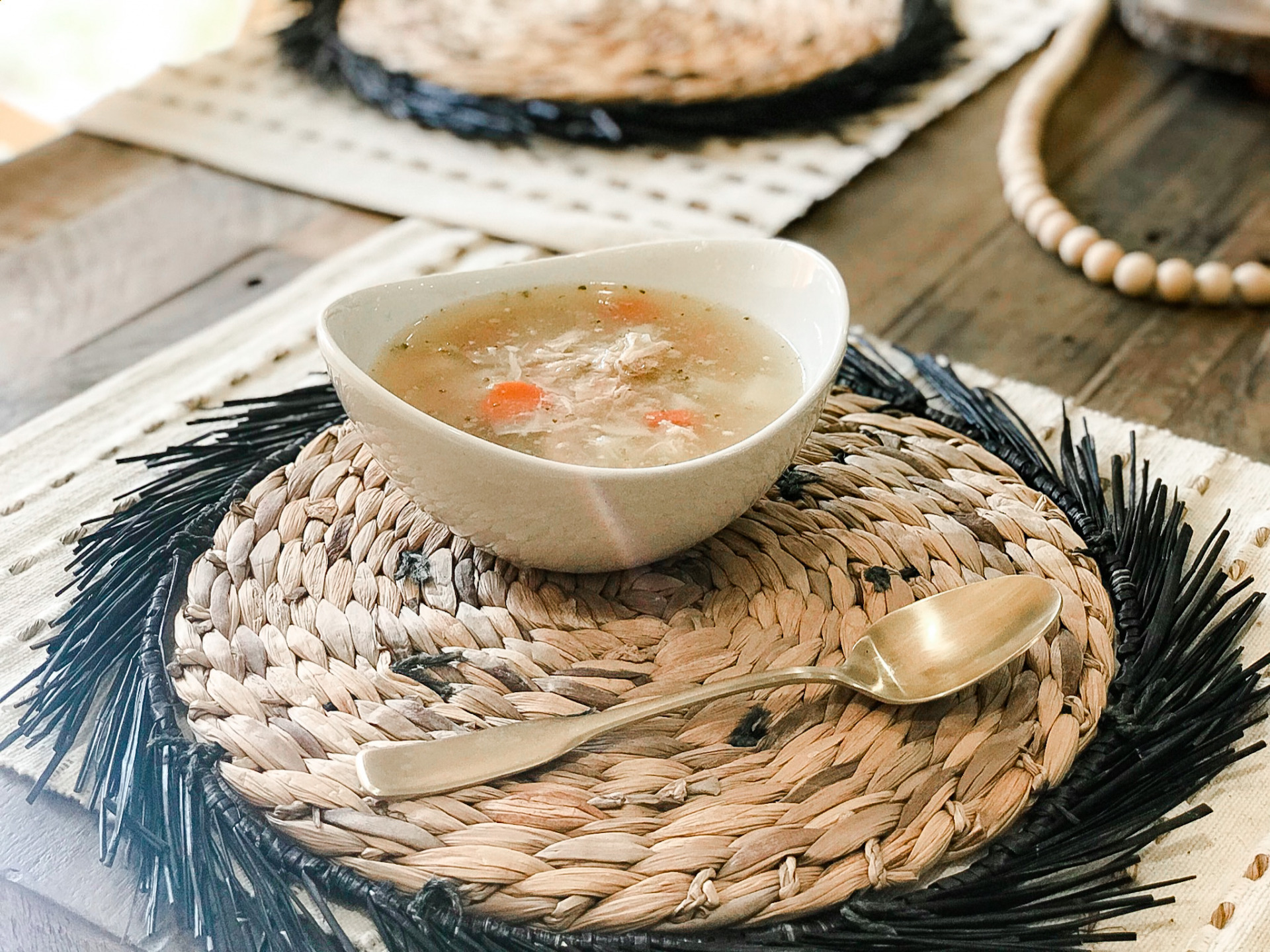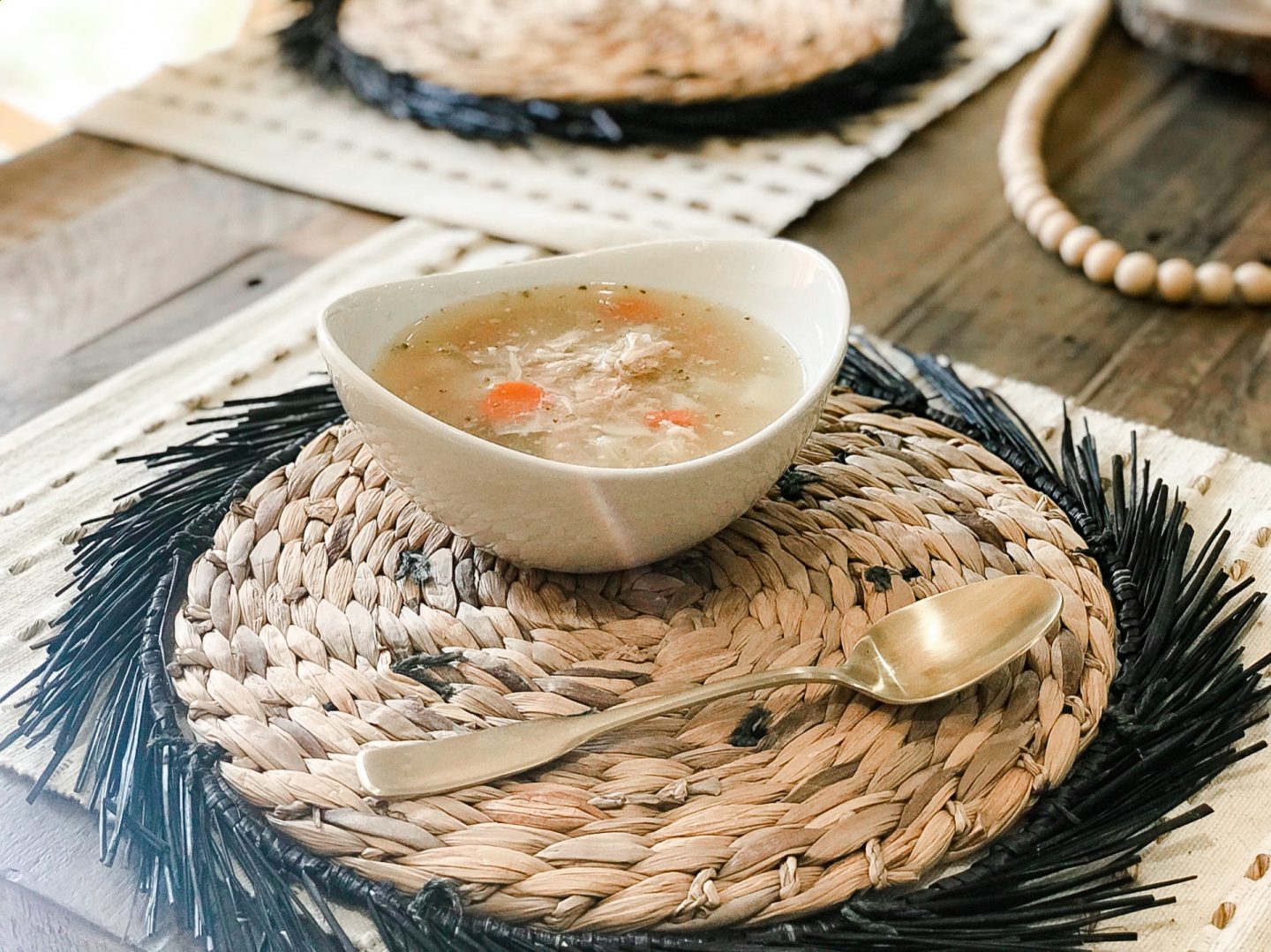 This soup is not only comforting, but also fairly simple, and makes lots of leftovers. I'd highly recommend serving it to a crowd, surprising your neighbors with the extra, or freezing half for later. You can't go wrong no matter what you choose!
Paleo Chicken Soup Recipe:
Whole30 Chicken Soup
Prep time:
Cook time:
Total time:
Ingredients
Rotisserie Chicken
6 carrots
6 celery stalks
1 onion
2 potatoes
1 large carton chicken broth
2 cups of water
Italian Seasoning, to taste
Sea Salt & Pepper, to taste
¼ teaspoon Garlic Powder
Instructions
Cover rotisserie chicken just barely with water and let cook for 20 mins with 3 stalks of celery, 2-3 carrots carrots, sea salt and pepper. This will make extra chicken stock/broth for your soup.
Dice carrots, celery, onion, and 2 potatoes while the stock is cooking.
Use a colander or strainer and dump chicken and broth fixings into pot covered by colander.
Place chicken broth back on stove and add diced vegetables and additional carton of broth as well as 2 cups of water to simmer.
Deconstruct chicken into bite size chunks and add to soup.
Add in Italian Seasoning, salt & pepper and garlic powder and let simmer for 20-30 minutes.
Enjoy!
Macros (per one serving):
Calories: 196
Fat: 6 g
Protein: 12.8 g
Carbs: 19.4 g
Check Out More Whole30 Resources HERE:
SHOP The Paleo Chicken Soup Post HERE:

PIN The Post For Later!