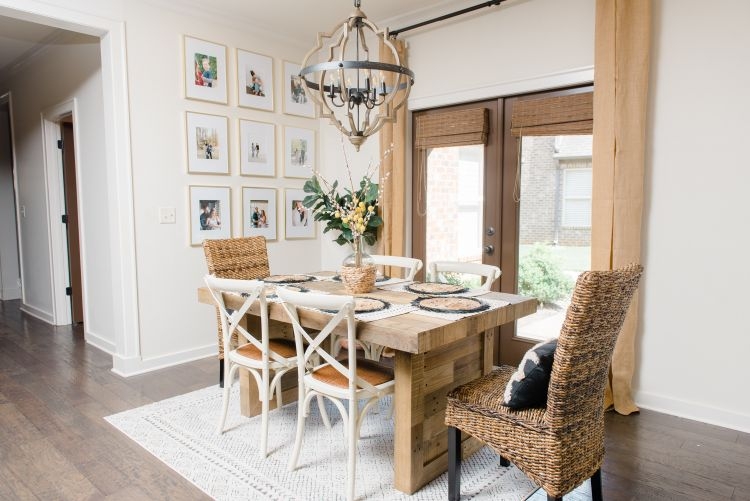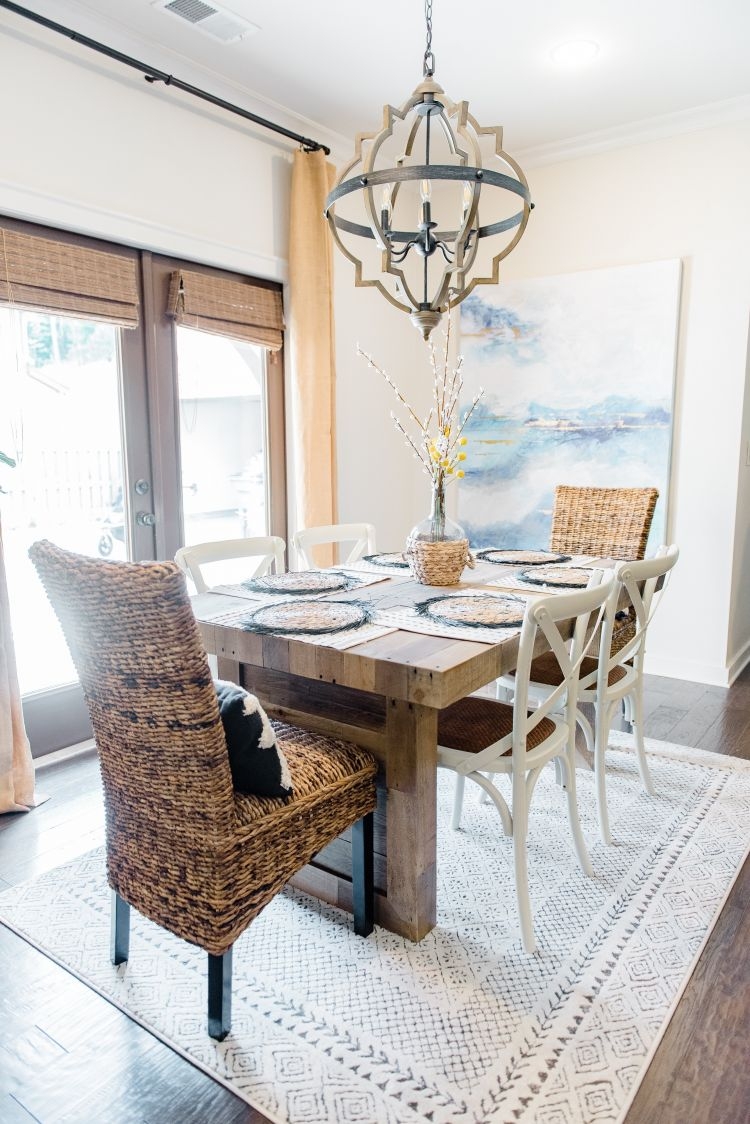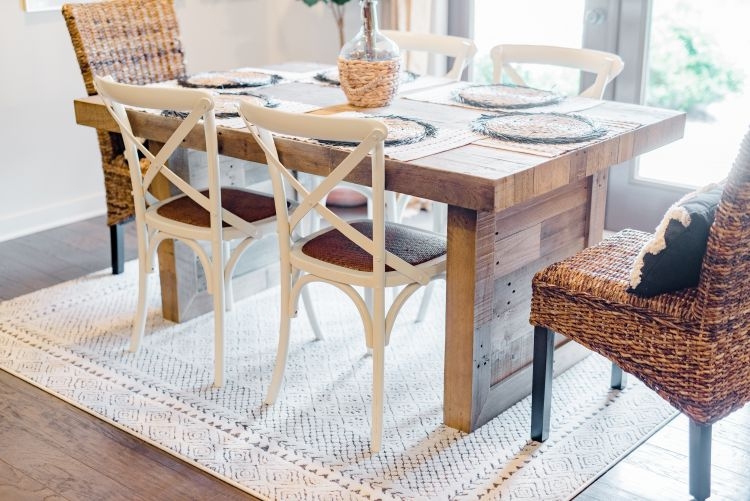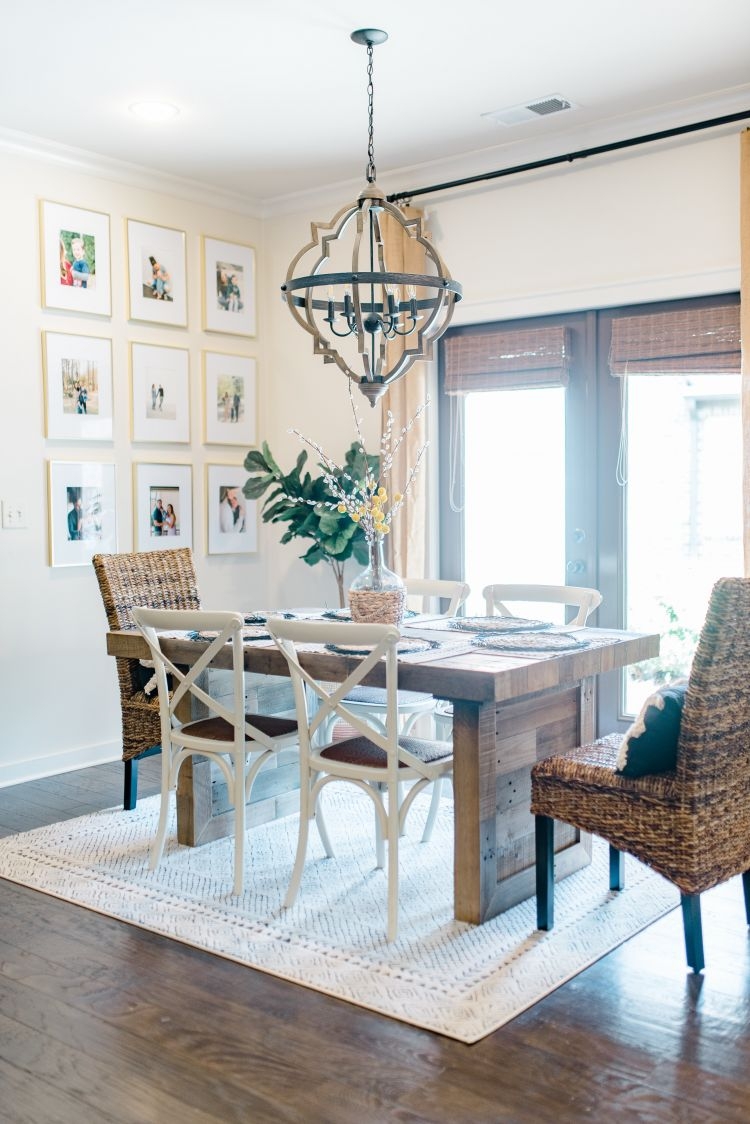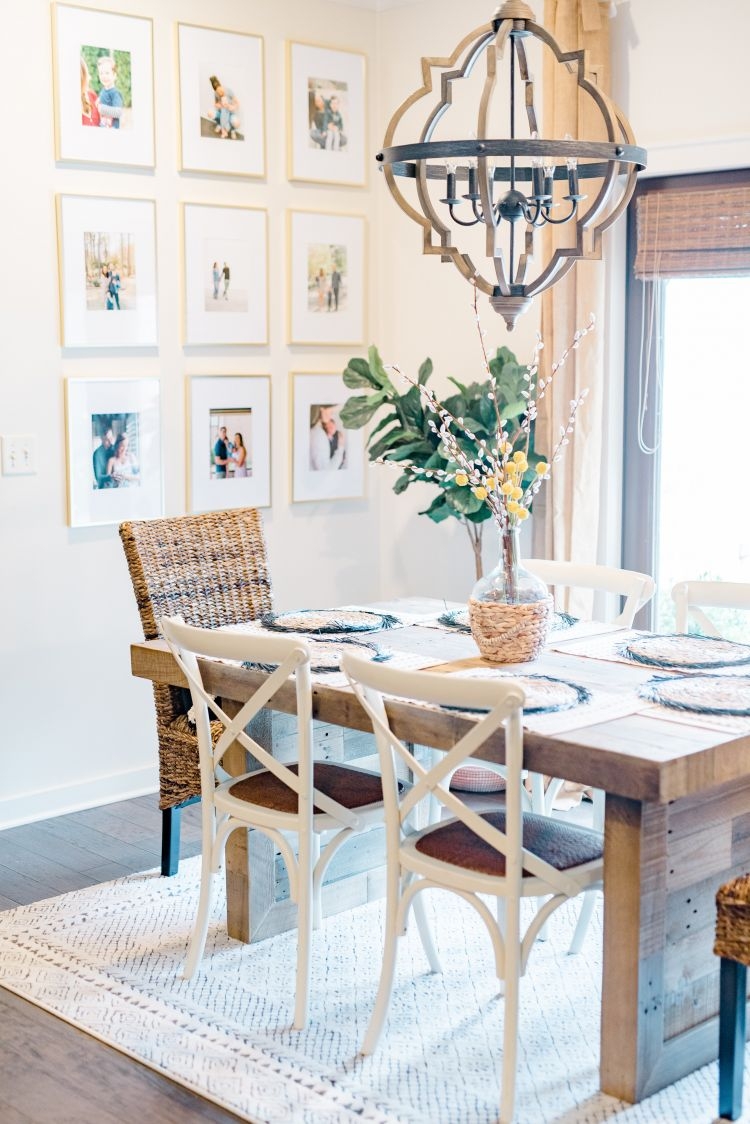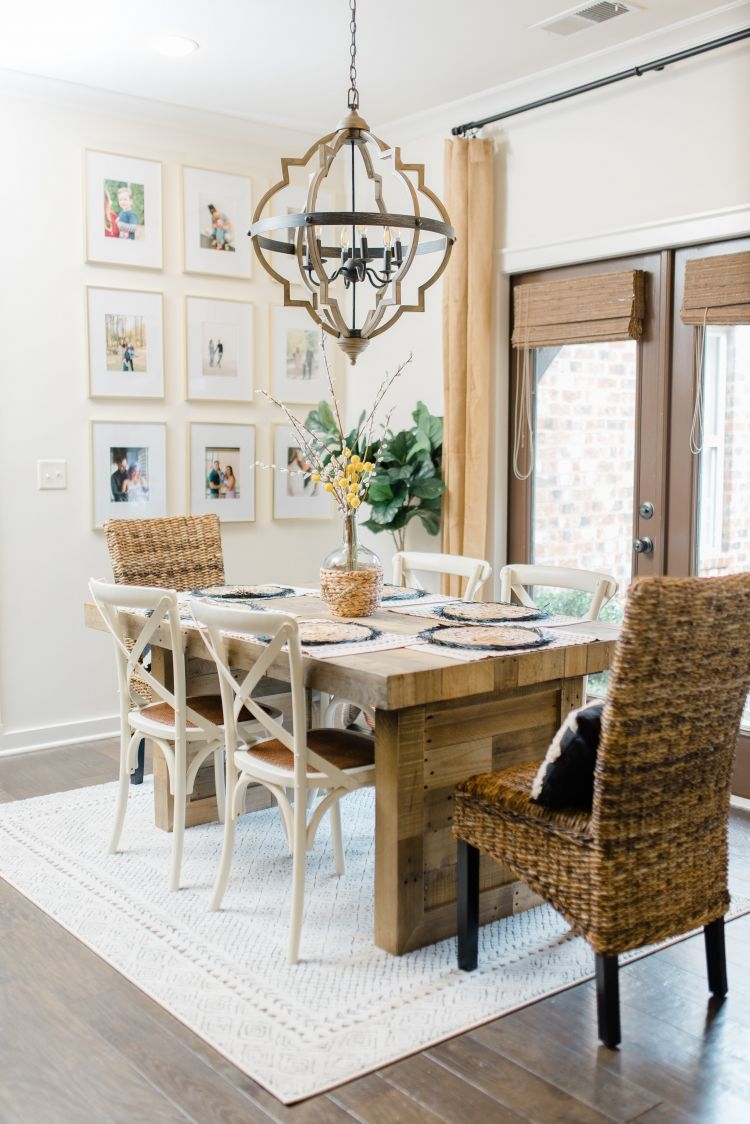 SHOP the Farmhouse Modern Dining Room Ideas: Frames // Wicker Chairs // Rug // Table // Charger // Placemats// Wicker Wrapped Vase // Fiddle leaf Tree // Chandelier // White Chairs

Photos by Eric and Jamie Photo
This post is in partnership with Bona.
6/4 Wayfair Sale

After many, many years of waiting to update our dining space, I am so excited to reveal that it is finally finished and I am IN LOVE! Eric and I met in college and we had been using his college dining room table that he had when he lived with his roommates. After almost 11 years of marriage and 2 babies later, we finally have a proper dining space to enjoy family dinners around and host/entertain friends.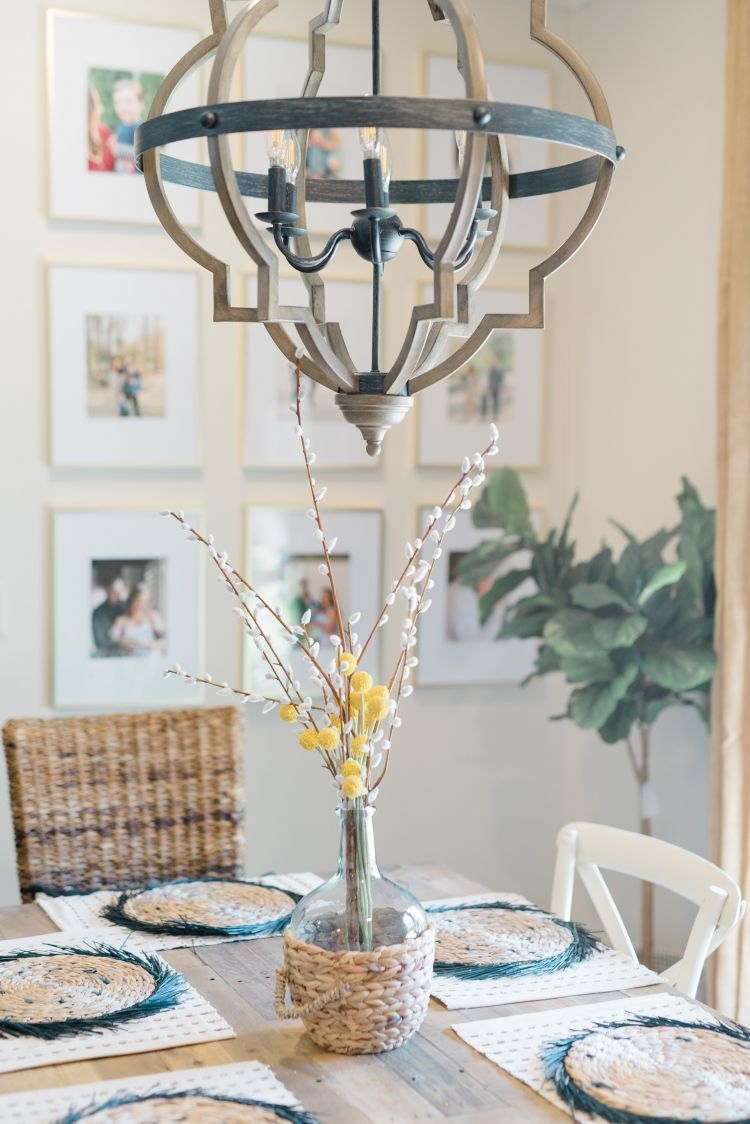 Wicker Chairs //Table // Charger // Placemeats // Glass Wrapped Vase // Fiddle leaf Tree //Chandelier // White Chairs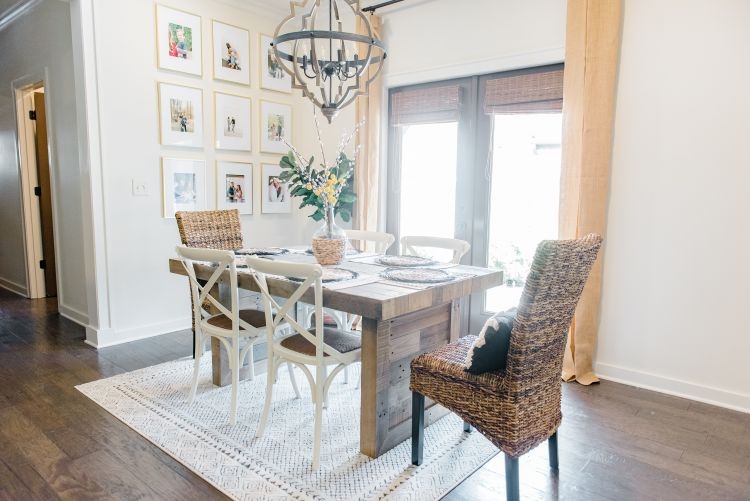 Frames // Wicker Chairs //Rug //Table //Charger // Placemeats //Glass Wrapped Vase //Fiddle leaf Tree // Chandelier // White Chairs
Our Farmhouse Modern Design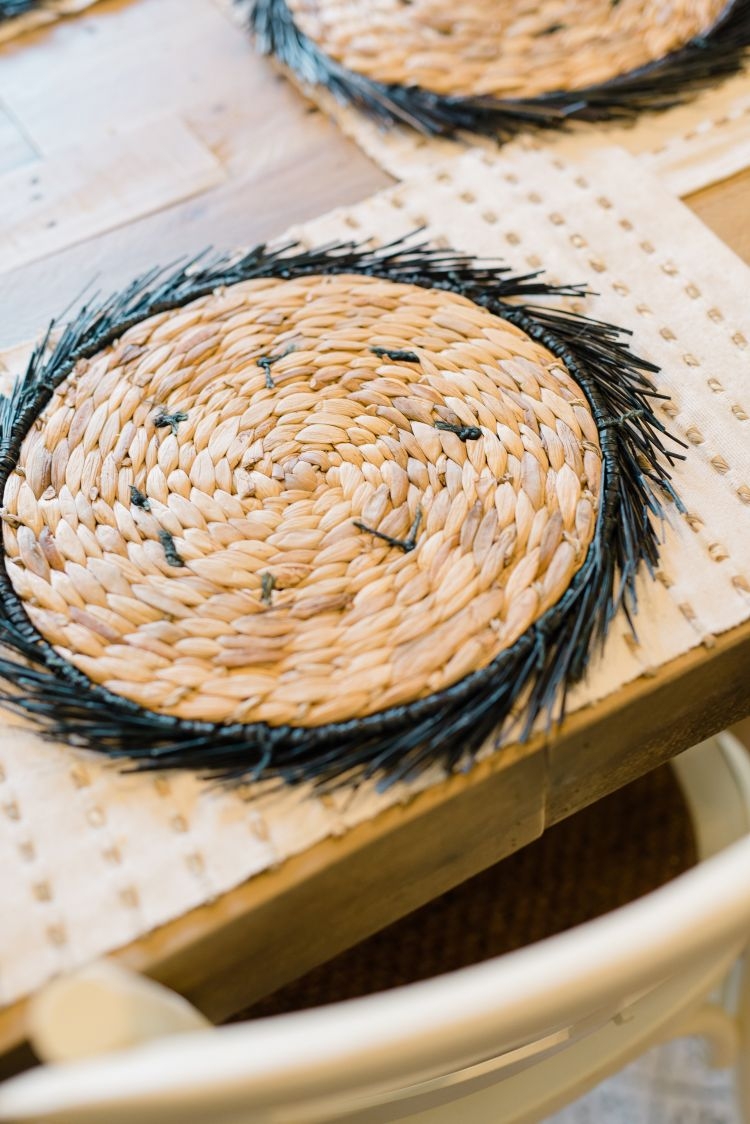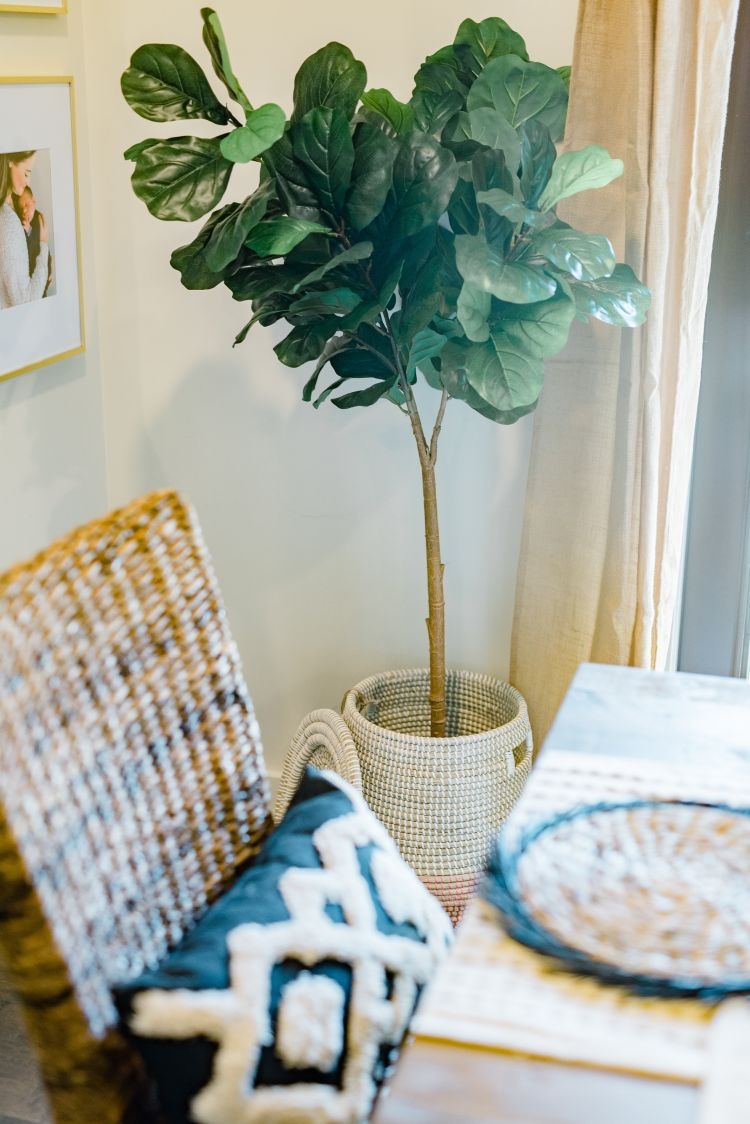 Wicker Chair // Lumbar Pillow // Charger // Placemat // Fiddle leaf Tree // Basket
When Wayfair had their major WayDay Sale, I think we all shopped and scored some amazing items. With the sweet help of my friend, JeriKay, I was able to pick out the best pieces from the sale for our dinning room that would compliment our other furniture, style, and spaces in our home. Of course, everything also had to be kid-friendly with a 3 year old and 9 month old in the house!
I told JeriKay that I wanted to use as much as I could for decor in other spaces in our home that we already have and she did a great job of implementing that. I'll make sure to share my other updates with y'all soon. But, my biggest thing that I struggle with is going to a home goods store and thinking lots of things look good but not knowing how to mix and match them. But with her with me, I had the confidence to say I like this, I like that and then she'd combine the things together that actually matched that I liked and tell me other things I liked didn't.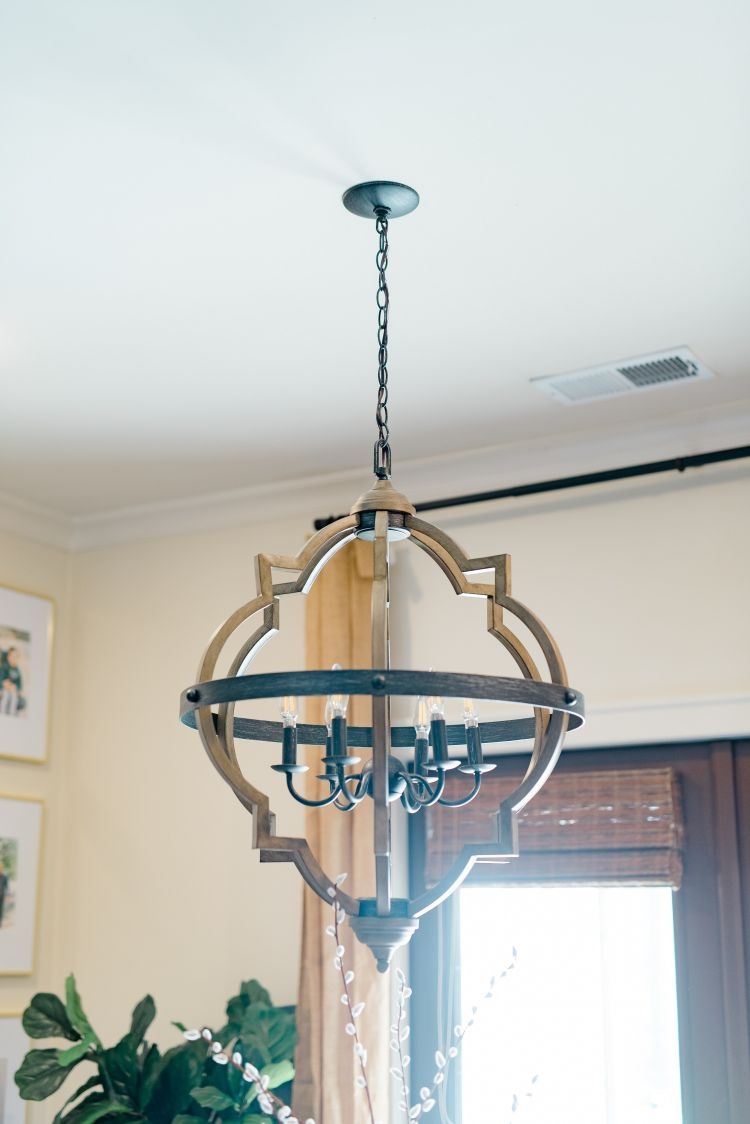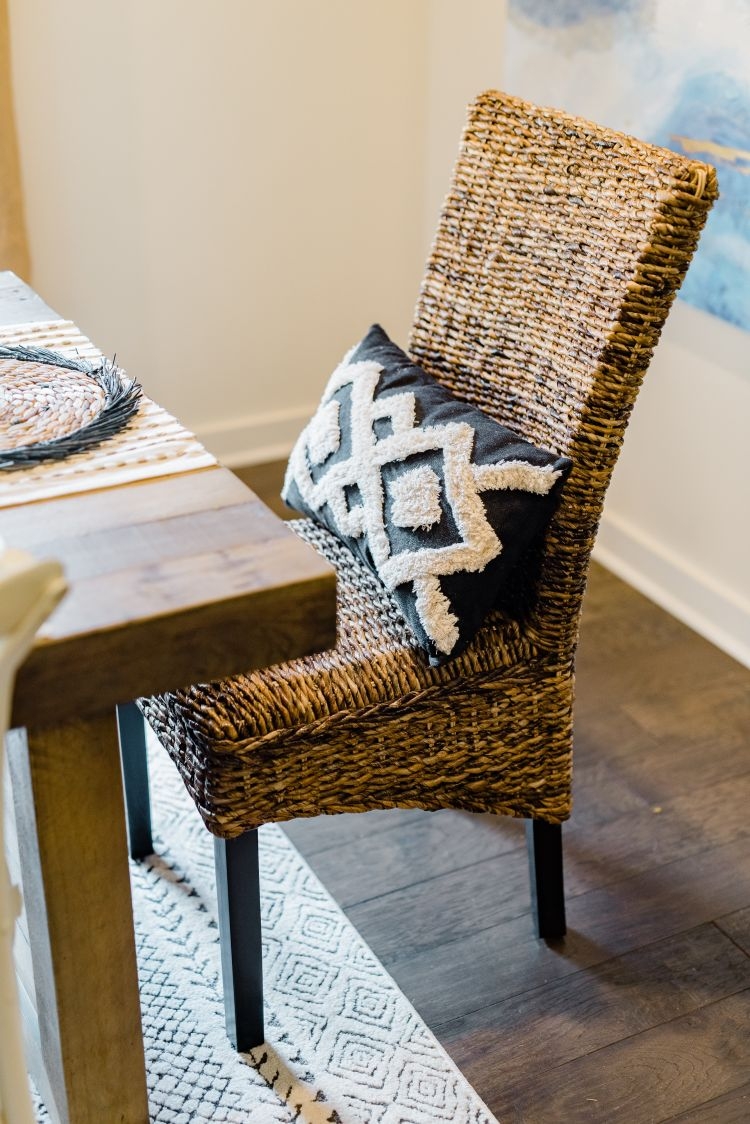 Wicker Chair // Lumbar Pillow // Charger // Placemat // Rug // Table
JeriKay did an awesome job finding the perfect pieces from Wayfair and also our shopping trips to Hobby Lobby, Target, and Home Goods – and as I said, I'm in love! She is one of the sweetest Interior Designers and has been so patient in helping us throughout this entire process! If you ever need a design consult or styling tips, she is your go-to! You can contact her by DM'ing her on IG!
The majority of my decor pieces came from Home Goods, Hobby Lobby or Target which unfortunately aren't linkable so I found you guys as similar pieces as I could find online!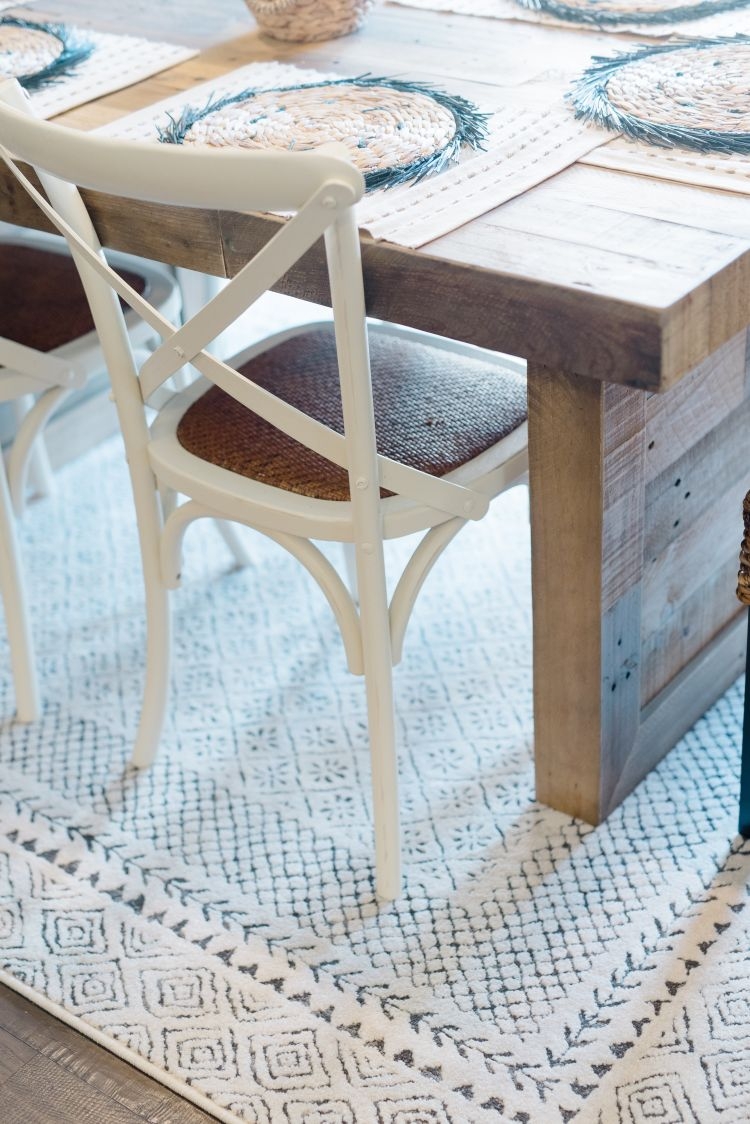 Rug// White Chairs // Chargers // Placemats // Table

How We Keep Our Dining Space Clean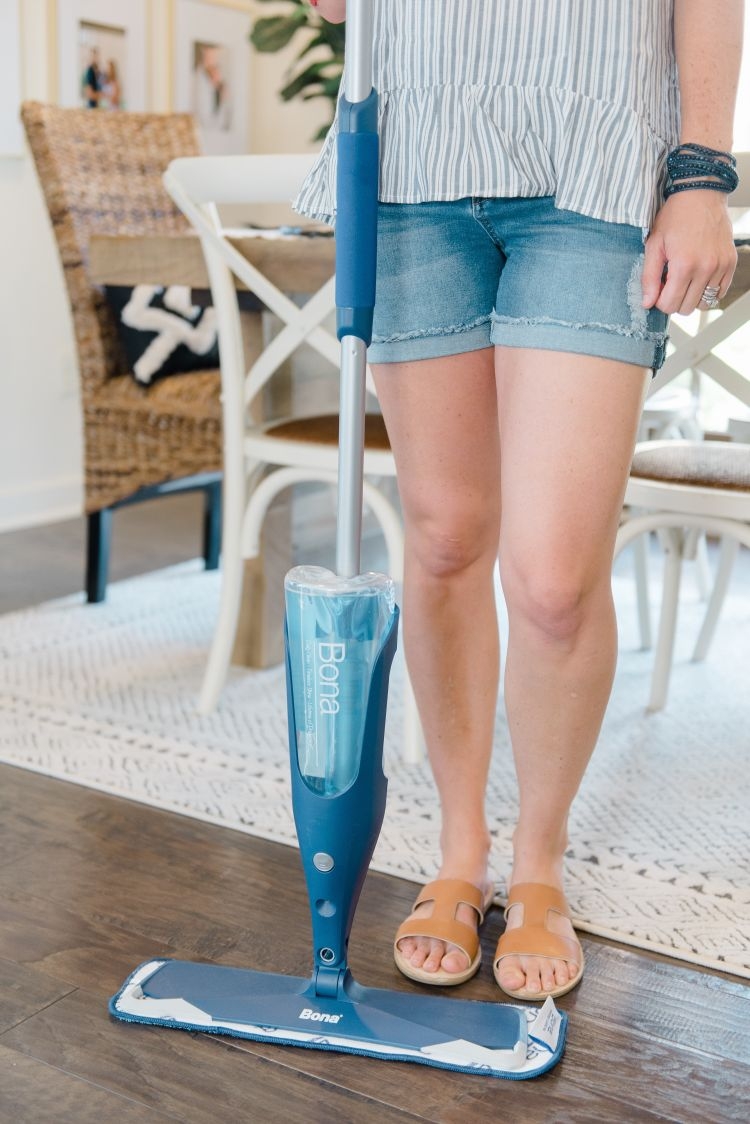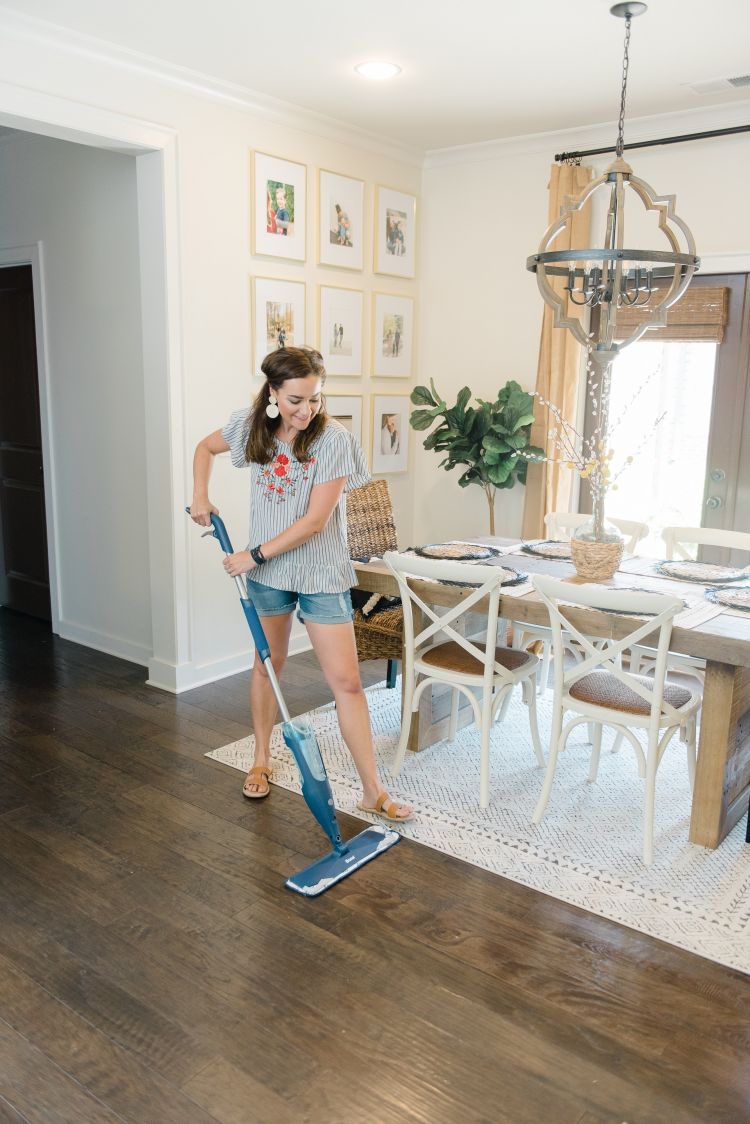 Bona Premium Spray Mop for Hardwood Floors // Top // Shorts // Sandals // Bracelet // Earrings
After JeriKay came over, everything was perfectly staged and designed. If only it could always look this beautiful! With 2 littles and a busy lifestyle, it's no surprise that keeping our home clean is a constant struggle. We have tried several different product for keeping our floors clean in high traffic spaces in our home but our Bona Mop takes the cake for caring for hardwoods!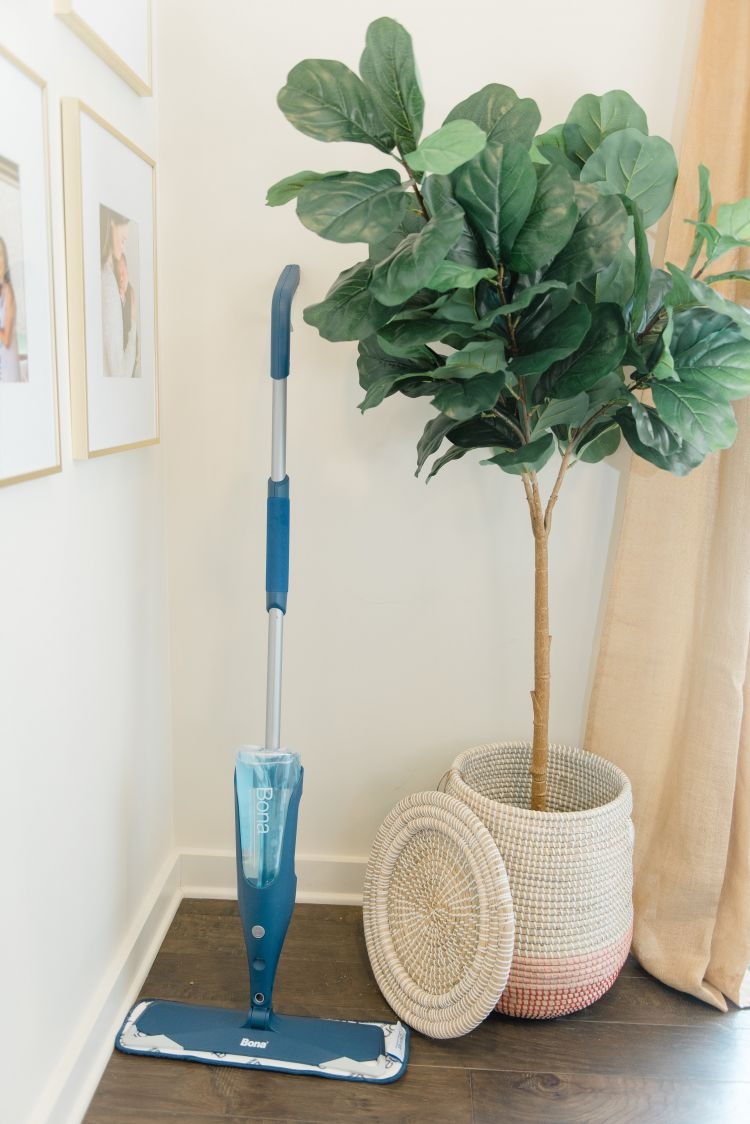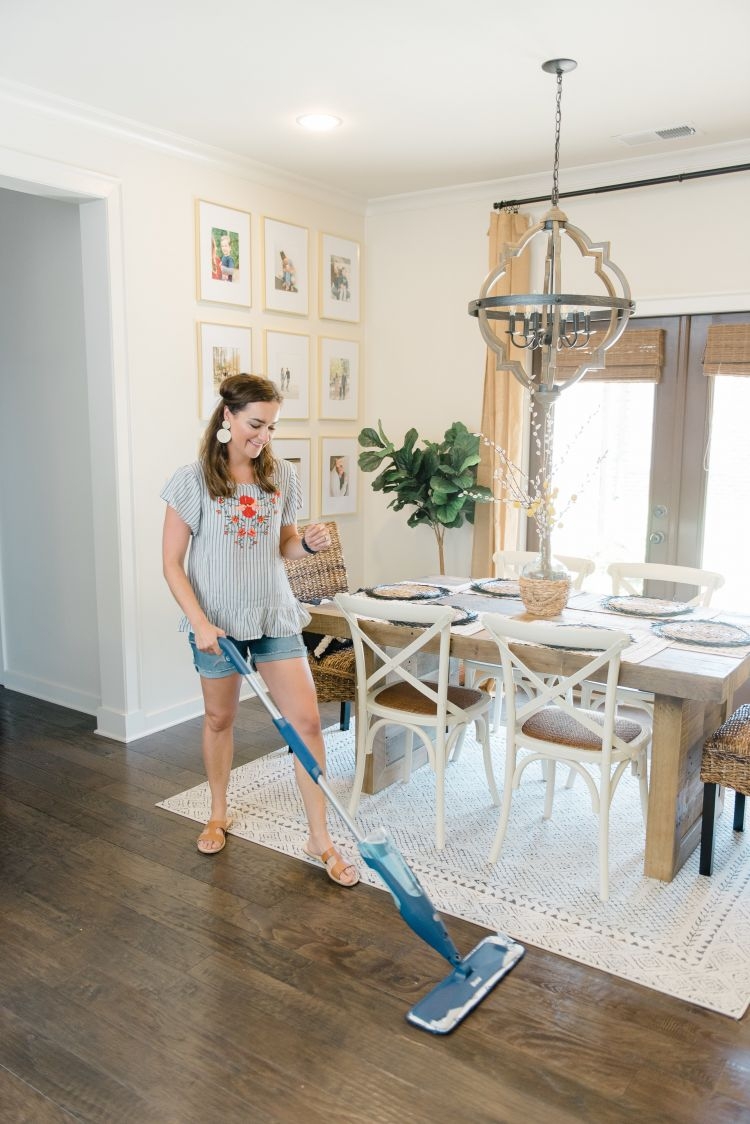 Bona Premium Spray Mop for Hardwood Floors // Faux Fiddle Leaf Fig Tree // Basket
We like to keep our mop in our living space for easy access when cleaning up messes! The Bona Hardwood Floor Spray Mop is high quality and combines the original formula cleaner in a convenient, refillable cartridge with the Bona Microfiber Cleaning Pad (which is machine washable)! The reviews are amazing and the price is even better! For under $40, this is a must-have addition to your dining space.
Our Beautiful Custom Painting by Carrie Pittman Art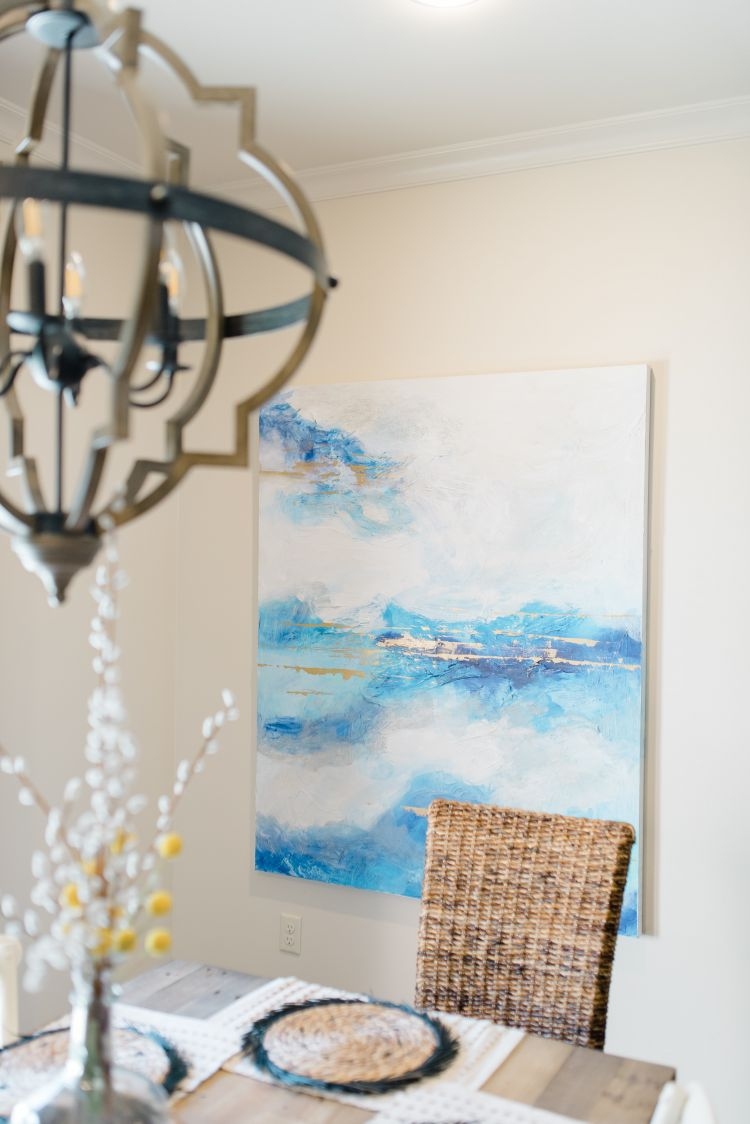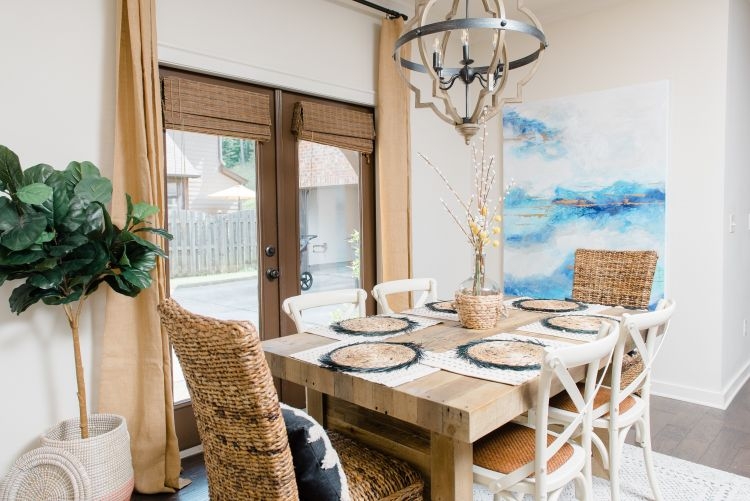 Let's talk about the star of the show in my dining area – this GORGEOUS painting! It is a one-of-a-kind, custom design by Carrie Pittman Art. Carrie is a Birmingham local and the sweetest fellow lady boss! When I say I have wanted a piece of her art in my home for 3+ years, this is NO exaggeration! Eric & I have dreamed of having a beautiful abstract custom painting as a focal point and conversation piece in our home for forever.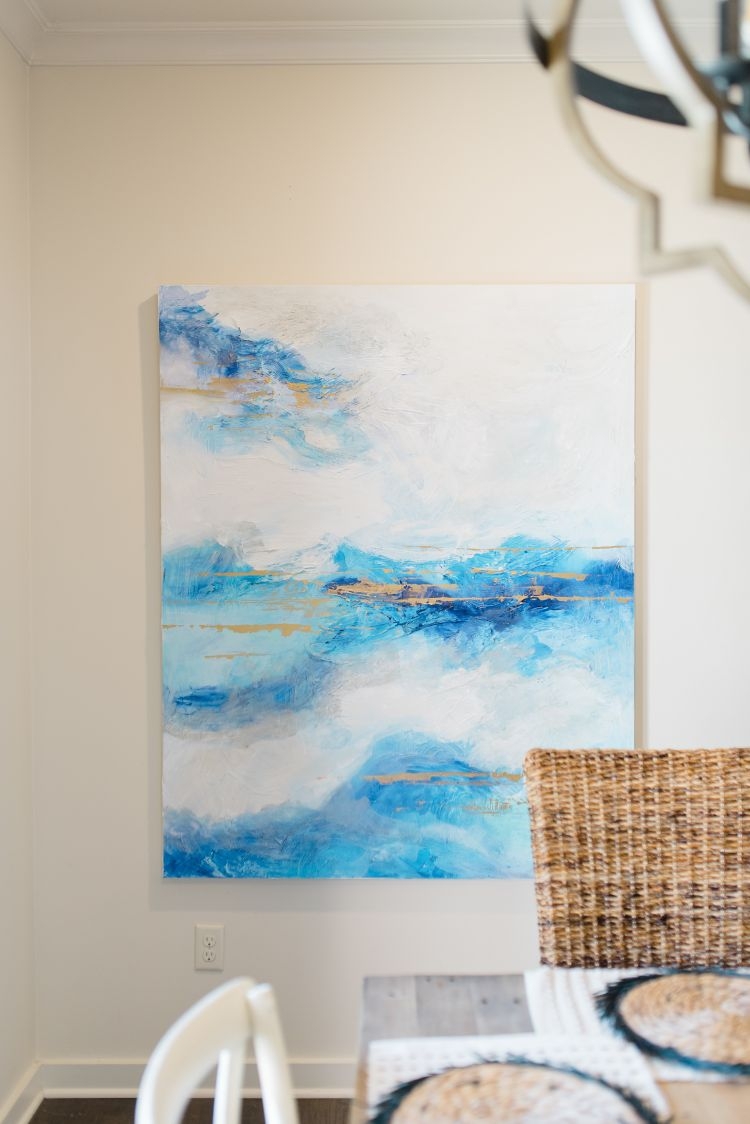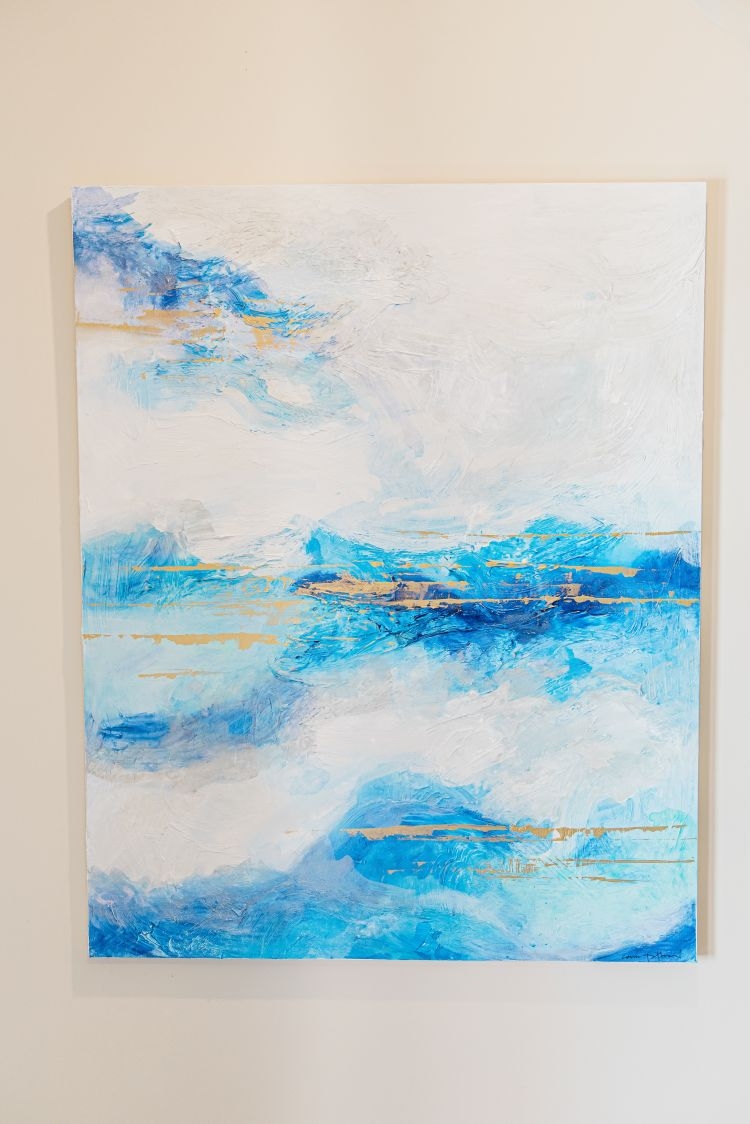 We have pops of blue all throughout our home and after seeing many of Carrie's stunning paintings featured in magazines, my friend's homes and online, I knew blue was the way to go! If you have been around here long at all, you know Eric and I are travel-lovers at heart. We have been to the mountains and ocean together and are hoping to get everywhere in-between in our years ahead!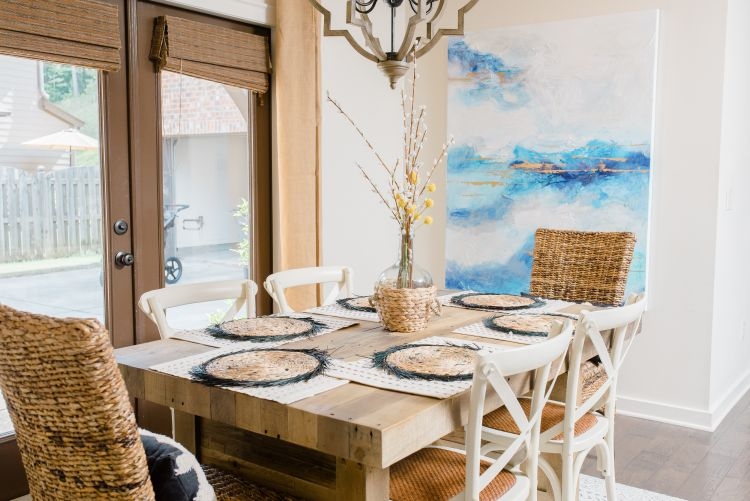 One of our favorite and most memorable adventures together was our trip to New Zealand. During that trip we were able to experience a mix of mountain, river, and pure beauty of the Lord's creation. Carrie has the talent of translating this vision onto canvas and capturing that experience to enjoy forever in our home.Eric says the painting reminds him of New Zealand with the mountains and water and I think the bottom light blue color reminds me of Bora Bora's water color (which was my favorite trip!).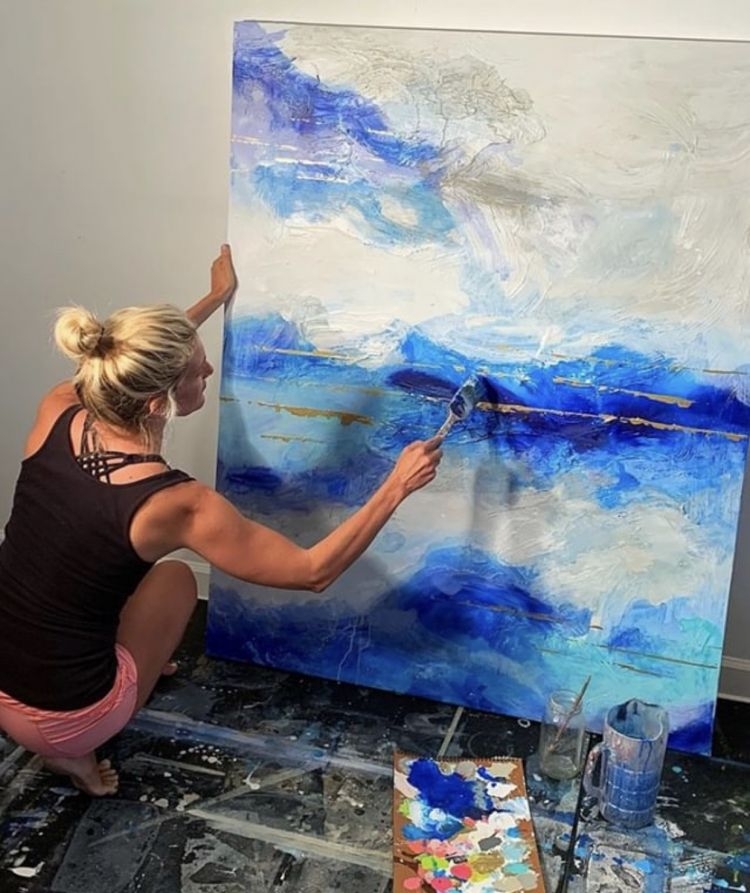 Carrie working on our beautiful piece!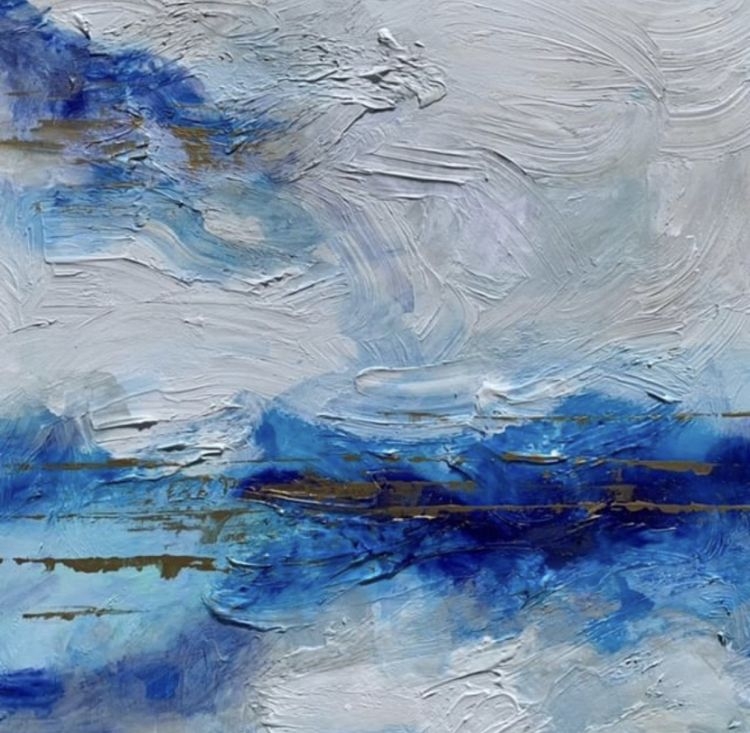 Carrie uses multiple layers and plays with color and texture to achieve this effect. She uses a thick paste first as a "base" layer, which gives the canvas the dimension and depth. Then she build out the blues in stages; where they bleed on to the canvas and run in their own directions. After layers of this technique, she is able to shape the colors. You will likely find a pop of gold somewhere in each of Carrie's paintings as it could be called her 'signature color'. For Carrie, gold signifies glory, uniqueness, an elevated dimension, and a contrast that sets off the rest. Carrie also shared that she paints to worship music and prays for the Lord to guide her hand as she paints so it will bring peace into the people's home she is creating it for – each piece she creates truly is masterpiece!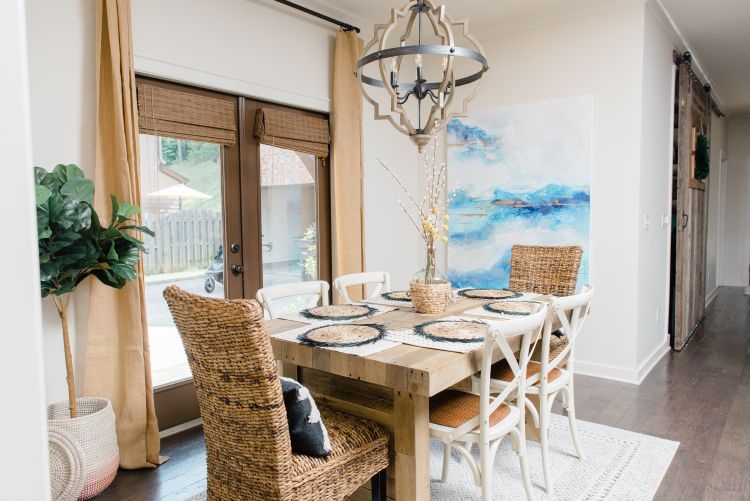 I was in tears the day Carrie let me preview our artwork because of her heart behind each piece she creates. Carrie makes it a point to pray before beginning and over the process of each painting. When she told me she had prayed for our home, the room the painting would hang in, the people who would see it, and that God would use this piece of art to grant peace, rest, and hope, I lost it. To have someone, not only as talented as Carrie, but as genuinely sweet, kind, and compassionate working on something for MY home, I felt undeserving!
If you are looking for custom artwork for your home or to give as a gift to someone special, Carrie is the MOST talented! You can see more of her paintings here, you can shop her paintings and product here, and you can follow her on IG here!
SHOP My Farmhouse Modern Dining Room Ideas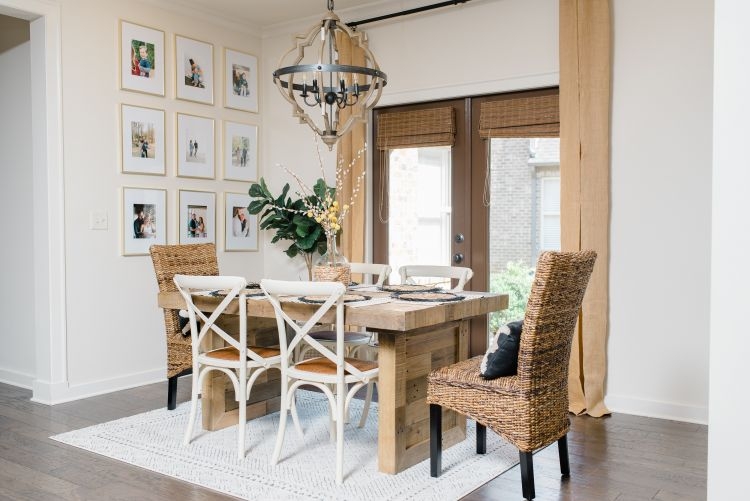 PIN the Farmhouse Modern Dining Room Ideas for Later!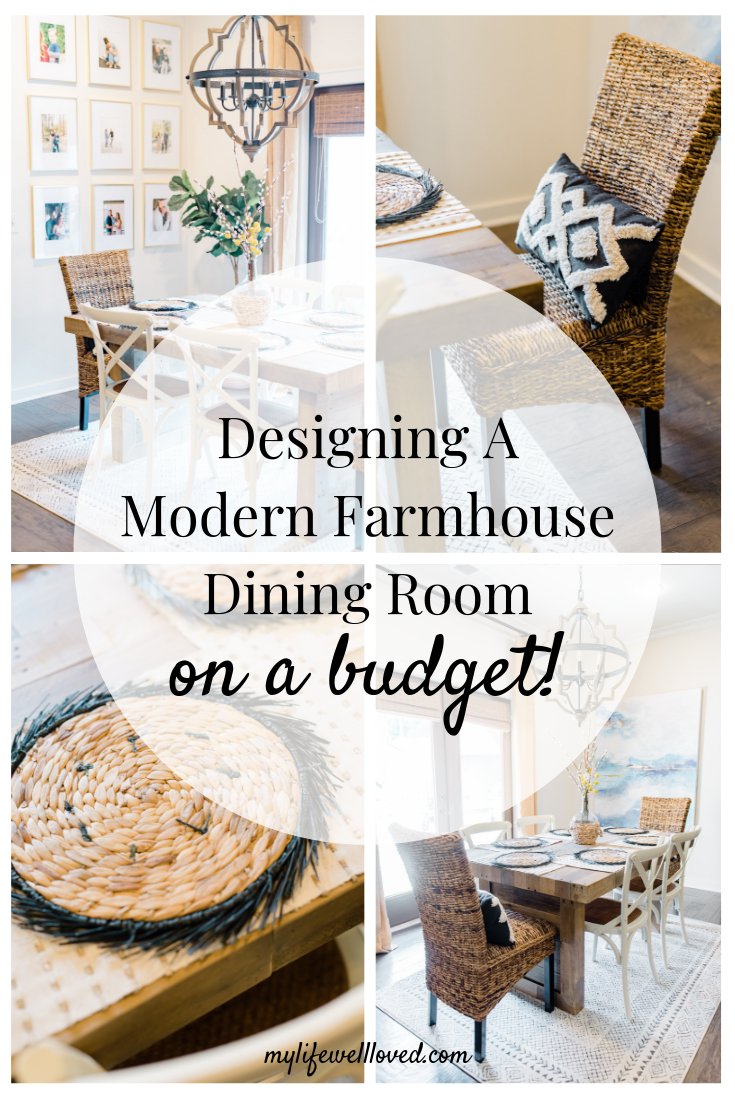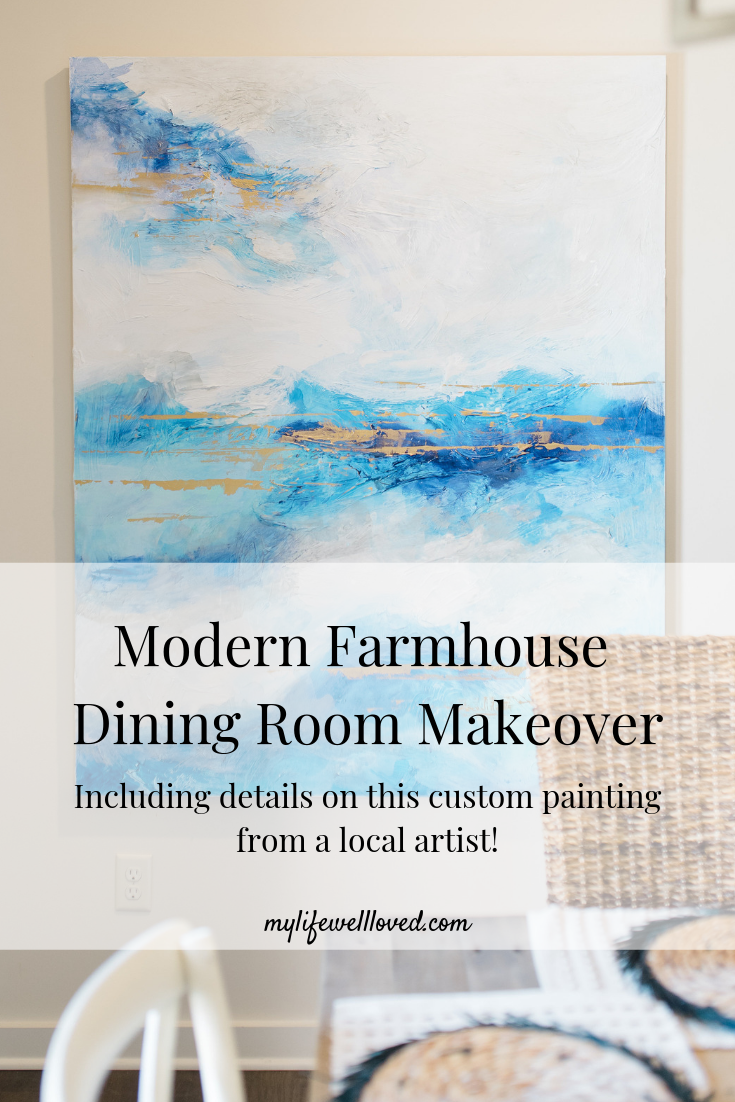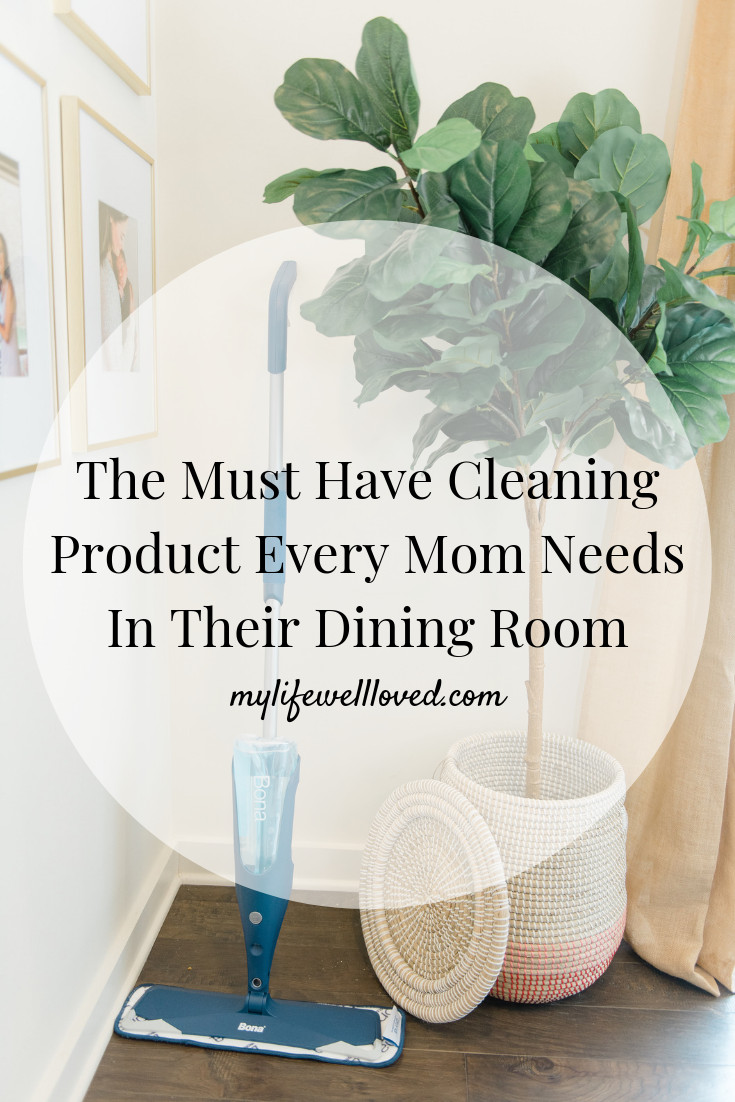 Heather Brown helps busy mamas of young littles who are caught in the hustle to find encouragement in their journey to true health, from the inside out, starting with the heart. Read her journey of learning to live a life well-loved
HERE!