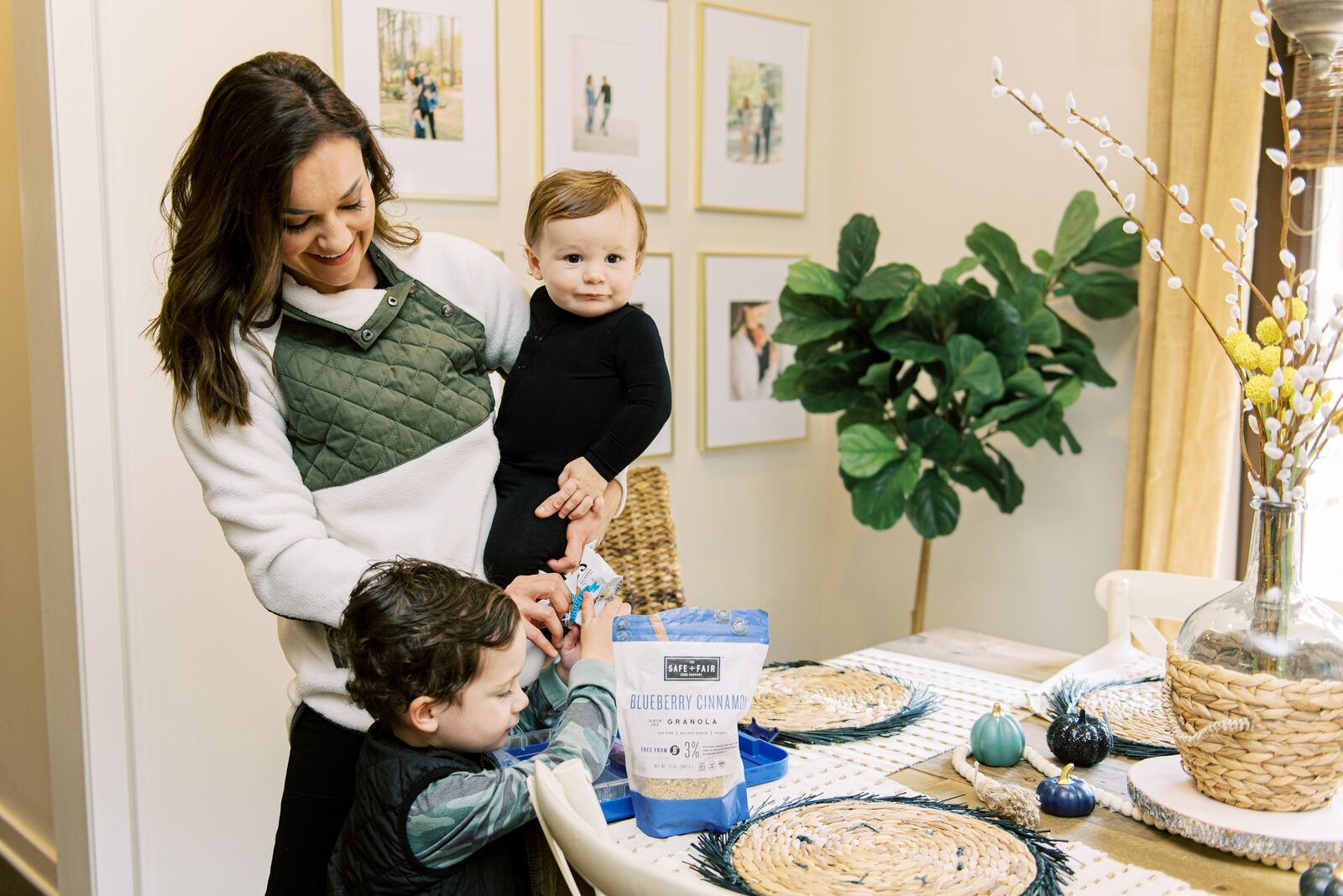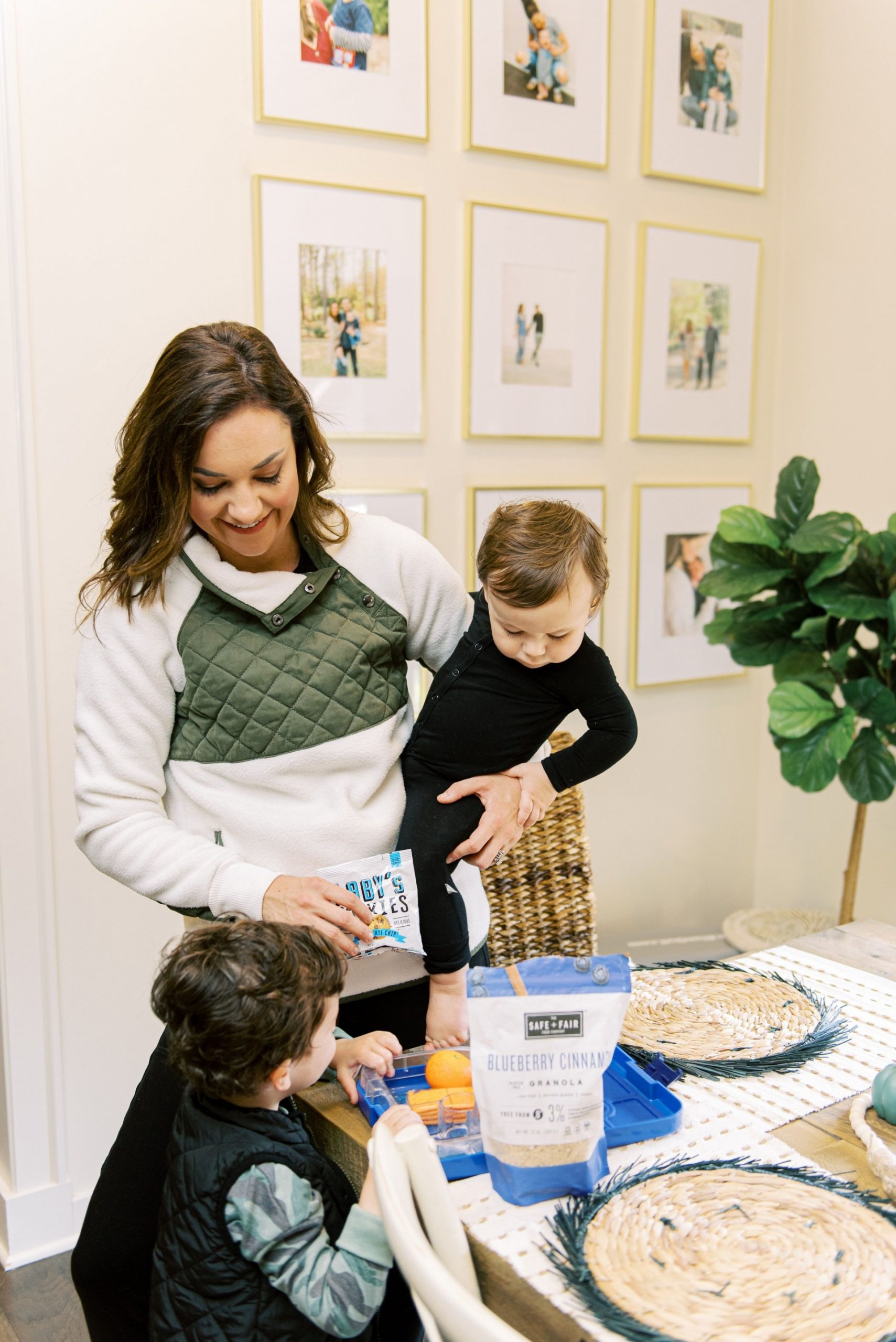 SHOP The On The Go Snack Ideas Post HERE: Loft Butter Pants – BEST SELLER!!! // J. Crew Factory Slippers // Abercrombie Pullover // Finn's PJ's  // Similar Dining Table // Chargers // Leyton's Vest // Leyton's Camo Tee // Baby Finn's Pajamas // Wooden Beads  // Safe + Fair Granola (USE CODE WELLLOVED10 for 10% OFF) // Dining Chairs // Fiddle Leaf Tree // Gold Frames // Lunch Box // Barstools
Do you ever find yourself running out the door and frantically tossing snacks into your purse for your littles while you're out? SAME! Do you ever struggle finding kid-friendly on the go snack ideas that you trust and feel good about? I've been there! If there's one thing motherhood has taught me, it's to always have snacks, and keep them readily available, ha! 
I try to keep my on the go snack ideas for the boys healthy and free of any junk I don't want them filling up on. It can be a challenge to find snacks you feel confident about, however, over the years I've discovered several great finds that I always stay stocked up on.
Reminder – GIVE YOURSELF GRACE. If it's a priority for your littles to only ever eat supernatural, all-organic, never processed food and that's what brings you joy to invest time into, you go for it! But it's also okay to have a little balance in life. It's okay to some days crush the HEALTHY game and some days allow for 3 packs of goldfish in survival mode.
I wanted to make sure I got feedback from y'all on your favorite on the go snacks ideas for your kids, so don't miss that below! And if you want to learn all my hacks for meal planning and getting dinner on the table without all the stress, snag your copy of my meal planning ebook HERE!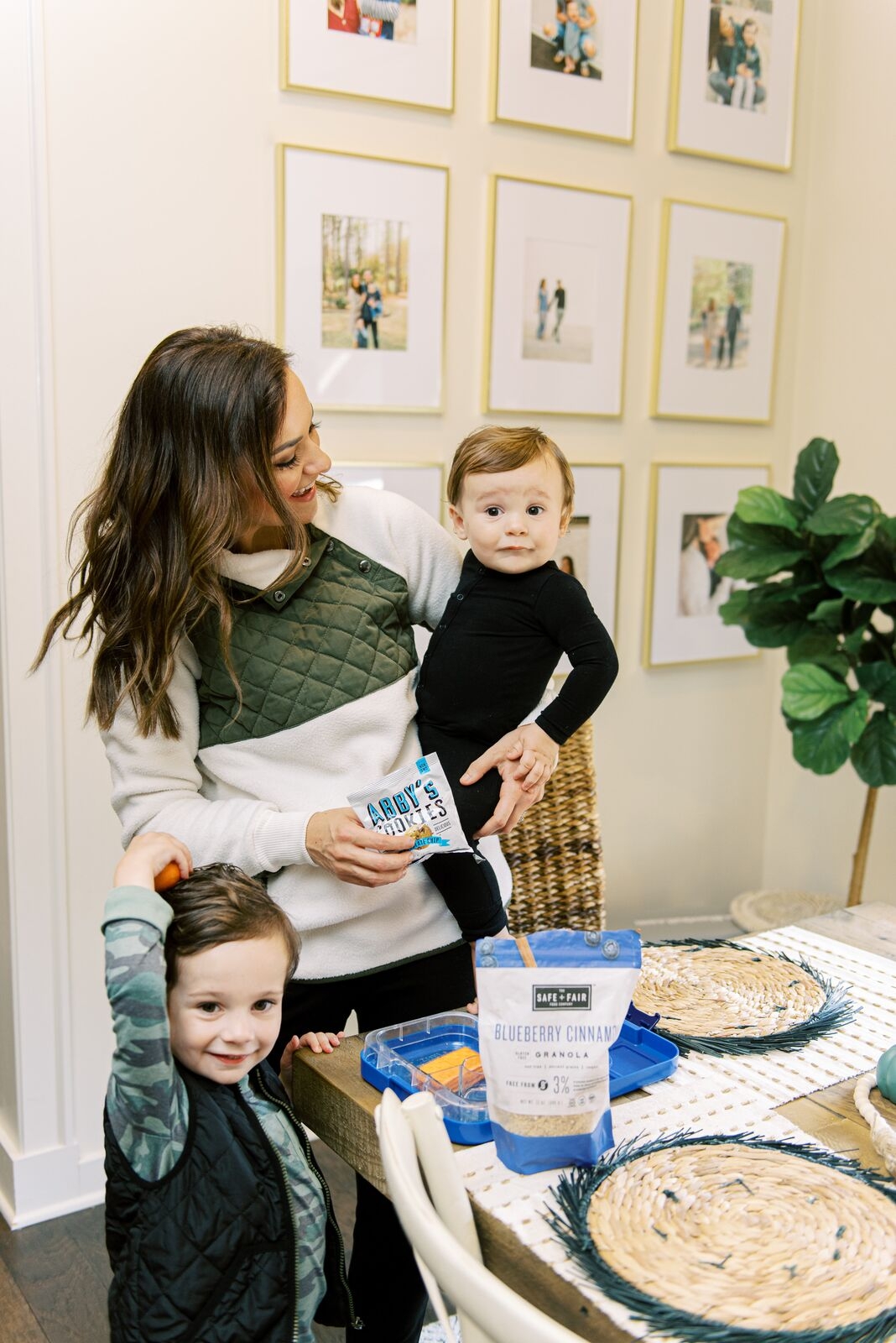 My Favorite On The Go Snack Ideas:
1 // Safe + Fair Granola – We love the blueberry cinnamon granola and birthday cake popcorn. Use my code WELLLOVED10 for 10% off. 
2 // Applesauce Pouches – Go for the sugar-free or unsweetened options that don't contain a ton of extra sugar. 
3 // Kodiak Cakes Bear Bites – Leyton loves these for a sweet treat. And they're not loaded with bad ingredients. The boys also love their frozen waffles as well. Use my code HEATHERBROWN20 for 20% off.
4 // Nuts – I love to buy my nuts from Aldi because of their great prices. Prep ahead of time and fill individual baggies so they're ready to go when you need them. 
5 // Veggie Straws – Always a hit with both my boys! The small bags are the perfect portion size. 
6 // Cheese + Fruit – When you meal prep for the week, portion out small containers of cut-up cheese and fruits to grab for your littles when you're in a pinch. Bananas, apples, oranges, and grapes are the boy's favorites. 
7 // Yogurt – There are so many whole milk yogurt options that come in easy on the go packaging! We get the moo tubes from Aldi!
8 // Peanut Butter Crackers– I'm always reaching for these to throw in my bag when I'm out with the boys. 
9 // Chomp Beef Sticks – A high protein snack will keep them full until the next meal. Keep an eye out for these on your next Costco run! Finn loves these and the Lorissa's Kitchen Jerky.
10 // Animal Crackers and Peanut Butter – This is a go-to for the boys. Perfect afternoon snack or to pack for a day at the pool or the park. 
Your Favorite On The Go Snack Ideas:
@jleaa Cheese sticks, goldfish, pretzels, apple slices

@sjleth Yogurt pouches, animal crackers, blueberries

@allison_rae_16 Fruit snacks, granola bars, goldfish, apple slices, craisins, fruit leathers, fig bars, Grahams

@heymustbethemissy Bada Bean Bada Boom, box of raisins, fruit, bars, veggie straws, goldfish, trail mix

@janelle_windfield Go Go squeeze 

@themainemum Homemade larabars

@lsinclair26 Pea crisps or bananas w/ almond butter

@southernandstyle Freeze dried fruits, dried chopped dates, hippeas, whole wheat cheerios

@lkpendell Cheerios, applesauce pouches, pre-chopped fruit

@bargain_findingmama Cheerios, cheez its, applesauce pouches, clif kids bars 

@case_hayman Pirates booty

@slad457 Grapes

@fit_mom_determined Granola bars, applesauce pouches, cheese sticks, chips, popcorn

@americagrillco Deer snack sticks, jerky, apples and oranges

@allinafelix Apple sauce, oranges, oatmeal bars, veggie fries, pretzels, raisins

@fauxfarmhouseapartment Pouches of applesauce, cheerios, mini rice cakes, goldfish

@abwchef Goldfish, beef jerky, cheese sticks, fruit snacks, mini muffins

@asanchez_6113 Gogo squeez, clif bars, peanut butter crackers, raisins 

@hobsonsbabe87 Applesauce, cheese crackers, nuts, grapes

@car7711 Fig bars

@littleoneslearn Applesauce packs, healthy trail mix, berries, bananas, Lara bars, string cheese

@hancattstiver Ritz crackers, applesauce pouches, Nutri Grain bars

@brookeshaffnerkenetiz Applesauce pouches, dry cereal, raisins

@paigeolivia98 Freeze dried apples

@sara_ariel Applesauce pouches, snack sized graham crackers, ritz cheese sandwiches

@brianmelter bananas

@lmack_stephenson Raisins, z-bars, goldfish, pirates booty, applesauce

@jamie_bowman Veggie straws, goldfish, dry cereal, fruits

@julianne.aumen Trail mix, pretzels, crackers, bananas, apples, hippeas

@drjamieweaver Aldi teddy grahams and mini pb crackers

@kaylafulkerson Yogurt covered raisins

@sweet_simple_living Kids kind bars, applesauce pouches, nuts, freeze dried fruit
Check Out More Child Nutrition Posts HERE:
SHOP The Post HERE:

PIN The Post For Later!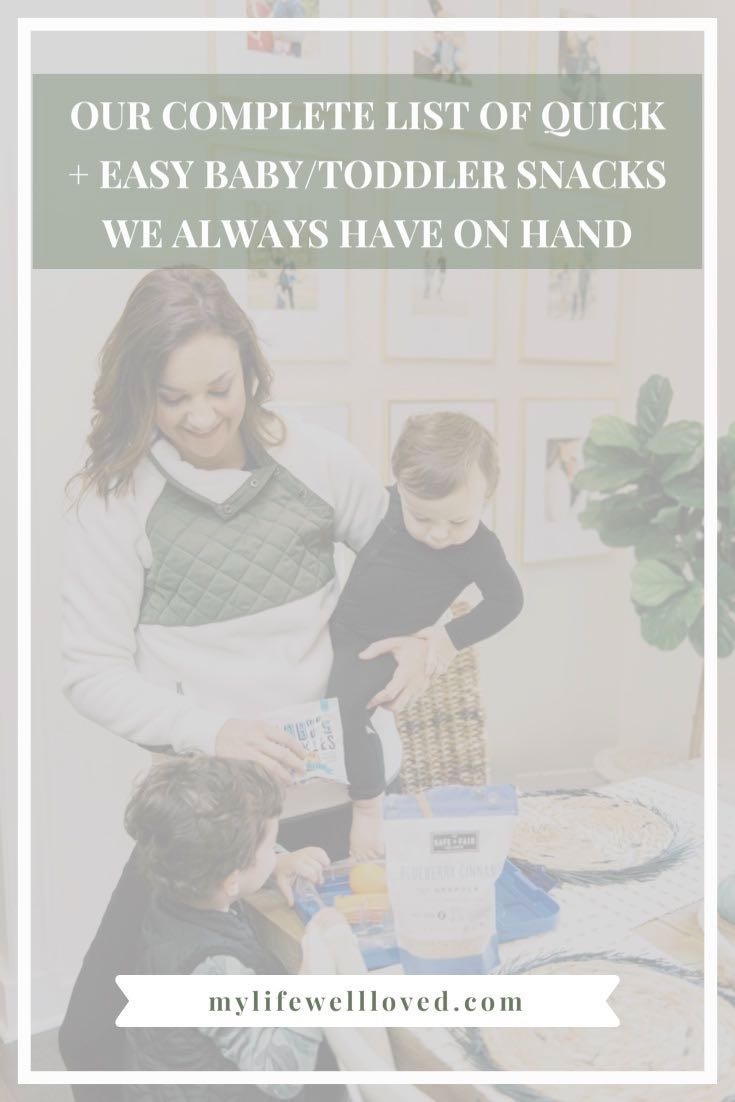 Heather Brown helps busy mamas of young littles who are caught in the hustle to find encouragement in their journey to true health, from the inside out, starting with the heart. Read her journey of learning to live a life well-loved
HERE!