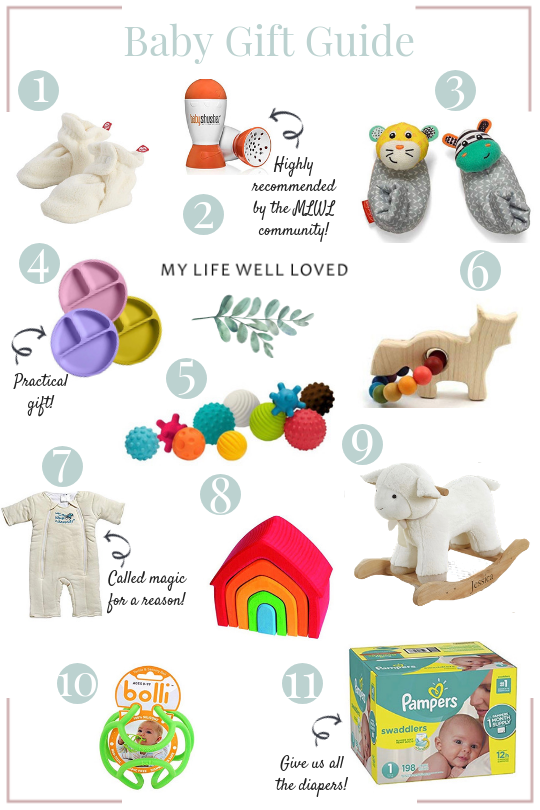 Shop the Baby & New Mom Gift Ideas: 1. Zutano Booties (also found these flame shoes we loved for Leyton!) // 2. Baby Shusher // 3. Rattle Socks // 4. Plates // 5. Sensory Balls // 6. Banner Toys // 7. Merlin Magic Sleep Suit // 8. Grimm Wooden Toys // 9. Plush Rocker // 10. Bolli Ball // 11. Monthly Diaper Subscription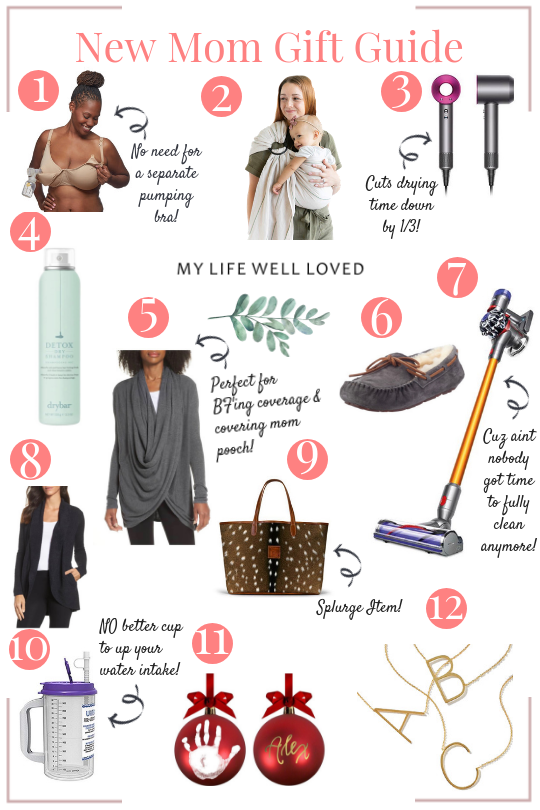 Shop the Baby & New Mom Gift Ideas Post: 1. BeliBea Hands Free Pumping and Nursing Bra // 2. WildBird Sling // 3. Dyson Hair Dryer // 4. Dry Shampoo // 5. Cardigan // 6. UGG Slippers // 7. Dyson Vacuum // 8. Barefoot Dreams Cardigan // 9. Barrington Gifts Tote/Diaper Bag // 10. Water Bottle // 11. Keepsake Ornament // 12. Block Initial Necklace

Thank you to Belibea for partnering with me on this post.
One of the most popular gift guide requests from the MLWL community is a baby gift guide + new mom gift ideas. I get questions all the time from women who live across the country from their friends or family members who are pregnant or new moms about what to get them. I'm so excited to finally have a resource here on the blog to point to!
I wanted this gift guide to be different than my ultimate baby registry or my must have registry items for moms of multiples because these won't be items that you likely registered for or needed for right when baby was born. These are items that I realized we needed once baby got a few months older or are necessities like diapers that you can never get enough of.
We have broken these lists down as simply as we could in the widgets below by price point. I am a huge proponent in being minimalistic when it comes to baby gifts, but inevitably grandparents and others in your life are going to want to get baby something. So this way you can be armed with a few things you know they need like diapers, socks, a winter coat, baby shusher, plates and sippy cups for when they get a little older and more.
If you follow me on Instagram, you hear me rave about the Belibea nursing and pumping bra in one all the time. It is a new mom gift ideas WIN! Trust me, I wore it every day when I traveled so I could easily pump on the go hands free without having to bring along my hands free bra as well. It is a huge must-have for pumping mama's and some of you have told me you love the cami to wear under scrubs or other work clothes to make it easy to pump as well.
They now have an ellarose bra for my larger busted ladies as well and they always offer MLWL readers 20% off with code MLWL on their website. This is such a great gift a new mama may not know she needs but will thank you for for months to come!
Thank you so much to those of you who sent in ideas of what to include on this list and make sure to scroll the widgets below to check out all the new mom gift ideas + baby gift ideas!
New Mom Gift Ideas

Baby Necessities

Baby Gift Ideas Under $25

Baby Gift Ideas Under $50

Baby Gift Ideas Under $100

Baby Gift Ideas from SANTA!

Looking to shop for others on your Christmas wish list?
Heather Brown helps busy mamas of young littles who are caught in the hustle to find encouragement in their journey to true health, from the inside out, starting with the heart. Read her journey of learning to live a life well-loved
HERE!