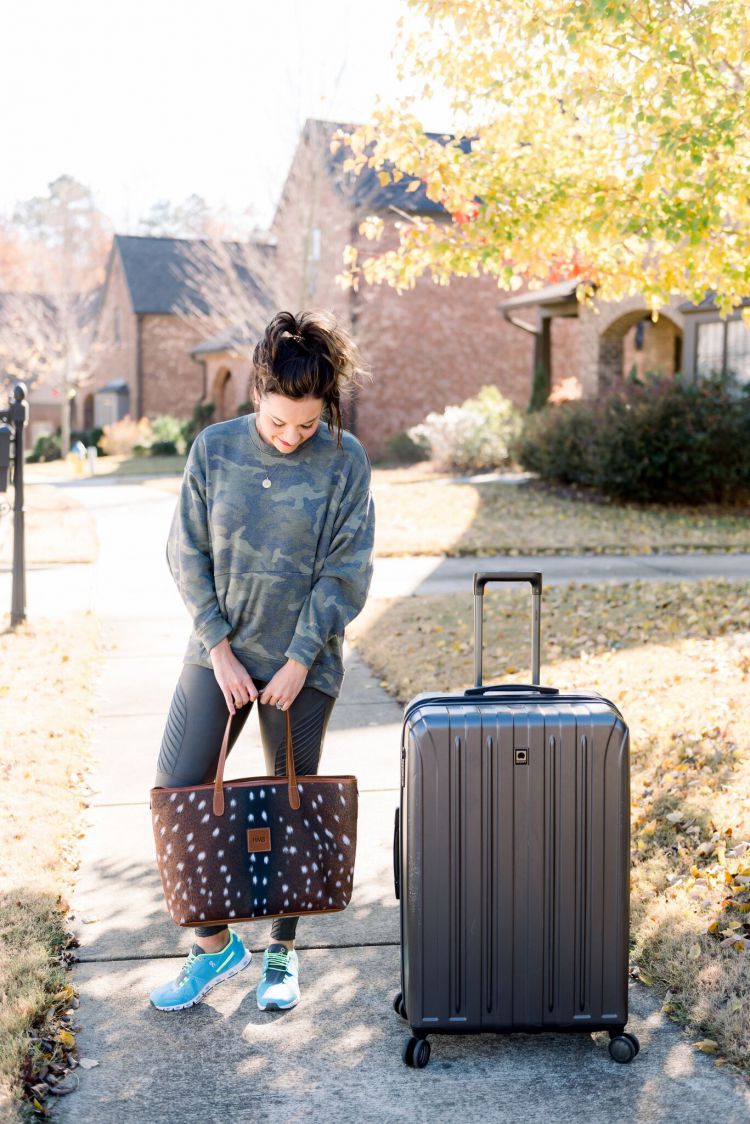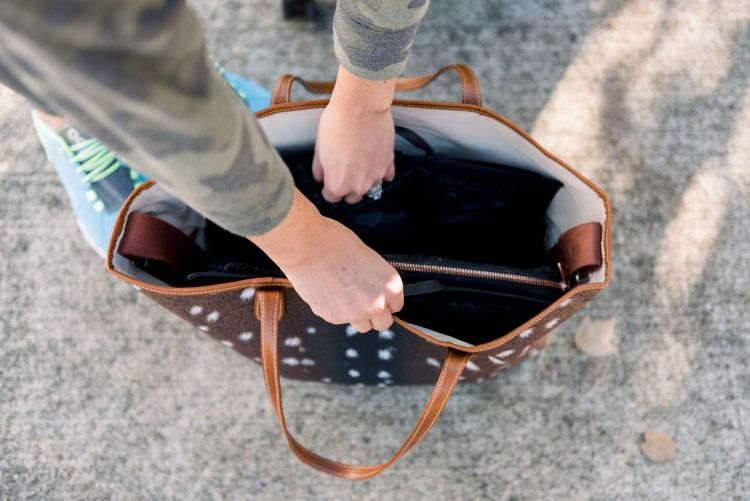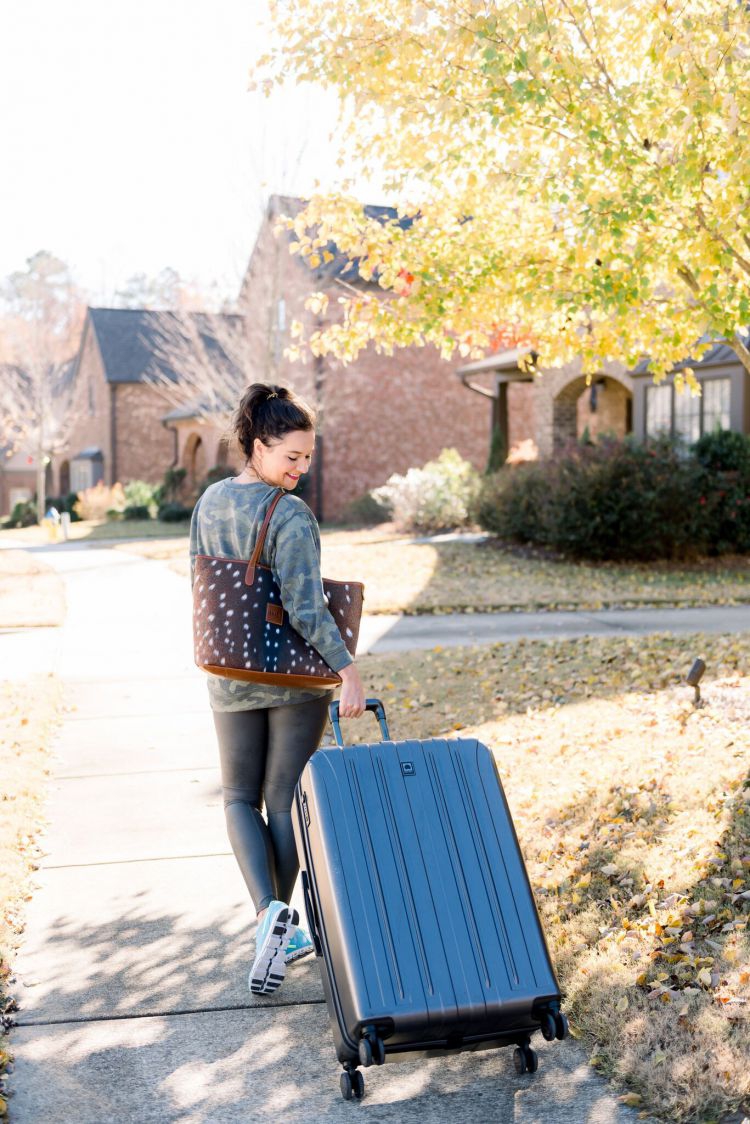 Shop the 5 Tips for Traveling Alone Safely Post: Camo sweatshirt // Leggings // Tote Bag // Sneakers // Luggage // Necklace //  Teleties // Savvy Tote Organizer

Photos: Eric and Jamie Photo
Thank you to Allstate for partnering with me on this post!
As many of you know from following along on social media, I recently returned from a fun and exciting business trip to Winston-Salem, North Carolina! I was invited to join a few other bloggers on a health & fitness press trip to run the Mistletoe 5K and participate in the healthy lifestyle the quaint town of Winton-Salem has to offer. It was such an enjoyable experience packed full of events to attend, sharing all our adventures on my social channels, photoshoots, video shoots, and planning for 2019!
Whenever I go on solo trips or business trips, I am reminded of how easy it was to fly before kids 😉 Not having to check a stroller, rock n' play, what feels like a million suitcases, multiple carry-ons, and not having to constantly worry about both babes being within sight, fed, and happy at all times feels like a breeze! While flying solo for business seems less complex, it also comes with its own complications and worries. Many of you ask how press trips work as a blogger and there are a lot of details that have to align to make them happen.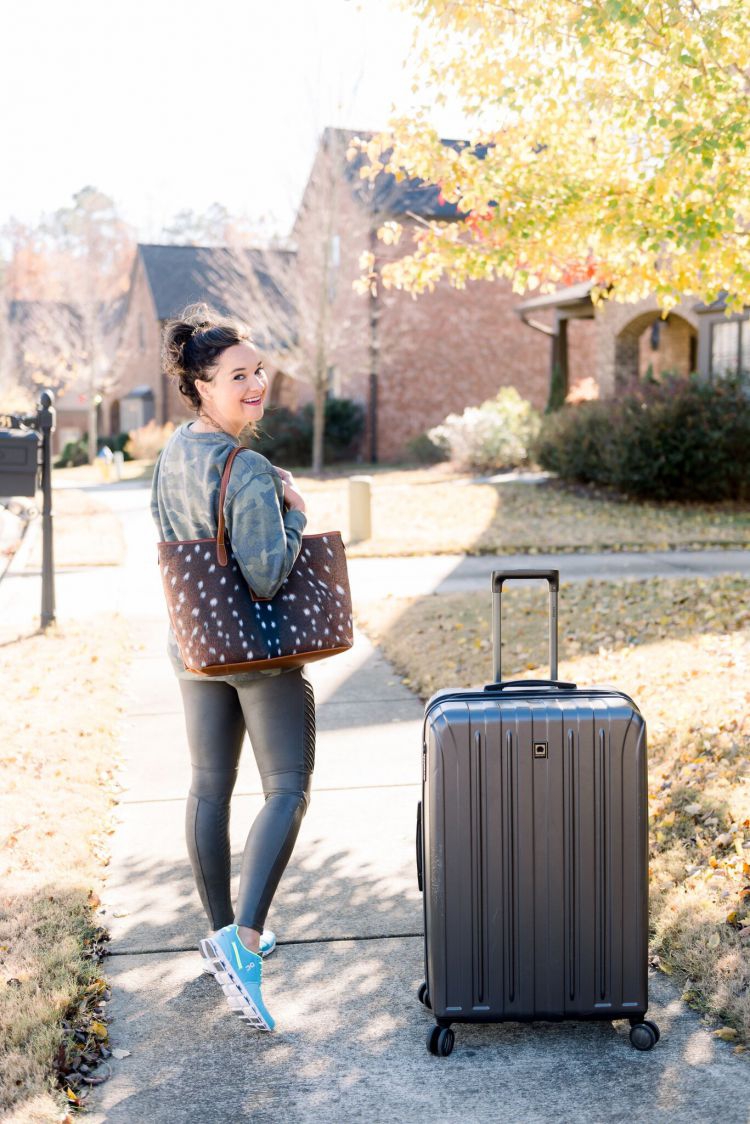 5 Tips for Traveling Alone Safely
When planning for this trip, I used Allstate's travel resources to help ensure I was making the best decisions to stay safe while traveling alone for business. A few of my favorite solo business travel tips from Allstate include:
Travel Safe by Telling Someone Where You'll Be:

When the travel agency approached me about joining the other bloggers on this trip, I first checked out the reputability of the brand, hotel, etc. because the agency who books the trip, plans the flights, hotel rooms, and events. Because of this, I don't really spend any time beforehand working out the travel details. I receive an itinerary and I am expected to follow it. I made sure to send all my travel information I received from the brand to Eric so he would know where I was at all times in case anything happened!

Travel Safe by Protecting Yourself From Pickpockets:

I try to be extra aware of my surroundings when I travel alone. I love

Allstate's tip

to make copies of your passport, Driver's License, and any other major documents to leave a set at home in case you do lose your belongings!

Travel Smart by Asking the Necessary Questions: Because I am traveling while still nursing Finn, this one was a big one for me! Before I could agree to the trip, I had to figure out arrangements for Finn – if I should bring him or pump beforehand and then pump consistently while traveling. I had to figure out what the rules were for transporting any of my pumped milk. I am so thankful for the accommodative Kimpton Cardinal Hotel for being willing to provide me with a refrigerator in my room for milk storage as well as freezer space in the main freezer!
Travel for Business and Save Money by Expanding Your Trip: I really tried to figure out how I could maximize this business trip to North Carolina. My assistant and I had discussed a trip to take together so we could finally meet and discuss our 2019 goals and vision for My Life Well Loved. I was able to bring Alissa with me which meant I could knock out 2 trips in 1! I also had several brands wanting me to create content focused on travel. I was able to do a photoshoot and video shoot while on this trip to produce the desired content for them.
Travel Inexpensively by Bringing Cheap Eats:

When traveling for business or anytime, I always try to bring snacks to keep me healthy and to save money! For the most part, my meals on this trip were complimentary but with pumping and needing to stay fueled all day, I decided to bring a few of my favorite healthy travel snacks! Anything to help a few dollars here and there – especially when airport food is usually very overpriced!
I hope these answer a few of your questions about business travel as a blogger + how I make traveling safe a priority!
Looking for other travel posts? Be sure to check out these:
This post was written as part of the Allstate Influencer Program and sponsored by Allstate. All opinions are mine. As the nation's largest publicly held personal lines insurer, Allstate is dedicated not only to protecting what matters most–but to guiding people to live the Good Life, every day.
SHOP the Tips for Traveling Alone Safely Post:

PIN the Tips for Traveling Alone Safely Post for Later!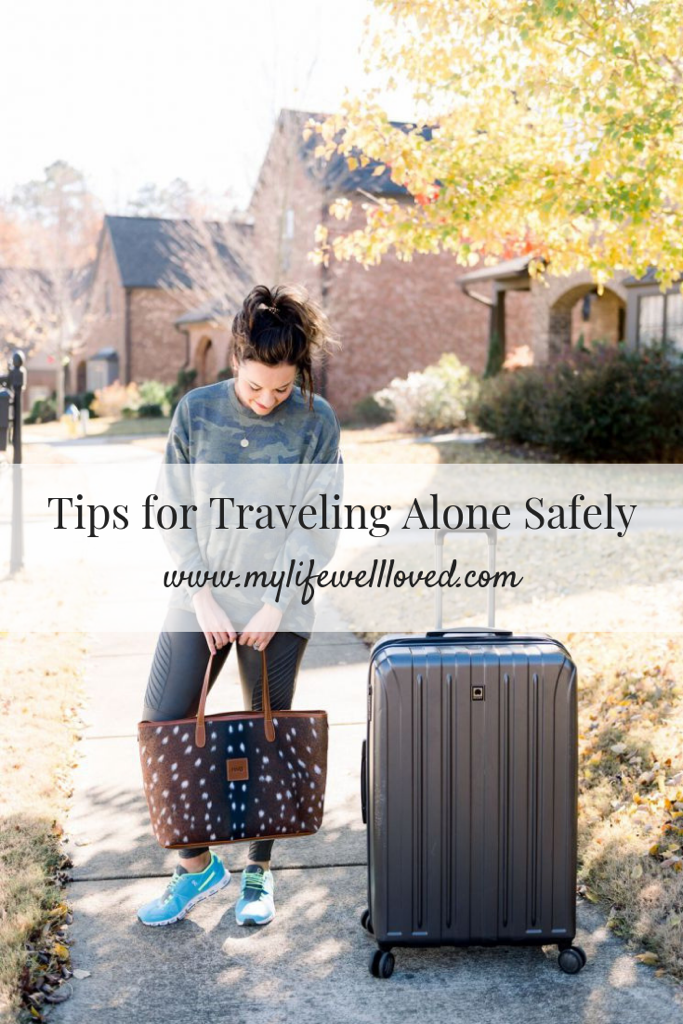 Heather Brown helps busy mamas of young littles who are caught in the hustle to find encouragement in their journey to true health, from the inside out, starting with the heart. Read her journey of learning to live a life well-loved
HERE!