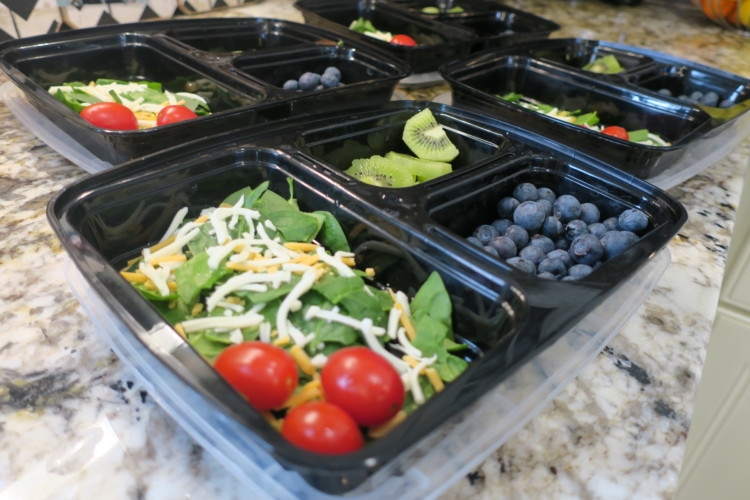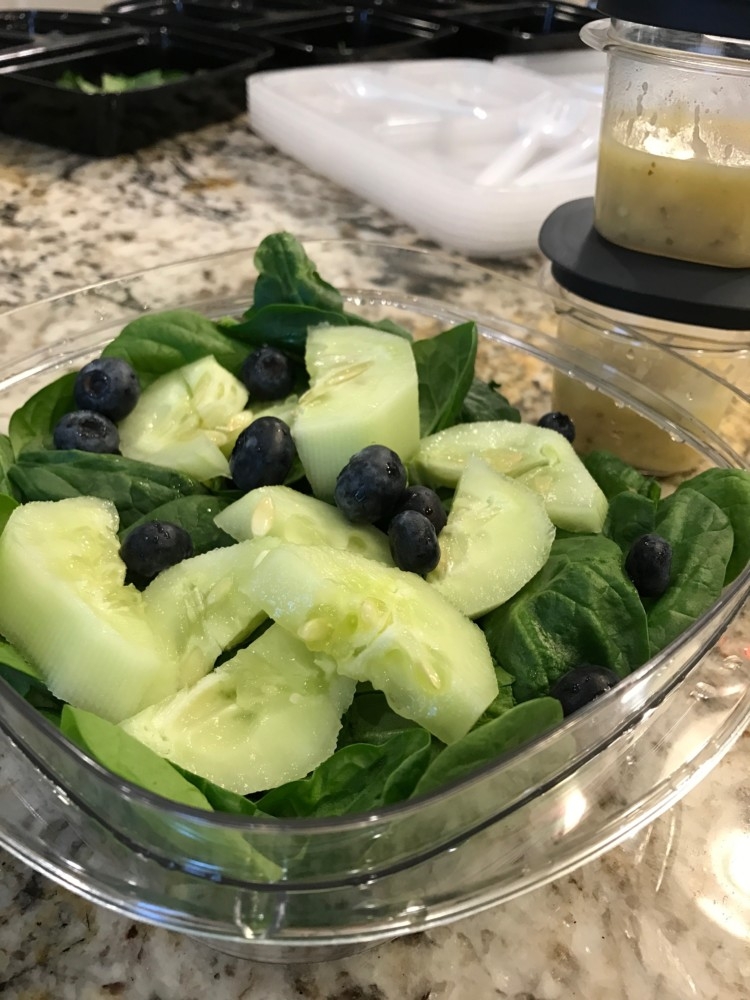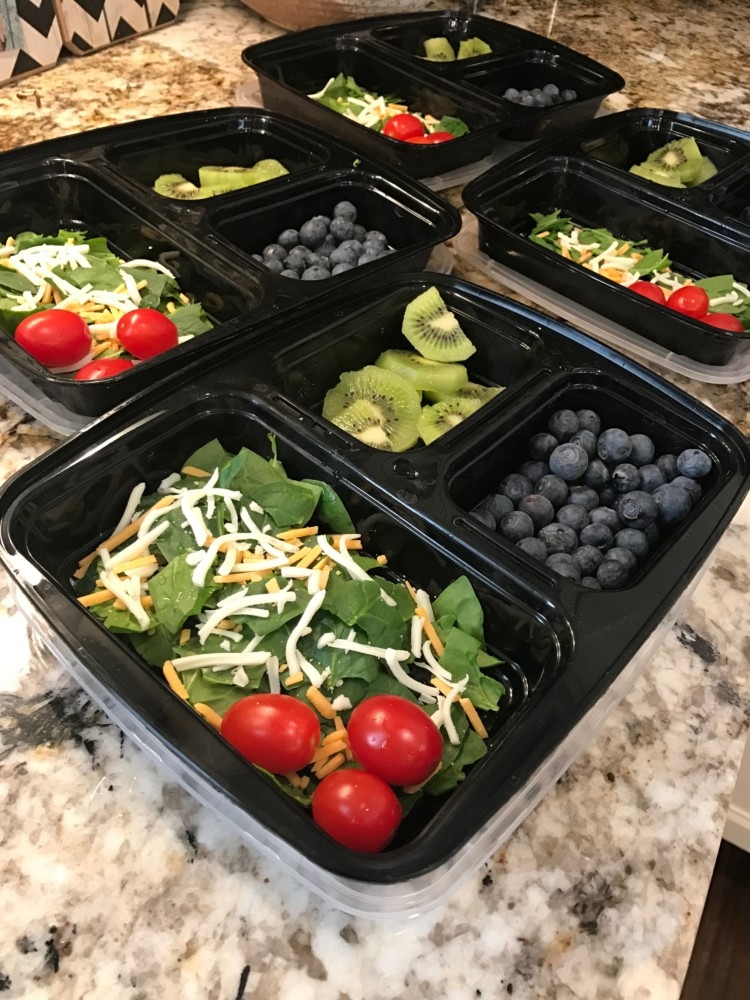 SHOP The Meal Prep Post HERE: Packable Bento Lunch Boxes // Glass Bowl // Small Dressing Containers
I'm so excited to welcome one of my good friends to the blog today to share her tips and tricks with us for eating healthy on-the-go. I think those of you who travel a lot, work on the road or want to eat healthy on vacation will benefit from these meal prep tips. While I love blogging full-time, it has presented the problem of not having a refrigerator to keep my lunch in. My office is typically bouncing from workouts to meetings to coffee houses and everywhere in between.
Especially during the sugar challenge, I've relied heavily on Elise's tips and tricks for eating from my car or on the road while still maintaining some balance. I recently got this cute monogrammed lunchbox from Swoozie's to keep me motivated to pack it and take it with me for fresh options that don't need a microwave. Now, I'll pass you over to my workout buddy Elise and trust me, you are in good hands!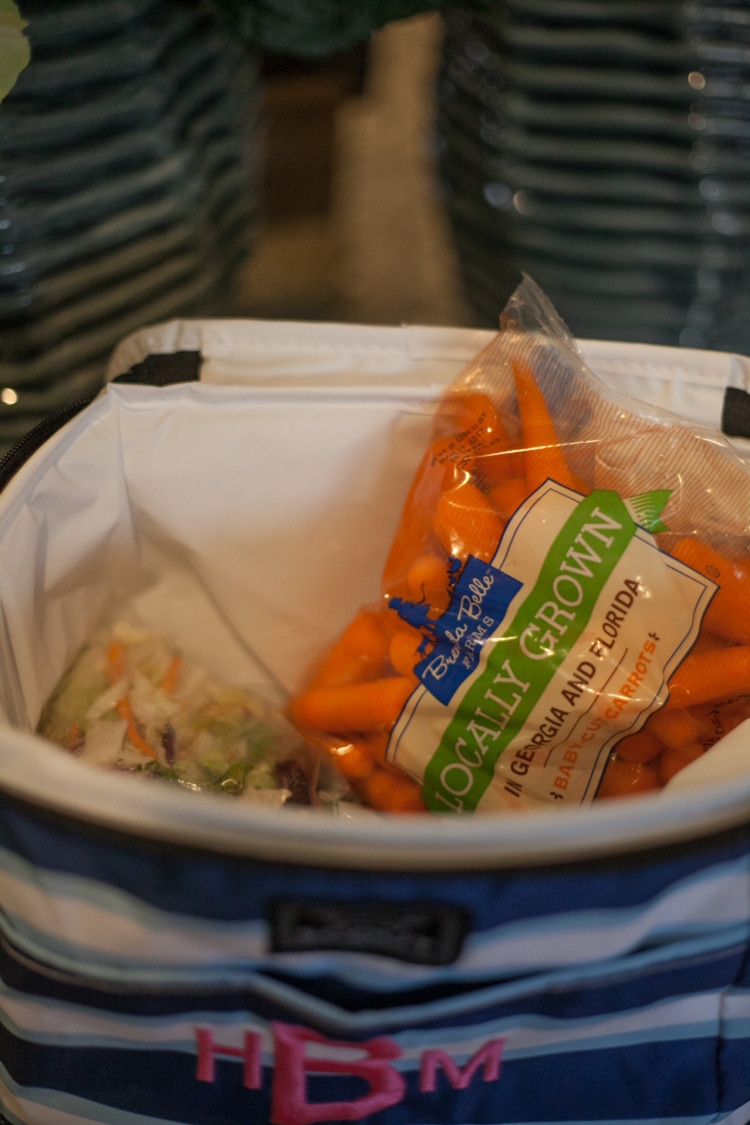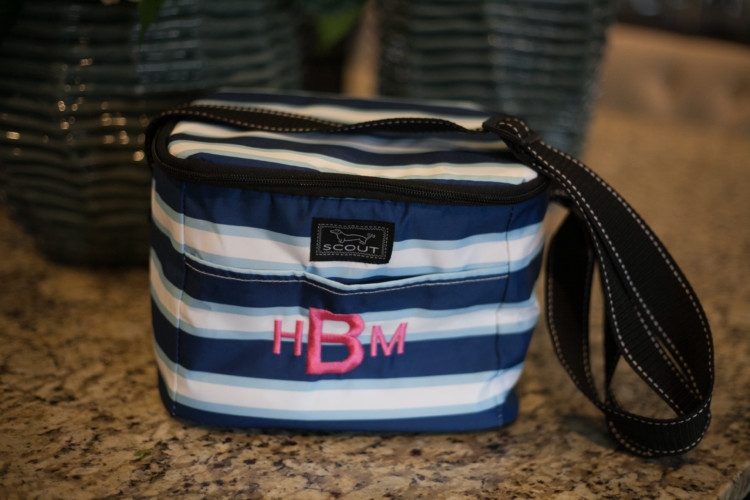 Hello, lovely people! I'm Elise Hyer, a friend, and neighbor of our fabulous Heather. I'm a wife, mother, and career woman. I love hosting, and often have our family calendar slightly over-scheduled. Raised a traditional Southern Belle, I also feel the desire to take care of preparing meals as often as possible. Hubby doesn't expect it, but bless his heart—we are all healthier and safer if he stays out of the kitchen!
Our amazing Heather asked me to write a guest post on eating healthy on the go. I have worked full-time my son's entire life (he's 10), and I will be the very first to tell you that I am still learning how to best keep our lives organized and nutritious food in our bodies. Unfortunately, it's easier and way faster to eat poorly. I hope some of these ideas help you, and I can't wait to add your ideas to my rotation!!
Once I crossed into my 30's, eating healthy became even more of a priority. Dum, dum, dum… metabolism slowed down for the hubby and me, and we see the results of eating poorly much more quickly. I do not follow any formula—not really paleo, Whole 30, etc. Instead, I choose to focus on foods my family WILL eat and enjoy (hubs is as picky if not worse than my son!) and trying to make them as natural and healthy as possible. I find this is the easiest and most sustainable way to prep for my family. (I substitute ground turkey for beef, greek yogurt for sour cream, brown rice, and quinoa instead of white rice or pasta, … We switched to only Truvia and unsweetened almond milk, and we all drink tons of water…)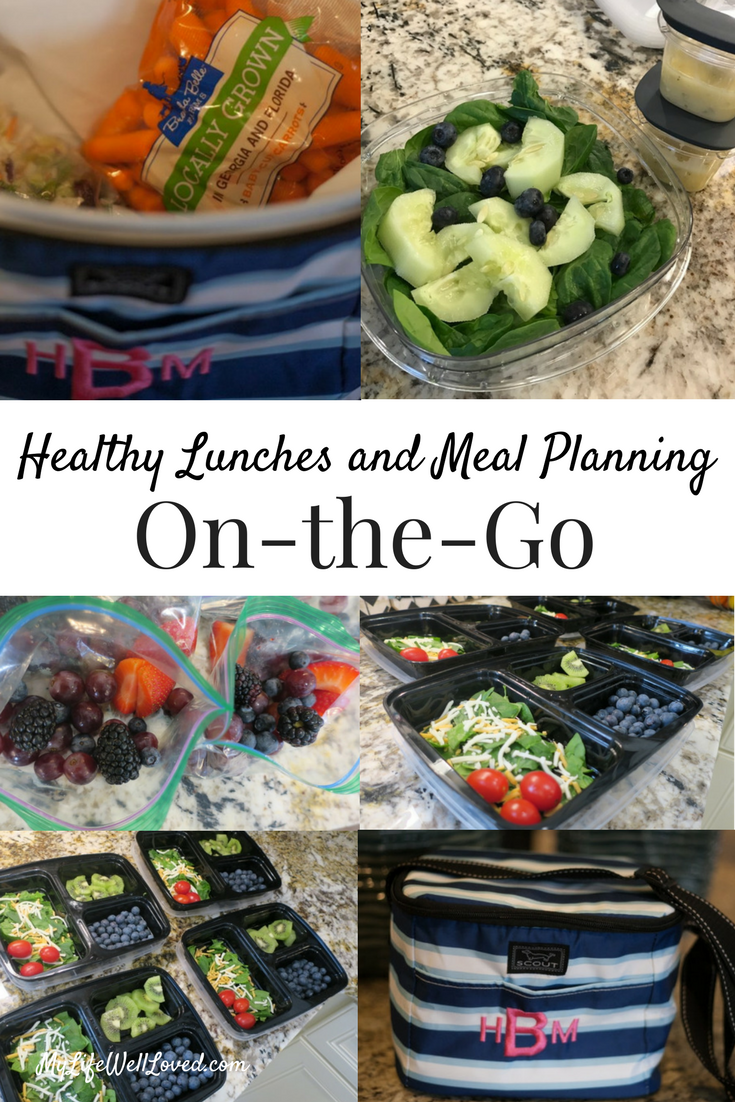 Meal Prep Tips + Lunch On-The-Go:
My first meal prep tip is you have to find a time you can prep—mentally planning and physically prepping the food. Do not shut down on me yet!! I know you immediately came up with a list of excuses… I understand completely that your life is insanely busy, and you may even feel overwhelmed by meal prep. And I did too. I promise. Honestly, I feel more overwhelmed by every single day trying to plan what to eat and beating myself up if it's not healthy. Planning will ultimately relieve stress!!
Find a friend—an accountability partner. Pour a glass of wine and make it fun! I choose Sundays. Thankfully, I have an amazing neighbor who got me motivated and we got organized together. I set aside 2 hours total each Sunday evening for my entire week's meal prep. It may take a bit longer the first few times, but it will become a system, a well-oiled machine! Just stick with it!!
For dinners, I have chosen to make a binder—old school, 3 ring binder with notecards in recipe card sheet protectors. The reason I prefer this is I found myself taking way too much time combing through Pinterest and cookbooks. I have handwritten the recipes my family actually likes and that are easy enough for weeknights. (I still comb through Pinterest boards for meals when I have more time to try new things.)
On Sundays, I write on a calendar (which I found on my beloved Pinterest) if we have anything we need to work around (sports practices, hubby out of town, etc), and I choose which meal we will have each night. I prep as much as possible that evening. I chop veggies, I bag together as many ingredients, and I often double bag it and stick the recipe card in there so it's literally grab one bag and finish cooking. My goal is to have dinner ready in under 20 minutes after I get home in the evenings.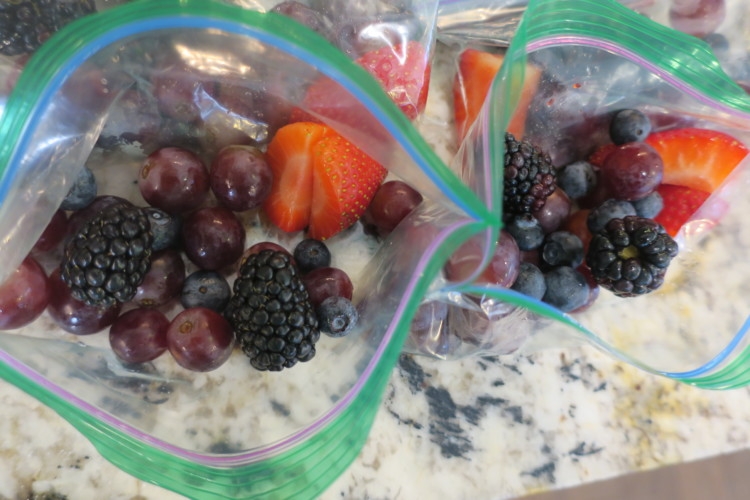 My amazing husband helps with the rest of the prep. Here's my next tip: have healthy snacks easily accessible.  We get snack-sized ziplock bags and wash up tons of our favorite fruits and veggies. I combine them in the bags (son loves blackberries, strawberries, grapes, and will eat the blueberries when they are all in there together). Then, I keep the bags in a clear plastic container in the fridge so they stay together and are easy to grab. Also, I put carrots and cucumbers in a bag, and I buy proportioned guacamole and hummus packs (see I am all about if there's an easy way, do it!!). And I place those together in a clear plastic container as well. I bag up serving sizes of popcorn.  We put turkey slices and cheese in small bags, and we also love turkey pepperoni in bags to grab and go.  I keep my favorite protein bars in a pouch in my purse, almonds, and trail mix in the console of my car. Hubby keeps peanuts and protein bars in his vehicle as well. There are absolutely going to be times you find yourself crazy rushed and without a prepped meal. Keeping healthier snacks available will keep you from going too far off the reservation!!
Lunches are always a work in progress. I found these great containers on Amazon. They stack so neatly and without taking up tons of space in the fridge. Most importantly for me, they are dishwasher safe. I will use leftovers on days hubby and I will be at our offices for a microwave. Days we are on the road I love to do chicken, spinach, and tomatoes with a whole-wheat wrap. I'll fill the other spaces in the container with blueberries and kiwi for hubby (he is so picky about not liking raw veggies).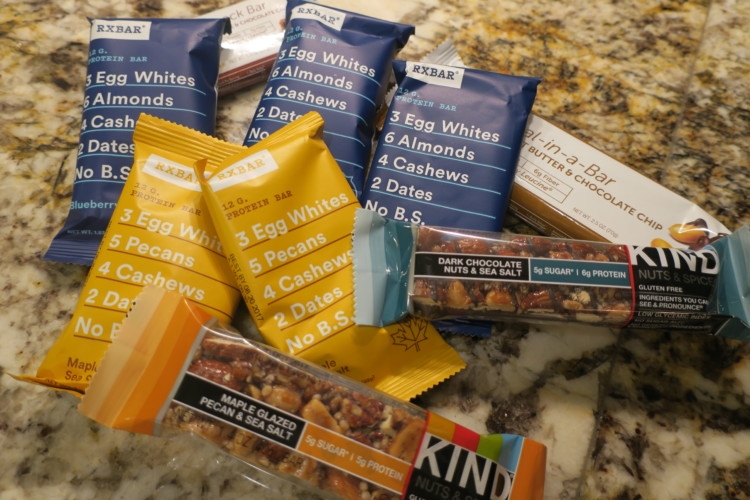 Other ideas we find prep and keep well are salads (but you need to keep some of the ingredients separated- love salad boxes with separate sections!), hard-boiled eggs, scrambled eggs with turkey sausage (hubby will heat up and make a wrap in the mornings when he's needing to grab and go. I will often add some fresh salsa and avocado and eat it straight from the bowl). I love the avocado/cucumber salad Heather shared! Additionally, I will add some lemon juice to the avocado and it keeps a few days!
My final meal prep tip is: do not think you need to do it exactly like anyone else. You and your family are unique. Find what works for y'all!! Good luck, and happy meal prepping!
Check Out More Meal Planning Content Here:
PIN The Meal Prep Post For Later!

Heather Brown helps busy mamas of young littles who are caught in the hustle to find encouragement in their journey to true health, from the inside out, starting with the heart. Read her journey of learning to live a life well-loved
HERE!