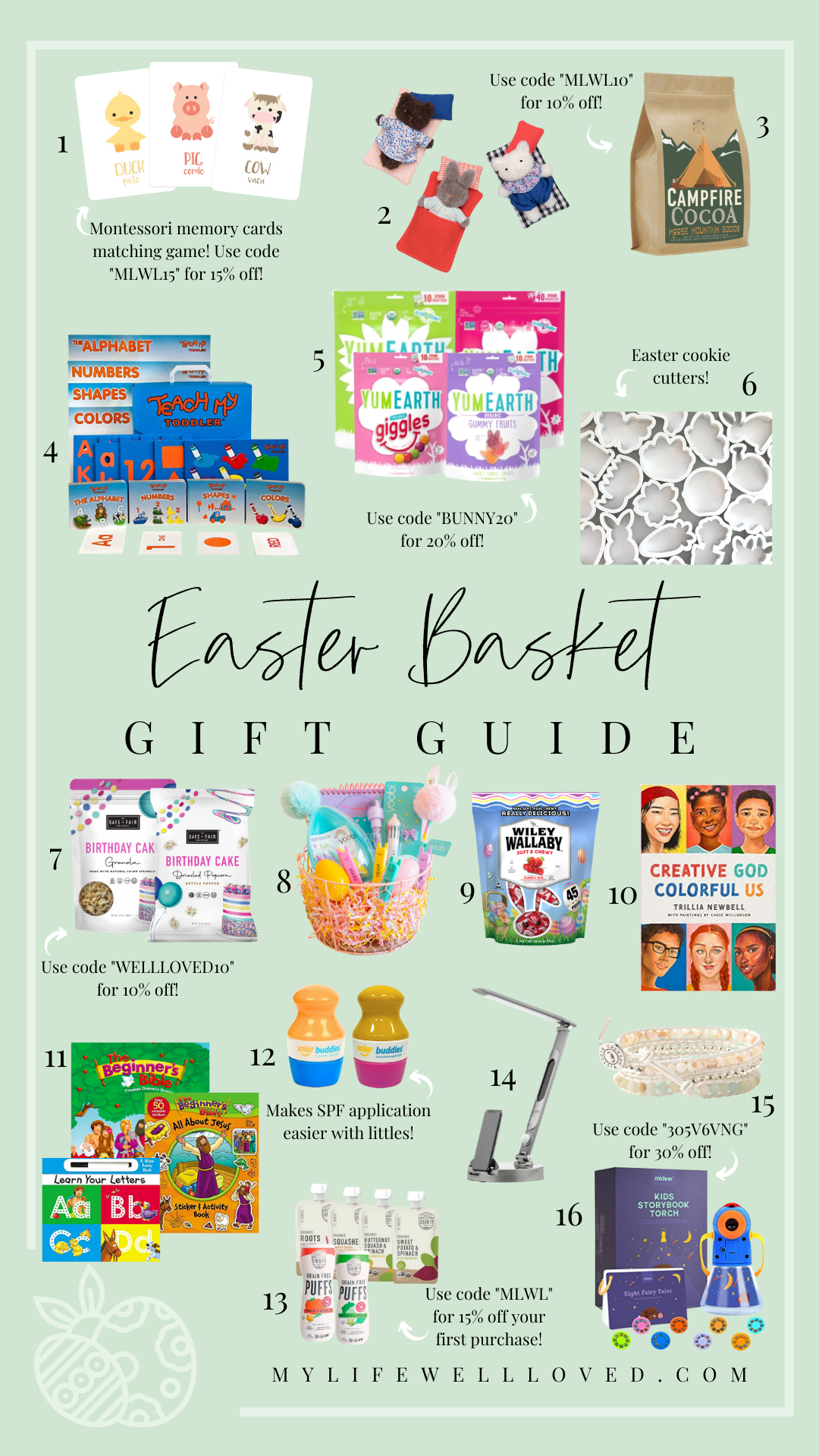 SHOP The Easter Basket Gift Ideas https://casinoceske.com/ For Boys And Girls Post HERE: 1. Animal Flash Cards Use code MLWL15 to save 15% off // 2. Little Nook Plush Sets including Leyton's Dino // 3. Moose Mountain Goods Campfire Cocoa Use code MLWL10 for 10% off // 4. Teach My Learning Kits // 5. YumEarth Sweets Use code BUNNY20 to save 20% off // 6. Easter Cookie Cutters // 7. Safe & Fair Granola and Drizzed Popcorn Use code WELLLOVED10 for 10% off // 8. Yoobi Stationary Kit Use code EASTER15 for 15% off // 9. Wiley Wallaby Licorice // 10. Moody Publishers Creative God Colorful Us Book // 11. Zondervan The Beginner's Bible, Activity Book, and Letter Board // 12. Solar Buddies Sunscreen Applicator // 13. Serenity Kids Baby Food Use code MLWL for 15% off your first purchase // 14. LumiCharge Desk Lamp Use code LUMI30 for 30% off // 15. Victoria Emerson Wrap Bracelet // 16. Mideer Toys Storybook Projector Use code 305V6VNG for 30% off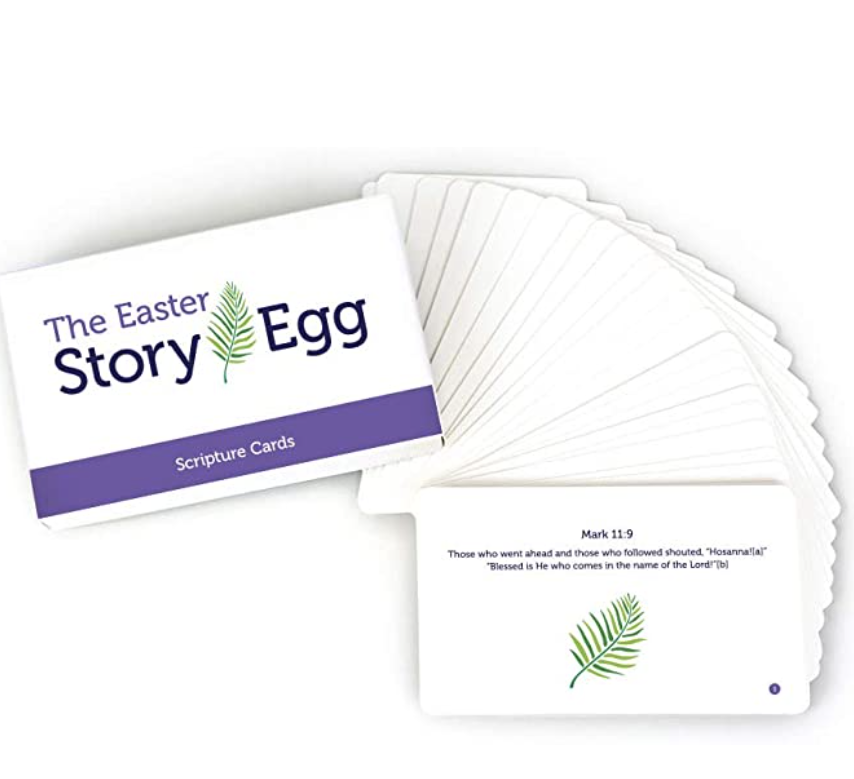 Easter is almost here, friends! Are you looking forward to your family Easter traditions? I'd love to hear what they are! Make sure to comment below or tell me about them on Instagram! Today I'm sharing all the best Easter basket gift ideas for boys and girls!
Growing up, every Easter, we always got a Easter basket from my parents. However, they always made sure that we understood that Easter was more about the resurrection of Christ and less about the Easter Bunny.
Now, Eric and I try to instill the same values into our boys. Each year on Easter we always attend church together as a family, I make my famous Banana Pudding recipe for our entire family, and we let the boys hunt for Easter eggs.
Let's check out the Easter basket gift ideas for boys and girls that you can use to fill your kids Easter baskets this year! Happy hunting!
Easter Basket Gift Ideas For Boys And Girls: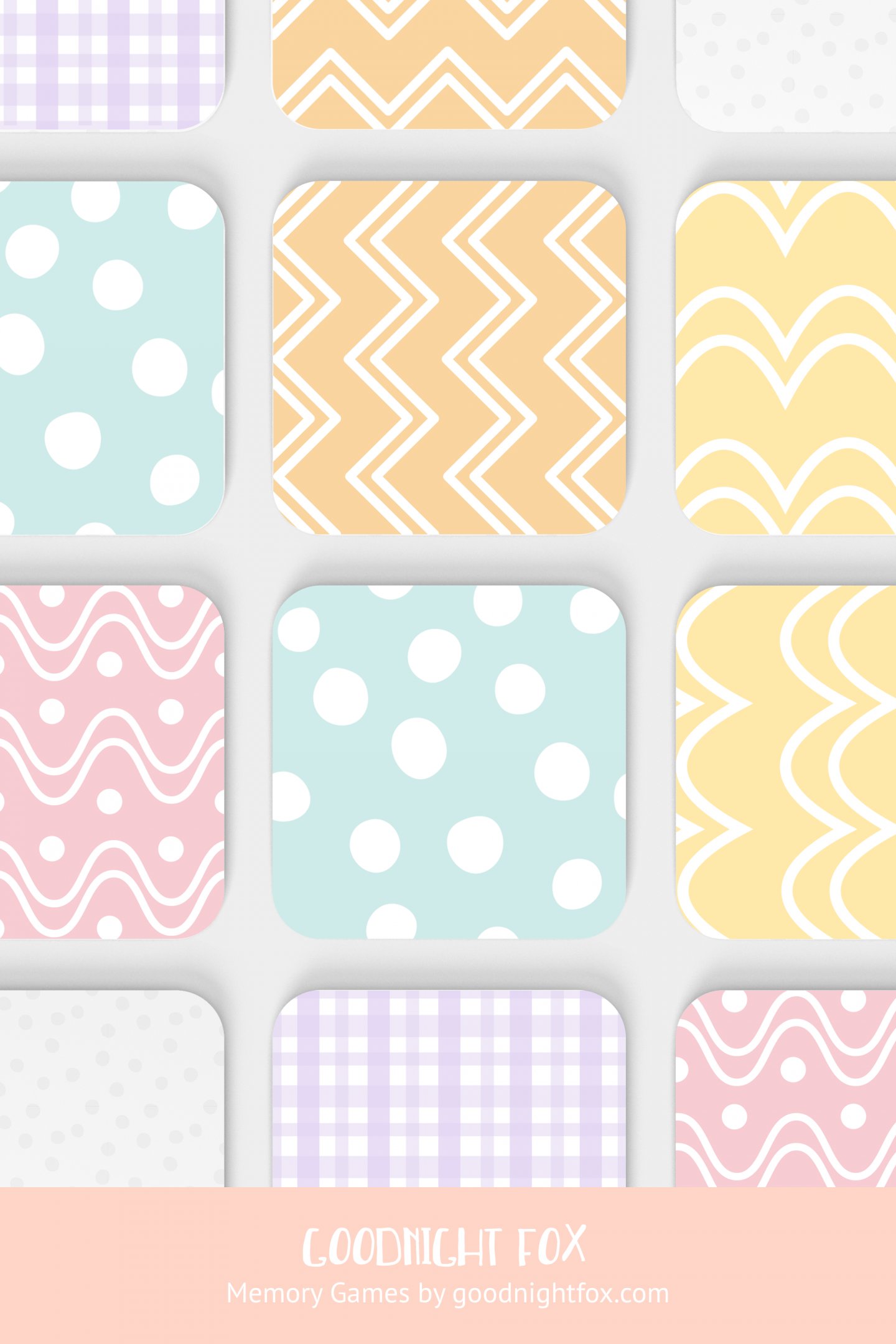 1 // GoodnightFox Flash Cards & Memory Game // How darling are these sets of cards? I have my eye on the animal flash cards, or the farm animal memory game and the Easter patterns memory game. These are great educational gifts for toddlers. They are Montessori inspired, making them ideal for busy moms looking for quiet independent play activities. Yes please! Use code MLWL15 to save 15% off.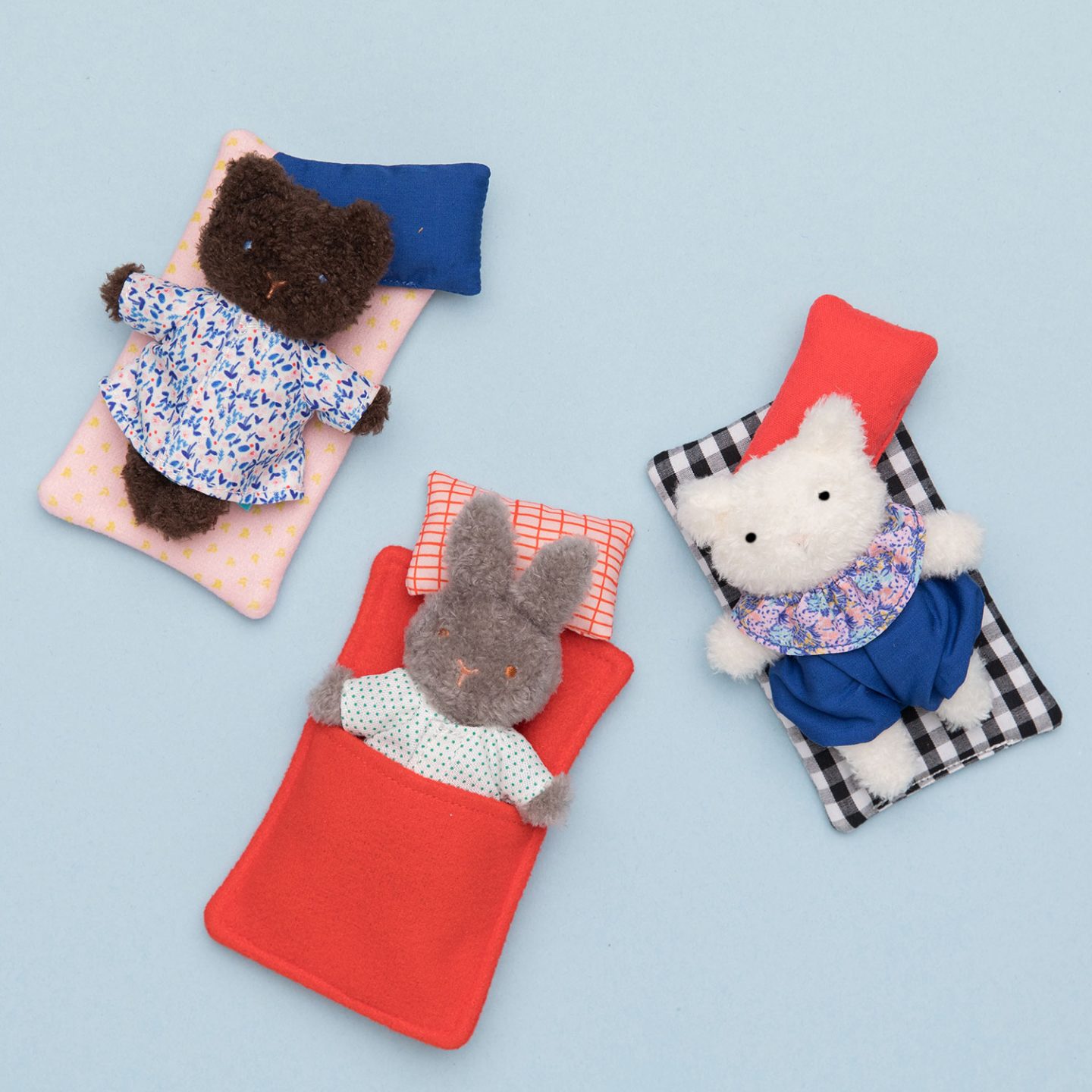 2 // The Manhattan Toy Company // Leyton & Finn LOVE their weighted dinos that are SO soft! A one stop shop for all things toys and playtime! Little Nook plush sets are adorable mini stuffed animals paired with little bed sets, perfect for playtime and snuggling. Plus, they come in a gift-able keepsake box with a space for personal dedication.
Fun with matching and memory games! The Pup Match Up and Paws & Claws offer animal-themed matching fun and memory game play. Find these and more by shopping our newest games.
Playdate Friends washable dolls are the perfect companion for young toddlers. Each doll, outfit and little companion are machine washer and dryer safe. So kiddos can play all day and wash them away!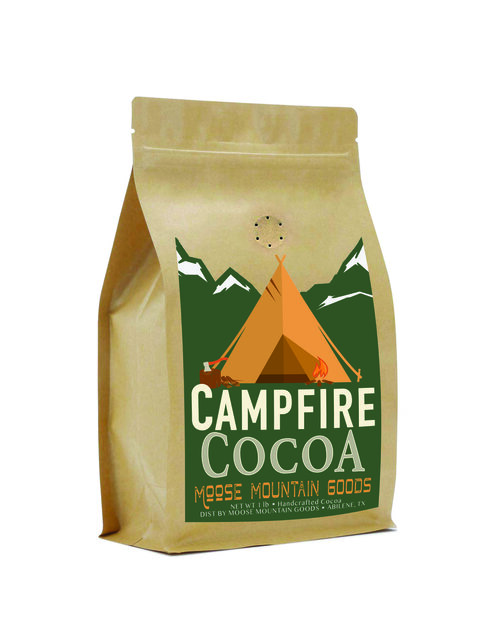 3 // Moose Mountain Goods Campfire Cocoa // I love supporting small businesses and this brand was started by a fire fighter. I love their coffee, but the easiest way to whip up a yummy treat for your littles is this brand new Campfire Cocoa mix! Use code MLWL10 for 10% off!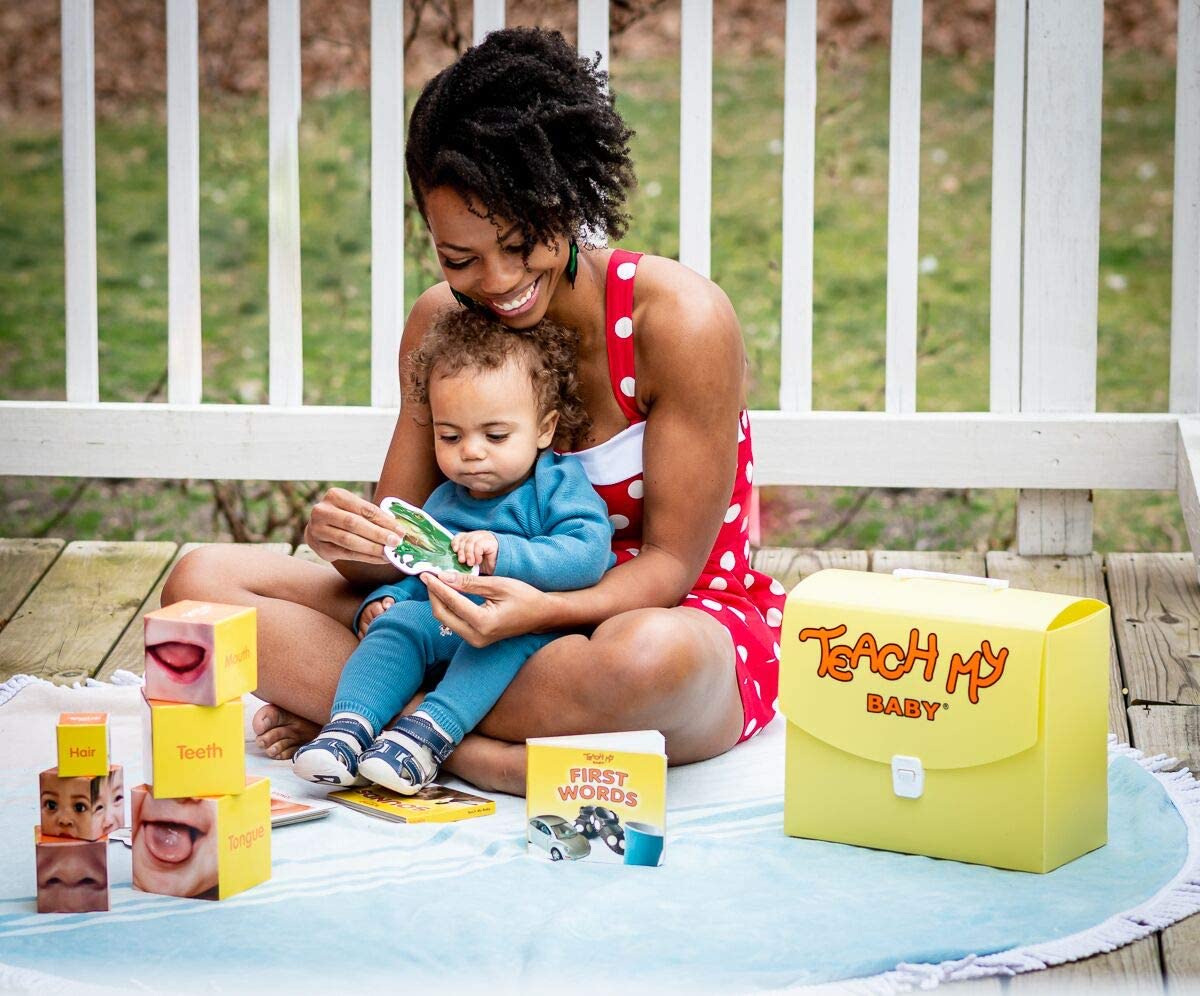 4 // Teach My Learning Kits // Teach My Learning Kits are always a go-to gift for our boys. These 100% Screen Free All In One Learning Kits are available for babies, toddlers, preschoolers and kindergarteners. Teach My kits create a love of learning and encourage one on one time with parents, grandparents and caregivers. This is the perfect activity to pack with your kids when they are headed to visit grandma and grandpa. We also love to pull out our kits after dinner time as a great way to avoid screens!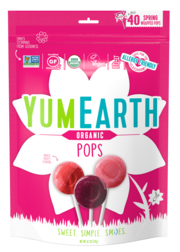 5 // YumEarth Sweets // Every parent wants to fill their kids Easter basket with sweet treats, but you don't want to fill your kids up with sugary candy, am I right? YumEarth treats are the perfect option! These sweet snacks are allergy-friendly (free from the top 8 allergens), organic, non-gmo, gluten-free, free from artificial dyes & high fructose corn syrup. Their Easter treats are available in Pops, Sour Beans, Giggles, and Gummy Fruits.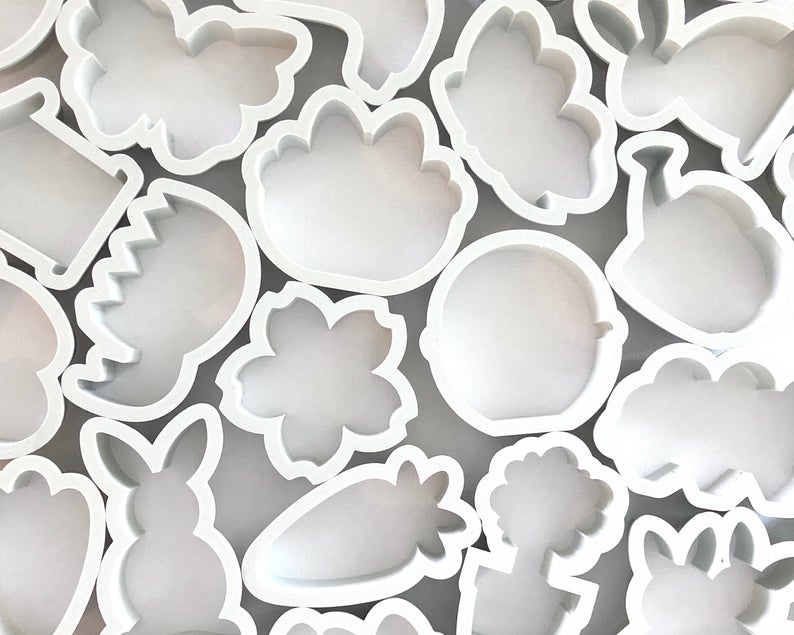 6 // Easter Cookie Cutters // This Easter cookie cutter bundle includes several fun shapes that will turn your favorite cookie recipe into a yummy treat! Adding cookie cutters into your kiddos Easter baskets is the perfect way to incorporate a fun family activity into the day!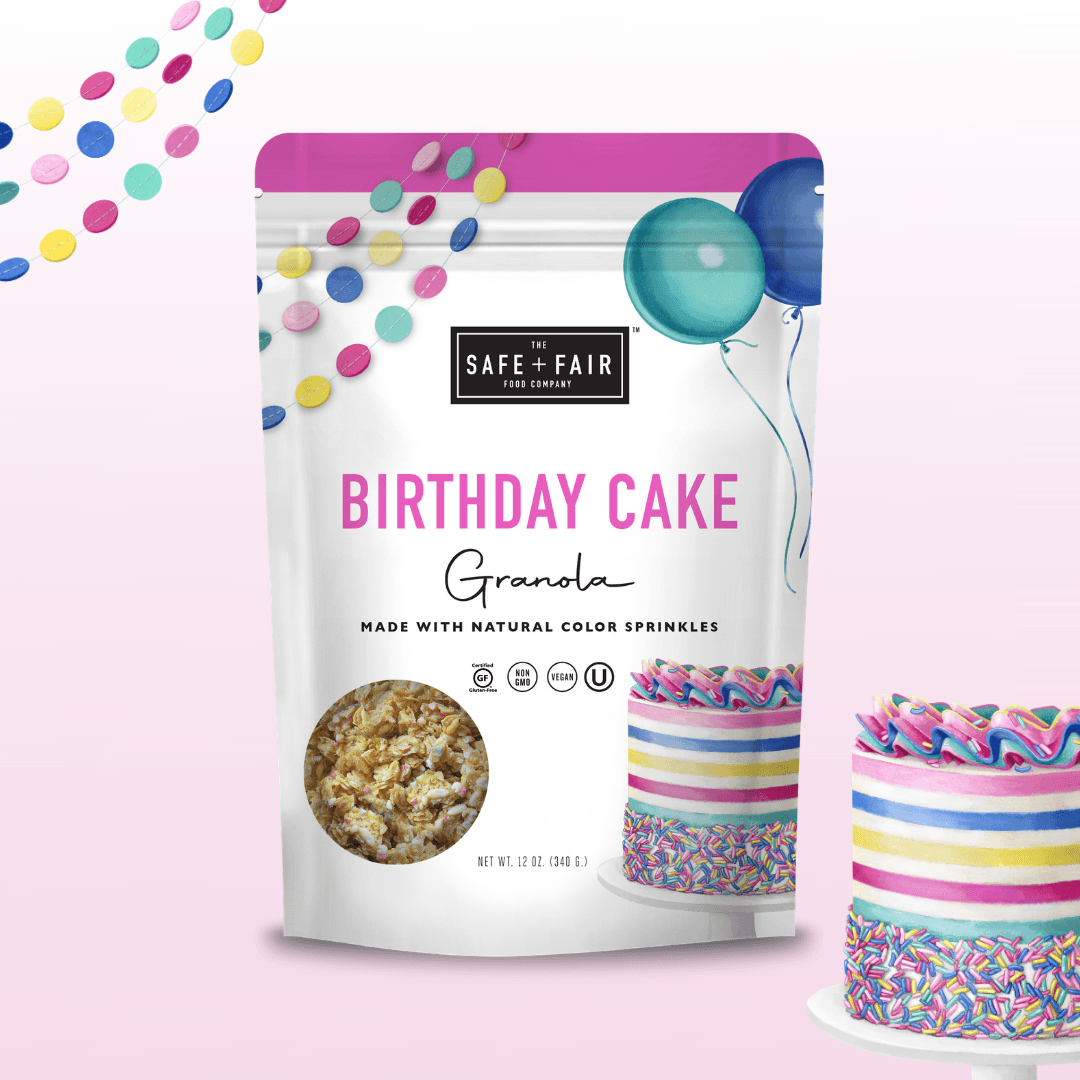 7 // Safe & Fair Granola and Drizzed Popcorn // Yes, you read that right- drizzled popcorn. My mouth is watering just thinking about it. These are some of our favorite snacks to grab in the Brown household, I try to always have them on hand. These are snacks you can feel good about because they are non-GMO, gluten free, vegan, plant based and have 0 trans fats. There are tons of delicious flavors to choose from, I highly recommend Birthday Cake! You can use code WELLLOVED10 for 10% off!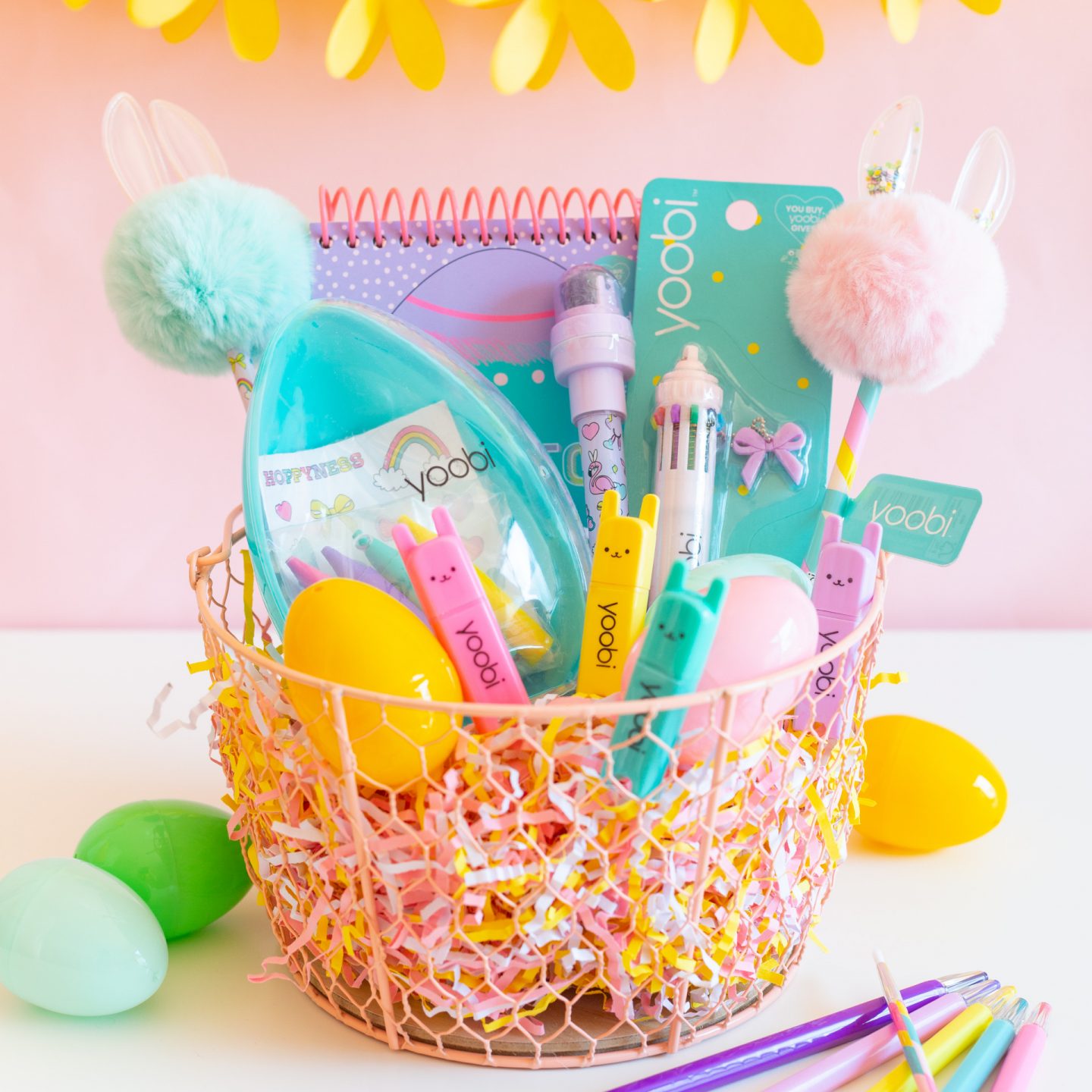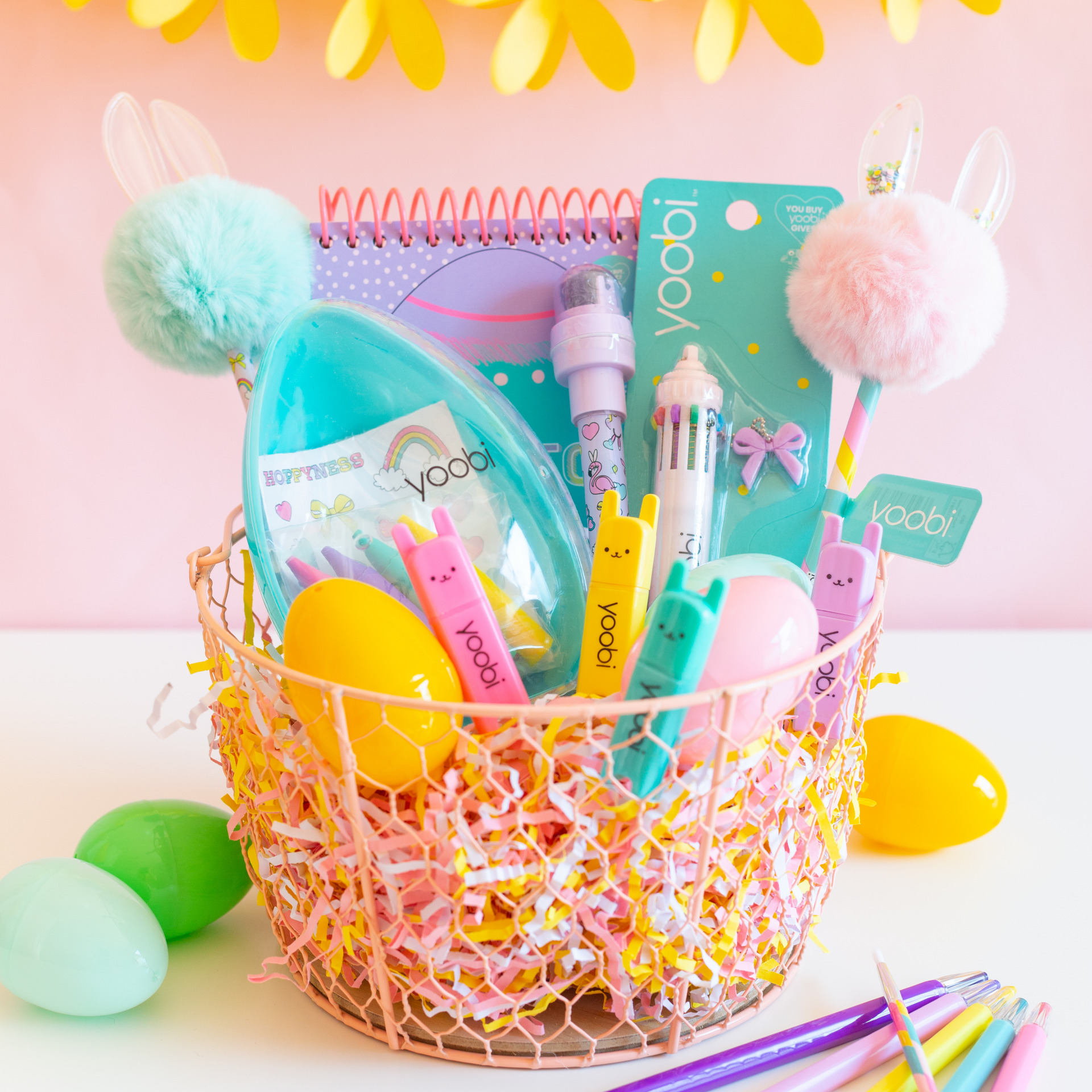 8 // Yoobi Stationary Kit // The perfect gift idea for the littles who love to get creative! This fun kit includes pen, highlighters, a notepad, and other whimsical items that will bring a new element of fun to craft time! Yoobi offers free downloadable activity sheets located over at their website. They are perfect to print out and pair with your stationary kit!
I love supporting brands who give back, and Yoobi is no exception. Yoobi is a give back school supplies brand that is sold at Target, Amazon, and their website. For every item you buy from Yoobi, Yoobi donates school supplies to a kid in need right here in the US! Since their launch in 2014, they have impacted over 5 million kids with their exclusive give back partner Kids In Need Foundation.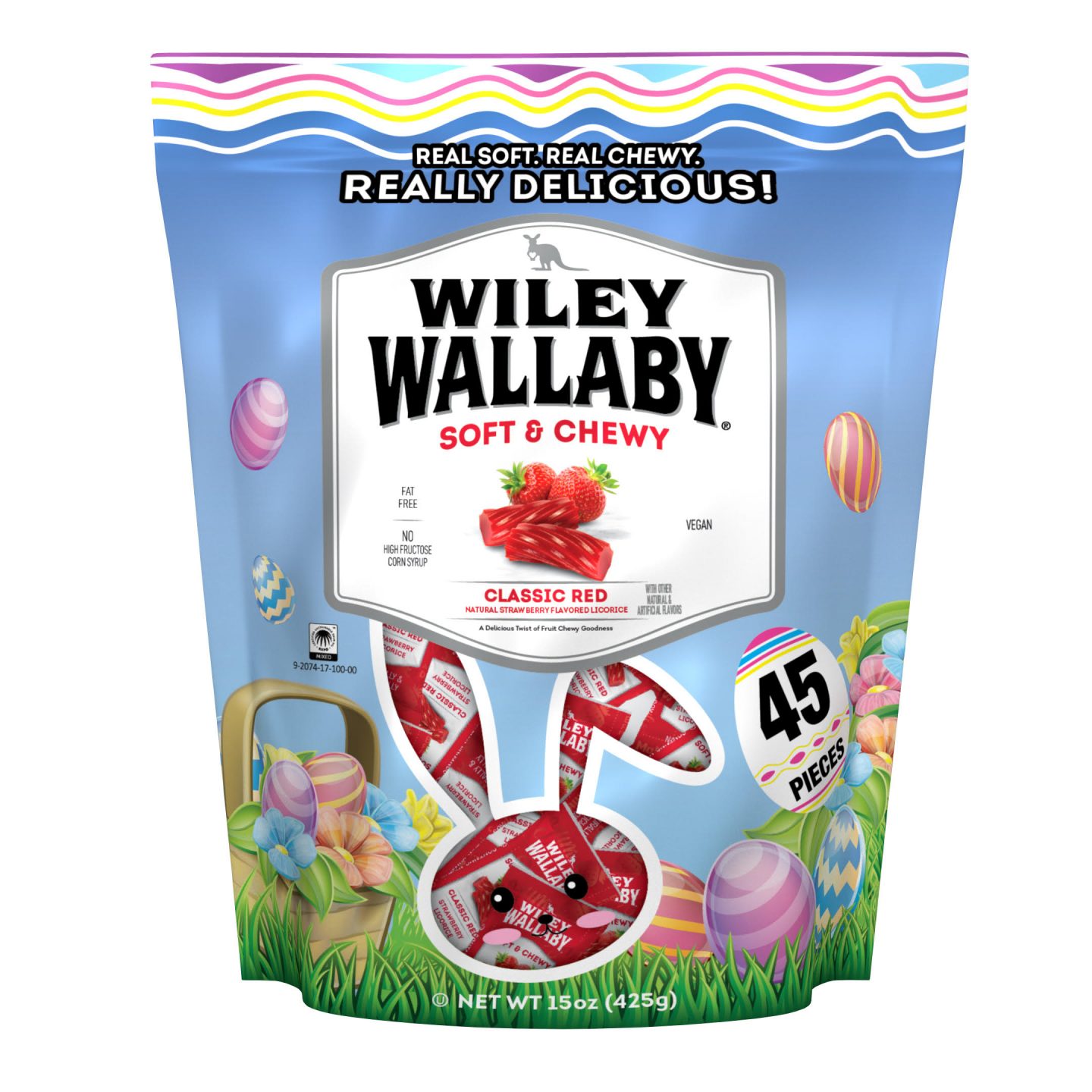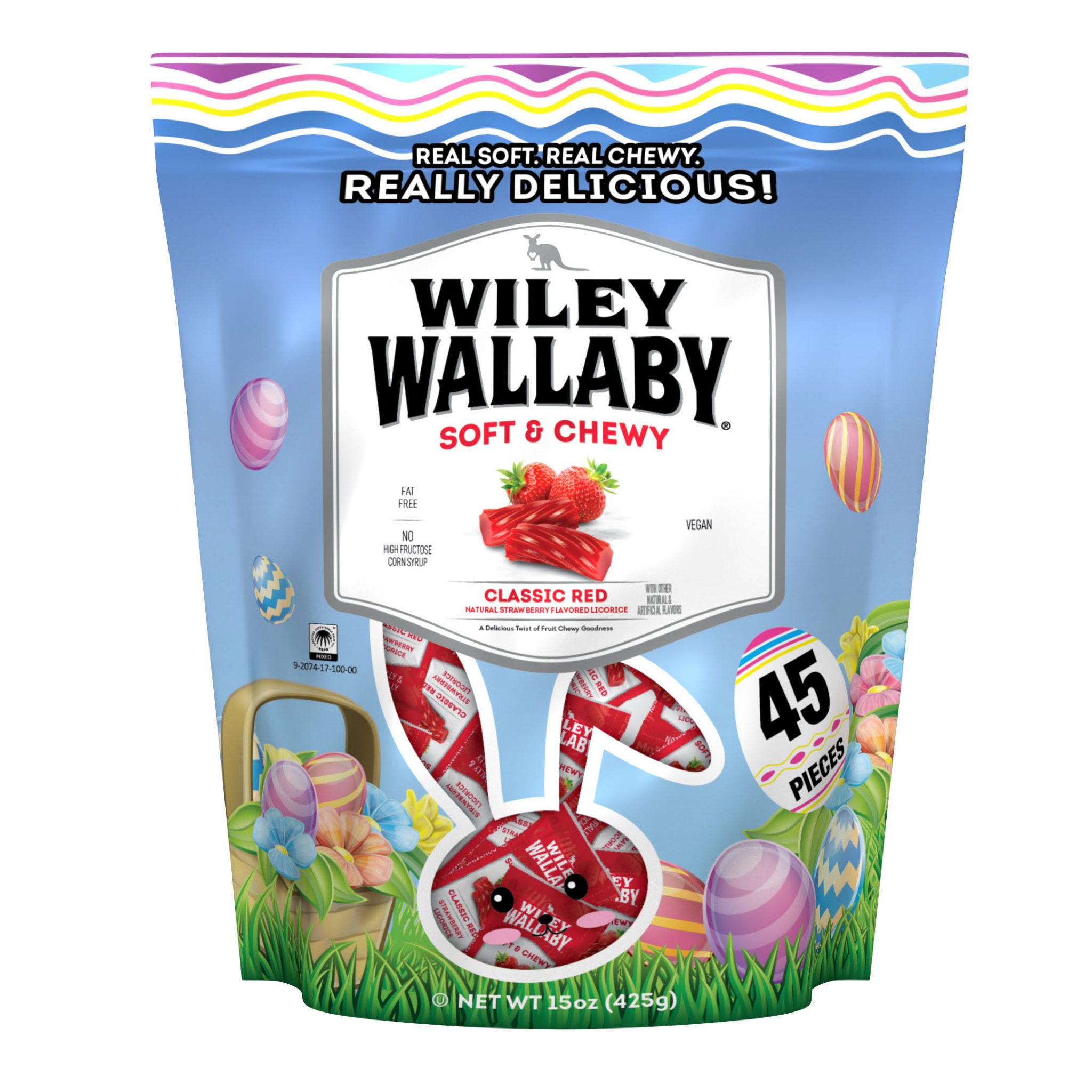 9 // Wiley Wallaby Licorice // These soft, chewy licorice pieces come in their popular classic red flavor and include about 10 servings per container with only 90 calories per serving! They are by far the easiest to eat licorice I've ever enjoyed! I also can't resist their Sourrageus Drops! Here's some more information to help you get to know this awesome brand a little better!
Q: What is Wiley Wallaby Licorice?
A: Wiley Wallaby Licorice is a candy & confectionery brand that is family-owned and operated. As a third-generation family-owned company, Wiley Wallaby believes in great tasting candy that your conscience feels better about eating. Before Wiley Wallaby started they were getting tired of eating licorice that was flavorless & impossible to chew. They knew that they could do better than what existed. From there, Wiley Wallaby was born – licorice that's soft, chewy & bursting with flavor! Not to mention, there is less sugar, absolutely no dairy or fat, and no High Fructose Corn Syrup in any of the fruit flavors!
Q: Where did the name Wiley Wallaby Licorice come from?
A: The name "Wiley Wallaby" was chosen with the licorice being Australian inspired. The Wallaby (kangaroo) worked well for the name as Wiley Wallaby Licorice wanted to highlight that there was a flavor packed punch to the licorice! It is bursting with flavor.
Q: How long has Wiley Wallaby Licorice been around?
A: Wiley Wallaby Licorice has been making better for you licorice since 2007.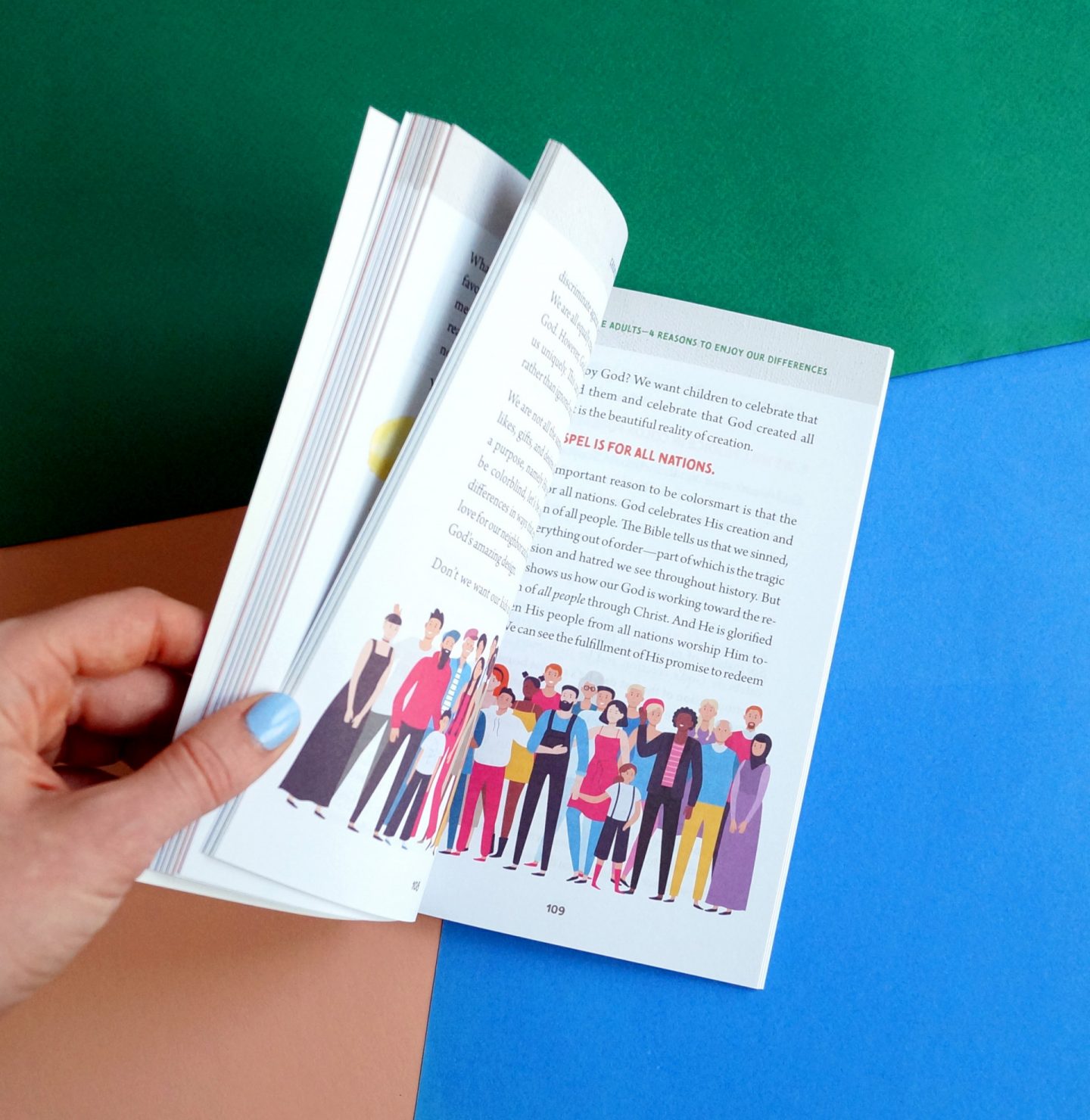 10 // Moody Publishers Creative God Colorful Us Book // This beautiful book will help you teach the kids you love how to really enjoy our differences. God could have made us all exactly the same, but He didn't. And our differences are good! As His children, those called by God to belong to His family, we can actually use our differences to help each other. Here's some more great news: There are no rules about how we look or sound to be in His family. We have a delightfully different family on purpose.
Every person is made by God, in His image, and therefore is equal in value and worth. Kids, somehow, already know this to be true. This short, colorful book (written with grade-schoolers in mind) will share the truth of God's Word with them. The truth about how we were made with differences, how we sinned, how God rescued us, and how—if we understand that God's diverse creation will be together in Heaven—it should motivate us to love one another on earth!
"This book could literally change a generation, change the trajectory of our culture, change a whole world of broken toward hope." – Ann Voskamp, New York Times bestselling author of The Broken Way.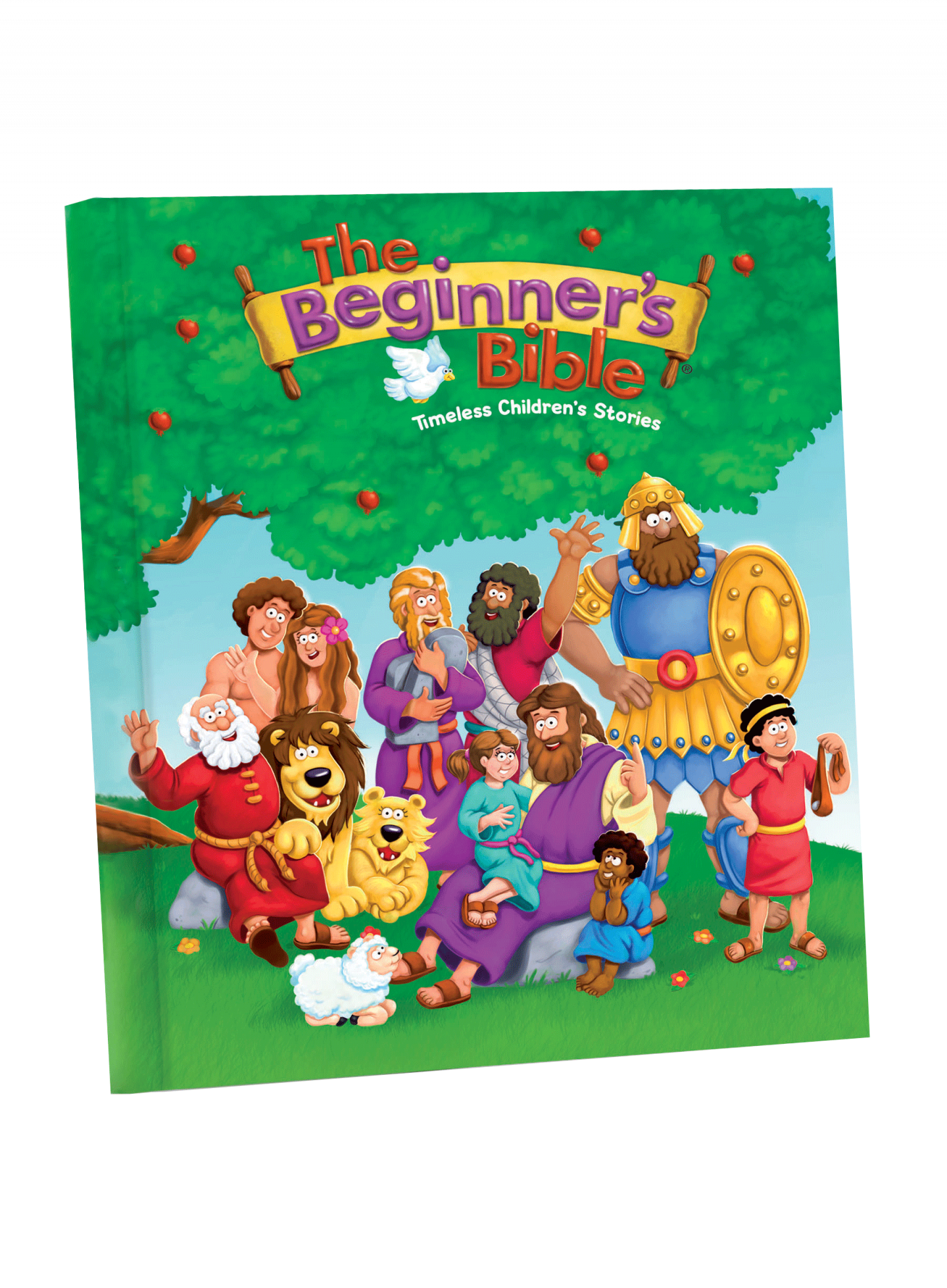 11 // Zondervan The Beginner's Bible // The Beginner's Bible has been a favorite first Bible for kids for over 30 years, and is the perfect illustrated Bible to start a child's foundation of faith. With over 94 Bible stories in full color, vibrant illustrations, and written at a level that young children can easily understand, The Beginner's Bible is a great fit for toddlers through early elementary aged kids. Bible stories come to life, and there are dozens of fun books in the brand to complement what they learn in their The Beginner's Bible storybook! If your family is looking for more great gift ideas from The Beginner's Bible brand, check out their store on Amazon!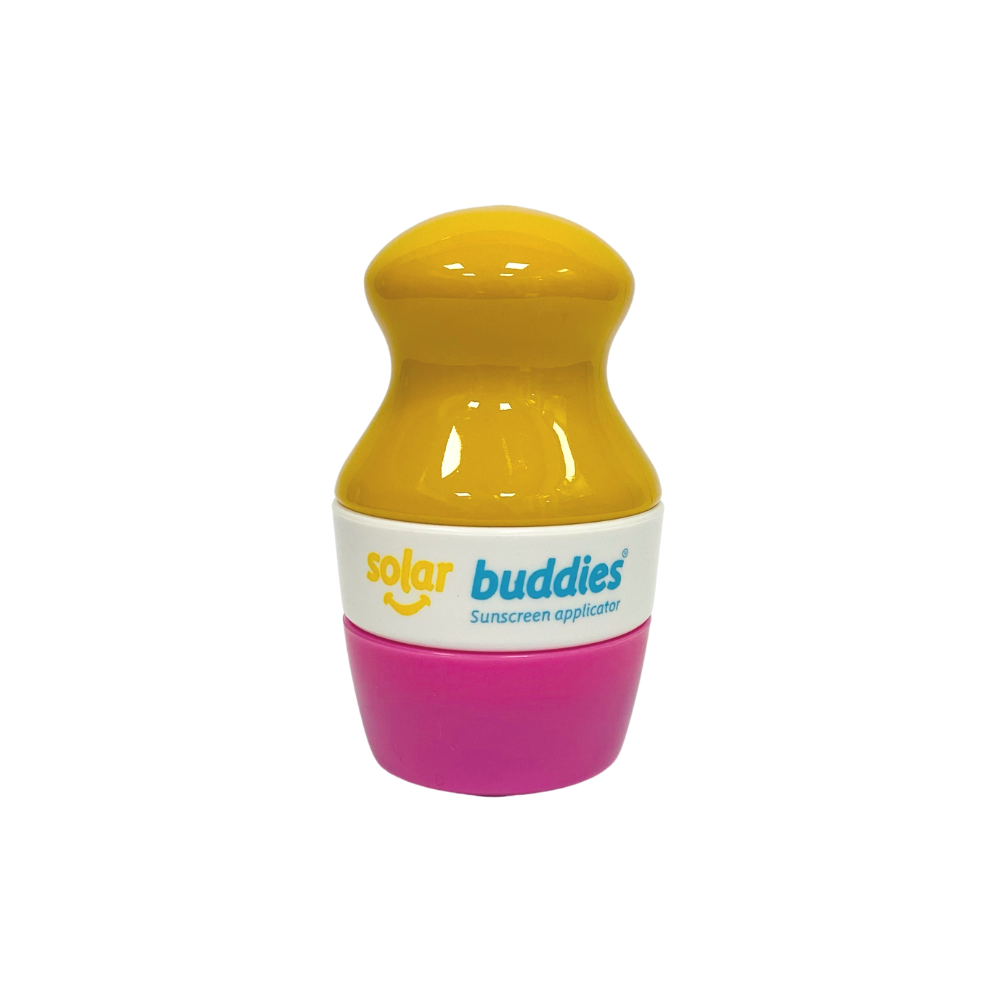 12 // Solar Buddies Sunscreen Applicator // Y'all know the boys and I love getting outside as much as we can, and that means slathering on the sunscreen! Thankfully, applying sunscreen to your littles is about to get a lot easier.
The Solar Buddies Sunscreen applicator is a refillable applicator that allows for a easy sunscreen application with its sponge an rollerball combination, less mess less waste, easy peasy. Yes, please!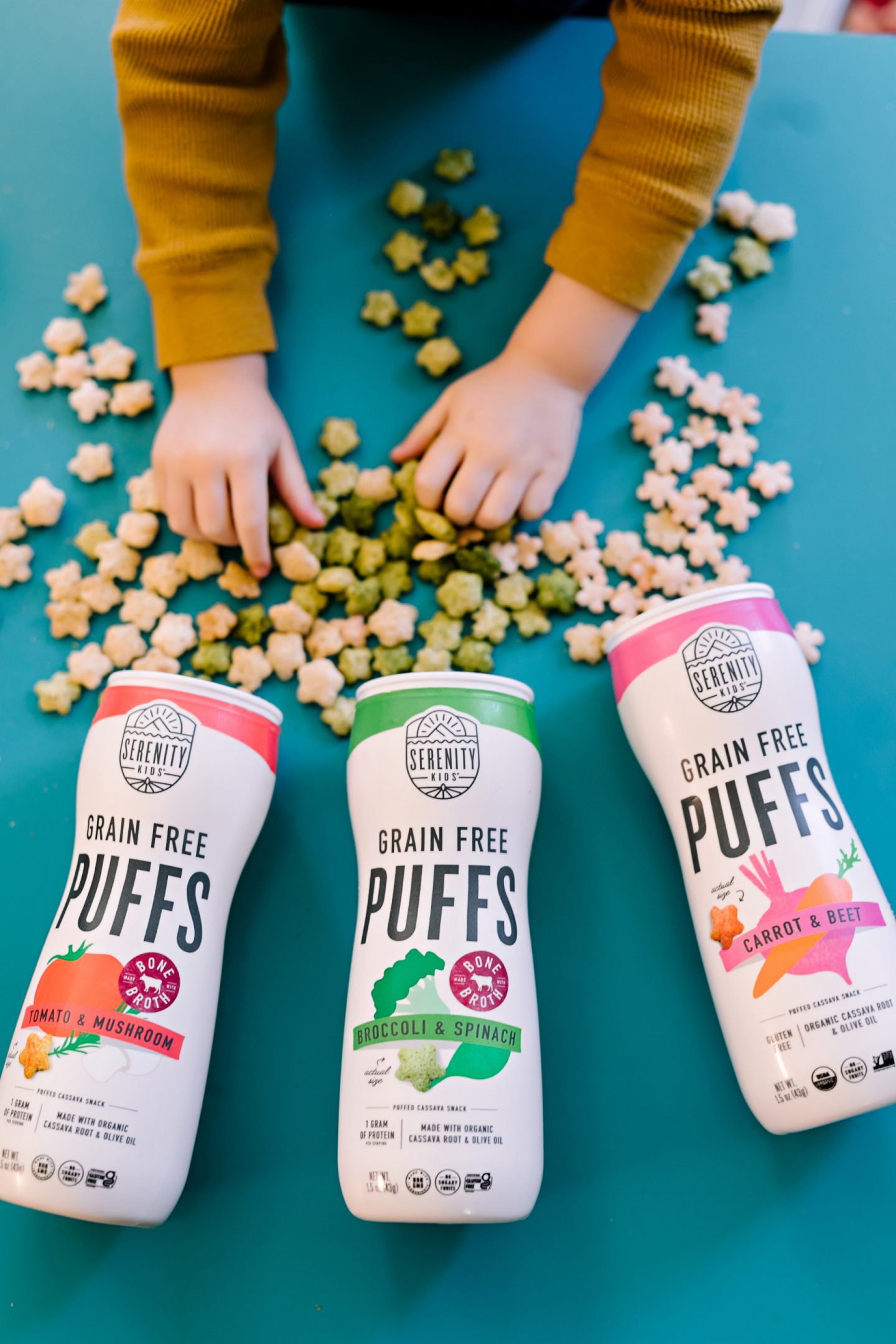 13 // Serenity Kids Baby Food // Did you know that a baby needs 30g of fat per day for their developing body and growing brain? I definitely did not realize that! Serenity Kids organic savory veggie pouches are low in sugar and contain 5g of healthy fats per pouch. These essential fatty acids aid in nutrient absorption and brain development.
The average organic pouch on the market contains 9 grams of sugar which is A LOT for a tiny little body – even natural fruit sugars add up. Introducing savory, not sweet, flavors can help set your little one up for a lifetime of healthy eating because babies form their palate preferences between four to seven months old. This is known as their flavor window which closes around 18 months.
Serenity Kids recently launched a range of Rice & Grain Free Puff snacks! Deliciously savory, nutritious and none of the junk found in other puffs and snacks. Comes in three great flavors: Carrot & Beet with Olive Oil; Broccoli & Spinach with Olive Oil & Bone Broth; Tomato & Mushroom with Olive Oil & Bone Broth.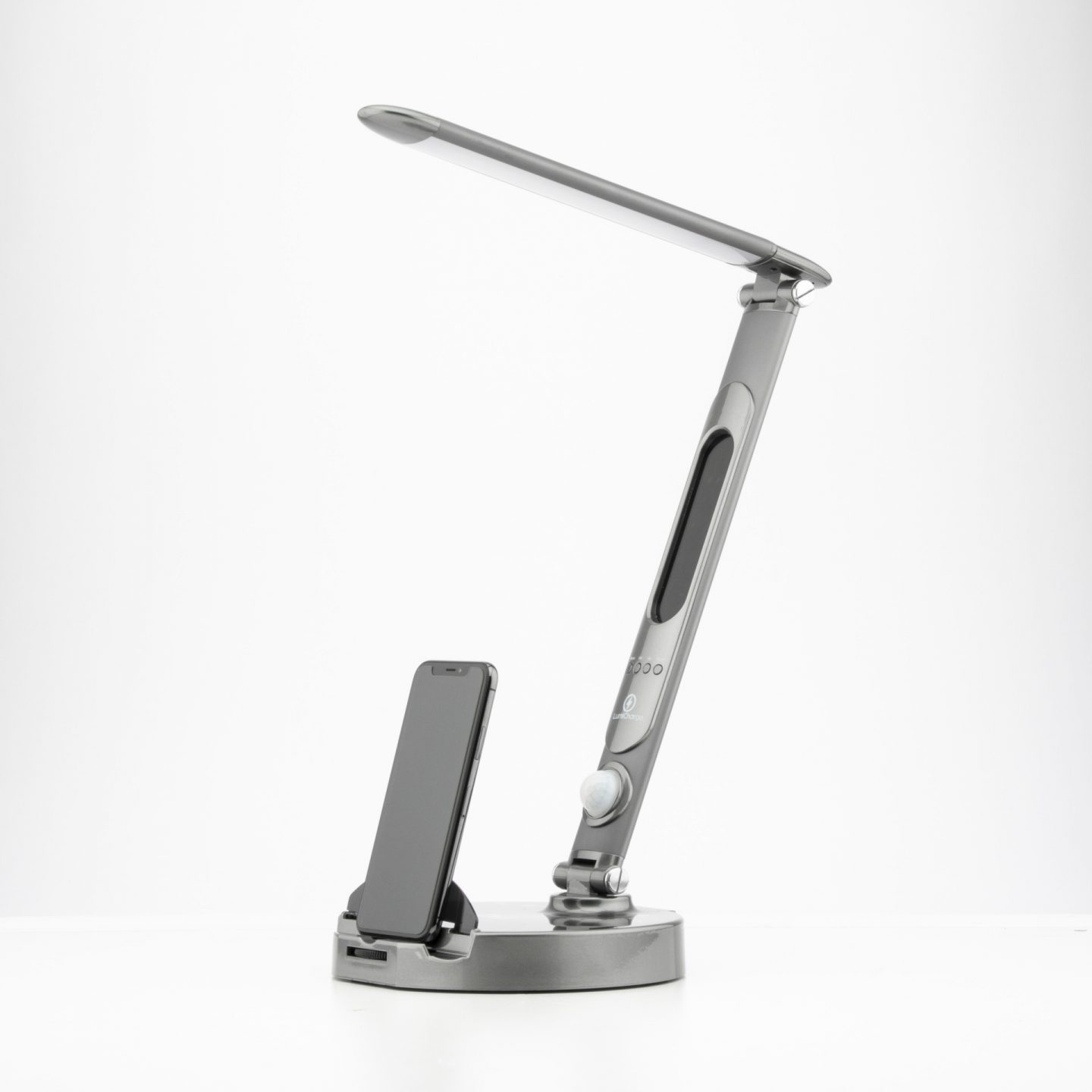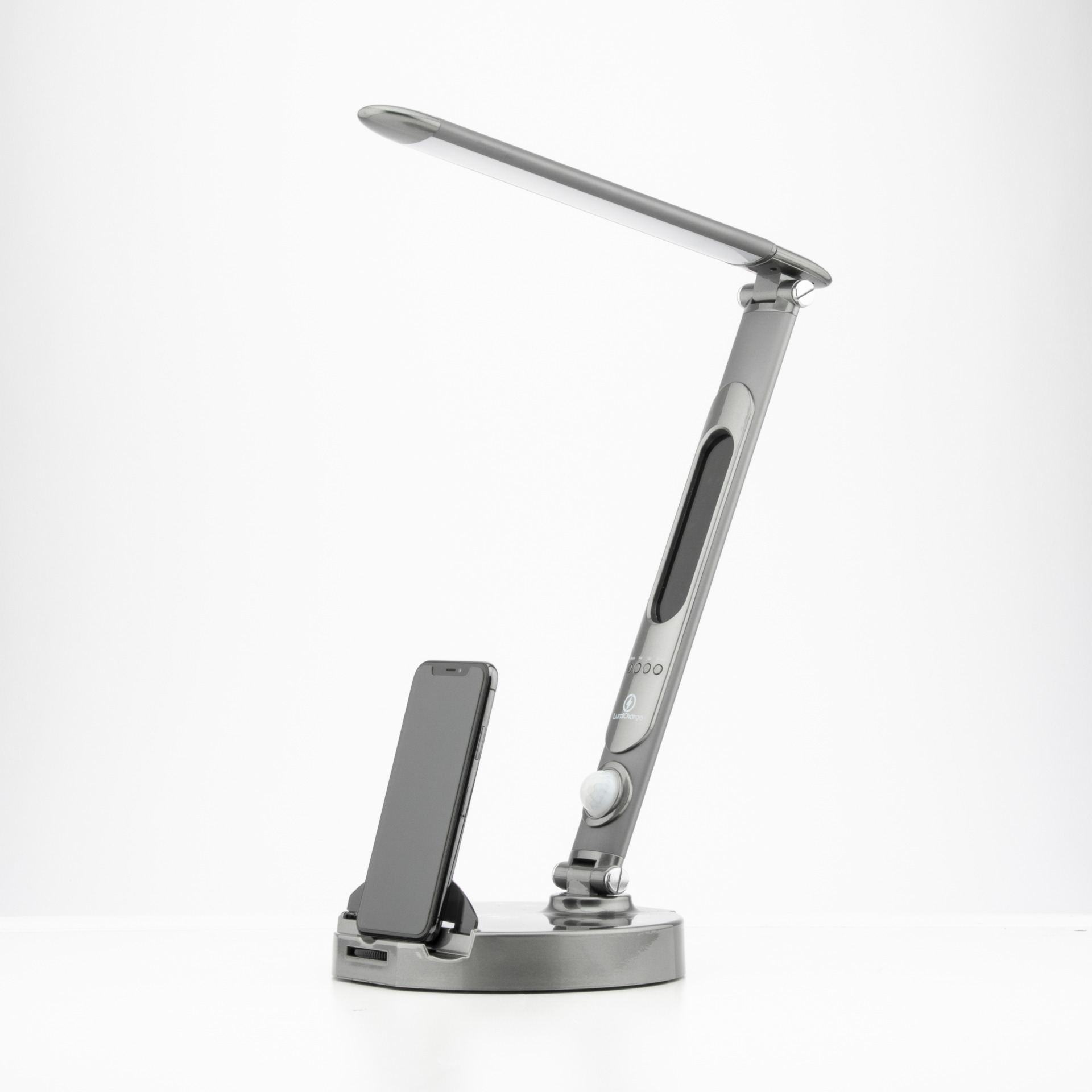 14 // LumiCharge Desk Lamp // Another great idea for the teen in your family. This desk lamp is perfect for their bedside table or desk. This eye friendly LED lamp can also charge your phone!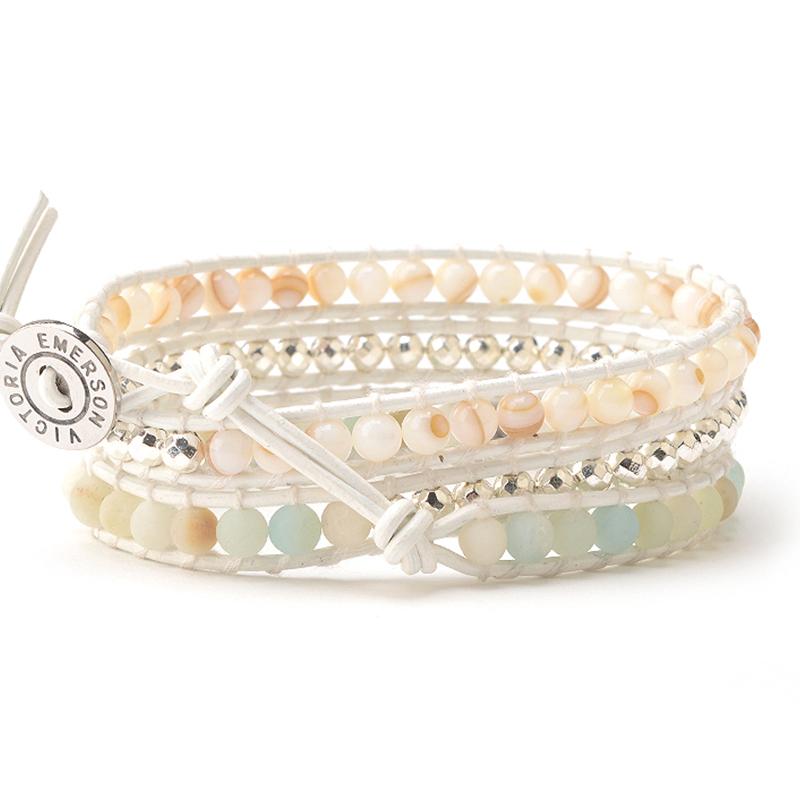 15 // Victoria Emerson Wrap Bracelet // These wrap bracelets are great for your teen or tween's Easter basket. I wanted to make sure to include gift ideas for kids of all ages! I love all of my Victoria Emerson wraps and I'll be wearing mine for Easter this year! They are great accessories that match with any outfit!
16 // Mideer Toys Storybook Projector, Magnetic Letters and Numbers, and Round Puzzle // Mideer believes that a good toy is a piece of artwork, and I couldn't agree more. I gravitated towards their puzzles as a way for the boys to learn through screen-free play, and hands on quality family time. These are the perfect toys to pull out after dinner time!
Mideer is committed to providing artistic and creative toys featuring diverse cultures and making life better for children and families around the world. Mideer has collaborated with the world-class artists to bring more aesthetic education for young children. They are lucky to reach more than 50 countries and have won lots of popularity through word of mouth.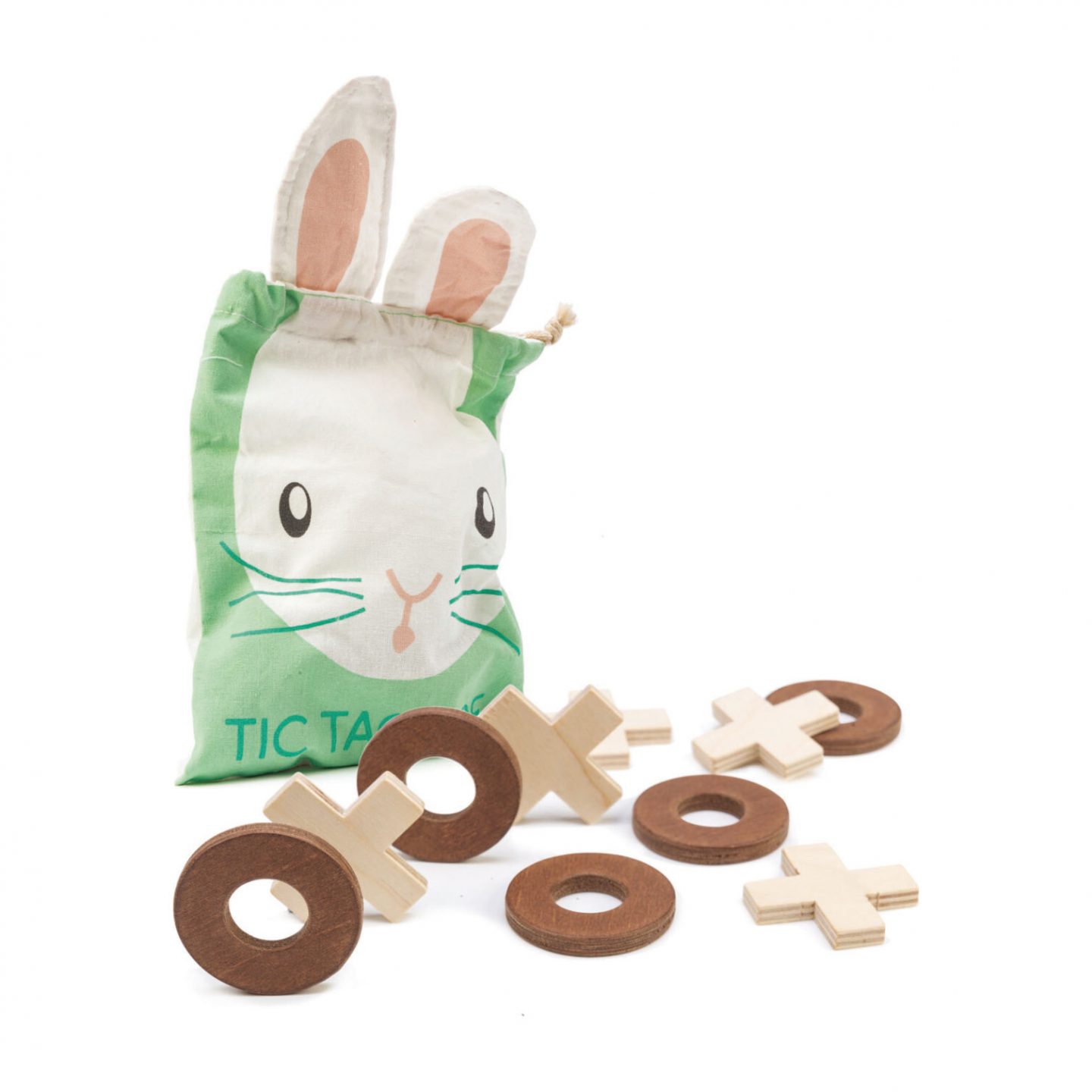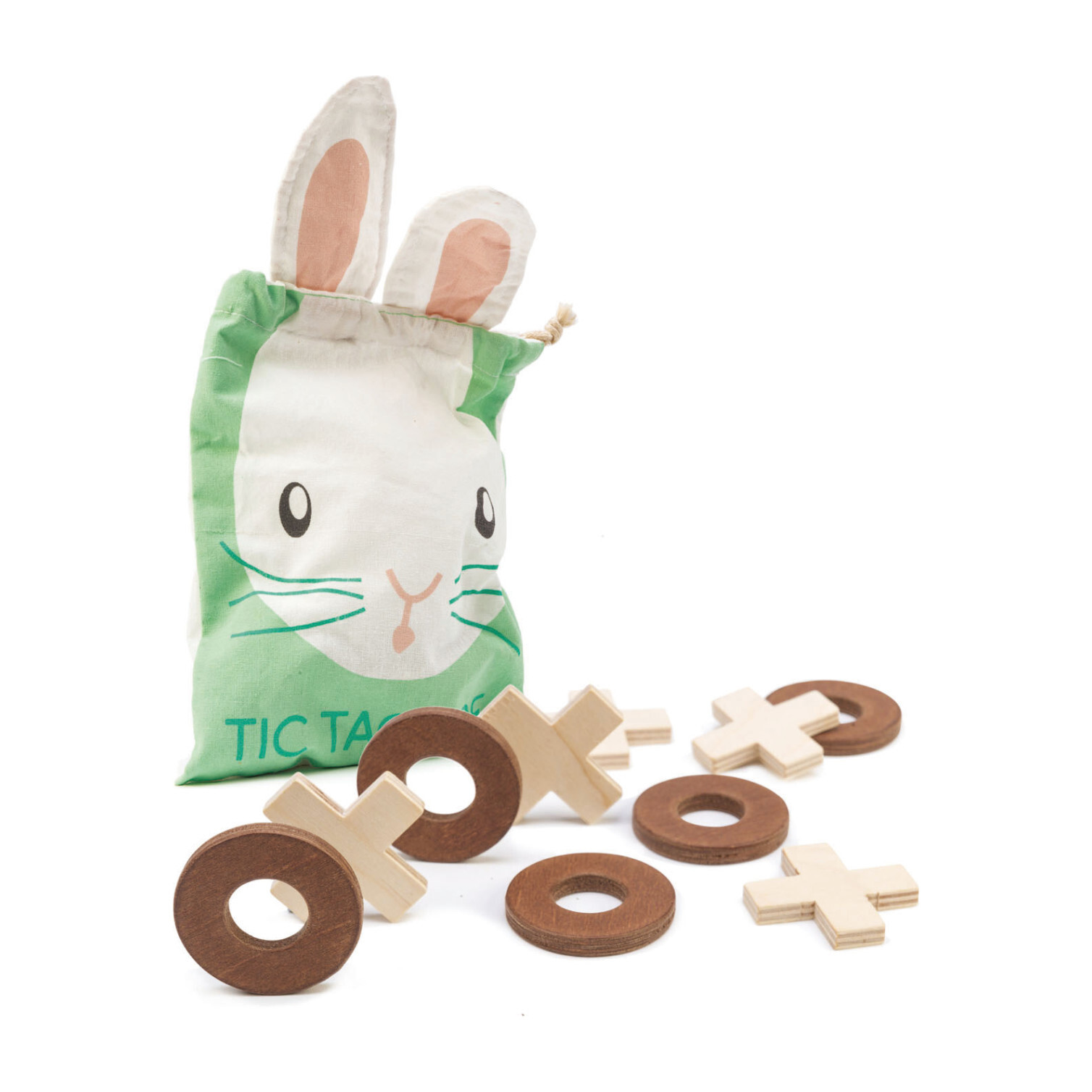 17 // Tic Tac Toe Set // How darling is this wooden tic tac toe set, which comes in this sweet bunny bag!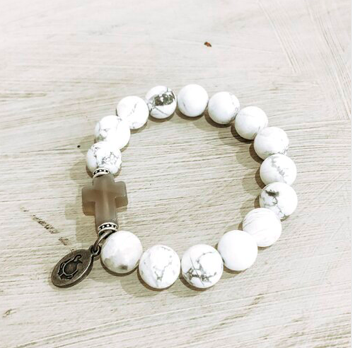 18 // Grace Marble Style Bracelet and Easter Flowers Prayer Cross // The beautiful bracelet is a great addition to any teen or tween Easter basket, especially because it holds a special meaning. These bracelets are handcrafted by victims of human trafficking, who are finding refuge at The Well House. This sweet Easter Flowers Prayer Cross would also be sweet to include in a basket for your little girl!
And I know any mom would love a this Sugar Cookie Candle or WellHouse Coffee Mug. You can read more about their mission HERE. To sweeten the deal, they are offering $10 Off Orders Over $50 and $20 Off Orders Over $100!
Thank you to GoodnightFox, LumiCharge, Mideer Toys, Moody Publishers, Serenity Kids, Solar Buddies, Teach My, The Manhattan Toy Company, Wiley Wallaby Licorice, Yoobi, YumEarth, and Zondervan for partnering with me on today's Easter basket gift ideas for boys and girls post.
YOUR Easter Basket Gift Ideas For Boys And Girls & Traditions:
Easter morning we eat boiled eggs. Two people hit the eggs & the one that breaks loses. @samirahattar
All about Jesus! Books, new bibles, kids devotionals, bible coloring books, etc. @kayla.f.hayes
Chocolate bunnies and children books about baby Jesus. @cbeuthin_
We write little notes to the kids put inside the plastic eggs we hide then they read each one! @kyttifoo
We are doing shoes this year with minimal candy. @jwb2002
Masks, belt for church, natives. @lydfreeman
Snacks they take to school and a little candy. @lorimaslodice
Swimsuits, swim toys, books, bubbles. @mhdoggett1
Fun pajamas. @brittbug1212
More toys/ STEM and less candy here! They get tons of candy during the egg hunt. @kellybewell
Invite friends to our church and host brunch following! @kellyanne_adoption_compass
Hiding eggs at the most oddest places for teenagers they still beg for it. @kcbn1234
Sunglasses, outdoor toys and favorite candy. @comstockkmm14
Since kids are older (teens) we started giving a new beach towel folded like a bunny. @haywatam
Whatever we give up for lent, if tangible, goes in the basket! @tiffkent
I theme it each year – last year was "spa day" w face masks, bath bombs, bubble bath & slippers. @alainafaith
SHOP The East Basket Gift Ideas For Boys And Girls Post HERE:

Check Out More Easter Posts HERE:
PIN The Post For Later!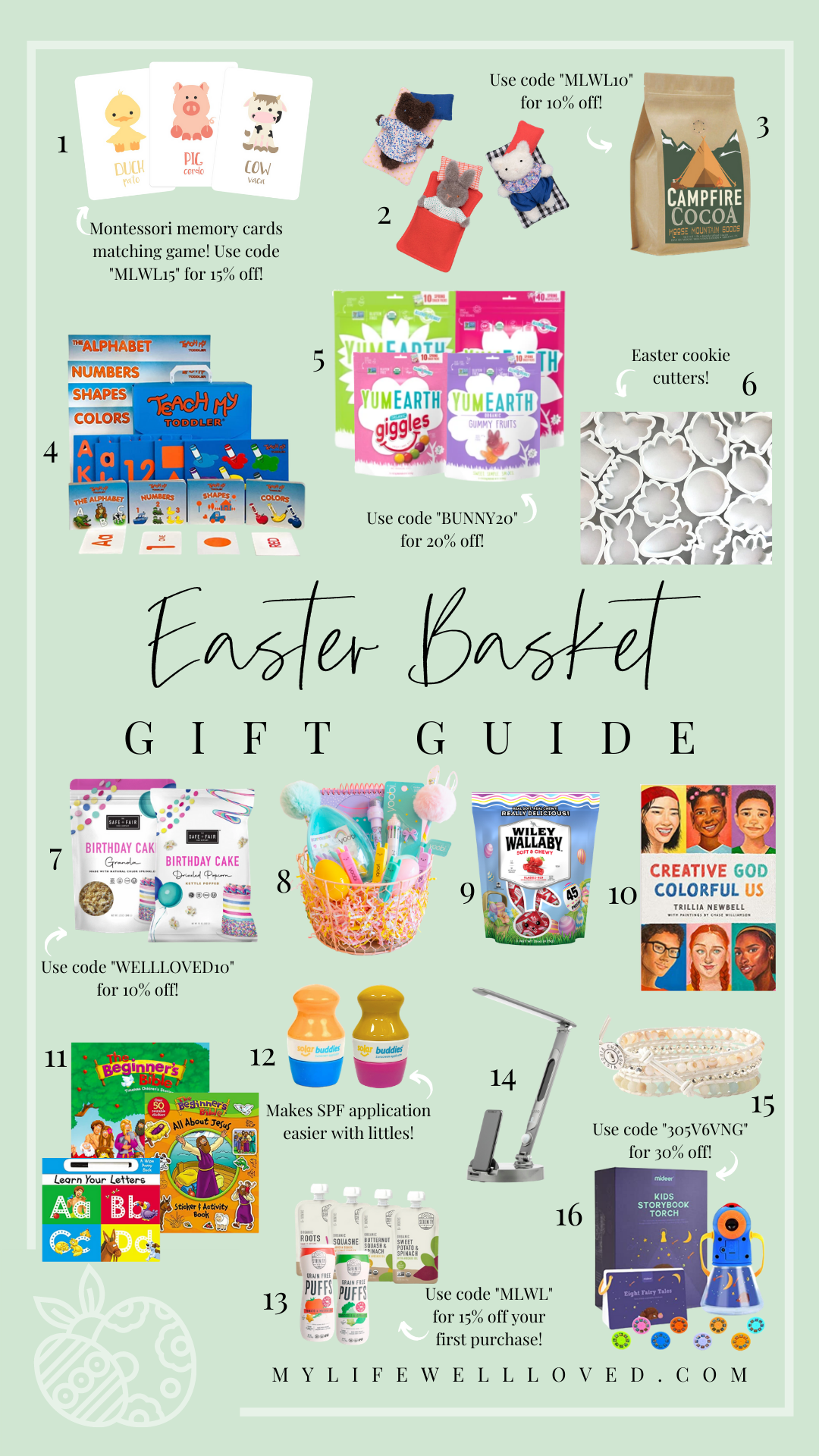 Heather Brown helps busy mamas of young littles who are caught in the hustle to find encouragement in their journey to true health, from the inside out, starting with the heart. Read her journey of learning to live a life well-loved
HERE!