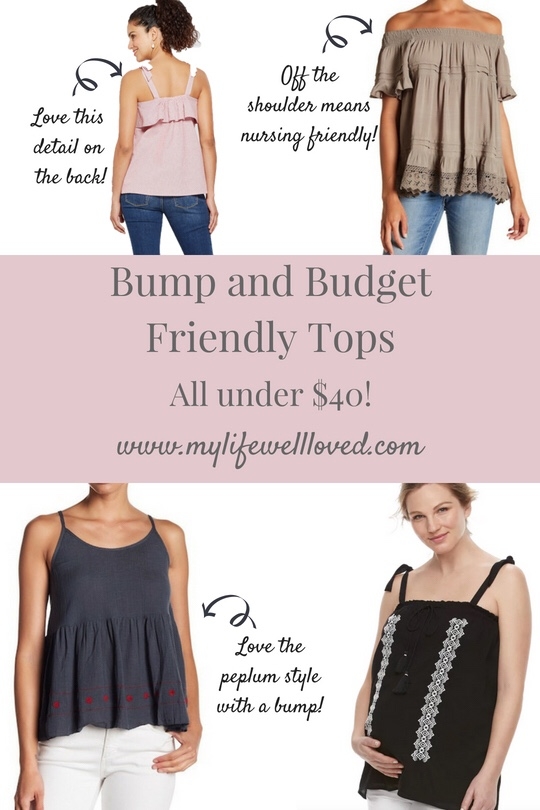 I really hope y'all caught my funny story on Instagram last night. I am 29 weeks now, the bump is actively growing, and a brand sent me a crop top. YIKES. On that note, I've decided to round-up a few of my favorite bump friendly tops that are also budget friendly! Some are casual, some would be perfect to pair with shorts for a date night, and NONE of them are crop tops 😉 Shop the images below and scroll down to the bottom to see my 29 weeks pregnant bumpdate!
Bump and Budget Friendly Tops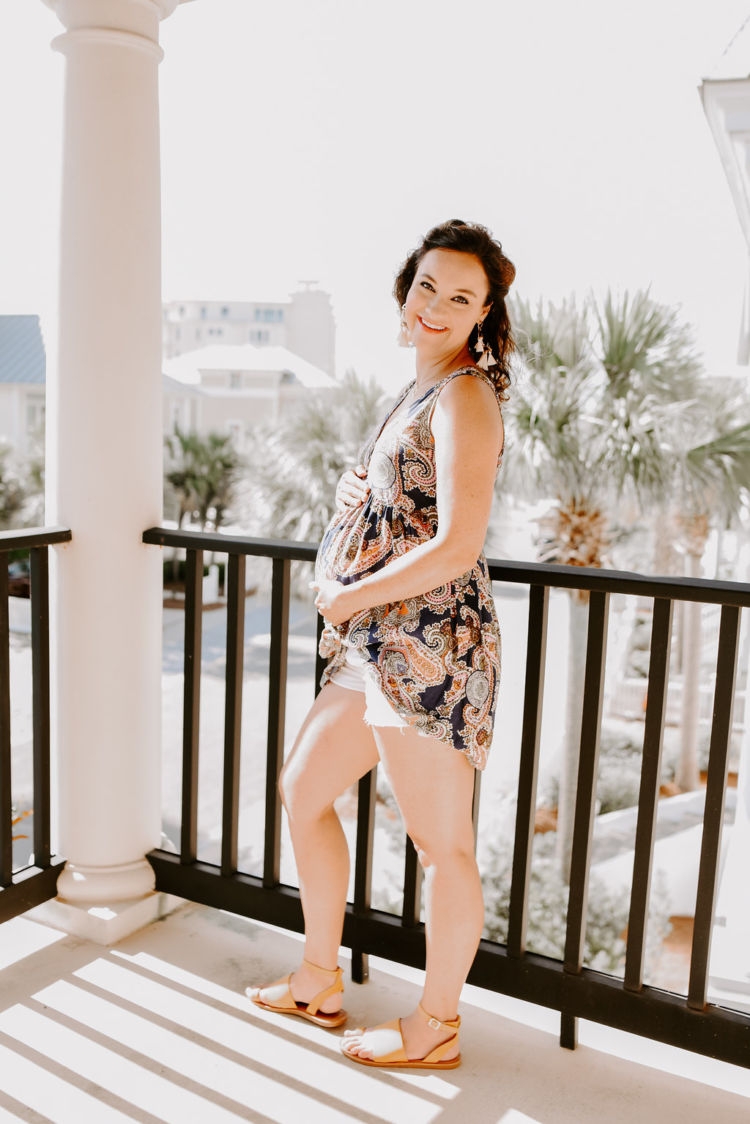 Shop the twenty-nine weeks pregnant bumpdate post: Yellow Target Sandals  // Go-to White Maternity White Shorts Tilton Street Earrings// -use code MLWL for 20% off
Twenty-Nine Weeks Pregnant Bumpdate:
Speaking of sales, almost everything I'm wearing in these pictures is on sale right now. My Black Wedge Shoes are on MEGA sale and my dress although a splurge is currently on sale and great for summer weddings and events if you have a bump.
I canNOT believe that this is the beginning of the third trimester!!! I'll be bringing you my second trimester must haves soon so if you have any suggestions that I need to add on, please let me know!
Twenty-Nine Weeks Pregnant Bumpdate:
Size: Baby is the size of a butternut squash. The kicks and movements used to be sweet and small. Now that 2.5 pounder is starting to "throw some bows" and it's getting a little uncomfortable up in here!
Weight gained: 30 lbs – I can't. I'm pretty sure this was my total weight gain with Leyton…awesome.
Symptoms: All the things… heartburn, peeing every 5 minutes, constant thirst- (living in the Alabama heat + pregnancy + workouts ain't easy, y'all!), less round ligament pain which is encouraging, lower back pain when I stand too long, HEAVY feeling.
Favorite wardrobe piece to wear right now: Y'all flipped out over my Free People Aster Top that was on sale for $34 when I wore it in stories this week on Instagram. Grab it while it's still on sale! It's a great throw on and go and is perfect for the bump, nursing-friendly or you can size down since it's super over-sized. You can front tuck it or knot it up. If you don't know how to knot up a shirt, you can see my tutorial here. 
Boy or girl? Boy!
1 thing I am currently having trouble with: Next week are going to potty-train. I feel like I'm cramming for an exam. Send all the prayers and helpful tips my way! My pregnancy hormones are making my patience short.
1 moment I loved about this past week: Our Pure Barre at Vulcan event outside was so fun! I really enjoyed hanging out with our community and taking in the views of our city while doing an exercise I love + God capped off the night with a beautiful sunset!
1 thing I plan to do for myself this week:  Commit to being in the Word at least 3 days this week…more than just a quick read but to take time to soak in it and be present with the Lord.
Food cravings: Blueberry anything. Peach milkshake at Chick-fil-A…it's back and I must have it! Watermelon.
Currently working on: Preparing for potty training for Leyton and trying to get all this week's blog posts scheduled!
For my other bump updates, you can head here:
Heather Brown helps busy mamas of young littles who are caught in the hustle to find encouragement in their journey to true health, from the inside out, starting with the heart. Read her journey of learning to live a life well-loved
HERE!