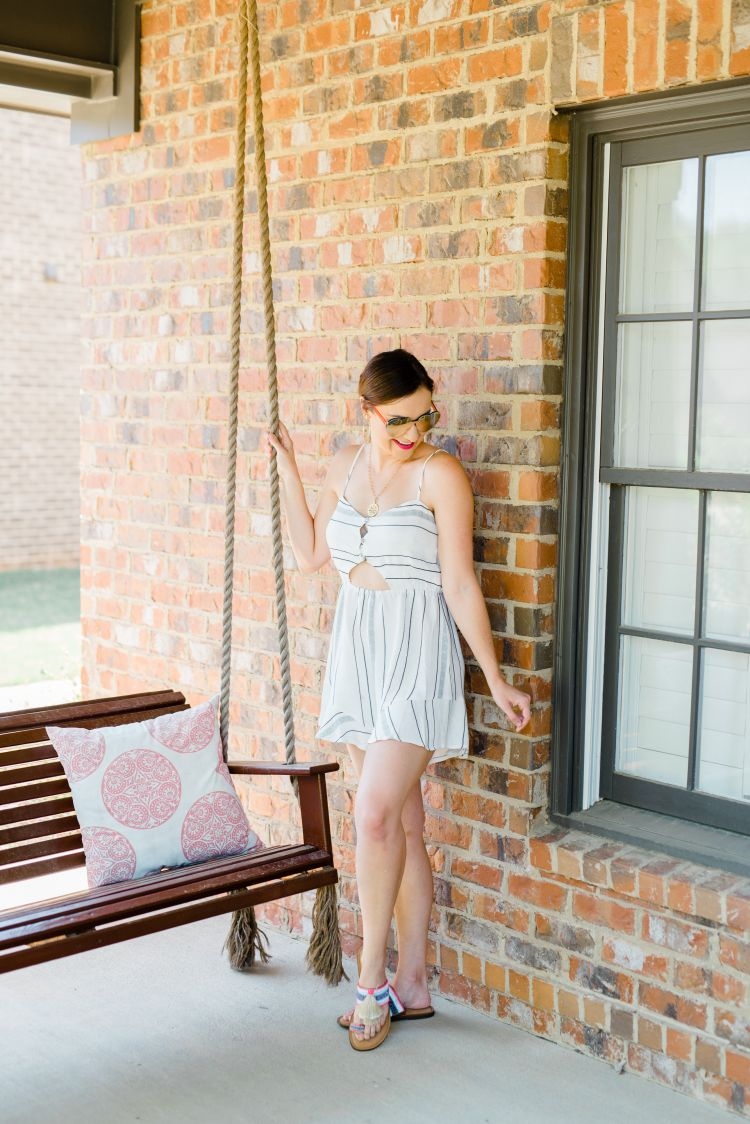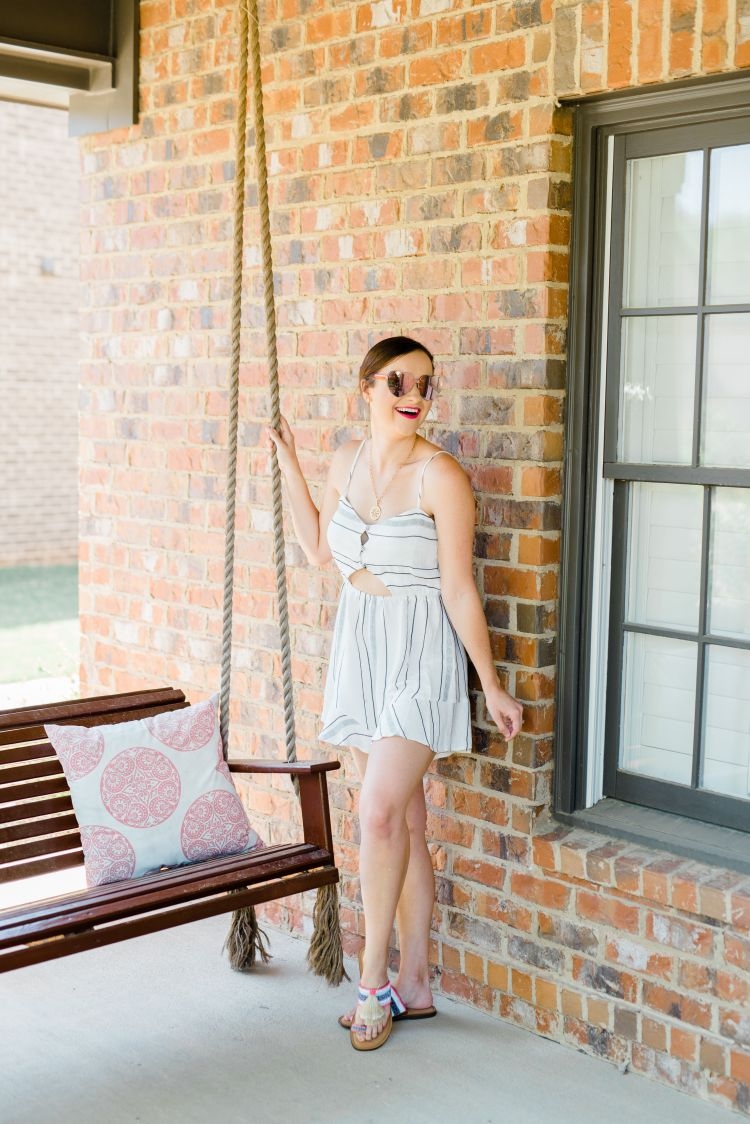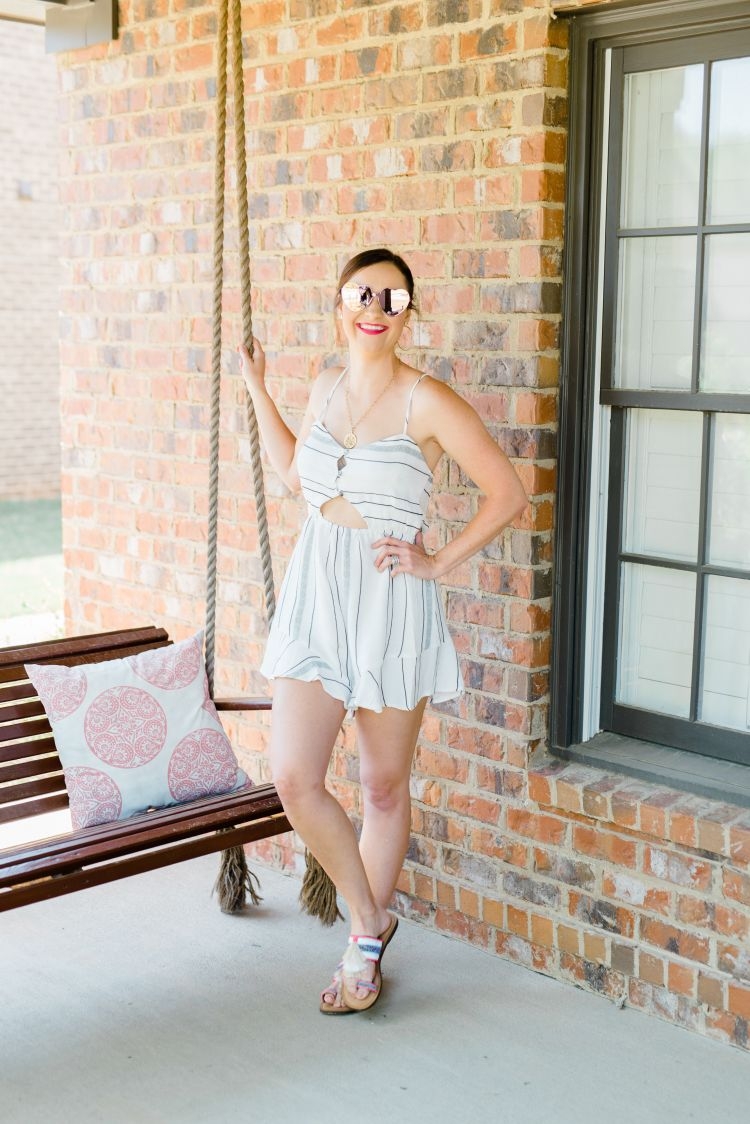 Shop The Blogger FAQ Post Photos: Romper (similar) // Sunnies // Lip // Sandals // Necklace // Earrings

Photos: Eric and Jamie Photo
Almost on a daily basis, I get a lot of the same questions in my Instagram DMs from y'all. While I NEVER mind helping my girl gang out and sending links, I wanted to compile a post of all of the most frequently asked questions from this past month. These range from home stuff, FWTFL (Next Round Starts TODAY!!), Nordstrom Anniversary deals, motherhood, the recent HACK (EEK), and more!
Calling all content creators: If you are looking to streamline collaborations, use the easiest way to report on sponsored content! Try Influence Kit FREE for bloggers & creators HERE!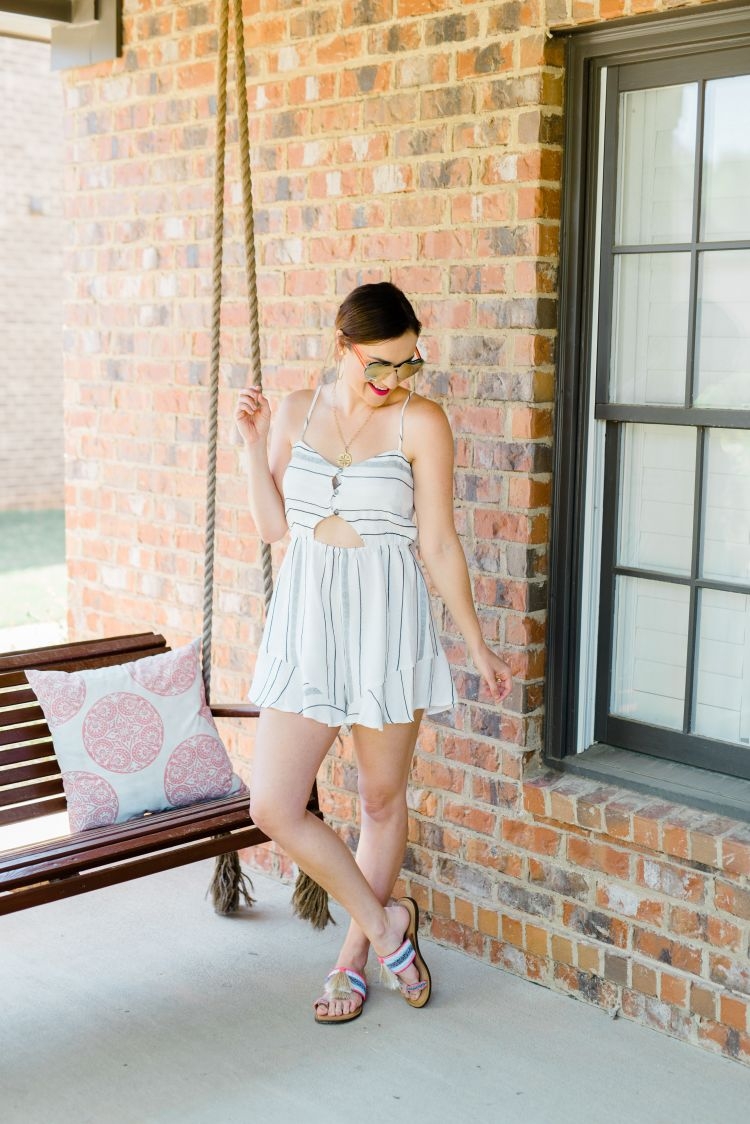 Blogger FAQ: Your Top 20 Questions
1. HOW did you get hacked? – EVERYONE
I was recording Eric's Nordstrom Sale Try-on and thought "Oh, it would be cute to get a boomerang in the Instagram app of the boys in the mirror with him." I opened up the app but couldn't login. Within 10 minutes of checking on multiple phones and accounts looking for @mylifewellloved with no results, I got an email from my hackers asking for payment in broken English. I'll share all the details later this week in a post but I got in touch with Control Alt Protect, by the grace of God, through a friend of my sister, and they did a search for my accounts on the dark web. We found out my email associated with my Instagram was hacked back in 2017 and again in late June. We believe that the hacker, over time, pieced together enough information to login to my account and change the username and email on the account so I had no way to login. It has been a nightmare… I'm still in recovery mode… lost sleep, missed bedtimes with my boys, missed meals, spending hours on the phone, text, email, and direct message trying to find ANYONE who knew someone who could help me since Instagram is basically useless in helping unless you find an internal contact. Stay tuned for my post later this week where I'll share more details. However, I can tell you that the Lord made himself evident every step of the way…I am so grateful for His faithfulness and for each of your support and love through this whole ordeal. From the bottom of my heart, thank you for sharing my account and being so supportive!
2. What bouncer do you use for Baby Finn? – @sarah.jewell.harper
3. What were your favorite maternity workout pants? – @kristinvnash
I love the Beyond Yoga Leggings, hands down! They are pricey but I borrowed them from a friend and LIVED in them! I have the regular Zella leggings and have heard great things about their maternity leggings as well! For more of my favorite workout maternity clothes, click HERE!
4. What highlighter do you use? – @lk912
5. What is a good, clean sandwich bread?
6. What is your favorite lip gloss? – @victoria.berry3
NYX Butter Gloss is hard to beat for under $5 + Amazon Prime Shipping! I also really love the Buxom line for a splurge/plumping one.
7. Favorite bathing suit? – @caseymariephotography
8. Can you do FWTFL as a vegan/vegetarian? – @sveeteskapes
Yes, you sure can! Alex has a vegan/vegetarian meal plan and will help you fit the program to YOUR lifestyle! Our next round starts TODAY! Click HERE TO JOIN!
9. Will I have access to the FWTFL Facebook group if I sign up? – @ashleykmccutchin
Yes! When you sign up via my link, you'll get a welcome email with a portal login and you can watch all the videos and then you'll get an invite to our FB group! Click HERE TO JOIN!
10. Does FWTFL include workouts and food ideas? – @juliededman28
It does! Alex has a free meal plan in the documents on the FB group and the workouts are in the portal which you'll also have access to! Click HERE TO JOIN!
11. Do you have any tips or favorite products for hitting the beach with a baby/toddler? – @jlk1206
12. How will I know how many macros to eat and when if I do FWTFL? – @lori_isrighthere
Alex is amazing! She goes above and beyond to make sure you have the right macros, goals & numbers. Even another coach told me how impressed she is with Alex's knowledge and ensured me that I was in good hands! I have trusted her to help me adjust macros, maintain my milk supply and adjust my workouts to match my low macro or low carb days, etc. Click HERE TO JOIN the next round STARTING TODAY!
13. Do you have any posts or videos about your extensions? – @lori_isrighthere
I do! You can see a full post all about my hair extensions HERE! I go to Alison at Salon U and she is WONDERFUL! PS – Don't forget that Blo Drybar in Homewood is offering you guys 20% off when you mention MLWL20 Monday -Thursday this month!
14. Can you share a good weighted blanket? – @transformwithtaylor
15. What is a good breastfeeding-friendly top? – @whitneyd_gay
16. Do you have any recommendations for a good set of sheets? – @jessicasprinkles
These $30 sheets from Amazon are literally the best and Instagram "famous"! They have tens of thousands of 5-star reviews on Amazon. I'm also told they make a duvet cover set that's a steal! I've only heard one negative and that was from someone who told me that they started to wear after about 6 months. Has anyone else had this experience?
17. Is the Barefoot Dreams Cardigan worth it? – @sibrymer
18. What are your favorite sandals for summer? – @molliequinn
19. Any recommendations for a good, affordable beauty blender?
20. What is one of your favorite tops from the Nordstrom sale? – @sarah.jewell.harper
I am obsessed with ALL the camo, stars, and leopard this year! This sweatshirt I bought is so comfy and amazing + super affordable!
21. Looking for smallish. non expensive amazon wallets – @simplyselman
I have heard great things about the LV dupes from Amazon. Super similar but a fraction of the price!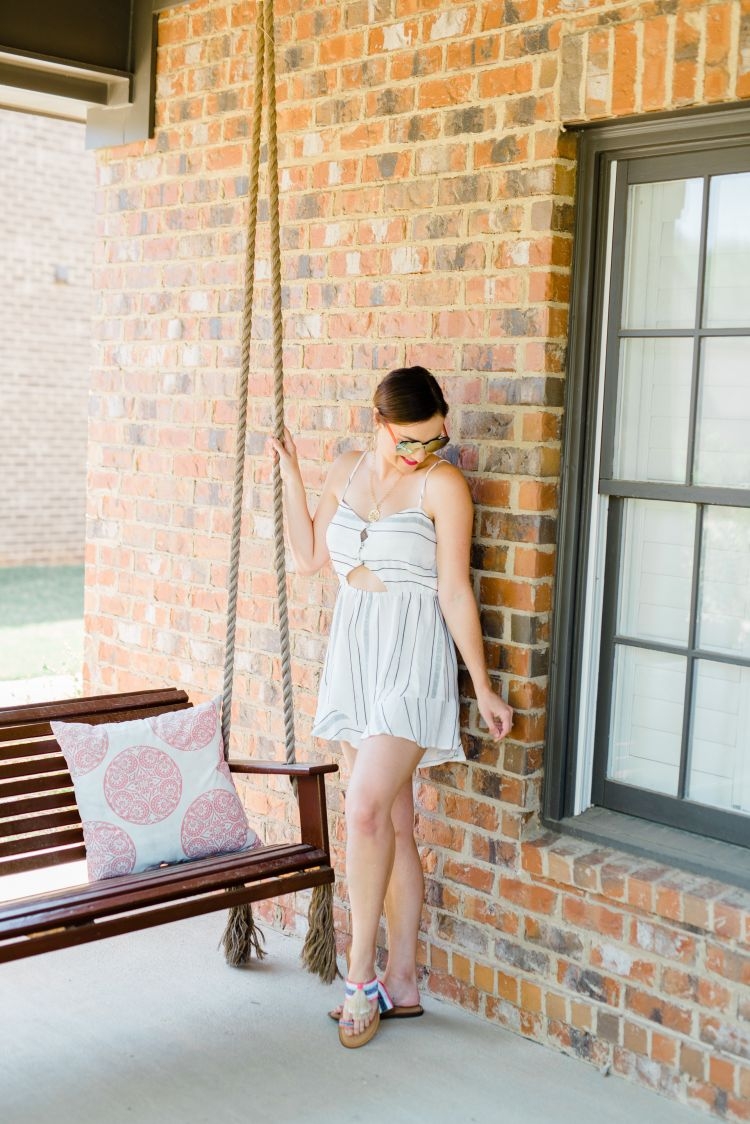 SHOP the Blogger FAQ Post HERE!

Heather Brown helps busy mamas of young littles who are caught in the hustle to find encouragement in their journey to true health, from the inside out, starting with the heart. Read her journey of learning to live a life well-loved
HERE!