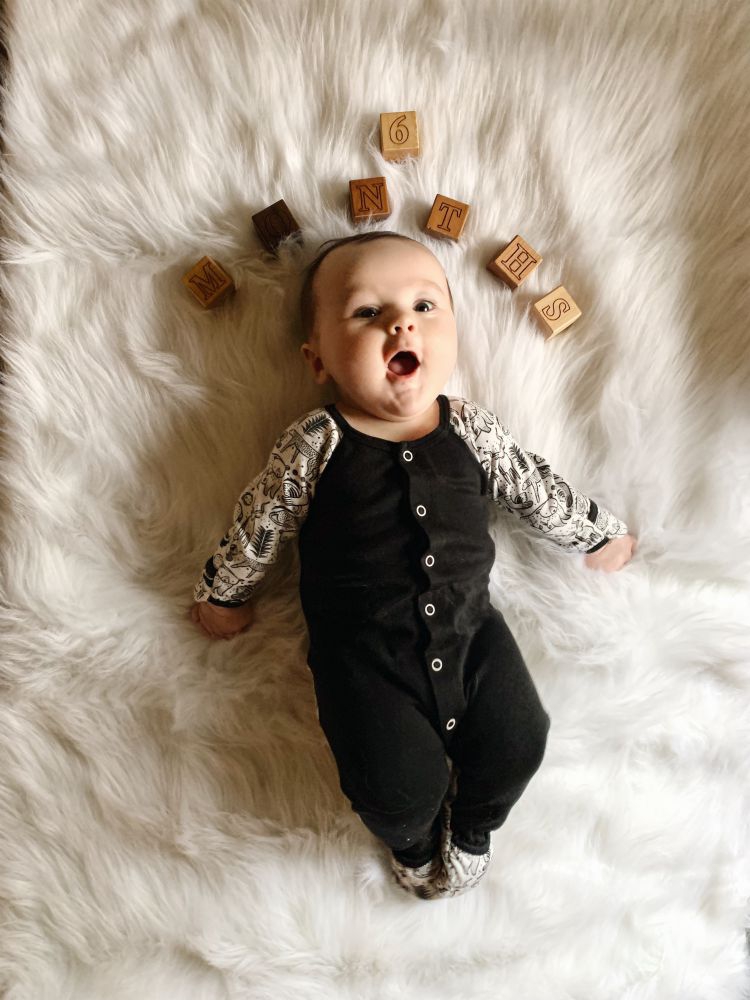 Shop the Baby Milestones by Month Photos: Finn's Goummi Kids Onesie CODE: HEATHER20 //My Marley Lilly Pullover (50% off) //  Blocks // Rug

Dear Finn,
I should have finished this post hours ago but instead I took extra time to just sit and rock in your nursery glider with you. I held you on my chest where you'd go from resting your head on my face, to my chest, to propping up and looking at me and then to rubbing your tired little eyes. Those moments are the ones that go by way too fast and I just try to soak in every bit of them because I know after blinking and seeing Leyton as a 3 year old that babies sure don't keep.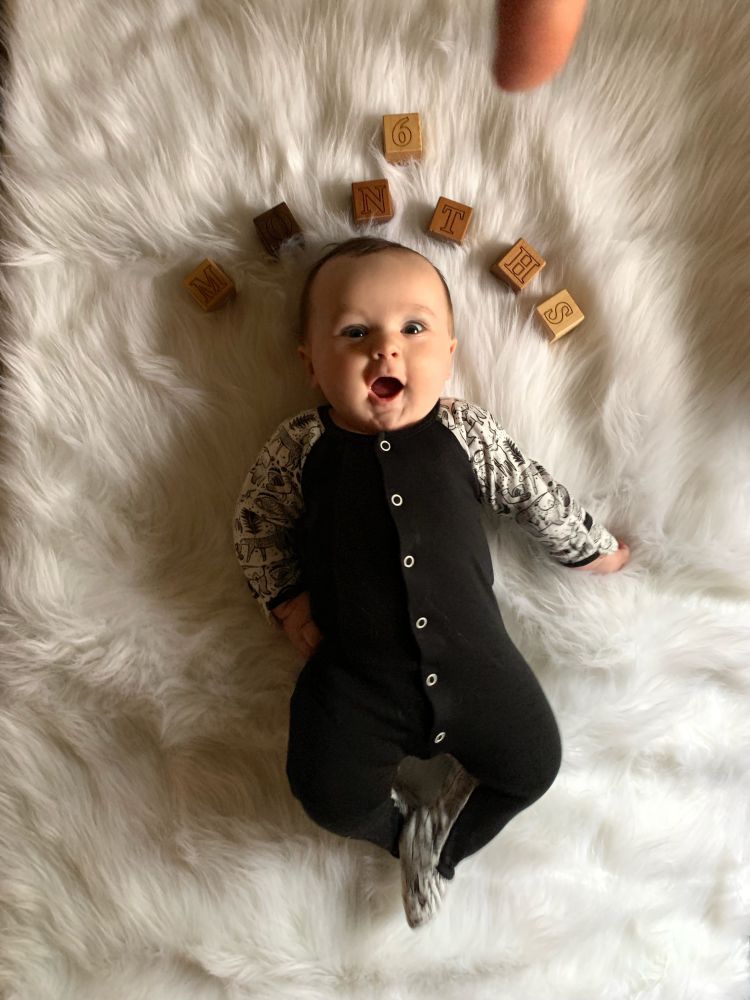 You are my little ray of sunshine…always happy to dole out a smile. I hear off and on that you look like Leyton and thought I could see it some from certain angles, but then holy moly, I just went back to Leyton's 6 Month Update and I mean….are you guys twins?! The resemblance is insane to me!
This has been a whirlwind month with your daddy taking an unexpected trip to Tampa for 4 days, us leaving you for the first time to go to Colorado for a little getaway and then just all the other daily going's on.
People tell me all the time that you are so go with the flow and that you are! Not that Leyton gives you much choice. 😉 You are a JOY to have in our family baby Finn Finn and it makes me so happy to see Leyton starting to try to do silly things to get your attention and make you laugh. You make our mornings brighter, my evenings cuddlier and I can't get enough of kissing your chubby little cheeks!
xoxo,
Mommy
Baby Milestones by Month: 6 Month Update
Sleep: Moms on Call loosely followed still – We have for sure fallen behind several time changes and leaps forward but now you are up for 2 hours at a time in between naps. We are working towards earlier bed times around 9/9:30.
Eating: Every 4 hours except for night time – still BF'ing
Strength: I think you could roll over from back to belly but as your pediatrician would say, "He has the strength, but he's being lazy." LOL We are working on sitting up and supporting you and helping you stand at the coffee table.
Loves:  Bath time still, yelling, hollering out and chatting away to let us know you have FOUND YOUR VOICE and know how to use it,  Dock A Tot, your play mat (you love play time and holding onto your elephant and lion that hang down, Magic Sleep Suit, Mommy tickling your tummy and neck and chest with my chin/hair kisses.
Clothes: 6 months / 6-9 months outfits mostly, I LOVE your Goummi Kids outfit in this post and put you in it every time it's clean. CODE: HEATHER20, Kyte Baby and Gap penguin warm onesie best right now!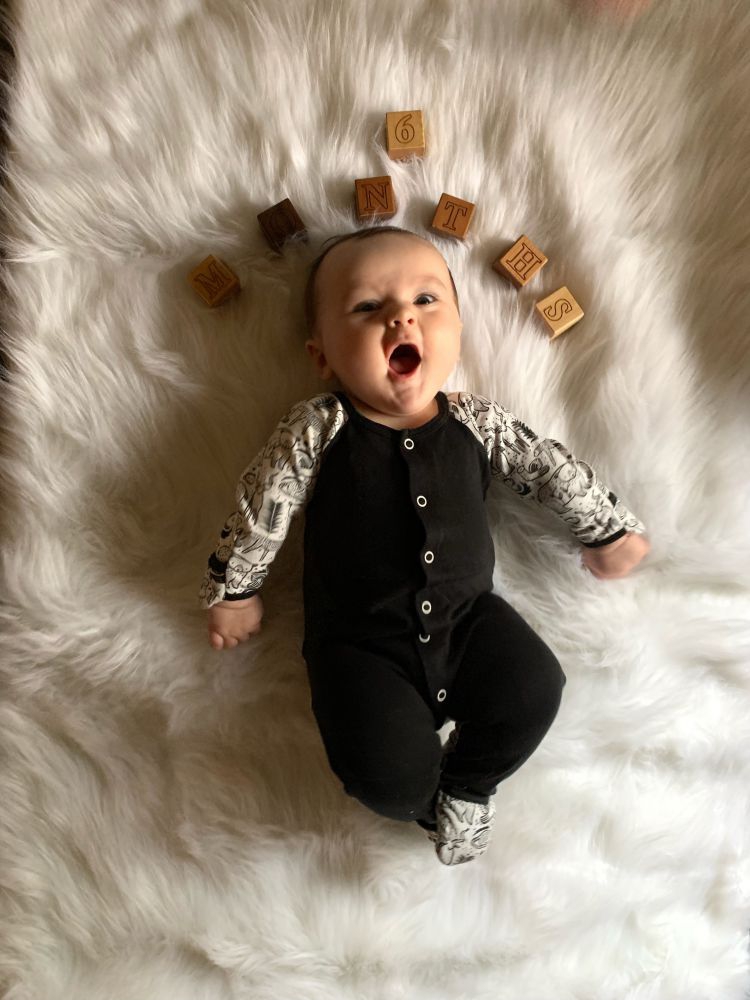 Baby Milestones By Month: MLWL Community Recommendations for 6-9 months of age
Ellie loves her little toy bucket that comes with the different plastic shapes. @lindralambert
Bigger sleep sacks, fruit teethers, jumperoo @kathryneholland
Both of mine have loved the banana teething toothbrush! @lace_rich
Fawn and Foster have good drool bibs plus they donate to foster kids. @cassiedroyle
ChooMee tops for pouches (Amazon) @4wardadventure
Comotomo teether @thrivinginmotherhood
Joovy @lifelutzurious
Jumperoo! @mdukart610
Please share highchair recs! @karinudrum
Raz teether and banana toothbrush teether @lydfreeman
Rubber duck for bath, zipper onesies @samfroese
Tummy time and paint time together. He can move the paint around without having to get dirty. @lauren_c_08

Ziplock bag, sheet a paper inside with a few drops of paint, tap the both side to the floor @lauren_c_08

Itzy Ritzy Teethers @taytruax
They'll be sitting up and my fav toy is anything stackable that fits inside one another and or can stack @joysfromjesus
Jumpers that hang from the wall! @boyle1219
Bubble bath. Shoes. An iced binky for teething. @goglin_coupons
Current fav of Macie's is her walker! I'll send a pic! @ohhappyhotalings
SHOP THE ITEMS YOU ALL RECOMMENDED BELOW:

Baby Milestones By Month: Previous Posts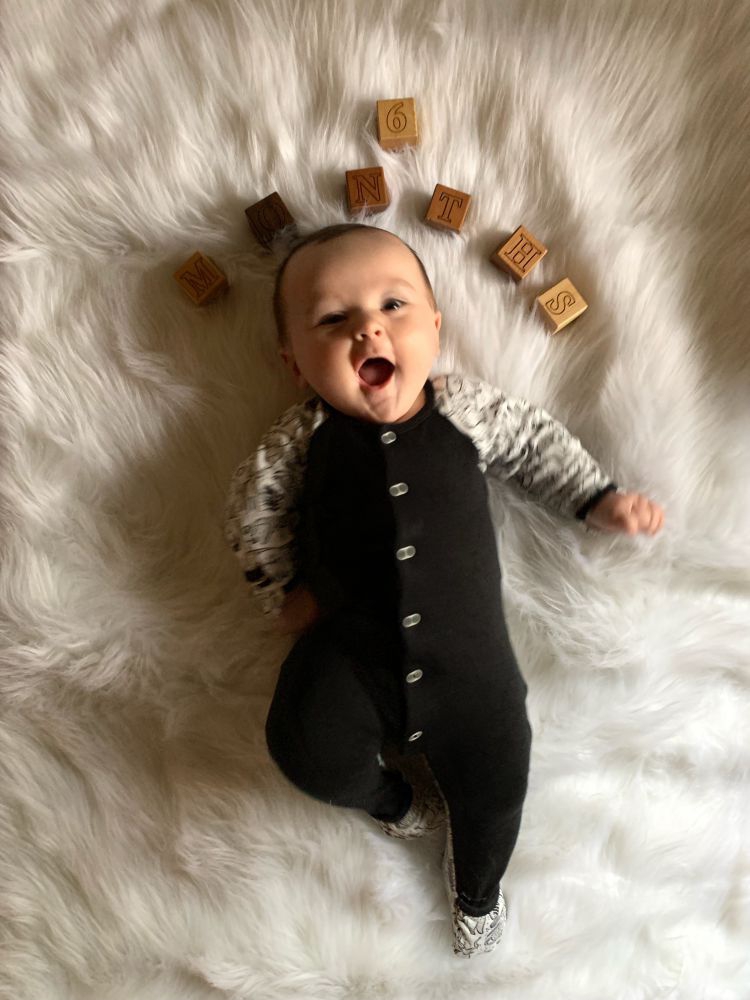 Baby Milestones By Month: Shop Finn's Favorite Things This Month!
I get questions every day about Finn's high chair, outfits, bottles, double stroller and more. I've linked all of it either here below in the widget or on this BABY & POSTPARTUM PICKS PAGE!