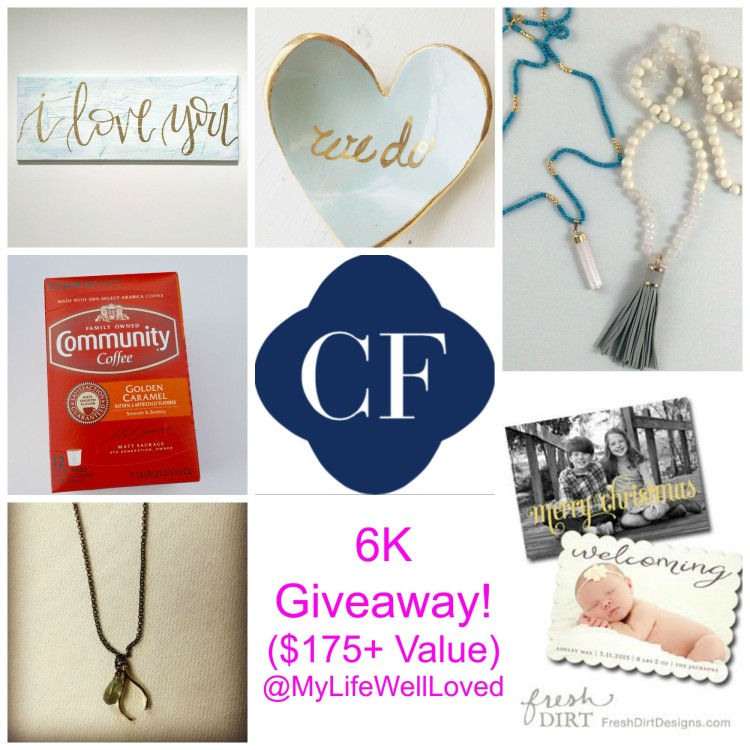 Thank you, thank you, thank you for helping me get to 6,000 followers on Instagram! I love gramming with you guys, reading your comments, and seeing your adorable pictures. I have not 1, but 2 giveaways for hitting this milestone. One went live tonight and the other will go live in the morning. Here's what you can enter to win:
1. A Simple Kind of Fancy Painting: Local Birmingham based artist with lots of talent! I'm jealous one of you can win this painting, so pretty! You can use the coupon code mlwlblog for 25% off anything in her Etsy shop (jewelry and beautiful artwork)!
2. Susan Gordon Pottery: Another local Birmingham artist making swoon worthy pottery. Enter to win a ring dish! You can use the code MLWL15 to get 15% off her site!
3. Kate Morris Jewelry: You guys already know of my love for Birmingham jewelry maker extrordinaire KMJ as previously blogged here, here and here! Enter to win a $25 gift card to buy yourself some lovelies from her shop.
4. Community Coffee: Enter to win your very own taste of some of their Caramel K Cups. Read more about them in my post about Hacks to Start Your Morning with Intention!
5. Shop Crystal Faye: Enter to win a $25 gift certificate to this personalized boutique with everything from lunch boxes to Converse. Who doesn't love a good monogram?
6. Fresh Dirt Designs: Seriously, how much talent do we have in the 'Ham? Make sure you check out FDD's modern, personalized stationery! Enter to win a $25 shop credit to her shop! If you have a shower or need new stationary, order with the discount code HEATHER to get 15% off your purchase at Fresh Dirt Designs.
7. St. Vincent's 119 gift shop: St. Vincent's 119 has offered up a handcrafted Harlow Jewelry Necklace!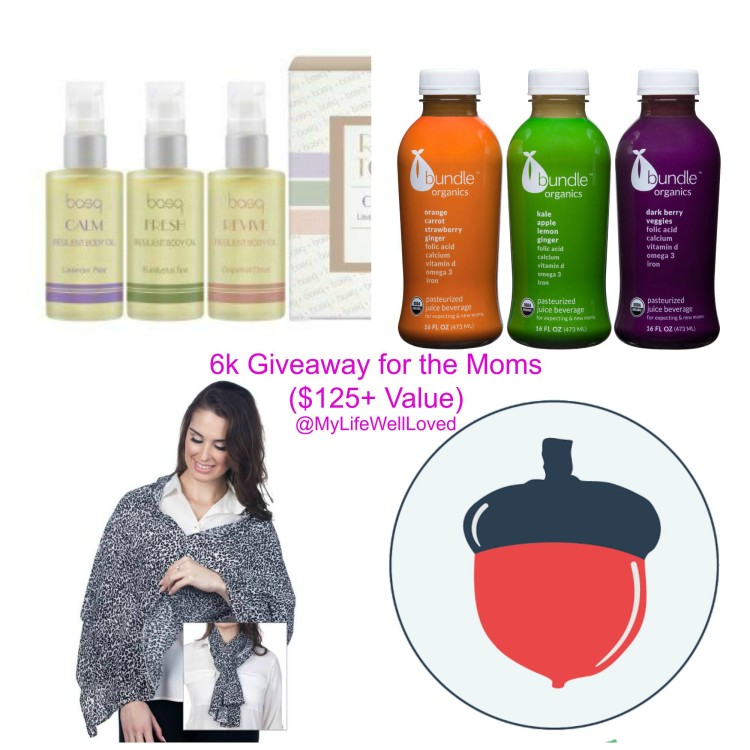 Tomorrow morning, there's ANOTHER giveaway going up for the MOMS and moms-to-be! Even if you aren't a mom, this is a great prize pack to win for your sister, friend, or co-worker. Here's what we're giving away:
1. Basq Body Oil Set: 100% pure plant oils to moisturize, soothe and nourish dry, stressed skin. Omegas, antioxidants and skin toners all in one beautiful blend. Protection you need in three aromas you will love – Lavender, Eucalyptus and Citrus. Read more about my love for Basq.
2. Bundle Organics: I started drinking these pregnancy-approved pasteurized juices during my first trimester. My favorite flavor is the green!  If you want to try out these juices, use the code MLWL15 for 15% off! Enter to win a 3 pack of these juices in the giveaway!
3. Leading Lady: Leading Lady is giving away a nursing tank and a nursing cover that doubles as a scarf to a lucky winner! These will be such necessities for me after Leyton is born. 🙂
4. Sugar Bit: I can't even get over how precious Natasha and her family are! This company out of Nashville, TN has awesome kiddo brands like chewbeads, petite ami, and more. You can enter to win a $25 gift card to her adorable shop and outfit your kids in style!
Make sure you follow me on Instagram & the sponsors and enter to win by looking for the photos in this post on my Instagram page and following the directions there! Thanks so much to all my fabulous sponsors for making the prize so great!
And don't forget to enter to win my Medela Accessory Kit giveaway on the blog too! SO many great opportunities to win big from MLWL this week. That's what you get for being one of my amazing followers. I'm so very thankful for each of you who make this community what it is!
Heather Brown helps busy mamas of young littles who are caught in the hustle to find encouragement in their journey to true health, from the inside out, starting with the heart. Read her journey of learning to live a life well-loved
HERE!