This Banana-Berry Purple Smoothie is a workout fuel recipe. It's so incredibly important to give your body the nutrition it needs to help you perform at your optimal level. Think about eating to fuel your muscles and your endurance and you'll be surprised how much better you can feel before during and even after a workout.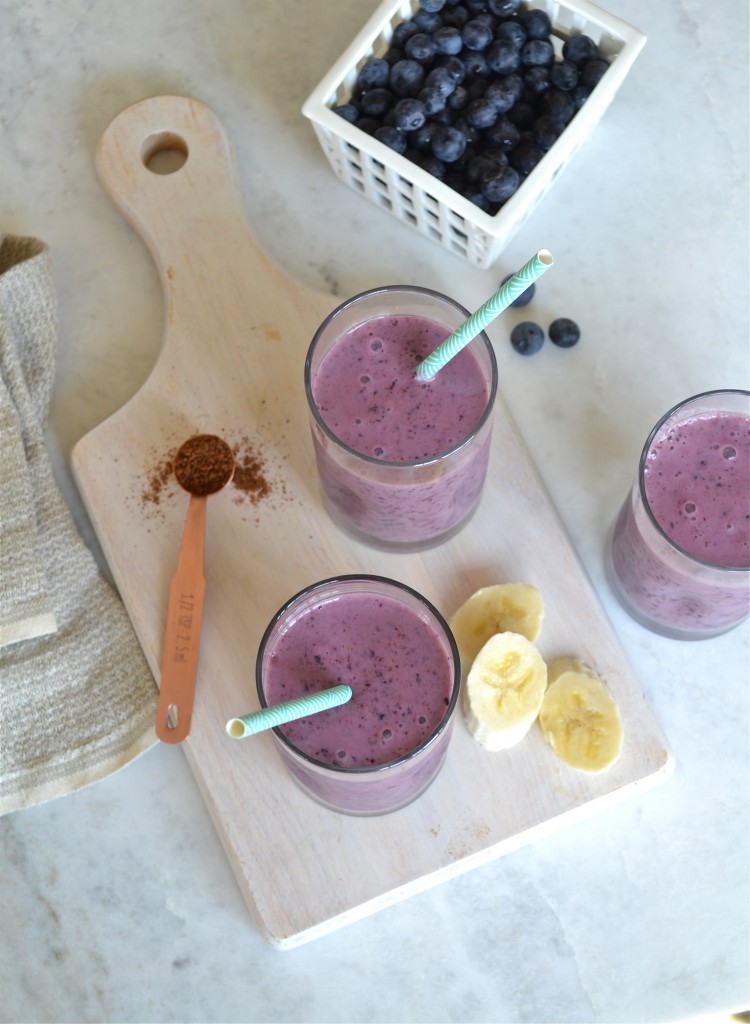 I stumbled upon this article: Blueberries: A Runner's Best Friend and thought you guys would be interested to learn a little bit more about the health benefits of blueberries as well. It's really interesting to learn how blueberries can help with inflammation and even lactic acid buildup as well as many other things. Then obviously, bananas are great for you after a run since they are loaded with potassium which aids in recovery. This recipe comes from the eMeals breakfast plan and is chock full of healthy ingredients including blueberries, bananas, low-fat milk, flaxseed meal (optional), and cinnamon.
I loved the rich cinnamon taste in this smoothie, and even though blueberries are NOT my favorite fruit, I thought this blended together beautifully! Plus, I love that bright color in your glass as well as the fact that it is CLEAN EATING! What are you waiting for? Go get your run on and look forward to a tall glass of a bright and cheery chilled smoothie waiting for you!
Purple Smoothie Recipe:
Workout Fuel: Banana-Berry Purple Power Smoothie
Ingredients
16 oz frozen blueberries
3 medium bananas
2 cups low fat milk
3 tablespoons flaxseed meal (optional)
1½ teaspoons lemon juice
1½ teaspoons cinnamon
⅛ teaspoon nutmeg
Instructions
Combine blueberries, banana, milk, honey or agave, flaxseed meal if using, lemon juice, cinnamon and nutmeg in a blender.
Process until smooth.
Slurp this delicious smoothie with a straw for maximum enjoyment!
Check Out More Recipes HERE:
SHOP The Purple Smoothie Recipe HERE:

PIN The Recipe For Later!