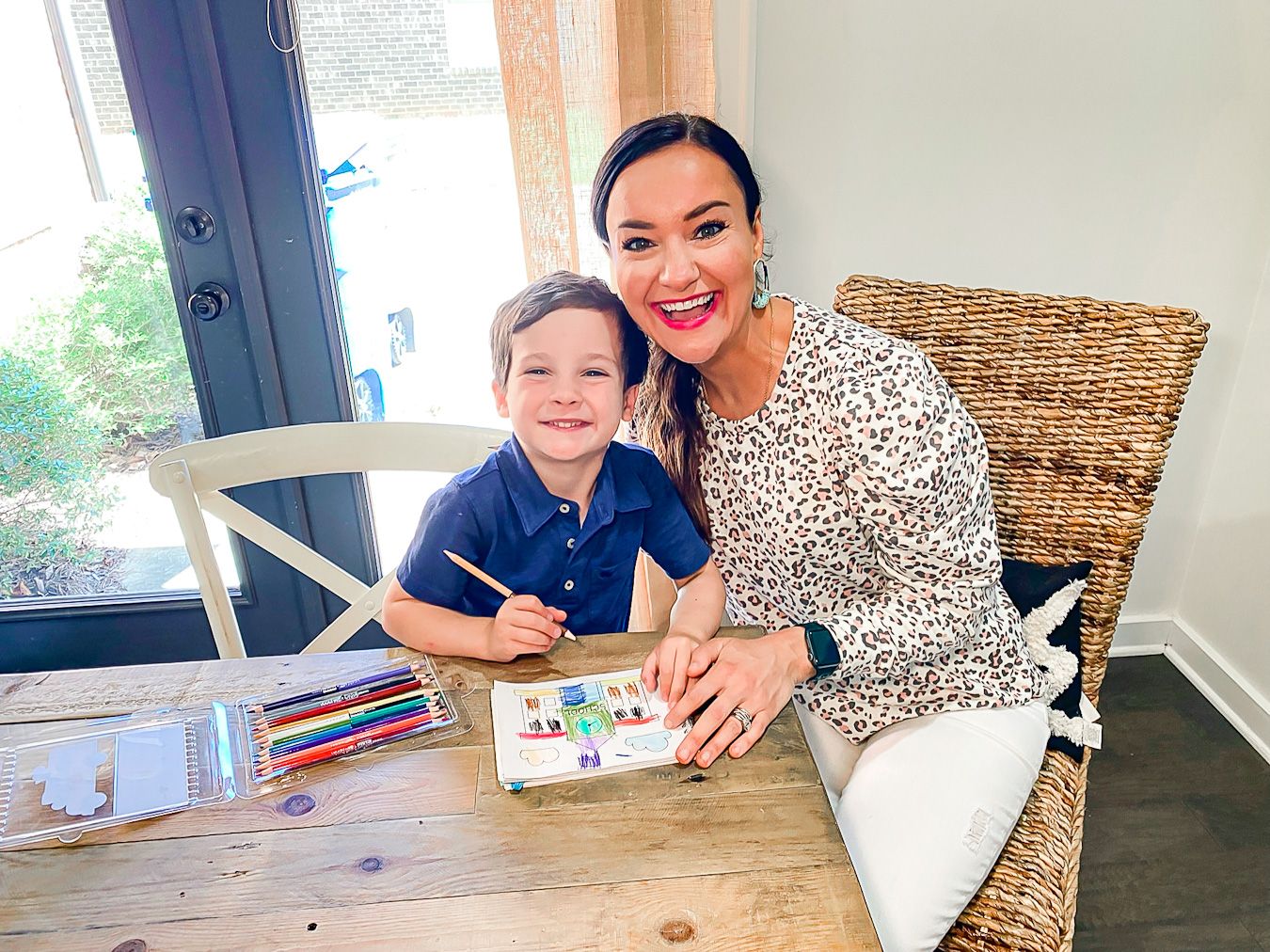 Shop The Private School vs Public School Post Here:

As many of you know, Leyton and Finn both have August birthdays. I have talked off and on with you on whether or not you're glad you held your child back, if you had your child repeat kindergarten, or what that looked like for you and your kids! Many of you walked with me through Leyton being born, my postpartum depression, Finn being born, potty training Leyton before preschool, and now I am about to start that journey all over again with Finn.
Honestly, I cannot believe I'm about to walk Leyton through the doors of kindergarten and start what feels like the next chapter of motherhood. That journey begins with the school system. I polled you and asked for your honest opinions and your prayers about what it looks like to prepare a child (and myself!) to go to kindergarten. I asked you to weigh in on this subject – whether you're a teacher who can give me advice or a parent who has done this before. I asked for any and all insight you could share with me on this journey revolving around:
Holding a child back vs not holding back
What I might need to know before walking through those doors
How pertinent is it for him to be reading or writing his letters well
Whether to choose public school vs private school
ALL of the many thoughts and fears that can plague our minds and live in our subconscious thoughts
Getting into the nitty-gritty, I think I will allow your words to speak to the advice on choosing public vs private school. I will list them out for you below and break them down by the responses I received for each choice. I didn't know how to adequately start this conversation with you on Instagram Stories because there is just such little info on this subject. I hope hearing these words from other mamas, teachers, and principals gives you a little peace of mind. If you're looking for those resources, keep scrolling to the bottom of the post to read the feedback I received. I am blown away by all of your responses and helpfulness with public school vs private school so THANK YOU for encouraging my mama heart, and I hope that wherever you are, you will feel encouraged too!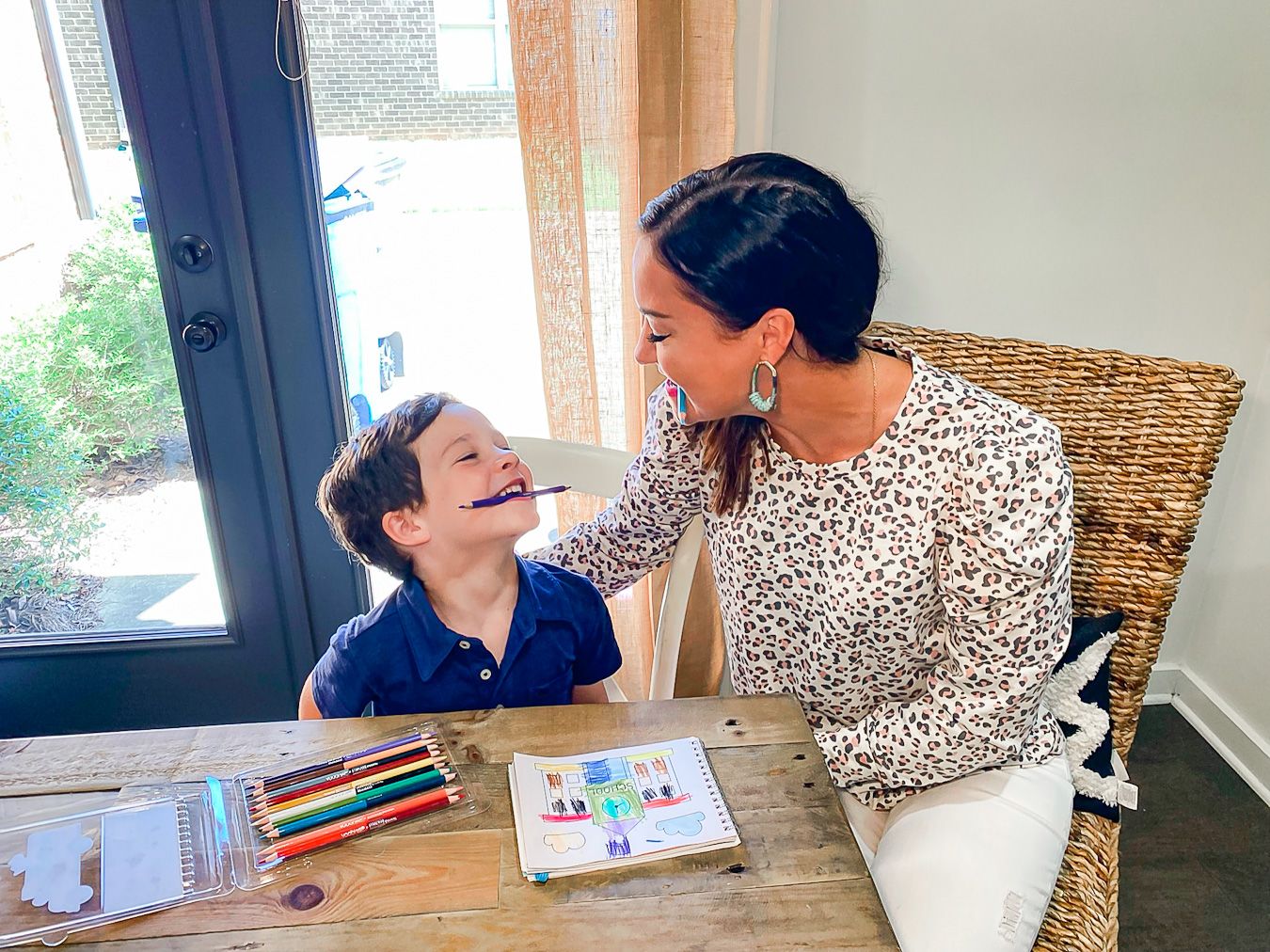 Some Encouragement On Getting Ready For Kindergarten
I read a study not long after I had Leyton that the human brain, on average, can only efficiently pay attention to three or four things in our conscious mind at one time. This is comical to us as moms because just to get out the door in the morning, we are constantly thinking: did I pack the older kids lunches, do I have enough formula for the baby, did I pack my gym clothes, are there uniforms clean and ready for tonight, do the older ones have their homework, did I pack MY lunch, wasn't I supposed to sign a form for something? And the list goes on and on and on… It is TRULY a juggling act.
Mama, let me tell you if no one else has told you yet today: GREAT JOB. You are crushing it, and if no one has told you thank you for getting up early this morning to change diapers or clean up a spilled bowl of cereal, and not losing your cool in the carpool line, let me be the first to tell you, "You're doing amazing!"
As we live out the day to day shuffle of mom-life and make these BIG decisions for our littles, there is freedom in knowing there really is no "right decision" for everyone. Everyone's situation is so different and I think we need to give ourselves extra grace. The 2020 school year was crazy with masks, quarantine, and some of you are still experiencing the lingering impacts of this too. Right now, we need to show each other LOTS of grace and speak to each other lovingly when we disagree. Just like our Merica challenge a few weeks ago! We can agree to disagree and still love each other.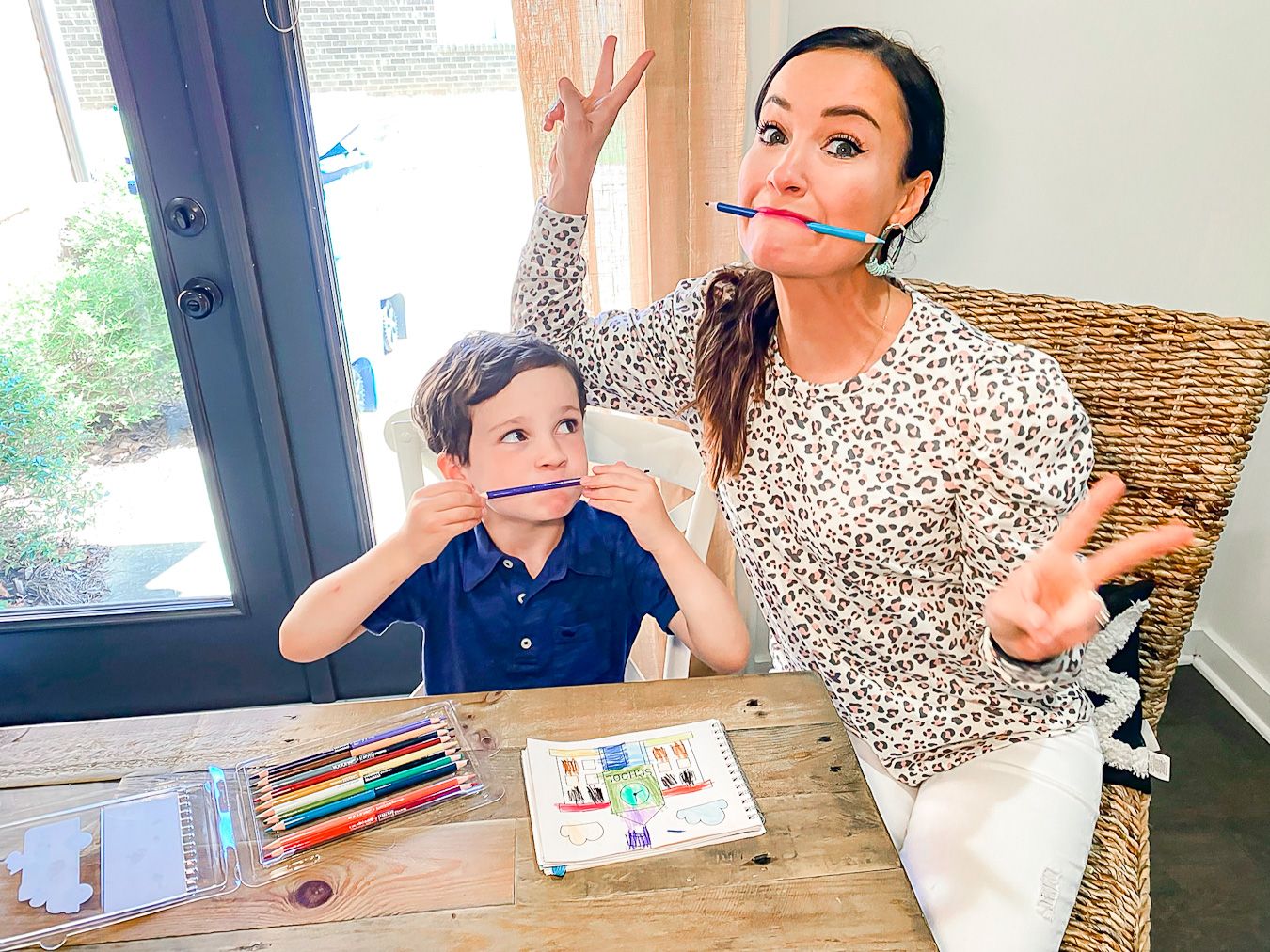 One thing I'm realizing as a parent and after talking with you on Instagram is kindergarten is a time for huge, I mean HUGE, growth for our babies. We don't need to put so much pressure on ourselves to be reading, writing, and practicing with our preschoolers before the first day of school. While I do think it is important to read books with your littles every day, what is more important than them knowing every letter or being an early reader is ensuring they feel super secure and loved at home so they have confidence. Having this security and confidence in the love from their parents at home will drive their relationships, their friendships, and actions in school.
These last few weeks of summer are going to fly by really fast and we are going to be in disbelief that it's already the first day of school. If you haven't already made a bucket list of things you want to do with your littles before school starts, I would highly encourage you to! I have a bucket list for us and you can see some of those fun ideas HERE!

Shoot me a DM on Instagram and let me know if you have some additional ideas I should add! As you head into these last few weeks, I encourage you to focus on being together. Encourage your kids to play WITH YOU! That is a major help for your stress as well as helpful to them. Let's all strive toward teaching our kids to be kind, confident, and accepting of others.
As much as I want to worry about Leyton as he heads into kindergarten (and I'm sure you're inclined to worry about your kids too), the Lord cares for them more than we ever could and they are in His hands. Cast your anxiety about the decision on God, and pray about it just as much as you talk or fret about it (I'm talking to myself here too)! Below I am sharing 2 verses I am clinging to during this season of transition:
Cast all of your anxiety on Him because He cares for you. 1 Peter 5:7
Do not be anxious about anything, but in every situation, by prayer and petition, with thanksgiving, present your requests to God. Philippians 4:6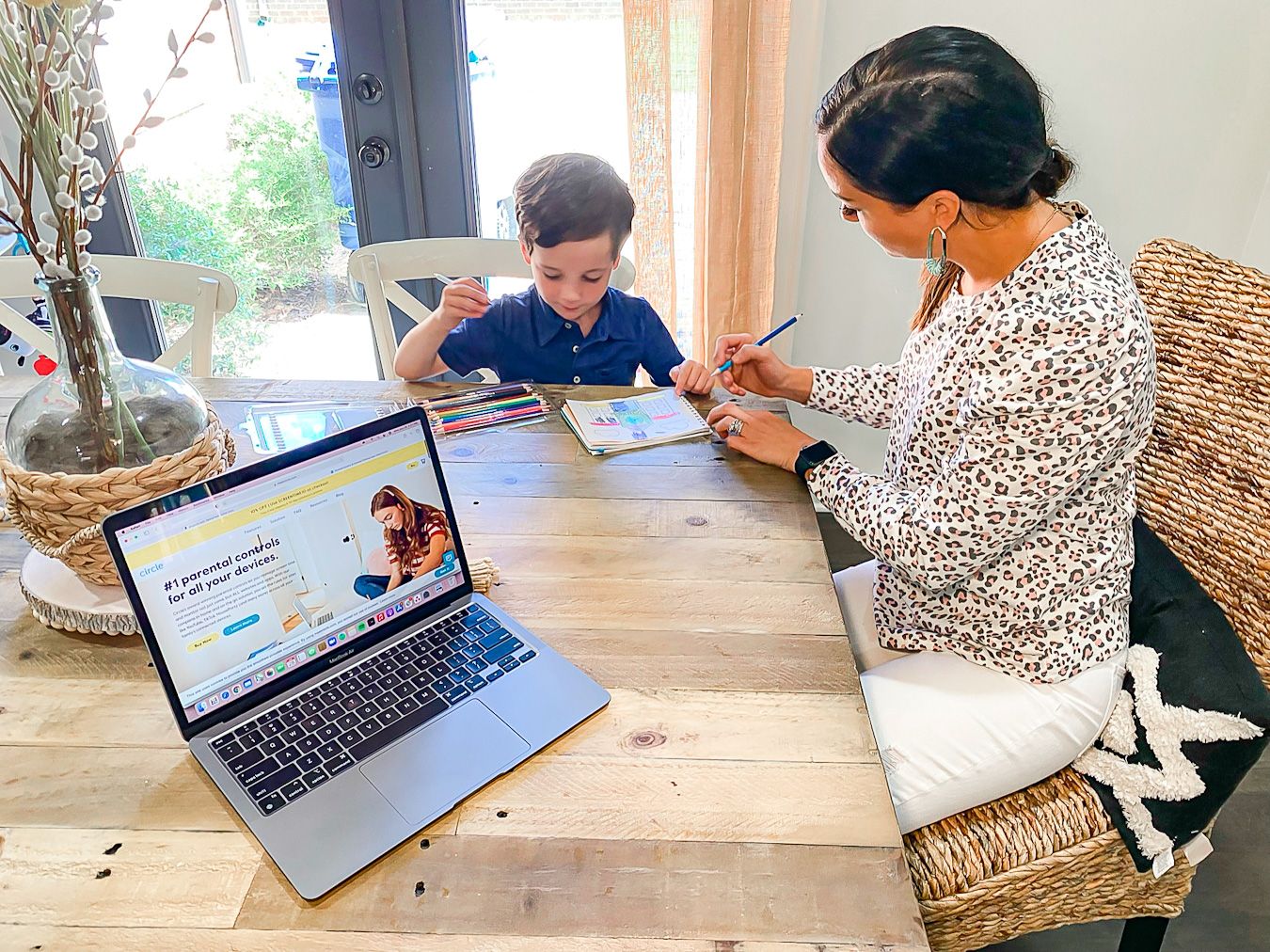 More Tips On Getting Ready For Kindergarten
As I am making these big schooling decisions (or what feel like BIG decisions to me!) for my boys, I am also mindful of how their schooling will inevitably look different than it used to with the evolution of technology. I have many friends with older kids and I often hear their kids use tablets and computers for the majority of their in-school and after-school learning. While it is so important to me to ensure my boys are in the right school for them, it is also important to me that my boys are protected with their screen time.
I have recently opened the discussion about social media boundaries and internet safety with y'all on Instagram. I truly think it is so critical for us mamas to discuss and assist one another in navigating how we can ensure our little's are safe during their time online. As I am researching and discovering new ways we can go about being safe online, I want to share this process with you! One resource I have come across is Circle Parental Controls. Social media is a great tool, but too much of it can be damaging to young kids! That's where Circle Parental Controls can come in to help you manage it. They make it super easy to monitor and manage screen time and filter content on all of your kiddos' devices! Everything from tablets, smartphones, gaming consoles and smart TVs. If it's connected to the Internet, the Circle app can help you manage it!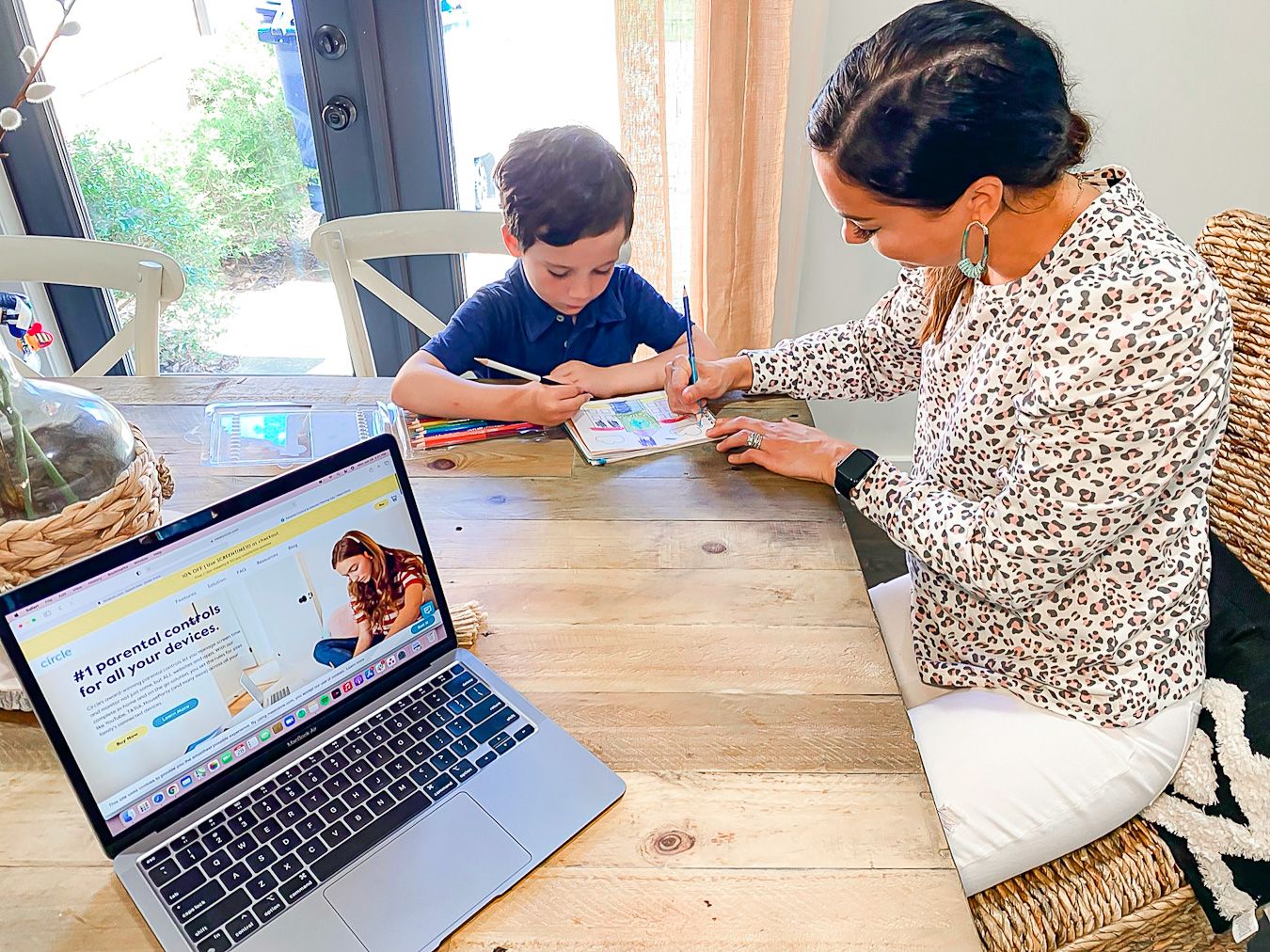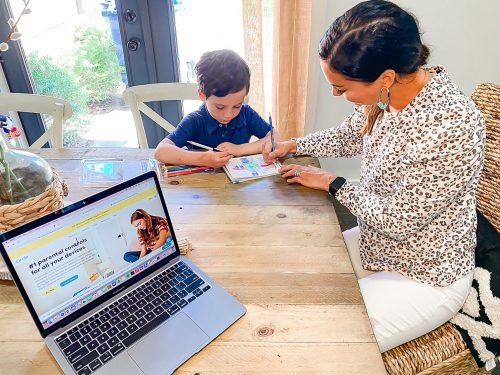 You can customize settings and features to make everything appropriate for each child in the family. Features allow you to set Time Limits, Filter good from bad content, set consistent Bedtimes, Pause the Internet for family time, Focus on school work, as well as Reward kids with extra screen time for a job well done. You can also monitor their Usage and History and track their Location. Circle is a GREAT way to find and maintain that balance of allowing your little one to enjoy the things they love about their screen time while also feeling confident in their boundaries and safety. We absolutely plan to utilize Circle as we head into this new school season!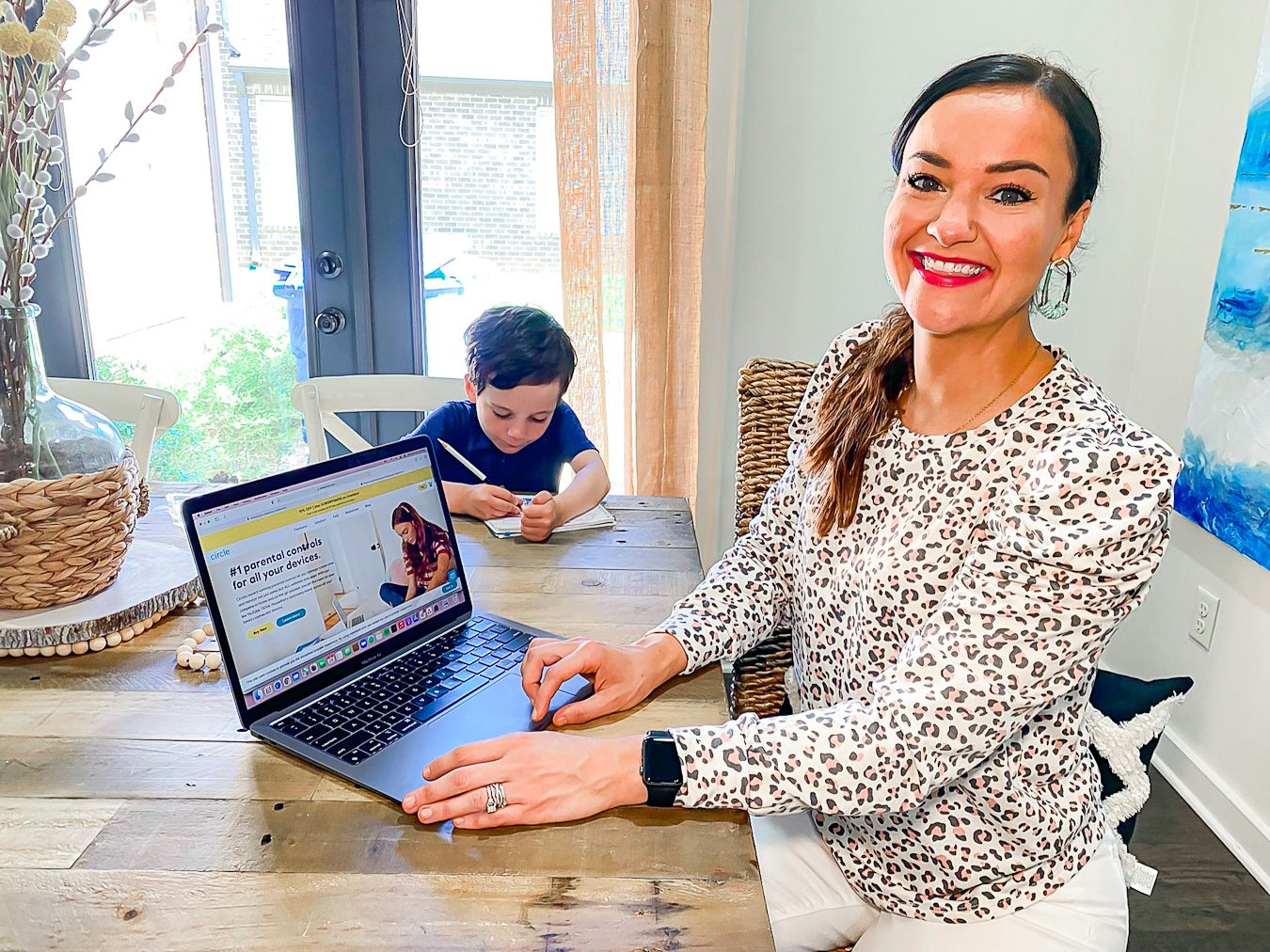 Your Responses About Private School
We're in private for many reasons but also loved the shorter 5K days
Private with a focus on Kingdom Ed. You can't beat it especially in today's world
We were debating and we chose private school and are so glad we did!
Private Christian school would be my choice
In NOLA our PS system is not great so we make financial sacrifices to send our kdis to private school (catholic). Same for me and hubs as well and there is and there is an education there that they won't get in PS. Hands down worth the money ($6k/yr). Now maybe bham has better schools but the prep they get is incredible! Good luck!
Influence and relationships in your neighborhood – can't beat public. Private Christian – God's word does not return void. We did private Christian thru 5th…kids absolutely loved it still talking about it. Now in college.
LOVE our Catholic school – great community and faith woven into kids' daily life
Both my girls went to private school and it was the best thing for them
Go with your gut about school. We choose a Christian private and it has been a blessing
Private school (if you find a good one) feels like a community!
We go to Briarwood and love it! They have a TK program (a grade after k5) that's amazing! My daughter has been there since K4 and is in TK this year
My 3 are all in private school and I feel like they have thrived in the smaller environment
Private kindergarten ½ day and then full day public school for 1st grade. Half day K is best
Private school…it's worth it! Especially in today's world
6th & 10th grade boys,private school until 6th, public middle in 6th, set a great foundation
Private is awesome!! Smaller class sizes! More one on one time with teacher
Would love to chat about this! Private Christian school for us because teaching our children about God and how to live as boys and girls of virtue is our number one job as parents. Public school, even here, is just following the narrative of society today.
I send my son to private school. It's a sacrifice but SO worth it. Smaller classes too.
Your Responses About Public School
As a public school kindergarten teacher I say send him to public school. He will learn to read in Kindergarten. Don't stress about that. Just read to him a lot between now and then and let him enjoy being a kid. They grow up way to fast
We did Kindergarten public, 1st private. Going back to public. Private curriculum is intense + other issues
Based on your posts and what I know about the Birmingham area I would send him to public school. I taught in the public school system for 27 years
We had to put ours in public for SI/OT support. If you're in a great district send to public and save the money. If the district isn't top notch, send to private that supports your belief system
I have found private schools do not have high academic rigor. Sts do not perform as well
He will love school so much! We chose public school and it's been a great experience. We still try to practice getting up earlier a week or so before school starts. It's an adjustment
Former K teacher here: if you think he may need extra learning help go to public school
Teacher here: if your public school system is good, no need for private. He doesn't need to be reading to go to kindergarten. Kindergarten/first grade are meant for teaching reading. Relax and go with your gut. Good teachers can be found in public schools too. Talk to friends/neighbors in area and get feedback from them
My son is 5, going to kindergarten in fall. I was unsure as well, was told public better for K-8. That there is more support, assistance & clubs etc available for them. Can do private for HS.
Our school system is too good to spend money on private school! He will do great!
Ugh not enough space to chat! HCS system is amazing! We are blessed! And your faith is so strong…your precious boys will be just fine!
Depends on where you are. I think elementary school is fine public. He will learn once he's in the environment. We held back Jo and now he's reading 1st grade and he's in K.
We are starting public then will switch in a year or 2. Everyone said K wasn't worth it to pay for
More Thoughts From The My Life Well Loved Community
Take heart that it's not a mystery to God. he loves our kids more and works all things for good
You need to go tour both while teachers etc are there. You will know where your family belongs
Take a deep breath and know the lord will hold L close WHEREVER he goes.
I'd love to hear what others say. My son is going to Kindergarten this fall too. We choose private.
Teacher here: just make sure he knows how to listen, follow directions, and respect others!
Go with your gut! Also, as an elementary teacher do NOT expect your child to be reading before entering kindergarten
Volunteer or substitute at the school, you'll really get all the ins and outs that way
Depends on the specific district and school. I would go visit this school if you can to get a feel
Risen Motherhood has some excellent articles on deciding on a school. Highly recommend it. They also have a list of questions for you and your spouse to help navigate
Private vs public KNOW the teachers and admin. That's the biggest deal (for me).
I am basing my decision on masks. Private if masks are still required in public
We were debating it. We decided to keep her at her preschool that also offers K
K teacher here: is the 21/22 his "red shirt" K year? Or was this his "red shirt" year?
So…my answer is longer than this box. I'll send you a DM.
I want to know what you find out! My baby girl will be 5 on May 30. She's ready but I'm not!
Not sure how it is where you are, but I am in GA and preK isn't required. So kindergarten has kids who have been exposed to learning and some who have never had any kind of schooling. We ended up sending our son to public school and I'm so glad we did. We got the BEST teacher. They really try to push each child wherever they are in their individual learning stage. Obviously there are fundamentals that each child has to know, but our son has been pushed well beyond that and is thriving! As far as preparing, you can't. Take him the first day and cry when you leave. It does get easier though! ❤️
So I'm not a mama yet… but I went to a small private/Christian school for 14 years and am now a speech pathologist in a public elementary school. There are definitely pros and cons to both depending on your kiddo and their needs. I love the fact that I grew up in a small environment and was able to learn about Jesus at school and be surrounded by friends who were like minded and who grew up in families with similar morals and beliefs as my family…. that's definitely something I want for my children one day!! On the flip side, working in a public school I see how many resources are available for students with different needs including speech therapy, Occupational therapy, and additional academic help if needed. This may not be a need for you and your kids, but it's a resource that's always available 😉 Long story short, there are benefits from both and as a mama you know what's best for your little one ❤️ this may not be much help but I know y'all will make the right decision!
Shop The Private School vs Public School Post

Check Out More Mom Tips
Pin The Private School vs Public School Post For Later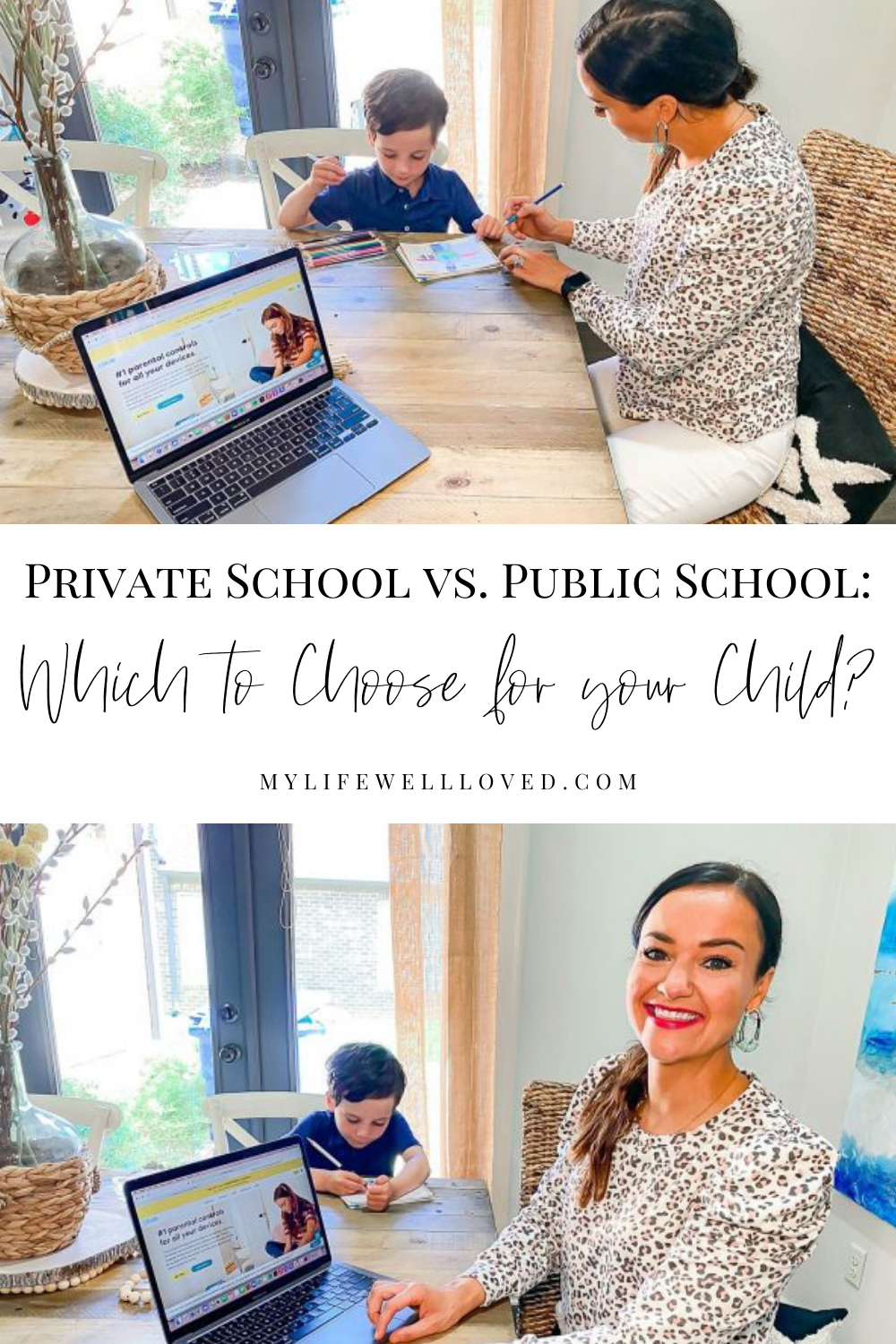 Heather Brown helps busy mamas of young littles who are caught in the hustle to find encouragement in their journey to true health, from the inside out, starting with the heart. Read her journey of learning to live a life well-loved
HERE!