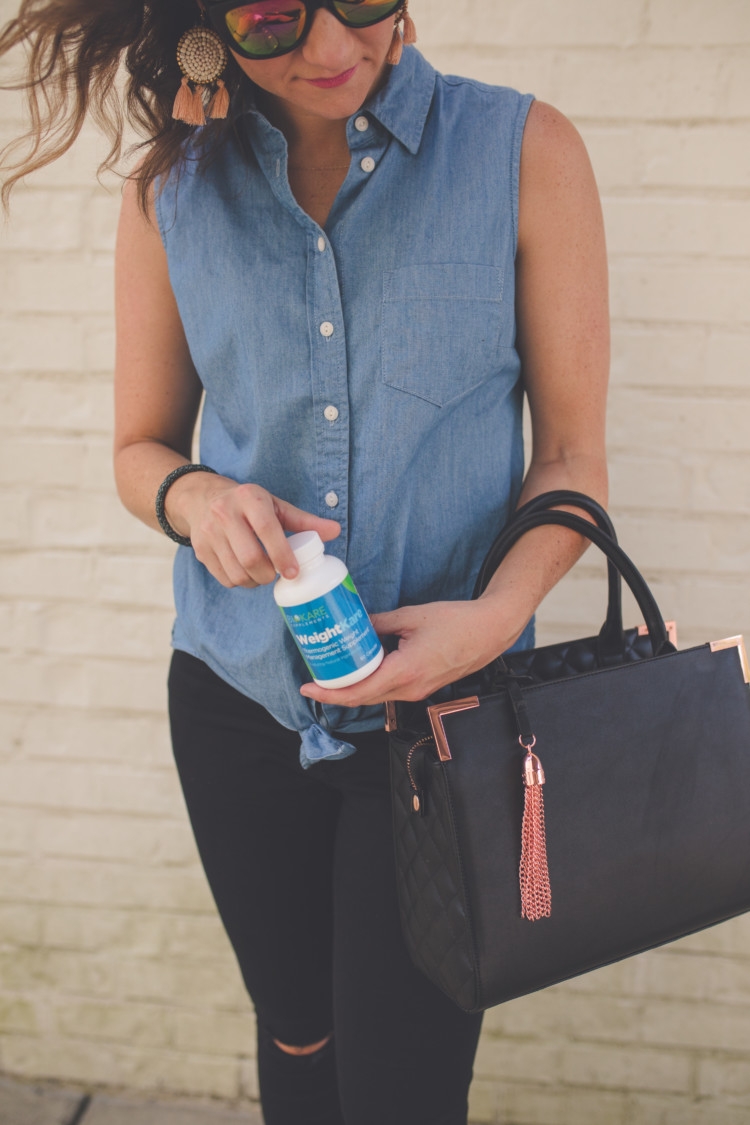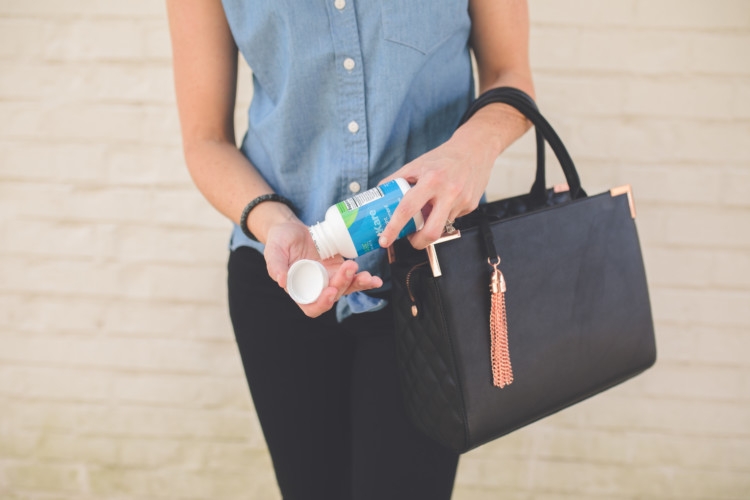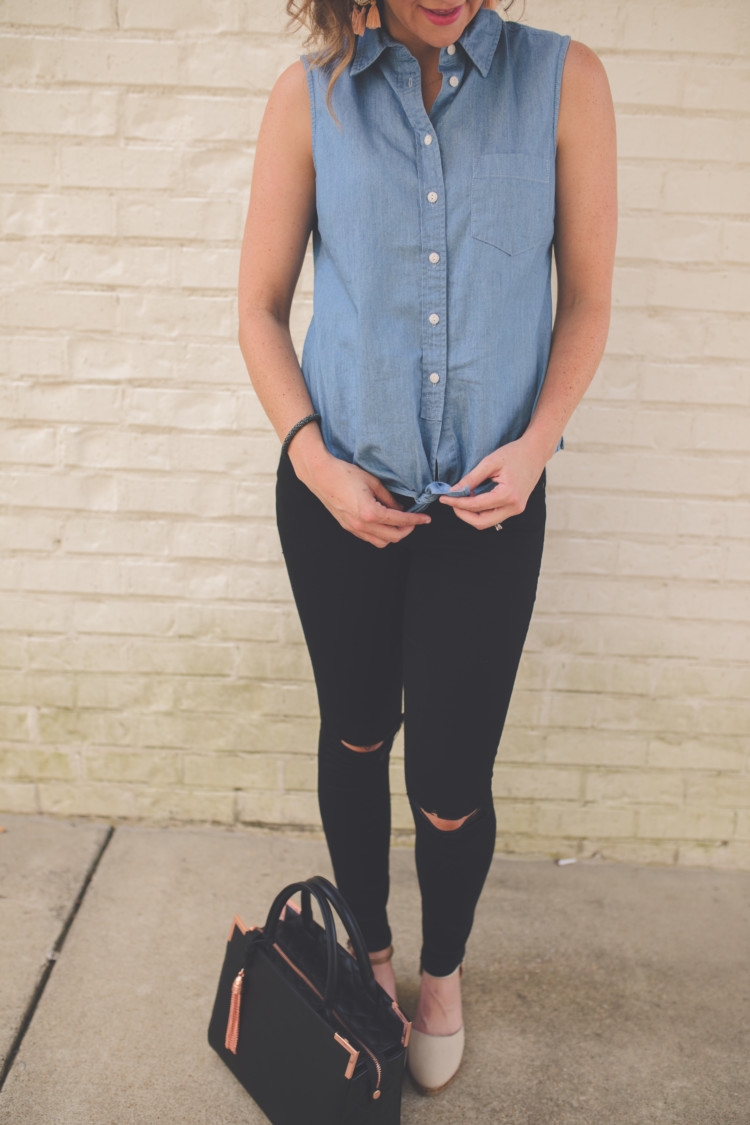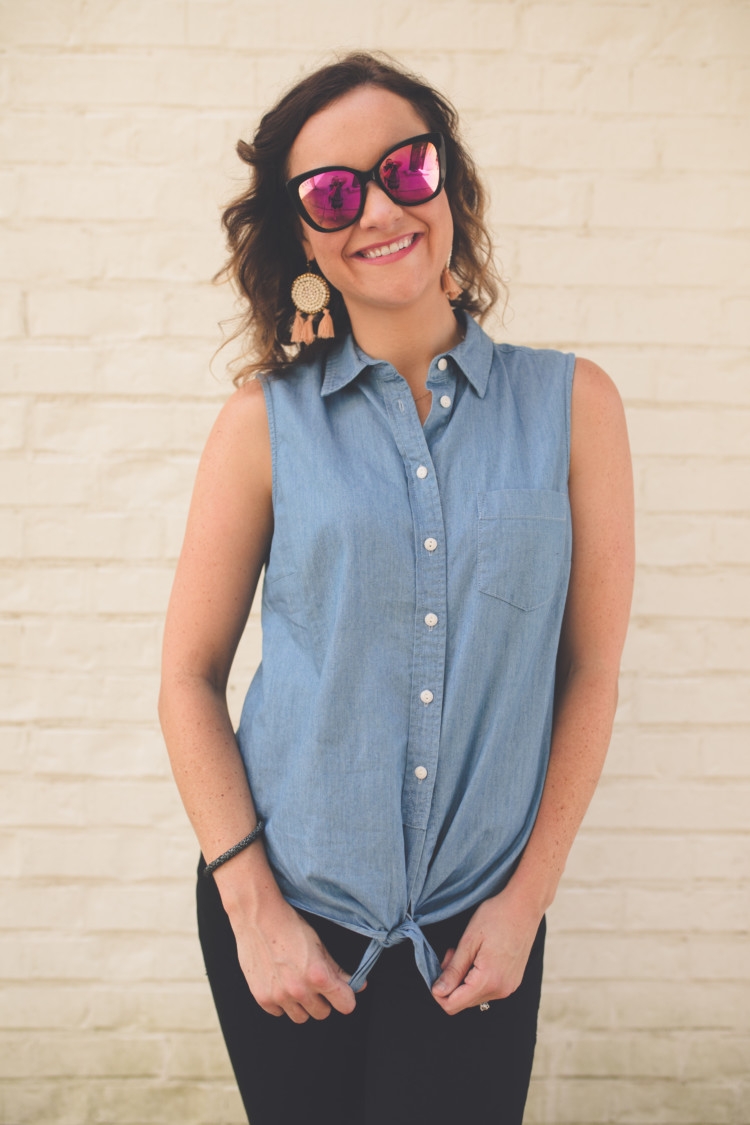 Top // Pants // Purse // Similar Purse // Sunglasses // Earrings  // Shoes-Amazon Prime! // Biokare-Use code HBrown15 for 15% off
Thank you to Biokare for partnering with me on this post. Photos: Casey Marie Photography
As summer winds down and fall kicks off, it's time to find transitional outfits (which I posted about earlier this week!) and solutions that help the mom on-the-go still look and feel put together. Because mom energy is something even super heroes wish for! A lot of you have asked me about easily looking put together and also I've gotten inundated with questions about the supplements, protein powders-been getting lots of questions about this one specifically lately, and other things I use on the daily, so I thought I'd start to address a few of those questions here.
First I'll share with you about Biokare, who makes some of the supplements I started taking about 4 months ago. When I posted about the WeightKare and AnxietyKare supplements I take on Instagram stories a few weeks ago, I got SO many questions about them, so I figured if there was that much interest, I'd just chat with you about them in detail here.
At first, I was skeptical about these products. I even grilled my nurse practitioner husband and my personal trainer about them. I'm uber picky about what supplements I take and I don't take it lightly when I talk with you guys about things I recommend. Getting Eric and Cody's approval, studying Biokare's organic list of ingredients, and seeing how they work firsthand has made a believer out of me.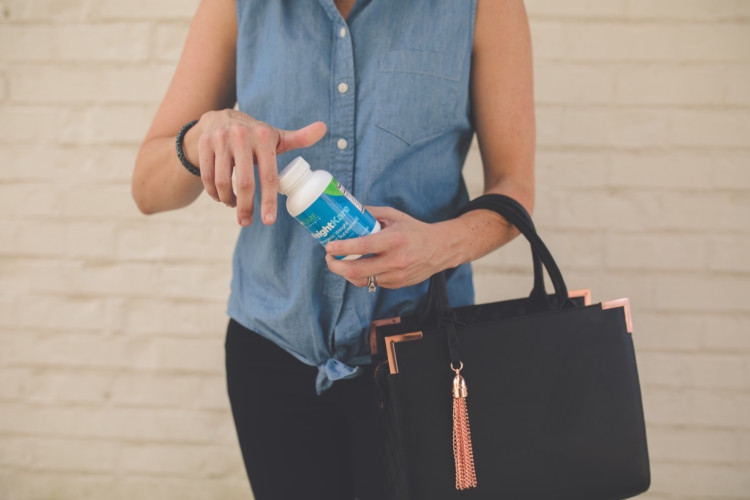 The Weightkare supplement gives you energy, focus and is a weight loss solution to help you get everything done in your day. I'm going to be honest and say that I truly believe you have to put in the work to eat healthy, exercise and get good sleep if you want to lose weight. This is meant to be an aid but NOT a replacement for a healthy lifestyle. If you've been around here long, you won't be surprised to hear me say that. 😉 If you do decide you'd like to try out Biokare, remember you can use the code HBROWN15 for 15% off and if you buy two or more products, you can get FREE shipping.
I do feel more focused when I take this supplement and although I am not trying to lose weight, I was really trying to get super lean before Mexico and between working out hard, eating paleo for the most part, and taking this, I was happy with how I felt on our vacation. Although I don't struggle with anxiety, I have been feeling very overwhelmed recently by all that I have on my to do list. I'm utilizing this supplement combined with turning my schedule over to the Lord and soaking in Present Over Perfect to help me as I re-assess this busy season in my life and what the Lord is trying to teach me through it.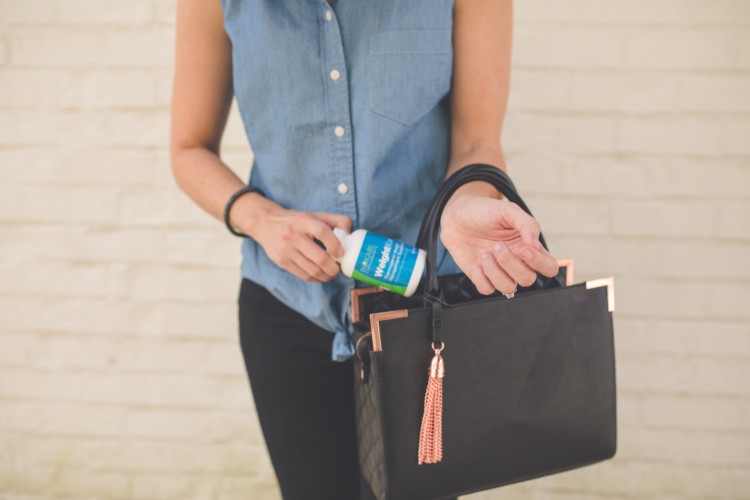 Now when it comes to dressing comfortably and fashionably as a mom on-the-go, I couldn't help but crack up when I read this comment from one of you… I want to know "just how to dress comfortable and stylish as a mom. I gave birth, not wanting to become a hermit dreading putting real clothes on."
Obviously I can't tackle every bit of "dressing stylishly" in one post but I thought that maybe with each post I do from now on, I'd tackle one element of how to look put together. Know that I'm open to suggestions of what will be helpful for you guys. TELL ME via comments, email or a message on social media if there's something specific you want me to give you tips on and I totally will. I first and foremost want this to be a helpful resource for moms on the go.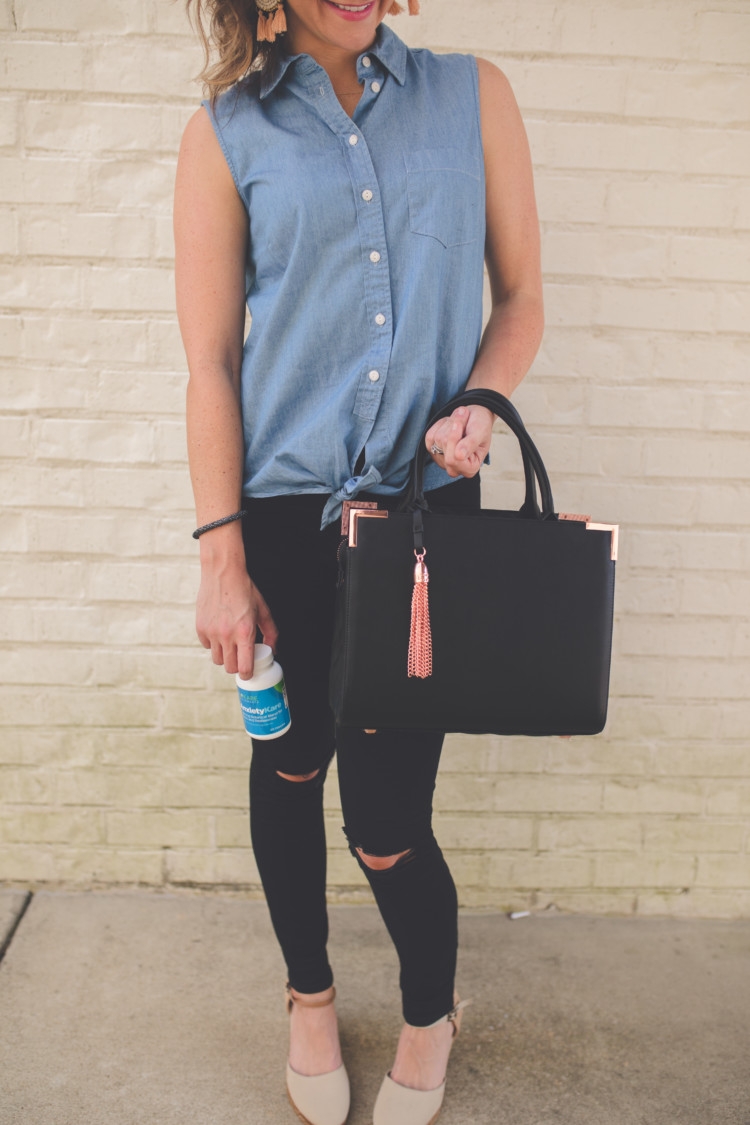 Today's Mom Style Tip: First of all, don't be so hard on yourself. I had to learn to give myself grace the first 2-3 months after having a baby. I wore either a nursing tank or pajamas EVERY DAY unless we had specific plans to get out and meet someone or I had a work meeting.
When I did have a work meeting or a get together with friends, I wore something like this outfit. It's sleeveless and breathable, the tie up gives it a little fun and the button down makes it nursing friendly. The pants have some stretch and give to them and the ripped denim give it a little edge but I chose a pair that is comfortable and feels kind of like leggings with the stretch.
I didn't throw on a bunch of jewelry, just ONE statement piece: my earrings. My wedges are for meetings and I like them because they go with everything but I don't wear them if I'll be out for a long time because apparently my ankles are weak sauce and any shoes with a strap rub my heel and bother me. Keep it simple if you want no added height and throw on some Converse or sandals to head to your play date or the store.
Shop the Mom Energy Post:
How do you get your mom energy? My list is long and ranges from spending time in the word, feeding my soul with Scripture, getting enough sleep, working out, getting quality time with my husband, family and friends and feeding my body with healthy foods, supplements and enough water. I'd love to hear what fills your tank in the comments below!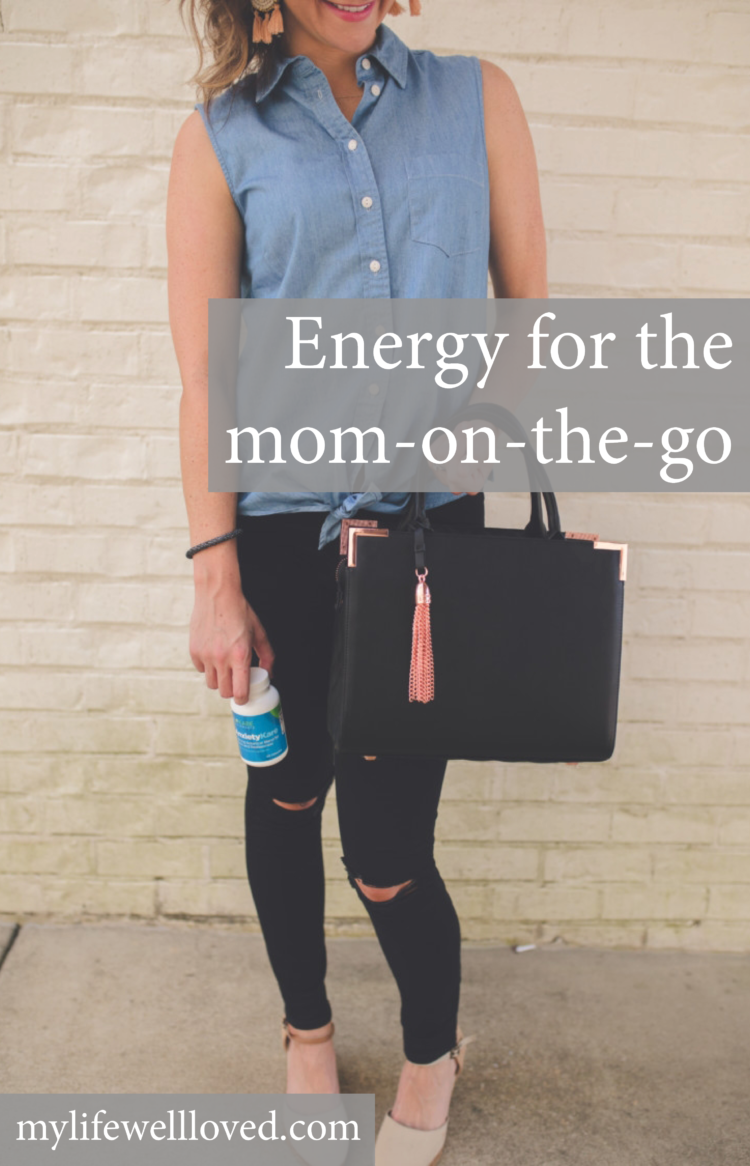 Heather Brown helps busy mamas of young littles who are caught in the hustle to find encouragement in their journey to true health, from the inside out, starting with the heart. Read her journey of learning to live a life well-loved
HERE!