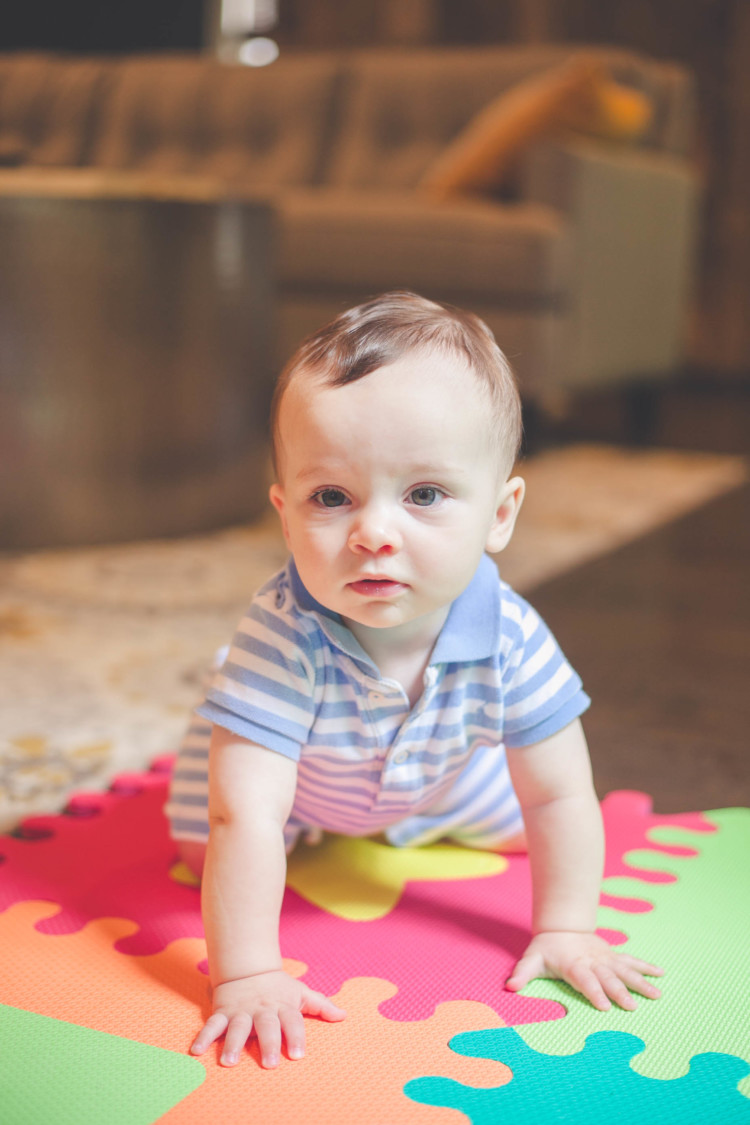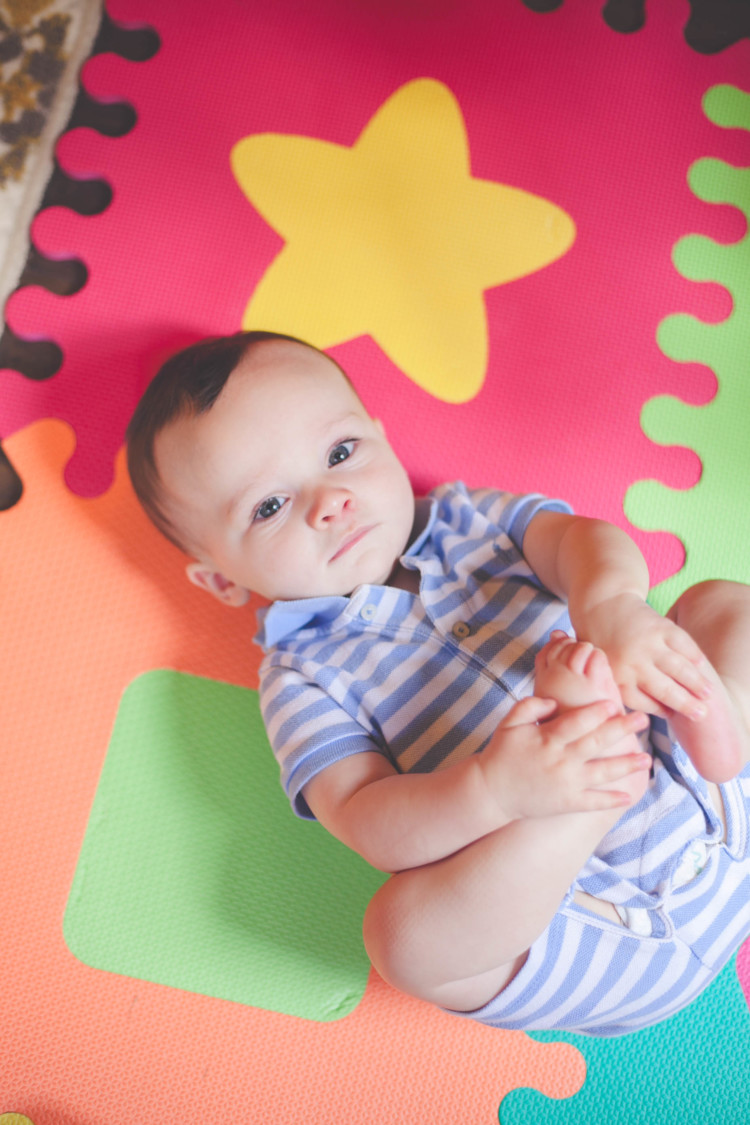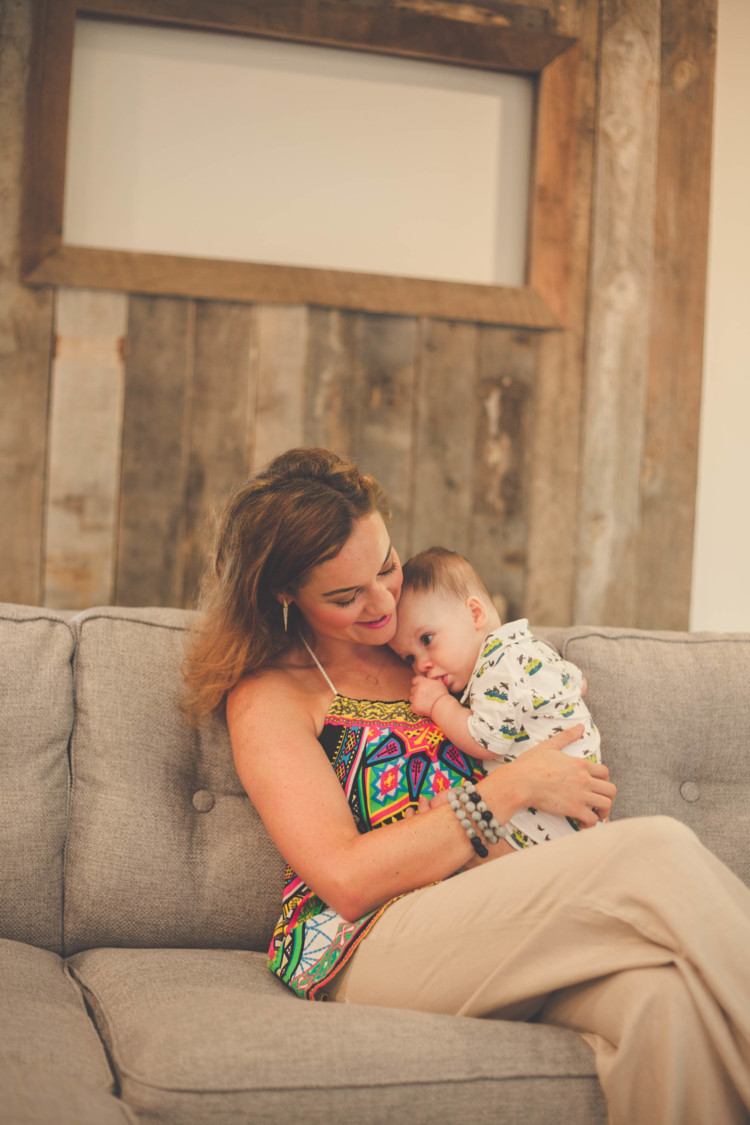 Dear Buddy,
As I write this you are actually 10 months old…but you've kept me so busy trying to keep up with you that I'm just now getting around to writing your 9 month old letter. People always tell you that once your baby starts crawling that everything else happens really quickly and that has certainly been the case with you. You started crawling on your hands and knees about 2.5 weeks ago on June 23rd. Before that you had been army crawling and rocking back and forth on your hands and knees. And now, you are pulling yourself up to standing on anything you can get your hands on and going from crawling to sitting to standing with almost no effort at all. AND, you cut your first tooth this month! You seem way less like a bitty baby this month and way more like a little man. It makes us thrilled and at the same time sentimental about no longer having countless times that you fall asleep on us and want to snuggle.
We celebrated Daddy's 31st birthday and Father's Day this month! We got him some Stance socks, a golf glove, Ben Rector tickets and a date night with mommy. We left you with Aunt Holly and went to 5 Points Public House & Oyster Bar to celebrate his birthday. We spent Father's Day at church and then daddy went to play golf. We met him after he played at Ross Bridge and had a drink on the patio overlooking the pool, so that was a really fun way to spend our first Father's Day together.
You do the CUTEST little high pitched squeals sometimes and have started saying "Ba Ba Ba." You have become so much more vocal although none of it is actual words yet. It's lots of "Oooohs and Ahhhs" and funny noises. Also, whenever you get really excited in your car seat for us to get you out, or you just get pumped about us talking big and getting you riled up, you move your arms and legs back and forth really fast. It's the cutest little thing. You also shake your head "no" a lot now when we ask you questions or try to feed you. We think you are actually starting to understand what it means.
You think it's really fun when dad puts you up on your legs to stand up and look over the couch at whatever I'm doing in the kitchen. You giggle and watch me until you get distracted by whatever dad or the tv is doing or saying. Another favorite past time is being in the pool. We take you there at least a few times a week in your baby float or hold you while you kick your arms and legs. There are no shortage of friends for you at the pool to play with. All of our sweet neighbors love to hang out with you and wave and splash. You have had a couple of play dates with Mary Chandler and the McGarrah's and love having another baby around to interact with.
This month you have outgrown your Fisher Price swing. When we put you in it, you wriggle all around and reach up high for the mobile that hangs at the top and hold onto it until it clicks and makes terrible noises as you try to bring the little lambs to your mouth. So, we are now done with that. 😉 As you'll see below in the pictures I tried to get of you at 9 months, you are far too busy to sit still and take pictures now.
You are also fascinated by watching water fall from above your head from a wash rag or from some of your water toys. Each night after your bath and first thing in the morning, when we put you on your changing pad, you throw your arms and legs up and down and go "hah, hah, hah" like you are breathing hard. You went from clicking, to blowing bubbles to now doing this. You still love to randomly purse your lips together and make farting noises for no apparent reason.
This month your Aunt Janelle came to visit you and she loves you SOOOO much. She wanted to wake you up every time from your nap and soak up every moment with you. You ripped her heart out when she left because you touched her nose when she bent down to kiss you goodbye and then started crying when we shut the car door at the airport.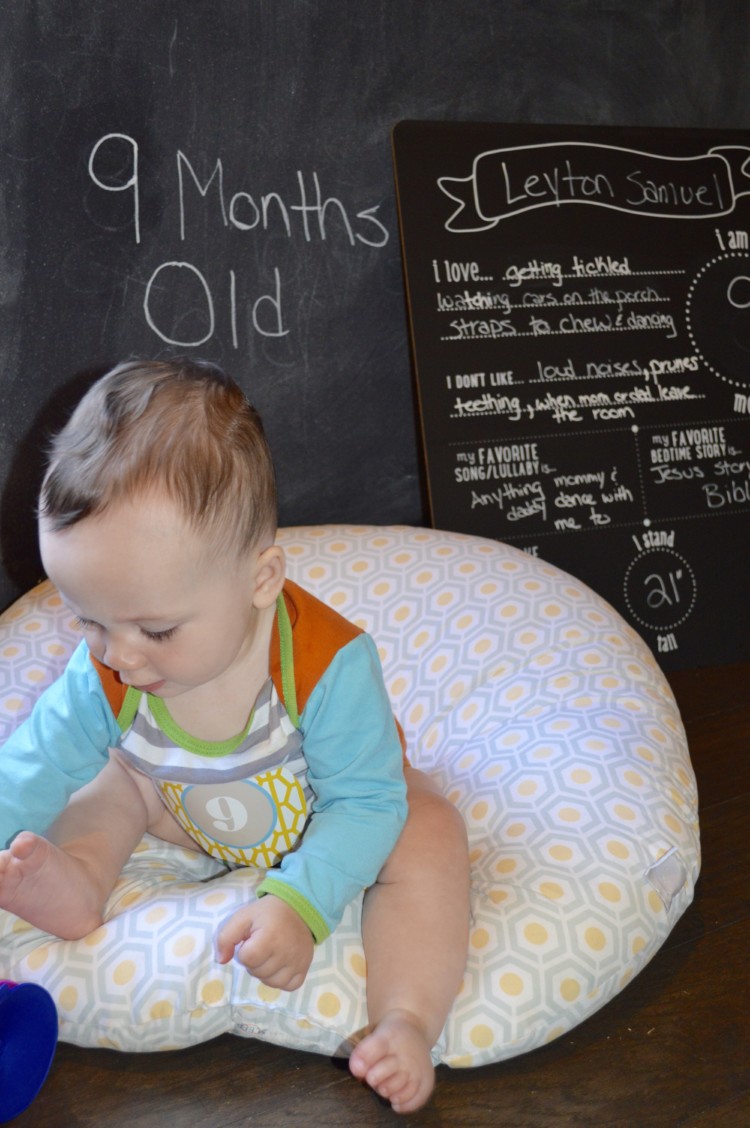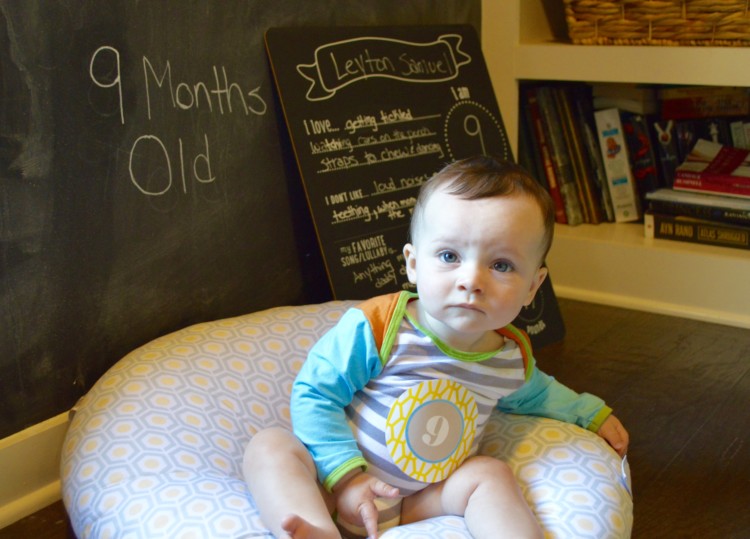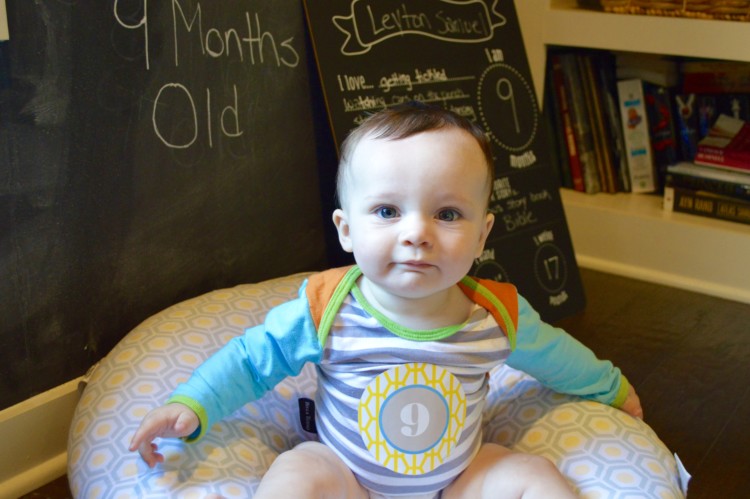 At 9 Months:
You still want to eat after about 3-3.5 hours. We are doing more baby food to help combat that gag reflex. I blogged more about that HERE. You adore water…playing in it especially but also drinking it when we go on long, hot walks.
Naps: You are getting better about spacing out your naps now. You take a morning and afternoon nap (typically about 2 hours long each) and a little cat nap around 5ish.
Loves: Getting tickled, your nesting bowls, holding onto our coffee table to stand up, the spinning wheel toy we stick to your high chair, being outside (it always makes you stop crying), trying to get the tv remotes, popping your thumb in and resting your head on our shoulders when you get sleepy, Straps on anything! Block Toy. Dancing with Mommy and Giddy Up Horsey with Daddy. Having us throw you in the air. Blowing bubbles and making fart noises with your mouth.
You are still nursing and take bottles a decent amount now because you get so distracted when feeding.
Weight: 16 lbs 12 oz Diapers: Size 3 Clothes: 6-9 months, 9 months
Nicknames: Sleepy Bear/Poopy Bear, Kicky Pants, Mini Brown, Buddy, Little Speedster, Nugget/Nugs
Photos at the top from Casey Marie Photography.
Shop the Post:
Puzzle Mat: Kohl's/Amazon/Target // My Pants: Chadwicks of Boston (on sale here!) // My Shirt: Gray Monroe // Jewelry: Kate Morris Jewelry and Nordstrom Rack // Leyton's Outfits: Polo Collared Onesie // Kickee Pants from Swaddle // Milestone Sticker & Onesie Set: Bella Tunno