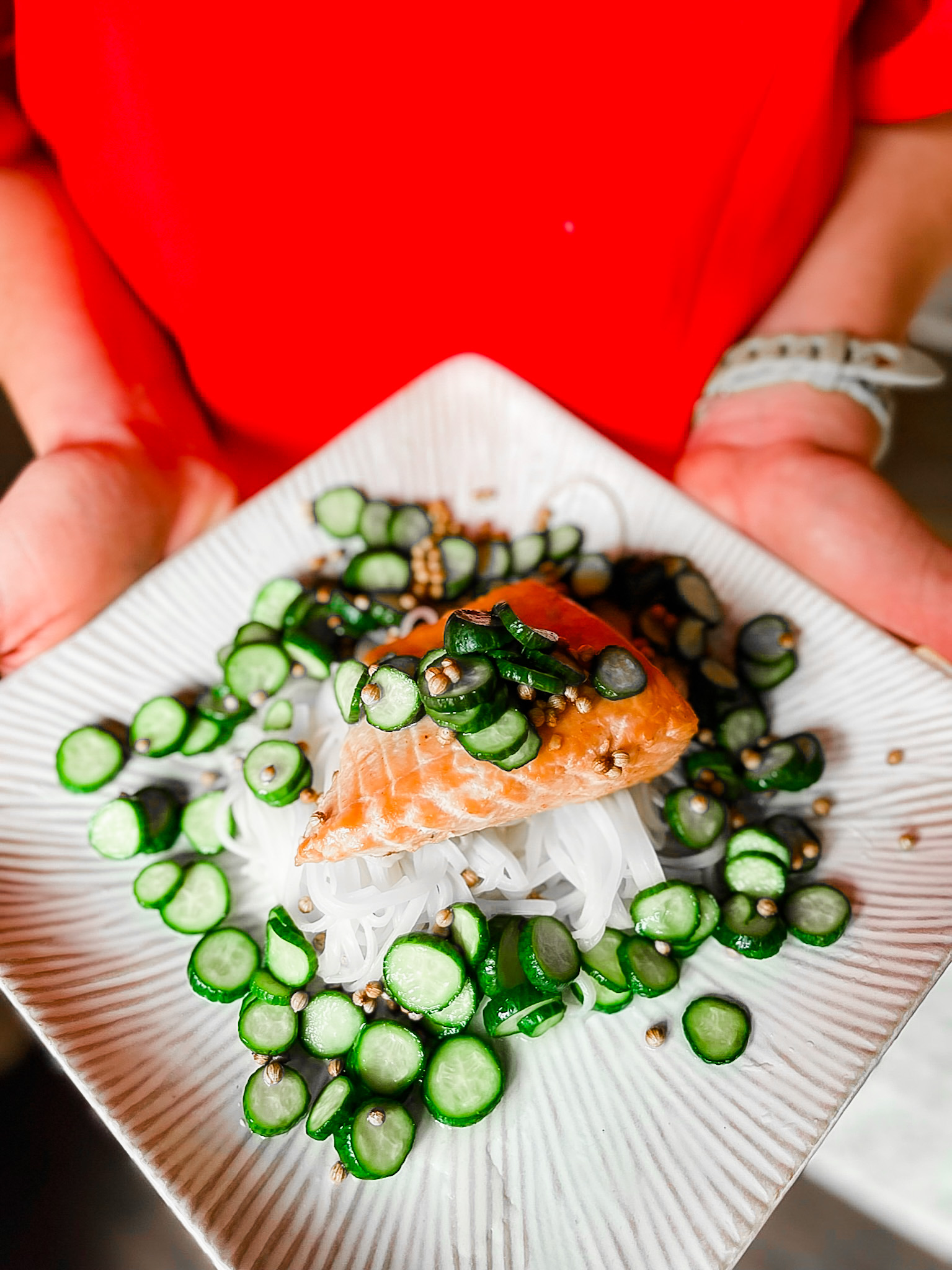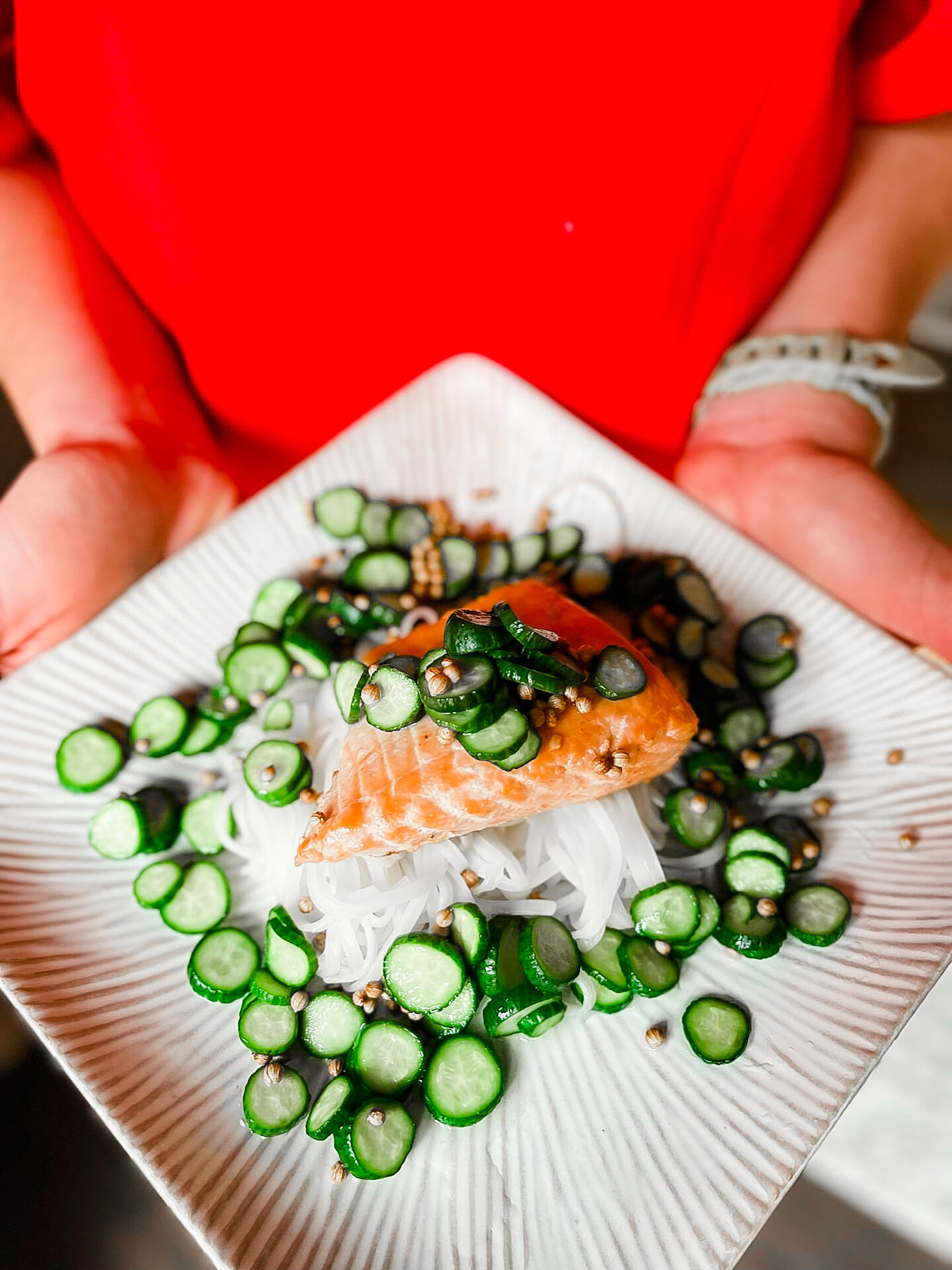 If you're getting tired of all the heavy winter foods we've been eating through December and into the new year, here's a fresh-tasting and delish new option — my new honey salmon recipe! It takes a few extra steps than my usual go-to recipes but the results are WORTH IT and it would be perfect for a meal when you feel like being a little *extra* especially for a date night in with your spouse.
With Valentine's Day right around the corner, this would be the perfect recipe to add to your meal plan for that week! Plus the leftovers are perfect for lunch the next day. And if your kiddos are like mine and don't want the salmon, it's so flexible – just serve them the noodles with some chicken nuggets and their favorite sauce!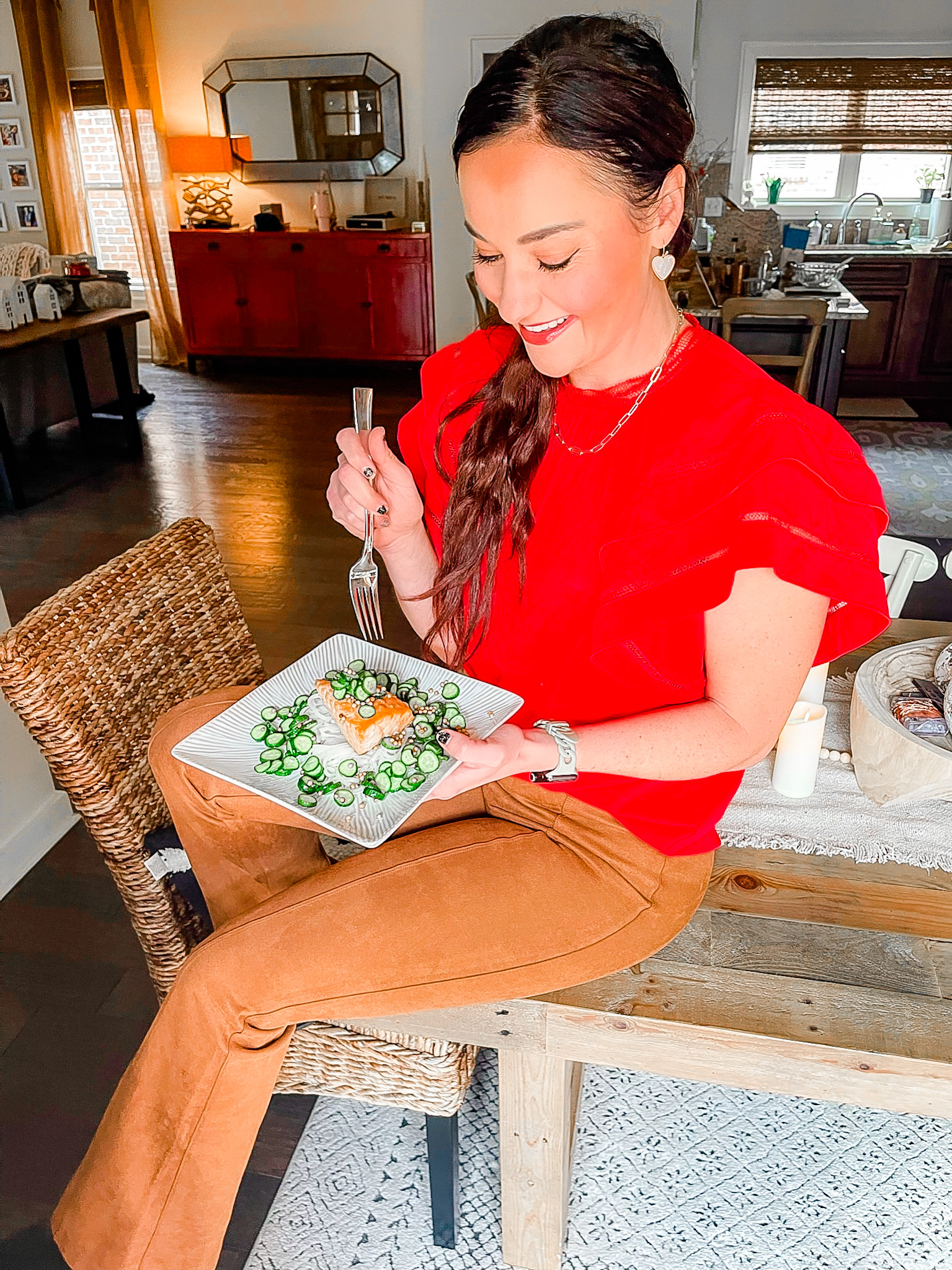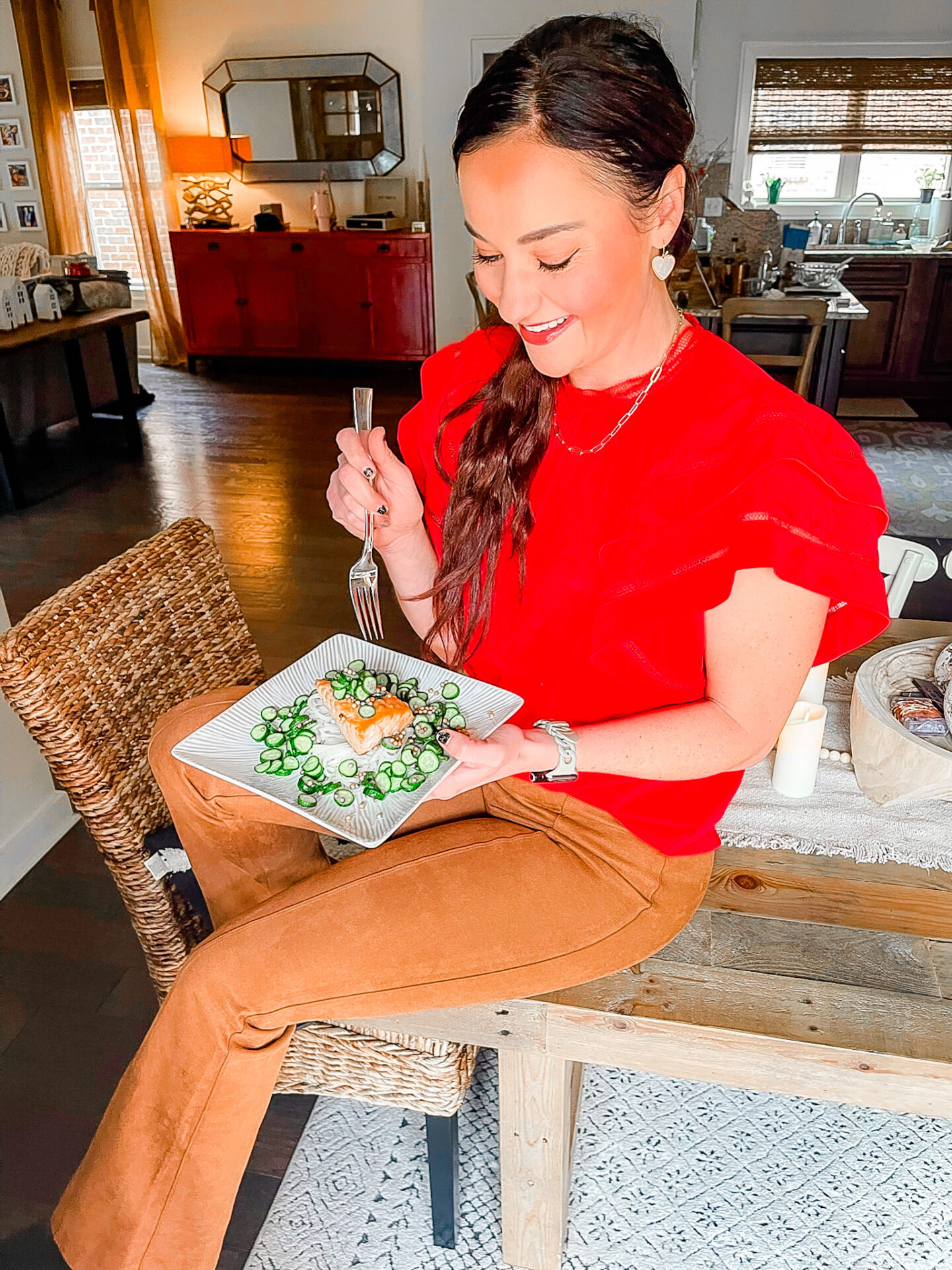 This recipe is made with yummy Pure Flavor Uno Bites Nano Cucumbers (y'all I'm obsessed – they're adorable and taste amazing!) Cucumbers are so hydrating and have great health benefits in dishes or just as a snack. They add just the right flare to this honey and soy salmon dish! You can't beat this combo of flavors!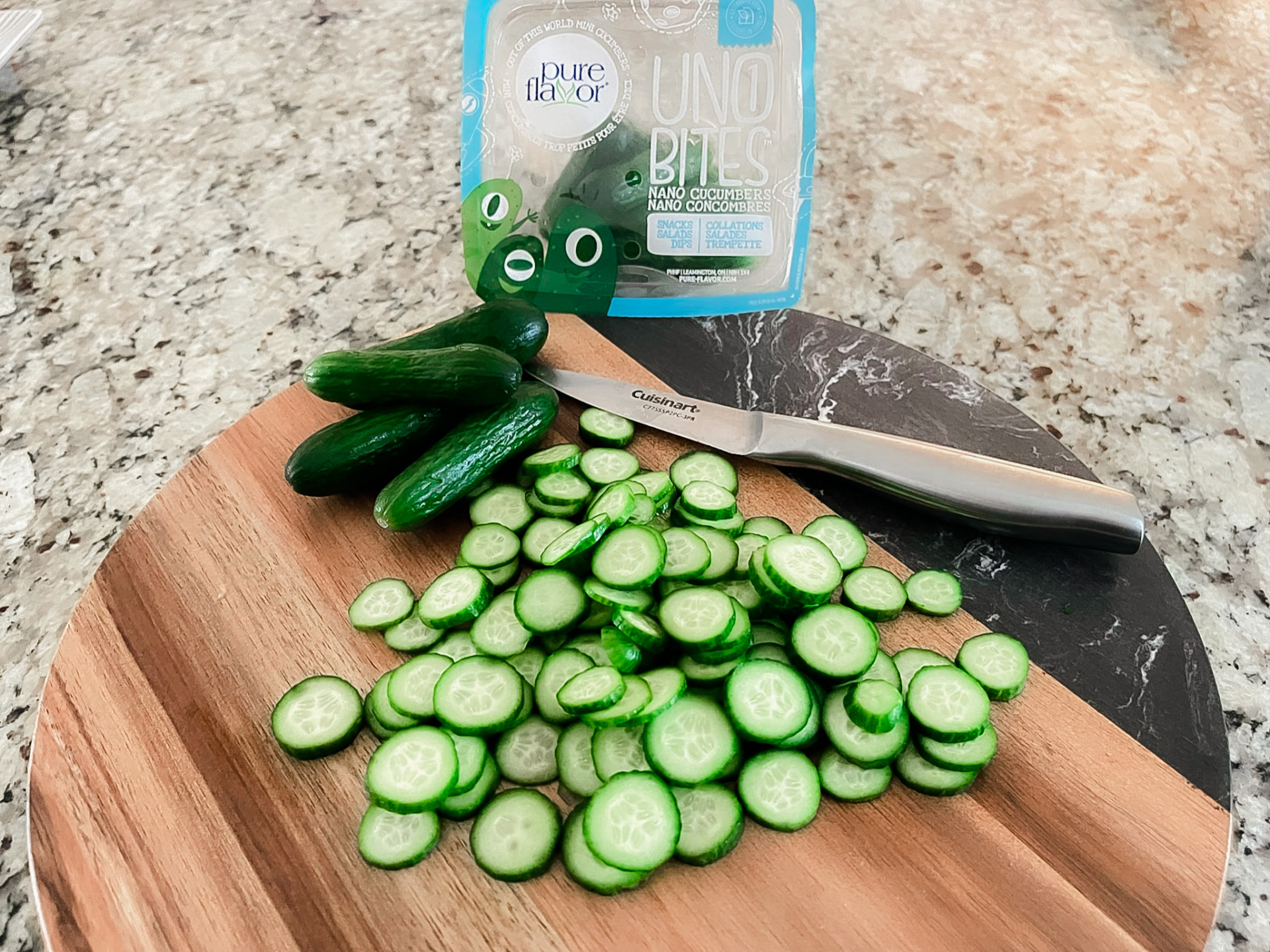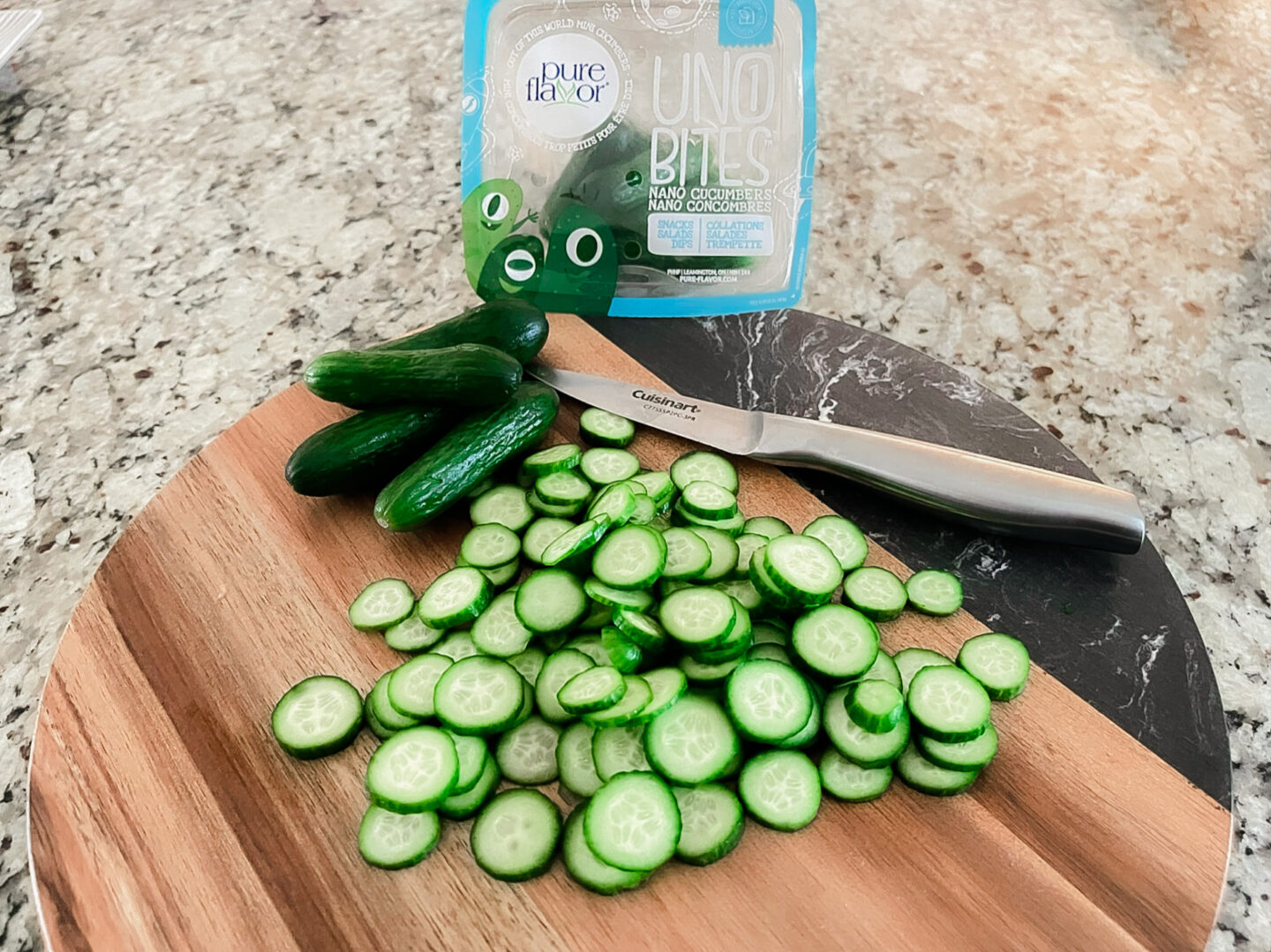 You can also snack on Uno Bites Nano Cucumbers by dipping them in hummus, ranch, or your favorite dip! Throw them in a plastic baggie and spoon some dip in a tiny container for a perfect snack or lunch add-on for you or the kids!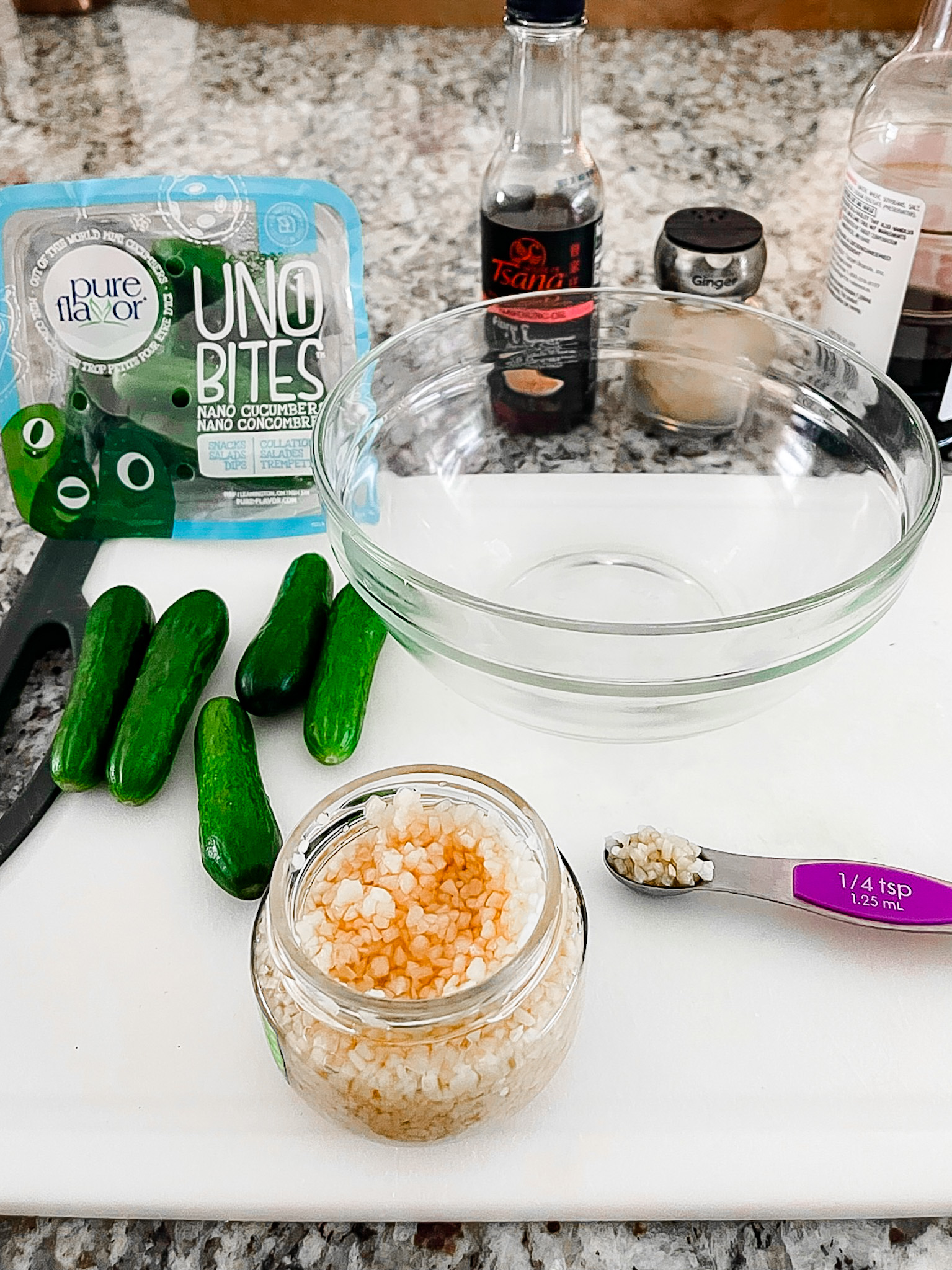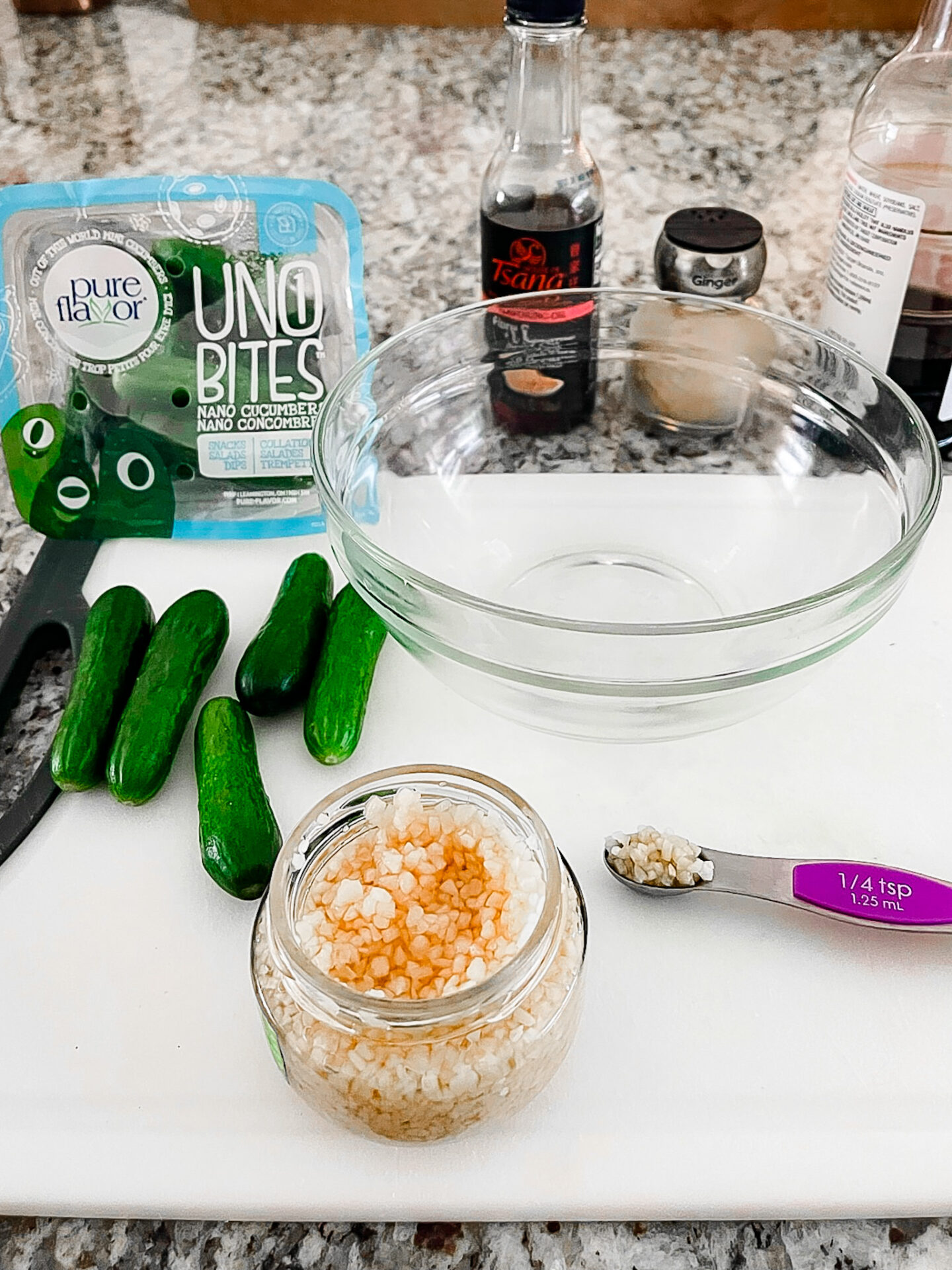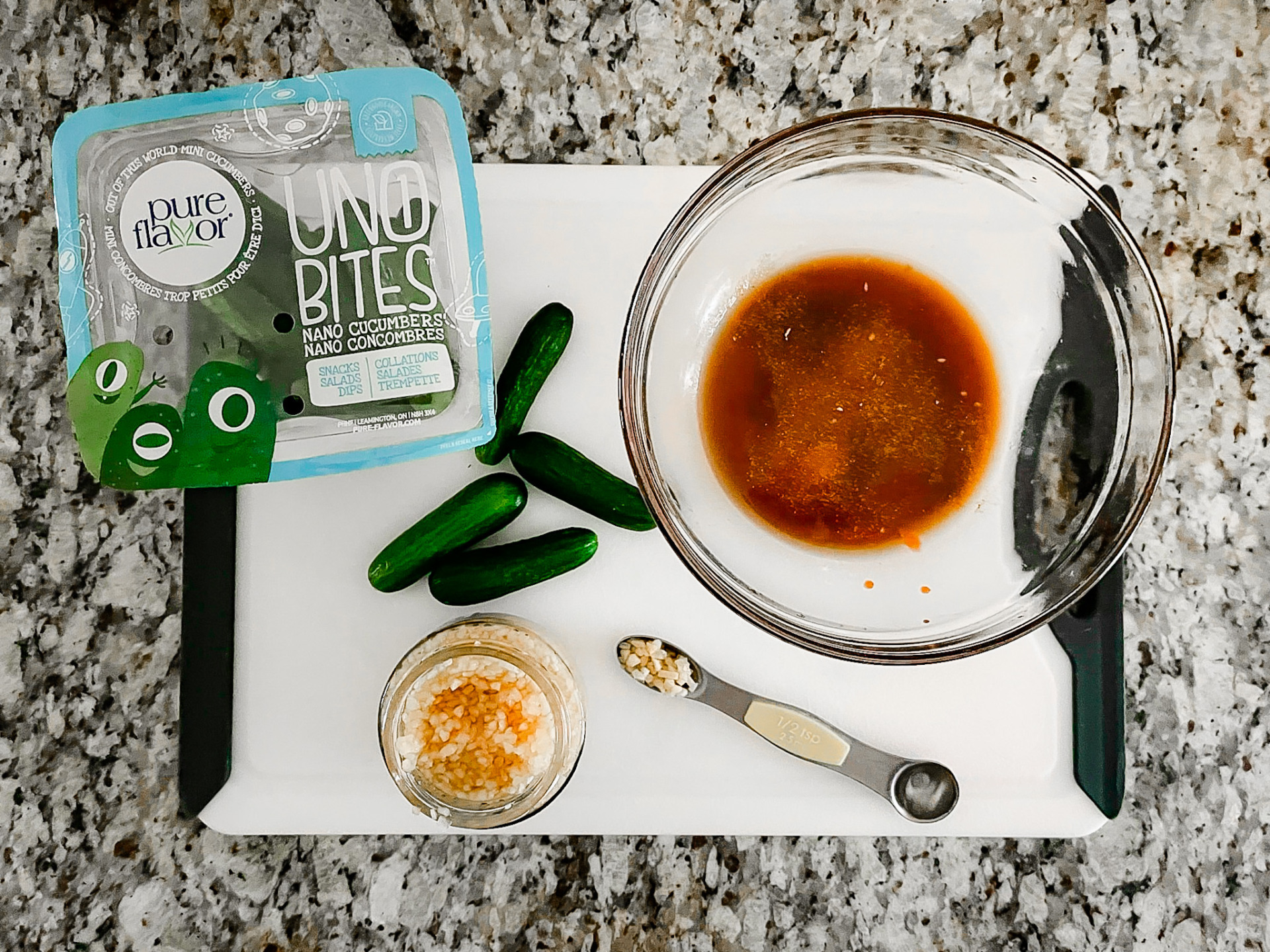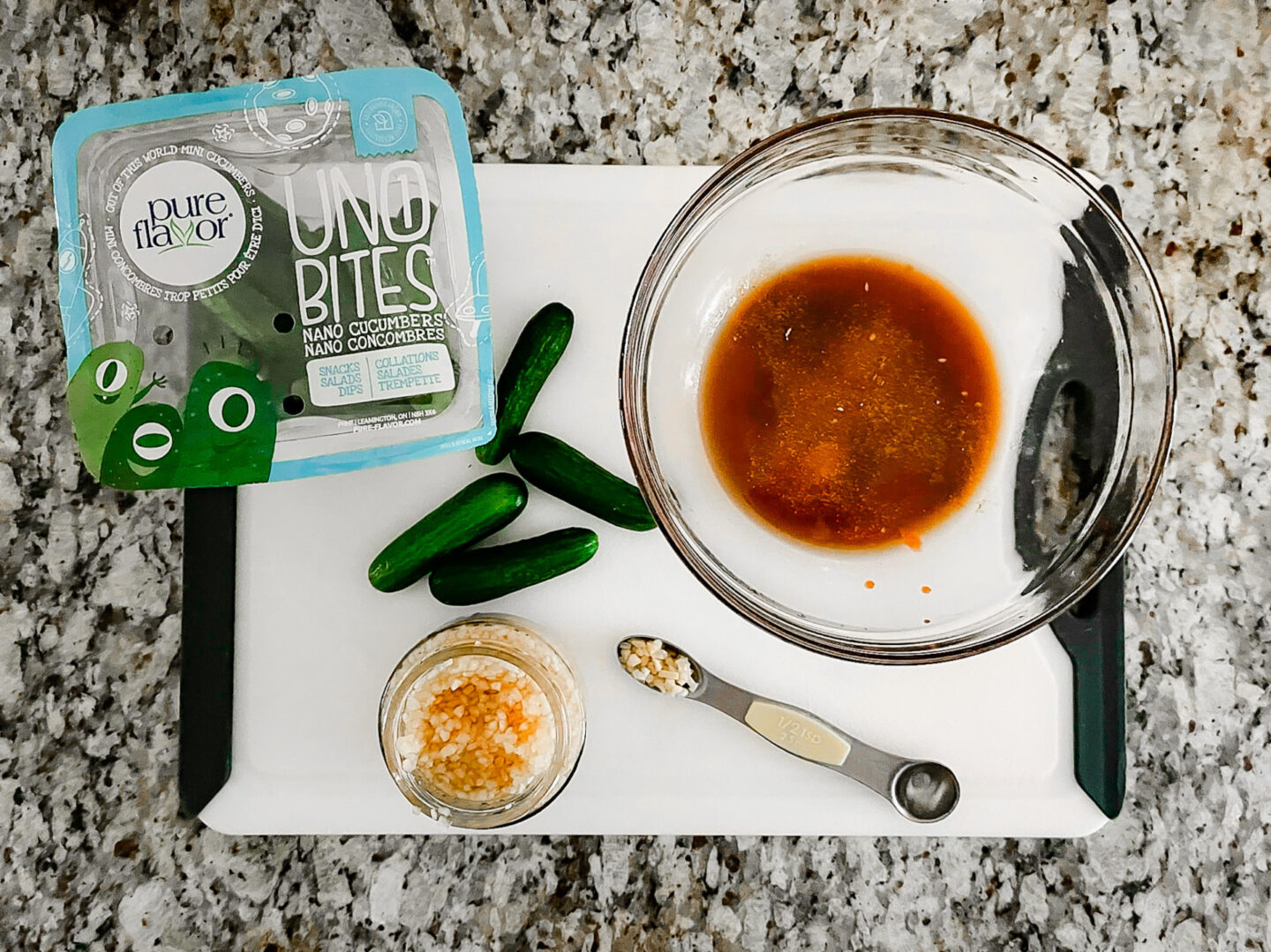 Honey Salmon Recipe:
A fresh and easy oven-baked alternative to rich foods with an asian flare! You will love this soy and honey salmon, noodles, and delicious pickled cucumbers! It works great as leftovers the next day too!
Total Time: 55 min
Prep Time: 30 minutes
Cook Time: 25 minutes
Serves: 4 servings
Cooking Level: Easy
INGREDIENTS:
For the Salmon:
4 Salmon Filets
Juice Of 1 Lime
1 ½ Tablespoon Honey
2 Tablespoon Sriracha
3 Tablespoon Soy Sauce
1 Teaspoon Ginger Powder
¼ Teaspoon Minced Garlic
1 Teaspoon Sesame Oil
For the Noodles:
1 Teaspoon Minced Garlic
1 Teaspoon Ginger Powder
1 Teaspoon Sesame Oil
2 Tablespoon Soy Sauce
1 ½ Teaspoon Water
4 nests Noodles about 250-300g in total
For the Pickled Cucumbers:
1 Package Uno Bites Nano Cucumbers
1 Tablespoon Salt
1 Tablespoon White Wine Vinegar
1 Tablespoon Sugar
1 Teaspoon Coriander Seeds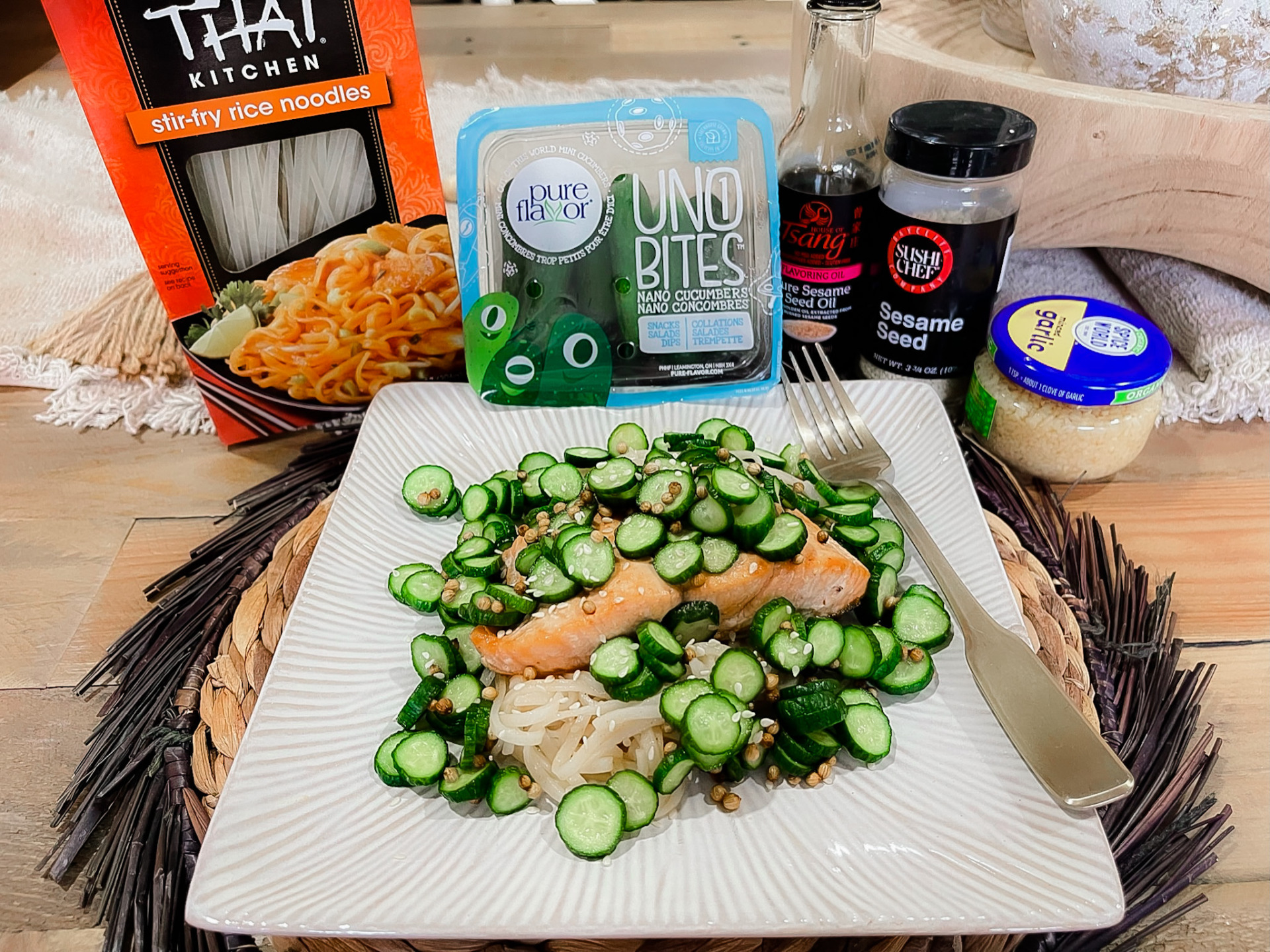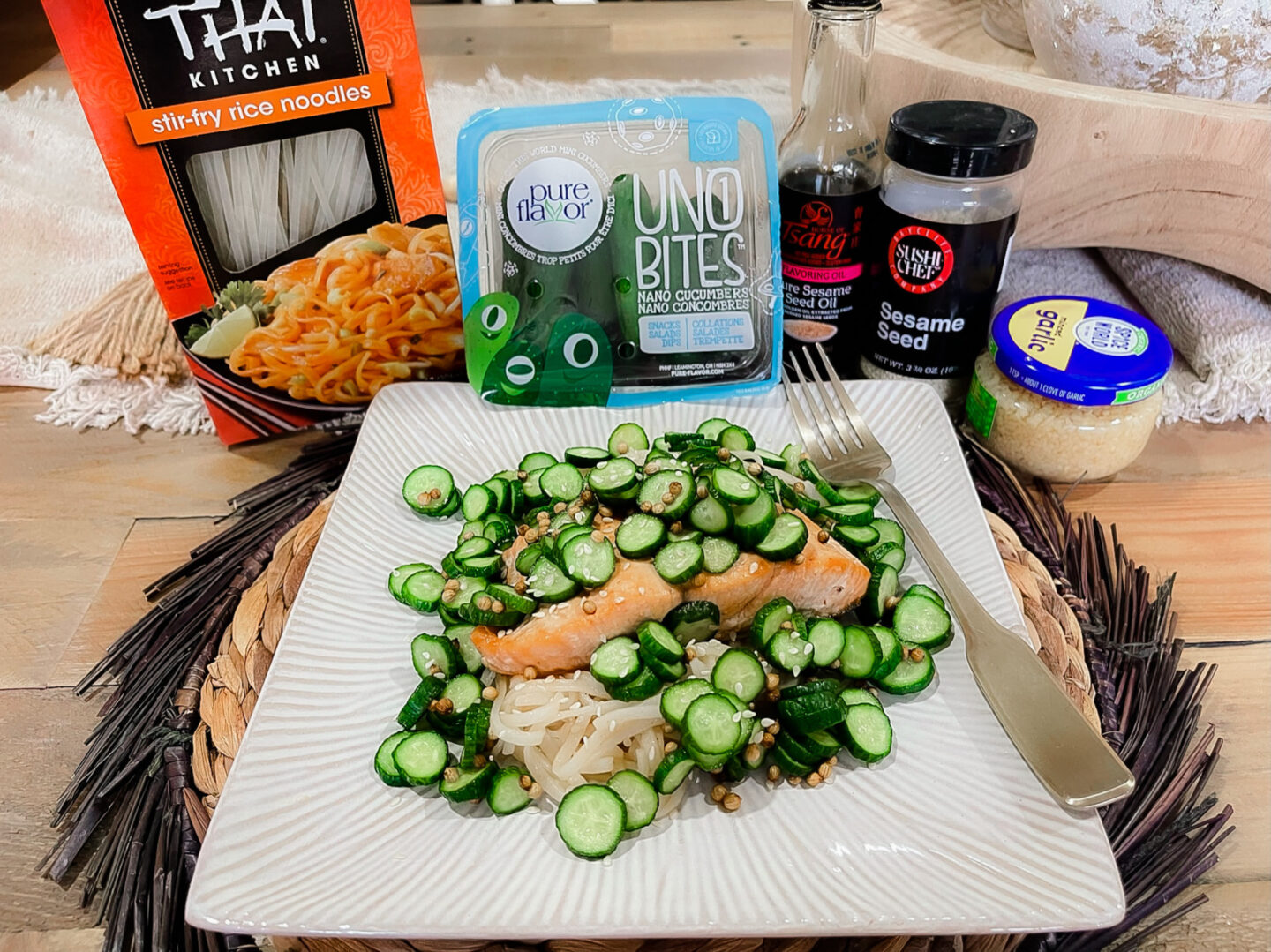 DIRECTIONS:
Whisk together the marinade ingredients and drizzle over the salmon. Let sit for 15 minutes.
Heat oven to 400°F. Line a baking sheet with foil and cook for 7-10 minutes until it flakes easily.
Place the thinly sliced cucumber in a colander and toss with the salt. Leave to drain for 15 minutes then squeeze out any extra liquid.
Whisk together the vinegar, sugar, then mix with the cucumber.
Whisk together noodle dressing ingredients.
Cook noodles according to instructions then drain and toss with the dressing.
Serve topped with salmon and pickled cucumber.
LOOKING FOR MORE DINNER RECIPES?
PIN THE RECIPE FOR LATER!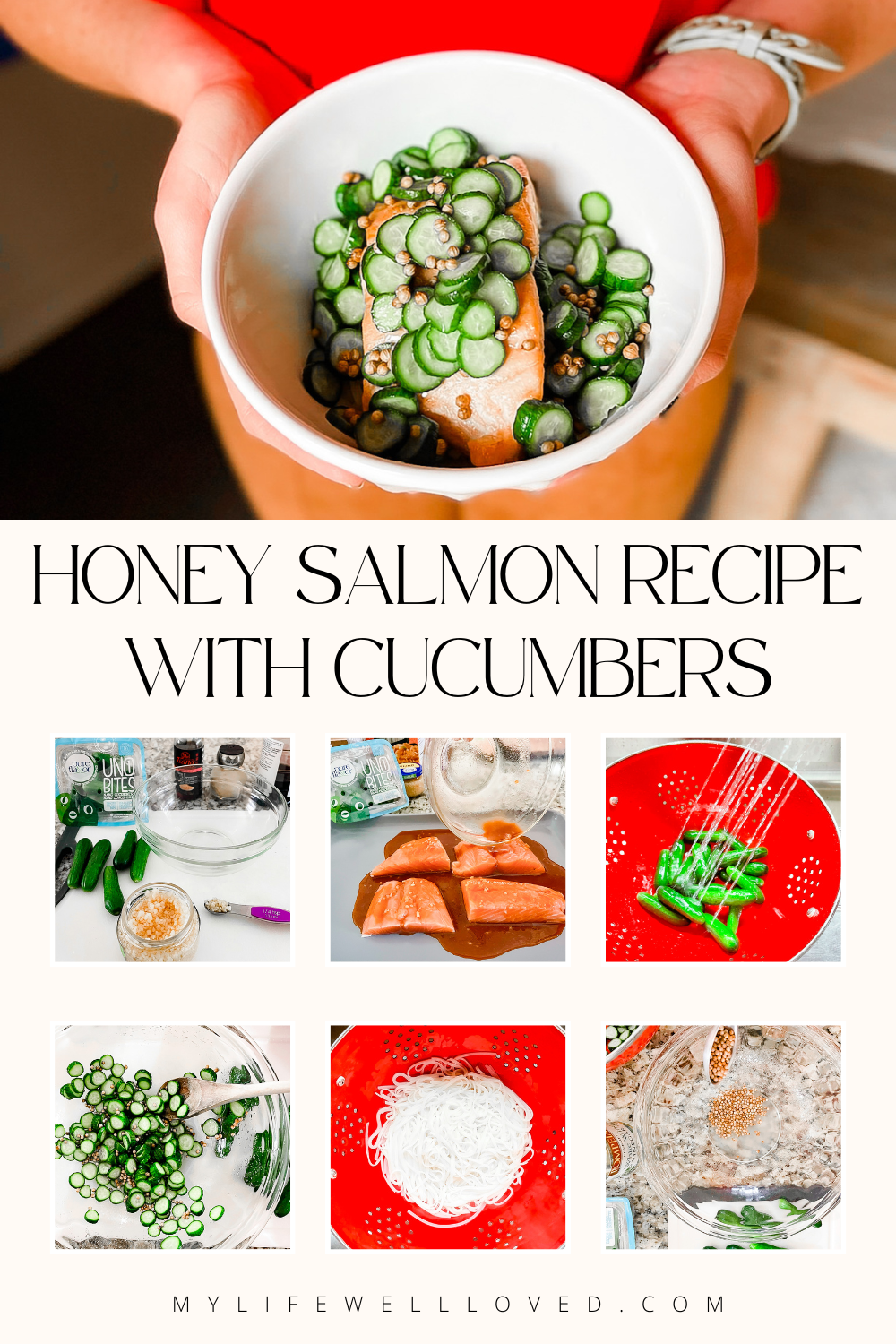 Heather Brown helps busy mamas of young littles who are caught in the hustle to find encouragement in their journey to true health, from the inside out, starting with the heart. Read her journey of learning to live a life well-loved
HERE!