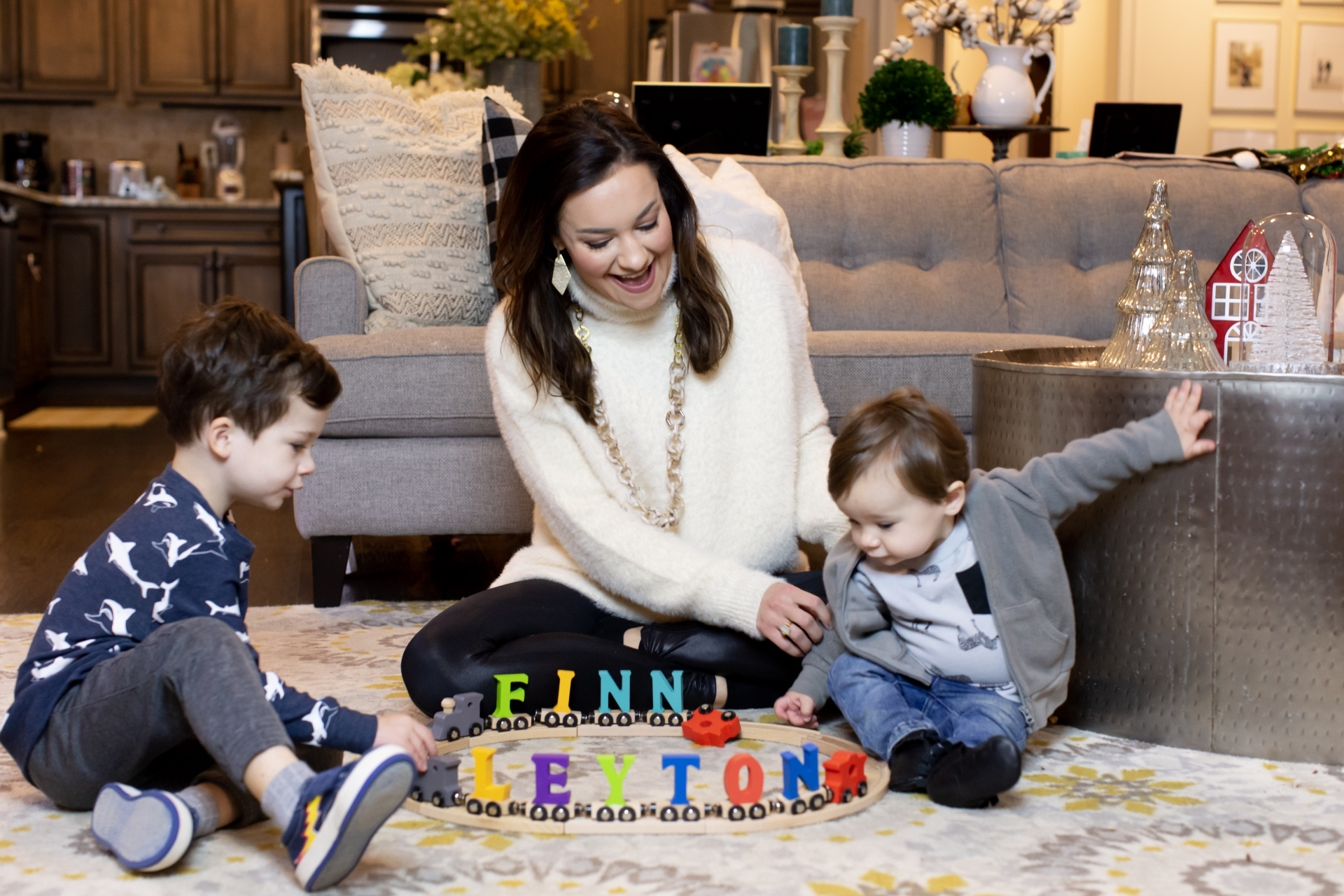 This post is in partnership with Mindware Toys! Thank you for supporting the brands we love!
SHOP The Family Christmas Traditions Post HERE: Sweater // Leggings // Necklace // Earrings // Train // Finn's Shoes // Finn's Jacket // Leyton's Shark Longsleeve Tee // Leyton's Shoes // Coffee Table // Shop My Christmas Decor HERE
Photos by Magen Davis Photography
With December in full swing, we are in serious holiday mode, y'all! I think one of my favorite parts of this time of year is getting to experience Christmas and all of it's wonder at a virgin birth, Christmas lights and everything in between through my boys' eyes and ears! We have so many meaningful family Christmas traditions.
In case you missed the traditions Eric and I started when we first got married and didn't have kids, you can see those couple Christmas tradition ideas here.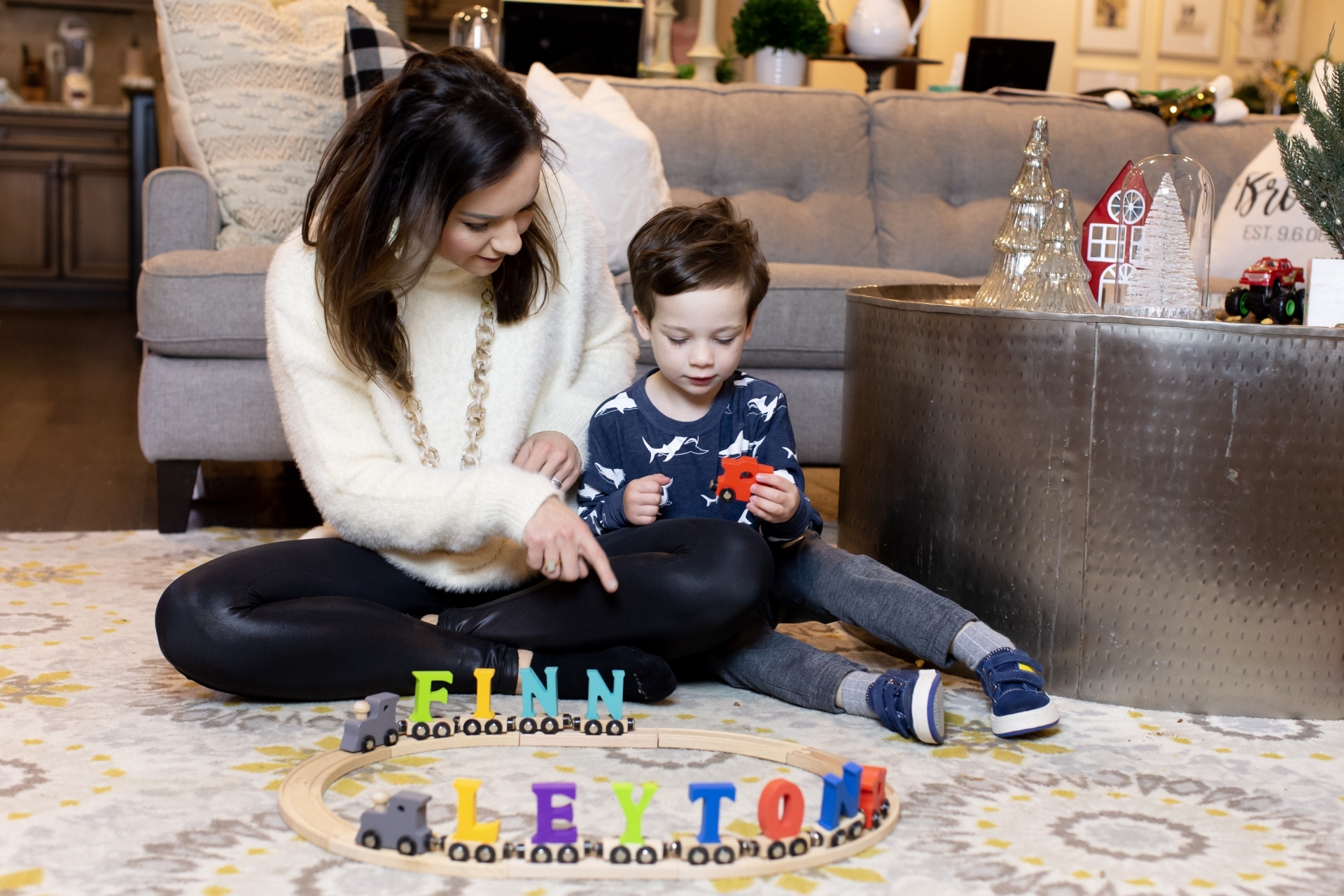 We have been decorating the house for the holidays, making all the yummiest comfort foods, and we've also been planning how we can include both boys in our traditions this year! I remember when I was a child and just loving how magical this time of year was.
As we grow older and the magic isn't quite as prevalent, traditions change and morph into something totally new and the magic is renewed.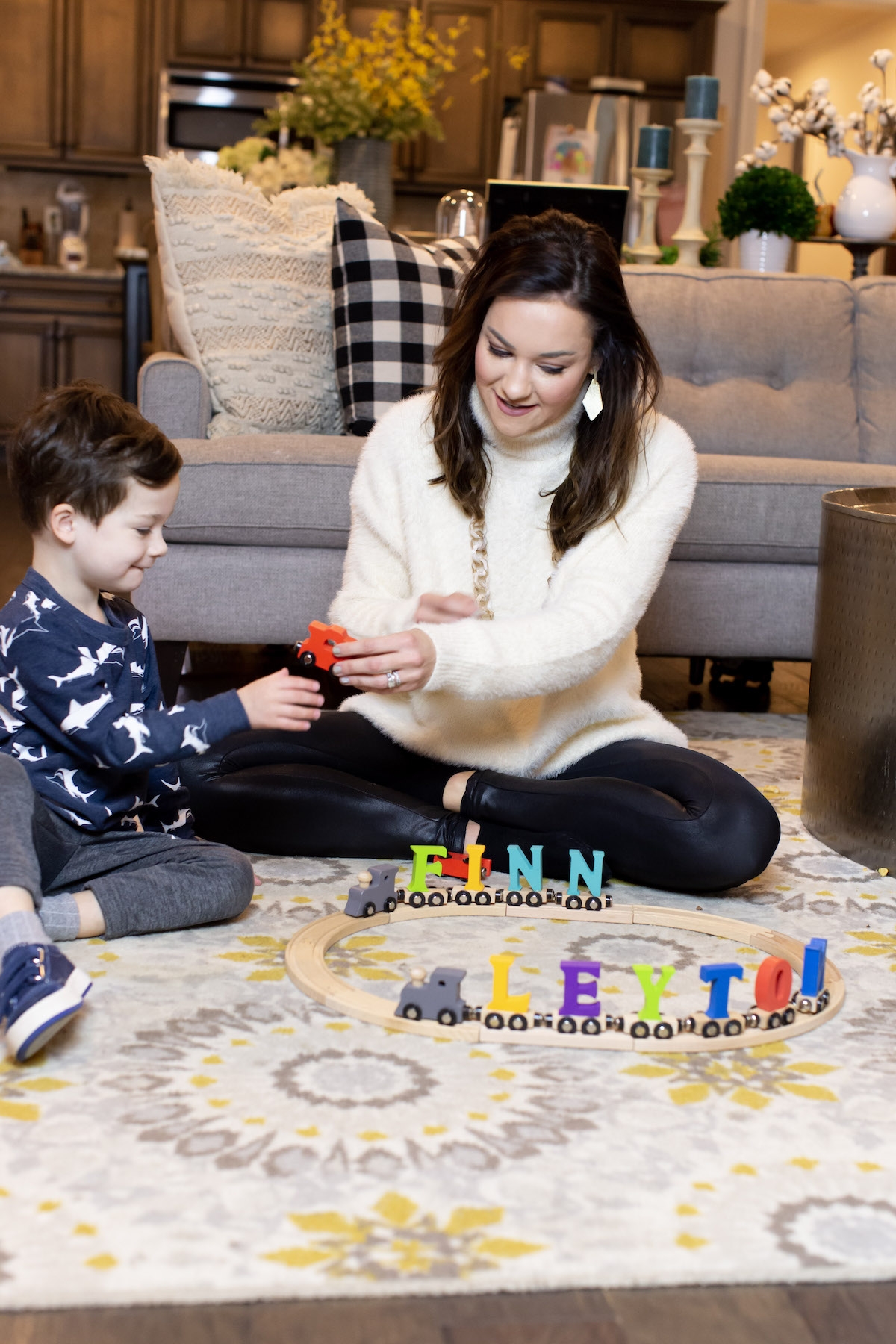 Now that I have 2 boys of my own, I've found the season twice as magical as I see it all played out through their eyes. It's just a joy that you can't describe, and I'm sure many of you mamas can agree!
I have really loved meshing old traditions that I remember loving as a child with new traditions that Eric and I decided to incorporate from both of our family backgrounds plus the things we've decided to do with Leyton and Finn on our own.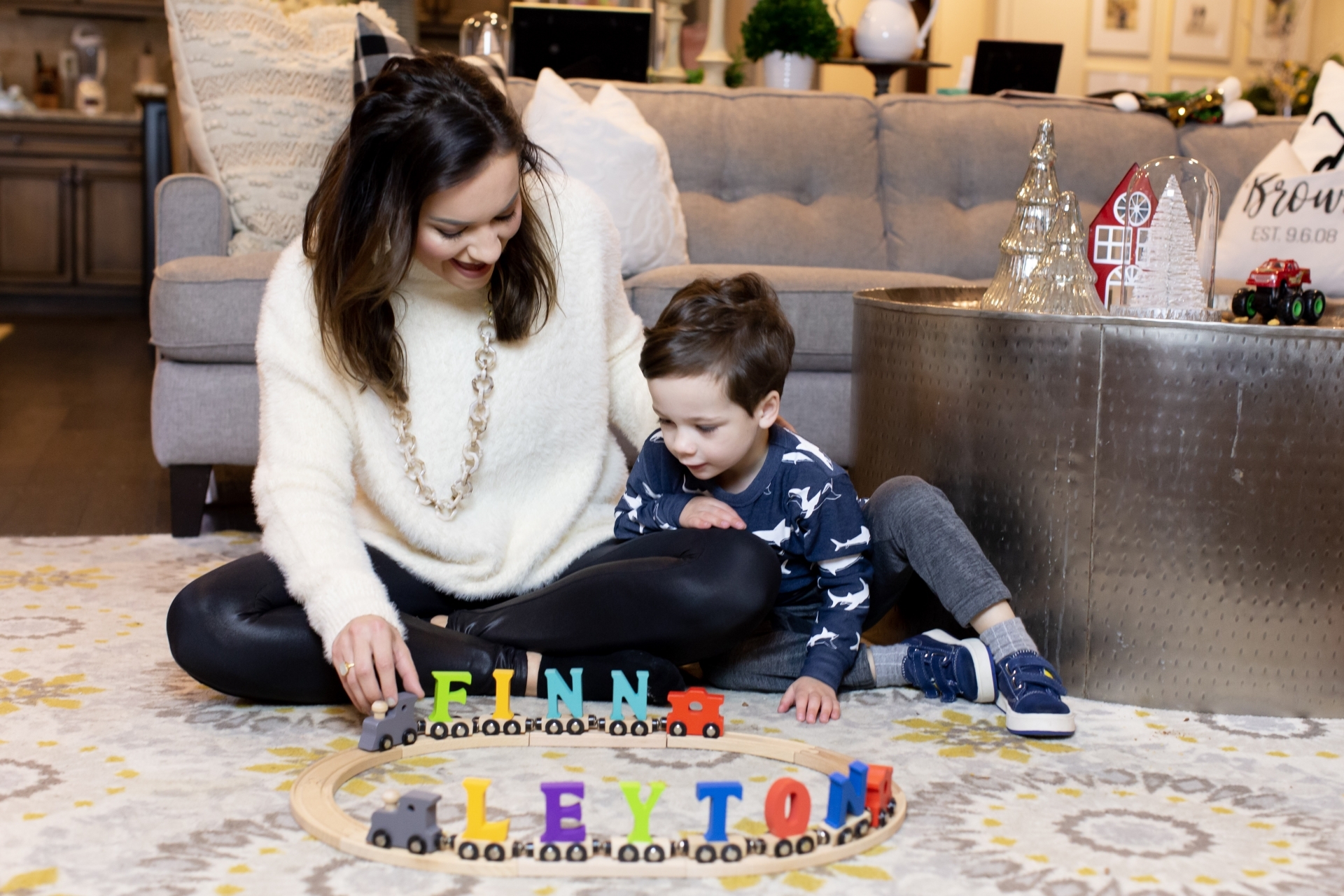 I wanted to share with y'all just a little bit of what we do during the holidays. I hope that these simple traditions might inspire y'all to start some of your own traditions if you haven't already!
Our Simple Gift Giving Family Christmas Traditions

:

3 Gifts From Santa: We explain to the boys that Santa brings 3 gifts just like baby Jesus received 3 gifts from the wise men on the night he was born. We give them one gift that is fun and/or personalized, something that is useful or more of a "need" and then something educational like a book or something to help them with learning or school.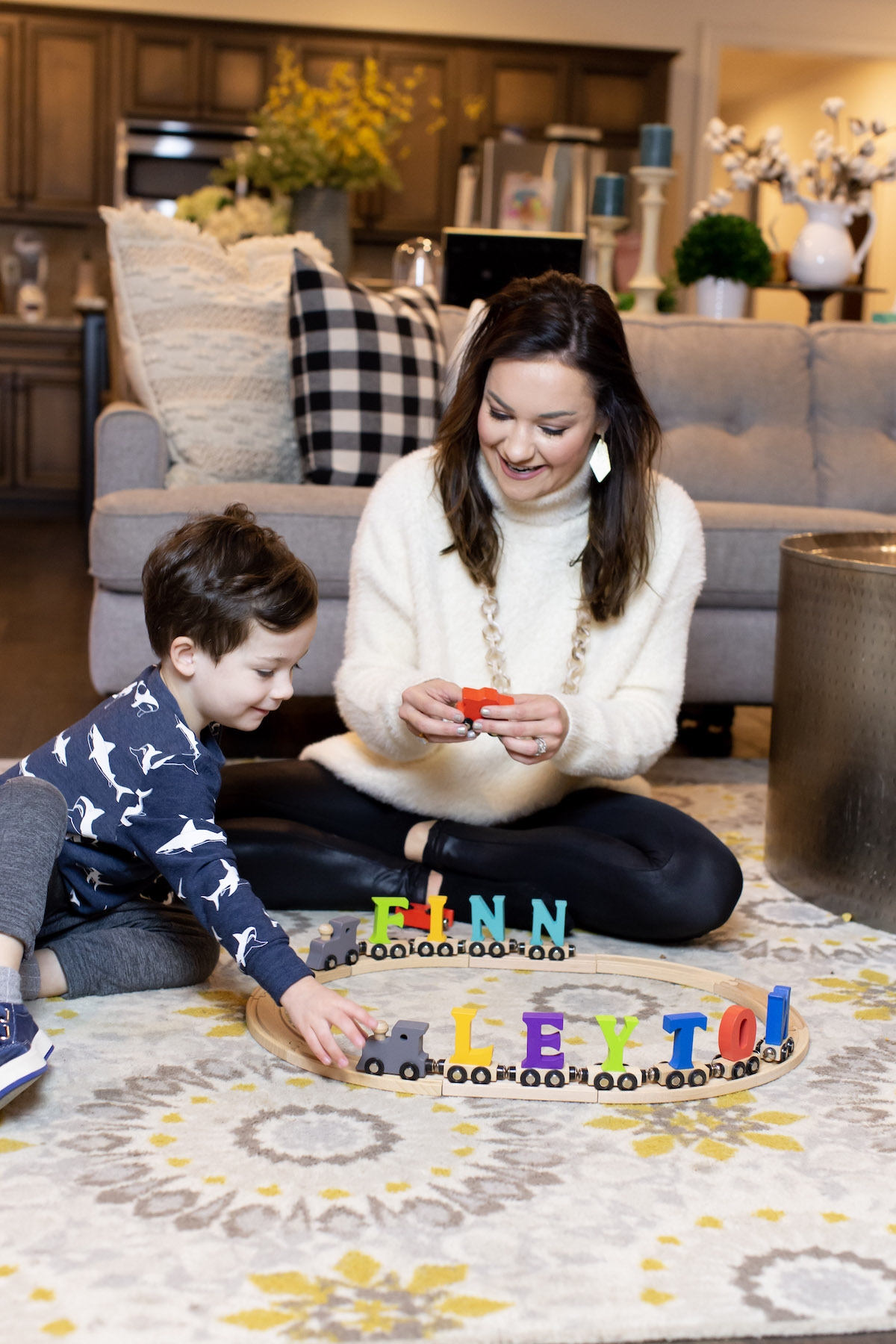 This year, we decided to pick up this gorgeous train, personalized with both the boys' names. It will be a keepsake that they can have for years to come. Leyton is already guarding it for his life because Finn destroys all the things. 😉 We have always loved Mindware toys and they have become a part of our Christmas tradition every year. We always find something new & fun that the boys can enjoy for years to come!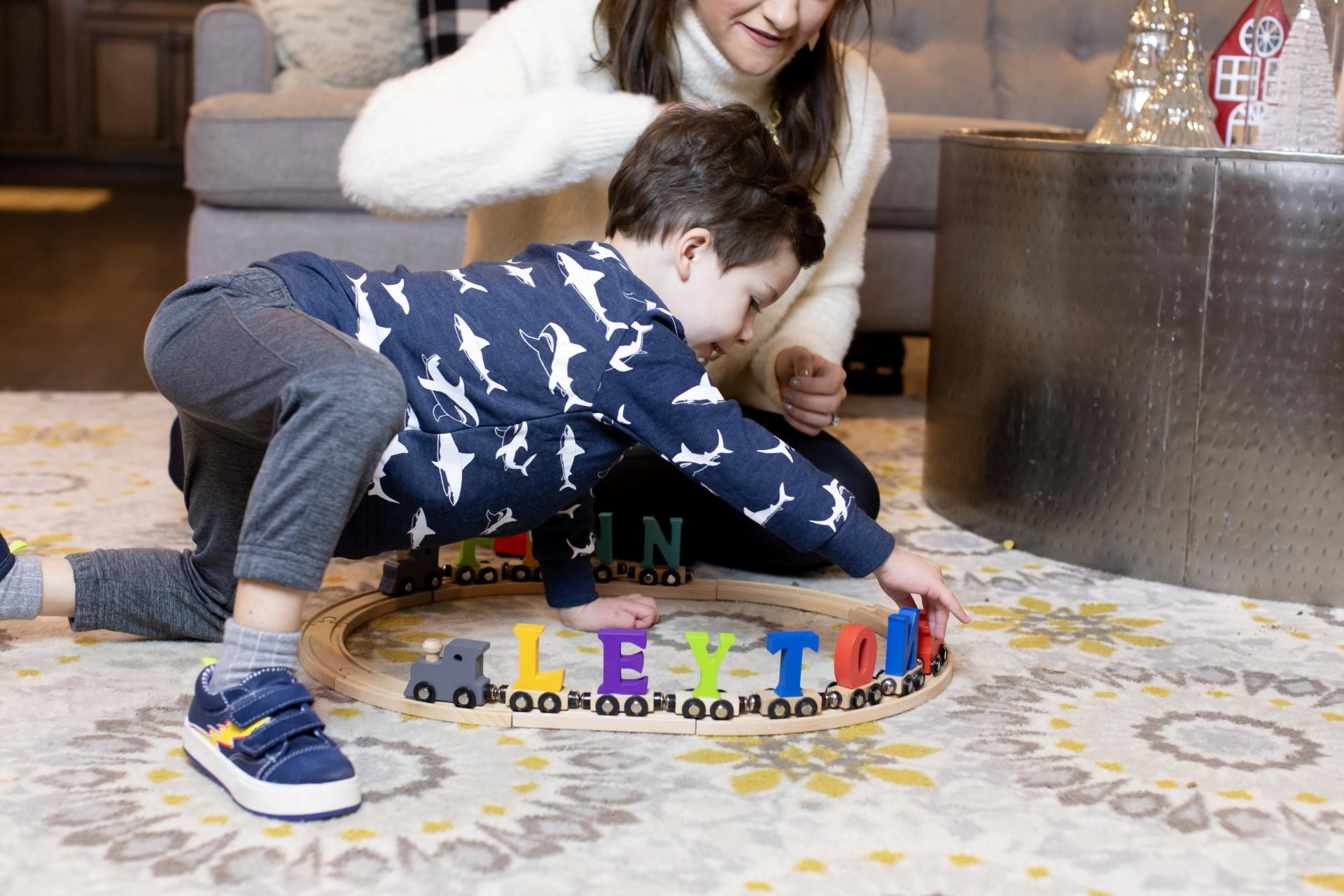 When it comes to the practical gift, Eric and I try to give the boys something that is useful. This can be something like new sippy cups, plates and utensils, a school backpack, lunch box, clothes…things that are more of a "need".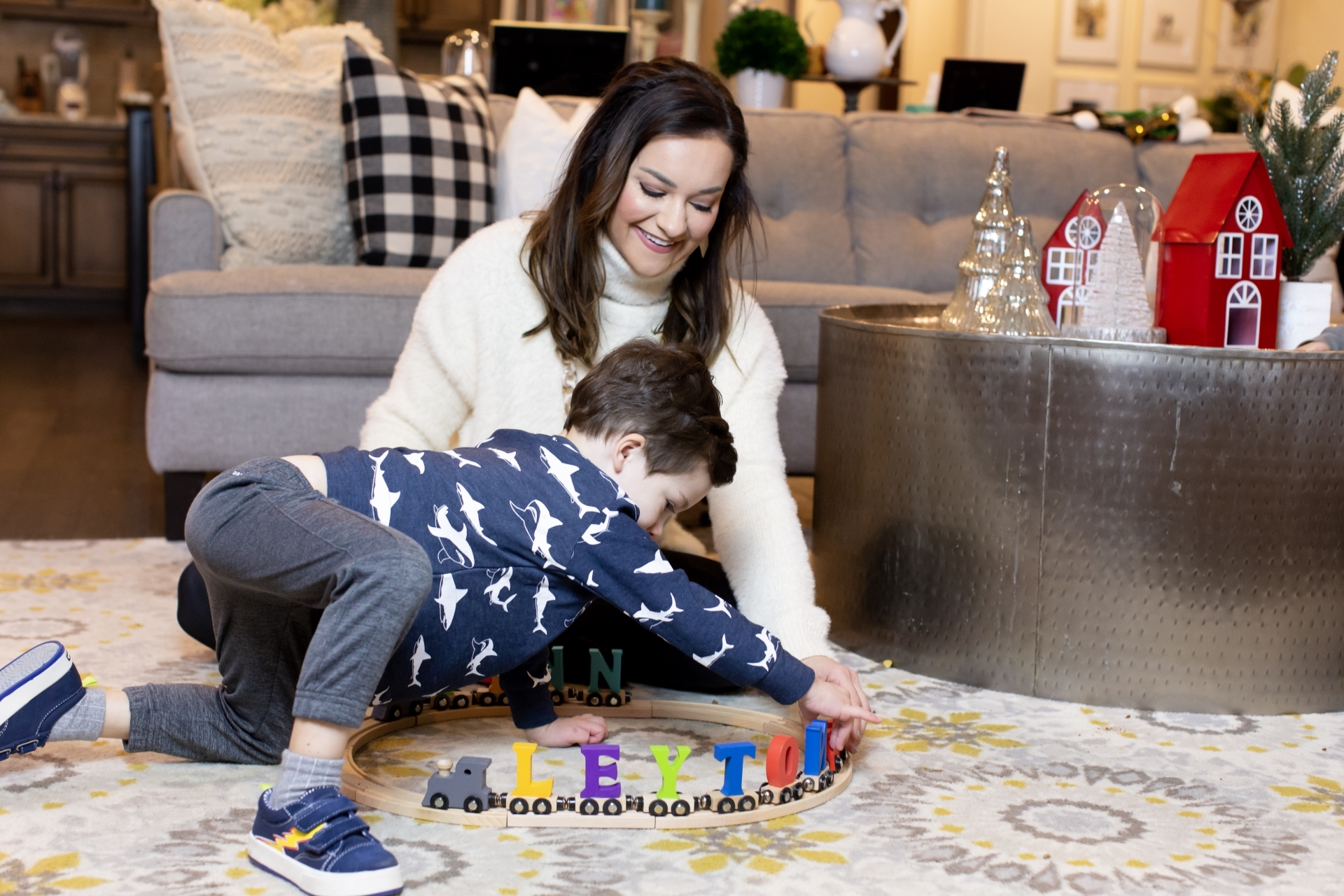 Lastly, we usually try to give a gift that is somewhat educational or something that promotes creativity, sensory play, etc. We like to find things like books or other learning toys.
We also love finding activities that implement fine motor skills into their life. When the winter hits, we can't do our typical "tivities", so we like to try and find ways to get creative with sensory or fine motor skills with the boys.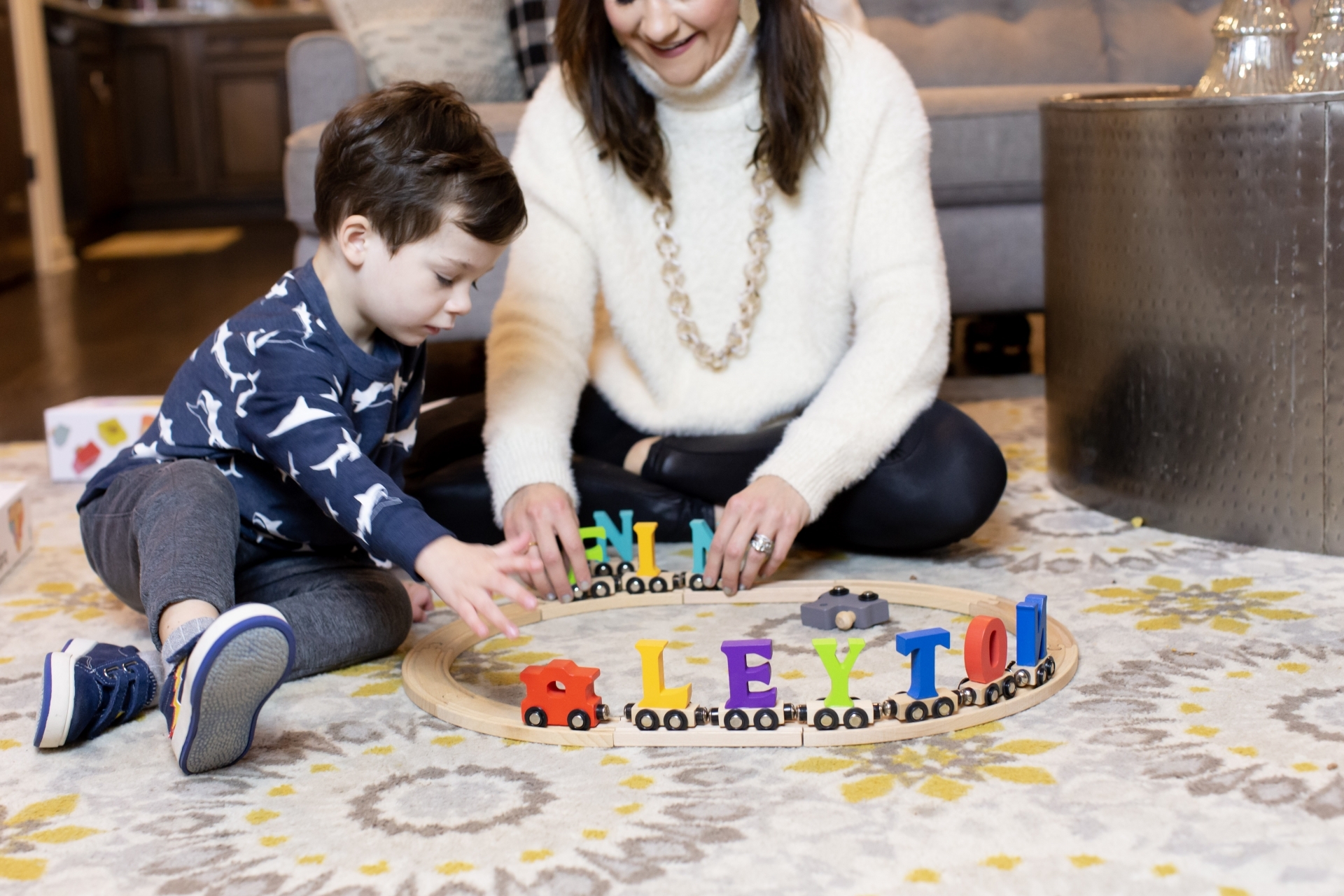 We love doing utilizing the three gift system because then it doesn't make Christmas such an excessive holiday. It keeps the amount of gifts + toys under control and it limits the things which will inevitably be forgotten about in a few weeks or months.
It also helps to ground us in what the season is really about. I want my boys to always remember why we celebrate Christmas.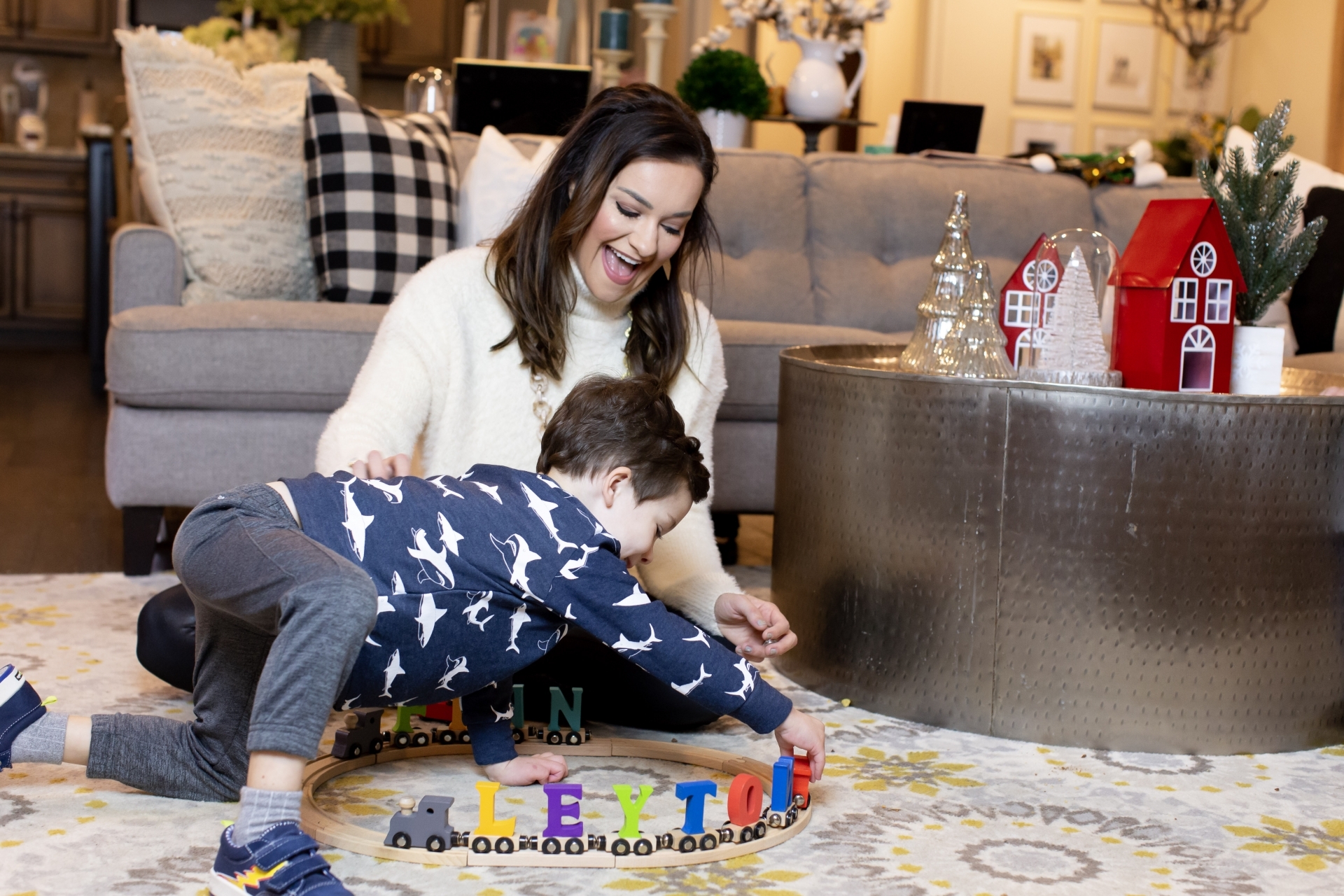 All Of YOUR Unique Christmas Traditions

:

On Instagram just a little while ago, I asked y'all what some of your really special family Christmas traditions were and I wanted to make sure I shared those here! I hope this is a place where you can come away with a few new ideas to implement with your family and hopefully leave inspired with some fun ideas!
@dixidarling82 Christmas cooking making and opening one gift on Christmas eve
@alainafaith Visiting Santa at Bass Pro shops
@qquite93 Hallmark movies and hot chocolate
@mssam0305 The nutcracker has always been a girls tradition in our family!
@hunterhaysfan92 Seeing Christmas lights 
@lexxii_4114 Making Christmas treats with my mom and sister 
@aparsons1125 Elf on the shelf
@twright0514 Opening 1 gift on Christmas eve. Cinnamon rolls and pigs in a blanket on Christmas morning 
@julie_mccarter Cookies for Santa and opening one gift on Christmas eye
@kcbn1234 Putting up Christmas lights on Christmas eve and sleeping under the tree
@lebyrd17 The kids and I make cookies together on Christmas eve
@emdoeshomes Drink wine together! It's always a good time. We roll potstickers for party prep!
@allison_gunth Making reindeer food with the kids and sprinkling it on our front yard!
@hobsonsbabe87 Driving around to look at Christmas lights, homemade pizza on Christmas eve, pigs in a blanket on Christmas morning
@merediththaca We hide baby Jesus from the nativity on Christmas morning and the kids compete to find him 
@araisor Read a different Christmas book each night before bed starting December 1 and end with the Night Before Christmas
@aleanne_rny The kids get to open one gift on Christmas eve and they always get new pajamas
@kat21 Baking all the cookies, then eating all the cookies!
@red_white_and_blondeee Church on Christmas Eve and we open one present after Church!
Top 3 Family Christmas Traditions:
Baking gingerbread cookies/decorating gingerbread houses on Christmas Eve.
Cutting down a real Christmas tree or making the memory of picking out a real tree.
Waffles & breakfast casserole on Christmas morning.
(I echo this! Click here to find my must-have breakfast casserole recipe! )
3 Most Unique Christmas Traditions:
Making wassail together.
Christmas light scavenger hunt.
Homemade pizzas on Christmas Eve in Christmas jammies.
Check Out More Christmas Content HERE:
SHOP The Post HERE:

PIN The Post For Later!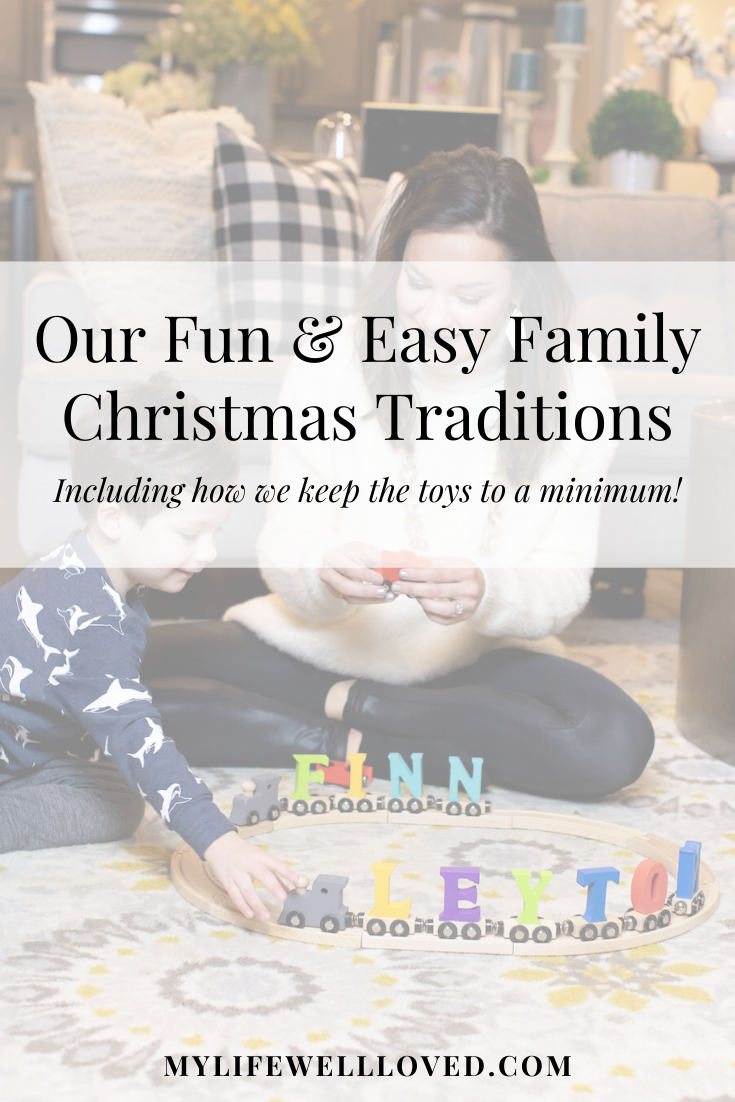 Heather Brown helps busy mamas of young littles who are caught in the hustle to find encouragement in their journey to true health, from the inside out, starting with the heart. Read her journey of learning to live a life well-loved
HERE!