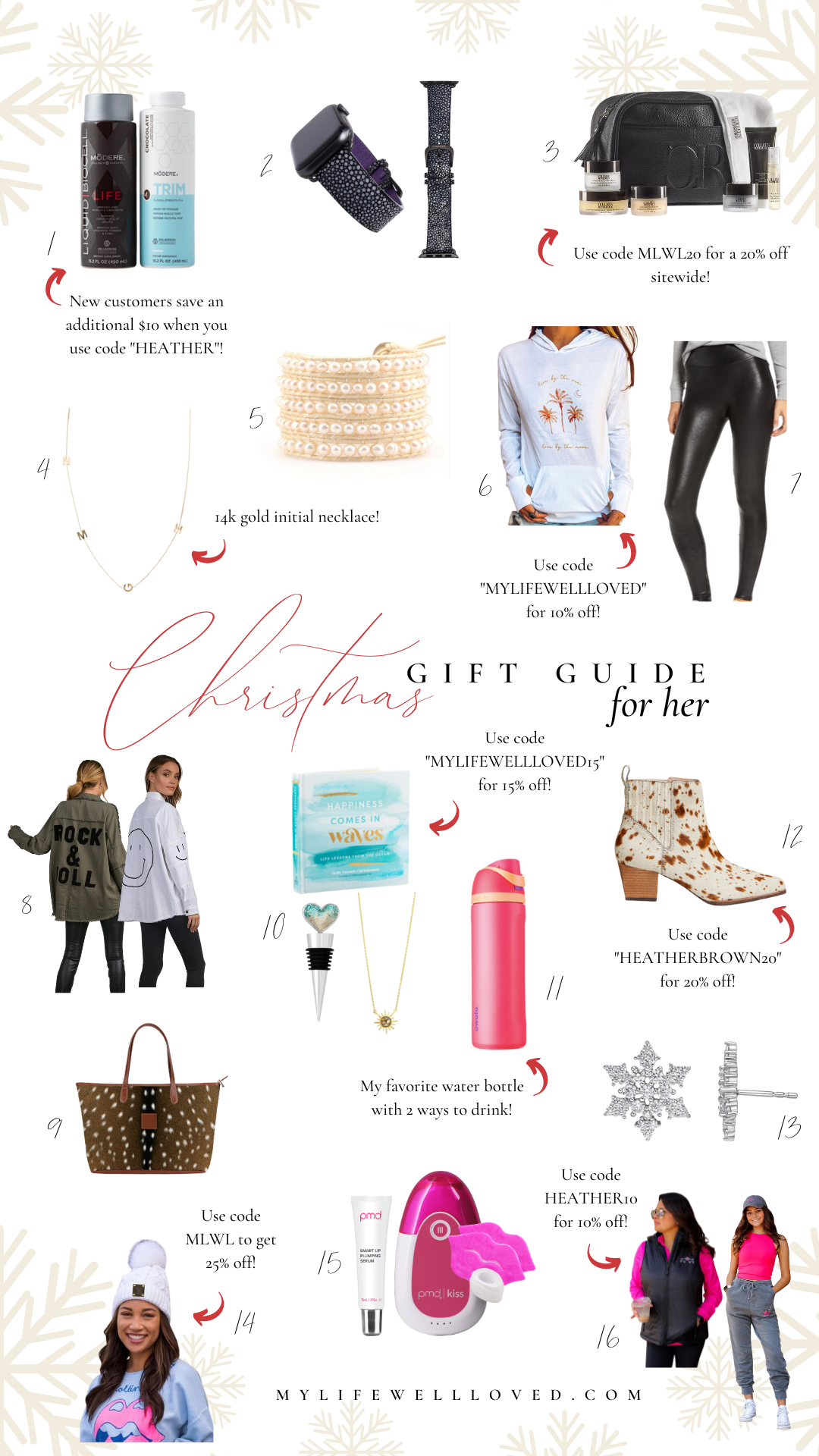 Keep scrolling to see my womens gift guide below!
Not sure what to aks for this year? I get it! It's always a struggle for me to stop during the craziness of the holiday season and actually pick something out! I know that a lot of my fellow mamas feel the same way, so I've put together the best things out there to hopefully simplify making your own wishlist! I've included some of my very favorite things in this complete women's gift guide!
Send this post to your mom, hubby or anyone who is shopping for you! Tell them which items you would like and your wishlist is complete. Boom! It's that easy.
My 16 Favorite Womens Gift Guide Items To Add To Your Wish List
1. Liquid Collagen + Trim Bundle // My ride or die supplements that I take every single day! I've seen incredible results in my hair, skin, nails, and muscle tone sine using these babies! Use code HEATHER to save $10 on your first order!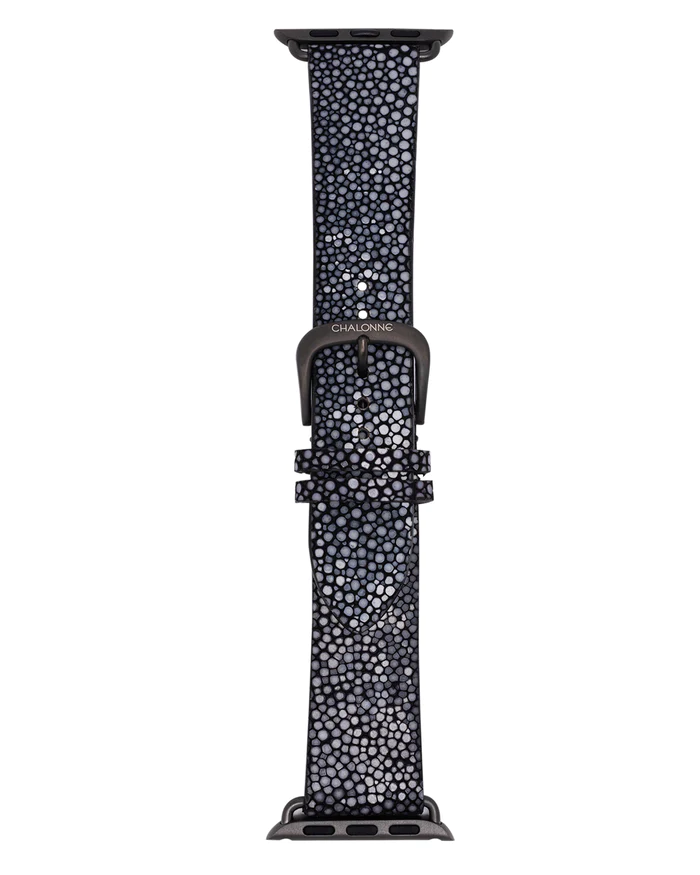 2. Chalonne Bedarra in Black // Boujie fitness lovers, look. no. further. Chalonne is a woman-owned company that is creating the world's most luxurious Apple Watch bands, hand-crafted in France by artisans using only the finest materials including fine leather, gemstones and 14k solid gold. Notice the signature purple goatskin lining Empowering women is built into the DNA of this company, and for every band sold, Chalonne donates 4% of the proceeds to the Breast Cancer Research Foundation. I'm in love with this one-of-a-kind band!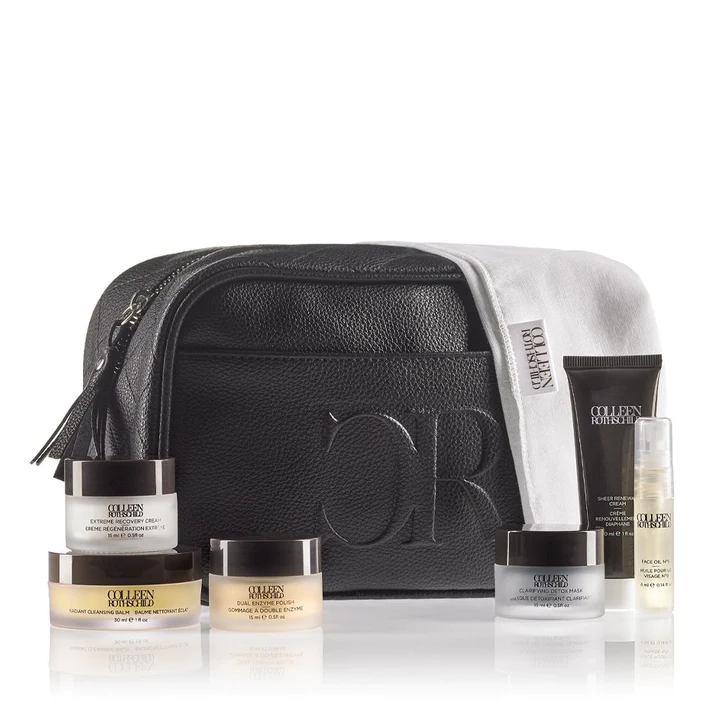 3. Colleen Rothschild Discovery Collection | Exploration Collection | The Eyes Have It Collection // Give the gift of science-based, sensory-rich skincare by the expert, Colleen Rothschild. I adore these holiday gift sets including the highly-sought after products I've come to know and love personally. Colleen Rothschild combines more than 25 years of expertise with entrepreneurial passion in this luxury beauty brand founded in Dallas, Texas. They focus on skincare, body care and hair care, that is effortless, beautiful, and highly effective. You can use code MLWL20 for a 20% off sitewide (non-stackable) discount. These products sell out so fast so grab gift sets for her (or forward this email to your person *hint hint* and let them know to move on this deal quickly!)
4. Gold Necklace // I love the delicate design of this 14k gold necklace, plus you can personalize it with an initial!
5. Victoria Emerson Wrap Bracelet // The bracelets I wear all the time!
6. 30A Hoodie // "Live by the sun, love by the moon." The hoodie I designed with 30A! Use code MYLIFEWELLLOVED for 10% off!
7. Spanx Faux Leather Leggings // If you haven't tried Spanx yet, you're missing out! Style them a hundred different ways, and get the best support!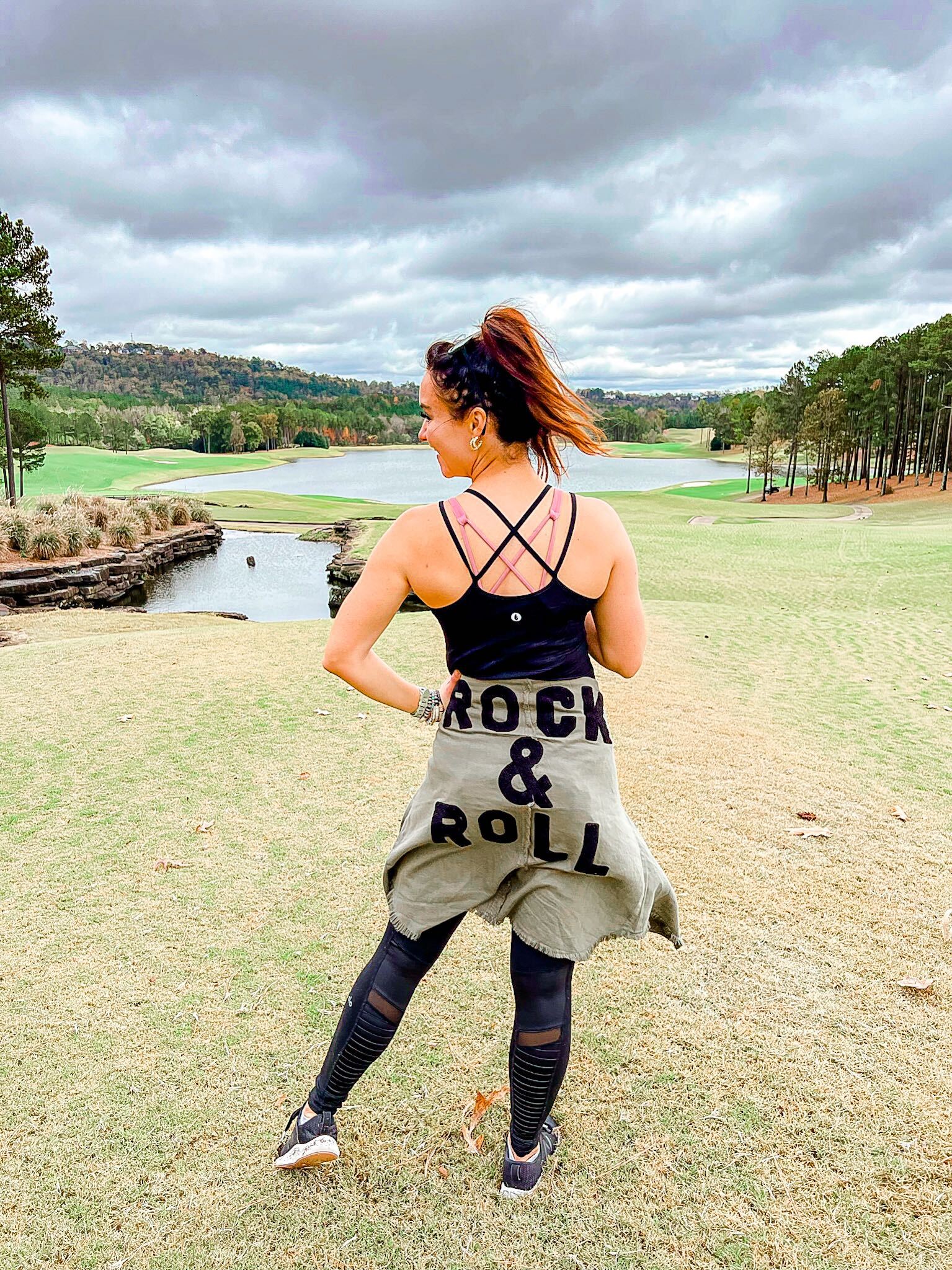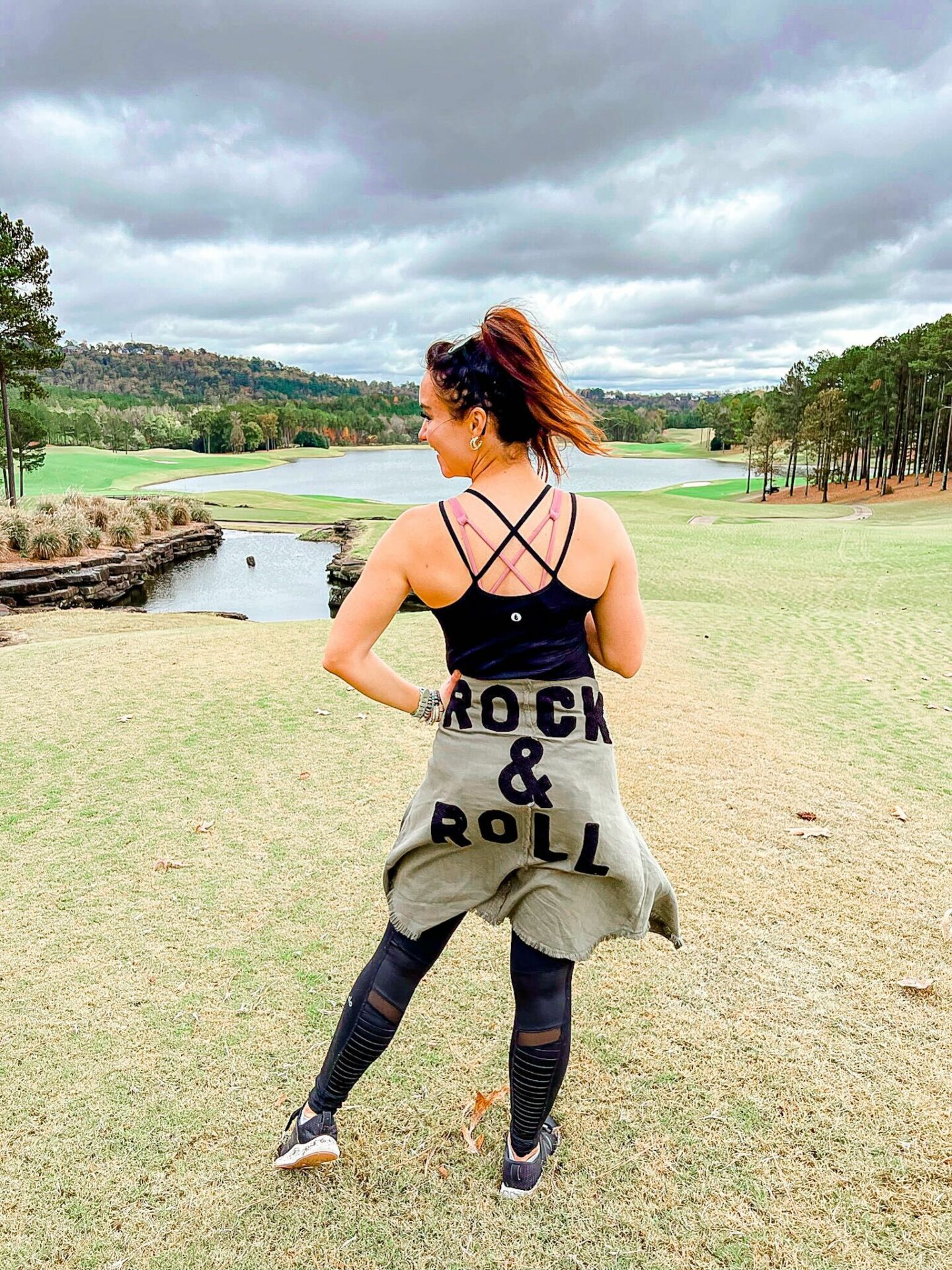 8. Elan Devan Jacket | Dolly Jacket // For the lady in your life with a little (or a lot!) of sass, I've got just the thing. Elan's Devan and Dolly jackets have been bestsellers for 3 years and do NOT stay in stock long. These statement pieces are perfect for concerts, festivals, and making a statement! If you're looking for something cozier, the Boulder sweater has your name all over it. I love how easy, fast, and free their return and exchanges are. (If you're eyeing one of these for yourself, forward this email to your person! You're welcome!) I may or may not have ordered these for myself to wear all fall and winter! 😉
9. Barrington St. Anne Zipper Tote // The tote that fits EVERYTHING!
10. Dune Jewelry Heart Wine Stopper | Delicate Dune Sunburst Necklace | Happiness Comes in Waves Book // The ultimate gift for that special someone who loves nostalgic travel memories! Dune takes tangible pieces of a moment, a memory, or a destination and infuses them into artisan-crafted fine jewelry & gifts that will last a lifetime! This wine stopper comes with Dune's signature Gradient Technique featuring crushed natural Turquoise and your choice of sand or earth elements from their Sandbank of over 5,000 iconic locations from around the globe. And I love this necklace, filled with an element of your choice. I have had one of my Dune pieces filled with sand from our trip to Bora Bora! You can shop both of these items (plus so many more) and Dune Jewelry's founder's book, too – "Happiness Comes In Waves" — on their website with my code MYLIFEWELLLOVED15. The book is beautifully illustrated with powerful and inspiring life lessons. All items would make a wonderful stocking stuffer or gift for anyone in your life! Visit: dunejewelry.com.
11. Owala Water Bottle // The water bottle I never leave the house without!
12. Booties // Use code HEATHERBROWN20 for 20% off!
13. Snowflake Studs // How stunning are these sterling silver snowflake studs?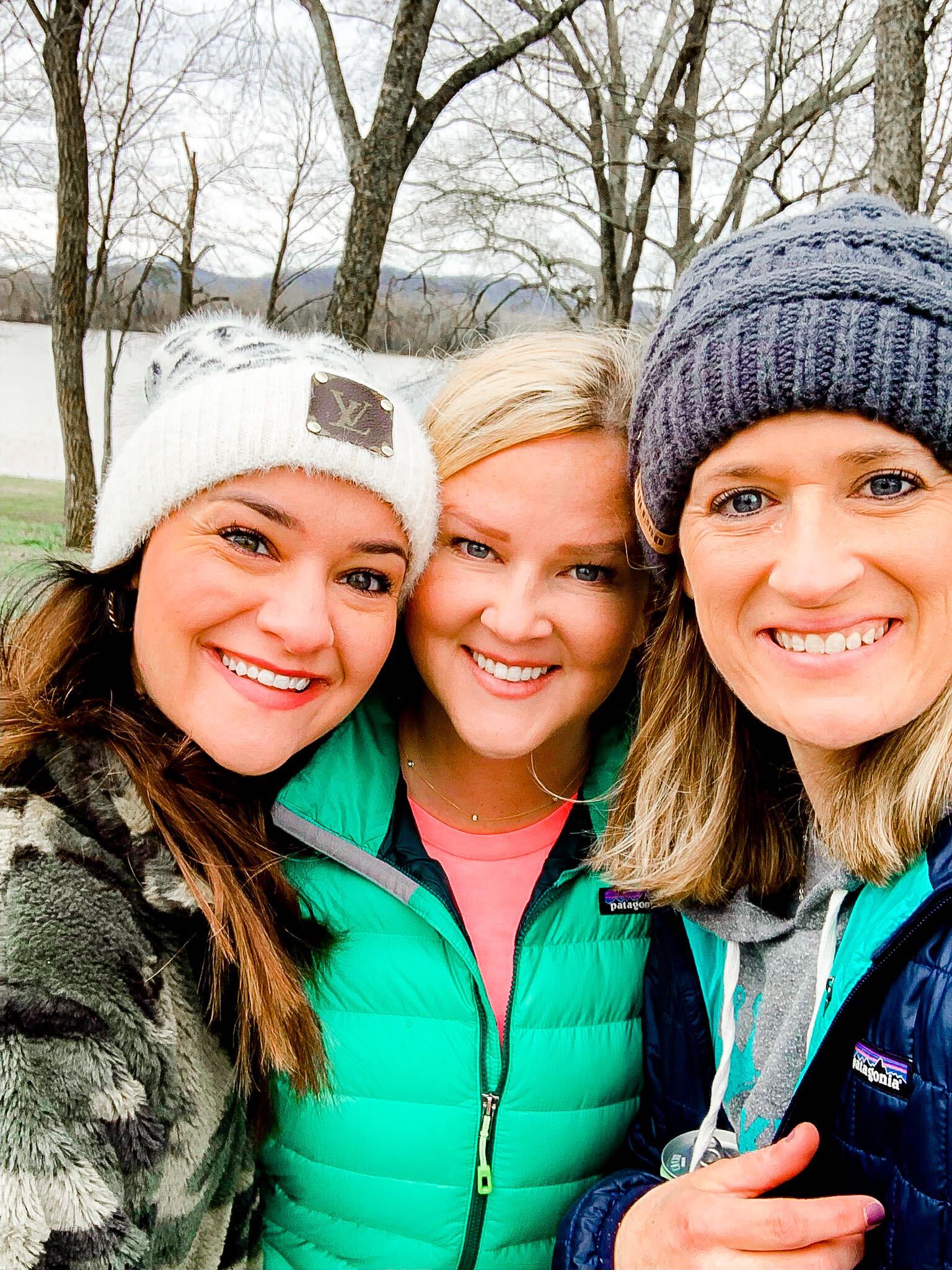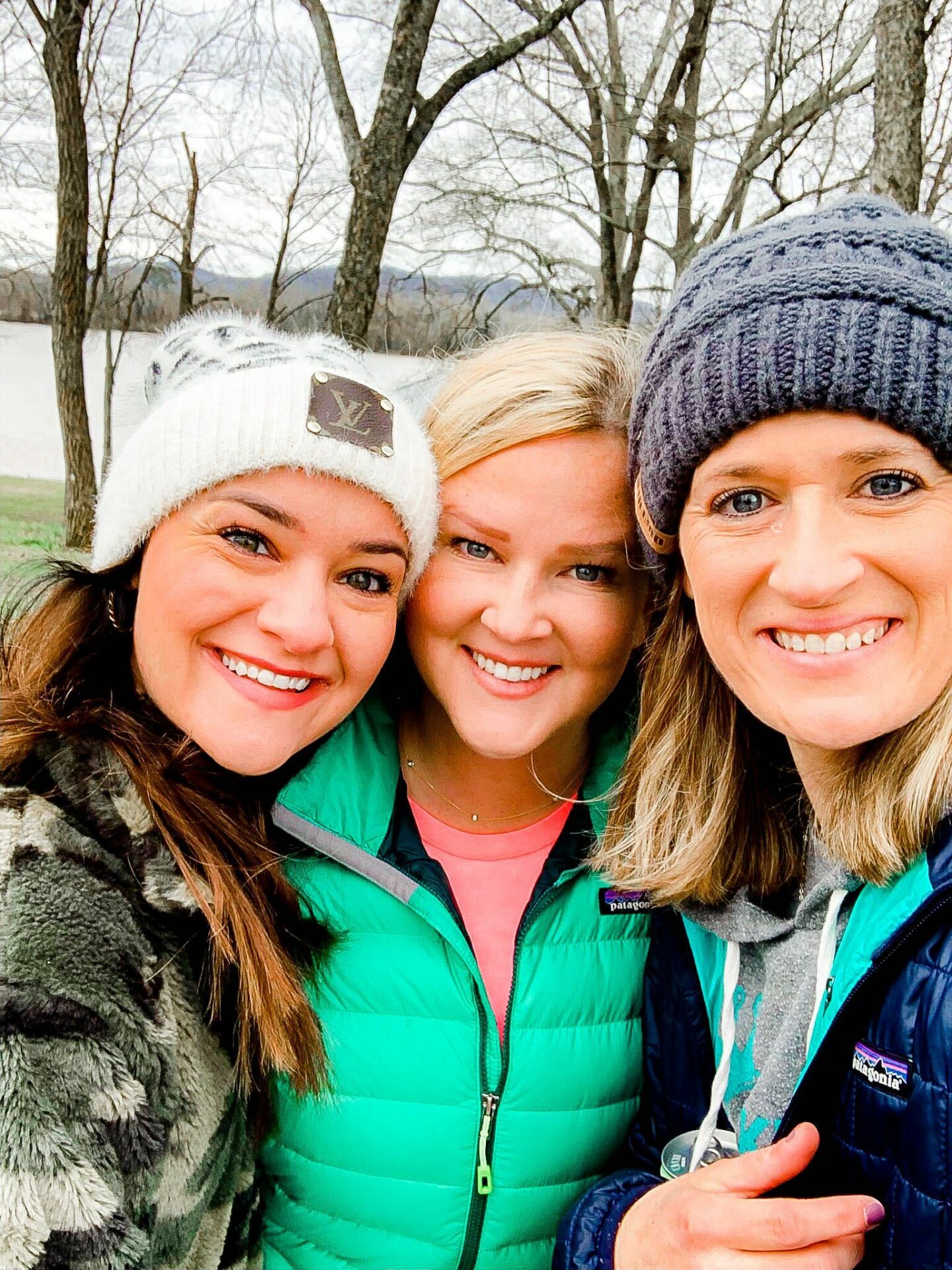 14. Camille Bryanne Beanies // Know someone who loves being sustainable AND has a major flair for style? Meet these upcycled LV Beanies! They're created from…are you ready for this… authentic Louis Vuitton bags and come in dozens of styles and colors. I love the mommy and me sets too. Each beanie is made from preloved bags with a story and are hand-made especially for you. Use code MLWL to get 25% off your order!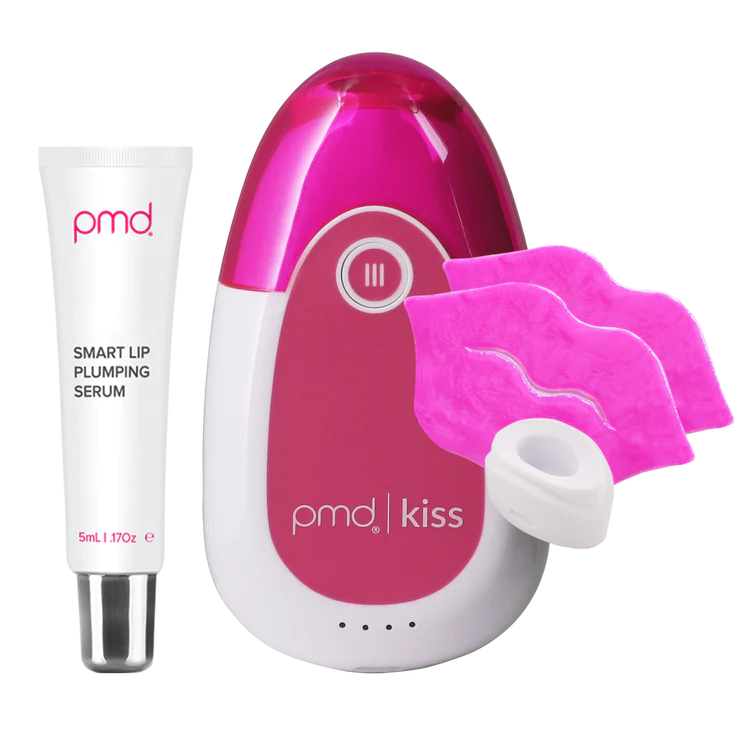 15. PMD Beauty Kiss System // I guarantee she'll love this smart skincare Lip Kiss System from PMD Beauty! Y'all, this is the coolest thing ever. It's an anti-aging, lip-plumping treatment (um, yes please!) that can be used daily and reduces the appearance of lines, increases fullness, revitalizes color, and boosts collagen production. The treatment is also customizable! (Also, PSA, you can get 40% off when you sign up for emails/texts!) So ladies, what are you waiting for? Forward this email to your spouse now as a *hint*!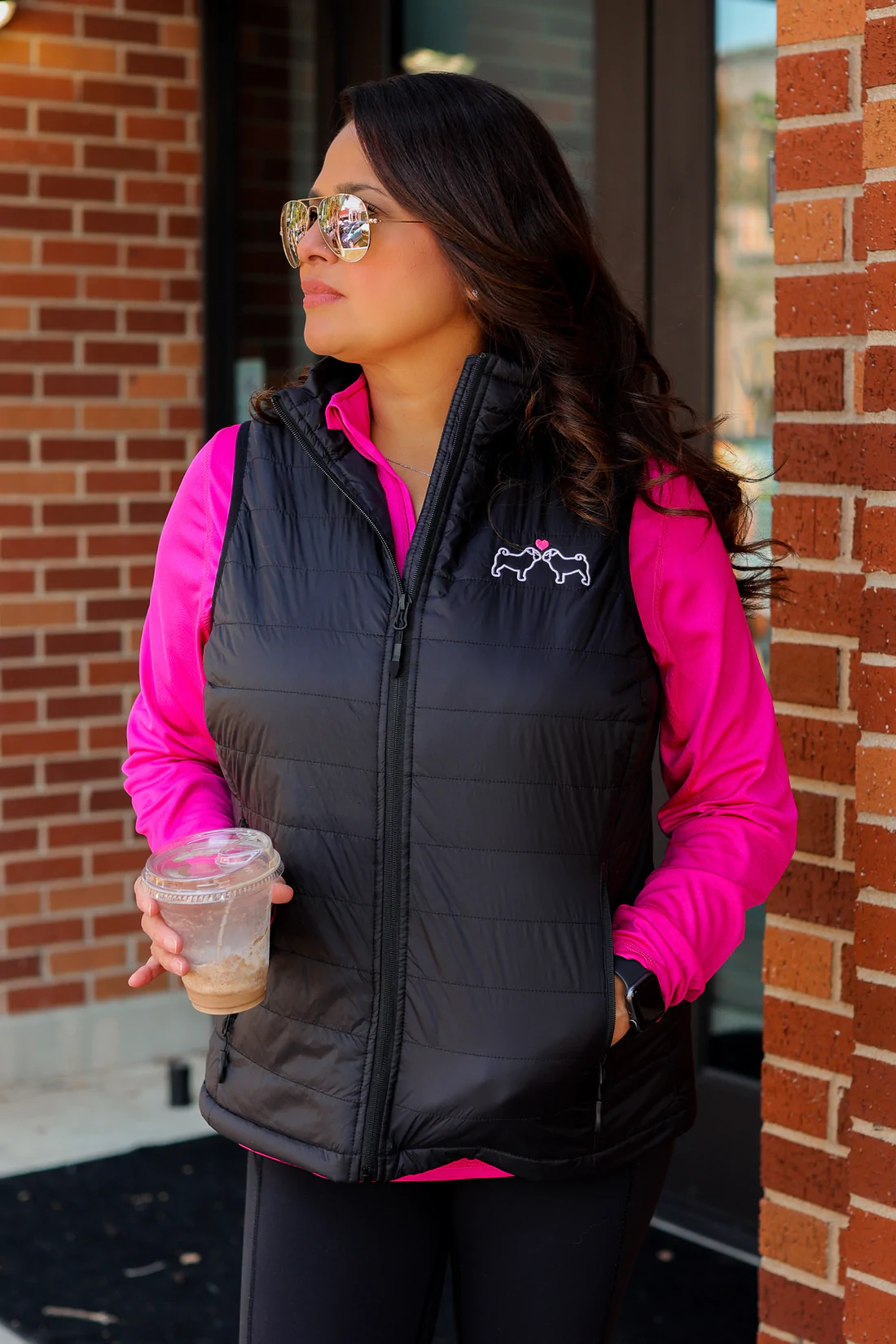 16. Pepper Paisley & Co Puffer Vest | Floating Hearts Hoodie | Floating Hearts Sweatpants | Floating Hearts Ribbed Knit Beanie | Baby Onesies // Look at these cute pieces from Pepper Paisley & Co.! This is just a taste of the gift ideas they have to offer–they've been a favorite business of mine for several months now. I love that they are female-owned and operated and focus on providing unique things for women AND babies. I just can't with the baby clothes, y'all…not to mention how cozy these outfits look! Sorry not sorry for how many items you'll be adding to cart, especially with my code HEATHER10 for 10% off!
I created this gift guide with YOU in mind! And I have a feeling you'll love these items just as much as I do.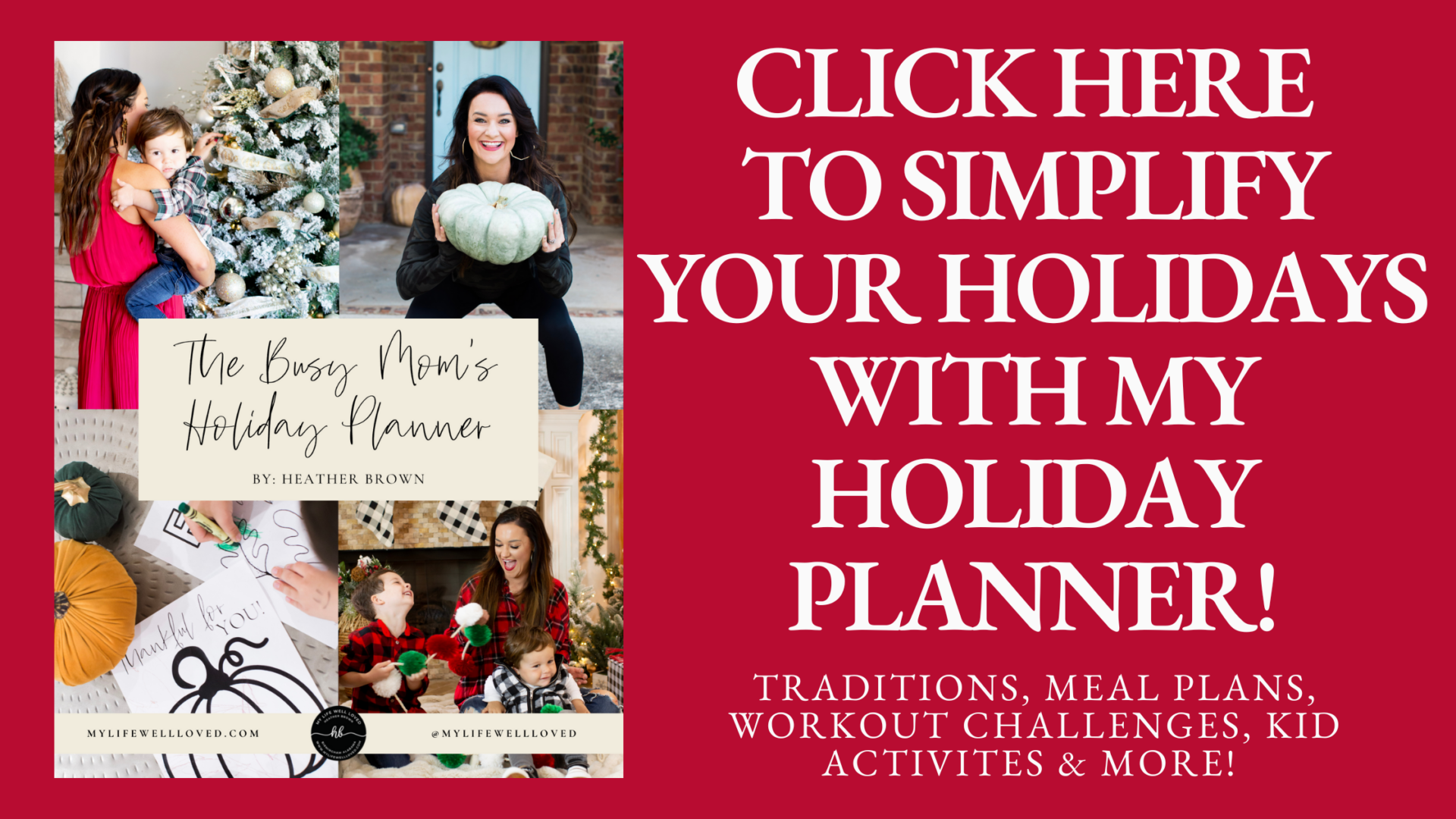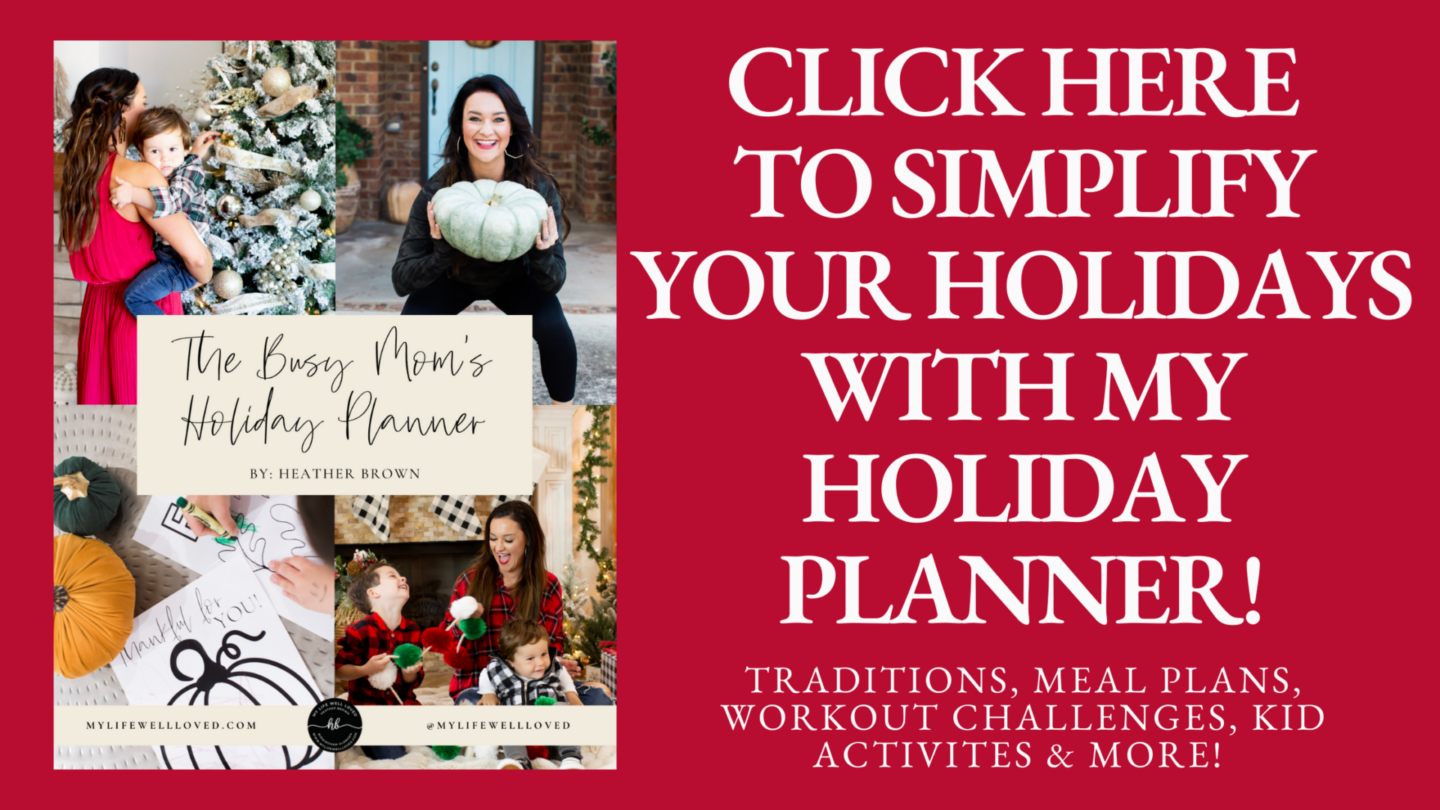 Shop The Womens Gift Guide Here!

Pin The Post For Later!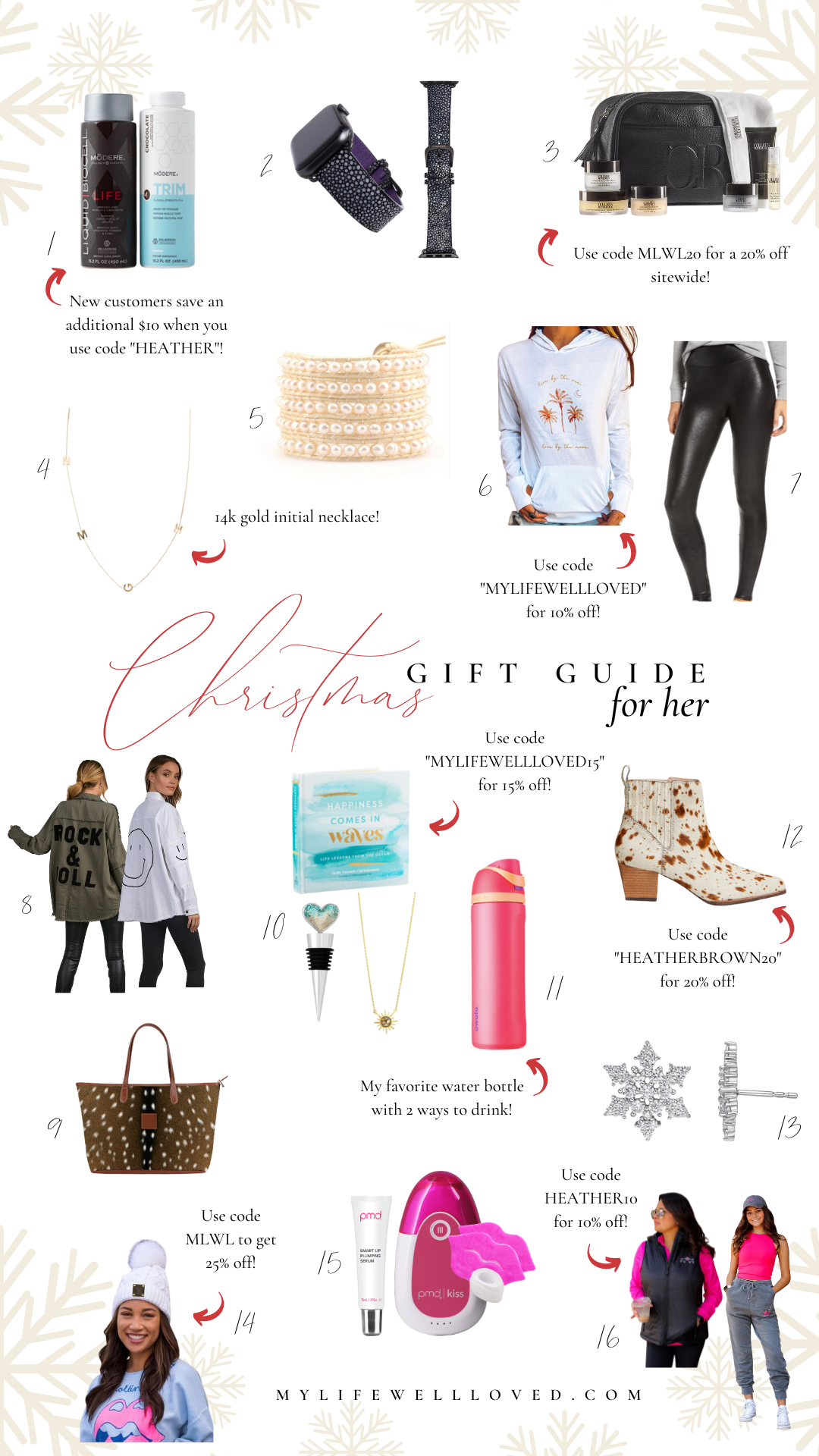 Thank you to Chalonne, Colleen Rothschild, Elan, Dune Jewelry, Camille Bryanne, PMD Beauty, and Pepper Paisley & Co for sponsoring the womens gift guide.
Heather Brown helps busy mamas of young littles who are caught in the hustle to find encouragement in their journey to true health, from the inside out, starting with the heart. Read her journey of learning to live a life well-loved
HERE!