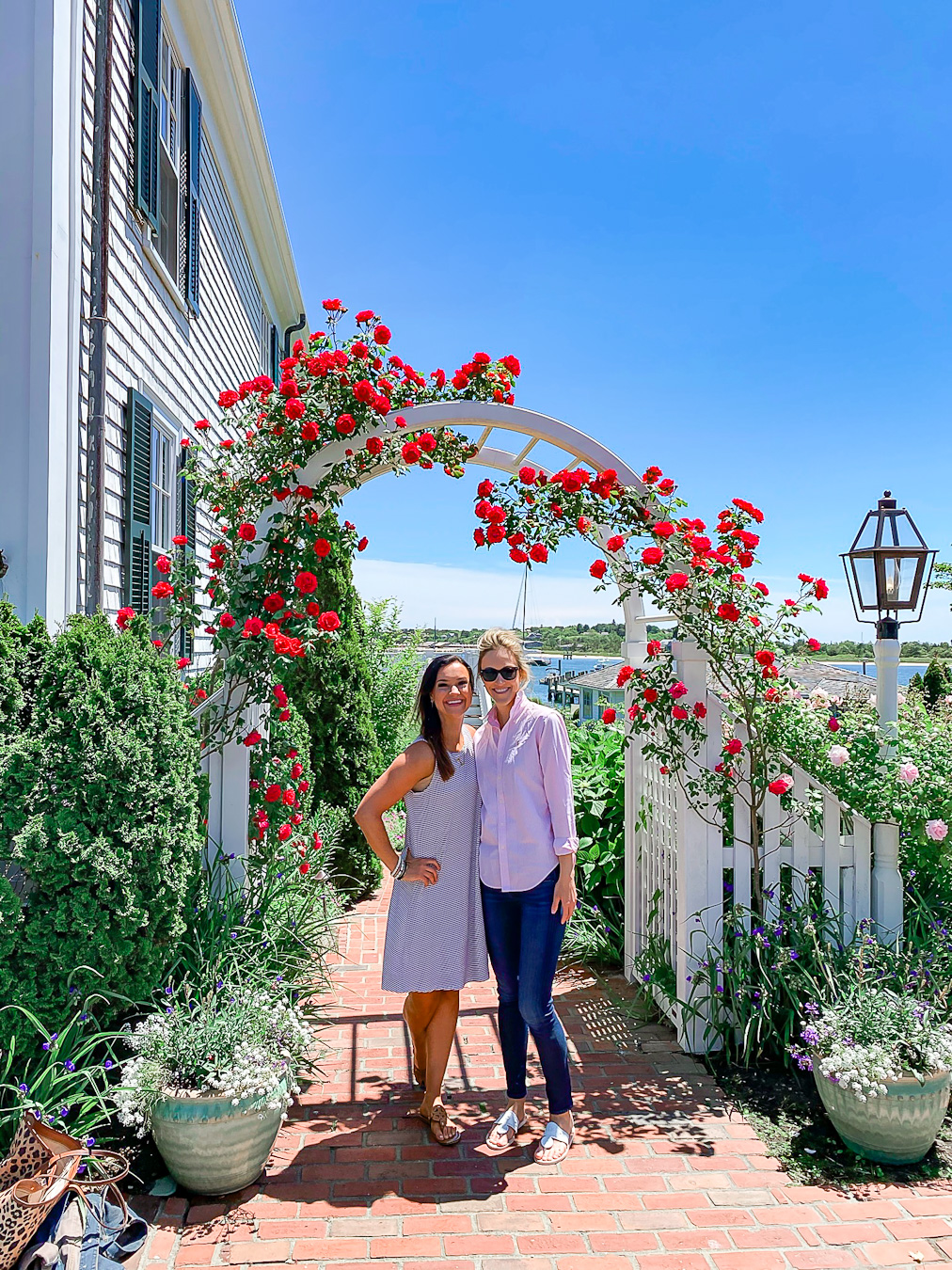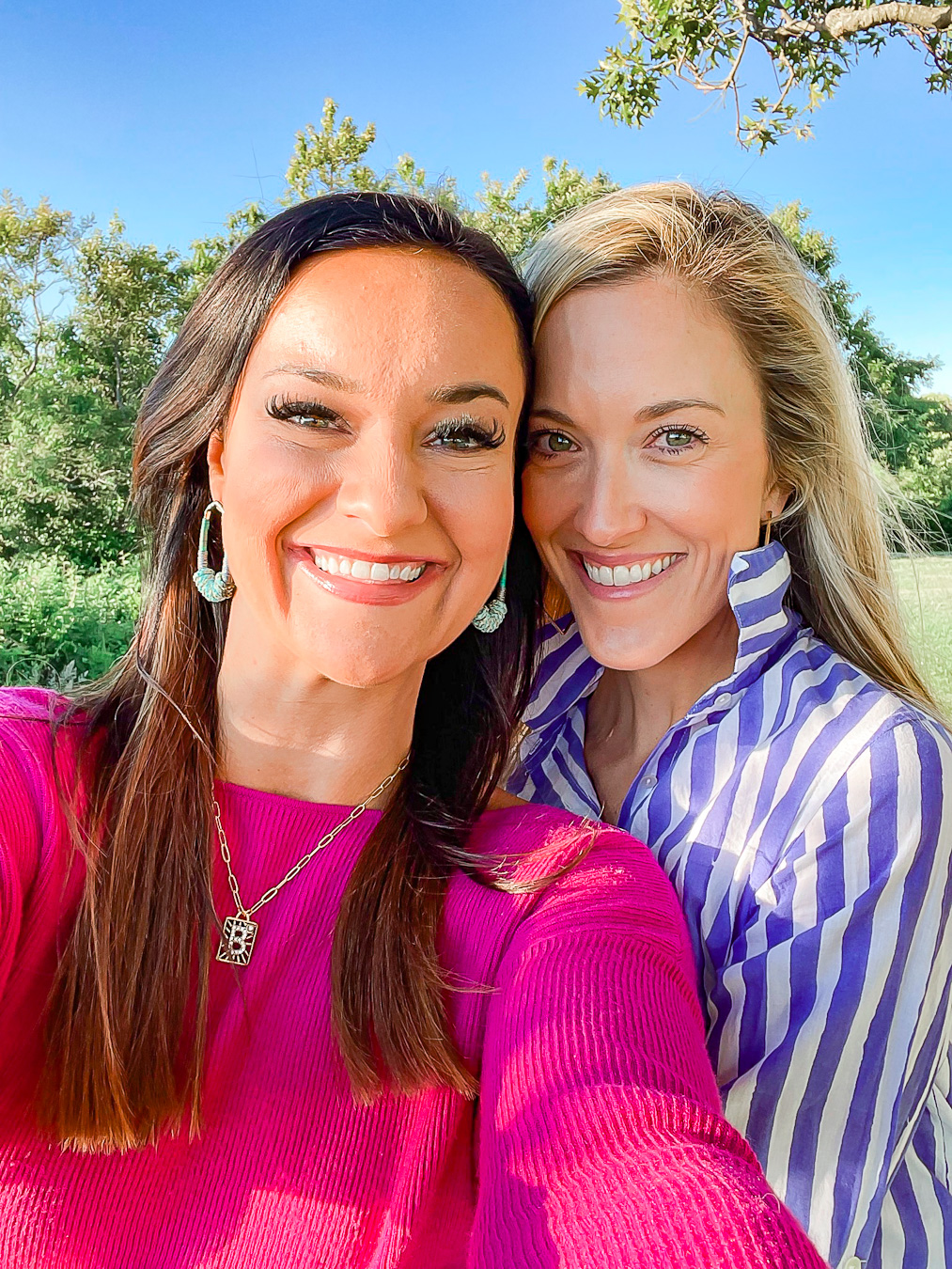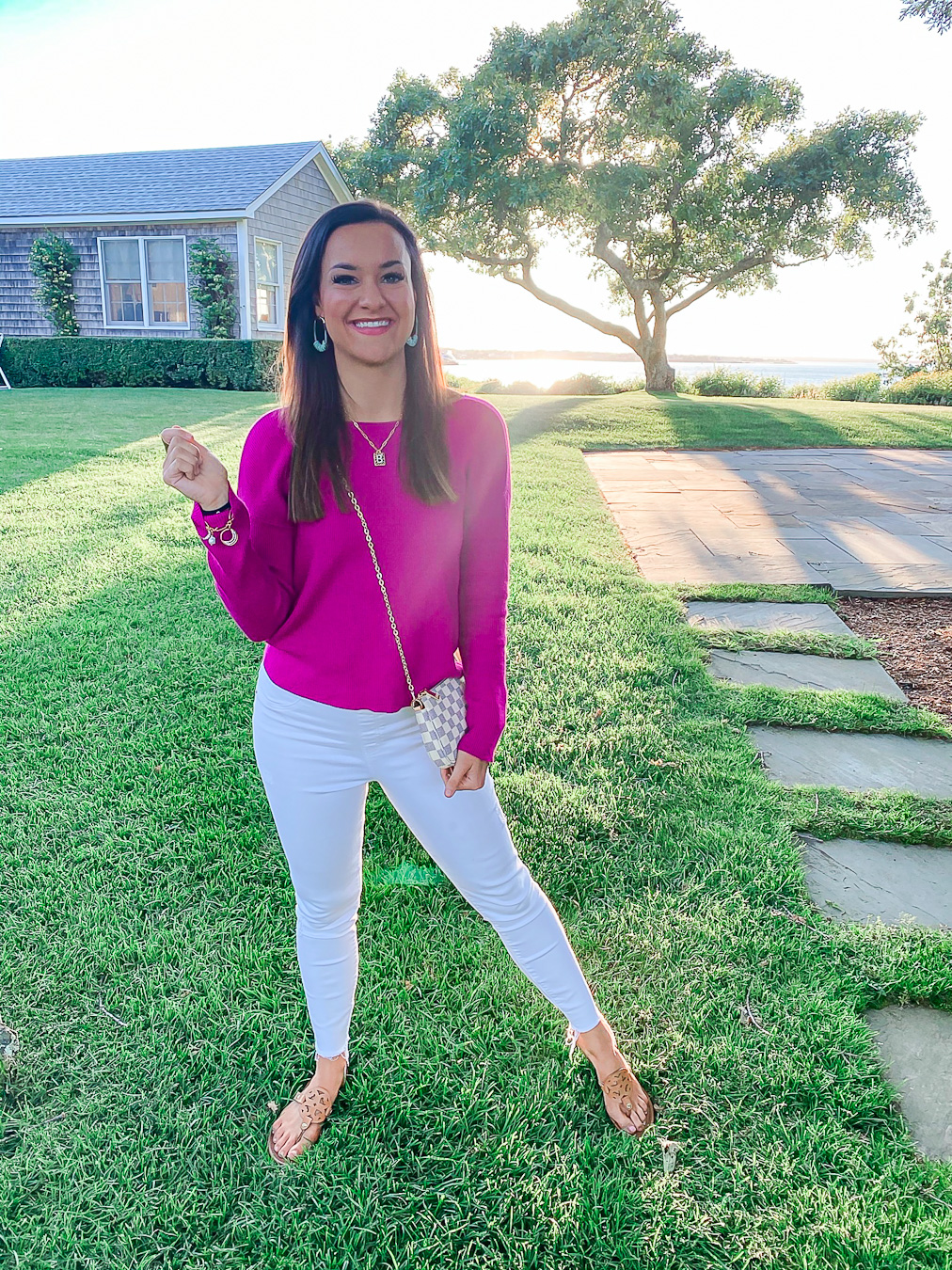 SHOP The Martha's Vineyard Girls Trip Post HERE:

If you've been keeping up on Instagram, I spent last weekend on a Martha's Vineyard girls trip! It was so much fun to get away and spend time with a dear friend. I had never been to the Martha's Vineyard area, so I wanted to share some highlights with you if you are planning a trip there soon!
I learned several fun facts about Martha's Vineyard while I was there:
Did you know that's the place where they filmed the movie Jaws in 1974?!
Martha's Vineyard is actually made up of six small towns—Oak Bluffs, Edgartown, Tisbury, West Tisbury, Chilmark and Aquinnah.
They have daily ferry trips from that are only $19 a person! There is public transportation all over the entire island that costs $2 in the summer, or $8 for a daily pass!
Chappaquiddick is a small island off the main island of Martha's Vineyard that we stayed on and it's called "Chappy" for short by the locals.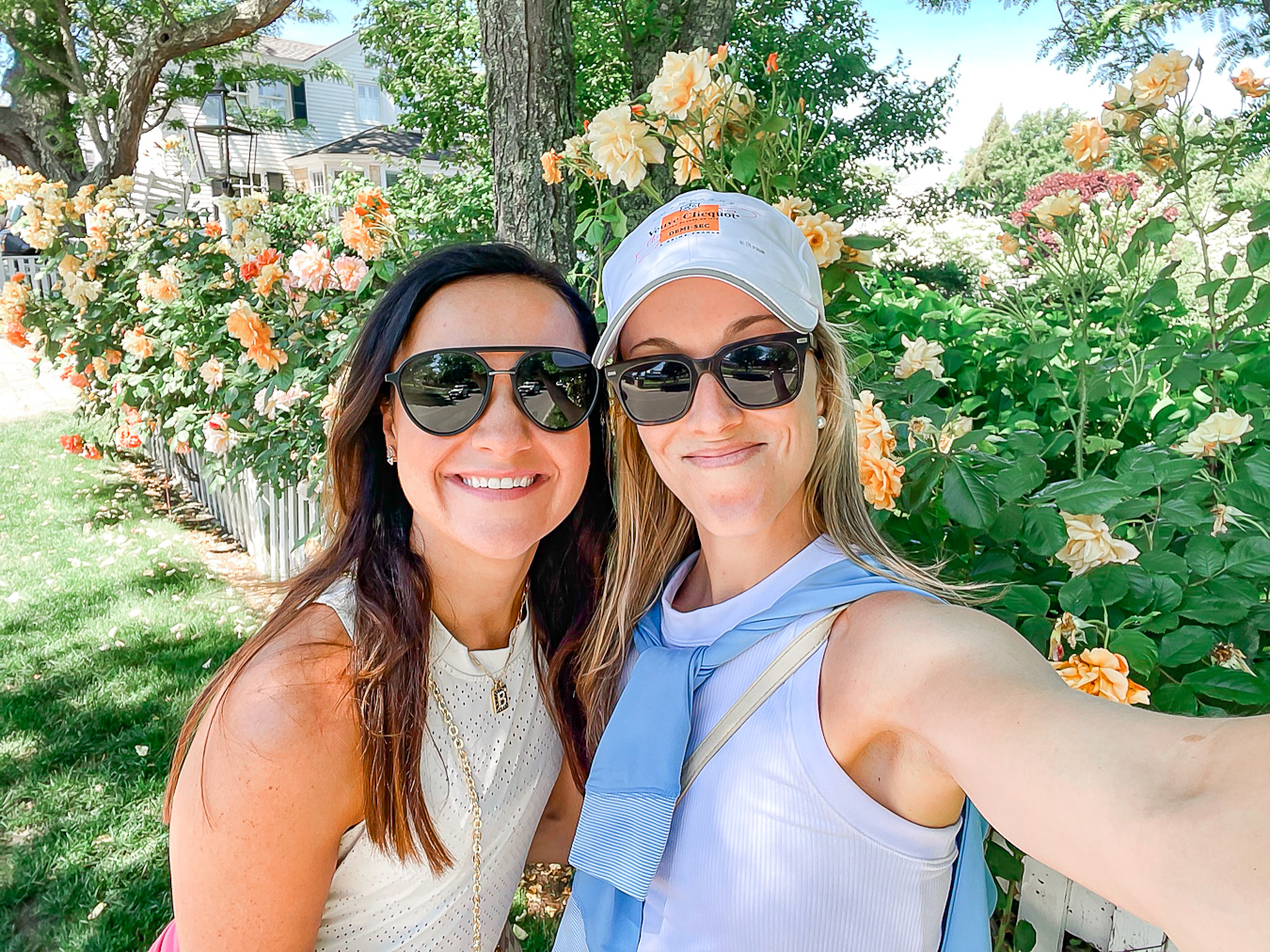 Now, I can't wait to share where we ate, what we did, and my ideal spot to stay if I ever go back! Which trust me, I'm planning to as soon as I can and next time I have to bring Eric! I stayed with my good college girlfriend, Suz, whose family has a place on Chappy. You'll notice below that we ordered LOTS between us to split and share when I talk about how much food I had at each place!
Where We Ate:
Rose Water Market // Check them out on Instagram @rosewater_market – I got the breakfast jammie sandwich, tofu rice noodle salad and a chickpea, spinach, egg avocado and house dressing salad. This outdoor seating (only currently) spot was SO cute and situated in the middle of tons of beautiful architecture, had lots of bikes passing by and I would definitely go back for lunch again next time!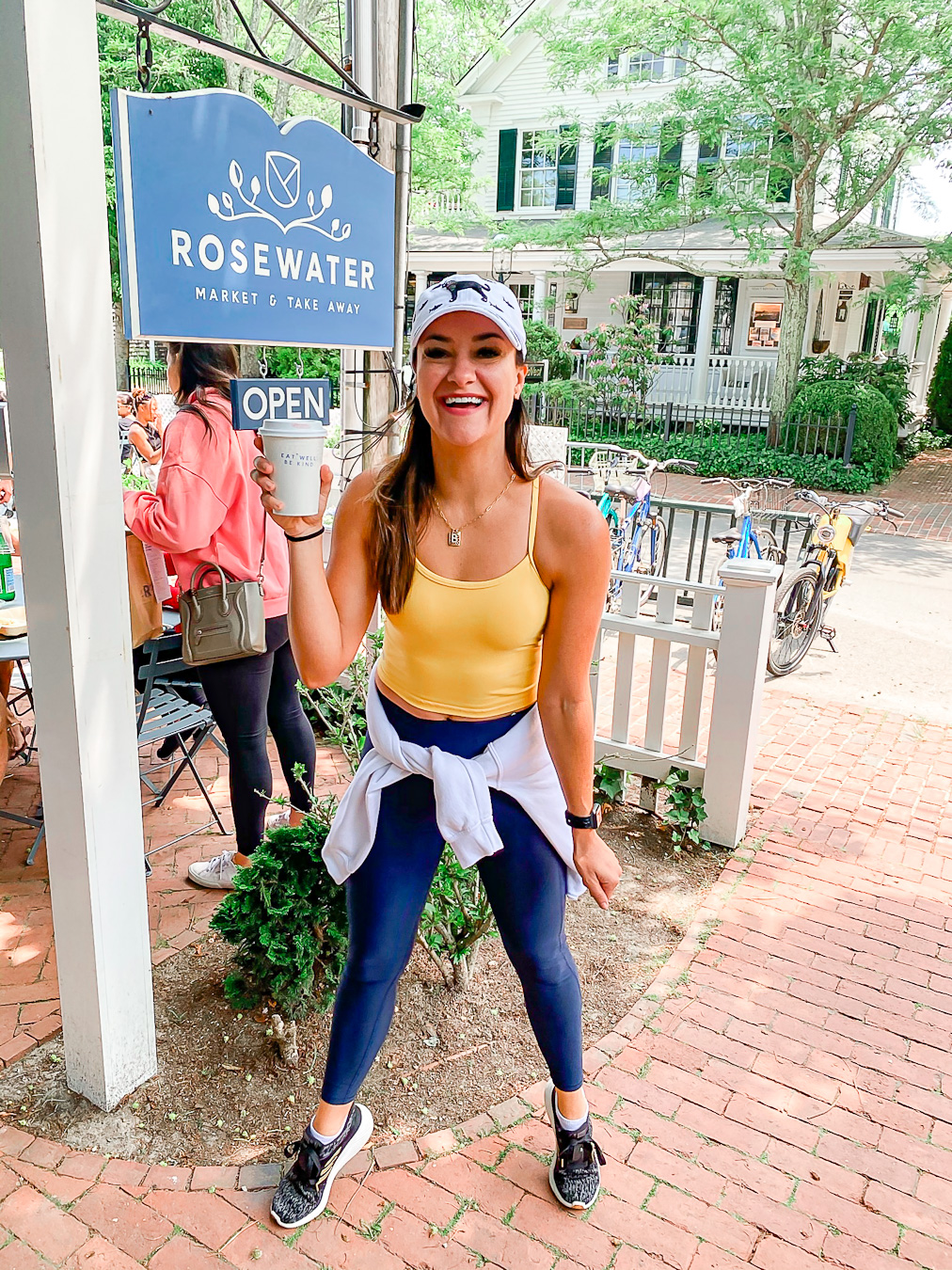 Raw 19 Oyster Bar // Check them out on Instagram @19rawoysterbar and @19primesteakhouse (they have a combined menu this year) – I had beet carpaccio salad (one of the best dishes I've ever eaten in my life!), pan fried Proccuito wrapped mozzarella with balsamic glaze, lobster roll with sriracha fries. The oysters we had were honeysuckle oysters from Katama, puffers petite from Well Fleet, Mookie Blues from Damariscotte!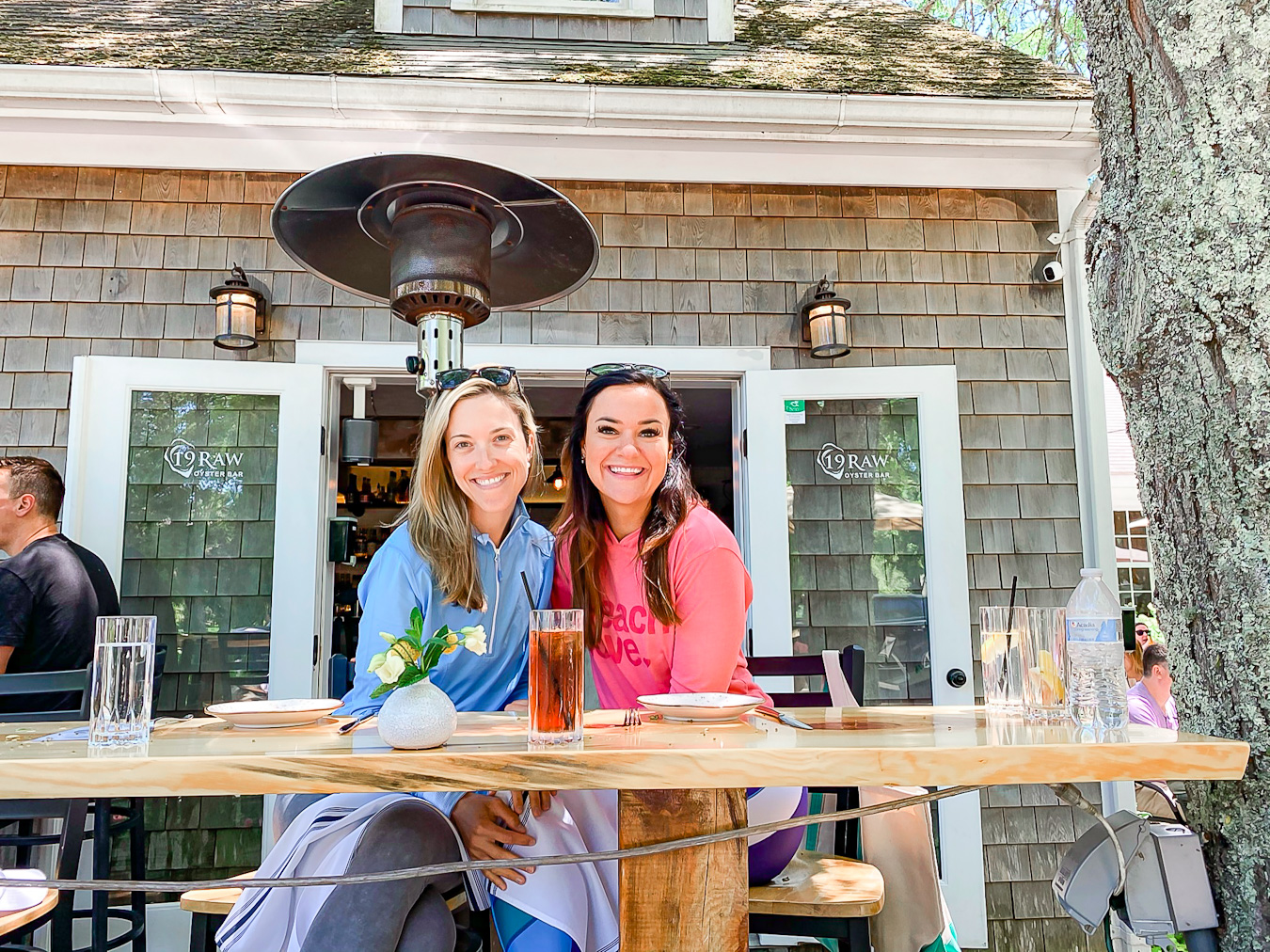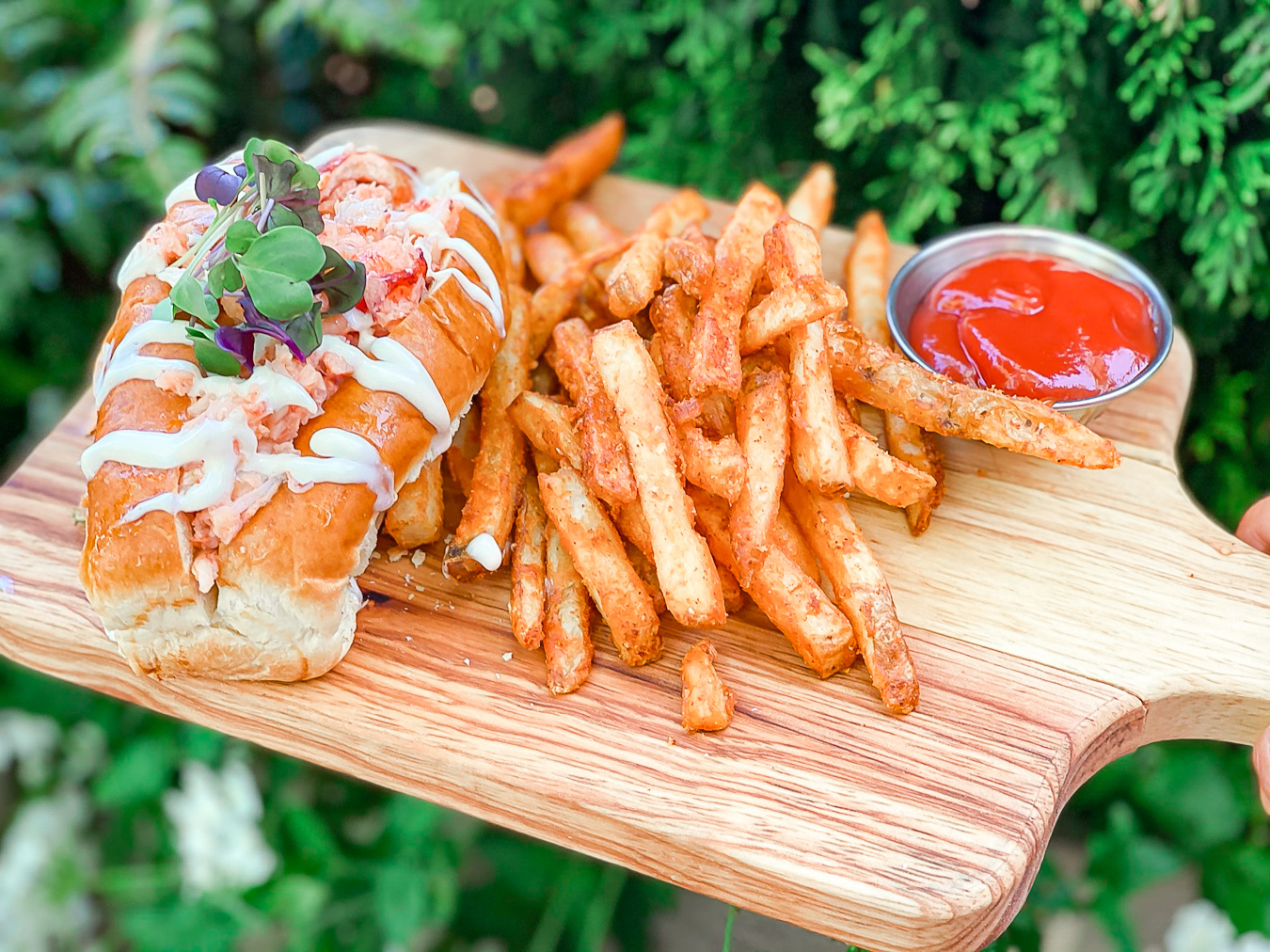 Harborview hotel poolside: I ordered calamari, rosé, Caesar salad and a burrata sandwich. My favorite thing was starting our trip here, eating lunch by the pool and then grabbing a glass of rose to take to the front wrap around porch. We sat in rocking chairs and enjoyed watching boats come in and the view of the lighthouse. We loved it so much that we came back for a drink our last night together on Martha's Vineyard at the bar.
Chescas: I had clam chowder, house salad (mozzarella, tomatoes, arugula and balsamic glaze), linguini with clams in a white wine sauce, with an Italian margarita & a glass of Sancerre. It has a nicer, dressier ambiance for date night I would say.
Port Hunter – I ordered a chicken sandwich, halibut with coconut jasmine rice in a coconut curry sauce with scallions and cashews, with asparagus and hulumi cheese and pan fried garlic. I also had a mezcal jalapeño cocktail and a gin martini. This felt very trendy and hopping. Try to book a reservation WAY ahead!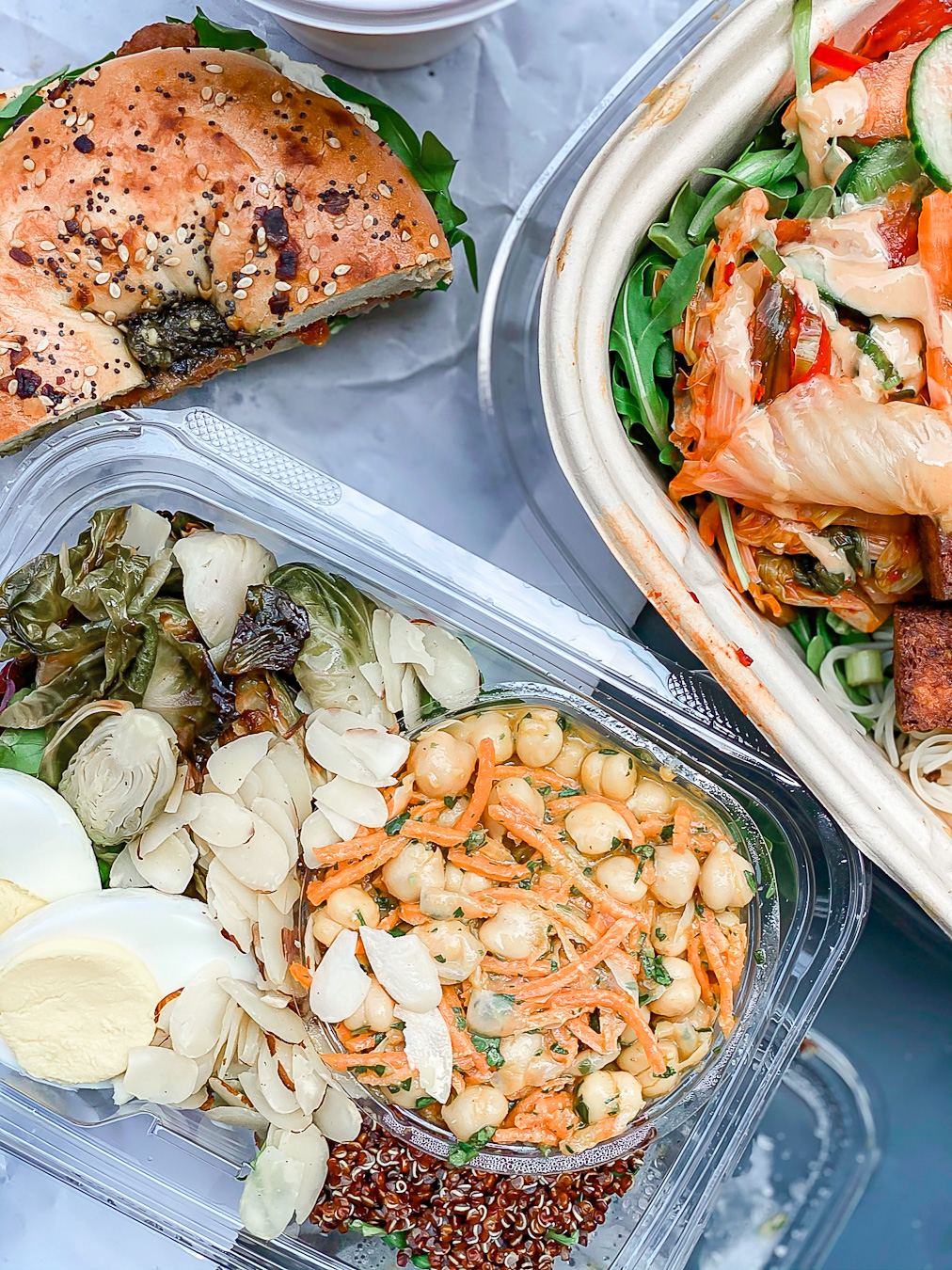 Alchemy – I ordered a watermelon margarita and an espresso martini to drink, and I ate tuna tartare and halibut.
Waterside market – We stopped here after a bike ride! I got a coke and a spindrift + we split a blondie bar. It was a nice little spot that has apparently been on Diners, Drive Ins and Dives with Guy Fierre.
Espresso Love – I ordered the green goddess bowl and a breakfast burrito. Super great "chick food" as Eric would say. 😉 HUGE bakery section! I would come back here each morning if I could!
Menemsha in Chilmark: We went here for a beach dinner. The sunset and laid back vibes are NOT to be missed. My favorite thing we did the whole time! We had 2 boiled lobsters fresh, clam chowder and seasame noodle salad with our homemade gin cocktails we packed in our cooler along with lobster crackers + charcuterie board fixings. You go up to a little shack on the beach and order the lobster they've caught that day, pull up your own beach chairs and wait 20+ mins for them to call your name. SUPER cool experience for sure.
Back to Harborview hotel/Bettini for drinks and dessert! Make sure you ask them to make you their secret hot chocolate…it is SO good! 😉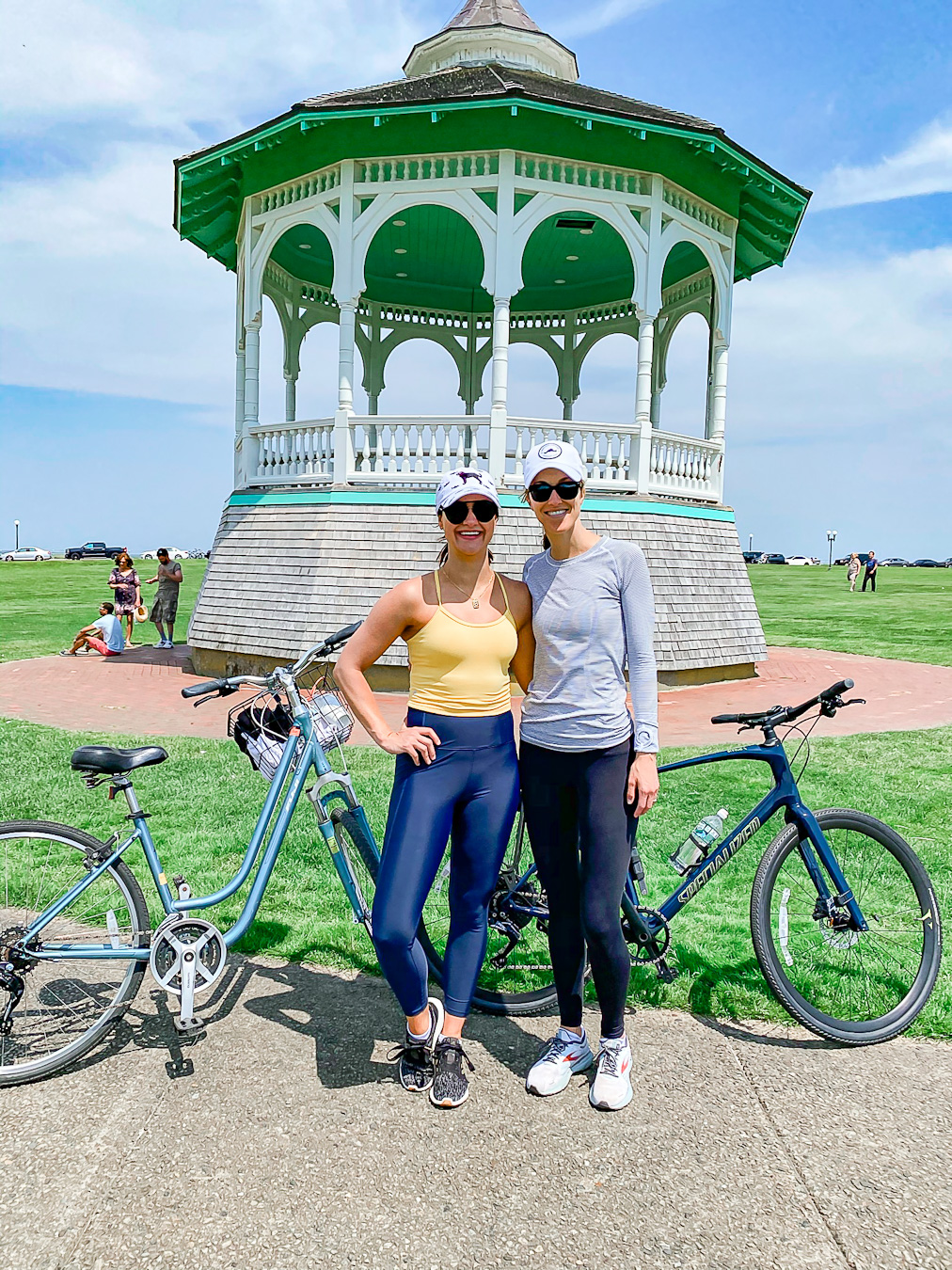 What We Did:
Rented bikes and Biked to Oak Bluffs and back (this is apparently where the Obamas visit a lot!) and took in the sights. I loved these painted lady-like homes.
Farmers Market near the airport. WOW, was it busy?! Got a grab and go lunch here to take to the airport the day I left.
Shopped in Edgartown. They have SO many cute shops! We spent at least a day and a half walking the streets and popping in shops as we wanted. It was SO fun!
Harbor View Hotel pool + lunch + porch sitting watching the boats come in
Took out the Boston Whaler boat to ride around
You MUST STOP at Black Dog (this is their equivalent to Salty Dog at Hilton Head!) This is where I got my hat and 2 stuffed animals (a whale and a black lab with a sailor hat of course!) for the boys!
Walks + leisurely coffee and breakfast/ reading at Edgartown books
Walked a TON taking in all the architecture + stopping in for snacks and lunch and shopping
Went to the beach on Chappy, which is Suz's favorite (this is where the famous bridge is located with the Ted Kennedy drama/conspiracy theories). I now want to watch the movie Chappaquidick about it!
Manemsha beach was the HIGHLIGHT of trip. We ate fresh caught lobster + enjoyed a perfect sunset on the last night!
Where To Stay
I stayed with my friend, but if I were to recommend a place to stay, it would definitely be Harborview Hotel. We ate there a couple times and enjoyed relaxing by the pool, too. It was such a beautiful place + seemed to be one of the few places on the island with a pool and restaurant/bar in it!
Shop The Martha's Vineyard Girls Trip Post Here:

Check Out More Travel Posts Here:
Pin The Martha's Vineyard Girls Trip Post For Later!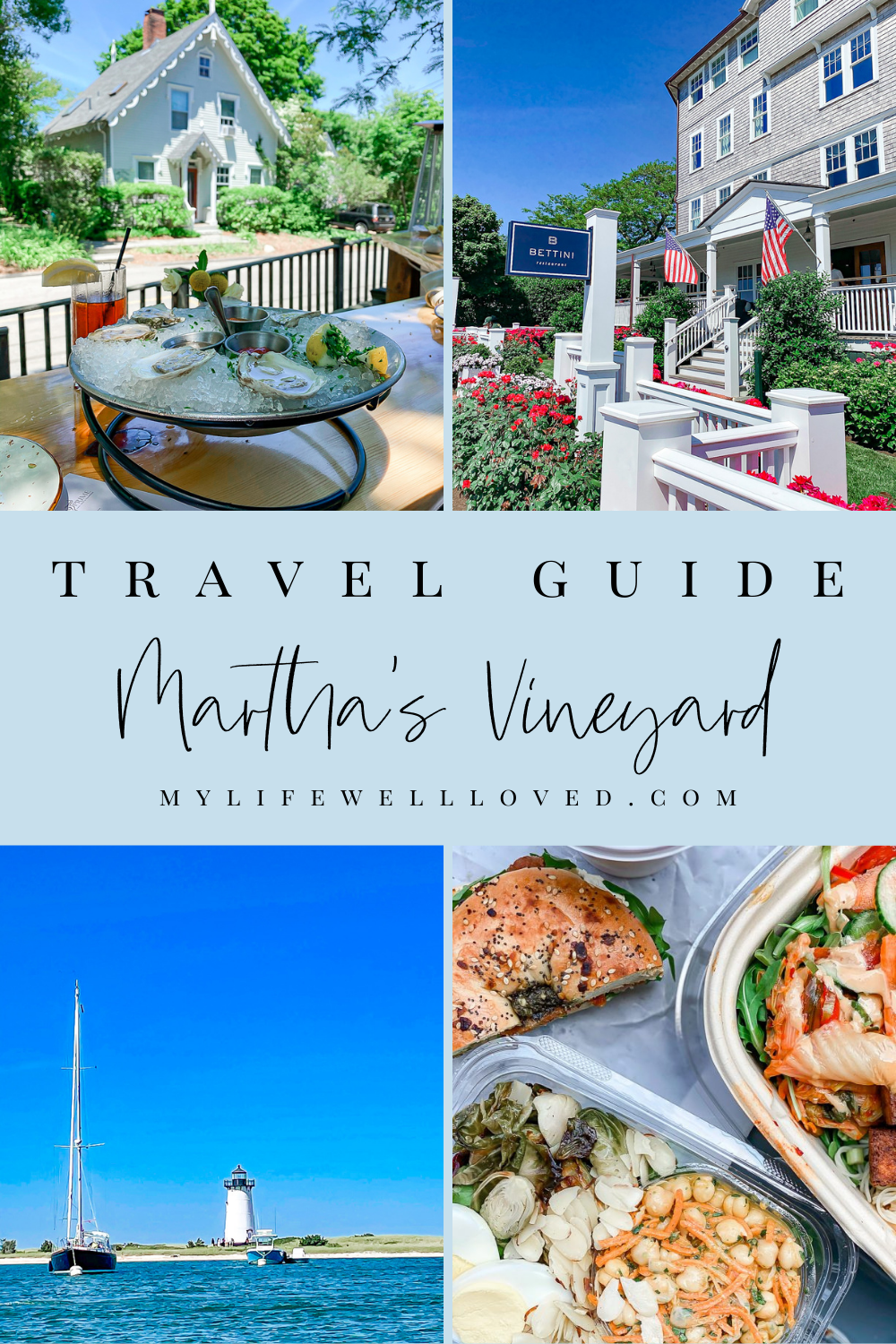 Heather Brown helps busy mamas of young littles who are caught in the hustle to find encouragement in their journey to true health, from the inside out, starting with the heart. Read her journey of learning to live a life well-loved
HERE!