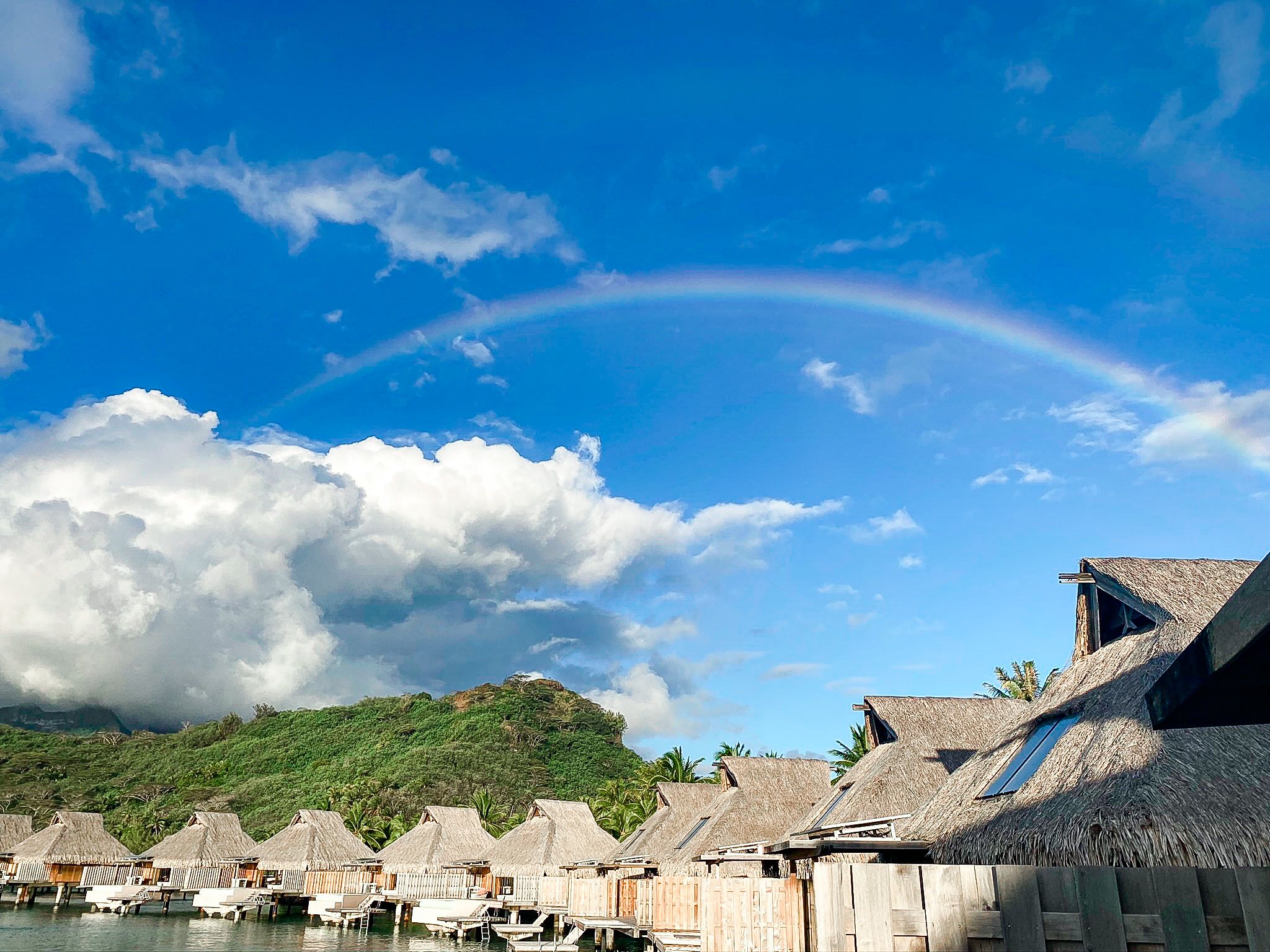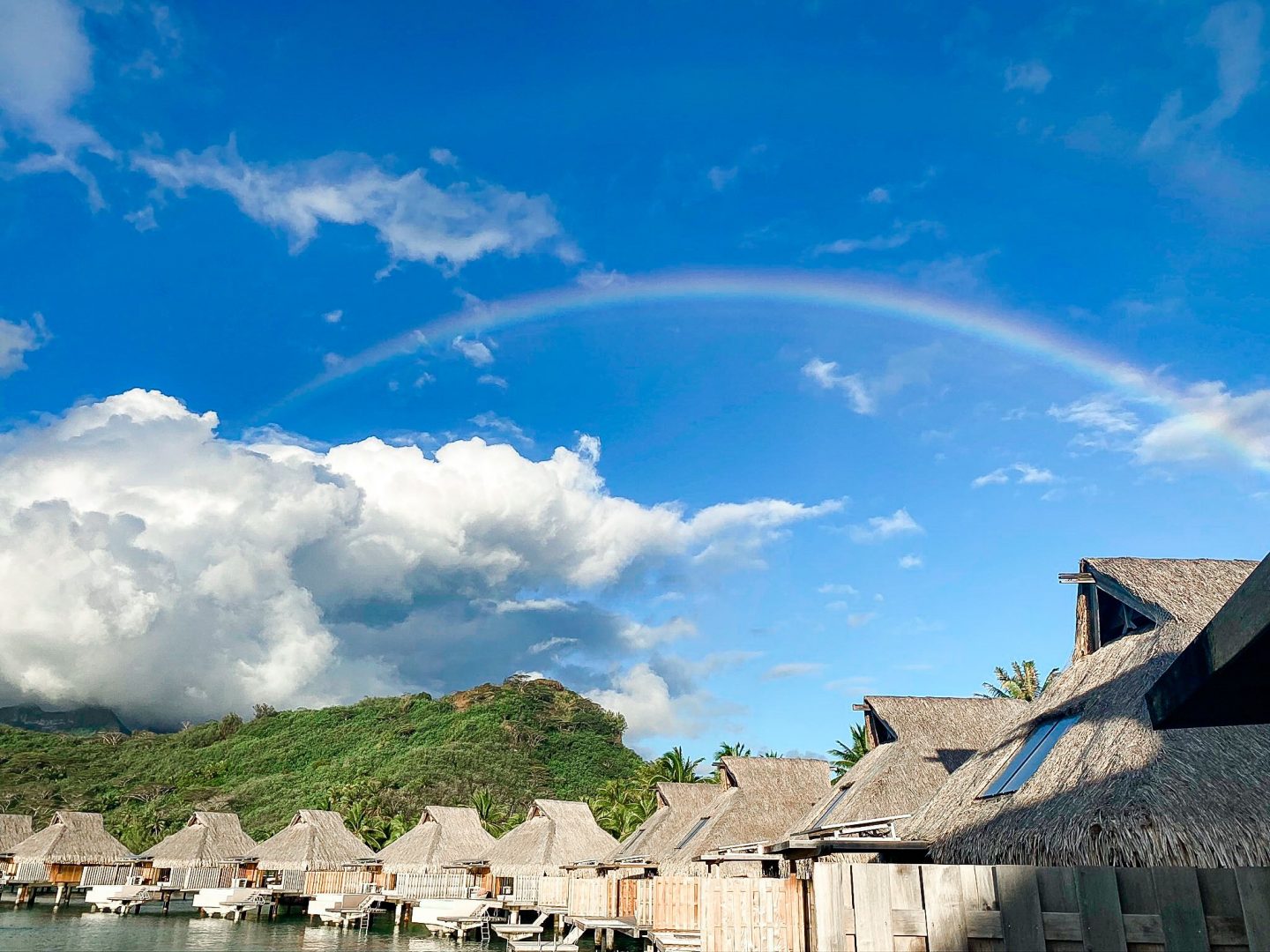 Check Out Our Bora Bora Travel Tips Below!
Ahh I'm so excited to finally share all the details of our vacation with you guys and spill all of our Bora Bora travel tips!! It was our second time to go, believe it or not, and we somehow miraculously got there in October of 2020! Today I'm going to share with you all our best Bora Bora travel tips!

Eric and I went on a belated honeymoon to Bora Bora and I have always told him I'd love to go back to celebrate our 10 year anniversary. We, in true Brown fashion, decided to start working on it and then because of extenuating family circumstances, never could make it happen until 2 years later! Thank you, Jesus that we got to go during the wild ride of a year that 2020 was. We truly boarded the plane in Birmingham, not knowing for sure that our PCR tests were the approved ones on Bora Bora's list. We just thought, "Well, if we can't board the flight from LAX to Tahiti, we'll just vacation in Mexico or Cali instead!"

Several of you sent in questions about our trip so I thought this first post could show you an overview via video, our best Bora Bora travel tips, plus share more details! Dive in the water with us below to check out the video and then see our travel tips, as well as the restaurants we ate at, excursions we booked, and where we stayed.
If you want to follow along with our trip on Instagram stories, you watch my first, second and third Bora Bora highlights! Stay tuned for another post answering all your questions, coming soon!
Our Bora Bora Trip Video:
SHOP The Bora Bora Travel Tips Video HERE
ERIC'S ITEMS: Hat // Ray Bans, Sunglasses Look for Less // Turquiose Swim Trunks // Similar Polo
MY ITEMS: Similar Red Bikini // White Ribbed Tank // H Initial Necklace code HEATHER20 for 20% off // Camo Leggings // Leopard Tote Bag // Victoria Emerson Cuff, Victoria Emerson Wrap Bracelet // Stack Bracelet Set // Similar Colorful Striped Bikini Top & Bottoms // Sunglasses // Similar Black Bikini // Similar Hawaiian Coverup // Blue Romper // Similar Yellow Statement Earrings // Spark*L Apple Watch Bands code: HEATHER10 for 10% off // Similar Mixed Prints Bikini Top & Bottoms // Mixed Prints Beach Bag // Similar To Pink Embroidered Tank Top // Denim Shorts // Amazon Leopard Apple Watch Band // Similar Striped Romper // Black Swim Coverup // Leopard Baseball Hat // Sage Green One Shoulder Dress // Similar Hoop Earrings


Our Bora Bora Travel Tips

:

1 // Plan and budget. Planning ahead is key. Thankfully, this is Eric's strong suit. We were able to come to Bora Bora ten years ago together because Eric has been such a pro about earning Hilton points. It makes a trip like this more doable because we used all of our points that we had saved up over the years to pay for out hotel.

SHOP: Dress – out of stock, Similar Option Linked Here // Strapless Adhesive Bra // Earrings code: HEATHER20 for 20% off // Wedge Sandals, Similar Wedge Sandals // Eric's Ray Bans, Eric's Sunglasses Look for Less // Eric's Hat // Camo Hat, Similar Option // Necklace // One Piece Swimsuit
2 // Be spontaneous. Have an idea of what you want to do on your trip, but leave room for spontaneity! Like we said in the video- have a plan, but don't have a plan. Some days we planned specific activities and certain times, and some days we left open to see what we wanted to do in the moment. This left room for us to hear from our concierge about fun activities going on in the resort, which was so much fun.

SHOP: Necklace // Similar Bikini // Gimme Bands Hair Ties // Eric's Ray Bans, Eric's Sunglasses Look for Less // Eric's Hat // One Piece Swimsuit // Similar Eric's Swim Trunks
3 // Talk to the locals. Ask questions and be intentional- what are their favorite restaurants to eat at? Their favorite shops to visit? Where are they from? This is how you can get to know the people and hear their amazing stories. It truly enriches your entire travel experience.

SHOP: Earrings code: HEATHER20 for 20% off // Dress – out of stock, Similar Option // Eric's Ray Bans, Eric's Sunglasses Look for Less // Similar Eric's Polo // Eric's Hat
4 // Have a relative budget in mind and cut costs where you can. We love to share meals as any easy way to cut costs. We do this a lot for lunch. However, as Eric says- if your wife wants her own meal, you let her get her own meal! No one likes a hangry Heather, ha!
You can also book your excursions directly or pay with cash to save a little money. Eric also likes to share luggage as a way to cut costs as well. And last but not least, use points!
5 // Book your hotel stay over the water. This was such a once in a lifetime opportunity for us. When you stay over the water, there are so many unique features that bring you up close and personal with the stunning ocean and nature life. For instance, one of the huts we stayed in allowed us to lift up the coffee table and have instant water access! You can feed fish, dip your toes in, and even see sharks swimming by when you're walking to your hut. It was amazing.
To save money, both times that we have traveled to Bora Bora, we booked the first half of our stay in rooms where we were not above water, and then the final nights we spent right on the water. That way we could save points and money, but still get the amazing experience of being on the water for part of the trip.
6 // Get a Go Pro. Seriously, you don't want to take a trip like this without one! You can get videos of swimming with sharks, or even record yourself jumping into the crystal clear water. I truly cherish all the video footage and photos that we will always have of Eric and I underwater on this trip. It's the best way to capture those memories!
7 // Keep up with your water intake. I cannot emphasize this enough. There is nothing worse than traveling and getting dehydrated. When you're on any kind of trip, you always want to feel your best. That's why I always had my trusty water bottle with me!

SHOP: White Face Mask – Similar // White Ribbed Tank // Camo Leggings // Apple Watch Band code: HEATHER20 for 20% off // Eric's Face Mask – Similar // Eric's Polo // Under Armour Half Zip // Clear Face Mask // Orange Sweatshirt
8 // Wear comfy clothes on the plane. Depending on where you are coming from, the flight is 18-20 hours. That means comfort is a must. I automatically knew I wanted to wear the comfiest bra I own, and when I shared it with y'all, you scooped it up as well!
I also kept my favorite clear mask with me during the trip. While we were traveling, you could take your mask off on the plane when you were eating. On the resort, you need to wear your mask when you are moving about restaurants, etc. but you could remove your mask once you were seated.

SHOP: Similar Black Bikini // Eric's Hat // Turquiose Swim Trunks // Leopard Baseball Hat // Black Swim Coverup // Gimme Bands Hair Ties
Book Our Excursions & See Where We Ate And Stayed:
Vitamin Sea // We headed straight into a storm on a catamaran, but the storm passed and the views were spectacular. The water was unbelievably clear. They took us to Paradise Bay and had a swim up bar offering their signature rum punch which was too good to miss. IG: @vitaminseaborabora
Lagoon Service Bora Bora // This was a shark and stingray excursion! We saw a massive eel with huge teeth! Our tour guide taught us Tahitian phrases and had the biggest and most fun personality! IG: @lagoonservice
St. James Restaurant // A local recommended this to us! This was our favorite restaurant to eat out on this trip! It has incredible reviews.
Bloody Mary's // We ate at this restaurant the last time we visited, but didn't make it back this time. IG: @bloodymarysborabora
Restaurants On The Resort // We ate at several restaurants on the resort, and they all are outstanding! You won't be disappointed.
Conrad Bora Bora Nui // As I've said, we used our Hilton points to book our hotel. This is our second time to stay here and I can't recommend it enough. They had renovated since the last time we stayed here and it was stunning. IG: @conradboraboranui
SHOP The Bora Bora Travel Tips Post HERE:

Check Out More Travel Tips HERE: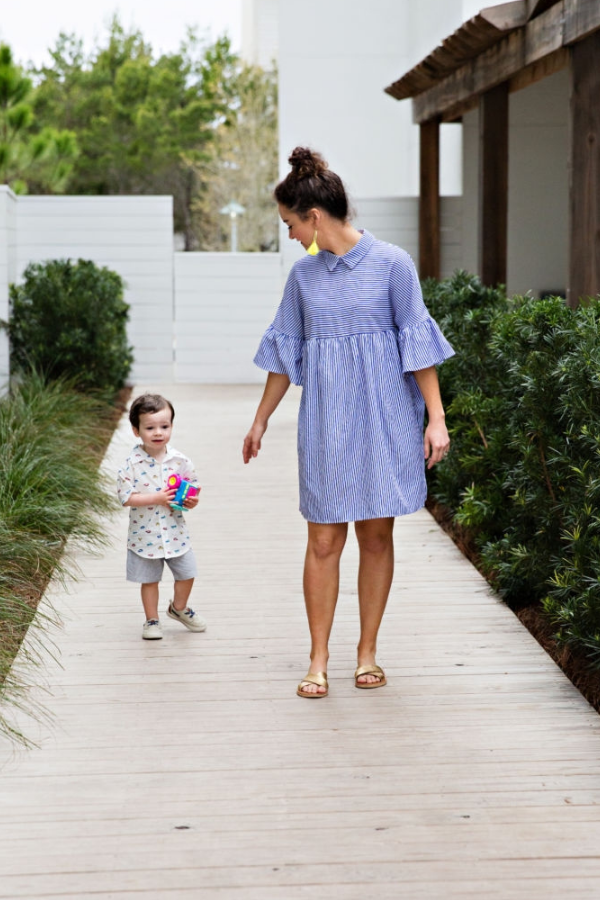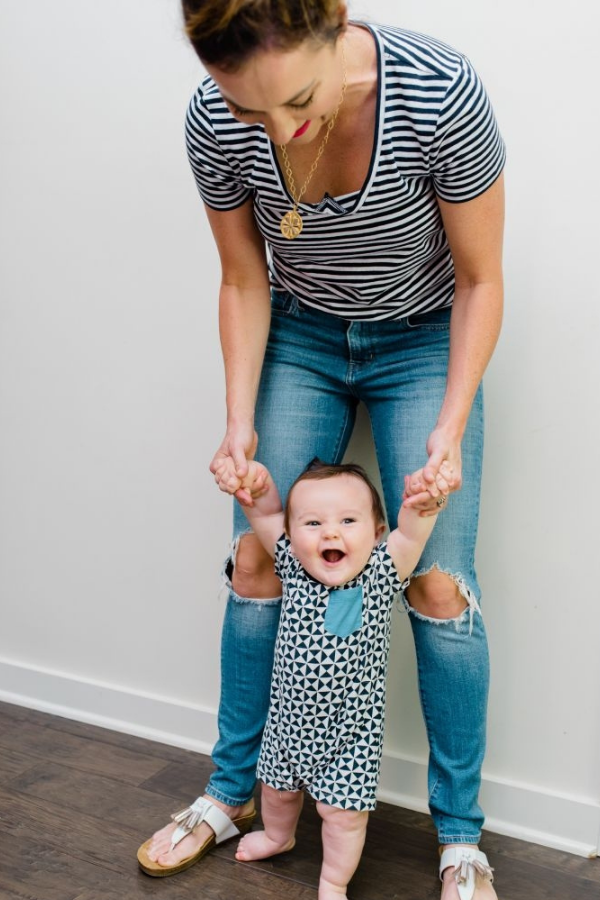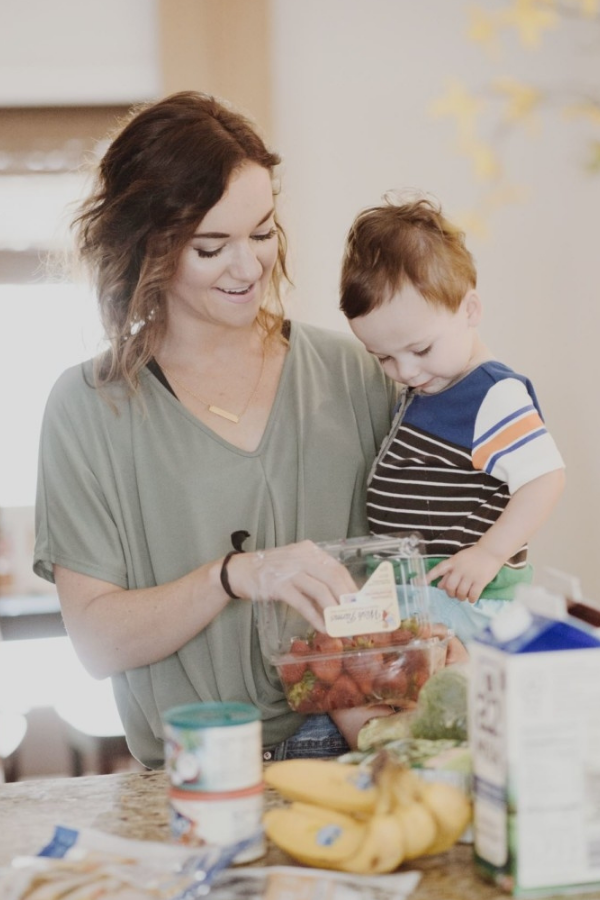 PIN The Post For Later!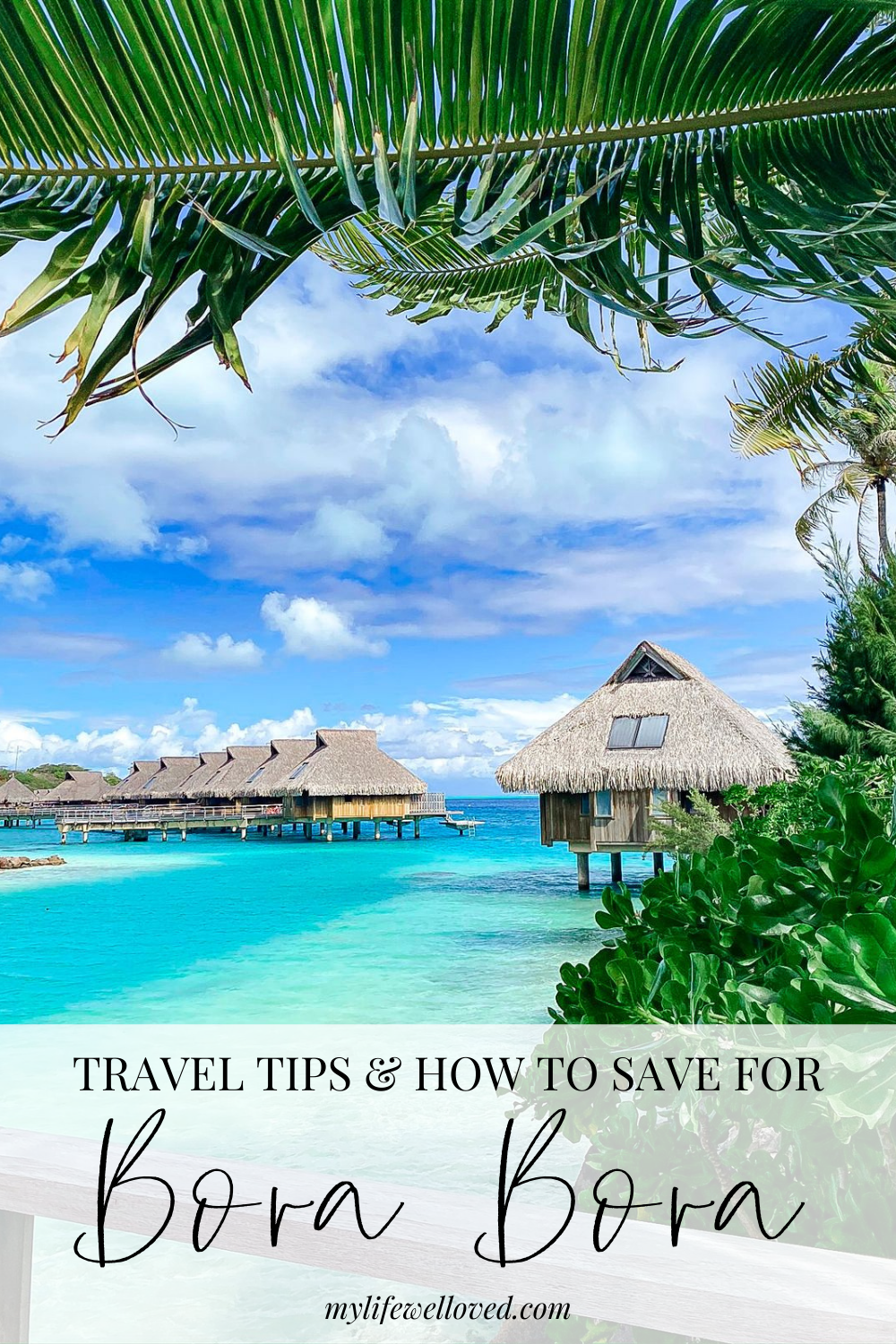 Heather Brown helps busy mamas of young littles who are caught in the hustle to find encouragement in their journey to true health, from the inside out, starting with the heart. Read her journey of learning to live a life well-loved
HERE!