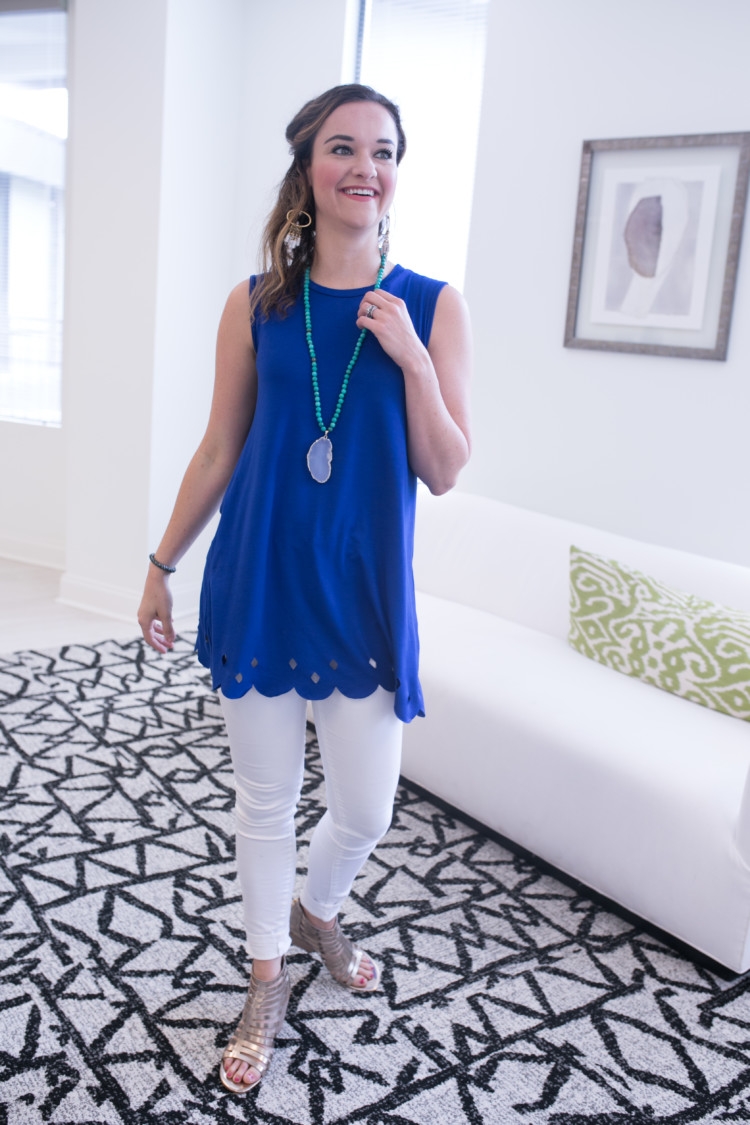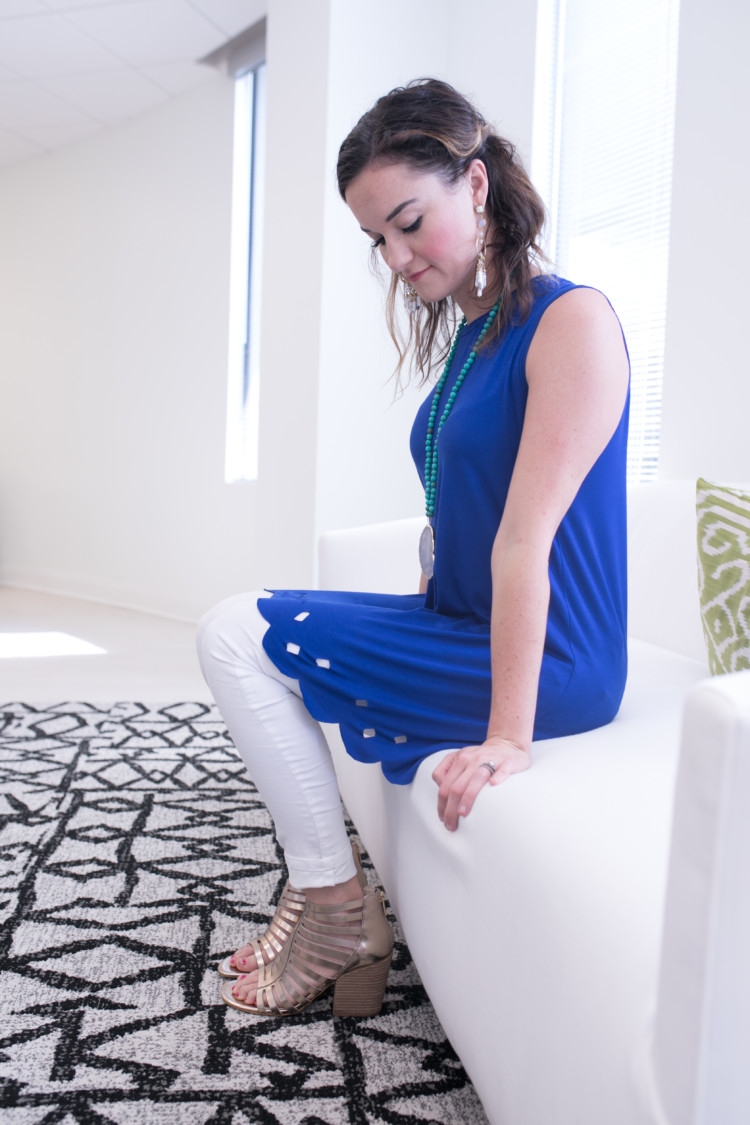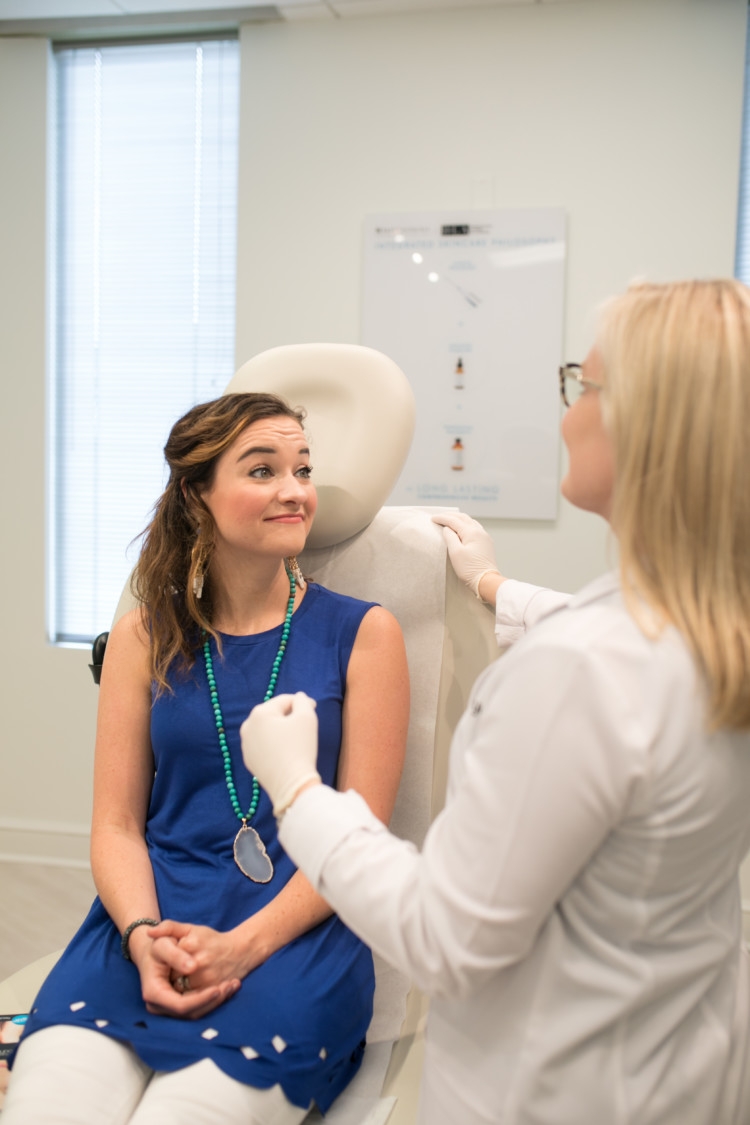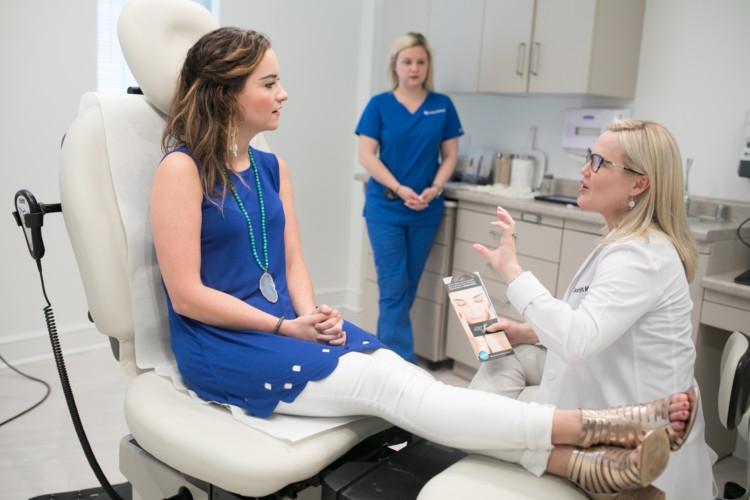 Tunic // Pants // Necklace // Shoes
Photos: Casey Marie Photography
Head to the bottom of this post for a discount if you are interested!
Wow! Lots of you have lots of questions about botox. I got botox for the first time a couple of months ago when I partnered with Dr. Sawyer at Dermatology and Laser of Alabama. I had seriously been debating about it and thinking on it for years. Before you even read this post, I'd tell you that it is such a personal decision. I couldn't have it done for a while when I was pregnant and then breastfeeding, and then I wondered about the side effects and warnings it had.
I talked with some girlfriends about how I had wondered about using it in my body and I cracked up when one of my girlfriends told me that some of the most "granola" friends she knows get it because it's one of the few things that works as well as it does.
If you know me, you know I ask a TON of questions. I like to know everything about everything when it comes to my body, what I'm ingesting and things that affect my friends or family. Bless my poor doctor's heart because I came in with a list about a mile long that I wanted to go through.
One of the main reasons I chose to work with Dr. Sarah Sawyer at Dermatology and Laser of Alabama is that I heard she is very conservative with her patients. Once I thought I did want to do it, I decided to make a consultation appointment to re-hash all the questions and thoughts I had with her and see if she even thought that I needed it now.
You guys may remember that I went to their office for the first time a few months ago to get a facial. I fell in love with their professional and friendly staff, the clean white walls and how thorough they are in answering every question. In fact, I know how good they are at answering tons of questions because while I was there, I also went to see another doctor on their staff to get a skin check. This is a total side note, but if you don't get checked at least once a year for skin cancer, start now!
When I mentioned getting botox, some of you sent in questions and I'm adding them to this list and asking my doctor so I can share the full experience with you. Here's some of the questions you guys asked me about my botox results and the office visit.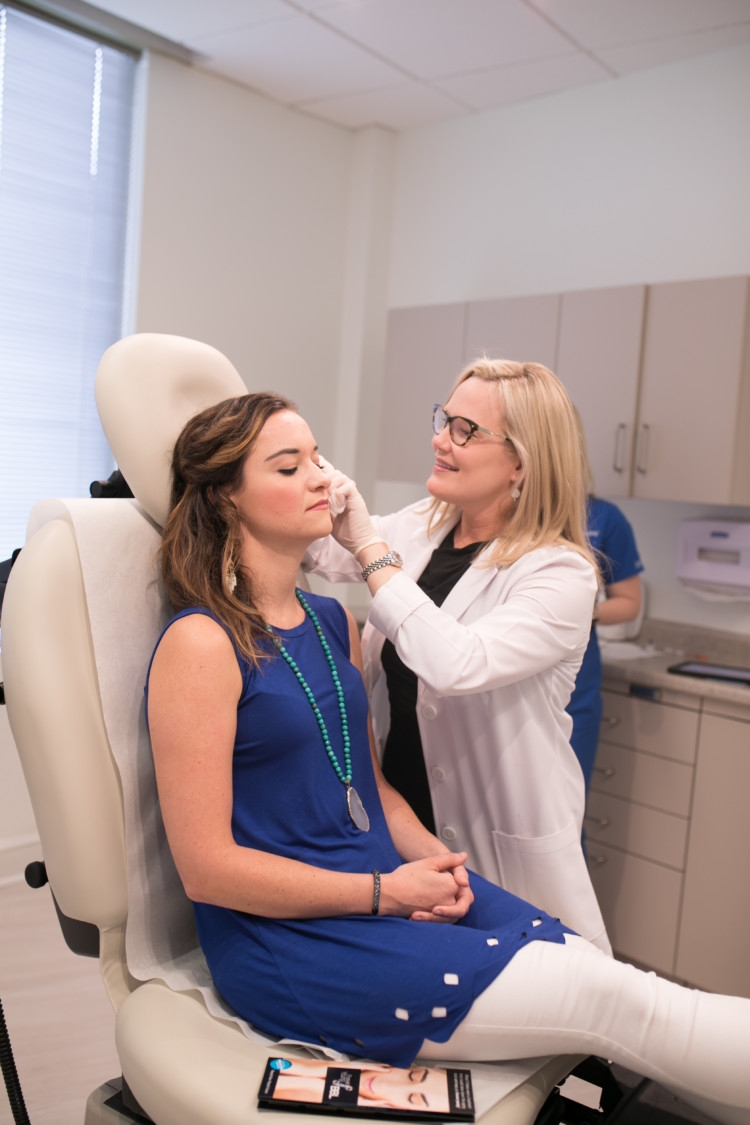 Botox Results Q&A
Where did you get botox?
I got it in my forehead and eye area.
Did it hurt?
Yes, a little bit. Nothing bad, but it feels like a little pinching pressure.
Why did you think you needed it?
 I noticed that wrinkles were starting to stay on my forehead and in the crinkles of my eyes (What, I laugh a lot?! HA!!!) after I relaxed my face, and I know that botox is the only way to cosmetically reduce the appearance of fine lines.
How long did it take for swelling to go down?
Not very long at all. My husband wouldn't have even noticed it if I hadn't mentioned it! Probably a couple of days for me to not be able to tell though.
How did you narrow down who you wanted to go to?
I asked around and kept hearing Dr. Sawyer's name come up. What I liked was that people always talked about how conservative she is and how they really take their time to answer your questions. One thing that really stood out to me about Dr. Sawyer was that she answered all my questions and I didn't feel like she was in a rush. She put in the minimal amount she thought I needed and then had me come back a few weeks later to re-assess and see how everything settled to see if I needed more. When I went back, she said it was perfect and she didn't want to add any more.
How often do you have to get it?
This was fascinating to me…she said that because I workout a lot that the botox probably won't last as long for me, so I may have to go back every 3-4 months whereas other people can go longer…many just a couple to 3 times a year. A lot depends on your doctor and your preferences.
What were your botox results like?
I really like the way it looks. It's very natural and even when I tell people I've gotten it they say they would have never been able to tell. My forehead looks smoother and I'm really glad I tried it out!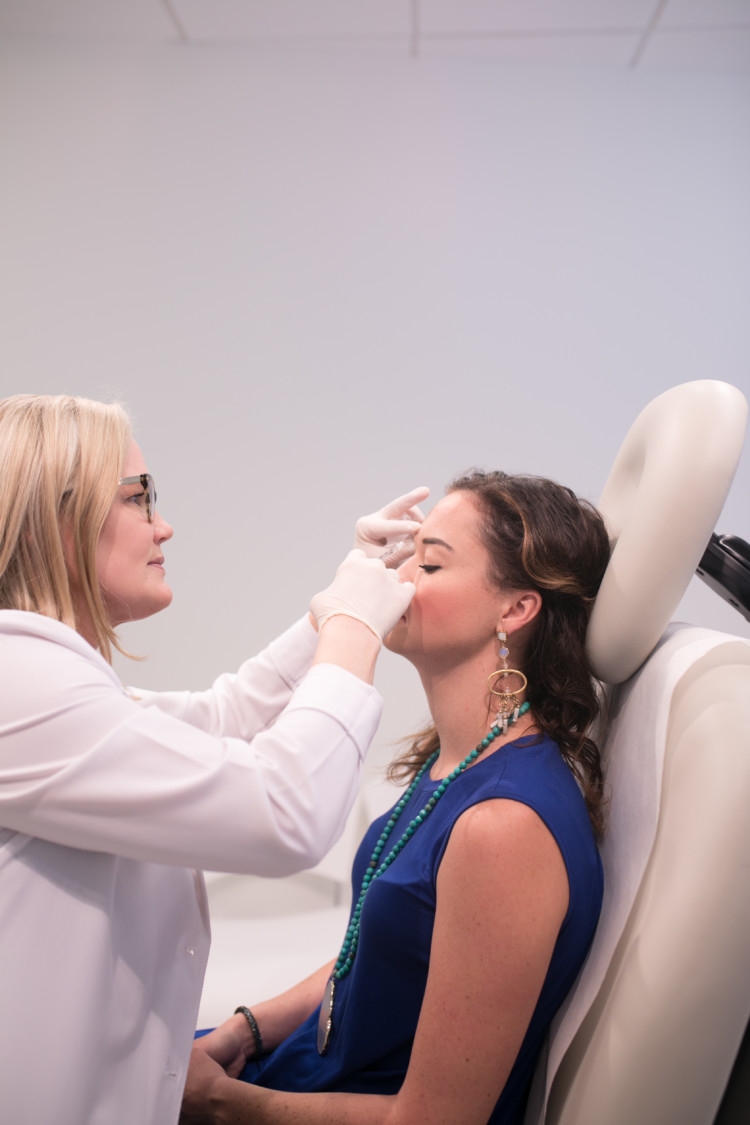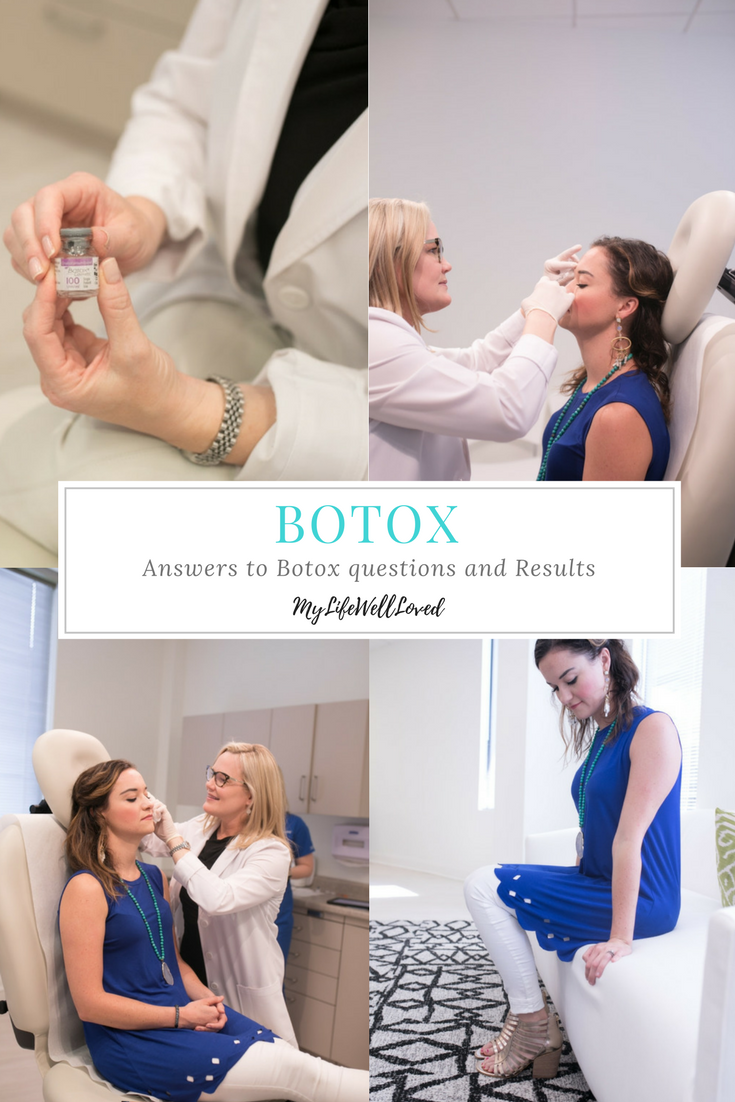 Here's some of the questions I asked Dr. Sawyer: 
What exactly is botox?
Botox is a neuromodulator, which means it softens muscle movement.
What age do you recommend someone starting?
I recommend starting Botox at different times for different people. Basically, I recommend starting it when you can see a crease in the skin when the face is at rest.
When I'm treating patients with Botox, I visit with them and watch their expressions before I perform the treatment every time. I want to make sure that the location and amount I'm using is customized to each face so that it looks natural.
What is the cost?
The cost is $13 per unit, each treatment ranges from $250 to $420 per area.
How long does it typically take for swelling to go down?
There are sometimes small "bumps" at the injection sites. this is because we mix botox with saline before we inject it. I inject the botox close to the surface of the skin, which minimizes pain and places the botox right where the facial muscles attach to the skin. These bumps are always gone by 30 minutes after injection. 
Is it safe? I heard that once you start, it's almost like you can't stop because your muscles get in your face get weak-true? I'm 41, still holding out. 
As long as the original product is used, the safety of the product is well-proven. There has not been a confirmed serious case of spread of toxin effect when BOTOX® Cosmetic has been used at the recommended dose to treat frown lines or crows' feet. 
Once you start botox, you may stop at any time. In the first few years, your muscles return to their original state. After years of botox, your muscles do become smaller just like any muscle that is not used. Most patients do not mind this because it means they do not have to get injections as often or use as many units per injection. 
Dr. Sawyer and her team at Dermatology and Laser of Alabama are offering my readers 15% off if you come in for a Walk-in Botox clinic on Thursdays from 12-2.
Did I answer all your questions? Let me know if you have any other questions and I'd be happy to answer them or ask Dr. Sawyer for you!
*This botox results blog post is not intended as medical advice. Please consult your physician to determine the risks, benefits and if this treatment is right for you. 
Heather Brown helps busy mamas of young littles who are caught in the hustle to find encouragement in their journey to true health, from the inside out, starting with the heart. Read her journey of learning to live a life well-loved
HERE!