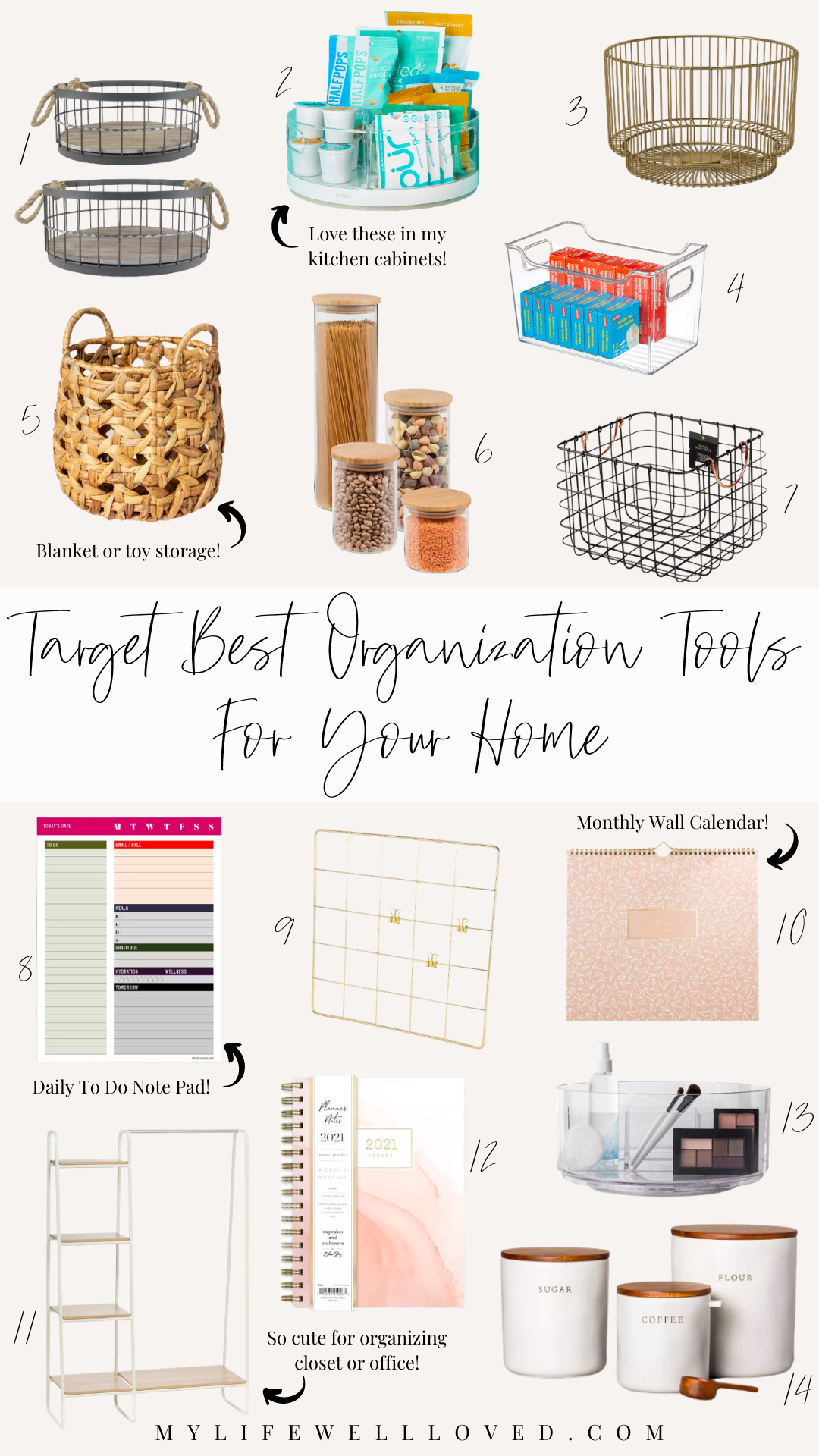 SHOP The Best Organization Tools For Your Home Post HERE: 1. Round Metal Wire Cage Basket // 2. Turntable With Bins // 3. Gold Wire Basket // 4. Organizer Bins // 5. Weave Basket // 6. Bamboo Jars // 7. Milk Crate // 8. Daily Task Pad // 9. Gold Grid Wall Organizer // 10. Wall Calendar // 11. Garment Rack // 12. Weekly Planner // 13. Turntable Beauty Bin // 14. Sugar Canister, Coffee Canister, Flour Canister
Let's chat about the best organization tools for your home! Keeping areas of your home organized means that you don't need to go digging through piles of items searching for what you need. Plus, when everything in your house has a home, you know exactly where things need to be put away, and exactly where everything can be found. And it's never to early to get your littles started with putting things away, and keeping their spaces neat and tidy. Having designated places for everything to go makes it much easier for them as well.
And of course, what fun would organizing be without adding some style and pizzaz to it?! There are so many affordable and cute options to choose from.
While you're organizing your home, don't forget about your pantry, fridge and freezer! Keeping these areas of your home organized is a critical part of maintaining your weekly meal plan and knowing exactly what you have! Wanna step up your meal planning game? Click HERE to check out my complete guide to meal planning! It it sure to save you time and money.
Wanna see some more Target finds I've been loving? Check out My Favorite Activewear From Target, plus my Target Fitness Must-Haves!
Check Out More Home Content HERE:
SHOP The Target Organization Tools Post HERE:

PIN The Post For Later!