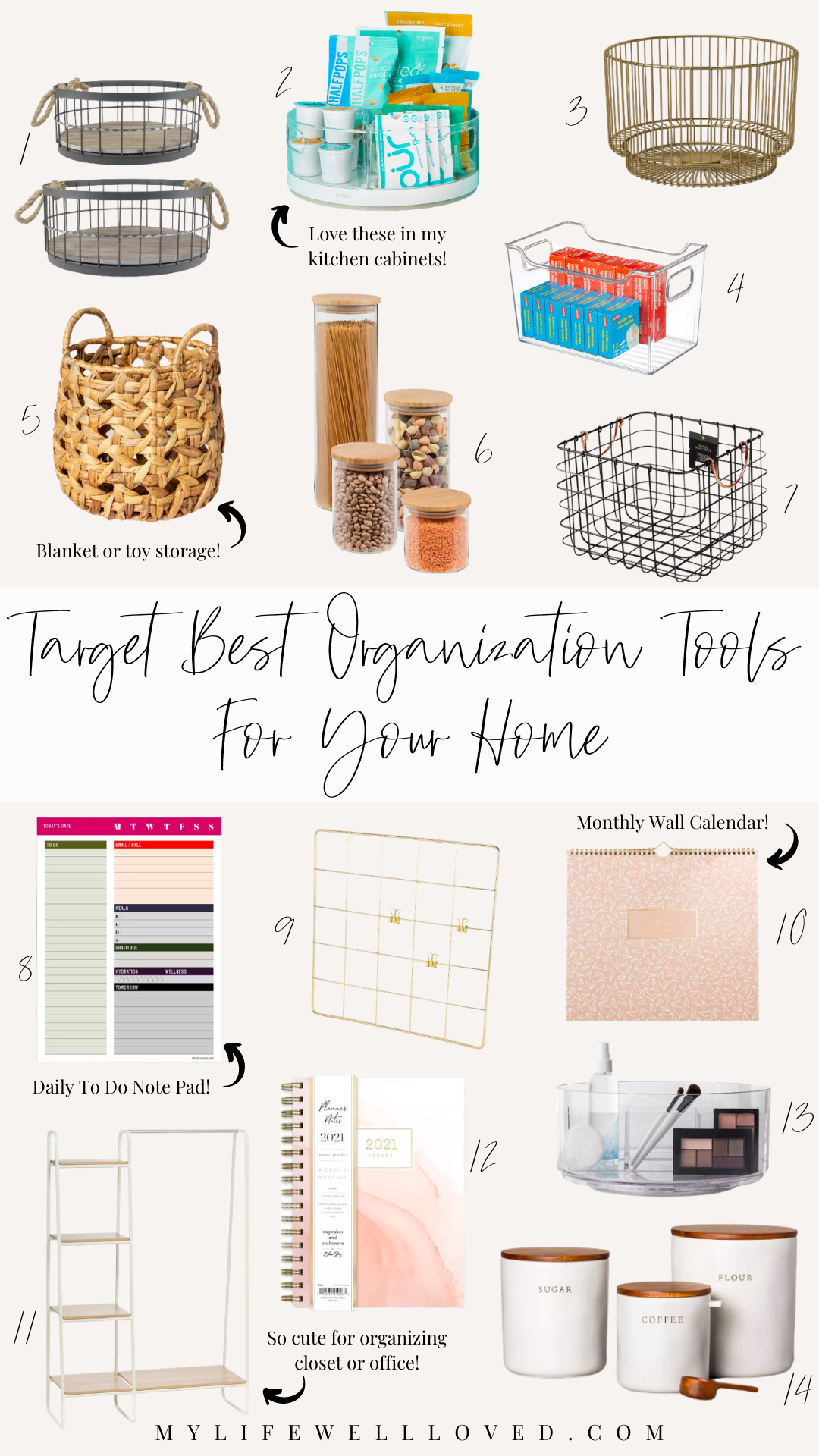 SHOP The Best Organization Tools For Your Home Post HERE: 1. Round Metal Wire Cage Basket // 2. Turntable With Bins // 3. Gold Wire Basket // 4. Organizer Bins // 5. Weave Basket // 6. Bamboo Jars // 7. Milk Crate // 8. Daily Task Pad // 9. Gold Grid Wall Organizer // 10. Wall Calendar // 11. Garment Rack // 12. Weekly Planner // 13. Turntable Beauty Bin // 14. Sugar Canister, Coffee Canister, Flour Canister
Let's chat about the best organization tools for your home! Keeping areas of your home organized means that you don't need to go digging through piles of items searching for what you need. Plus, when everything in your house has a home, you know exactly where things need to be put away, and exactly where everything can be found. And it's never to early to get your littles started with putting things away, and keeping their spaces neat and tidy. Having designated places for everything to go makes it much easier for them as well.
And of course, what fun would organizing be without adding some style and pizzaz to it?! There are so many affordable and cute options to choose from at Target. But I couldn't leave out my loyal Amazon shoppers! If you are an Amazon Prime loyalist, check out my favorite kitchen organization items and gadgets below!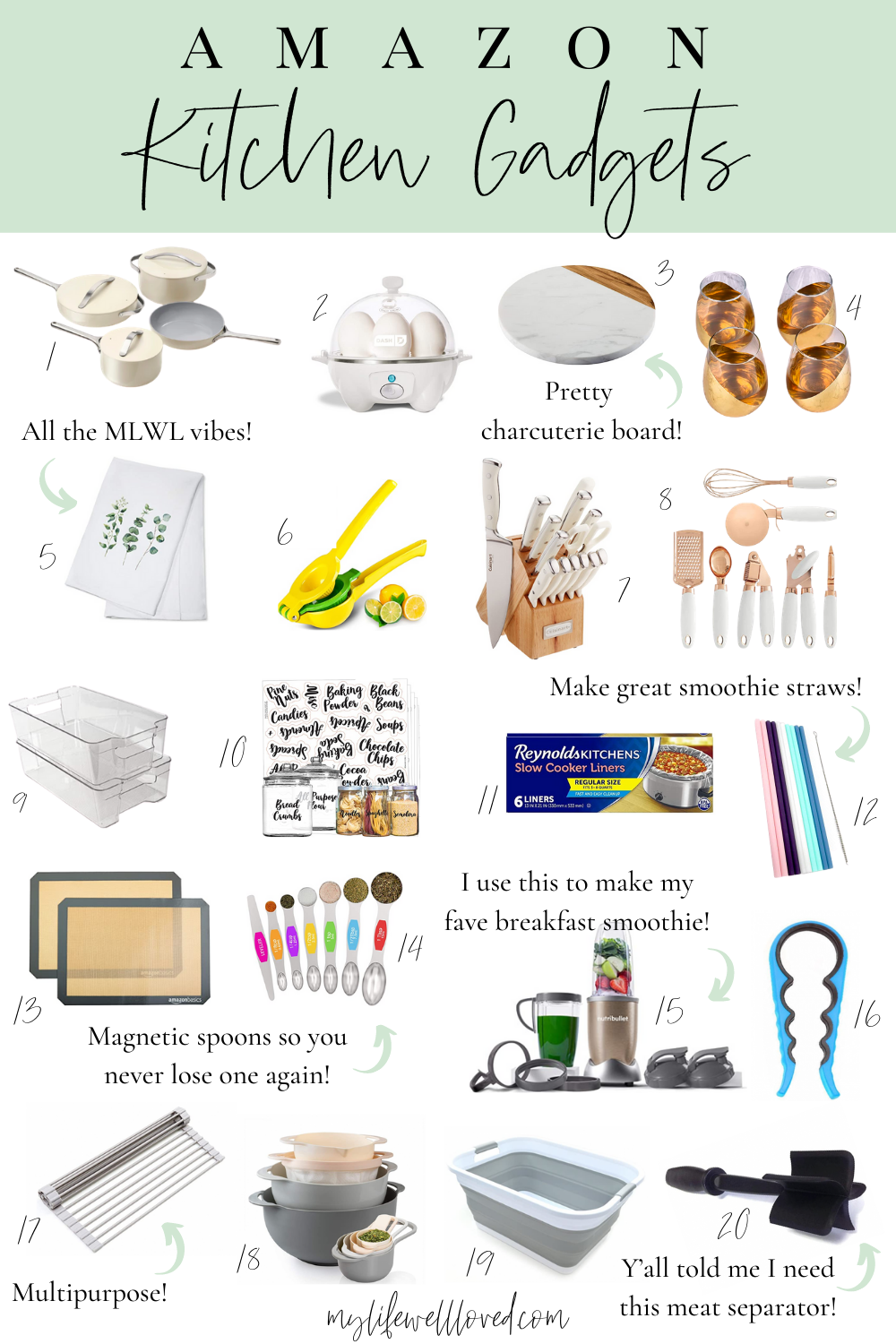 SHOP My Favorite Kitchen Gadgets On Amazon HERE: 1. Caraway Cookware // 2. Dash Hard Boiled Egg Maker // 3. Marble Cheese Board // 4. Gold Dipped Wine Glasses // 5. Eucalyptus Kitchen Towel // 6. Lemon/Lime Juicer // 7. Cuisinart Knife Set // 8. Kitchen Utensils // 9. Fridge Organizers // 10. Labels // 11. Crockpot Liners // 12. Reusable Straws // 13. Baking Sheets // 14. Magnetic Measuring Spoons // 15. Nutribullet // 16. Lid Remover // 17. Drying Rack // 18. Nesting Bowls // 19. Washing Tub // 20. Mix and Chop
The Key To An Organized Pantry + Successful Meal Planning:
While you're organizing your home, don't forget about your pantry, fridge, and freezer! Keeping these areas of your home organized is a critical part of maintaining your weekly meal plan and knowing exactly what you have on hand for healthy meals!
In my Meal Planning For The Busy Mom eBook, I have a whole section devoted to prepping your pantry for success, taking inventory of what you have in stock, and how to restock your pantry with the essentials you need to eat clean. If you want to step up your clean eating and meal planning game, click HERE to check out my complete guide to meal planning! It it sure to save you time and money.
Snag A Discount On My Ebook Below!
Wanna see some more Target finds I've been loving? Check out My Favorite Activewear From Target, plus my Target Fitness Must-Haves!
Check Out More Home Decor & Organization Posts:
SHOP The Target Organization Tools Post HERE:

PIN The The Target Organization Tools Post For Later!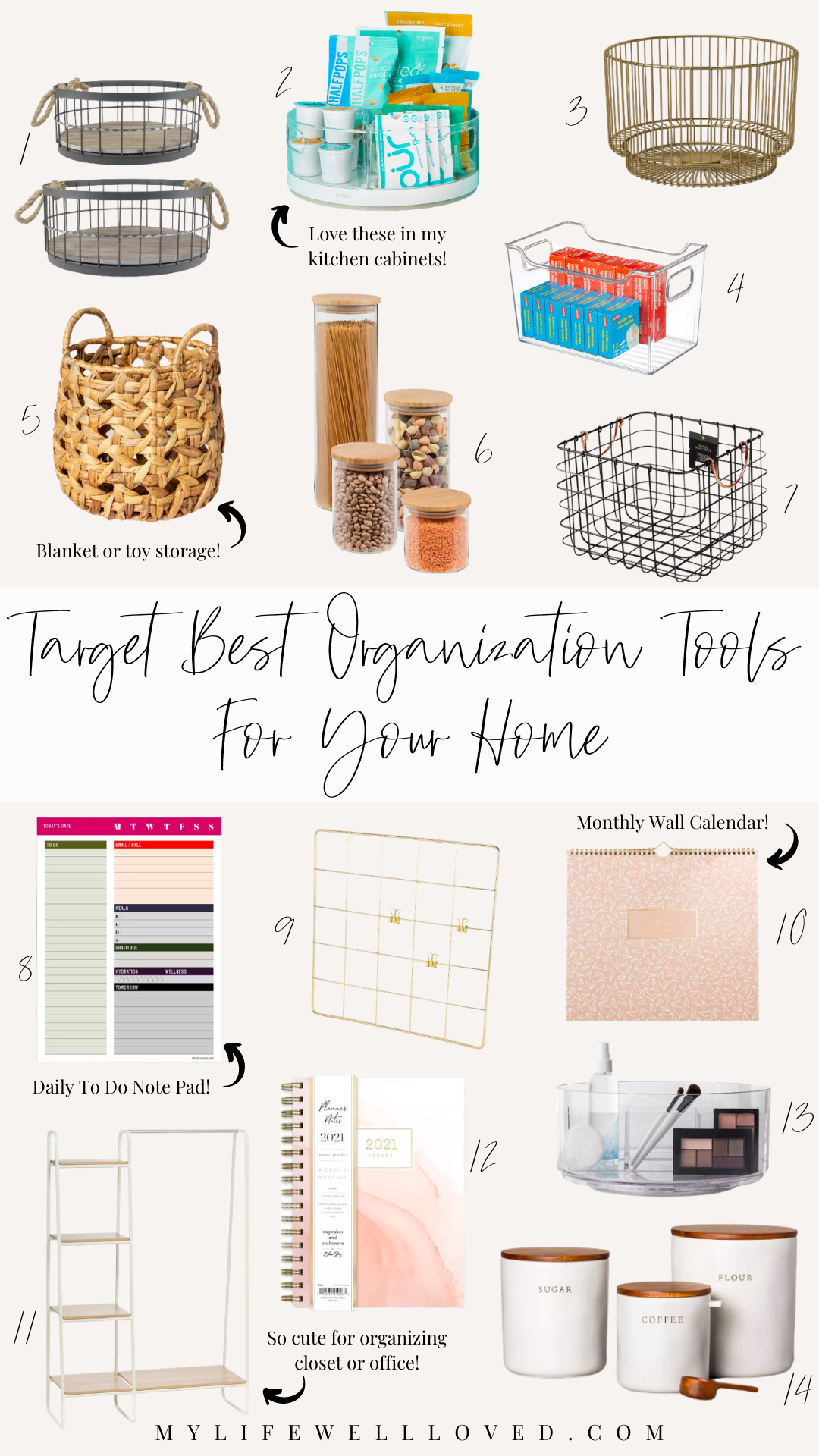 Heather Brown helps busy mamas of young littles who are caught in the hustle to find encouragement in their journey to true health, from the inside out, starting with the heart. Read her journey of learning to live a life well-loved
HERE!