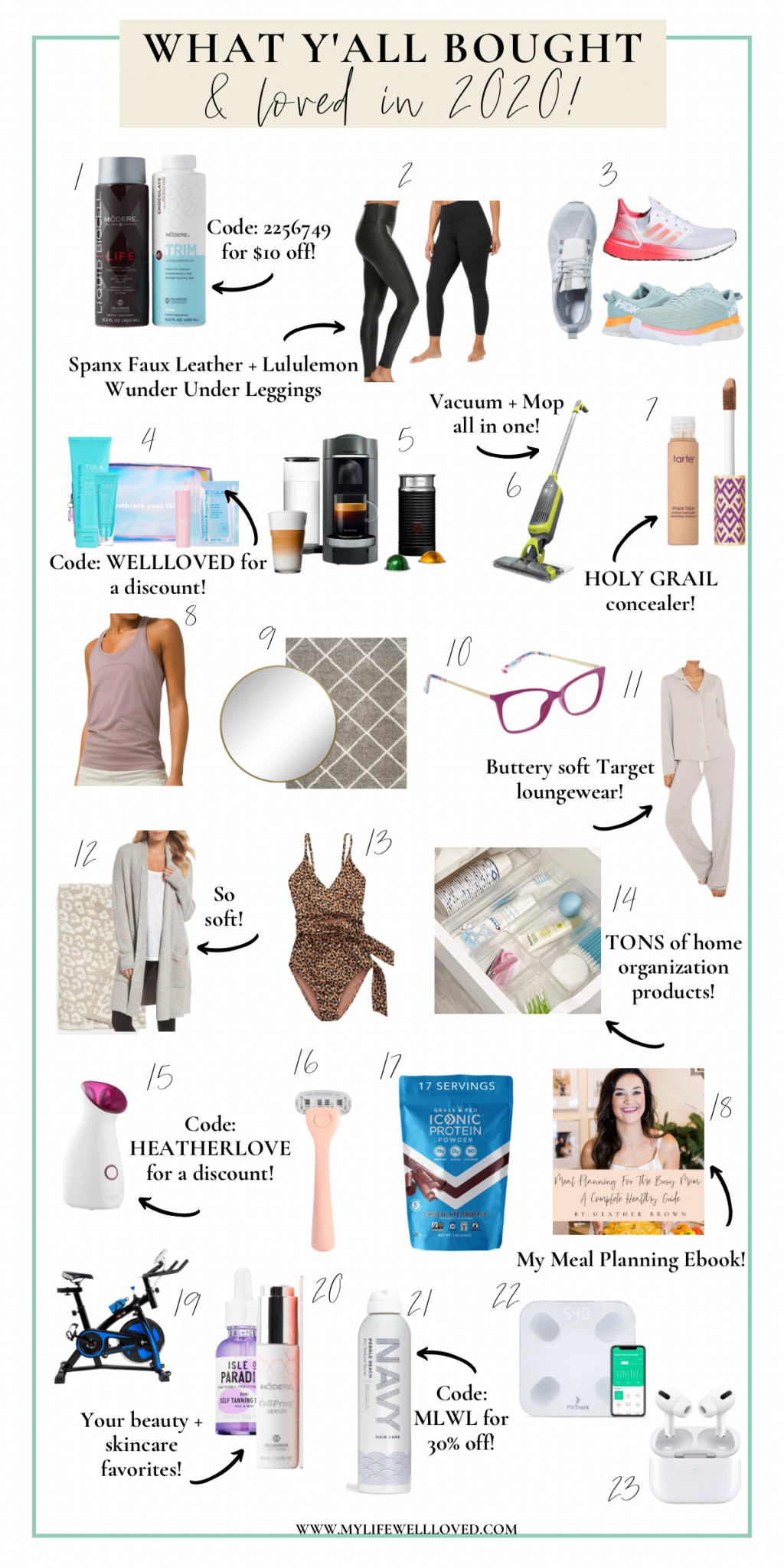 SHOP The 2020 Favorites Post HERE: 1. Modere Trim + Life Bundle code: 2256749 for $10 off // 2. Spanx Faux Leather Leggings, Lululemon Wunder Under Leggings // 3. Adidas Ultraboost, On Clouds, Hokas // 4. Tula Beauty code: WELLLOVED for a discount // 5. Nespresso // 6. Shark VacMop // 7. Tarte Shape Tape Concealer, Tula Blurring Primer code: WELLLOVED for 15% off!, IT Cosmetics Bye Bye Under Eye Concealer // 8. Lululemon Workout Tank // 9. Circle Mirror, Area Rug // 10. Peepers Blue Light Glasses // 11. Target Buttery Soft Loungewear // 12. Barefoot Dreams Cardigan, Barefoot Dreams Blanket Dupe // 13. Aerie Leopard Wrap One Piece Swimsuit // 14. Clear Drawer Organizers // 15. Lugira Facial Steamer code: HEATHERLOVE for a discount // 16. Billie Razor // 17. Iconic Protein Powder // 18. Meal Planning Ebook // 19. Exercise Bike Peloton Dupe // 20. Isle of Paradise Tanning Drops, Modere "Botox in a Bottle" Serum code: 2256749 for $10 off // 21. Navy Hair Care code: MLWL for 30% off // 22. FitTrack code: HEATHERBROWN20 for 20% off // 23. Apple Airpods Pro
Each year, I love asking y'all what you bought and loved the previous year! Since y'all are the best test market there is, you always give honest reviews of what works and what doesn't.
I wanted to compile YOUR favorite purchases of 2020 in one place so that we all can see what everyone raved about, and if there's anything out there that just may make our lives a little bit easier. Now let's check out YOUR 2020 favorites!
YOUR 2020 Favorites:
1 // Liquid Collagen And Trim // AHHHH! I was thrilled to see one of your 2020 favorites was one of mine too! When you purchase this bundle you'll save $10, plus new customers save an extra $10 with code 2256749.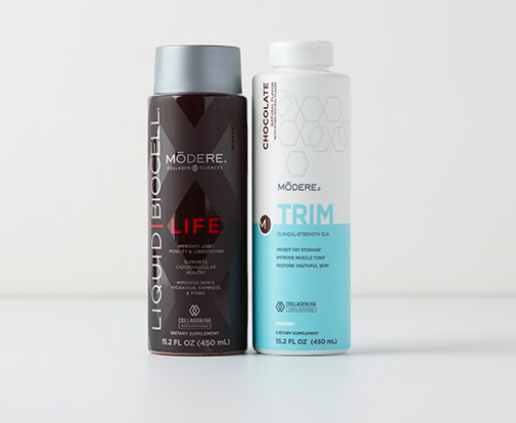 2 // Leggings // If there was a year for y'all to discover a favorite pair of leggings, it was 2020! Lululemon Wunder Under – I size up to a 6 in these. They are GREAT for high intensity workouts. // Spanx Faux Leather Leggings – Size up one if in between sizes! // Aerie Spanx Dupes – These are my favorite Spanx dupes I've tried! They're available in TONS of colors. // CRZ Workout Leggings // Gymshark // Balance Athletica

3 // Workout Shoes // You mamas know a good workout shoe when you see one! Adidas Ultraboost are my favorite for Burn Bootcamp as well!

4 // Tula Skincare // I LOVE The Cooling & Brightening Eye Balm for my under eyes in the mornings! Use code: WELLLOVED for 15% off! It's so funny to me that Tula topped y'alls list since it's one of the "most annoying" products that bloggers "always" talk about. LOL! But I'm linking some of my favorites from them here below since there weren't many specific answers in the Q&A other than the brand name as a whole.

5 // Kitchen Appliances // The most convenient blender out there…Vejo Blender code: HEATHER8PACK – twist and blend for nutritious smoothies on the go. // I think we all said "yes" to all the handy kitchen appliances this year, right?!

6 // Vacuums // Shark VacMop // No surprise here, y'all love the VacMop as much as I do!

7 // Tarte // Your favorite beauty item…and just so happens to be mine as well! 😉 Shape Tape Concealer = my HOLY GRAIL product (and I think it's yours too) for quickly covering up my under eyes and blemishes. Tula Blurring Primer code: WELLLOVED for 15% off!, IT Cosmetics Bye Bye Under Eye Concealer

8 // Workout Tanks // Lululemon Swiftly Tech Racerback Tank // I know you are my people, because our love for Lulu runs deep!

9 // Home Decor // I love seeing what home decor finds y'all score! No surprise here that since so many of us were spending SO much time at home, a lot of us invested in new home decor in 2020! Y'all especially loved the faux fiddle leaf fig tree and circle mirror!

10 // Blue Light Glasses // This is a work from home ESSENTIAL especially with so many of us sitting in front of our screens all day! Don't forget to protect your eyes. 🙂 I recently got some blue light glasses from Peepers and love the fun colors they offer!

11 // Target Loungewear // Y'all flew these off the shelves last year. The Stars Above brand is buttery soft and comparable to my favorite Lou & Grey loungewear.

12 // Barefoot Dreams // These cozy finds are always a favorite! I also found some dupes that y'all loved. Barefoot Dreams Blanket dupe + Barefoot Dreams Leopard Cardigan dupe.

13 // Aerie Swimsuits // Y'all made this leopard wrap one piece a consistent BEST SELLER and told me how much you loved it. Fits TTS, I have size small.

14 // Home Organization // It looks like I wasn't the only one organizing the house! I found the BEST home organization products on Amazon and at Target!

15 // Face Steamer // I have the Lugira face steamer + skin cleaner pack. Use code HEATHERLOVE for a discount! I also found some similar ones here:

16 // Billie Razor // Y'all hunted down the best razor ever! These products give an amazing shave.
17 // Protein Powder // Y'all know how much I love my Iconic Protein powder! Chocolate Truffle is my favorite flavor – SO GOOD!

18 // Meal Planning Ebook // I'm so glad y'all are loving my ebook! Click here to get a discount. 😉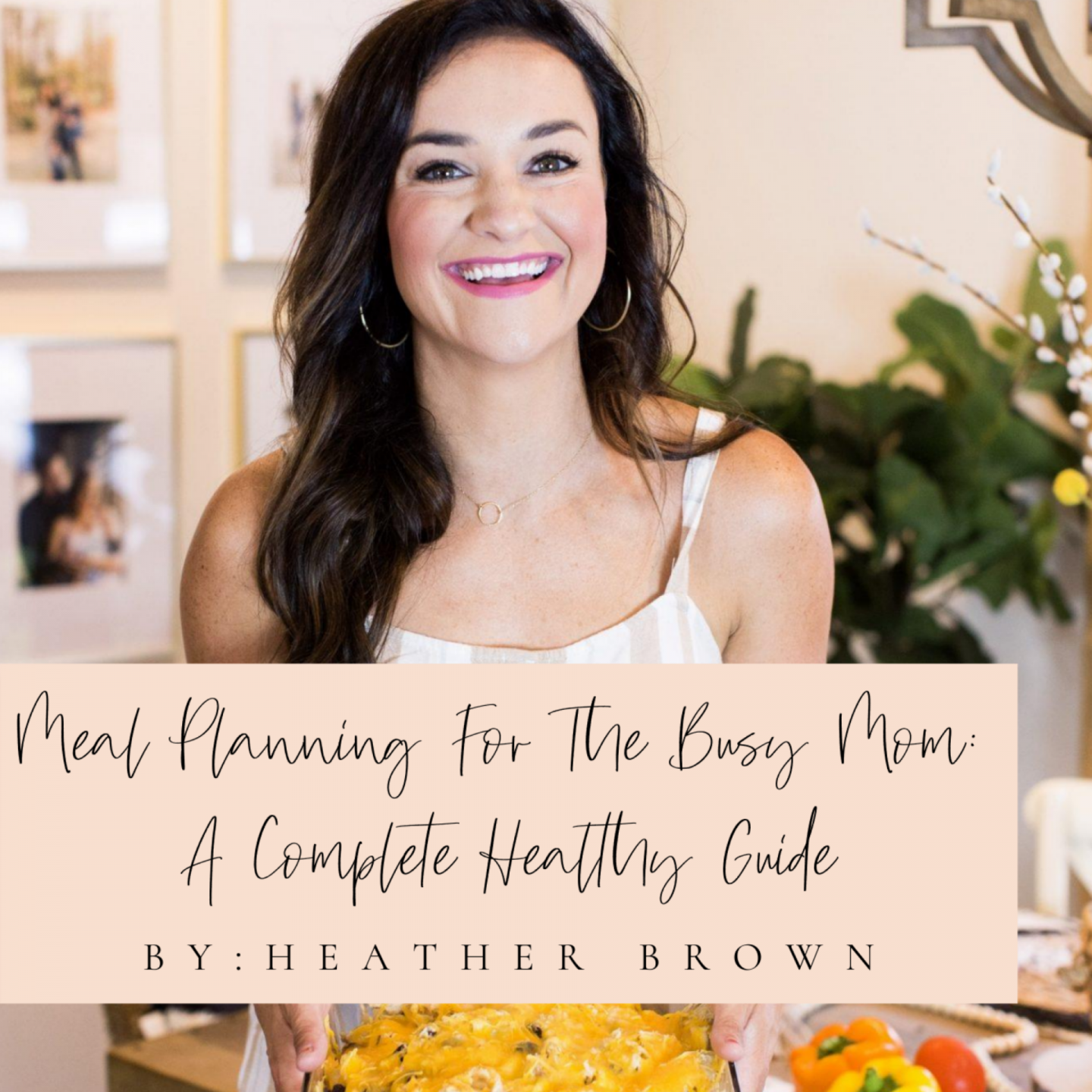 19 // Exercise Bikes // We ALL were on the lookout for at home workouts and at home workout gear in 2020, am I right?! Girls after my own heart, getting your 30 minutes of activity in. This exercise bike is an insanely affordable Peloton dupe!

20 // Skincare + Beauty Products // I think 2020 was the year we all tried to step up our skincare game. Products YOU specifically told me were your favorite are linked below! Plus you can find MY favorite Amazon beauty buys HERE! This "Botox In A Bottle" gets rave reviews – pictured below! Use code: 2256749 for $10 off your first order!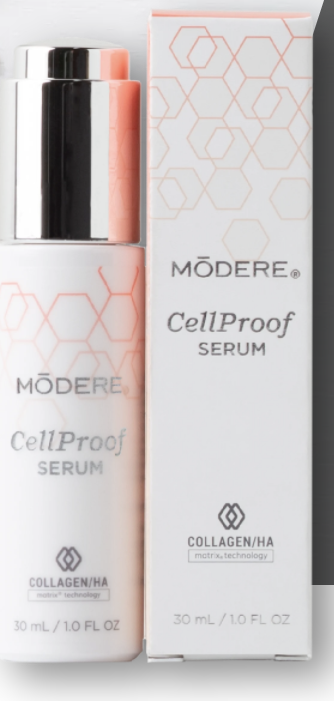 21 // Hair Care Products // Y'all LOVE my dry texture spray just as much as I do! All the heart eyes for ALL the volume it gives you! Several of you mentioned LOVING the hair care products you purchased in 2020. Maybe it was because we were all so busy keeping up with our kids running around at home that we didn't have time to wash our hair daily and needed ALLL the dry shampoo. I noticed a few of you specifically shouted out Navy Hair Care. Don't forget I have a 30% OFF code: MLWL. You can shop all your hair care products below!

22 // Home Appliances // I've had the FitTrack for a while now and love how it helps me stay on top of my health goals. I'm so happy y'all love it just as much as I do. Use code: HEATHERBROWN20 for a discount!

23 // Apple Products // You guys love your Apple products just like me! I am linking my SPARK*L Louis Vuitton Apple Watch bands use code: HEATHER10 + a portion of proceeds goes toward Our Rescue! Click HERE for more info.

SHOP The 2020 Favorites Post HERE:

PIN The Post For Later!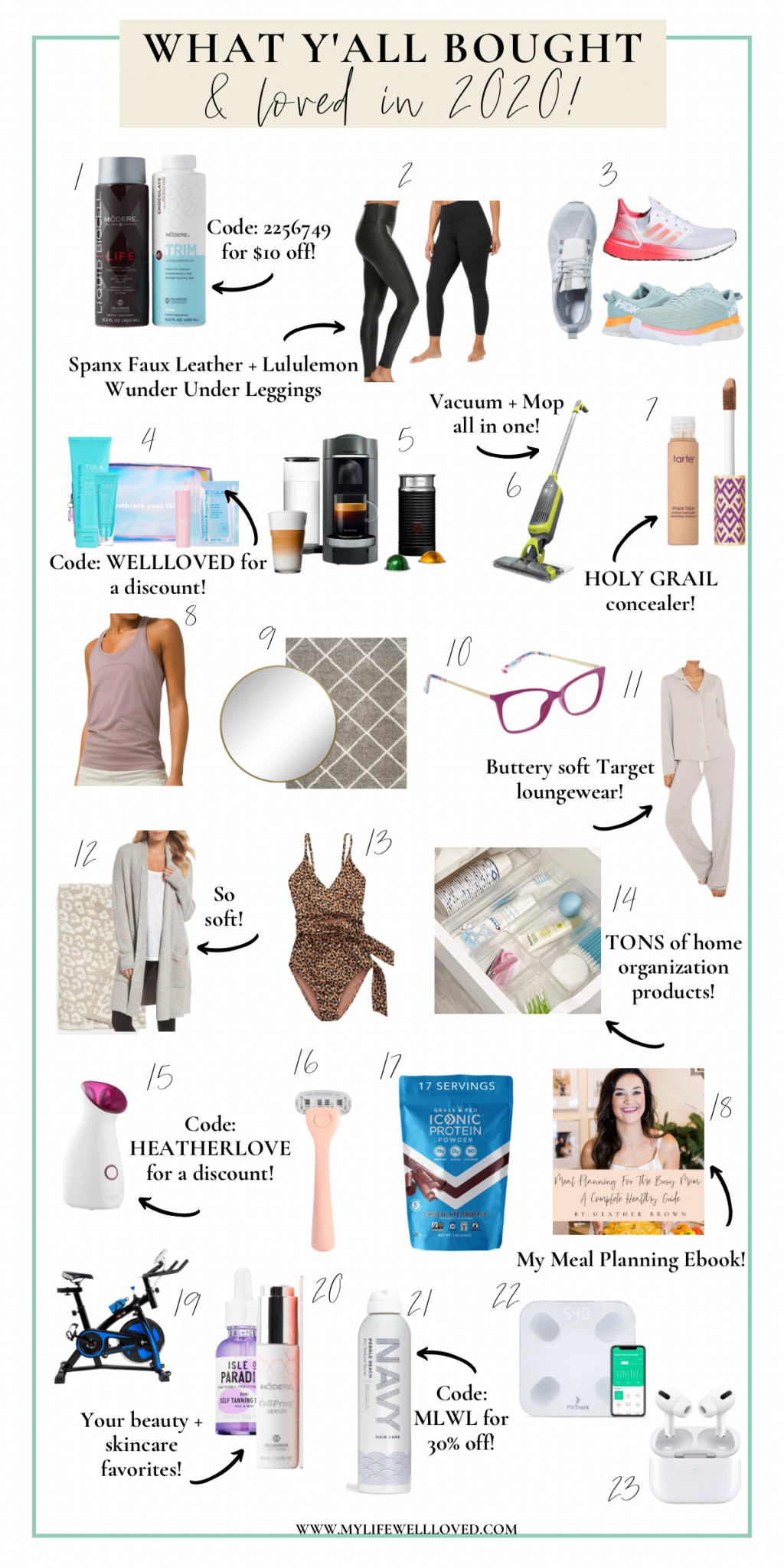 Heather Brown helps busy mamas of young littles who are caught in the hustle to find encouragement in their journey to true health, from the inside out, starting with the heart. Read her journey of learning to live a life well-loved
HERE!