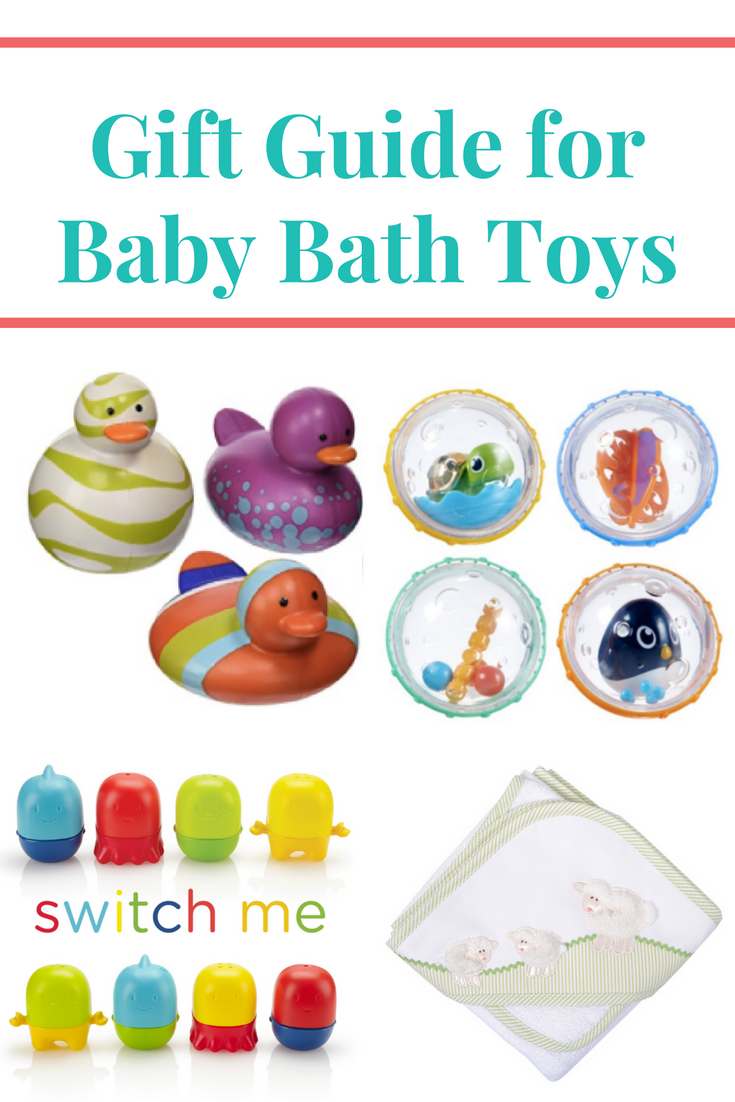 It's the first weekend in December and everywhere I look, I see friends, family and neighbors putting up Christmas decorations. It's truly such a magical time of the year, especially this year as I see Leyton's eyes light up with every glittery ornament, each glistening light and all the metallic bows. I'm creating not 1 but 2 gift guides for babies and toddlers this year! See the new baby and toddler gift guide here! Why you ask? Because, hey, I'm in the thick of it and you probably are too. Or at least have friends or family members who are…which means you have no ideas what to get your nieces and nephews for Christmas. I'm here to help you out, sister!
One of our favorite times with Leyton each day is his bath time. He thinks it's really fun and we love watching him play with his toys, splash in the water and be generally delighted in his time with mom and dad. He's always loved bath time even as a bitty baby so I thought that a bath gift guide would be something unique you guys might appreciate + I got some really awesome bath goodies to giveaway at the end of this post. Woohoo!
Bath Theme Baby Gift Ideas:
boon odd ducks: I like these because they are colorful and don't absorb water so they won't get mold in them.
My first green toys submarine: Made in the USA from 100% recycled plastic. This sturdy watercraft features a spinning rear propeller, a flat bottom for added stability, and the classic handle and wide-mouth opening combination for plenty of scoop-and-pour fun.
Hooded towel + wash cloth set: I've linked up the 3 marthas brand I'm giving away but there are SO many cute options like the elephant or bear.
Bath toy storage: We didn't get one of these until Leyton's first birthday party and I'm sure glad we did!
UBBI New Bath Line:  These will be out so soon and I'm super excited about their squeeze toys because they aren't supposed to mold and you can unscrew and switch out the little squeeze toys. Way cool! They also have stack and pour scoops which Leyton loves to do in bath time.
Moisturizers: Leyton has sensitive skin, and had baby eczema so we swore by Cetaphil with Restoraderm. It's pricy but it's the only thing that worked for him so we were excited when people gifted us with it, ha! Other brands you may want to try are Babytime!, Noodle & Boo, Aveeno or Cerave.
Body Wash: In the beginning, we used strictly Aveeno baby with oat extract to help calm his flared skin due to eczema. Any of the above moisturizer brands I mentioned above would be wonderful though too.
Munchkin Float and Play Bubbles Bath Toy: I think Leyton would LOVE this because he loves any kind of ball. And again, hopefully no mold to worry about getting stuck in the toys. Way too cute.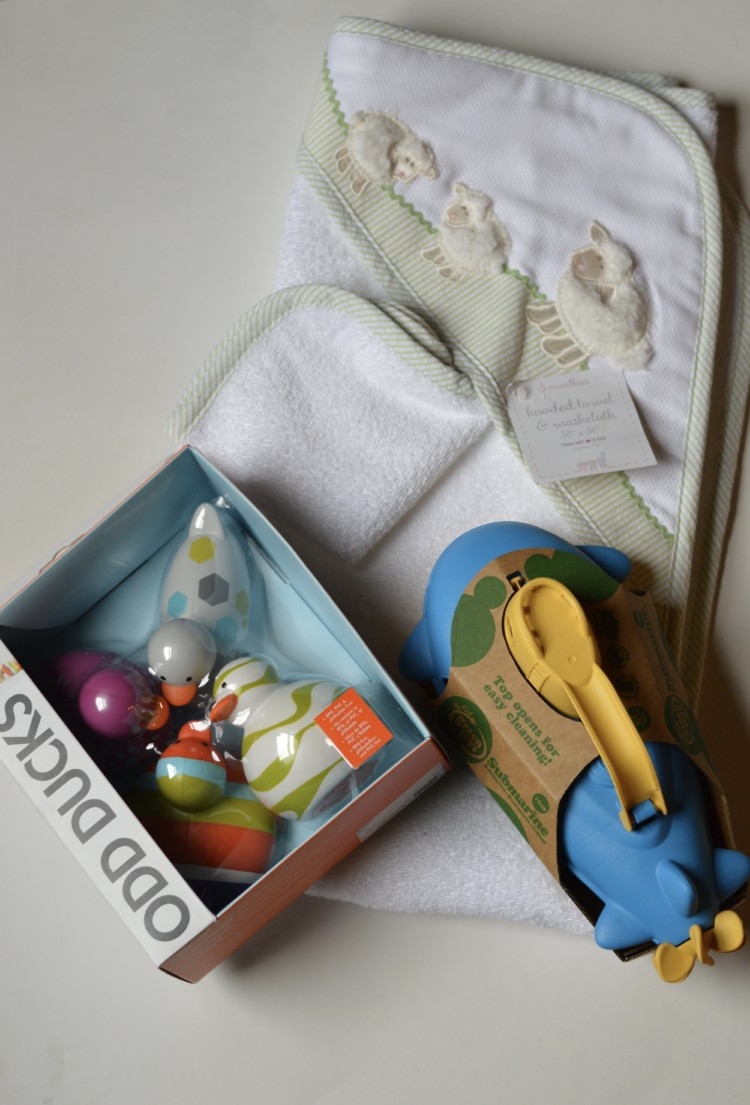 I've teamed up with The Chirping Moms 12 Days of Toys for this post and am hosting a FUN BATH GIVEAWAY in honor of that below via the Rafflecopter. I am giving away the boon ducks, 3 marthas hooded towel and wash cloth set and the My First Green Toys submarine below. You can head to their blog to enter to win different toys for your kids each day during the 12 day period after you enter to win my giveaway below. Check it out here!
What bath theme baby gift ideas would you add to this list? Good luck in the giveaway below!!
Need more baby gift ideas? Check out my ultimate Baby Registry list here, my toddler & baby gift guide here and the little baby gift guide here.
a Rafflecopter giveaway