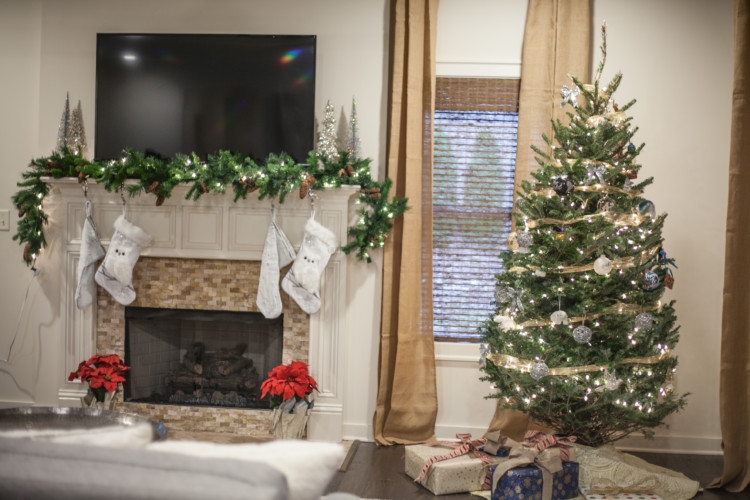 Welcome to our winter wonderland! This is the first year we have really gotten to decorate our new home for Christmas. Last year, Leyton was only a few months old and we were still trying to just get some regular furniture in our new house. So, needless to say Christmas decor wasn't at the top of our list. We got a tree up and a few trinkets here and there and called it a day. #NewParentProbs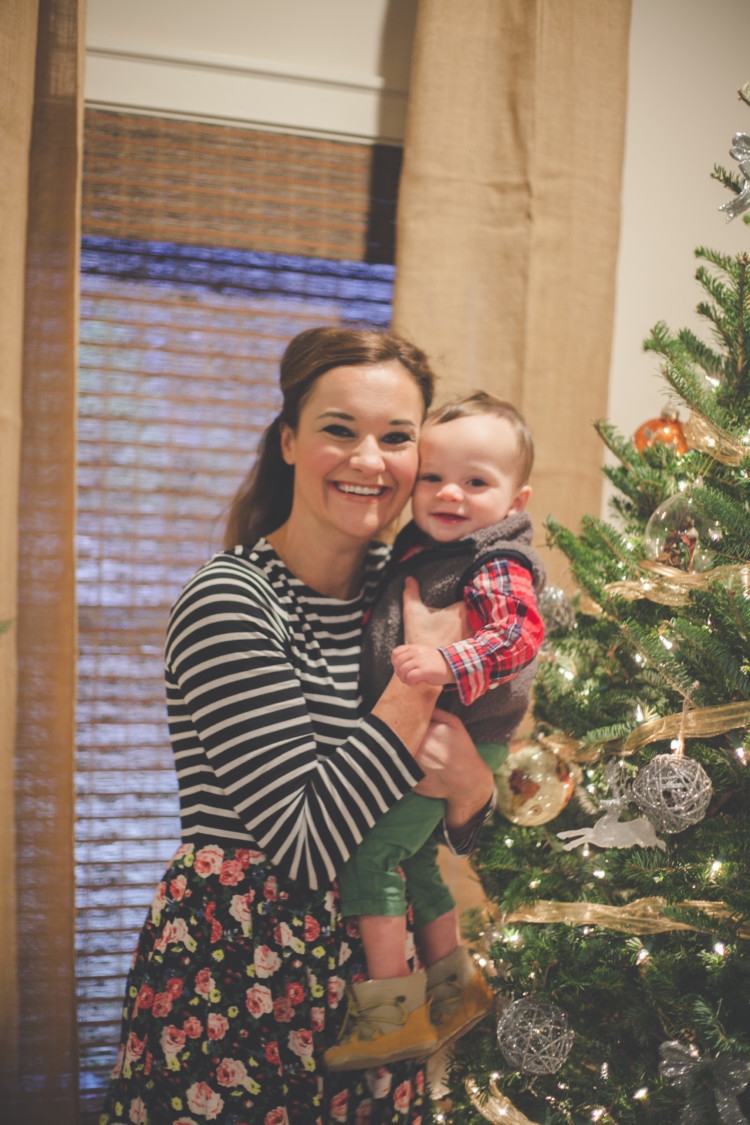 However, this year we picked a theme of silver and white Christmas decorations and I partnered with At Home Stores to really get our house fancy-fied! YAY! One of my reasons for decorating now IS Leyton because I love watching him stare at the lights and tree in amazement. And of course the main reason I love Christmas is because we celebrate the birth of our Savior, Jesus!
I LOVE Christmas and always have. One of the first big decisions we had as newlyweds was whether to get a real tree or a fake tree. The hubs let me win that one and we've had a real tree ever since then. I must say that this year I did score a Black Friday super deal at At Home to get our first fake tree and I'm excited to see how it turns out. We are thinking about putting it in Leyton's room and decorating it with all of our childhood ornaments.
Silver and White Christmas Decorations: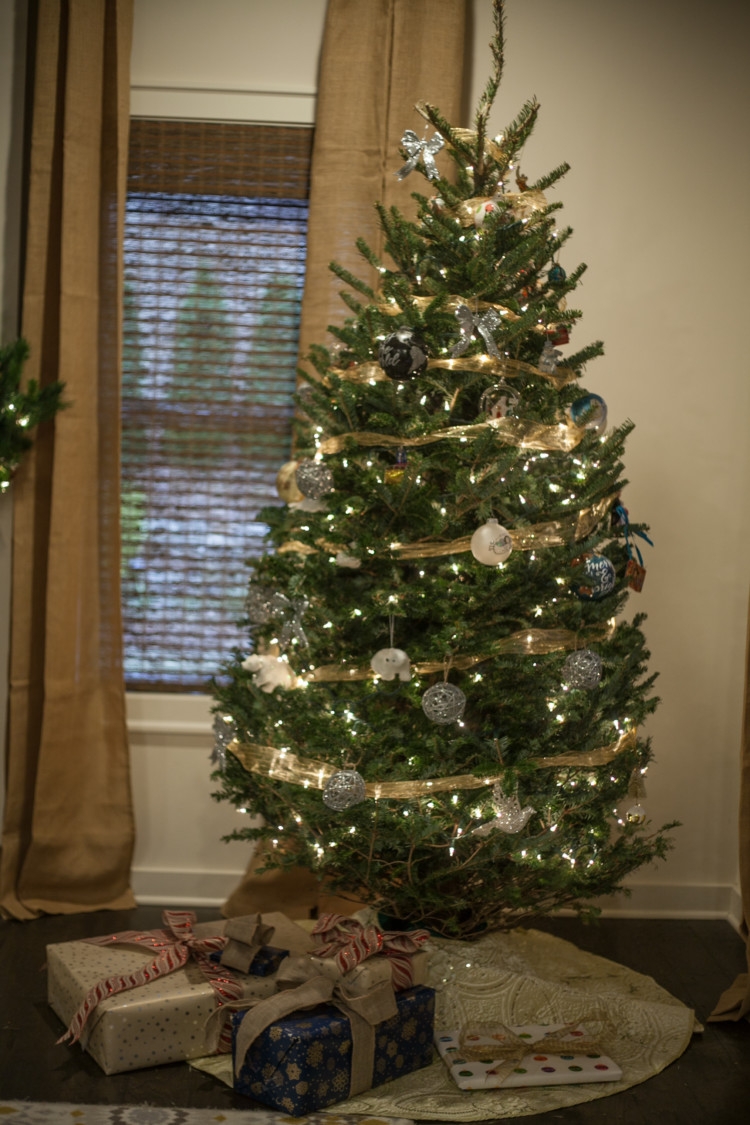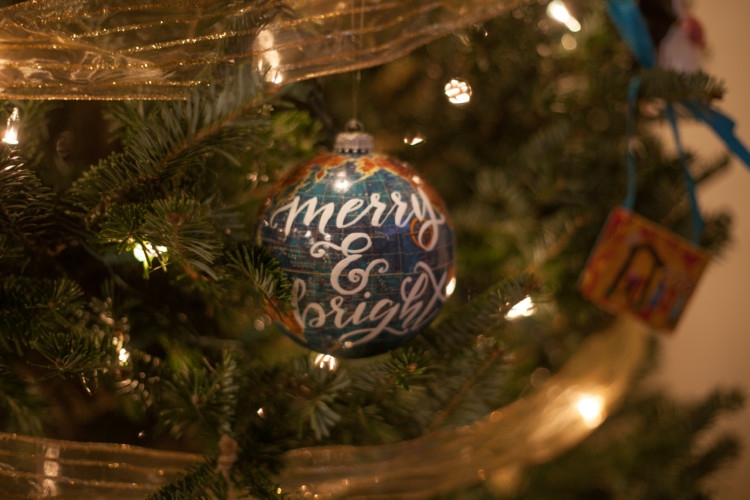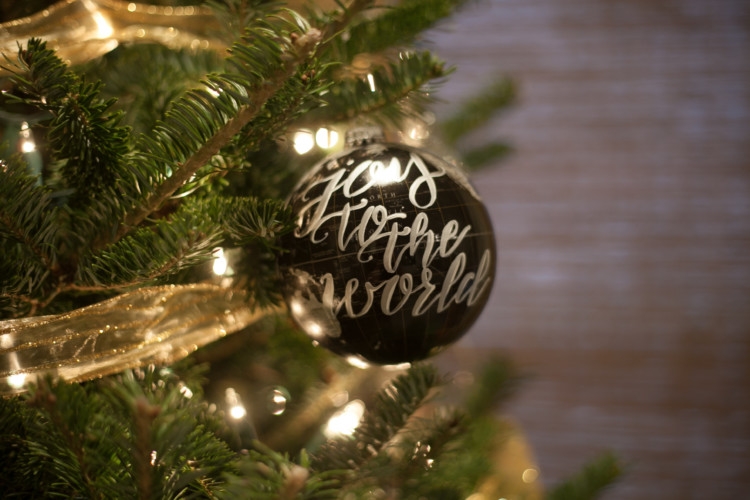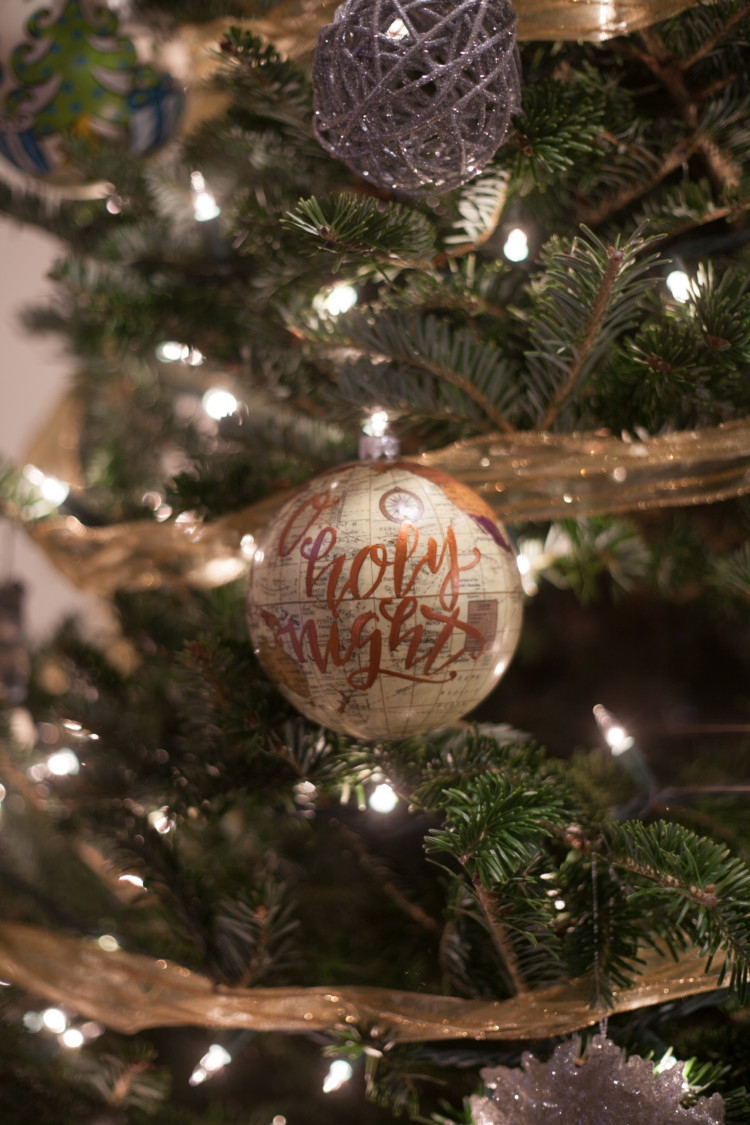 Here is our beautiful real tree in all of her glory! This is the earliest we've ever bought a Christmas tree so I'm hopeful she won't be shedding like crazy 2 weeks into December. Since we decided to go with a silver and white theme and we are still building our collection of Christmas items, I got the silver glittery twine balls and the glittery bows for a steal at At Home to make a big glittery silver impact on the tree. I believe they were in 6 packs for around $4 each!
My favorite new ornaments this year though, have to be our Newly Scripted globe ornaments. Aren't they just beautiful? They are making great gifts for some of my friends. I've shown them several times on my Snapchat and Instagram and you guys love them just as much as I do. I am happy to support this sweet designer because she's a local talent. You can see her custom globes and ornaments in her Etsy shop!
I've got a few gifts under the tree but have lots more on their way to my house from all the Black Friday and Cyber Monday posts you probably saw me shopping earlier this week. I've wrapped my gifts in beautiful sturdy paper and bows from Paper Mart. I'm not great at tying bows yet though. Does anyone have any SIMPLE tips or videos you'd recommend I check out?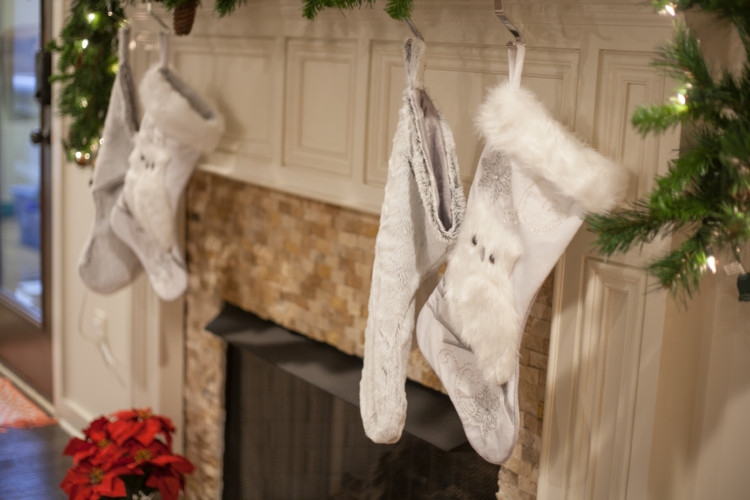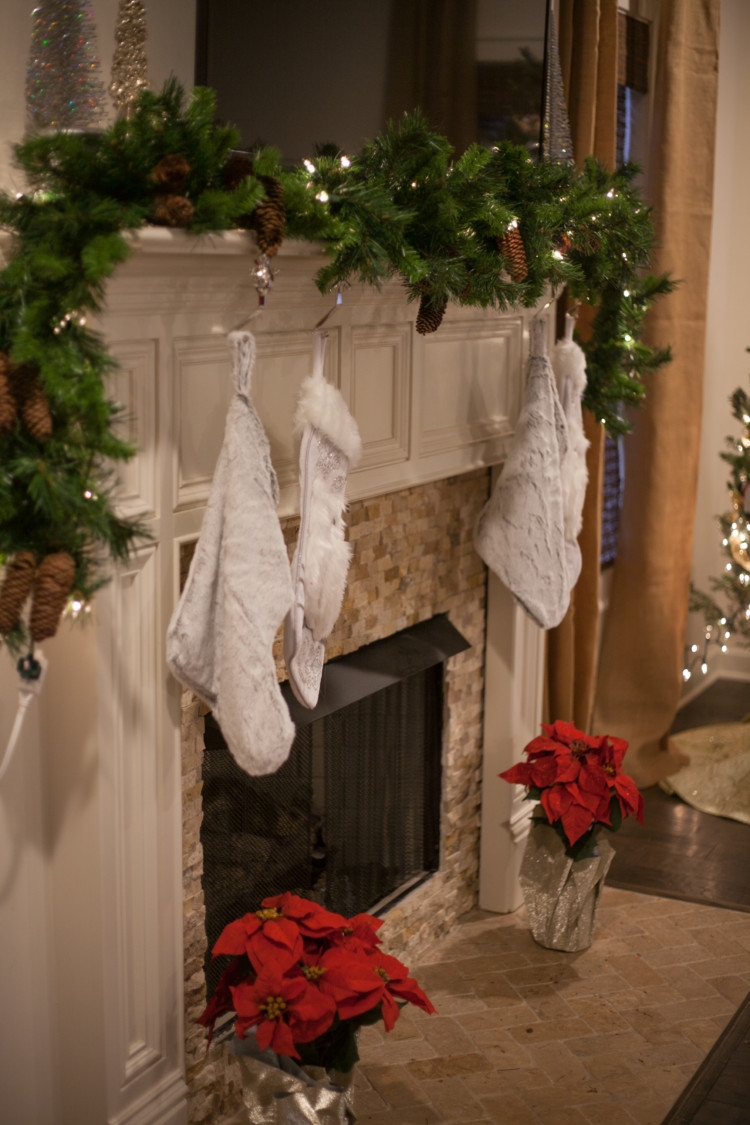 This is the first time I've ever gotten to decorate a mantel with garland! I am OBSESSED with the full, and pre-lit pinecone garland I found at Hayneedle. FYI, they still have their CYBER WEEK EVENT going on with up to 60% off lots of home decor items!
If you follow me on Instagram and Snapchat, you've probably seen my cute little owl stockings. I showed several stockings I was considering in the At Home store and went with the owl and the solid gray. And for those of you wondering, NO, this is not my pregnancy announcement. I just wanted an even 4 stockings to hang across the mantle. 😉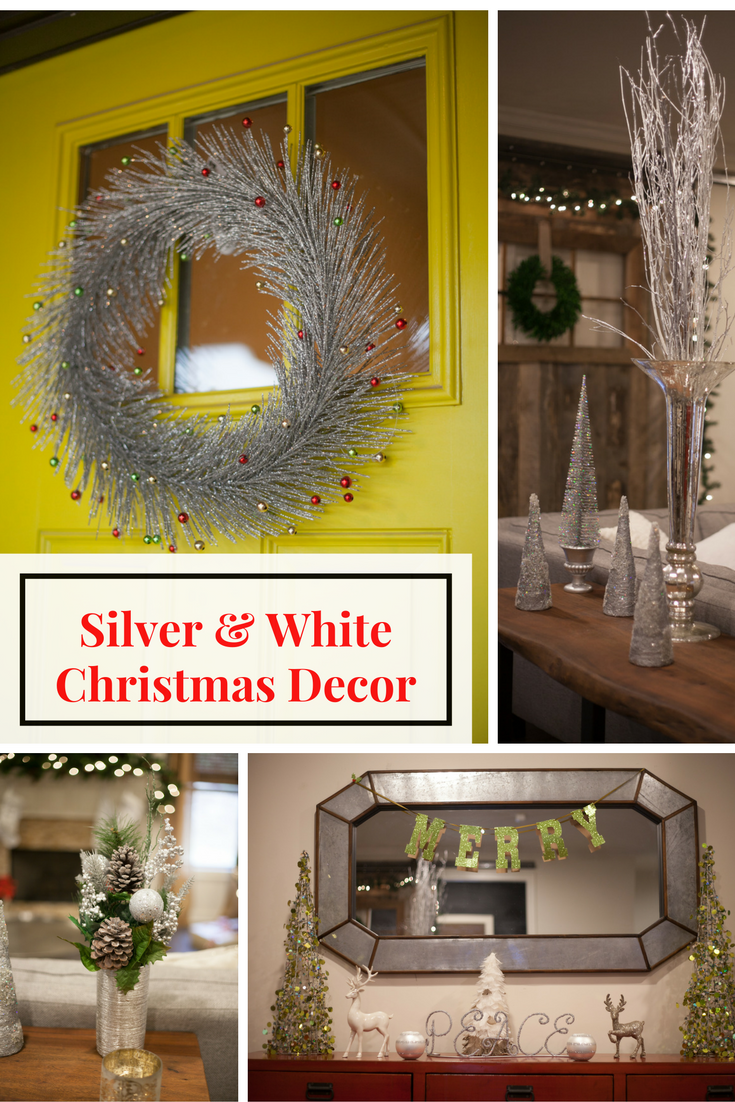 For the next 3 Wednesdays (today included) I'll be sharing parts of my silver and white Christmas decorations with you as part of the Merry and Bright Holiday Home Tour! Come back next Wednesday to see how we decorated our barn door for Christmas and more of my silver and white Christmas decorations! I'm excited to keep sharing it with you. Also, make sure to visit the links below to see how the other bloggers on the tour decorated their homes for even more Christmas decorating inspiration.
Loving this silver and white Christmas decorations feature? Take a look here for more of my Birmingham favorites!
Photos via Casey Marie Photography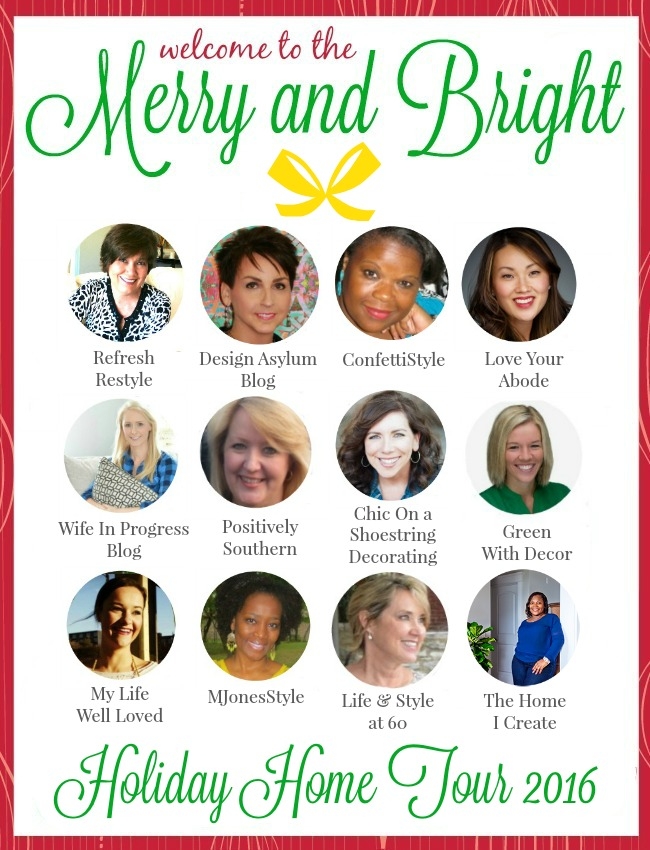 Farmhouse Christmas Tablescape
Have you decorated for Christmas yet? Have you seen any silver and white Christmas stuff I have to have? What is your favorite decoration? I'd love to hear in the comments below!
Heather Brown helps busy mamas of young littles who are caught in the hustle to find encouragement in their journey to true health, from the inside out, starting with the heart. Read her journey of learning to live a life well-loved
HERE!