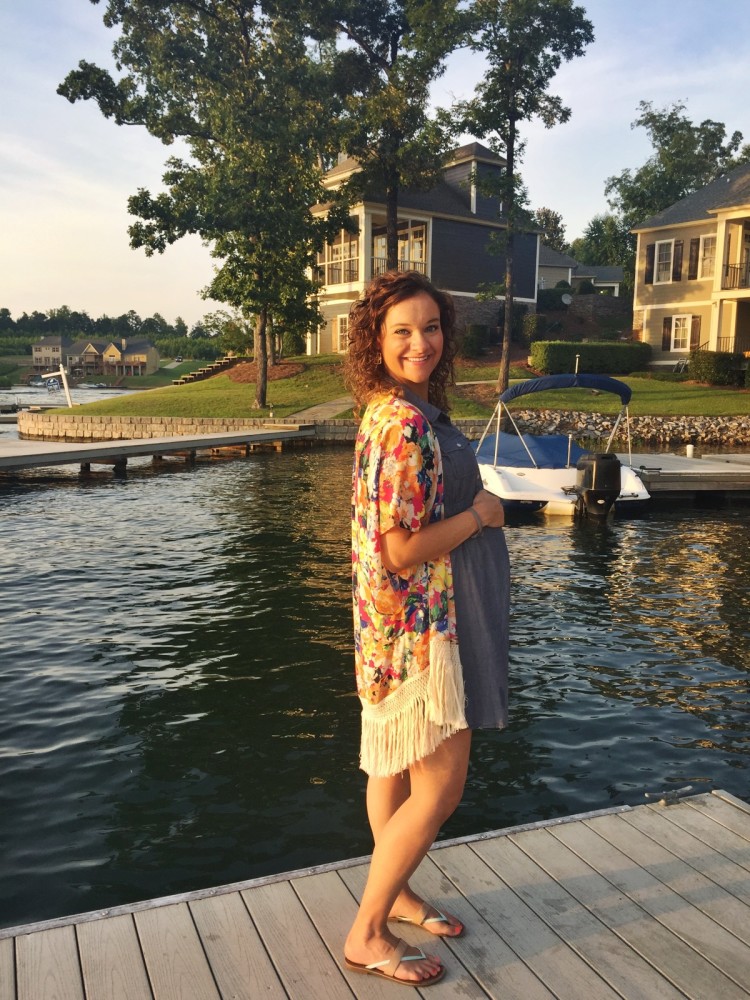 How far along? 32 weeks pregnant and the baby is over 16.5 inches long from head to heel. In case you missed my last update, here's my 31 week update.
Maternity clothes? Maternity clothes pretty much exclusively. Check out my bump style HERE.
Stretch marks? No.
Other Body Changes: Leyton's kicks and movements are starting to be more forceful. Sometimes the punches into my bladder or kicks up into my lungs can take my breath away. We found out last week at my doctor's appointment that Leyton has flipped so he is no longer breached! With my bicorniate uterus, that wasn't expected since his room to flip was limited.
Sleep: Waking up more consistently at least once a night to go potty.
Best moment this week:  Either great girls' night time for a friend's birthday and a Wanderlust party or our lake weekend at the McGarrah's. Lots of fun this week!
Anything making you queasy or sick: No.

Gender: boy…Leyton Samuel.
Symptoms:  Braxton's Hicks contractions. It's feeling really tight in there at night! After eating, I feel so full it's just uncomfortable. Plus acid reflux is coming into play.
In case you missed last week, please just keep praying Leyton stays in till August if possible. More details in a previous post.
Belly Button in or out? Belly button is no longer an innie but not quite an outie. Just flat.

Wedding rings on or off? On 
Mood: Haven't had enough time to take it all in, I'm not even really sure what my mood is this week! Busy sorting, cleaning, baby shopping, daycare shopping, etc.
Baby is the size of: Weighs 3.75 lbs and is about the size of a large jicama.
Looking Forward to: Making it through July safely and with baby Leyton still in my belly. 🙂
Shop the look: You may recognize that $15 kimono from Dillard's I got a few weeks back that I love! I found it online and on sale, so shop it below before it's gone. All the items below are similar to what I'm wearing.
Heather Brown helps busy mamas of young littles who are caught in the hustle to find encouragement in their journey to true health, from the inside out, starting with the heart. Read her journey of learning to live a life well-loved
HERE!